Screenshots
New in version iOS 4.33
There are a bunch of new features in this update! See what's included:
- Say "OK Waze" and use your voice to navigate, report traffic jams, and more - all hands-free.
- New routing option - HOV! Just add your pass or update your vehicle type (US & Canada only).
- It's here! Waze now supports routing for motorcycles. Update your vehicle type and hit the road.
- Waze is now optimized for iPhone X.
- Minor bug fixes and improvements.
Description
Always know what's happening on the road with Waze. Even if you know the way, Waze tells you instantly about traffic, construction, police, crashes, & more. If traffic is bad on your route, Waze will change it to save you time.

Why Waze?
◦ See what's happening - Alerts about traffic, police, hazards and more on your drive
◦ Get there faster - Instant routing changes to avoid traffic and save you time
◦ Know when you'll arrive - your Arrival Time is based on live traffic data
◦ Pay less for gas - find the cheapest gas along your route
◦ Always find the way - choose from a variety of voices to guide you while you drive

Be prepared, drive with Waze.


You have full control over your privacy settings. Learn more about the Waze privacy policy, including what information is accessed and how it is used: www.waze.com/legal/privacy
iPad Screenshots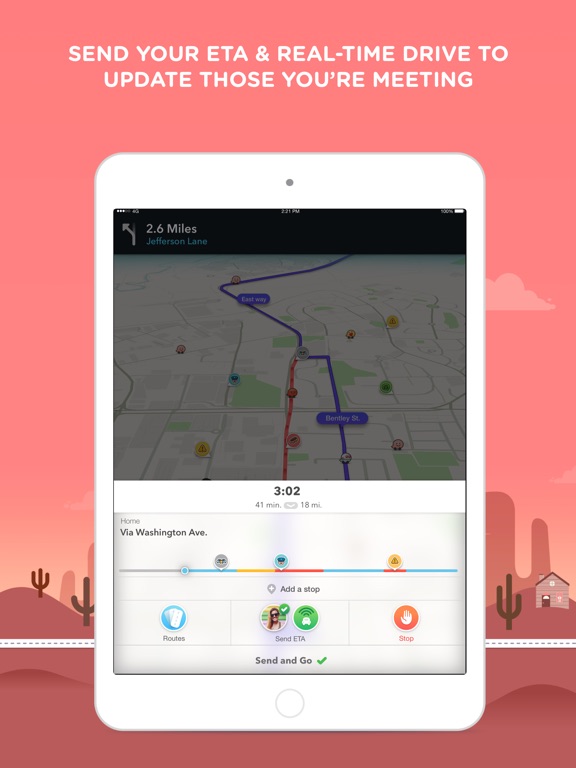 Reviews
What happens with La Cuneta.
What happen with La Cuneta? The best voice!! Give back plz
Problems, needs more update
I have iPhone X with latest update but there are some new problems with Waze. My car is really ahead of where the map indicates so I miss a lot of turns. Sometimes I lose the gps totally. Also when I go to set a route I get the "ut oh" can't do this unless you are a passenger! Great, but I'm sitting in my house and it definitely isn't moving! Mostly I use Waze for South Florida traffic but they really need to have the navigation fixed!
Update 4.33 broke my app
Since the update last week I am unable to use Waze. I'm a little lost without it. Daily user for the past three years. App says "unable to connect". Tried everything to get it to work but nothing has helped.
Convenient and Easy to Navigate
Waze conveniences
on
12/13/2017
This app has been a lifesaver! It's helped me navigate easily to my destinations even when they've been new developments. The warnings of traffic have saved me so much time in some cases up to twenty minutes! Thank you for creating a easy, interactive map!
Great nav app!
MR65375364353264
on
12/13/2017
This is my go-to app for travel because of how efficiently it predicts arrival times, uses their large user base to update traffic conditions/accidents/new roads, and how quickly it adapts to sudden changes in conditions to get you back on track on the best route possible.
Ugh!
Was loving this app until I updated it and now I can't get it to load!
So much better then google maps
Armywife.hge
on
12/12/2017
The New update is AMAZING. Just when you think it can't get better, IT GETS BETTER. I just had to get a new phone due to my breaking and before anything else I had to make sure I downloaded Waze. (: I would pay to use this app that's how amazing it is. I use this even though my 2017 car has a 4in screen that runs google maps and speaks through my speakers I'd still rather use my Waze. I do wish it would work through My apple car system but maybe that will happen one day. Still it's the best GPS app I've ever used and I'll continue to use this on every trip I go on. 100% recommend this to everyone I know.
Needs an update!
I would give this 5 stars but lately, the navigation is about 20-50 feet behind. I've been using waze for a couple years. In the last couple months, I noticed that the navigation is not as accurate. Waze is showing that I'm still behind an intersection when I'm reality, I've already passed it. I obviously can't stare at waze while driving to analyze exactly where I'm supposed to turn. I've missed a few turns/exits because of it. Please fix this issue as it wasn't like this before. Thanks! :)
Latest update not working
Latest update has the app not working at all- it quits, won't search a route, basically won't do anything on my iphone 6plus.
Not sure what happened...
This used to be my favorite app, but something went wrong these last few months. Worst navigation ever. It's taken me in circles several times and added so much extra time to my route. Not cool. I'm uninstalling.
Fahri Ugurlu
The best GPS not only USA but I Europe too..
Travel app
This is a great app to use when you are traveling. So far I have been on two Vacations and used it where ever we traveled. Love the app
Personal opinions
Brownmamba187
on
12/12/2017
Overall I like the app, it's easy to use and very useful. I love the community approach to it from live updates on the road. Definitely don't get that with any other navigation apps. Although I have a suggestions with improvement. Turn by turn notifications on the lock screen. I don't like the fact I have to keep the app on the screen in order to know when I have to turn. It'll be easier to have some kind of pop up notification. Like I said before I love the app and what it's about but the little things make a difference. Thank you waze team for making such a compelling app for us.
Very good gps but
Like the app but need to make it compatible with apple CarPlay
Good-Bye Garmin
I have a LOT of trouble navigating. I used a Garmin, but it wasn't quite enough. It didn't warn me of problems ahead, and it's "recalculating" feature really LACKED! Now I use Waze, and o am trying to find a new home for my Garmin (so far, no takers).
Crashing App!!
Normally, I Love your App, & have told many of my friends, & patients too, what a great, informative App, Waze is!! Yet there were a few bugs w/the previous update; where the screen flips back to friends, or to types of hazards etc., as you're driving down the road Trying to follow your GPS Map. But w/the most recent Update, when I open Waze, & try to pick my destination, it flashes a mssg that says " Uh Oh! You are Not connected. Can't calculate route. W/a green button to click that says OK, then it crashes, or it immediately crashes as soon as you try to open the App. So I (along w/prob many others), have not been able to use WAZE for 2 days!!!😳😤 PLEASE FIX! I've now become dependent on your App, w/all of the traveling we do! Thanks for all you do! 😃. Respectfully, BrenRun
Went belly up?
Ok so was 5 stars but now it wants me to exit the toll way to cash lanes even though my settings for toll roads are correct. And constantly has me taking side roads then a left with no light. Started to ignore the app lately, and my commute time has been reduced. I'm in the top 1% in the state and I'm ready to delete the app. An update is needed an Fast!
New update started problems
Slowest runner 804
on
12/12/2017
I've had no issues using waze until this last update. At times, It now claims I need to go outside to use the app and I don't have GPS even when I'm on the interstate. It fails to give verbal cues consistently. It "predicts" where I'm going and overrides the directions I asked for. iPhone 6s
Was Great
Used to be great but with the updates apple keep pushing Waze is falling behind and the software has trouble tracking you which makes the GPS useless!
Great app
Jfjjdhfjsjdhkdh
on
12/12/2017
I really like this app it is very up to date with construction on roads and new streets/roads added to the map
Bad Update
Just updated and now Waze can't connect to the network. Garbage.
Can't shutdown
No idea how to stop once opened on iOS. Loved on Android. Not so much since switching phone. Very annoying. Uninstalled.
President.
babs beacon
on
12/12/2017
Excellent. How did we ever live without wayz?
V 4.33 crashes
Love Waze, but the latest version is unusable on iOS 9.3.5 Some of us use older iPhones, and prefer the older iOS. Please fix ASAP
Don't update your app!
I love Waze. I use it every single day. Last week I updated the app and I haven't been able to use it since. The app either closes out right away or says that a connection is not available. I've seen on forums that many people are having the same problem.... PLEASE FIX IT! I have commuted two days this week and it has been an absolute nightmare. You never realize how much you depend on something until it's gone.
Great App
JensenGrace
on
12/12/2017
The thing is, it's a really great app, but it would be nicer if you could see your Spotify song as well as your current speed and speed limit.
Used to Love this app
App no longer works since most recent update. Will not search a destination. Interrupts music playing and blacks out completely. Now the app won't even open. Very disappointing as I used this app daily. Outside of the recent issues, it was amazing!
81 horror
Violinmaker1
on
12/12/2017
Twice now on trips Waze has saved me from monster traffic jams by directing me (and lots of truckers) to alternate routes. It kept telling me to turn, and I initially resisted. Finally gave in and was very glad I did as it saved me from what would have been many hours stuck because of an accident. I don't argue with Waze any longer.
New version does not connect to servers
Don't upgrade until resolved.
Mr K
JRenterprises
on
12/12/2017
WAZE IS BROKEN with the Nov 29 update. It issues some command during startup and can NEVER connect to the network after that on iOS 10, iPhone 5C. This used to be my GoTo app for getting to clients and appointments. It no longer works. I had to fall back to Google Maps to get ETA, and directions. PLEASE FIX THIS WAZE soon. Or a million of your 5c/s and 6c/s fan base will have to revert to YOUR competition. 😂 Last update though crashes the first time launched. The next time comes up and even though I have icons for wifi AND LTE it says it can't find network. Enroute to work this morning couldn't find the network the entire way, so I switched to Google Maps and it had no problem updating me on traffic conditions. Waze never finishes drawing the home screen.
New version Crash!!
Waze worked very good, but I decided to update it, after updated waze to new version Last night, It didn't work, and after opening, it close automatically!!!! Plz check and solve this problem ... Thank you Iphone 6 ios 11.2
Apptiation
It's great when you are traveling and you know what is ahead of you, hazards, police, road debris! Thanks Wazes
Great App
Markymark559559
on
12/12/2017
Saved me from a ticket yesterday in the way to Tahoe!! Awesome interactive app .
Love the mobile app
We need a watch app for this so I can navigate like on the iPhone native app using just my watch. It's time!!
Crashing
Sweet Red 53
on
12/12/2017
App is crashing. Can't use.
Crash
Waze keeps crashing
Best navigation app
I wish they would add Apple Watch turn by turn. Overall everything else is excellent!
Won't connect after update
Beardiegirl
on
12/12/2017
Giving this app 1 star because I can no longer open it after the latest update and my phone is up to date. Hope this is fixed soon.
Always on time!
I've been using the free app for a few years now and I rely on it for all my traveling needs. Waze has never let me down, and stays updated....
Waze is Rinning Totally Downjill
Besides the most recent update now gals to connect to the server.... Routing has become so much worse as time has gone by. Send I'm frequently stuck at intersections today are nearly impassable taking me near schools and shipping centre at peak hours. Used to absolutely love it..... Now not so much at all.
This car pool stuff has to stop
GDefenbaugh
on
12/12/2017
I use Waze daily, but I am just about to delete it. It interrupted an important and difficult drive and forced me I to some $&/( car pool signup. ENOUGH. Quit that.
Trying to get attention
I could not find a way to contact anyone by phone or email, so this is my only form of contact. I really love this app and I wanted to request adding a HUD (head up display) feature. I think it would be a simple process and not to mention making the navigation experience safer by being able to project the image on to the windshield or a HUD display device. The display settings should have the option of reversing/mirroring the screen display. Thanks for your attention.
Crashing!
Was working amazing until the last update. Now I can't use it because it crashes as soon as I open it.
Updates are slow, people get off waze and drive
stop driving dumb
on
12/12/2017
With the influx of people on the road, the use of waze is mute to finding best routes. I only use it for updates and no longer route management. Allowing drivers to report is good in theory, but makes more traffic in the long run. The amount of time to make a decision is milliseconds, to look at waze is 4-5x's that. Crashes are occurring, wrong turns and people just plane having poor judgement is pushing LA traffic further from any resolution. I would give waze a 1 if it didn't at least allow me to plan ahead.
Long time user
I've used Waze for years, touting its traffic capacities to many. I'm really disappointed in the latest update, the app now doesn't work, can't track where I am, and quickly crashes. Hopefully it'll be fixed soon.
Awesome app just missing one key feature.
Love this app but it's only flaw is lane guidance. If it had that this app would be my daily driver but until then I will be using google maps or Apple maps
Great App
Love the option to record your own turn by turn navigation. Community alerts are very helpful! GPS is just as accurate as Apple maps. I often turn them both on (with no sound from Apple maps) just to compare the directions and Waze is on point.
Awesome!!
Westie46123
on
12/12/2017
I LOVE Waze! It saved us a traffic jam by leading us to the road that lead parallel! At first we thought we'd made a mistake but sure enough, there came the backed up traffic while we drove right past them!!! Also, it's told us objects in the road ahead that we were than able to slow down and avoid while others hit the objects 🤭. So well worth downloading! Plus I can watch my family as they travel!!
Lags a lot ..
The navigation lags a lot while you are driving, it's slower than the actual speed you are moving. This happened since the last 2 updates, I'm using an iPhone and my friend uses an android.. problem seems to be the same with him.
Desapointed
Leynhamiudinha
on
12/11/2017
Annoying , to much noise....
Fact Sheet
Publisher:

waze

Category:

Navigation

Released:

Aug 01, 2009

Current Version Released:

Nov 29, 2017

Version:

iOS 4.33

Size:

113.9 MB

Compatibility:

Requires iOS 8.0 or later.

Recommended Age:

4+

Game Center Certified:

No

Supported Devices:

iPad2Wifi-iPad2Wifi, iPad23G-iPad23G, iPhone4S-iPhone4S, iPadThirdGen-iPadThirdGen, iPadThirdGen4G-iPadThirdGen4G, iPhone5-iPhone5, iPodTouchFifthGen-iPodTouchFifthGen, iPadFourthGen-iPadFourthGen, iPadFourthGen4G-iPadFourthGen4G, iPadMini-iPadMini, iPadMini4G-iPadMini4G, iPhone5c-iPhone5c, iPhone5s-iPhone5s, iPadAir-iPadAir, iPadAirCellular-iPadAirCellular, iPadMiniRetina-iPadMiniRetina, iPadMiniRetinaCellular-iPadMiniRetinaCellular, iPhone6-iPhone6, iPhone6Plus-iPhone6Plus, iPadAir2-iPadAir2, iPadAir2Cellular-iPadAir2Cellular, iPadMini3-iPadMini3, iPadMini3Cellular-iPadMini3Cellular, iPodTouchSixthGen-iPodTouchSixthGen, iPhone6s-iPhone6s, iPhone6sPlus-iPhone6sPlus, iPadMini4-iPadMini4, iPadMini4Cellular-iPadMini4Cellular, iPadPro-iPadPro, iPadProCellular-iPadProCellular, iPadPro97-iPadPro97, iPadPro97Cellular-iPadPro97Cellular, iPhoneSE-iPhoneSE, iPhone7-iPhone7, iPhone7Plus-iPhone7Plus, iPad611-iPad611, iPad612-iPad612, iPad71-iPad71, iPad72-iPad72, iPad73-iPad73, iPad74-iPad74, iPhone8-iPhone8, iPhone8Plus-iPhone8Plus, iPhoneX-iPhoneX,

Supported Languages:

Afrikaans; Arabic; Bulgarian; Catalan; Valencian; Croatian; Czech; Danish; Dutch; Flemish; English; Estonian; Finnish; French; Galician; German; Greek; Hebrew; Hungarian; Indonesian; Italian; Japanese; Kannada; Korean; Latvian; Lithuanian; Malay; Bokmål, Norwegian; Norwegian Bokmål; Persian; Polish; Portuguese; Romanian; Moldavian; Russian; Serbian; Chinese; Slovak; Slovenian; Spanish; Castilian; Swedish; Chinese; Turkish; Ukrainian;