Screenshots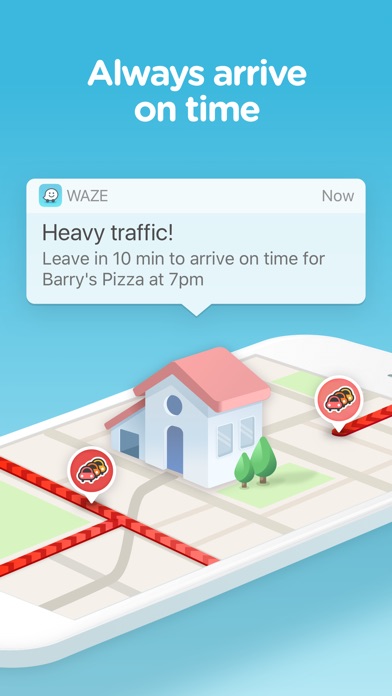 New in version iOS 4.30
Thanks for using Waze! With every drive, you're joining 90 million Wazers who save time by taking the fastest route. Here is what's new:
- Minor bug fixes and improvements
Description
Avoid traffic jams, police traps, and accidents with Waze, the #1 real-time navigation app. Get the fastest routes to your favorite locations and new destinations, all for free.

Waze is a community of 90 million drivers. Here's why:
- Automatically reroute around traffic as conditions change on the road
- Get police & speed camera alerts while you drive
- Hear road directions by celebrity voices or the average Joe
- Record your own custom voice directions to guide you on the road
- Know how long your drive will take before you start driving
- Find gas stations and the cheapest gas prices on your drive
- Earn points and gain status as you contribute with road info
- Low data usage from your phone
- Waze works anywhere in the world

For drivers who really don't like to waste time or money:
- Get notified when it's time to leave for your destination by setting your drive in advance
- Let Waze tell you when it's time to leave for your events by syncing your calendar with Waze
- Save time looking for parking with Waze parking suggestions by your destination
- Choose to be routed on toll roads or to avoid them
- Get a sound alert if you exceed the speed limit with the speedometer


Note: Continued use of GPS running in the background can dramatically decrease battery life. Waze will automatically shut down if you run it in the background and haven't driven for a while.

You have full control over your privacy settings. Learn more about the Waze privacy policy, including what information is accessed and how it is used: www.waze.com/legal/privacy
iPad Screenshots
Reviews
Good but needs to update
TechYouth12
on
10/19/2017
Waze would be perfect if it did the following: - Add lane guidance so wazers know exactly where they need to be on a multilane highway, especially for exits and turns. - Fix the noticeable lag it has when updating the driver's position on the map. I made a turn about 3 seconds ago, and the map still has be driving up to the turn.
Not perfect but prob the best one out there
Every time I've tried to outsmart Waze and blaze my own path, I have regretted it every time. The only issue I've had is sometimes the quickest path involves playing snake (think 90's Nokia) through the city. You may have saved 3 minutes but the stress of all those turns took 3 weeks off your life. There is a way to see alternative routes but that is two steps away from just typing in the address and I don't have time for that... I need to save 3 mins on my commute so my TV dinner isn't cold when I get home.
Please mark the lanes, that will mean a lot
Wazelyfter
Awesome app!
Best app ever I hope you improve it too!
Best Navigation app EVER!!!
Love love this app! I live I LA and traffic is a challenge but Waze helps so much! Thank you for figuring out the side streets when the freeway is unbearable!!!
Best
Great music service!
on
10/19/2017
The very best for commuters!
New version is slow and inaccurate.
I loved Waze but version 4.0 is slow and sometimes inaccurate. I've hoped that every 4.XX update will improve the responsiveness but to date it hasn't been resolved. The slowness comes when navigating and there are quick changes in direction. The program lags and sometimes results in confusion and you missing the turn. The inaccuracy comes when you plug in a road trip destination. If you used google to plan your trip only to find out when you get on the road Waze is telling you it will take hours longer than you expected. Relax it's just Waze inaccurately estimating your travel time over some roads. Please resolve these issues...
Awesome
Grandma to 9
on
10/18/2017
I love this app, don't leave home without it.
Cool app. NEEDS AN APPLE WATCH APP
Abc awsomebuttcuttingcheese
on
10/18/2017
Using my phone while driving is dangerous. Needs an Apple Watch app so I can use it on my wrist and I'll give 5 stars
Excellent Road Tool.
WAZE...My Other co-pilot!! Gets me out of traffic and has a superb destination search engine. Worth its weight in gold! Uses technology plus eyes of all users to create a living and dynamic path matrix able to calculate fastest alternate travel routes as I am driving! Using a giga-Google multiplex of informational platforms to seek and search destinations that has no peer. Wow! Always finds the way to get me there while avoiding "road problems" and using dynamically calculated data driven alternative routing.
It's getting better
It's not acknowledging location with the last update.
Is there an issue with search in the new update?
With this latest update, I now get "something went wrong" more often and generally search seems slower.
Pretty good
I love this app, I just wish one of the voice options was GLaDOS. Wouldn't that be really neat?
Waze
Jack193850239273836183
on
10/18/2017
I love this app. It has been a lifesaver getting me through traffic jams.
Waze is awesomeness
_Niko4Ever_
on
10/18/2017
YAY FOR WAZE
Exploring Denver
Stayed in Westminster CO but thanks to WAZE we were able to navigate thru a variety of downtown neighborhoods despite all the construction!!
WAZE is a must!!!!
JCMavrovitis
on
10/18/2017
Saves me every time when lost or getting past heavy traffic conditions.
Love this App!!!
ElevatedtoExcellence
on
10/18/2017
I love Waze and tell everyone about it!!! This is an essential for getting anywhere in good time. The only reason for not giving it five stars is the constant changing of voices. I started using the app because I LOVED Elvis's voice then it was gone and then I set another voice it is gone, then randomly when I turn it on another voice is on. That is a small inconvenience for an amazing way to get somewhere quickly!
Amazing and faulty
Amazing app. Duh cool features but glitches out every once in a while! Highly recommended!
No more
This app was better ... now .. three times informed me the wrong place, made me leave and enter the same highway and had to pay for two toilets ... several headaches! I'm definitely not going to use it anymore!
Best GPS by far!
DirtyBird1977
on
10/18/2017
I don't know what took me so long to try Waze. I thought apple maps was fine for what I needed. Tried Waze on a recent trip and all the notifications of obstacles and police really were awesome!
Doesn't work with iOS 11 update
Waze says there is no internet connection. Having my read forums on this issue and like issues; this is because of the iOS update but not clear means to fix it I really liked this app too
Not so timely
-The Slayer-
on
10/18/2017
Waze is really bad at estimating travel time during rush hour.
Outstanding!
I couldn't drive without it! Makes driving experience much more manageable!
Best friend on the road
The best thing created for those who travel far and alone.
Great app!
XApex Preda7orX
on
10/18/2017
I have no complaints about this app! I'd only suggest a few changes. Your points updated in real time instead of weekly, and the option to have your "mood wazer" as the little vehicle icon and have it display the rank you are. So if a wazer warrior wanted to use ninja as their navigation vehicle, they can use it with their shield instead of just having it displayed for others to see.
Review
Trouble beware
on
10/18/2017
I just would like for it to say what side the address is on ex your destination is on the right side
Update Please!
Ever since this last update, my Waze has been acting up! I've never had an issue with it. I don't want to have to delete the app and replace it because ever since I found out it I've loved it. But please do something about it I'm getting really frustrated especially because I use it everyday for work! Thanks!
Downgrading w/each Update tricky routes
Idk whats up with this app that was doing fine and dandy now its taking me thru terrible traffic. Ive put it to the test and have by passed its routes to where I know best and have beat Wayz time on my own routes which wayz had me think their was free and clear now its confused or theres annoying misguidance since previous update. Such a shame!
When Working = Awesome
Eharmony - meh
on
10/17/2017
This used to be the best app out there, but somewhere in the past 6 weeks... it suddenly can't find me a route, and will tell me to go outdoors. Ummm, I am there already. Another weird thing, when walking & trying to enter my route, it makes me acknowledge I'm a passenger. I walk fast, but trust me while typing and walking.... I am not exceeding a speed where it should engage "passenger mode"
Saved me from tons of speed traps
Juliejuliejulie1979
on
10/17/2017
The only thing that could make this perfect is if there was some kind of "next exit" feature. I think it will find gas etc. for you but it would be great if there was a way you could quickly click something on the navigation screen that would let you know what/how far from the next exit. Sort of the waze version of the blue signs. Also--please bring back Keith Morrison as a voice.
No GPS signal
Loosing GPS signal most of the time.... Loved this app before all this gps signal issue. Did not have this problem couple of versions ago.
Waves
Waves is this is the third app I have tried. And hands-down is is absolutely the best. Thank you for developing a great app. I am severely dyslexic, and the other apps do not help sincerely Susan Stanley
Great app
I love Waze and use it all the time and have for the past few years. I would like if with Waze you could see how many miles you have driven within different time frames Like day, week, month, year. That would be a very good and interesting feature to me and I would think others as well. Overall though I have loved this app for a while and was using it every single day no matter how far I was driving.
Good for a traffic overview
Overall this app does a good job giving you an overview of the traffic on your line of travel. It does update backups rather quickly but it does not do as good of a job when traffic jams are resolved and traffic is flowing. It also tends to send all users on alternate routes around backups causing backups to form in other areas
IOS 8.03 update ruined it and Waze hasn't provided a fix
I had to change my rating because Waze is taking too long to fix this glitch. I love the app, but it doesn't work with the new IOS update. 8.04 didn't fix it either. Please help!!!
Great traffic app
In the ridiculously complicated street and road system in Costa Rica, Waze is "salvation."
Disappointed... ☹️
Used to be my favorite navigation ap. Now it just spins and doesn't load. Bummer. 😕👎
Great app
Just need to hear street name I'm turning on
Street/Highway Name
It would be nice if Waze said the street or highway name when exiting. This would keep me from looking at my phone.
Good job
34566785432189
on
10/17/2017
Especially Good job with showing the speed zones !!!!
Excelente
Forastero 77
on
10/17/2017
Es muy buena y eficiente herramienta de gran ayuda
Best GPS App
This app is great when you have people around you participating. Keep up the great work.
Get there on time
Excellent way to get where you are going without getting caught in traffic!
Thanks
puppet mexica
on
10/17/2017
Thanks for the app
Waze
Just love it !! Problem connecting to car unit via usb😢 I tried several times it acts connected but screen on car unit is black!😫😫😫
Waze
Helpful with turn by turn directions and very easy to use. Have had minimal complications; usually due to address entry. Sometimes takes a moment to sync with current location once you begin driving. Up to date and helpful in both urban and rural use. User friendly and I enjoy the social aspect of drivers helping each other on the road.
From a traveler
I thank you and all of the users for the contributions that make my travels easier. This is the best app I have used.
Fact Sheet
Publisher:

waze

Category:

Navigation

Released:

Aug 01, 2009

Current Version Released:

Oct 18, 2017

Version:

iOS 4.30

Size:

104.7 MB

Compatibility:

Requires iOS 8.0 or later.

Recommended Age:

4+

Game Center Certified:

No

Supported Devices:

iPad2Wifi-iPad2Wifi, iPad23G-iPad23G, iPhone4S-iPhone4S, iPadThirdGen-iPadThirdGen, iPadThirdGen4G-iPadThirdGen4G, iPhone5-iPhone5, iPodTouchFifthGen-iPodTouchFifthGen, iPadFourthGen-iPadFourthGen, iPadFourthGen4G-iPadFourthGen4G, iPadMini-iPadMini, iPadMini4G-iPadMini4G, iPhone5c-iPhone5c, iPhone5s-iPhone5s, iPadAir-iPadAir, iPadAirCellular-iPadAirCellular, iPadMiniRetina-iPadMiniRetina, iPadMiniRetinaCellular-iPadMiniRetinaCellular, iPhone6-iPhone6, iPhone6Plus-iPhone6Plus, iPadAir2-iPadAir2, iPadAir2Cellular-iPadAir2Cellular, iPadMini3-iPadMini3, iPadMini3Cellular-iPadMini3Cellular, iPodTouchSixthGen-iPodTouchSixthGen, iPhone6s-iPhone6s, iPhone6sPlus-iPhone6sPlus, iPadMini4-iPadMini4, iPadMini4Cellular-iPadMini4Cellular, iPadPro-iPadPro, iPadProCellular-iPadProCellular, iPadPro97-iPadPro97, iPadPro97Cellular-iPadPro97Cellular, iPhoneSE-iPhoneSE, iPhone7-iPhone7, iPhone7Plus-iPhone7Plus, iPad611-iPad611, iPad612-iPad612, iPad71-iPad71, iPad72-iPad72, iPad73-iPad73, iPad74-iPad74, iPhone8-iPhone8, iPhone8Plus-iPhone8Plus, iPhoneX-iPhoneX,

Supported Languages:

Afrikaans; Arabic; Bulgarian; Catalan; Valencian; Croatian; Czech; Danish; Dutch; Flemish; English; Estonian; Finnish; French; Galician; German; Greek; Hebrew; Hungarian; Indonesian; Italian; Japanese; Kannada; Korean; Latvian; Lithuanian; Malay; Bokmål, Norwegian; Norwegian Bokmål; Persian; Polish; Portuguese; Romanian; Moldavian; Russian; Serbian; Chinese; Slovak; Slovenian; Spanish; Castilian; Swedish; Chinese; Turkish; Ukrainian;