Screenshots
New in version 8.4.28
We've now added support for the iPhone X.

We're always making changes and improvements to Spotify. To make sure you don't miss a thing, just keep your Updates turned on.
Description
Spotify is the best way to listen to music on mobile or tablet.

Search for any track, artist or album and listen for free. Make and share playlists. Build your biggest, best ever music collection.

Get inspired with personal recommendations, and readymade playlists for just about everything.

Listen absolutely free with ads, or get Spotify Premium.

Free on mobile
• Play any artist, album, or playlist in shuffle mode.

Free on tablet
• Play any song, any time.

Premium features
• Play any song, any time on any device: mobile, tablet or computer.
• Enjoy ad-free music.
• Listen offline.
• Get better sound quality.

Please note: This app features Nielsen's audience measurement software which will allow you to contribute to market research, such as Nielsen's Audio Measurement. If you don't want to participate, you can opt-out within the app settings. To learn more about our digital audience measurement products and your choices in regard to them, please visit http://www.nielsen.com/digitalprivacy for more information.

Privacy policy: http://www.spotify.com/legal/privacy-policy/
Terms of use: https://www.spotify.com/legal/end-user-agreement/

Love Spotify?
Like us on Facebook: http://www.facebook.com/spotify
Follow us on Twitter: http://twitter.com/spotify
iPad Screenshots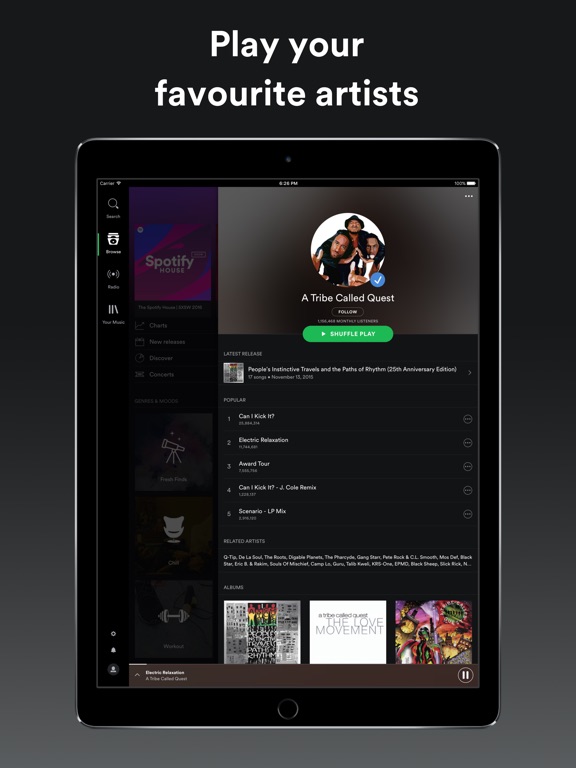 Reviews
Spotify
A friend uses this app so I decided to try I a really enjoying the music I have a lot of trouble with web sites and computers but have found this site to be pretty easy .
Great!
This is personally my favorite music app. The interface is great, there is a large library, you can follow certain people and discover new artists. With premium ($9.99/month), you have the ability to skip an unlimited number of times, repeat, shuffle, move back to a certain point of a song, etc. Spotify also has this great option where you can try 2 weeks free I believe? And after that you can decide whether or not you want to go for premium. Overall a good app and premium is definitely worth it (premium also = no ads!) :)
Five stars definitely
Ink slaughter⚔️🔪
on
12/16/2017
Amazing app/music website it allows music writers to submit playlist of music they believe is the best and have other people such as myself enjoy very thought out playlists it's Amazing in general
BEST
This is so awesome!!! I love Spotify it's so easy to listen to music and you can make your own playlist!!!
Wow
DoYouKnowMe12345
on
12/16/2017
All I can say is this is amazing
Love it but a small problem
enderslayer2020
on
12/16/2017
I love spotify it always gives me songs i love when i cant decide. However i recently ran into a problem. Whenever you dislike a song it is erased from your radio. I accidentally disliked one of my favorite tracks on a radio and i can no longer hear it on that radio. Their is also no way for me to revert this that i know of so I wondered if their was anyway to fix this. Please help out i love this app but it is a huge problem that this can not be reverted.
What happened?
Not a bot!!!!
on
12/16/2017
It used to be so good now with the new feature I barely use it, I'm gonna go delete the app right now
Perfect
Didn't Browns the
on
12/16/2017
I've been looking for a music app where I can listen to the music I love and I finally found it. It's amazing and yes, it might have some ads but if you're listening for long periods of time, you stop noticing them, at least that's what happened to me.
it used to be great
Eleven's Eggos
on
12/16/2017
When i'm listening to my playlist random songs that i don't even know start to play.
Amazing!! 🤤😱
BaconLover2006
on
12/16/2017
I downloaded this app today and I feel like I've loved it since last year!! 🤤🤤
Wonderful selection
Love listening to the pre-made playlists, especially the seasonal ones!
Great
You can make playlist awesome
I love the hell out of it
Beloveddearly
on
12/16/2017
It's the best way to listen to music before buying it!
Terrible!
I don't listen to a lot of music, but recently have started to use the app daily to listen to Christmas music. One or two songs from the playlist will play, then the next 3-4 will be rap music, explicit "love" songs, etc. that have nothing to do with the "Christmas Piano" playlist I've chosen. Ridiculous.
I love it
bella guallpa
on
12/16/2017
I love this app I can listen to my favorite songs. And I can relax in my bath!i love this app my sister told me to get it now I love itt👍🏼👍🏼👍🏼👍🏼👍🏼🤙🏼🤗
Dankity
Great way to discover new music, by listening to great music. Sincerely.
Best music app
I love this app the best. You can use on any platform or Apple and Android together on the same wi-fi. It has all the music the others do. It has the best recommendations. Try it.
Having trouble downloading songs offline on iPhone X
GabrielBernard
on
12/16/2017
Needs to be fixed!!
❤️❤️❤️
All the music I love
Cool cool
It's a cool app with great music
Better than Pandora
JesusOfMusic
on
12/16/2017
It's the all around best for listening to certain artist
D
You should be able to delete songs from your playlists
Not opening
Ry2ksecrets
on
12/16/2017
Opening the app & it shuts off. Please fix!
Booooooooooooooooooooooooooo!!
Samy👍🏼liker
on
12/16/2017
😑 (ugh) BAD!!
Glitch?
Lately my songs will pause out of no where multiple times. at first i thought it was the service but it will do it to offline songs too. then it does it when i'm on another app (it didnt do that before) not sure if it's a bug or what but it's really frustrating. i logged onto a different device thinking it was my phone but nope, sure enough the issue is still there
Best music app
Bigballermelo11234
on
12/16/2017
This app is the best for listening to music. It has all my favorite songs and artists
New
I jus downloaded the app but finding it so difficult to creat an account both by mail or Facebook
Cool
Powercomestogood
on
12/16/2017
nice app
Really good but comes with a price which is sad
Jdhehhdhdhejsk
on
12/16/2017
Very very good as an app. Love it. But they really should make it free.
Maybe make some changes
1.)When you go to add a song to a playlist I think it would be better if you could add the song to more that 1 playlist. 2.) don't play suggested tracks as much please it's really annoying. I think that's all I have to say. Thank you
I wish u could just pick ONE SING
Lovesinging!!
on
12/16/2017
I'm mad that when u look up a singer it gives all the songs and u can't just look up one. Because it just asks u to pay for the premium!!but other than that I love this app!!!! Because if u forget ur password then it just sends u the info to change it and ya...just LOVE IT!!
No parental controls/ explicit lyric filter
Spotify rolls out a family plan but refuses (first request for feature was over 5 1/2 years ago) to implement DEMANDED feature (over 375 pages of comments as of this writing). In addition to explicit lyrics, kids can listen to very explicit podcasts (dealing with a number of sexually explict topics) What sort of product company is so arrogant as to refuse to implement user demanded features? Daniel Ek (the spotify CEO) has 2 yo Bree kids but clearly doesn't care what they listen to.
Amazing
TheMassiveBeast
on
12/16/2017
Great Quality
Awesome
This is awesome you can go anywhere and listen to your favorite music
Spotify the best
This is the best app period. End of story. Also, your music can be played thru the D-Jay app. Totally brilliant.
I use this whenever I want to listen to music!😁
Loron Da Moron James
on
12/16/2017
I love this app and It has all the songs I want to listen to. It has it's ups and downs from other people but I personally don't have any downs for this app.
Spotify is life
Ashlynnsilly
on
12/16/2017
Duh
Love this app SO MUCH
I listen to music almost 24/7 and this app is perfect for keeping all the music I love at my fingertips as well as discovering tons of music that it just my style!
Spotify or Pandora
After trying out both I've realized with easy decision that Spotify is unexplainably better playlists are my favorite getting to relax looking at the most popular songs in every country and even the world to me there's nothing better than getting to chill and listen to music I'm also a personal trainer and I play Spotify to all my work clients they also love it thanks Spotify
Spotify music
I love Spotify,it's the best ,love to listen to great music.
Good music poor service
Raven9Black
on
12/16/2017
Be careful what u listen to, if u like something it becomes permanent, it feeds u music that you never requested and 80% of the time it's alright but the other 20% is terrible
Revolutionized my life
Neptune_1975
on
12/16/2017
Late bloomer....too busy on Pandora lol
Can either be great or frustrating
I loved Spotify because I could listen to a single artist's discography, as opposed to a mixed artist "radio." They've recently done away with that and it kills the whole appeal for me. Even my own playlists that I've created go into songs I haven't added to them! It's frustrating. I hope that they reverse this. My other irritation with the app is that you can click a video ad to receive 30 minutes of music without ad interruption. Without fail, this provides no such thing. Sometimes I get 23 minutes, sometimes I get six minutes, before I'm interrupted by another ad. That seems very underhanded. Fix these issues and this would be a powerfully successful app.
I love it
Cookiemon200
on
12/16/2017
Love relaxing and listing to the new tracks
The Best Music App Hands Down!
Tyrone Brackus IV
on
12/16/2017
I have tried every Subscription Streaming Music Service App and this is the best of them all. It's not even close.
LIVE
THIS THE BEST MUSIC STREAMING APP
Ads and limited skips
The app is great but the ads always make me mad that it takes up like four minutes of music. Also limited skips is just cruel.
What happened??
"My" music library keeps losing the previously stored music, so listening offline has become a real problem. Loved the illusion of having all these great albums at the ready...well, it's a few extra keystrokes and a reminder of the transient nature of everything, I suppose. 🤔
Fact Sheet
Publisher:

Spotify

Category:

Music

Released:

Jul 14, 2011

Current Version Released:

Nov 17, 2017

Version:

8.4.28

Size:

150.9 MB

Compatibility:

Requires iOS 9.0 or later.

Recommended Age:

12+

Game Center Certified:

No

Supported Devices:

iPad2Wifi-iPad2Wifi, iPad23G-iPad23G, iPhone4S-iPhone4S, iPadThirdGen-iPadThirdGen, iPadThirdGen4G-iPadThirdGen4G, iPhone5-iPhone5, iPodTouchFifthGen-iPodTouchFifthGen, iPadFourthGen-iPadFourthGen, iPadFourthGen4G-iPadFourthGen4G, iPadMini-iPadMini, iPadMini4G-iPadMini4G, iPhone5c-iPhone5c, iPhone5s-iPhone5s, iPadAir-iPadAir, iPadAirCellular-iPadAirCellular, iPadMiniRetina-iPadMiniRetina, iPadMiniRetinaCellular-iPadMiniRetinaCellular, iPhone6-iPhone6, iPhone6Plus-iPhone6Plus, iPadAir2-iPadAir2, iPadAir2Cellular-iPadAir2Cellular, iPadMini3-iPadMini3, iPadMini3Cellular-iPadMini3Cellular, iPodTouchSixthGen-iPodTouchSixthGen, iPhone6s-iPhone6s, iPhone6sPlus-iPhone6sPlus, iPadMini4-iPadMini4, iPadMini4Cellular-iPadMini4Cellular, iPadPro-iPadPro, iPadProCellular-iPadProCellular, iPadPro97-iPadPro97, iPadPro97Cellular-iPadPro97Cellular, iPhoneSE-iPhoneSE, iPhone7-iPhone7, iPhone7Plus-iPhone7Plus, iPad611-iPad611, iPad612-iPad612, iPad71-iPad71, iPad72-iPad72, iPad73-iPad73, iPad74-iPad74, iPhone8-iPhone8, iPhone8Plus-iPhone8Plus, iPhoneX-iPhoneX,

Supported Languages:

Czech; Dutch; Flemish; English; Finnish; French; German; Greek; Hungarian; Indonesian; Italian; Japanese; Malay; Polish; Portuguese; Spanish; Castilian; Swedish; Thai; Chinese; Turkish; Vietnamese;

Parental Advisory:

Suggestive Themes; Mild Profanity or Crude Humor; Mild Alcohol, Tobacco, or Drug Use or References; Mild Sexual Content and Nudity;