Screenshots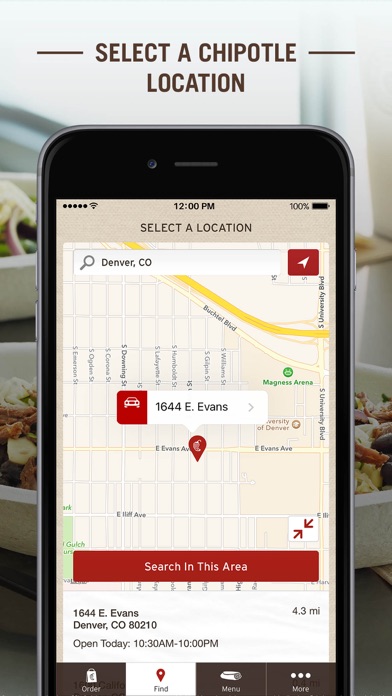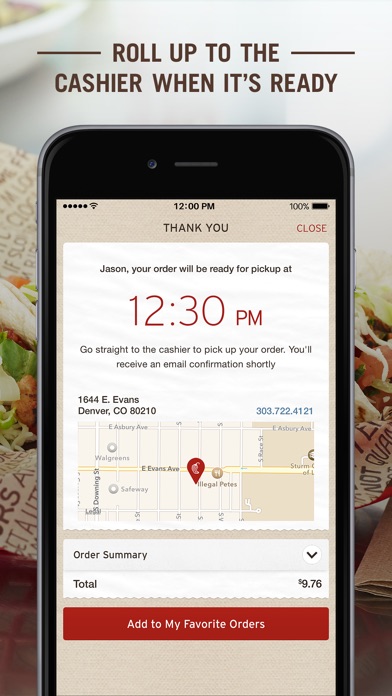 New in version 4.7.7
New in 4.7.7
General bug fixes and improvements
Description
The Essential Chipotle App for Mobile Ordering.

Ever have an uncontrollable craving for your favorite Chipotle burrito but don't have the time, or the patience, to stand in line? Or maybe you're traveling and need a quick taco fix but don't know where to find the nearest Chipotle. Don't despair, with the Chipotle app on your iPhone, iPod Touch, or Apple Watch ordering your favorite burrito, delectable bowl, or delicious tacos is as simple as touch, pick, and pay. No wandering the streets desperately searching. No sitting in front of a computer. And no standing in line required. Just grab your phone, place your custom order, pay with a credit card or a gift card and go right to the register and pick it up at the Chipotle nearest you.

Features:
• Order your food quickly from your iPhone, iPod Touch, or Apple Watch. No waiting in line.
• Pay with a credit card or Chipotle gift card.
• Find the nearest Chipotle. Or the furthest. Find all Chipotle locations, even those that are Coming Soon.
• Use your Chipotle account to access all your favorite and recent orders, and save your payment info.
• See menu, nutrition, & allergy information.
Reviews
App is TERRIBLE and no way to report other than here!
The app used to be good but now you cannot save your cc info and the help section is worthless on the app and the Corp site. Fix it!!!
Poor User Interface
Why not just let you add food instead of constantly creating a new person to add food to.
Could not even locate a store near me
App used to work great but now it can not even find a store 'super computer joke inserted into error message'... this place is going down hill fast
Needs Apple Pay for privacy & security
I want to minimize the number of people who have my payment info, and I would love to not give it to you chipotle. Please don't require that I trust you with my credit card to use your app.
Worse than worthless. Turns me away from chipotle.
Downloaded the app went to chipotle on a tight schedule. Nothing. The order hadn't gone through on their end though I'd done everything correctly. Now I'm hangry. At Chipotle. Don't offer a service you can't actually provide. Particularly when your brand is already under scrutiny. I've been very loyal for years. Lost me now.
Supercomputer
Supertrooper3d
on
10/15/2017
The app keeps saying can't connect to the super computer smh!!!
App doesn't work.
Jefftomsolin
on
10/14/2017
It says there are no chipotles in my area when I know there is. I wasn't able to make an order. Guess I'll have to eat somewhere else.
Works well
Works well, but why are some menu items still missing? Like chorizo is not available in the app but in any store I've been in. Kinda weird because quest is available although it's much newer. Either way, it's a breeze to get in and order from any spot so not other complaints from me.
Your App is unreliable.
I love the app ... when it works. Hate it when it doesn't. Seems like your app is programed to fail whenever it will be the most inconvenient. Like the food. Hate the unreliable app. Easier to order elsewhere.
App is not working
Jaxonjaxoff2400
on
10/13/2017
Never had problems with this app until today. Extremely frustrating.
App doesn't work
Go Cardinals!!
on
10/13/2017
App isn't working. I would of liked to order online but I couldn't
The Food Is Very Good. The App, Isn't.
Was in a long line (out the door) at a Chipotle location near my home in Grand Rapids, MI... the app refused to connect to Chipotle's "supercomputer", no matter what network I connected to, either WiFi or LTE. Facebook and other apps had no issues. What was really annoying was when you hit Cancel, it kept retrying endlessly. Awful experience. C'mon guys, fix it!
This app is pointless
DoesntThisRock
on
10/13/2017
It wasn't connecting to Chipotle's "super computer", so I updated the app and still couldn't connect. It's a waste of space on my phone.
Random errors, my order keeps getting lost
AndrewHellinger
on
10/11/2017
The app tells me that it can't connect to the servers, I've tried to make a group order twice now but the order keeps disappearing mysteriously from my account.
Gift cards and forms of payment
Where do I even begin. I'm not exactly sure who develops this app but I hope they aren't paid well. The fact that I can't use a credit card and a gift card to pay for one order is like basic level disappointing. On top of that the N Academy location in Colorado Springs can't process my gift card. So I have to order something under $5 using the app (because I can't use my credit card to pay the difference) or go to Taco Bell and throw out my gift card. Boooooooo
):
the app wont let me make an account
Can we leave zero?
Can't even use this app so it's worthless.
Special instructions
I like to order a bowl with a tortilla in it. I used to be able to write this in the special instructions, but it has since been removed. Please bring the special instructions back, or at least add that as a customization for a burrito bowl. I can't order from the app anymore because of this.
Not worth it
I have ordered from the app 2 times and the orders were incomplete. Won't use this app again
Eat local Mexican food.
Your queso is trash.
Convenient but slow
A little slow but I still like it.
Why NOT to Use This App
Without someone standing in front of the person making your meal and telling them what to put in, the odds that they are going to forget something are very high. The workers have every incentive to skip steps and get your order done, and there's no one there to see that the meal is made correctly. This was my experience ordering and I'm thus very disappointed with the app. You get punished for using it. Might as well just stand in line, watch them make your meal and make sure they get it right.
Never had a problem
Streamline design that makes ordering easy. Never had a problem using. Order is always ready when I get there. Love the convenience.
I love chipotle!
Nlahblah3456
on
9/28/2017
Hey everyone, this app is great for skipping lines and getting your food fast! I definitely love eating chipotle and this app makes it a greater customer experience. To chipotle, I would love to see a rewards program for consistent clients! I support y'all typically two times a day (lunch and dinner) and it's a hefty budget per month. I am starting to do the surveys every time I dine but I would love to see some type of electronic punch card deal. Eat ___ get one free or something along those lines.
Major bugs
It's a great app if your only goal is to see an error message: an unexpected error occurred. Please try again. Trying to get this thing to work for hours and just gave up.
Why no notes option
The app doesn't have chorizo as a meat option, it also doesn't allow me to select plain white rice or at a minimum put in a note requesting it. I have a cilantro sensitivity and it ruins meals for me. It'd be nice to be able to use the app and order it the way I want.
Not a lot of functions
Can't update or cancel online orders. This is a problem when your local chipotle never answers the phone.
Terrible app. No guest checkout.
The app will not let you place an order without creating an account. Of course the app generates an "unknown error" when trying to create an account so it's completely useless.
Chipotle is muh life
Chipotle is life and this app is so easy to use. Just order what you want and pay via credit card, show up to the restaurant, skip the line, grab your food and enjoy the looks on everyone's faces as you walk by and they think "wow I should've done that." Welcome to 2017.
Why no Apple Pay?
Why in 2017 am I having to type my email, create an account, a 8 letter password with special characters, enter credit card manually since photo scan doesn't work with card data on back. In general spend more time setting up this app than I would to just wait in line Ridiculous. Nix the 2001 signup, support Apple Pay for immediate experience. You get paid faster. Please respect your customers time. Also try the panera app. I eat there because they do the above
Won't add credit cards
Tried several times to add a new credit card Amex. Won't accept it. Frustrating when I am trying to buy.
Useless
originalasteele
on
9/18/2017
No Apple Pay, and no way to order a quesadilla... a freakin QUESADILLA. A great app if you order straight off the menu and/or don't mind risking your card info.
App works great
I was leery downloading this app because of the reviews but my wife and I were going down the road running some errands and we wanted some food. She asked if they had a nap so I went ahead and downloaded it, installed it, ordered our food, and paid for our food before we got to our next destination. It's easy to navigate, it's easy to use, and you can also protect it with the passcode or touch ID. So far we will we like it a lot.
Not working properly
I registered my MasterCard but the app shows that it's Visa card. Also prepaid doesn't work when you order
Check out process
Mustache Movember Man
on
9/15/2017
Normally I don't complain, but the checkout process has way too many hoops you have to jump through. Twice I had to push the checkout button to actuate the order. Because of this I waited a half an hour in line. This needs to be fixed and much more user-friendly. Also your credit card reader just not work. Your app company has some work to do.
.
camelliajade
on
9/15/2017
The app is great if you order off the menu exactly but it is hard to customize your order. A comment box would be super helpful to order things like extra pico on the side. You can't order a quesadilla on the current app unless you get a kids meal
Could improve
I always order veggie 3 pointers and the total is $5.36 but the app charges me with the price of the regular veggie burrito anyways and I tried getting help from the FAQ page but it was useless and so I decided to pay in the store so that the cashier could take care of that for me but unfortunately that didn't happen. If you could adjust your pricing for 3 pointer and such things that'd be great
Missing and Wrong
reddevils1968
on
9/13/2017
Pretty poor that Chipotle does not support Apple Pay, especially since my credit card was hacked through Chipotle. Inexcusable that the locations on the maps when finding a store are wrong, at least around me, at multiple locations.
So downhill
Chipotle is a wonderful place to eat for a vegetarian but i may just stop trying to come here all together. The app is constantly crashing, and now today i forgot my wallet so i was excited to remember i could order ahead and pay ahead. I go to place my order and the app is promoting me to update the app, no problem, so i go to do so and in the app store it doesn't prompt me to update. i tried closing the app and restarting nothing was working, so i delete and redownload the app, now it didn't save my info to the cloud or anything. so now i will be taking my business somewhere that takes apple pay. it's a shame but i always have problems in store and in app for your company so i will no longer be giving you my money.
Still no Apple Pay? In 2017.
Seriously?
Ehhh
AnnaBanana1217
on
9/12/2017
It looks like either the employees don't read the instructions when you online order. I always ask for light hot sauce and extra cheese (which I indicated while ordering), but they continue to do the normal amount. They also don't have options to get quesadillas and other side items. In addition, the quality of the service and food has gone down. I will probably start going to qdoba more often
It's a great app but...
I love using this app my only problem is that the secret menu isn't on the selections so I have to type is when I put my name.
Needs Apple Pay Support
Have given up on Chipotle. I used to love using their app to order ahead and pick up but there are better places and that support Apple Pay. This would be complete if it used ApplePay to let me pay ahead instead of paying in the store or if it were supported in store. It would speed ordering and check out! Disappointing that TouchID was added without full Pay support and instead driving to get your card details stored on their system instead of enabling better security through Pay.
Why bother have an app??
Why bother with an app when it's usually quicker to wait in line! If you order on the the wait is minimum 30 min! Why bother chipotle?! Get it together.
Still cannot add Amex cards
Problem persists in this version. I keep remembering that this was what was stopping me from eating at chipotle.
Good concept, reeeeeeally needs some fine tuning
jspnvltn222222222
on
9/8/2017
I love that the app allows me to skip the line and get my order quickly, but it is really lacking in customization allowances. The fact that it limits customization is very irritating if you're working around any food sensitivities or allergies. Customization limit shouldn't exist, an additional message section would be very helpful.
Can no longer add cilantro
Julie in Minneapolis
on
9/8/2017
The old app allowed a free form spot for special requests. We used this to add extra cilantro. Since we don't really like the burritos much without added cilantro, and have little time to go to the store and wait in line, we just don't eat at Chipotle much anymore. (As opposed to 3-5 times per month). I imagine this free form field would also be helpful for those that don't like cilantro. Bring it back and we'll be back!!!
Still No ApplePay support? Fail
Subject says it all.
Can you give less than one star?
Tried several times and can't even create an account!
Errors
Never works. Always get and unexpected error at checkout. Worthless app
Fact Sheet
Publisher:

Chipotle Mexican Grill

Category:

Food & Drink

Released:

Aug 24, 2009

Current Version Released:

Oct 03, 2017

Version:

4.7.7

Size:

91 MB

Compatibility:

Requires iOS 7.0 or later.

Recommended Age:

4+

Game Center Certified:

No

Supported Devices:

iPhone4-iPhone4, iPad2Wifi-iPad2Wifi, iPad23G-iPad23G, iPhone4S-iPhone4S, iPadThirdGen-iPadThirdGen, iPadThirdGen4G-iPadThirdGen4G, iPhone5-iPhone5, iPodTouchFifthGen-iPodTouchFifthGen, iPadFourthGen-iPadFourthGen, iPadFourthGen4G-iPadFourthGen4G, iPadMini-iPadMini, iPadMini4G-iPadMini4G, iPhone5c-iPhone5c, iPhone5s-iPhone5s, iPadAir-iPadAir, iPadAirCellular-iPadAirCellular, iPadMiniRetina-iPadMiniRetina, iPadMiniRetinaCellular-iPadMiniRetinaCellular, iPhone6-iPhone6, iPhone6Plus-iPhone6Plus, iPadAir2-iPadAir2, iPadAir2Cellular-iPadAir2Cellular, iPadMini3-iPadMini3, iPadMini3Cellular-iPadMini3Cellular, iPodTouchSixthGen-iPodTouchSixthGen, iPhone6s-iPhone6s, iPhone6sPlus-iPhone6sPlus, iPadMini4-iPadMini4, iPadMini4Cellular-iPadMini4Cellular, iPadPro-iPadPro, iPadProCellular-iPadProCellular, iPadPro97-iPadPro97, iPadPro97Cellular-iPadPro97Cellular, iPhoneSE-iPhoneSE, iPhone7-iPhone7, iPhone7Plus-iPhone7Plus, iPad611-iPad611, iPad612-iPad612, iPad71-iPad71, iPad72-iPad72, iPad73-iPad73, iPad74-iPad74, iPhone8-iPhone8, iPhone8Plus-iPhone8Plus, iPhoneX-iPhoneX,

Supported Languages:

English; French; Spanish; Castilian;