Screenshots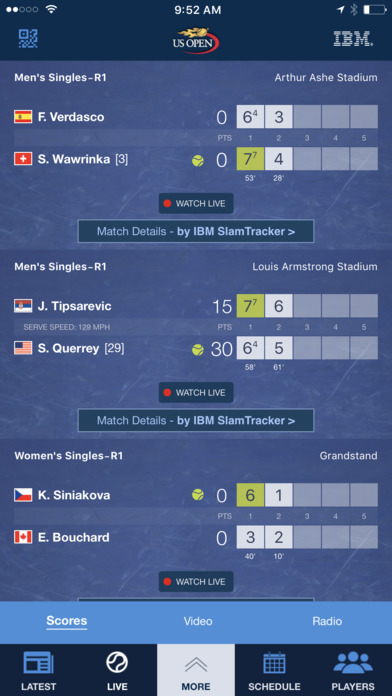 New in version 9.0.577
- Updated for Tournament features
Description
Stay connected to all the action during the Open, August 22 to September 10, 2017.

Key Features include:

Latest
The interactive home screen offers fans an immersive experience into the US Open with immediate access to live scores and latest news, photos, and videos.

Scores – Analytics & Insights by IBM
LIVE exclusive point-by-point scoring updates, completed match results, statistics, match insights and IBM Keys to the Match during the US Open.

Guest Information – Presented by American Express
Your digital concierge, a chatbot that will answer your questions in real-time all powered by Watson. Guest Information is your source for all your US Open questions ranging from transportation, on-site food & drink, scores, schedules and more.

Grounds Map -- NEW
The US Open interactive grounds map is your mission control to best navigate the grounds. Find out the score on every court, where to find a drink or your favorite food, and where to map out your next move.

Tickets
Buy and manage your tickets securely through the official app. 2017 US Open Tickets are now Mobile. Use your phone to scan your ticket at the US Open gates.

Other Features
Live Streaming, Highlights, Official Schedule of Play, Player Bios, Draws, Event Guide, CHASE Charge & Watch, and Bracket Challenge.
iPad Screenshots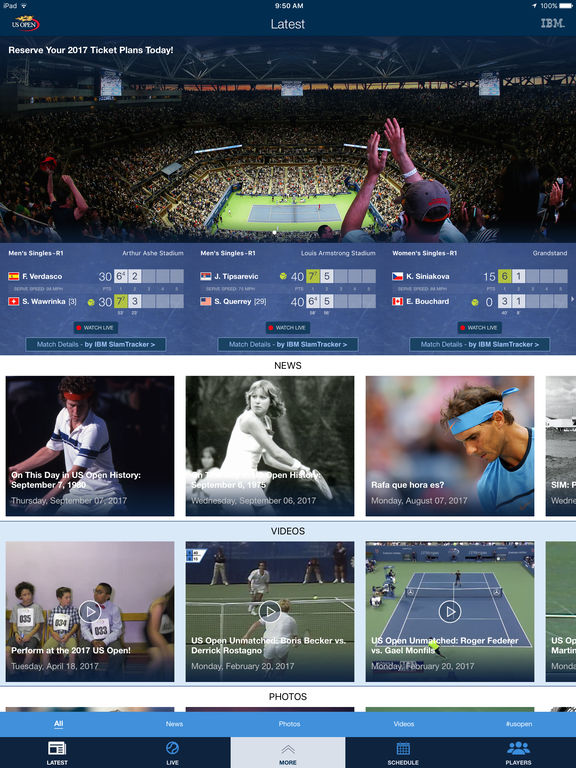 Reviews
Not for iPod touch
Brushes Commuter
on
7/15/2017
The app requirements say is it works for iPod touch but the app requires a constant internet connection which is not always true with an iPod touch. I guess I need a smartphone now.
BEST
If you're deep in tennis, this one is better than the apps of the other three slams.
Regressed
TennisFan1210
on
9/12/2016
It frustrated me that there was no list of players to look at and use to pick favorites; there was no draw; and no schedule! I feel like this app was a regression from previous versions, which doesn't make sense to me. The only positive was that I got notifications for the players I could remember to add as favorites....
Poorly Constructed
Tournament is over and I can find no easy way to even see the outcomes in the various categories. Schedules are non- existant and Order Of Draw completely hidden. Amazing how carelessly this was thrown together. Very disappointing. ESPN app provides better coverage.
Poor... Caught by the channel subscription trick
Don't waste your time. Not easy to see matches online.
Terrible
Hard to read and navigate. Much better simply to go to usopen.com
Draws and schedule please!!
No views of draws available as in prior versions. Easy to see the day's current and completed matches but no schedule of play readily available. A definite DOWNGRADE.
No draws, no schedule
Like the latest and completed matches but amazed there's no option to see draws or the upcoming schedule. Need a broadcast schedule tab, too. Not everyone wants to watch matches on a phone.
Thrown together!
Not intuitive. Where is the schedule, order of play? Favorite players should have had a list where you can choose who you want to follow. Instead you have to search for them. This is the first time I have seen a Grand Slam app missing so much and not intuitive.
Hamish
Score format harder to read this year and news section has too little headlines too much photo
Not great
Site often does not update scores. Need to completely close and go back in. Also generally not user friendly
Poorly executed
TheJonnyMagic
on
9/6/2016
By far the worst Grand Slam app. Just confusing and irritating. It's Saturday 6pm and it's virtually impossible to find who's playing on the show courts tonight. The 'latest news' stream is a mess. Why can't they just re-skin the brilliant Wimbledon app? J
Wow
This is a great app, everything you need. So much better than the Rio Olympic App
App crashes
App is crashing now when I bring up a player. Deleted and reinstalled. No help
App crashing
I've used the app every year with no issues but now I can't view any of the player info without the app crashing. I updated the app, restarted my phone, but it still crashes. I would rate this higher if it weren't for that.
Error message
I keep getting "error logging in" message when trying to connect to ticketmaster with my account and view my tickets
Draws?!?
A couple of times I've actually been able to see the draws, but not today. Like a lot of other apps, there's way too much overhead/ads. You just give up waiting and quit the app. Kinda useless.
Great event app!
Scooter572495
on
9/4/2016
Very easy to use on site
Missing key data
How can this be released when the app appears to be 15% complete????
Best ever
At first I didn't like it, but once I realized how much information was available and how easy it was to check on singles, doubles, mixed doubles, plus the schedule, I really like this app.
Horrible No Good App
Keeps telling me I have no internet access .... Deleted - reinstalled - still no good. Every year - same lousy app ....
Amazing app!
Richard Brandow
on
9/3/2016
I love the app and how amazing they made it. Worth 5 stars!!
Too many clicks
It's very slow to update even while at the tournament. Not appealing, not current and not intuitive.
Beautiful app this year!
Love the new design. Very quick to get from scores to news to photos.
So far, so good!
I just downloaded the app because I wanted to find out how a couple of players were doing. I found the players and results quickly and easily. There are player interviews that I didn't see televised. There aren't any matches on right now, but it looks like you can see all the courts live in the app. It's also a very pretty app. The only negative so far is that there are ads before the videos. Also hoping I don't get Ray-Ban texts, which happens whenever I use the BNP Paribas app!
Fantastic
What an update!
Amazing App!!
Love that I can stay updated with live scores and schedules. I can also listen to US Open radio on my commute.
Who is winning/losing?
I can't figure out who is winning or losing the match while it's going on, due to he scoreboard being very ambiguous. Please fix this problem.
Just why?
Why even make a tennis app when it just redirects you to the ESPN app to watch any tennis? This app seems completely superfluous. The mind boggles.
Great app
Scooter572495
on
9/1/2016
It is a very helpful app when visiting the open.
Ugly and confusing
Surethingsherlock
on
9/1/2016
Easily the worst of all four major tournament apps: 1. Outdated design, ugly color scheme and weird layout 2. confusing menus (someone thought it's a good idea to put menus on the bottom of the page and scroll them instead of drop down), 3. confusing score board (vertical set score board with horizontal game scores and player names makes you wonder who is serving and who is leading - awful design idea) 4. A bunch of missing data. 2/3 of player photos are missing, and those are of top 50 players. In general unappealing and sloppy app. At least the scores are updated in real time
Message Indicater
What is going on and how do you delete the message indication on this app. I've looked everywhere and have gone through every menu.....Its driving me CRAZY!
USTA fail
The scoring displays in this app are about as bad as the state of American tennis. Both are awful and the USTA is to blame for both. I hope they didn't pay the designers who came up with the terrible scoring displays. #USTAFail
Scoreboard awful!!
Can't quickly glance at it and tell which set score and which game score belongs to which player - horrible design. Why not do it like every other tennis app scoreboard??
Not great - yet
Just opened app and see why confusing. See a score board but there is no indication as to who either player is on board. You can see who's serving. While that's nice, if like to know which player has which score!!!!
Best Grand Slam app
I can see how people might have thought it was missing features, but it is even better than previous versions, including the detailed info that can be found through the player links, etc. You just have to scroll through the bottom ribbon to find what you need (schedule, draws, players, etc.). I think the complaints are mostly "training" related because people aren't used to the new format. The only improvement I would like is the ability to print from the schedule page (or any of them). But maybe it is somewhere, and I just don't know it yet. Have fun!
Amazing
Loved loved this app! I couldn't have navigated the grounds as easily and carefree without it. I was with 3 kids and I was able to give them great information through every step of our day. They got excited using it, and it was something we all really expected to have and was very satisfied. Great job!!
This will blow your mind
GangsterBiscuit
on
9/1/2016
I thought this app was awful for not including the schedule or draws but.. wait for it.. try swiping left on the navigation bar on the bottom of the app and *gasp* MAGIC!
Poor
Pista Houston
on
8/31/2016
Where are draws?schedule? Players? It's not rocket science - other three grand slams apps have it! It's not like you have to think what do you need in a tennis grand slam app- It's standard.
Poorly designed
Basic things are poorly designed. The scoreboard is a prime example. Can't even tell which score belongs to which player half the time. Does not provide a list of players ordered by seed.
Worthless
Totally useless. Every app has scores and this app has nothing more than that. Draw? Courts? Up next? Poor
Glad I keep French open app
Asleep at the app
on
8/31/2016
No player information that's what this is so important in the early rounds
Just a notch above worthless
It's painfully obvious advertising, promotions, and data harvesting were the only factors in the design of this app. If the user (read fan) was thought of at all they were apparently an annoying afterthought. Are the draws and daily schedule a matter of national security? Lacking information so basic is inexplicable. Perhaps the gits who designed this useless piece of technology could have benefited from knowing what a tennis match is... Perhaps
Scoring display is confusing
something2be
on
8/31/2016
Overall this app does what it is supposed to do, but the part I care about most is being able to check scores and results quickly. The way this app displays the scores is not intuitive at all. I keep getting mixed up as to who's leading in all the matches. It would be so much simpler if they left out the photos and just had the players' names on one side next to the scores, just like on a scoreboard.
Terrible arrangement
All I can tell is a terrible design. I come mostly to see the score. But looking at live score, I have no idea who is winning. Simply because, the two players are on left and right and the score display s vertically. Whoever design this must not use common sense.
Better than I thought
This app is much better than I thought originally. It is not at all clear that you can drag the strip at the bottom of the screen to find all the categories I thought were omitted. Once you drag it to the left you find the schedule, the draw, and the players. It's all there but it would have been very helpful if they'd put an arrow on that line so you would know to drag it!! App has lots and lots of information on every match, both before and after.
Fix Scoreboard Formatting
Dan A, Boston
on
8/31/2016
The scores are extremely confusing with a light grey line indicating which side is which player. Also add a filter to see both men's and women's matches in completed.
Just a suggestion
Taco The Kitten
on
8/31/2016
Well designed app, simple and easy to use. Sometimes it's slow but for the most part works great. My only suggestion is a "line watch" section, so that you can see the estimated wait times from certain courts to get seating.
Confusing Scoreboard
Like other reviews, I too am totally confused regarding the way in which the set scores are indicated as well as the game score. It's gotten to the point whereby I've given up on the "live" scoring due to its utter confusion; fix it in order to make it more clear!
Fact Sheet
Publisher:

United States Tennis Association

Category:

Sports

Released:

Aug 21, 2009

Current Version Released:

Aug 18, 2017

Version:

9.0.577

Size:

105.5 MB

Compatibility:

Requires iOS 9.0 or later.

Recommended Age:

4+

Game Center Certified:

No

Supported Devices:

iPad2Wifi-iPad2Wifi, iPad23G-iPad23G, iPhone4S-iPhone4S, iPadThirdGen-iPadThirdGen, iPadThirdGen4G-iPadThirdGen4G, iPhone5-iPhone5, iPodTouchFifthGen-iPodTouchFifthGen, iPadFourthGen-iPadFourthGen, iPadFourthGen4G-iPadFourthGen4G, iPadMini-iPadMini, iPadMini4G-iPadMini4G, iPhone5c-iPhone5c, iPhone5s-iPhone5s, iPadAir-iPadAir, iPadAirCellular-iPadAirCellular, iPadMiniRetina-iPadMiniRetina, iPadMiniRetinaCellular-iPadMiniRetinaCellular, iPhone6-iPhone6, iPhone6Plus-iPhone6Plus, iPadAir2-iPadAir2, iPadAir2Cellular-iPadAir2Cellular, iPadMini3-iPadMini3, iPadMini3Cellular-iPadMini3Cellular, iPodTouchSixthGen-iPodTouchSixthGen, iPhone6s-iPhone6s, iPhone6sPlus-iPhone6sPlus, iPadMini4-iPadMini4, iPadMini4Cellular-iPadMini4Cellular, iPadPro-iPadPro, iPadProCellular-iPadProCellular, iPadPro97-iPadPro97, iPadPro97Cellular-iPadPro97Cellular, iPhoneSE-iPhoneSE, iPhone7-iPhone7, iPhone7Plus-iPhone7Plus, iPad611-iPad611, iPad612-iPad612, iPad71-iPad71, iPad72-iPad72, iPad73-iPad73, iPad74-iPad74,

Supported Languages:

English;