TapNova doesn't recommend this app.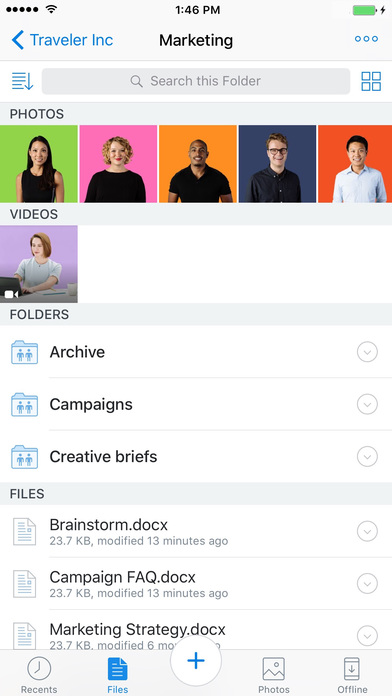 New in version 52.2
What's new:
• You can now share Dropbox files while inside other apps

What's fixed:
• Improved loading times for the Offline tab
• Increased the limit for offline folders from 100 to 500
• In iMessage, you can now sign in to Dropbox using Touch ID
• If your battery is over 30%, the screen no longer dims while viewing a document
• Fixed an issue where some people couldn't save to Dropbox when the language was set to Russian

We release updates regularly, and we're always looking for ways to make things better. If you have any feedback or run into issues, come find us in our forums. We're happy to help!
Description
Dropbox keeps your files and your team in sync. Anything you save in Dropbox can be easily accessed from all of your devices. Sending large files is easy, even to people who don't have a Dropbox account. And with features like the doc scanner, shared folders, offline access, and more, collaborating with others is simple.

Features:
• Work on files with others through shared folders
• Use the document scanner to turn receipts, whiteboards, and notes into PDFs
• Comment on files to share feedback with your team
• Sync, share, and edit Word, Excel, and Powerpoint files

We'd love to hear from you! Join the Dropbox community: www.dropboxforum.com

We offer in-app purchases for Dropbox Plus, which includes 1 TB of storage and additional features. The amount will be charged to your iTunes account and will vary by plan and country. You'll see the total price before completing payment.

Dropbox Plus subscriptions purchased in-app renew monthly or yearly depending on your plan. Plans are priced at $9.99USD monthly and $99.99USD yearly (pricing may vary in countries other than the U.S.). To avoid renewal, you must turn off auto-renew at least 24 hours before your subscription ends. You can turn off auto-renew at any time from your iTunes account settings. Dropbox also offers one-month trials for monthly subscriptions.

Terms of Service: https://www.dropbox.com/pricing_terms
Privacy Policy: https://www.dropbox.com/privacy
iPad Screenshots
Reviews
Meh
Fast Eddie G
on
6/26/2017
It's good but I hate having to pay for extra like I just wanna backup my pics
Worthless mobile feature
Can't view most documents. Keep getting the message that I need to open the file on the PC. Talk about obsolete.
The Absolute Worst
Quite a few of my pictures have disappeared when I tried to share my photos with a relative. I cannot locate any of them.
Dropbox
Please bring back the ability to drag offline files in order I want them. It's now either alphabetical order or file size. Why did you take that away?
Love it
Works on all my devices seamlessly
Expensive
And complicated UI. Use google storage
Annoying
I have to download this app to listen to some files. Takes up a ton of data.
It has trouble.
After being updated in ios new version. When it is started it needs so long time.
Canceling friends' and family members' Dropbox subscriptions
Jazz Thompson
on
6/20/2017
**Update 5/22/17 -- Dropbox ignores my Tweets and emails asking when iOS Live Photo backup will be available so I have started helping friends and family members cancel their paid Pro subscriptions with the $40 annual Packrat add-on and move to other services like Box and OneDrive for files and Google Photos for pictures.** I was surprised and disappointed this morning when I realized that Dropbox hasn't been backing them up. This is important. As a Pro user who pays for the Packrat add-on, I have high expectations for app development turnaround time and over a year is too long! I will increase my rating to 5 stars once Live Photos backup feature is rolled out because otherwise this app is great.
Super app one the best
Dropbox has made my work much easier , and you can sign forms
Cannot direct download an actual file
The app serves all of my file management and sharing needs except downloading an actual file instead of the link to the file in Dropbox. I would have rated the app higher if I had that feature.
Been using this app for years
Great app has up and downs. Problems. But overall I like it.
Great!!
This app is totally amazing. Honestly I don't see myself using any other app to save my files. It's so easy to go in & grab what I need, plus it's security feature that they added was such a big help. I can't really see any way of making that app any better than it already is.
Scroll bar is now gone 😳
Philly Phool
on
6/16/2017
It's killing my thumb ...some folks do have larger files they have to scroll through to get the data they are looking for - and when the latest data is at the bottom , it's painful. Being the scroll bar back!
Do not use!! Scam Subscription!!
Ghost Regret
on
6/16/2017
Drop box has no customer support now, so they have a loop support page. Now, on to the real bull crap: there is a monthly subscription charge for more storage. Its about $10 a month. I terminated my subscription thru drop box--didn't need it. However, they kept charging thru itunes. You have to personally terminate the dropbox subscription thru your itunes account to stop getting charged. They were getting paid after termination! That's stealing!!
Does not update to iPhone 7plus
purplekoala543
on
6/15/2017
It's been a week now and I have to see the App Store icon with a 1 on it to update Dropbox. When will there be a fix? Won't continue the update install
Doesn't sync
Doesn't sync across devices properly
Terrible
Most days I can't even access my files, for god knows what reason. Time to switch.
Size
sleepwithmac
on
6/14/2017
Too bf for this app. Please reduce its size. Dropbox may it's small but too big for us. Thanks.
Horrible
Kinda defeats the whole purpose of cloud storage if everything you upload sits in your cache WITH NO WAY TO CLEAR IT except DELETING the app and going through the whole set up process again. Unbelievable it's still this way after years of customer complaints with this. Dropbox, not what I'd consider "on the ball". #lame
Love this app, but....
christasleeve
on
6/13/2017
How is bulk export to camera roll STILL not a thing?! It's a huge pain when you have multiple files to download to the phone 😑
Do people still use this?
Someone just shared pictures with me and it says I have to download the app. (Annoying) I didn't realize people still used Dropbox. My daily work circles years back moved to Google and Microsoft. After surfing through their website again (it has been years) they have some cool things, but the base storage options are archaic and I can share stuff from MS and the big G without making people jump hoops. I like Dropbox! I like the little guy winning. I hope they address the real barriers that keep us other small businesses from moving back to their platform. Here's to the Dropbox app finding permanent residency on my phone again one day.
Blatant lies
Swag it out🐙
on
6/13/2017
I try and download some files offline and the app says I don't have enough space, even though I have over a GB left. The app blatantly lies to you and refuses to work right.
iPad App horrible, IMO
I like Dropbox on my desktop and Phone but this iPad app is out in left field somewhere... The side by side view is very frustrating to navigate... Especially when you click accidentally on something (i.e. Sensitive Doc or Data) and it displays in the right pane, it takes too many steps to get it off the screen quickly. I don't understand why pictures and videos are shown at the top of the folder display in content view, especially since these is an option at the bottom to view photos... ListView is a total mess if you organize a lot of files and folders. There are more usability issues but I digress... The Box.com and GoogleDrive IPad Apps are more of what this Dropbox app should be....
Auto upload
This app was amazing when it auto uploaded all your files
USELESS APP
I have drop box account which I can easily access on my laptop etc. However when I try to use the iPad app it keeps trying to make me sign in via google and denies me access. So I am deleting it.
Useless
I have worked all day to get a simple zip file from email opened.. paid 4.99 for the "pro" version. A ridiculous maze of nonsense. Don't get it use anything else
Amazing but one thing....
CoolWeegee123
on
6/12/2017
I want to be able to select a bunch of photos and save all of them to my camera roll at one time. I don't want to have to do each one separately.
very slow
Hsjdjsjjfhsi
on
6/11/2017
is very slow and scrach all time
Cannot sync folders
The only thing I wanted from the app is a folder where I can drop things on the computer and have them synced for offline access on my iPad. This no longer works, I have to manually mark each file for offline access.
Easy to use; backed up every iPhone
Amberpatrycja
on
6/10/2017
I first started using Dropbox after my iPhone was damaged and pics were not properly updated on iCloud. That was few years ago and Apple made upgrades to their app but I'm glad I switched to the Dropbox Plus (paid account). I have a peace of mind and all photographers I work with also use the service so it makes for a seamless photo sharing and organization.
Storage hog and buggy
Can't delete cache. Box has had this function for sometime now. Uploading from photos app freezes more than not.
Worse file share program ever
Don't bother Too complicated Doesn't work!!!!!!!
Dropbox
Jessikah Mariie
on
6/7/2017
Me gusta Dropbox ya que lo uso a diario para guardar fotos, videos, documentos etc.. pero en cuanto guardo mis fotos me e dado cuenta que me está bajando la calidad y ahora la imágenes se ven más fea de bajo pixel me gustaría que arreglaran eso ya que ahí guardo todos los videos y foto porque no me caben en mi celular porque tengo poca memoria y la app es la que uso de almacén pero si no ps mejor tendré que sacar y ponerlas en otra app o un pendrive eso me tiene molesta que le baje la calidad y la imagen se vea fea.. ojalá y lo arreglen porque llevo años usando esta app pero ahora más que nunca es que guardo imágenes y vi eso y no me agradó.. lo demás bien y si pudieran poner que los free podamos también escoger un álbum para verlo sin conexión o varias cosas con más espacio lo agradecería .. ya que se limitaron antes era mucho mejor el app
They finally did it...
....allowed the files and folders to be organized folders first. And it only took them 8 years. Congratulations, I may one day start using this app again.
Lifesaver!
This app saves me so much time! It's perfect to share files with other people, and I love that it backs up all my pictures!
New layout is awful
Alan 2015 Stratego review
on
6/3/2017
Bring back the old simple layout. Now it's all cluttered & you can't see how far the video/photo has uploaded. Just go back to plain & simple. If it works don't change it..
No Multi-photo export
Bontowastaken
on
6/2/2017
I have over 20,000 photos in my library. That's pretty typical for people these days. Why does Dropbox only allow you to export one photo at a time? I just spent five minutes exporting 3 photos between random error messages popping up and slow exporting speed. Exporting 100 photos could take an hour + of tapping and waiting and tapping and waiting rather than tapping and waiting and being done in thirty seconds.
You can't save anything
Soccermercurial
on
6/2/2017
I suppose the purpose of apps like google drive and Dropbox is convenience and simplicity. This is beyond that. Someone shared pictures with me and I can't download the from the app to my phone. Total garbage. Deleted app and will delete account!
WHY CANT I INSTALL LATEST UPDATE???
LittleLulu1111
on
6/2/2017
I have been trying for over a week and I still cannot install the latest update for this app, and it is extremelyyy frustrating, to say the least! I have perfect Wifi, enough memory, my phone is updated to its latest version! ALLLLL of my other apps are upgrading JUSSST FINE, why is this app giving me problems?!?!?!?
Fix this issue please!
Recently, (March 8,2017), there was an update for "improved sort features when offline". This is bologna. This new feature actually decreased the value of drop box to me. I need to be able to custom sort my files while offline. If this can be added to "improve offline sort features" IMO, please do.
5/5
use daily. never have issues and interface is simple
Craahing
upset wasted my last $
on
6/1/2017
Normally 5 stars but after last update it crashes any time trying to upload pics. I tried to contact app support but no place to do that just to read other issues. Sorry had to leave poor review but update needs to be fixed! Got so much better and after latest update in May2017 it is back to crashing or stopping on uploads and freezing and having to start all over often. Friends and Family say the same.
First Rate App
One of the most useful services I have used. Allows access to all of my iOS devices and gives me seem less ability to share documents with my colleagues. The scanner feature is particularly helpful in archiving documents.
Best thing I've ever invested in!
Roulette champ
on
6/1/2017
I pay to have the premium package ($100 yearly) and it is the best thing I've ever invested in. As a new mom you can only imagine how many pictures and videos I have in my phone and this app has saved me from numerous meltdowns when I run out of storage on my phone itself. All you have to do is go in the settings and turn on your camera backup and it will save all photos and videos on your phone. Also when I change phones all I have to do is redownload the app and all of my memories are right there in one place, safe and sound!!
Deleted apps already
It pops up every second to get authorized even though I don't like using this. I deleted this already.
Use it everyday
It's changed the way I work and organize my life. Love it!
Great, but....
MusicCityMorgan
on
5/30/2017
When will this sync up with Sonos for audio files???
Essential
shawsome.brian
on
5/30/2017
Dropbox truly is an exceptional service, and it is absolutely essential for trading files effortlessly. Everyone should use it, in my opinion. That said, I'd like to see one improvement in the iPad app. Please let the file list take up the whole screen. The preview window taking up 75% of it is mostly wasted space for me, and I'd much rather see more characters in the file's name. The preview doesn't fill in until you've tapped on a file anyway.
Just when I thought Dropbox couldn't get any worse...
Dropbox is one of the worst sites I've ever had the misfortune of using. The app is even worse.
Fact Sheet
Publisher: Dropbox, Inc.
Category: Productivity
Released: Sep 29, 2009
Current Version Released: Jun 13, 2017
Version: 52.2
Size: 188.3 MB
Compatibility: Requires iOS 9.0 or later.
Recommended Age: 4+
Game Center Certified: No
Supported Devices: iPad2Wifi-iPad2Wifi, iPad23G-iPad23G, iPhone4S-iPhone4S, iPadThirdGen-iPadThirdGen, iPadThirdGen4G-iPadThirdGen4G, iPhone5-iPhone5, iPodTouchFifthGen-iPodTouchFifthGen, iPadFourthGen-iPadFourthGen, iPadFourthGen4G-iPadFourthGen4G, iPadMini-iPadMini, iPadMini4G-iPadMini4G, iPhone5c-iPhone5c, iPhone5s-iPhone5s, iPadAir-iPadAir, iPadAirCellular-iPadAirCellular, iPadMiniRetina-iPadMiniRetina, iPadMiniRetinaCellular-iPadMiniRetinaCellular, iPhone6-iPhone6, iPhone6Plus-iPhone6Plus, iPadAir2-iPadAir2, iPadAir2Cellular-iPadAir2Cellular, iPadMini3-iPadMini3, iPadMini3Cellular-iPadMini3Cellular, iPodTouchSixthGen-iPodTouchSixthGen, iPhone6s-iPhone6s, iPhone6sPlus-iPhone6sPlus, iPadMini4-iPadMini4, iPadMini4Cellular-iPadMini4Cellular, iPadPro-iPadPro, iPadProCellular-iPadProCellular, iPadPro97-iPadPro97, iPadPro97Cellular-iPadPro97Cellular, iPhoneSE-iPhoneSE, iPhone7-iPhone7, iPhone7Plus-iPhone7Plus, iPad611-iPad611, iPad612-iPad612, iPad71-iPad71, iPad72-iPad72, iPad73-iPad73, iPad74-iPad74,
Supported Languages: Danish; Dutch; Flemish; English; French; German; Indonesian; Italian; Japanese; Korean; Malay; Bokmål, Norwegian; Norwegian Bokmål; Polish; Portuguese; Russian; Chinese; Spanish; Castilian; Swedish; Thai; Chinese; Ukrainian;