Screenshots
New in version 74.3
What's new:
• Under-the-hood updates for better performance

We release updates regularly, and we're always looking for ways to make things better. If you have any feedback or run into issues, come find us in our forums. We're happy to help!
Description
Dropbox keeps your files and your team in sync. Anything you save in Dropbox can be easily accessed from all of your devices. Sending large files is easy, even to people who don't have a Dropbox account. And with features like the doc scanner, shared folders, offline access, and more, collaborating with others is simple.

Features:
• Work on files with others through shared folders
• Use the document scanner to turn receipts, whiteboards, and notes into PDFs
• Comment on files to share feedback with your team
• Sync, share, and edit Word, Excel, and Powerpoint files

We'd love to hear from you! Join the Dropbox community: www.dropboxforum.com

We offer in-app purchases for Dropbox Plus, which includes 1 TB of storage and additional features. The amount will be charged to your iTunes account and will vary by plan and country. You'll see the total price before completing payment.

Dropbox Plus subscriptions purchased in-app renew monthly or yearly depending on your plan. Plans are priced at $9.99USD monthly and $99.99USD yearly (pricing may vary in countries other than the U.S.). To avoid renewal, you must turn off auto-renew at least 24 hours before your subscription ends. You can turn off auto-renew at any time from your iTunes account settings. Dropbox also offers one-month trials for monthly subscriptions.

Terms of Service: https://www.dropbox.com/pricing_terms
Privacy Policy: https://www.dropbox.com/privacy
iPad Screenshots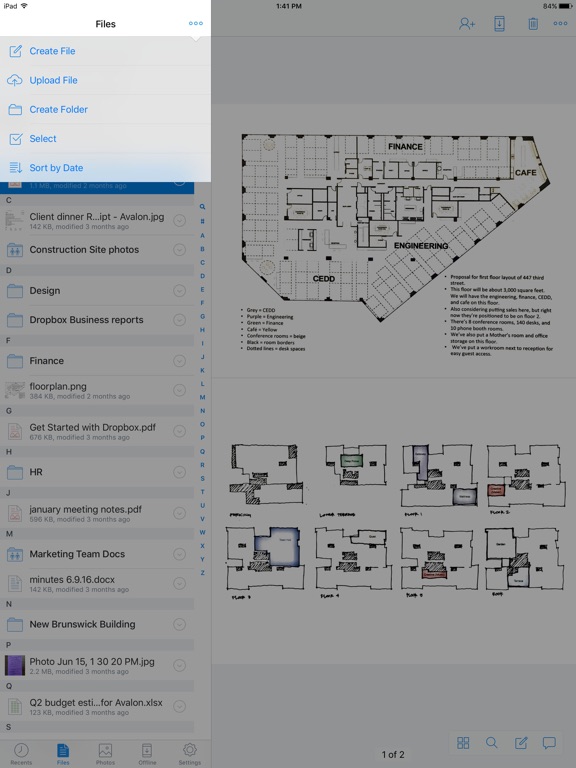 Reviews
Babak
babakjamshidi
on
12/10/2017
Nice
Fix uploading issue
The app is no longer uploading my pics . I'm really thinking about using iCloud now ..
Perfect for beginners like me
Supernatural witch
on
12/10/2017
I hate learning new technology! I'm slow and get frustrated easily. I was worried this would be another program that I used once and deleted. However it's just what I need. I dozens of documents over the internet daily. Some are sent through email, some on websites, instant message, even through Twitter. I also use Rocketbooks. I wanted to be able to store all of these in one place. Most programs that do that are expensive or are difficult to learn. (At least for this old dog.) Add in a wireless printer and I was completely lost. This makes it easy to send paperwork to one file or another. It can be organized by date or name. Plus printing is a breeze. I can see where people that have more experience or want/need more would find this program lacking but for someone like me who has so much stuff spread everywhere with little patience to learn this is great!
Getting less useful every day
Does not play well with the iPhone 8, especially when also using Google photos. It only uploads one photo and no videos no matter how many photos/videos are in my camera roll. Useless for pix/videos now.
I'm amazed!
I've used Dropbox for years without complaint also Dropbox Plus. It's been my go to app over most others because it's so user friendly and easy to organize. I just don't know how others have had such negative comments and experiences!
Best For Storage
I use this app to organize my stuff for gaming. Five stars on this for great app.
Still waiting...
... for the ability to see an entire filename on my iPad. If I tilt my iPhone It looks like I can see the full filename, but this doesn't work on the iPad. What gives?
Media playback
Christian-stone
on
12/10/2017
Not a fan of the disco dancer comic image every time I want to listen to audio files. Wish there was better playback controls as well.
I'm a PAID Dropbox PLUS customer but...
SheCritiquesIt
on
12/10/2017
Somehow even though my subscription to is Dropbox plus until 2 January Dropbox has stopped syncing my photos & any other file like I'm NOT A PAID CUSTOMER! Thankfully between Icloud & Google photos I have them backed up in other places!!!!
Sorry Dropbox team .....
I recently rated this app 1 star because the latest update took away the ability to hide your recently viewed files. I discovered that the feature has moved from the Home screen to the Account screen. Who knew? Updated to 5.
Good
AnaGabriela_224
on
12/9/2017
More free space
Decent I guess
This app is pretty good for what I need it to do. It would just be great if the audio playback feature worked with the music scrubber properly...
It's not good enough
Hassan Asuka
on
12/9/2017
As of now they suspended uploading from camera and they say wait for new release, so I paid for this month without any benefit from this app as I can't upload my photos and I should wait till the new release!!! It's ridiculous thing because we don't know when this update will release.
The program has become very bad
The program has become very bad not only download the video and save the pictures .. Although buying the full version is not experimental
Nothing new
A lot of updates but no more fetchers How about file tracking . Do we know Who and when and how many times They use a file
Why fix it if it ain't broke
Can u please put it back to separate the videos from the pics in the folder don't wanna search through pics just to find a video from last year
Excellent
Alex ramirez el adorador
on
12/9/2017
Excellent
Used to be amazing
SummerAshlie
on
12/8/2017
Since the latest updates now my Dropbox doesn't reliably sync photos and videos. Some days it syncs everything, others it tells me it's unable to locate some of my photos/videos. Other days it simply says trying to locate photos to upload for hours until I give up. I've contacted support and they make it a huge hassle to figure out the problem and have an attitude. Looks like I'm going to have to find a new way to back up everything ☹️
Okay, but not ideal
AquaDolphin12
on
12/8/2017
Worked alright until the last update. As a blind voiceover user, I have no interest in colors, I just want to access my documents. After this last update, I am unable to locate my critical documents. Deleting and looking elsewhere.
I've used them for years, this is just weird now
I've has several different accounts with drop box and have recently paid to become a premium member but this new design (if that's what you call it) looks like a 5th grader made it. It severely affects my confidence with the company in storing my data and because of that I'll be canceling my service.
They refuse to fix years old bugs.
I downloaded Dropbox to transfer large files from my phone to my computer. I created an account on my computer, and then tried to log on to the Dropbox app with the exact same username and password. It did not work. I typed in the exact same thing on my laptop. It worked. Just not on my phone. I tried switching to Dropbox on Safari, and it did not work, the password only worked on my computer. I went to the internet to see if I was just being dumb. There were a ton of support forums with the same problem, reaching back years. One fix that worked for some people was changing their password so it had no special characters and no uppercase characters, which is ridiculous. That didn't work for me, and the forums were stumped. Anyway, I deleted the app and switched to Google Drive.
No longer upload photos automatically
This latest Dropbox update no longer uploads photos automatically. If it does, it only one or two photos at a time. Sometimes, it even gets *stuck* while trying to upload a photo. Very irritating. This app used to be very reliable. Now it gives me another reason to ditch it completely.
Difficult to work
Lucky-Tosser
on
12/7/2017
This is an app. that had great promise. However, don't rely on it with important business. It will really disappoint you.
Lately Squirrelly
It's encouraging that dropbox is so eager to get feedback, For as a long time subscriber I have recently been encountering and hearing from others about recent dodgy aspects of the platform. The copying and moving of folders and files seems much trickier than it used to be, and I believe there are some glitchy buttons where I am confounded by upload and rename buttons sometimes being there sometimes not – don't quite know what the scheme is. I'm been encountering the "can't display file" notice a lot with PDFs and more than often lately the wave player. That's gotten a little dicey since they put the man dancing under the goofball Mirrorball whatever the hell kind a ball that is. It just used to be smoother and lately I am encountering it being not so smooth – kind of like Facebook!
Great App - use on iOS, droid, and PC and all seamless
However, needs the ability to scroll, hover, or have some other way to see full file names in the file list. I have many files where the names begin with the same characters and not being able to differentiate them without randomly opening them is preposterous,
Single best sync tool available
IpsissimusMarr
on
12/6/2017
After testing every major sync provider, even rolling my own, Dropbox wins hands down. Other providers have issues consolidating multiple users' edits, and multiple offline edits. Never had a single issue with Dropbox! Have been using it for years and cannot live without it.
Good for simple stuff needs media support
I would be much happier with this app if it provided support for playlists and more robust media support. When there is an entire ecosystem of bad ad laden knock offs to fill a feature hole, you should take notice and fill that hole. There are at least 10 drop box media players that at best are clunky and annoyingly filled with ads and at worst dangerous to your identity security, but these are the only way to play media in a semi convenient way. Please add this feature at some point.
The best
Best program i ever seen
Big Fan, but not of new updates.
1Review2RuleThemAll
on
12/6/2017
Images have a lot of "can't preview" errors.
Very Good
Serves my purpose for genealogy data, photos and documents.
Crashes
When I launch it, it shows recent files for a few seconds and then crashes. These crashes started a few updates ago. Please fix it.
Way too bloated
Michael W. Perry
on
12/6/2017
Look at how big Dropbox had grown—211 megs.It's one of the largest apps on my iPhone and since I only have 16 GB, that makes it a pain. I need it to synch Scrivener with the Mac version. That is all. I don't need nor do I want all these other bells and whistles that keep getting added. Dropbox needs to offer a light version that does less and isn't as bloated. Let us choose which we use.
100% Reliable
Anything I want to access or think I may need to access, I put in Dropbox. And years later, when I need that machine manual that I put "somewhere", the 1st place I look is Dropbox. I can't say that I take advantage of all its features, but I do use it and it always works for me. For those whining about not keeping up with iOS11 "drag and drop" features, get a life. And stop whining. I use Dropbox from my iPhone 7, my iPad Air, and my HP desktop PC. What I care about is that my items are available and synced across all platforms. I also like that I can access my information from any device anywhere, just by signing in. Just remember to log out. I don't yet use Dropbox or any cloud storage for photographs, so I can't comment on that use. All I can say, is that whatever I need to store and need access to away from my home desk, I put in Dropbox. And whenever I need that information, be it a file from yesterday or years ago, it is there. It is always there and always easy to find. Like I said, 100% reliable.
File Number Order??
The new update causes the grid view to list the file numbers in the ridiculous order (1,10,100..) which is EXTREMELY frustrating considering that the list view lists them in numerical order (1,2,3...). As a photographer this can be very annoying and confusing when communicating between my clients on order numbers. Please change this!
Horrible update
Don't update if you can avoid it!! They made a bunch of terrible UI decisions in these recent updates (offline files in the account tab? Really?? As if one of the main reasons for the app wasn't to access offline files). Don't do it, just don't do it. Seriously don't do it.
I like GDrive better
But Apple doesn't get along with Google, that's the only reason I use this
Stopped working
Has stopped working with Tiny Scan and have not found a way to fix in my search. Buh-bye, moving on. Too bad, used to be an awesome app.
I like it but
Eskimopride07
on
12/4/2017
I like the app better then the mobile browser version. I wish you could sort through the pictures/files date added, modified etc
Giant memory leak
This app was taking up 2.3 gb of space on my phone even though I had one text document and two little pictures in the folders. There's some kind of cache that builds up, and the only way to reclaim the mysterious space is to delete and re-install the app. People, remember to check out your storage settings on the phone to find this space hogging.
Frustrated
My photos and videos are no longer being automatically uploaded unless I'm in the app. I realized none of my videos have been uploaded and it has taken forever to upload just one or two of them. I spent hours categorizing organizing thousands of photos with carousel. When they took carousel away my photos were only organized by date which is extremely frustrating. I pay money for a service to accurately and securely store precious memories and important documents and I have started questioning whether or not it would be worth the time and headache to move all of my photos and videos to something that will be more reliable and functional. Dropbox customer service is terrible. It took days of waiting for someone to correspond with me. The representative was very rude and unhelpful.
Looking for an alternative
BarbarianSqueakyToy
on
11/30/2017
It just keeps getting worse. Forget about storing photos. Now the app no longer supports uploads for them. They say check back later when a new app is provided. In the meantime, GFY is their sentiment.
Doesn't work
I can't even log in! Says my email and password and incorrect, yet I am able to sign in on my desktop with no problem. Total garbage!
Won't preview Htm and Htlm files
Iurbanmuneca
on
11/29/2017
Since the last update it won't open or preview htm or html files when it used to just fine before. I have so many stories saved as html the fact it can't open them on my iPad makes my having this app useless to me.
Getting worse
I used to love dropbox. Loyal user since 2012, but this past year, it hasn't been dependable. Important features like camera upload and syncing are broken.
Dropbox constantly crashes and has for months
I'm using the most recent Dropbox on an iPad Air 2 and currently use the most up to date Safari version 11. Dropbox constantly crashes every few minutes when scrolling through folders to view images (jpgs, pigs, tifs, psd) and has for months through its many frequent upgrades (although the term 'upgrade' is being far too generous given it's declined utility and functionality) It's infuriating and completely unreliable. I need an ap that is stable. Grade: F
Nothing downloads anymore
Cobains_apologies
on
11/28/2017
I've used this app for a few years now as a way to listen to music offline and suddenly files aren't downloading even though it shows they were sent through puffin browser.
What a SCAM!
there are no nicknames available!!!
on
11/28/2017
Someone sent me a video that you needed Dropbox to view. I got the "free" 30 day trial. It now seems impossible to cancel. I followed the Dropbox website instructions which ran me around in a circle. I tried the instruction from the App Store and it doesn't work either. When you get to the subscriptions link, Dropbox shows up, but you have to choose one of the packages, and clicking on the free one that I have does nothing. I believe they're trying to trick users into signing up for a paid version just so that they have the opportunity to cancel it. This will probably result in a charge. I'm sooooo mad that I got the stupid "free" trial! They sent me an email saying they are charging my credit card. I'm frustrated with this process! Don't get this app.
HORRIBLE UPDATE
It's taking forever to re-download this app.
Basically Junk Now
James L. Bond
on
11/27/2017
So buggy it's junk now. Example: When in an app, and trying to move a file, it won't show content of all folders, just some. Sometimes the Dropbox app itself can see inside of all folders, but not always, and even when it works, you're forced into a new and longer workflow to get around their bugs. Stay away. —Original Review— Used to be great, but now a buggy mess. May not be trustworthy with your critical files anymore, IMHO. Getting to point of not using Dropbox anymore. Latest show-stopping bug: Save 5 files from Mail. Only one shows up in Dropbox Try to re-save missing files. Get error saying files already exist even though not showing up in FIles, Dropbox app, or website. The great irony is this company was founded because syncing files was dangerously unreliable. WIth distractions like Paper and a meaningless new design/coat of paint, it's clear the core product we pay for is becoming close to unusable and perhaps dangerous to trust any longer. I've been a paying customer and put my company on Dropbox for years. I know there is a new OS and with that comes new bugs, so I'll give them another round of bug fixes, but after that we'll drop them. There are plenty of reliable alternatives at great prices nowadays.
Fact Sheet
Publisher:

Dropbox, Inc.

Category:

Productivity

Released:

Sep 29, 2009

Current Version Released:

Dec 08, 2017

Version:

74.3

Size:

220.5 MB

Compatibility:

Requires iOS 9.0 or later.

Recommended Age:

4+

Game Center Certified:

No

Supported Devices:

iPad2Wifi-iPad2Wifi, iPad23G-iPad23G, iPhone4S-iPhone4S, iPadThirdGen-iPadThirdGen, iPadThirdGen4G-iPadThirdGen4G, iPhone5-iPhone5, iPodTouchFifthGen-iPodTouchFifthGen, iPadFourthGen-iPadFourthGen, iPadFourthGen4G-iPadFourthGen4G, iPadMini-iPadMini, iPadMini4G-iPadMini4G, iPhone5c-iPhone5c, iPhone5s-iPhone5s, iPadAir-iPadAir, iPadAirCellular-iPadAirCellular, iPadMiniRetina-iPadMiniRetina, iPadMiniRetinaCellular-iPadMiniRetinaCellular, iPhone6-iPhone6, iPhone6Plus-iPhone6Plus, iPadAir2-iPadAir2, iPadAir2Cellular-iPadAir2Cellular, iPadMini3-iPadMini3, iPadMini3Cellular-iPadMini3Cellular, iPodTouchSixthGen-iPodTouchSixthGen, iPhone6s-iPhone6s, iPhone6sPlus-iPhone6sPlus, iPadMini4-iPadMini4, iPadMini4Cellular-iPadMini4Cellular, iPadPro-iPadPro, iPadProCellular-iPadProCellular, iPadPro97-iPadPro97, iPadPro97Cellular-iPadPro97Cellular, iPhoneSE-iPhoneSE, iPhone7-iPhone7, iPhone7Plus-iPhone7Plus, iPad611-iPad611, iPad612-iPad612, iPad71-iPad71, iPad72-iPad72, iPad73-iPad73, iPad74-iPad74, iPhone8-iPhone8, iPhone8Plus-iPhone8Plus, iPhoneX-iPhoneX,

Supported Languages:

Danish; Dutch; Flemish; English; French; German; Indonesian; Italian; Japanese; Korean; Malay; Bokmål, Norwegian; Norwegian Bokmål; Polish; Portuguese; Russian; Chinese; Spanish; Castilian; Swedish; Thai; Chinese; Ukrainian;