TapNova doesn't recommend this version of the app.
New in version 58.2
What's new:
• Under-the-hood updates for better performance

We release updates regularly, and we're always looking for ways to make things better. If you have any feedback or run into issues, come find us in our forums. We're happy to help!
Description
Dropbox keeps your files and your team in sync. Anything you save in Dropbox can be easily accessed from all of your devices. Sending large files is easy, even to people who don't have a Dropbox account. And with features like the doc scanner, shared folders, offline access, and more, collaborating with others is simple.

Features:
• Work on files with others through shared folders
• Use the document scanner to turn receipts, whiteboards, and notes into PDFs
• Comment on files to share feedback with your team
• Sync, share, and edit Word, Excel, and Powerpoint files

We'd love to hear from you! Join the Dropbox community: www.dropboxforum.com

We offer in-app purchases for Dropbox Plus, which includes 1 TB of storage and additional features. The amount will be charged to your iTunes account and will vary by plan and country. You'll see the total price before completing payment.

Dropbox Plus subscriptions purchased in-app renew monthly or yearly depending on your plan. Plans are priced at $9.99USD monthly and $99.99USD yearly (pricing may vary in countries other than the U.S.). To avoid renewal, you must turn off auto-renew at least 24 hours before your subscription ends. You can turn off auto-renew at any time from your iTunes account settings. Dropbox also offers one-month trials for monthly subscriptions.

Terms of Service: https://www.dropbox.com/pricing_terms
Privacy Policy: https://www.dropbox.com/privacy
iPad Screenshots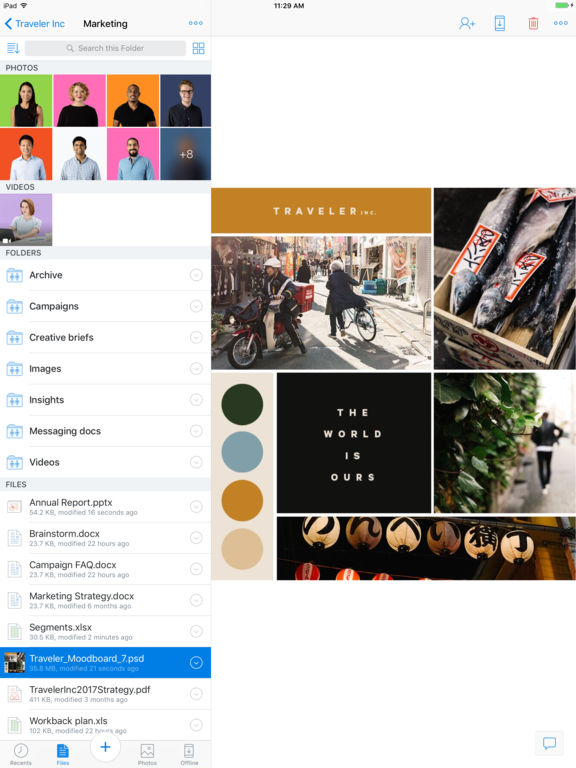 Reviews
Problem
The app keeps crashing within a few seconds of opening!
Fix
Update: now photos won't upload AT ALL! Get it together Drop Box! After uploading a photo, the "one" badge stays as if there's still one photo to download. Please fix.
Best app ever!
Is easy and fast to use.
Nothing loads
Barely loads
Love it!
I've been using Dropbox for years and love it! I've tried other similar products, but Dropbox has been by far the easiest to use.
Endless notification counter
cblevins0321
on
8/15/2017
Works alright, but the latest version constantly has a "1" notification pending marker on the icon and my Pavlovian brain just has to open it when I see that.
Just no...
narwahal1067
on
8/14/2017
I'm not going to pay for this when I was being told to download by my device and it's not even free and it will not let me make a "free"account it's just not fair
Sigh... not getting better 😞
I have been a big fan of dropbox for quite some time. Even paid for the extra year packet. However the last couple months they have really sucked. I have had to delete the program on my iPhone 6s and reinstall five times over the past week because it seems to register numbers in red As files that haven't been downloaded! These files must be ghost files because there's nothing there that hasn't downloaded! Very annoying to say the least. When my year is up I'll probably be looking elsewhere for my iCloud services. Unless they can get this fixed quickly But I have complained to them countless times and nothing has been done. I guess we'll see if they get it fixed.
I can't get rid of it!?!
Blah blah cool cool
on
8/13/2017
I am being charged monthly for an app that I didn't even know I had and don't want. I have looked everywhere to try to unsubscribe and I can't find that option.
Love it
Fork sickest
on
8/12/2017
Can't imagine dealing without dropbox.
Notification "1" update won't go away
First there was a problem with the update not installing. Now that it has installed, the notification showing I have "1" update will not go away.
Productivity boosting app of my personal life
Aadav reviewer
on
8/12/2017
I have been using Dropbox for years and still it is the only app that is very intuitive, featured, and user-friendly when compared to other cloud storage apps that I have been trying then and there.
Okay...
I know the difference in screen sizes may motivate a different approach but the inconsistency in the iPhone and iPad interfaces is a little annoying and it's a bit weird to have to go to the recents view to access the setup features. Greater integration with iOS would also be good. Hopefully iOS 11 will make this easier. As others have noted, there is also the '1' problem.
Selección de varios archivos y nombres en conflictos
Al mover un gran número de archivos entre carpetas , si un archivo tiene un nombre repetido, se cancela toda la acción ( incluso para los demás archivos cuyo nombre no tiene conflicto) y es demasiado difícil encontrar cuál es el archivo repetido en caso de mover muchos archivos. Debería haber una opción de saltar/sobreescribir en caso de que exista un nombre en conflicto como existe en Windows.Es una opción de suma importancia a mi parecer ya que el tiempo gastado en encontrar el archivo repetido no es poco en el caso de mover un gran número de archivos entre carpetas. Por otro lado es necesaria una selección rápida de archivos como ocurre en el carrete de los idevices ( arrastrado).
Lost Storage Space
I have been using the app for over 4 years and have earned a ton of storage space. and now after all this time, it takes the storage space back and says that I am 3 GB over in my files. Definitely disappointed
Update released on 8-9-17 will not download
For three consecutive days, the update posted on 8-9-17 delivers an iOS download unsuccessful error on an iPad Pro 10.5 inch.
It won't sync files, deleting app
Even though my iPad has a wireless internet connection, Dropbox won't sync the files I updated on another desktop computer to my IPad. Is that not the whole idea of the application? Yes I did try the offline button to get it to sync. It is now one year later and Dropbox still won't sync files on my IPad. This program is useless. Moving my team to Google Docs.
Good as heck
Lets me send music that I record for my friends on facebook.
A "1" notification is still there.
Also, whenever I go to "files" they are sorted in a list format instead of the other format where you can somewhat see the pictures. Please fix. Sometimes it's the list one and sometimes it's the other one, I prefer the other one.
Update keeps failing
There's a notification that a new update is available for this app but it doesn't work. I've tried a dozen times throughout the day and it keeps failing to update.
Won't perform update
_Let_The_Ego_Go_
on
8/10/2017
Tried to complete update 4 times over three days and won't update. Using iPhone 7+.
Notification number 1 won't go away
After latest update the number "1" won't go away after all files or pictures are uploaded
Counter Please!!!
Still no download count???
cool
Liquidbudder
on
8/10/2017
it lets me get idol music from golden
1 that won't go away
Nick James him self
on
8/10/2017
Notification on 1 that distant go away
I like Dropbox but this app is terrible
I very, very rarely leave app reviews but have hit my wits end with this one. Hopefully this review will be therapeutic for me. I loath anytime I have to use my phone for DB. It's a terrible experience EVERY TIME. Just prior to writing this review I was trying far harder than is necessary to upload a few pictures from my phone. The app crashed four times. It did not show the upload in progress or that it was ever completed so I tried the upload a second time. Went back after a few minutes to check it and it had uploaded both attempts. From there I tried to delete the duplicates and it would not register when I would hit a button to try and delete it and would then crash. Repeated that process at least four times for the two duplicate pics that were uploaded before I could get them deleted. Such a frustrating user experience. Shocking that such a heavily used and reputable service can't seem to get a mobile app to work.
Offline files now a premium feature
Until this month you could take files offline. Now for some reason this is a premium feature requiring an upgrade to paid subscription. Really lame.
Horrible app
I've been trying to cancel my subscription because I couldn't download any photos or videos but it keeps charging me even after I cancelled the subscription!
Won't upload, no queue to be found
WhipsofopinionPT
on
8/6/2017
An annoying (but workable) android app made even more frustrating on iPhone. Rarely can I get files (images or videos) to upload from phone to Dropbox (and no share function directly from gallery to do so). When I try to upload from within the app, it looks like it will, but doesn't. It retains notice of number of files it's supposedly uploading, NEVER DOES, & there's no way to access a queue to see them, resume or cancel upload. It's insane. I have a pricey biz Dropbox account and it's highly inefficient & frustrating not being able to scoot files from my phone to my Dropbox.
👍🏼
No idea why this app isn't highly rated. Dropbox is amazing.
They wants only 💰
They threaten u if u don't upgrade every month by 10 dollars they will delete your files.
Dropbox
Would love to use but access is always a problem. Have yet to gain access to folders of pictures sent to me
Horrible customer service
I pay for the "DropPlus" plan... what i have had is three days that nothing will sync from my computer to my mobile devices! I have two separate ticket numbers, about 15 different emails and not one will resolve the problem! They're willing to take my money for the so-called upgraded plan but I get no assistance at all!
Cannot connect to internet
The Dropbox app tells me I can't sign in on this phone because my phone doesn't have an internet connection. The fact you can read this review means that my connection is just fine, thank you very much.
Files only show on one device?
Another downgraded app
on
8/3/2017
I spent several hours uploading pictures from my phone to the dropbox app, so that I could download them today on to my computer. I just logged on to dropbox on my computer, and NONE of the files or photos over the past few days are there. Curiously, the files and photos are still showing on on the dropbox phone app. So... the files can be uploaded from my phone, but not viewed or downloaded from another device like a computer? That's pretty pointless. I have used dropbox for years, but I obviously won't use it anymore. That's frustrating, since I really liked dropbox, but I am just relieved the photos are still on my phone so that I can upload them to google drive.
ZERO STARS
THE BOSS KING
on
8/1/2017
Really?!?!? APP IS TRASH. TELLS ME MY PASSWORD IS WRONG, WHEN the PW WORKS ON everything else! GARBAGE APP! Don't do it.
Cannot update
Can't seem to update the new app and always keeps telling me to retry but still fails
Cant download .pdf to camera roll
Sweetpea 1840
on
7/31/2017
I save a lot of files in .pdf. I cannot seem to download/export to camera roll any longer. The app forces me to open the file in a third party app or it marks it as made available offline (but isn't) It's maddening! Also can't preview a .pdf on the iPad. Pls fix this! I just wanted to review the document before I send it off and to have a copy in my camera roll should be my choice. I'll pull it into a third party app myself, thx. Don't force me to do that.
Can't Send Files
evanterry328
on
7/31/2017
Dropbox has cut out the ability to open a document in another app or send it though other methods outside of a proprietary dropbox link. It now creates a conveluted way to share documents and disrupting work flow. I am up for renewal in August and will be looking to for alternatives.
Can't upload 2 videos
I already uploaded 1 or 2 before this the same size if not longer I believe but the other 2 just sit there pending
Still Very HelpFull
animeforeternity
on
7/29/2017
Still has My Five Star Rating! ⭐️⭐️⭐️⭐️⭐️
Please fix search
WinterSonata
on
7/28/2017
Search no longer returns results. Otherwise, great.
Lost download
Just tried downloading a purchased album via a link but I was told I needed either to do it through a computer (but I'm not home) or via Dropbox. I download Dropbox and for the album download it given three downloads per song. Somehow trying to retrieve the album through this app killed 2 downloads and still didn't save the songs. Tried again and same thing. No I have a pointless app and no album that I just paid money for.
Disappointing
Been a customer for years. I am now over 1TB and price goes from $9.99 to $45 per month. Just bad. Customer service was terrible. Has to be a better company out there. I will find them.
Hi there, you're failing. Here's two reasons why;
America's App Advisor
on
7/27/2017
ISSUE # 1 Just when you think Dropbox has pulled their final act of desperation; they show there are no limits to how low they'll go → After being a standard (free) feature for many years, 'offline files' are now available only via IAP (In-App-Purchase). Dropbox has sunk to a new low by blatantly using 'bait and switch'. The App which they offered and I supported is no longer the App I own. Of course, they had the gall to wait until AFTER I'd already recommended (and demonstrated) their App to countless people. Dropbox could have easily 'grandfathered' and continued to keep this feature free for their existing users (both as a sign of ethical business practice AND as an act of good faith) but after having contacted them I learned the truth; they really didn't care to hear my thoughts on the matter. ISSUE #2 ****************************************** The following is a jab at and taken from an actual Dropbox Support email. ****************************************** Hi there, Yes, this reply is non-automated. And yes, we understand that might be frustrating to hear. Truth is, I'd love to rate and review your App one-on-one. But I've got a totally revamped self-serve tool and it really is the best path to the fastest, most relevant rating and review for your App. Simply click this (non-existent) link and select the issue that best describes your question regarding your poor rating and review. Once you choose, you'll see a variety of steps you can choose. But none of them will help resolve your issue! While you're doing this? We'll attempt to snatch every spare moment of free time you wanted to enjoy over the weekend by hounding you for information we'll tell you we need to improve. Let me state it again in other words; 'we're going to bury you with questions so we can get better as a company'. We're sincerely grateful to you for developing the Dropbox App, we just wish you were able to support it. Signed, Nameless Dropbox User #43276 ****************************************** I CANNOT AND WILL NOT RECOMMEND THIS APP ANY LONGER!! Recommendations, which were once available as a standard feature, are now accessible only via IAP (In-App-Purchase). Have a nice day. 😃
This update ruined the app
Someone—888000
on
7/27/2017
It is no longer possible to save files to Dropbox from the iPhone, unless you also email them to someone. Ridiculous! That was the main use of the app. This update completely ruined the functionality of Dropbox for me, and I've used Dropbox for work for years.
Won't Update Photos
The most recent update needs to be fixed. After automatic uploads complete, they are not showing up in the Photos window anymore.
Saving Offline files now a "Plus" feature?
Ridiculous that they take away very basic features from customers just to try to trick us into paying more money. Why don't you actually innovate and think of some new features for your "Plus" subscription instead of monetizing very BASIC features like offline file download? VERY disappointed by this recent update and will be closing my Dropbox account and moving my files to another service.
This is terrible...
ittelocaigyrral
on
7/26/2017
Completely unresponsive to "share" or even to upgrade to a bigger Dropbox. Can't do anything with any of these pictures and music files; thought this could help BUT I'll stick with my desktop and work accordingly. Jeesh.
Customer service on par with Comcast
Totally jacked up my account when Dropbox added back all my deleted folders- for the last 5 years!!! Never fixed it Said they would Told a lie UI is pretty basic and underwhelming. Links are 360 characters long- thank you. they look awesome in text bodies!
Fact Sheet
Publisher: Dropbox, Inc.
Category: Productivity
Released: Sep 29, 2009
Current Version Released: Aug 09, 2017
Version: 58.2
Size: 190.1 MB
Compatibility: Requires iOS 9.0 or later.
Recommended Age: 4+
Game Center Certified: No
Supported Devices: iPad2Wifi-iPad2Wifi, iPad23G-iPad23G, iPhone4S-iPhone4S, iPadThirdGen-iPadThirdGen, iPadThirdGen4G-iPadThirdGen4G, iPhone5-iPhone5, iPodTouchFifthGen-iPodTouchFifthGen, iPadFourthGen-iPadFourthGen, iPadFourthGen4G-iPadFourthGen4G, iPadMini-iPadMini, iPadMini4G-iPadMini4G, iPhone5c-iPhone5c, iPhone5s-iPhone5s, iPadAir-iPadAir, iPadAirCellular-iPadAirCellular, iPadMiniRetina-iPadMiniRetina, iPadMiniRetinaCellular-iPadMiniRetinaCellular, iPhone6-iPhone6, iPhone6Plus-iPhone6Plus, iPadAir2-iPadAir2, iPadAir2Cellular-iPadAir2Cellular, iPadMini3-iPadMini3, iPadMini3Cellular-iPadMini3Cellular, iPodTouchSixthGen-iPodTouchSixthGen, iPhone6s-iPhone6s, iPhone6sPlus-iPhone6sPlus, iPadMini4-iPadMini4, iPadMini4Cellular-iPadMini4Cellular, iPadPro-iPadPro, iPadProCellular-iPadProCellular, iPadPro97-iPadPro97, iPadPro97Cellular-iPadPro97Cellular, iPhoneSE-iPhoneSE, iPhone7-iPhone7, iPhone7Plus-iPhone7Plus, iPad611-iPad611, iPad612-iPad612, iPad71-iPad71, iPad72-iPad72, iPad73-iPad73, iPad74-iPad74,
Supported Languages: Danish; Dutch; Flemish; English; French; German; Indonesian; Italian; Japanese; Korean; Malay; Bokmål, Norwegian; Norwegian Bokmål; Polish; Portuguese; Russian; Chinese; Spanish; Castilian; Swedish; Thai; Chinese; Ukrainian;