Screenshots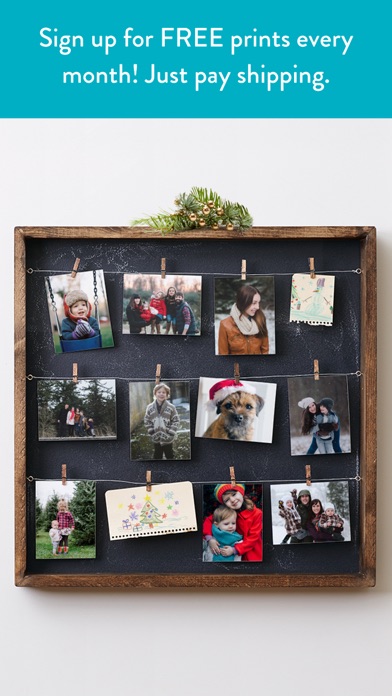 New in version 8.9.1
- Performance and stability fixes

Please keep the feedback coming, we love to hear from you!
Description
Welcome to the Snapfish app! Sign up and claim your FREE prints!*

Have a ho-ho-happy holiday with the Snapfish photo gifts app; the fast & easy way to order on the go. Conveniently order prints, create personalized cards, & make fa-la-la-la-fun custom photo gifts directly from your mobile device. *Plus, get 100 free 4x6 prints every month (just pay shipping)! 100 Free Prints offer valid in US only, see site for full details: promo.snapfish.com/free-prints

What our customers are saying:

Excellent Service!!!!! *****
by Kricky54
"I have been using Snapfish for many years and love it! It's the only way I print my pictures or do my photo projects. Their mobile app is easy to use."

User friendly *****
by BoxxyBailey
"Very easy to use and prints come relatively fast! 100 free prints a month is amazing and keeps me coming back even for the large prints! I haven't been disappointed yet and this is my 4th order!!! Well worth the shipping cost! 5 stars!"

Check off your holly jolly gift list! Order prints, create cards, and make custom photo gifts like canvases, books, mugs, blankets, pillows, tote bags, photo panels, framed prints and more.

Ordering is fast and easy on the go!
Upload & access photos from your device or social media: works with Facebook, Instagram, iCloud, & your Camera Roll

Perks of the App:
• 100 free 4x6 prints per month
• App-specific deals on products
• Preserve your photos with unlimited secure photo storage
• Quickly find your photos with timeline view; your photos organized by time & location
• 4x5.3 prints: the perfect size to order for mobile phone photos without cropping
• Square prints: ideal for Instagram photos
• Quick turnaround! Get prints in-store at Walgreens within an hour

What's new:
• Make in minutes—photo books, acrylic desk accessories & photo blocks, glass prints, and more!
• New, improved library view for easier photo browsing
• Back of card customization
• Combined print size orders
• Improved prints builder lets you zoom & pan in the crop area, edit quantity & size of each print, & choose a paper finish for entire order (glossy or matte)
• Import directly from Google Photos
iPad Screenshots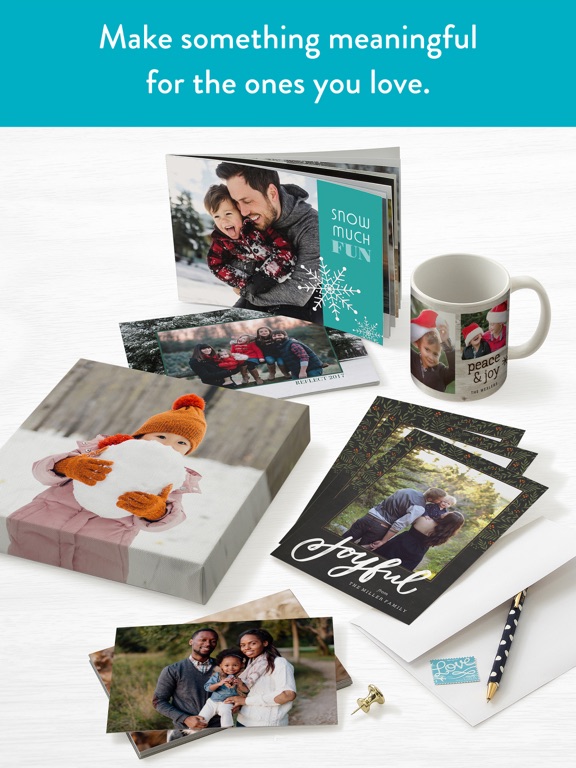 Reviews
Good app, Minor complaint
I love the prints and products. But I often have trouble uploading photos from my device, as it tends to be tricky if the process is interrupted at all.
So easy!
MandaPanda586
on
12/12/2017
So easy, great value, very fast. will definitely use this again.
Easy to use Snapfish
I Love Snapfish. So many great gifts to put together with photos. And easy to use.
60 Plus
over 60 Yrs.
on
12/12/2017
This is my first order of digital prints. Super easy, right from my phone, where my photos are. I also got 60% off. I am over 60 years old and have been reluctant to try prints. Snapfish made it easy, each step was reversable.
Much improved!
Previously this app was terrible for me as it always crashed, but the latest updates have solved those problems! Editing is very easy and simple, as well as ordering. I am very happy with the new ease of the app. I do wish it had filters, but again, the simple and quick ordering of a phone full of photos can't be beat!
Very convenient
It's nice to have it at my convenience to make something quick. I would love to have more editing features available during time of editing product of choice.
App just ok
Soon to be Prego again
on
12/11/2017
Not able to search. I made a collage on the website and it didn't show up when I logged in on the app. Having to place 2 separate orders.
I enjoy this app all these years
Pinkdiamond9
on
12/11/2017
Nice photo app. Keeps all my pics all these years. Good photo products. Definitely recommended!
I couldn't order the larger photo book
Wildbill421
on
12/10/2017
The app only allowed me the choice of the smallest photo book and didn't allow me to change the cover or any extras like the website. I would have bought more. Test the app and ensure functionality before roll out into production!!
I love this
This is so easy to use and the quality of the pictures are good, and the cost cannot be beat , the picture all thought were lost on my phone I can now have a hardcopies.
Exceptional prints
Always satisfied with books and large prints
In Love!!
Jade.marie03
on
12/10/2017
I love this app!! Def 5 stars!
Super fast and easy to order books and prints
Sleek app, intuitive, fast
Cards ordered!
I TRIED AGAIN AFTER A PERIOD OF TIME EHEN THE APP WAS DOWN AND EVERYTHING WORKED GREAT! Very easy to upload pics and order 😁 ***APP WAS FIXED Every time I try to make a card an error message pops up that says, "Uh Oh Something Went Wrong". It's infuriating. 😡
Big fan!
We love snapfish! So easy to use and fantastic products. Always our go to for holiday gifts, memory books, and more.
Very easy and quick!
So quick and easy by my iPhone!
Easy to use
Stormtracker Barb
on
12/9/2017
Just ordered another ornament from the picture I had. It's so easy to do, and they make such great gifts!
Liked it a lot
HospitalITGuy
on
12/9/2017
This was my 2nd time using for a holiday card. Easy to use and reasonable pricing. A little awkward and not obvious about how to save your work and come back later. But new saved projects area appears to accommodate. You just have to start there first from what I can tell.
Terrible
So frustrated. I will never use the app again. I spend 90 mins working on selecting prints and cropping only to have the app crash and lose the whole thing. When I reopened it was like I never started. With 2 kids those 90 minutes are hard to come by and it was wasted with this app.
Handy but OH SO FRUSTRATINGLY BUGGY
MermaidSplash
on
12/8/2017
This is a very handy app to have when you want to quickly order prints of photos on your phone. However if you try to make any special gifts it is so Buggy! Once you have items in your cart… You can't preview which ones are which so you don't know which ones you want to order multiples of! There are also many gifts you cannot turn them portrait or landscape. I find myself walking away from this app with high blood pressure every time.
Amazing and easy!!
Girly girl05
on
12/8/2017
I've had Shutterfly app for ever but most of the time when I use it, it doesn't Upload the pictures or it would take forever like days to finish uploading!! It would drive me insane! Finally I gave up on it and got Snapfish and it was so easy and fast. I got to create my Christmas cards and order few prints. I think it's time to switch!!
Good, but takes forever!
thinks sweet
on
12/8/2017
Love the option of affordable prints, but it took an entire day to upload 138 prints. It is not feasible to sit with an app open for over an hour to upload photos. Next time I'll probably just use the computer so I can walk away and it would still keep uploading.
Easy and Effective
Gabrielle Alise
on
12/7/2017
Everything is easy to navigate and your orders always come out fantastic! My go to for all picture needs. 😊
Quick and easy.
I love being able to upload photos from my phone and order prints right away from the app.
Good app, needs improvement
I've used snapfish for 12+ years. I mostly use the computer but have used the app for a couple of years. In the past, the app worked great but now it won't show the photos that I've uploaded to my account. When i choose "photos" then "snapfish" it says that i need to upload photos so i can see them. I've already logged in and it shows my past projects just not my photos. I think it just a bug but I'm hoping it can be fixed soon. Other than that, the app is great.
Not easy to use
Extremely expensive shipping. Not easy to use app. Difficult to make more than one of an item. Once you add it to the cart, it takes you all the way back to the beginning. So I would've ordered a lot more items if the app wasn't so frustratingly difficult to use.
Easy and fast
Jenthevideogirl
on
12/7/2017
I love being able to order prints from my phone and not worry about it
Nice application
PNutButterJellyTime
on
12/7/2017
Convenient for quick orders or storage, but slightly difficult to navigate.
New at this
I'm just going to say that it's ok for now, once I get my pictures, I will then say what I think.
Pictures on app
Either I don't know how to do it or it can't be done, but I can't show slides or larger pictures from my phone app. Very limited phone app.
Mobile Ordering of prints is a breeze!
Shaguardriver
on
12/6/2017
This is the first time I've done the mobile photo print ordering and I was pleasantly surprised by how easy it was! The app was a breeze to use and very responsive. I'll order many more prints from my phone now that I know how well it works.
App doesn't do everything
Can't customize envelopes and order some products.
Love snapfish
So easy to use. Excellent prices. ❤️
Christmas cards
It was super easy to make my Christmas cards on the app, but it kept kicking me out of the app and shutting down which was a little annoying. I do like the ease of the app and all of the options I had!
It's Alright :)
I would prefer if there were a way to modify the pics when creating projects. There's no way to resize, crop, adjust or make bigger or smaller. I WOULD LOVE if there was a way to adjust the quality of photos as well, lighten or darken - but I understand that might be pushing it. Besides those things I love the variety of possible projects and the ease of adding photos in this app.
Books from app
Love this idea! It took me a while to figure it out, but after a little practice I finally did. I haven't seen my book yet bet I think I will love it.
Fast
Very quick and products turn out awesome plus there very cheap
Love!
D McCoy 1234556
on
12/4/2017
Love creating photo projects— snappish app makes it easy!
Easy!
Momoldestyear
on
12/4/2017
I was pleased at how easy it was to download and organize my photos into a book for my family for Christmas presents. The ability to download pictures across multiple platforms was so helpful.
Great resource
Great selection of cards and an easy interface for users.
Wish photos would upload automatically!
I love Snapfish and have been using them for years. But I wish my photos from my phone would automatically upload to my account. It's a very time consuming process to upload photos manually if I want to order prints or anything else!
Love this app!
Alexandrialeeson12345
on
12/4/2017
I ordered pictures not too long ago and received them and they look amazing! The quality is great! I couldn't believe how fast they got here and how good they looked!
Christmas cards were a breeze
Lovemyboys27
on
12/4/2017
So easy, great quality.
Easy and Quick!
Great deals and many quality options to choose from
User friendly!
This is an easy app to use, especially for people who are not tech savvy!
I love it!
Rositadealcala63
on
12/3/2017
I love to make photo albums but since I can make them from my phone I can not make them fast enough. I love it. The quality is great, the only improvement I would like to see is more backgrounds and a few embellishment. Thank you 😊
Busy mom
It's fast but I still like the program on my computer better. This is Not an easy to edit on phone app.
Amazing
This is an amazing app. Thank you so much!
Easy to use!
Love that you can finally use from your phone!
Best Photo App
This is the best photo app, Bar None...all of the products you can make and order are the best quality...I couldn't be happier with it and I recommend it to all of my friends and family
Fact Sheet
Publisher:

Snapfish2, LLC

Category:

Photo & Video

Released:

Jan 07, 2010

Current Version Released:

Nov 15, 2017

Version:

8.9.1

Size:

50.9 MB

Compatibility:

Requires iOS 9.0 or later.

Recommended Age:

4+

Game Center Certified:

No

Supported Devices:

iPad2Wifi-iPad2Wifi, iPad23G-iPad23G, iPhone4S-iPhone4S, iPadThirdGen-iPadThirdGen, iPadThirdGen4G-iPadThirdGen4G, iPhone5-iPhone5, iPodTouchFifthGen-iPodTouchFifthGen, iPadFourthGen-iPadFourthGen, iPadFourthGen4G-iPadFourthGen4G, iPadMini-iPadMini, iPadMini4G-iPadMini4G, iPhone5c-iPhone5c, iPhone5s-iPhone5s, iPadAir-iPadAir, iPadAirCellular-iPadAirCellular, iPadMiniRetina-iPadMiniRetina, iPadMiniRetinaCellular-iPadMiniRetinaCellular, iPhone6-iPhone6, iPhone6Plus-iPhone6Plus, iPadAir2-iPadAir2, iPadAir2Cellular-iPadAir2Cellular, iPadMini3-iPadMini3, iPadMini3Cellular-iPadMini3Cellular, iPodTouchSixthGen-iPodTouchSixthGen, iPhone6s-iPhone6s, iPhone6sPlus-iPhone6sPlus, iPadMini4-iPadMini4, iPadMini4Cellular-iPadMini4Cellular, iPadPro-iPadPro, iPadProCellular-iPadProCellular, iPadPro97-iPadPro97, iPadPro97Cellular-iPadPro97Cellular, iPhoneSE-iPhoneSE, iPhone7-iPhone7, iPhone7Plus-iPhone7Plus, iPad611-iPad611, iPad612-iPad612, iPad71-iPad71, iPad72-iPad72, iPad73-iPad73, iPad74-iPad74, iPhone8-iPhone8, iPhone8Plus-iPhone8Plus, iPhoneX-iPhoneX,

Supported Languages:

English; French; German; Italian;