TapNova recommends this app!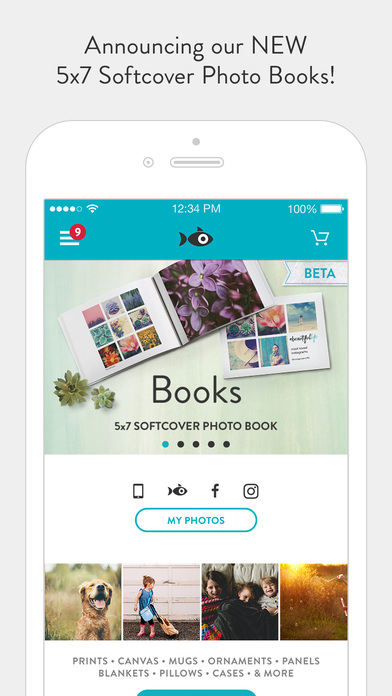 New in version 8.3.3
- Stability and performance improvements

As always, please keep the feedback coming, we love to hear from you!
Description
Welcome to the Snapfish app! Sign up and claim your FREE prints!
Snapfish Photo & Gifts App is the fast and easy way to order prints, create personalized cards, books, and make beautiful custom photo gifts using your own photos directly from your mobile device. Plus, 100 free 4x6 prints every month (just pay shipping)!

Order prints, create cards, books, and make custom photo gifts like canvases, mugs, blankets, pillows, tote bags, photo panels, framed prints and more!

Ordering is fast and easy on the go!
Upload & access photos from your device or social media: works with Facebook, Instagram, iCloud, and your Camera Roll

Perks of the App:
• 100 free 4x6 prints per month
• App-specific deals on products
• Preserve your photos with unlimited secure photo storage
• Quickly find your photos with timeline view; your photos organized by time and location
• 4x5.3 prints: the perfect size to order for mobile phone photos without cropping
• Square prints: ideal for Instagram photos
• Quick turnaround! Get prints in-store at Walgreens within an hour

What's New:
• Our improved prints builder lets you zoom and pan in the crop area, change the quantity and size for each print, and choose a paper finish for the entire order (matte and glossy)
• Back of card customization
• Photo Books now available in the app
• Combined orders of all your different sized prints

Coming soon!
• Import directly from Google photos
iPad Screenshots
Reviews
Quick, easy and convenient!
No issues ever. Quality service. Have been using for several years now.
So easy to use!
I like it so much it is easy to use for me worked wonderful. Thanks
Love this app!
I love knowing I can take at the least 100 photos on my phone and get them printed for free!!
So easy!
Train Game Fan
on
8/15/2017
So easy to upload photos and order them!
I rely on this app for permanent photos
I've been using this app for a couple of years and love it. I like the the free pics but for me it's the hard copy pics. Many years from now I will have my Printed pics and this app makes it easy and affordable.
Great for my start up
Great prints and phone cases really helping my start up. wildcapephotography.com
Best for photos
I've used Snapfish for years!!! Fast and very good service
Snapfish ease of ordering
SteveLatauska
on
8/15/2017
Ordering process is easy. Will add to review once photos are received!
Great app
ChrystalCrawf
on
8/15/2017
This app is very easy to use. I was easily able to navigate and place my order. Runs quickly too.
Does well
Good app for the most part. The only thing that I don't like so far is the fact that when I upload a batch sometimes it will not upload photos but it doesn't show which ones didn't upload. Making it sometimes difficult to know which prints I've ordered and which are left to order. Aside from that it's worked well and I love all the promotions you get in app!!!!
Best picture printing app!
Love this app! So easy to use to print pictures from your phone, plus you get 100 FREE pic prints from the app per month (just pay shipping)! If you love to take pics, you need this app!
Dorothy
I had stepped away from Snapfish And tried Shutterfly. The pictures were no where the quality of Snapfish.I Just sent in a order can not wait to Get them.🐾🐾😘
Awesome App
bright-futures
on
8/14/2017
This app is easy to navigate. I enjoy using it.
Good
korryn espinosa
on
8/14/2017
Good
Love it
Great app; always has coupons!!
Love FREE Prints
Getting 100 free prints every month is awesome!! What's even more amazing is that as soon as I snap a pic on my iPhone, it automatically uploads to Snapfish. So I don't have to keep pics on my phone and eat up the memory. I love the Snapfish app!!!
Snap!
Works well, and quick
Everything Went OK Till Checkout
Video Ranger
on
8/14/2017
Entered my zip code which was supposed to automatically generate my city and state which it did not do. It then somehow located the name and address of a friend (I never gave authorization to delve elsewhere into my iPad) seeming to indicate that the photos and perhaps billing would be transferred to him, something I did not want. Total waste of time. Additionally the offer of 100 free photos a month must have a catch which I was not clearly stated.
Love this app!!
Amazing app !! Great pictures and fast shipping
Awesome
Love the convenience & app deals
worst app ever
Nothing about this app works. Bad format. Not intuitive at all. If anyone can tell me how to order from this app please do.
App makes it super easy to create photo books
The app is very intuitive and operated smoothly
Pretty straightforward!
Was able to place a large order with different sized prints pretty easily!
Convenient but slow
Sammycakes1975
on
8/13/2017
Love the ease of use but takes a long time to upload pics!
Super easy to use!
I love how easy and convenient the Snapfish app has made uploading, editing, and ordering my photos! I highly recommend taking advantage of creating personalized folders of the photos you upload. This is a great feature for those of us that like to stay organized.
Very convenient
Great app, easy to use.
Love it!
Melaniejoy78
on
8/12/2017
I have been using Snapfish for 13 years now and I love it! So convenient and quick. I love making calendar & gifts at Christmas!
Terrific
This app is the best! High quality photos and great deals!
So convenient!
Bad at getting pics printed
on
8/11/2017
This app has made my life so much easier now that I can click and order. It's gotten a 100 times better than when I first started using it!
Good app
Hard to beat the pricing. Easy interface. I have difficulty actually altering the default crop. Not sure why.
Photo book needs save feature
The photo book portion is pretty difficult to use. It worked well uploading from my device to the app (although I had to upload from my android phone to then see the photos on my iPad in order to make a photo book.) the app crashed several times while trying to make the book. I got frustrated, uninstalled an reinstalled again and it finally worked. But it was still a little weird and not super intuitive to change things. I think all of this could have been eliminated by having a save project button. I saw this was a feature they were adding in the future, hopefully they do.
Easy!
A. Pearl Brand
on
8/10/2017
Such a great offer! Easy to upload and use!
Love this APP
Have been using it for years! Pick and choose what you want and the prices are great... ❤️
Love it.
Easy to use. Very convenient.
Love snapfish
Love it!! Great prices and products.
Easy to use would like more options tho.
I enjoy the app for the most part but I wish I could adjust some pics a little more to be smaller so it doesn't cut people heads off.
I love all the free!!!
Kellydzimmerman
on
8/9/2017
Every month I get 20 free(w paid s&oh) prints and 100 free prints!!!! As a mommy of three I think that this blows every other phone app outta the water!!!
Great app
Very convenient and easy to use. Love it!
Great app
nickiminajjj😎
on
8/9/2017
Better than shutterfly
Love it!
I <3 snapfish for the photo storage, great deals, and awesome products! Thank you!!
Snapfish App
I usually don't order from my phone but this app made it easy.
Easy to use
Yogini Bethany
on
8/9/2017
It's easy to navigate the app and choose/order prints and products. All my photos that I've uploaded from as many as 10 years ago are still saved here!
Easy to upload photos, and the free prints are a plus!
App is relatively easy to use and doesn't freeze. Recommended!
Great app
allthatjazz82
on
8/8/2017
A very convenient way to print photos, excellent quality print, fast delivery.
Love this app
This is hands down the best creative app!
Great
taylorrwarren
on
8/8/2017
Love this app. I have printed over 200 pics with it.
Easy to use!
Keeps all my pics organized so I don't have to be!!
Excelent
Chiapanecadecorazon
on
8/8/2017
Thank you
So easy!
This app makes ordering so easy! Thank you, Snapfish!
Fact Sheet
Publisher: Snapfish2, LLC
Category: Photo & Video
Released: Jan 07, 2010
Current Version Released: Jul 20, 2017
Version: 8.3.3
Size: 55.6 MB
Compatibility: Requires iOS 8.1 or later.
Recommended Age: 4+
Game Center Certified: No
Supported Devices: iPad2Wifi-iPad2Wifi, iPad23G-iPad23G, iPhone4S-iPhone4S, iPadThirdGen-iPadThirdGen, iPadThirdGen4G-iPadThirdGen4G, iPhone5-iPhone5, iPodTouchFifthGen-iPodTouchFifthGen, iPadFourthGen-iPadFourthGen, iPadFourthGen4G-iPadFourthGen4G, iPadMini-iPadMini, iPadMini4G-iPadMini4G, iPhone5c-iPhone5c, iPhone5s-iPhone5s, iPadAir-iPadAir, iPadAirCellular-iPadAirCellular, iPadMiniRetina-iPadMiniRetina, iPadMiniRetinaCellular-iPadMiniRetinaCellular, iPhone6-iPhone6, iPhone6Plus-iPhone6Plus, iPadAir2-iPadAir2, iPadAir2Cellular-iPadAir2Cellular, iPadMini3-iPadMini3, iPadMini3Cellular-iPadMini3Cellular, iPodTouchSixthGen-iPodTouchSixthGen, iPhone6s-iPhone6s, iPhone6sPlus-iPhone6sPlus, iPadMini4-iPadMini4, iPadMini4Cellular-iPadMini4Cellular, iPadPro-iPadPro, iPadProCellular-iPadProCellular, iPadPro97-iPadPro97, iPadPro97Cellular-iPadPro97Cellular, iPhoneSE-iPhoneSE, iPhone7-iPhone7, iPhone7Plus-iPhone7Plus, iPad611-iPad611, iPad612-iPad612, iPad71-iPad71, iPad72-iPad72, iPad73-iPad73, iPad74-iPad74,
Supported Languages: English; French; German; Italian;