Screenshots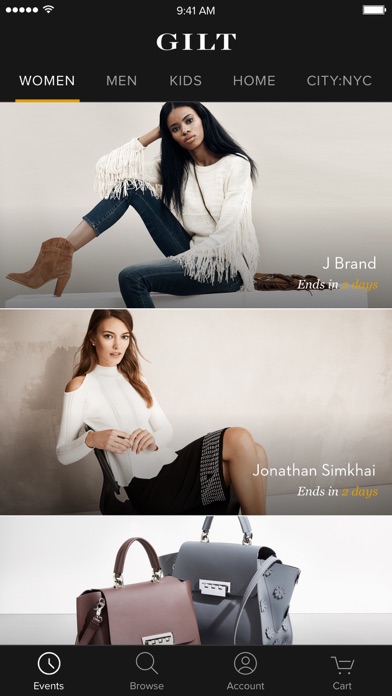 New in version 6.3
• New personalized Home tab for a daily overview of your Gilt App
• Bug fixes & performance improvements
Description
Up to 70% Off Designer Brands: Inspired Style for Every Occasion (and Every Day).

Download our app and discover Gilt's ever-changing assortment of top brands and one-of-a-kind experiences, tailored to your wants and likes — and meant to inspire every facet of your life. Plus, shop easily by brand or category. Our award-winning app also offers top deals to exclusive experiences in your city.

Plenty of other perks of shopping Gilt on-the-go:

• Luxury and designer brands, all up to 70% off retail: Valentino, John Varvatos, kate spade new york -- to name a few.

• A selection personally tailored to your likes and tastes

• New sales start every day with inventory refreshed daily — plus longer-lasting shops arranged by style, trend, and category

• Mobile-exclusive sales: Designer deals that you can only purchase on our app (because half the thrill is being first)

• Real-time reminders: Our app will notify you when sales start, when your waitlist items become available, and more.

• Gilt City: Shop offers and exclusive experiences even when you're out and about in your city. Gilt City has national deals as well as local ones in New York, Los Angeles, Chicago, San Francisco, Seattle, Boston, Atlanta, Houston, Dallas, Miami, Philadelphia, and Washington DC.

If you're a fan of Gilt, we'd love to hear from you:
• Please take a moment to rate and review our app.
• You can also email us at iphonefeedback@gilt.com
iPad Screenshots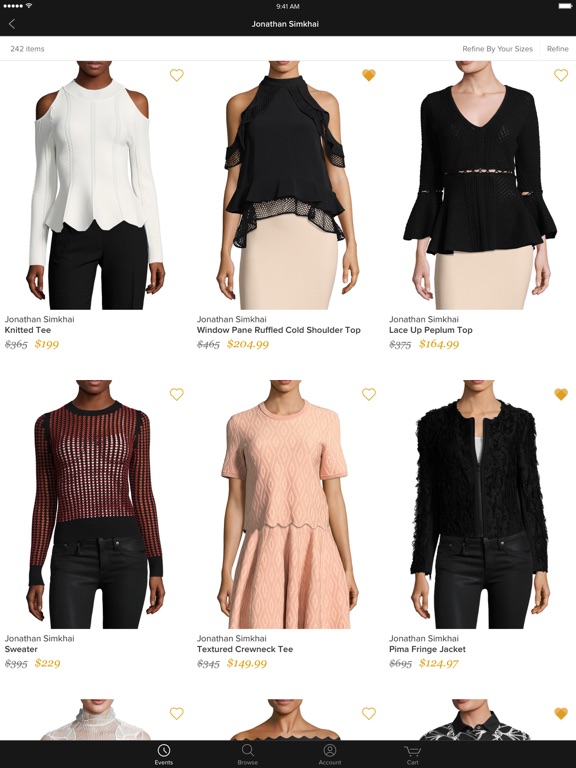 Reviews
Gilty
dorian holley
on
12/15/2017
I love gilt. Been using it for years. I dig that the clock ticks away. Otherwise you could spend hours looking at stuff and I don't have that kind of time. It forces me to make a decision so I know I've gotta get busy. It always helps me round out my shopping and just now it saved me driving out yet another day for family. I just have to make myself NOT look at it every day. Oh yes. And the couple times I've had to return thing it has been no trouble at all, no questions asked. I would add one thing: Mr Porter has a feature you should have. A "Fit" description. "This item runs small so purchase a half size up." Or "Fits true to size." Im betting that would save you a host of returns. dorian
They sell low quality stuff and third grade customer support
Abhishek_NJ
on
12/15/2017
I bought designer sunglasses from them but the frame broke after few use. I have used the same brand before but the ones I got from Gilt look sub-standard, they might be selling stuff that might be defective or failed quality control. I tried to talk to their customer support if something can be done but nobody replied. If you want to buy stuff go buy from shop as you'll see the quality before paying.
What happened to noir member benefits
There is no 30 minute preview and no 30 minute early access. Not to mention not knowing what sales are coming up. I sincerely hope you give back noir benefits or you will lose substantial sales from your top spenders.
No bugs so far...
Thanks to those that came before me to get them worked out. I will pay it forward! Gilt is solid.
Worst Service
This app is terrible. Avoid using it at all costs as you will surely be wishing that you had. This company has the worst customer service ever. Charged for items that were never shipped out to me, then issuing partial credits for items that never shipped out, you then have to call them to let them know that you did not receive your credit as initially charged. Avoid this app, nothing but headaches and not great merchandise.
Can't see upcoming sales
What's the point of being a premier member when I can't even see what event is happening when!?!?!? Gilt is getting worse and worse with each update!!
What Happened???
This was once my favorite —- the last several weeks have been terrible. I cannot log onto the app and when I called for help and was told to just use the website. Since the last upgrade, there is no information or place to see future sales—- This is a major disappointment for what used to be the best internet shopping site.
Very user friendly
User friendly and well designed, this is a great app.
Love it
Quick & easy, great deals!
666
If I could give it 6 Stars I would. 666th review 🙌🏼
Easy shopping
Easy shopping and quality products!!
Bad, store
espyvallesan
on
11/28/2017
Very bad customer service. I had some products to buy but I was not sure and inadvertently I put the wrong button when I wanted to cancel they never answered me and when I finally got to communicate with someone they told me that I could no longer cancel it by rea 5 to 10 minutes after the purchase and for colomo I could never use the coupon I had at a discount
Daily Sales
TereseKacandes
on
11/28/2017
I've been a customer of Gilt for a while and always loved it. With the new update they don't show the upcoming daily sales at the bottom anymore. I liked that feature because I could set the calendar on my phone for the time that a sale would start so I wouldn't miss it. I get to many emails and don't check them in time so I miss an event.
Abbie
The recent orders and current orders when viewed the merchandise is not showing anymore It's empty- I have to double double click the link of the " dress I ordered" before I can see what I bought Once seen it actually takes me back to shopping the same merchandise I bought I only want to know when it is going to be delivered and what is the current progress of my order - I'm disappointed with not being able to see Also there were times the merchandise posted is not the right description and price - this happened to me occasionally Hope you can fix it In addition to - the app has slowed down tremendously - it is not as fast as I used to know it - very delay Abbie 11/28 My orders when I like to double click to check the merchandise again or reorder doesn't let me anymore It's easier to just double click and reorder instead or "'finding or searching" takes a lot of time Also I am unable to make the merchandise bigger to see details under ordered products It's frustrating . Your app keeps updating but the features that are working keep dropping Abbie
Love the selections
So good
Would go somewhere else
The app used to show upcoming sales so you could see if you wanted to buy something and it also displayed the time the sale started. With the new update this is all gone, I ended up spending all my money at Nordstrom because every time a sale started I had no idea until it was too late. The app is less user friendly than it was before the last two updates.
Can't Checkout
Every time I try to place an order through Apple Pay it says "double click" to pay, but it does not work. Then by the time I get my credit card info in again I've then lost my item and have to put in the waitlist. I can't seem to find were I can store and update my credit card information to keep this from happening. I updated it once already when I checked out last week, but just tried again and it says problem processing credit card. So. Very. Frustrating. Fix this.
Upgrade fail
Ever since the upgrade I can't see any of the up coming sales for the future or for that day!!! I am a Noir member and I can't even shop the sales or see the sales until they are happening. When before I could shop them 30 mins before. I have shopped with gilt for 8 years our so if not longer. It seems ever since your merger with saks you guys have gone down. The furniture purchases I have made the past 4-6 months have been a nightmare!!! You say you have it and I purchase it, then I get an automatic cancellation saying can't fulfill more than 3 times this has happened!!!
Guilt worst experience
Their was a shopping glitch and guilt had a Marc Jacobs's bag for 40 dollars and a edie Parker bag for 50 dollars It shipped and today was suppose to my delivery day Guilt be dishonest had fed ex return m order When I called guilt they said they would not honor the prices and to bad they said I am so upset with customer service
Ten minute reserve way too short!
Ten minutes for items in my bag to remain reserved is simply not enough time. It gives me anxiety watching the clock run out. It takes a long time for me to shop if I'm getting more than one item, which is always. The clock always runs out on me. Every single time I shop. So I have to go back and re-enter the merchandise, Or checkout and hope it's still available. IDK if "no longer reserved" means they're no longer in my bag, or just that my items are now available for other shoppers to snag which is not cool if I got the last item. It should be at least 30 mins to an hour, IMO. Other than that it's great seeing the original high retail price next to the sale price. It's like drugs for my shopper's high! Thank you!
Great layout & deals
Great discounts, nice smooth and clean layout. Highly recommended app for those who love to shop and value fashion!
What has happened to Gilt?
MileyandNickarementforeachother
on
11/15/2017
I have been shopping with Gilt for many, many years and it has always been a stellar shopping experience, but in the last 8-10 months the site has gone completely downhill. You can waste hours trying to put an order together (need to keep reordering every 9 minutes as items disappear from cart as has always been an issue) but when you go to place the order a gray screen will pop up and state "your order can not be placed due to technical error....please try again later". When you try to call customer service you can hold from 15-30 minutes and once an agent gets on the phone after 30-60 minutes of trying to resolve issue your items are no longer available and they just apologize verbally but do not a thing to help complete your transaction. This site is a complete mess and complete waste of customers time. Such a shame as it was such a delightful site to use in the past. Buyer beware and stay away from this site.
Rocking
Telleveryoneyouknow
on
11/14/2017
Great if you're so busy you procrastinate! And, what better way to do it than shopping. A great find!
Loved gilt in the beginning
Jrzygrlnvegas
on
11/13/2017
Loved shopping Gilt for the "special" items.... now I can shop at my local cal SFA outlet and get the same items at better prices. Bring back the original Gilt!!!
NEGATIVE -100 stars ...
and what?...
on
11/9/2017
DEAR GILT CEO/PRESIDENT: An American company outsourcing customer service to another country is not a good idea especially when other countries do not like Americans. So much is LOST in translation. Poor customer service, web site and app that continually break down (according to employees in addition to my own experiences) and featured items on the site that are 'available' then all of a sudden they are not; this has happened repeatedly and again and again. The blame game works up to a point and so do apologies. Gilt needs to take responsibility for running such poor online platforms, less than mediocre customer service and often delivering items that are wrong, broken and not at all what they look like in the photos. From the get-go I was a HUGE fan of the app and now it has become a joke. I will never discount some of the great people and things Gilt USED (past tense!!!) to offer and perhaps there is still some of that cool element within the company, but please SHOW US, DON'T TELL US. That is not a lot to ask for considering as consumers we spend so much time, energy and money to make companies like you thrive and make millions so that you can enjoy your big salaries. You are no longer what you used to be. Maybe you're going out of business soon and just don't care; feels like it. Other apps offer far better consumer experiences and care to LISTEN carefully to the customer who is gold. You keep missing that point. They say it comes from the top. Shame.
Mr
Tough Fighter Sanity
on
11/8/2017
Wonderfully set, thank you
Love
leibman, adrianne
on
11/7/2017
Love the app!
I love GILT!
GILT is great! I have bought everything from office furniture to shoes and boots. Great way to get luxury products at a great price.
Smooth
This is one of the smoothest shopping apps out there.Very easy to navigate. My new obsession.
Amazing App
Amazing way to shop Nice fashion affordable prices and best of all great brands
Something went left
crooklyncon
on
10/31/2017
I'm not sure what went wrong but while searching for men's outerwear, all the search results were women's clothing.
Love
538/873@492@3&!;
on
10/29/2017
Awesome app
Locked in to map with no way out!
Buckythebadger
on
10/28/2017
When I access a map it does not allow me out of the map so I need to power down phone & bring back up to access voucher. Frustrating & we had to do it 2x at the restaurant due to this which was super inconvenient for waitress
Excellent
I love the Gilt app the only thing I would love to see is more deals for the Los Angeles Area. I would love to use Gilt over Groupon any day of the week.
Constantly crashes
I have shopped on Gilt for years, it am so tired of the slow response when trying to look in boutiques or at a specific item. And, worst of all, it CONSTANTLY crashes. Ridiculous.
My fav way to shop
I love the gilt app!
App keeps inquiring about new app
I love Gilt. The shopping experiences, and customer service experiences (over the phone) has been great for me. The items and the merchandise that they offer is pretty good. I would love to see more buying options for one person, in regards to restaurants and events. The only problem I have is the app keep asking me If I want to download the app and I already have it. It's been going on for a while would love to see this fixed. I rebooted, erased and cleaned the phone to its original, right out of the box condition and re-downloaded the app, hoping that any bugs in it would be resolved, and it still ask me about downloading the app. Please fix this problem.
Slow shipping
Many other online services have faster shipping. Waiting 1 to 1.5 weeks for delivery is disappointing.
My favorite shopping app
Bradentothemax
on
10/19/2017
I absolutely love the Gilt app. Great prices, easy to navigate, checking out is a breeze. Not much else I can ask for.
Needs work
It's a very frustrating app. This app is finicky. When it comes to entering promo codes, it can give you a hard time by saying, 'something happened' or 'please try again'. I was finally able to make my purchase with the two promo codes however, it took some finagling.
Me
This is one of the worst shopping apps. It is not easy for me to go find ALL blouses, and it keeps going back to a previous designer I may have looked at even after closing the app. I was almost forced to download the AP when on the web, since the web did not seem to display all items, and I have been very disappointed with having to use the app. Worst thing is you can't use the app to return items, you must go to the web, try to remember all your log in information for yet another account (one of the main reasons I use an app) to make a return. No easy guest way to click on a return web link and put in your order info to make a return without having to log onto your account. Too much grief and aggravation. I think I am done till things are more user friendly.
Best shopping app!
This app makes shopping quick and easy just at your finger tips! From simple to designer labels you can get at great prices.
Love this app
Crazy ole Maurice
on
10/7/2017
So many amazing finds for such great prices!
Products are fake! Do not sell original products
Rodrigorodriguessss
on
10/7/2017
This app does not sell original products!! Creed products are fake
Gilt
Florida Tiger Mom
on
10/7/2017
The process is very user friendly. Simple and intuitive.
Quick and Easy
LevaniZazadze
on
10/1/2017
Site works very well. No complaints
Love!
Great way to find awesome goods at reasonable prices.
Fact Sheet
Publisher:

Gilt Groupe

Category:

Shopping

Released:

Sep 24, 2009

Current Version Released:

Dec 14, 2017

Version:

6.3

Size:

134.6 MB

Compatibility:

Requires iOS 10.0 or later.

Recommended Age:

4+

Game Center Certified:

No

Supported Devices:

iPhone5-iPhone5, iPadFourthGen-iPadFourthGen, iPadFourthGen4G-iPadFourthGen4G, iPhone5c-iPhone5c, iPhone5s-iPhone5s, iPadAir-iPadAir, iPadAirCellular-iPadAirCellular, iPadMiniRetina-iPadMiniRetina, iPadMiniRetinaCellular-iPadMiniRetinaCellular, iPhone6-iPhone6, iPhone6Plus-iPhone6Plus, iPadAir2-iPadAir2, iPadAir2Cellular-iPadAir2Cellular, iPadMini3-iPadMini3, iPadMini3Cellular-iPadMini3Cellular, iPodTouchSixthGen-iPodTouchSixthGen, iPhone6s-iPhone6s, iPhone6sPlus-iPhone6sPlus, iPadMini4-iPadMini4, iPadMini4Cellular-iPadMini4Cellular, iPadPro-iPadPro, iPadProCellular-iPadProCellular, iPadPro97-iPadPro97, iPadPro97Cellular-iPadPro97Cellular, iPhoneSE-iPhoneSE, iPhone7-iPhone7, iPhone7Plus-iPhone7Plus, iPad611-iPad611, iPad612-iPad612, iPad71-iPad71, iPad72-iPad72, iPad73-iPad73, iPad74-iPad74, iPhone8-iPhone8, iPhone8Plus-iPhone8Plus, iPhoneX-iPhoneX,

Supported Languages:

English; Korean;