Screenshots
Description
Up to 70% Off Designer Brands: Inspired Style for Every Occasion (and Every Day).

Download our app and discover Gilt's ever-changing assortment of top brands and one-of-a-kind experiences, tailored to your wants and likes — and meant to inspire every facet of your life. Plus, shop easily by brand or category. Our award-winning app also offers top deals to exclusive experiences in your city.

Plenty of other perks of shopping Gilt on-the-go:

• Luxury and designer brands, all up to 70% off retail: Valentino, John Varvatos, kate spade new york -- to name a few.

• A selection personally tailored to your likes and tastes

• New sales start every day with inventory refreshed daily — plus longer-lasting shops arranged by style, trend, and category

• Mobile-exclusive sales: Designer deals that you can only purchase on our app (because half the thrill is being first)

• Real-time reminders: Our app will notify you when sales start, when your waitlist items become available, and more.

• Gilt City: Shop offers and exclusive experiences even when you're out and about in your city. Gilt City has national deals as well as local ones in New York, Los Angeles, Chicago, San Francisco, Seattle, Boston, Atlanta, Houston, Dallas, Miami, Philadelphia, and Washington DC.

If you're a fan of Gilt, we'd love to hear from you:
• Please take a moment to rate and review our app.
• You can also email us at iphonefeedback@gilt.com
iPad Screenshots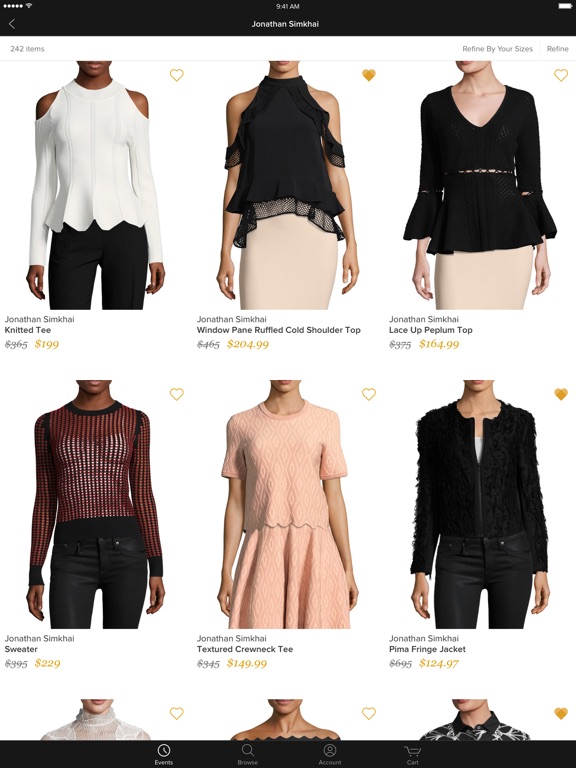 Reviews
Needs work
It's a very frustrating app. This app is finicky. When it comes to entering promo codes, it can give you a hard time by saying, 'something happened' or 'please try again'. I was finally able to make my purchase with the two promo codes however, it took some finagling.
Me
This is one of the worst shopping apps. It is not easy for me to go find ALL blouses, and it keeps going back to a previous designer I may have looked at even after closing the app. I was almost forced to download the AP when on the web, since the web did not seem to display all items, and I have been very disappointed with having to use the app. Worst thing is you can't use the app to return items, you must go to the web, try to remember all your log in information for yet another account (one of the main reasons I use an app) to make a return. No easy guest way to click on a return web link and put in your order info to make a return without having to log onto your account. Too much grief and aggravation. I think I am done till things are more user friendly.
Best shopping app!
This app makes shopping quick and easy just at your finger tips! From simple to designer labels you can get at great prices.
Love this app
Crazy ole Maurice
on
10/7/2017
So many amazing finds for such great prices!
Products are fake! Do not sell original products
Rodrigorodriguessss
on
10/7/2017
This app does not sell original products!! Creed products are fake
Gilt
Florida Tiger Mom
on
10/7/2017
The process is very user friendly. Simple and intuitive.
Quick and Easy
LevaniZazadze
on
10/1/2017
Site works very well. No complaints
Love!
Great way to find awesome goods at reasonable prices.
Amazing app
Amazing App!!! That's all I have to say...
So easy to use
the only jill
on
9/29/2017
Love the Gilt app. So easy to use and very user friendly.
Great App
I have not had any issues with the app itself and I like the way that the merchandise is laid out. I also like the "buy now" feature that makes checking out quick and easy. Overall, Gilt offers a wide variety of high-end items at great prices. The return process is a little slow, perhaps they should upgrade the shipping services for returns to expedite processing. Otherwise I love the app!
21 century but still barbaric fur obsession
Deleting. This company never evolved past animals fur merchandise obsession and promotes animal violence and total ignorance of this problem.
Great deals
Teh Hop Rocket
on
9/24/2017
Has really good deals. Idk what to say about it yet I've had it for one day and bought one thing. I got 91 bucks off some luggage so that was pretty cool.
Needs improvement
This app would be great if your browser didn't have to open to their website and THEN ask you if you wanted to use the app. At that point I just use the website. What's the point of the app when you are already on their website? Then I have to go back and close the browser down from my phone when I'm done with the app. No thanks, I'm on the site already, I'll just use that. Maybe they can take a look at Rue La La. I get emails from them, click on the brand I want to look at, and the email opens directly into their app. That's seamless and perfect and how Gilt's should function.
Missing One Thing...
I love Gilt, but I don't buy things that I find right away, and I use it almost exclusively to purchase vouchers for experiences. I hate that here's no wish list function or way to save things that could serve as an alternative to the traditional "cart" experience. I'd love if there were even notifications that would remind me when an offer I "hearted" (or added to my wish list) was about to expire.
Nice find
All About You MS
on
9/17/2017
Glad to have found the app.
Where are my favorites?
Sorry I find not being able to access favorites so frustrating on this app Gilt gets one star. Also I would love to be able to categorize my favorites into categories and print out lists. As of now favorites is one long unruly long list. Would love to be able to organize it. Work on favorites please it's a wonderful feature and it would be on all platforms. Look to Amazons wish lists as a guide.
Review
lscottwagner
on
9/16/2017
Very functional!
Great Deals!
Long time member to Gilt but been using the app for couple of years. I enjoy using this app it is easy to navigate and I like the option to filter or refine my search. Always finding great deals and always pleased with my purchases!
Easy browsing
Love gilt. Great deals. Easy to search and navigate this app.
Great overall
Best deals all around
You cannot beat Gilt.
Grover Shopping
on
9/12/2017
My shopping is always so easy and exciting. Gilf never fails to deliver the low prices and the wide selections. You cannot beat Gilt.
Can't beat Gilt!
Been shopping here for a long time- purchases are easy and come quickly. If ever any issue- customer service has been wonderful. Awesome place to shop for everything!
App takes up SO much room
I love this app, check it constantly, find it soo easy to use. BUT, and it's a big but, it takes up an insane amount of storage. The initial download is small but everything you look at it stores. I'm talking over 3GB. Which is just absolutely ridiculous. After Photos and Messages, this is the third largest user of space on my phone. WWWHHHYYY!!!
Longtime member
remiprescott
on
9/11/2017
I love gilt! Great prices and unique items! Great extra percents off at times too. Loyalty program needs work, but theyll get there!
New app is dreadful
Keeps switching my city. Can't seem to reset permanently. Unpleasant. Please fix
Love Gilt!
Been a huge fan of Gilt for years. Not sure what is happening to the new merchandise for men.. some of the products are not high quality like they use to be.
One of the best fashion sites to shop!!!
If you like high fashion, this app is a must! Returns and exchanges are easy and painless. I love Gilt!!! 😍
Good app nice prices.
I have been using Guilt for a few years now.
Great discount shopping app
Love it!
Love
DeeDeeDub💙💚💙💚
on
9/8/2017
I online shop all the time and Gilt has one of the best apps!
Hit & miss
I've shopping on Gilt for years. The clothes are hit & miss, but the customer service has always been great. I also like the way the app is laid out, and the features.
Why can't in find my returns?
While I have purchased some beautiful items on Gilt their return process is not easy. And why can't I look in my account to see if you have received my return? I find this archaic.
Great app
Easy interface, clean navigation, and actually much better than the website.
Setting up payment
I tried putting in my expiration date for my credit card at least 6 times and changed the card twice. Reason was apparently it doesn't register 06/19 you have to put in 06/2019. Your "error message" only tells me something is wrong but doesn't tell me what. It should highlight the field and tell me why it's wrong. I had to play a guessing game to figure it out. Glad I did, as I wanted to get the coupon for a store I like. However, if I was actually purchasing something, I would have looked elsewhere after the third try.
Love Gilt!
Great app, and another great update to make it easier to browse. Great job!
GILT is my go to place
Incredible bargains, gifts that are unique. Love it!!
Use it Often
Paso Wine Guy
on
9/4/2017
I have purchased several items from Gilt & Gilt City. I always use the App and find it very quick and easy to navigate. I just made a purchase for an item I've been thinking about and the checkout was within seconds. Very helpful tool for shopping this Great Site.
Fsgg
shsjsbbsjdjdjdbdb
on
9/4/2017
Fgjgdhh
Great app
Works like it should!
Beautiful Purchases With Great Service
Collector's addiction
on
9/3/2017
I've had nothing but positive experiences with Gilt. I'm a regular buyer and get fab prices on some of my favorite items. Shipping is good and fast and I like the pay once for a month's worth of shipping. I've never ordered and not received an item. I definitely recommend this app! It's fun!!
Not Friendly enough
Really does not allow you to filter by size, price, material etc. I may like the products, the app is not the best (or average for that matter)
Quality products at great prices.
Burgett Business account
on
9/1/2017
I've made 5 purchases and all have been as described and shipped quickly.
Awesome!!
Amazing app. Such great deals and always ships fast. Great quality and great return policy! I buy from at least twice a month!
Love
Great app!! Love the deals and the simplicity of it!!
Not first quality goods
Non-friendly farmer
on
8/16/2017
They try to sell damaged goods/factory seconds as new merchandise and then try to scam you into keeping them. Buyer beware!
Great value and style
Andtherewastheflashlight
on
8/16/2017
Since I found this app, I check it on the daily!!!!
Great customer service
Customer service was very helpful on a package sent to the wrong address.
Eh
It's a good app, the payment page is fussy though and keeps asking you to confirm your CC# over and over again....don't love that, doesn't seem secure.
Fact Sheet
Publisher:

Gilt Groupe

Category:

Shopping

Released:

Sep 24, 2009

Current Version Released:

Sep 19, 2017

Version:

6.0.1

Size:

138.8 MB

Compatibility:

Requires iOS 10.0 or later.

Recommended Age:

4+

Game Center Certified:

No

Supported Devices:

iPhone5-iPhone5, iPadFourthGen-iPadFourthGen, iPadFourthGen4G-iPadFourthGen4G, iPhone5c-iPhone5c, iPhone5s-iPhone5s, iPadAir-iPadAir, iPadAirCellular-iPadAirCellular, iPadMiniRetina-iPadMiniRetina, iPadMiniRetinaCellular-iPadMiniRetinaCellular, iPhone6-iPhone6, iPhone6Plus-iPhone6Plus, iPadAir2-iPadAir2, iPadAir2Cellular-iPadAir2Cellular, iPadMini3-iPadMini3, iPadMini3Cellular-iPadMini3Cellular, iPodTouchSixthGen-iPodTouchSixthGen, iPhone6s-iPhone6s, iPhone6sPlus-iPhone6sPlus, iPadMini4-iPadMini4, iPadMini4Cellular-iPadMini4Cellular, iPadPro-iPadPro, iPadProCellular-iPadProCellular, iPadPro97-iPadPro97, iPadPro97Cellular-iPadPro97Cellular, iPhoneSE-iPhoneSE, iPhone7-iPhone7, iPhone7Plus-iPhone7Plus, iPad611-iPad611, iPad612-iPad612, iPad71-iPad71, iPad72-iPad72, iPad73-iPad73, iPad74-iPad74, iPhone8-iPhone8, iPhone8Plus-iPhone8Plus, iPhoneX-iPhoneX,

Supported Languages:

English; Korean;