Games
Entertainment
Arcade
Action
This version of the app is not recommended
App last updated
Aug 04, 2017
Screenshots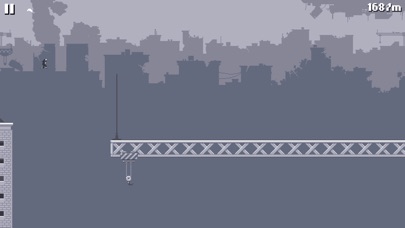 New in version 2.42
ok it's still 64-bit but now the birds aren't dorked sry sry sry
Description
"Fantastic... Super-simple, pixel-perfect, great music and sound." - daringfireball.net
"Canabalt is pure genius." -necessarygames.com
Escape the destruction of your city with just one button! The game that popularized the infinite runner genre is back with new game modes and support for every dang phone and tablet thingy!

-------------------------

"This "daring escape" platformer is simply beautiful and beautifully simple." -Kotaku

"It's going to be quite some time before you find something so simple so thrilling again." -Offworld

"Canabalt is actually much more intense than you'd assume of a game which requires a single finger to play." -GameSpy

-------------------------

Play any of the 8 new game modes with one or two players, dash across rooftops with four different runners, or just chase that high score in the classic futile race for survival.

-------------------------

"It's all very lovely and full of poignant subtext. And awesomeness. Canabalt is a prime example of a simple idea executed extremely well." -JayIsGames

"I have never seen a concept so richly and successfully realized in such a simple yet stunningly complete form. Canabalt represents the power and potential of small independent games." -gameinmind.com

"Music is another component that is just perfect - it enhances the strange and unsettling setting of the game and also gives a sense of speed with a hint of hope that quick feet might be the salvation to the horror." -bartsnews.net
iPad Screenshots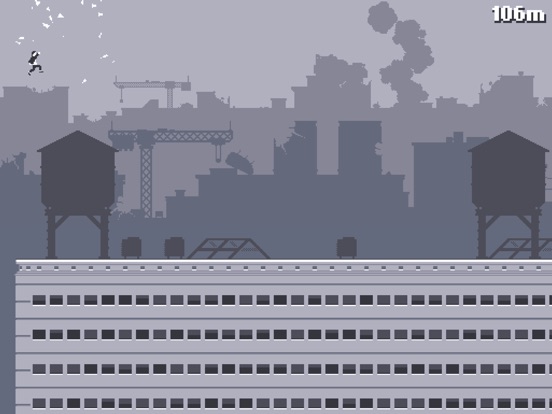 Reviews
Best 64 bit experience I have ever had
This game is perfect and has great graphics and fun gameplay makes this great
More levels
Hihjfgefdhhj
on
2/17/2018
I think there needs to be a few more levels put into the game. And it would be great if there was a mute button.
Lack of basic user interface
3 dollars and there's no return to Main Menu option nor is there a mute button for the rather irritating and incessant music. Come on... step it up a little.
Well worth $3
Alecg8or211
on
11/11/2017
This game is simple and addictive. It's easy to get a hang of and a lot of fun. The music and animation is great and it all seems very mysterious, since you're just dropped into an alien invasion. I recommend playing the flash game of the same name first to see if you like it. This game is a great addition to any phone. Btw, all of the 2 and 1 star reviews I've read we're all about compatibility with very new or old devices.
So close
The game before this update was amazing but with the newest update it no longer works on iPhone 5 and because of that I am stuck with the original version of the game
Yes!!
I'm so happy that one of my favorite games was brought to 64 Bit!! I was getting worried that it wouldn't be. This classic deserves to always be on IOS!!
Bummer!
No longer compatible with iPod Touch 5th gen, in spite of running iOS 9.3.5 ... which should work. What gives?
Awesome
Thank you for the 64-bit update! This game is great and I still love to play this game every once and a while. 😄
Great Game!
This was one of if not the first iPhone game I purchased when the AppStore was first opened. I'm amazed you guys keep updating it and it's still fun to play after all these years. Thank you!
Perfection!
One of my all time favorite auto runners! Thanks for the 64 bit update. It would be sad to lose such a gem.
Still number one
Almost a decade later still the best game on the App Store, now refreshed to 64-bit appocalypse-surviving glory. You've definitely played the countless imitators, but until you've played the original, you basically haven't even been living a real life. And that's super sad.
Classic that does not fade, includes apple tv support
A fantastic game that has been a joy to come back to. However, ios 10 now gives a warning about 32 bit and future compatibility. Please update it to 64 bit. Thanks!
Please update this to 64 bit!
Please update this to 64 bit!
PLEASE OPTIMIZE FOR iOS 11!!
heyitsbennett
on
3/20/2017
Please do not let Apple kill this wonderful game. Update this app and keep it optimized for the latest iOS so we can still play it
Overpriced
Well made but too much money for very little game.
Just like any other infinite runner but costs money
There are so many games like this but they are all free
Need sth to be updated
This is my favorite running game. Less graphic to annoy you and good music while running. But since laste update nearly a year has passed and developer needs to update it for os 10 inorder to consume less battery
Simple and Fun
My favorite game behind Flow, Upzle and Rush Hour. Never gets old.
need iphone 5s update
please update for iphone 5s
Okay but bad price
I would honestly expect way more from a free game let alone a $2 game. If they want more people to buy it then put cooler animations and actually spend time on making your game instead of slapping something on the App Store that you made in 3 hours.
a classic that's been over-tinkered with
i love canabalt but i hate the new outfits. what is this, a morning jog?
My favorite endless runner
Almost Average1
on
6/5/2016
No fancy coins or other needless features. Just a lot of running. With awesome music.
First good infinite runner
Leunozzy Ditto
on
5/1/2016
Kxk
Great game, a quintessential runner
Douglas "Strange Quark" Reed
on
4/18/2016
I've been playing this game for years, even back when it was on Kongregate. When I found out there was a portable version I was thrilled. I've had this app for years now, and it never lets me down. Except for those dang windows that is, I always miss those. Anyway, I realized I had never reviewed it, so here we are. Pros: • great minimalist graphics •great music (the main theme is killer) •unique "story" (not that there's really much to it, but if you can tear your attention away from the runner to look at the background, you'll see all sorts of things) •new game modes (all falling buildings, no slowdown crates, etc) •multiplayer mode? (I haven't played it with someone else, so I dunno) •crates and similar let you slow yourself. Do other infinite runners have this? I don't recall seeing it in any others. It's a great mechanic •portable Cons •WINDOWS!!!! •procedurally generated, so while it's always POSSIBLE to make the jump if you time it just right, the RNG can mess you up pretty badly •could maybe spawn crates a bit more frequently •WINDOWWWWSSS!!!! All in all, a fantastic game, a pioneer in the genre. A+ 5stars. I can't see the price because I've already purchased it, but whatever it is, it's worth it.
MORE PARKOUR
Thatkidflame
on
4/13/2016
I love this game. Its very fun and i practically live on this game. But its needs more moves than just simple jumping. Like unlock like front and backflip and stuff like that you. Also more obstacles and buildings. I hope the developers see this and try adding some stuff i listed. Its a must by. I hope they update this soon
Lots of polish, lack of depth
Fun for 10 minutes. Nothing to keep you coming back, e.g. Unlock able
AMAZING
As someone who loves infinite runners, this game is perfect! I just have a couple things I think should be added: 1.) I think, conceding with the first review to this game, a new map could include wallrunning! Like, when you tap, you just have to tap again in the air and in front of a wall and then you wallrun! And maybe you run out of time eventually, so you have to tap again to jump from the wall and make it to some buildings! 2.) It would be awesome if you could change your character! Again, conceding with the first review, maybe new characters could be unlockables...? 3.) I think it would be pretty awesome if you could do online multiplayer on the maps! And if it could hold up to 4 people, that would be tops! I honestly think these and maybe a different soundtrack for each map location could be cool! As the game is already perfect, these would just make it beyond perfect!
High polish on mild, mild distraction
The mood and polish of this game are excellently crafted. The concept itself is mundane. A round of play is measured in seconds (if you play for more than 30 seconds, you're doing great), usually continues until the screen is moving fast enough that you can't see what is coming. After 10 minutes you've seen everything this game is going to throw at you.
Definitely perfect
This game startled me. Seriously. You can feel the adrenaline to the peak while playing Panic mode. Also the other mods are sure made for their purposes.
Great on Apple TV too
Just relived some good times by playing this on my new AppleTV. Buy it once, and it works in both places!
Can't turn music off or down..
Very fun game ruined by very annoying music. I have to put my phone on silent just to play this because there are no music settings or controls. You can switch between songs though, which is almost a slap in the face for people who just want none of them to play. Game devs are way to proud of the music they license for some reason, needs to end. Give us a settings or options menu, and I will leave 5 stars
Problems with music?
ShortkneePanda
on
8/27/2015
I love this game! I started playing it forever ago on my iPod touch. Just bought it for my new phone, and one of my favorite things about the game was the awesome music! But it won't play on my phone for some reason! I tried deleting and reinstalling the game, restarting my phone, taking it off vibrate mode, turning up the music and sound effects all the way in settings, nothing is working! Can someone please help me? I paid $3 for this app and one of my favorite parts about it isn't working. If I get it to work I will come back and rate 5 stars. Great game!
Lag I iPhone 5c
Used to an an amazing game, but now it it has a frame rate/lag issue on my phone. It was very notice or since the update, everything seams to move sluggish and slow.
Awsome
Very cool! Fun and addicting. Parkour games are the best. The music is great. And very cool levels looking forward to a new update!!!!!
Very Fun!
leaningonHim
on
4/29/2015
I've seen this game on the App Store for a while but never really tried it out until just now... Very happy with it 😁 although I think that $2.99 is a bit much, still... Great Game 👍🏼
Please!
Djtherejay17
on
3/28/2015
It would be cooler if there were guards chasing the runner. Also a visible jump button. Please! Overall it's the best endless runner ever!
Currently Unplayable on iPhone 5C
Sonic and Manic
on
3/5/2015
The game is awfully laggy on my phone, and makes the game unplayable. Please fix, as I love this game to bits.
Good but...
Chipotleislife1111
on
2/9/2015
Good but needs more levels Here is some ideas: Robot level A lot of objects level Water level (favorite 😀) Small windows level
Sound effects are back!
AlphaJeronimo
on
1/25/2015
One of my favorite games!
Endless runner revival
This game is very addicting and I do intend to press for longer distances ran. The music is addicting also. I've never heard of this until Markiplier's review. As of this review my distance ran is 6961m... And climbing... Are you game?
Worth every penny
Awesome game, can't put my device down because of it! Really love the settings of the stage and the music. Amazing art. This is a game that's been in the works for quite some time, and it shows. Awesome job!
Pretty Amazing!
It's really good, it has multiple game modes and that makes it really fun, it also has same device multiplayer which is really cool. I just feel like it needs more, while I love the game and continue to play it it just seems to lack something, maybe unlockables? Like if we could unlock more locations, with more hazards or gameplay, and have more music, I really like the soundtrack it's amazing. Overall I think it's still an amazing game and anyone who enjoys infinite runners and or platformers should get this. I just wish there was more to do.
Five years strong
This was the first game I ever downloaded on my iPhone 3G and it still makes the front page of the App Store as I hold the 6th version in my hand. Hats off to you mr Saltsman. Glad you keep making improvements.
Needs more parkour
First Smosher
on
12/24/2014
Love the game. I just think it could use some more moves and some more obstacles. Like vaulting when you jump a rail or a crate. Or some front flips when jumping from buildings, random not all the time
Whoa.
I've known about Canabalt since 2009. I'm really surprised (and happy) to see that this game is still being worked on. I thought it had been abandoned. It's harder than it was before but that might be because I'm on a new device and haven't played in a good while. Otherwise I love the additions. This app is truly a quality pioneer of the App Store, in my opinion. Keep at it!
Very Fun and Addicting
I love this game. It's very fun and addicting and I love the new modes that you can play in - it definitely makes the game less boring. Good game and I recommend you play this game if you haven't yet!
Aaaaaaand The Sound Is Even More Broken
Hey! It's finally possible to turn the music down. Unfortunately, there are still no sound effects on the 6+. Semi-Secret needs to fire the chimp they are using for Quality Control. However many bananas they're paying him is too many bananas. I would have to use two hands to count on my fingers how many times this bug has cropped up since the game was released. C'mon guys!! Get off the couch in your parents' garage and fix it for good one of these days.
Great game with new, core issues.
Canabalt had been on all of my phones pretty much ever since it has been released. The visuals, music, and core gameplay are top notch. The 2.0 patch which brought widescreen support and a bunch of new game modes is also a very welcome improvement. However this latest patch (iOS 8 support and iPhone 6 resolutions) seems to be a bit of a disaster. The problem is that frame rate on my iPhone 6 is terrible. It feels like it's running at 20fps. For a twitch reaction game like this, especially one as old as it is running on the latest hardware it really should be running at 60. It just kills the experience for me. I hope it gets fixed soon.
Great game and even better support
Update 12/6 - The sound effects are back! Thanks Adam! It's better than ever! Firstly, this is the ONLY game that has stayed on my devices since its purchase. (Which was a few days after its release.) Endless playability and fun. iOS 8 broke the sound effects. With its update today, it still wasn't working. I emailed the developer and within a very short time, he responded, and then again shortly after he notified me it was fixed and would be available in a few days. Thanks Adam!
Updated. Halfway there.
This update did not fix the two-player mode issue.
Fact Sheet
Publisher:

Last Chance Media, LLC

Category:

Games

Released:

Oct 01, 2009

Current Version Released:

Aug 04, 2017

Version:

2.42

Size:

28.5 MB

Compatibility:

Requires iOS 9.2 or later.

Recommended Age:

9+

Game Center Certified:

No

Supported Languages:

Bulgarian; Chinese; Dutch; Flemish; English; French; German; Italian; Japanese; Korean; Bokmål, Norwegian; Norwegian Bokmål; Portuguese; Russian; Slovak; Spanish; Castilian; Swedish;

Parental Advisory:

Mild Cartoon or Fantasy Violence;