TapNova doesn't recommend this app.
New in version 73
Launchscreen fixed (iPad)
Small various fixes
Description
The n°1 thermometer in the App Store, with over 3,000,000 downloads!

@Thermometer is the most accurate application in the App Store (down to a tenth of a degree).

Since 2009, @Thermometer is the ONLY application to give you the outside temperature to the nearest tenth of a degree, in line with your exact location, throughout the world and in real time.
To achieve this, @Thermometer uses multiple data sources from your surrounding environment and combines them together thanks to our own unique algorithms developed on our meteorological servers.

@Thermometer is NOT just another application that tells you the temperature in a nearby town, using hour-old – or even older - data...


Key characteristics of the application:

- Most accurate temperature in the App Store (down to a tenth of a degree)

- Temperature corresponding to your precise location anywhere in the world and in real time.

- Fast location identification and temperature display.

- Multiple high-quality graphical themes (HD - Retina display) are available allowing you to choose the one best-suited to you.

- Temperature can be displayed in degrees Celsius or Fahrenheit.

- Available in multiple languages.

- Compatible with iPhone, iPod touch and iPad.

- Internet connectivity is required to receive the temperature calculated on our meteorological servers.


In-App Purchase offer you numerous additional advantages:

- Temperature displayed even faster.
- All advertising fully deactivated.
- Priority access to support.
...plus you directly support our team in developing this application!


Don't forget that if you like our application @Thermometer, you can rate it and comment on how satisfied you are with other users.

You can also search for and follow us on Facebook (Mobiquite), Twitter (MobiquiteFr) and Google+ (Mobiquite).

Should you encounter any problems, please email us at the following address: support@mobiquite.fr
CAUTION: If you only leave your comment on the App Store, we won't be able to answer you directly there and therefore help you!

Thank you!

--

Disclaimer:
Location data may be used for providing you more relevant ads.
This app collects anonymous information about users to help us measure the usage of our app so we can better understand our audience and improve our service. This information does not contain information from which users can be identified. You can find a full description of our data collection and use practices in our Privacy and Security Policy http://www.mobiquite.fr/thermometre-confidentialite.html
iPad Screenshots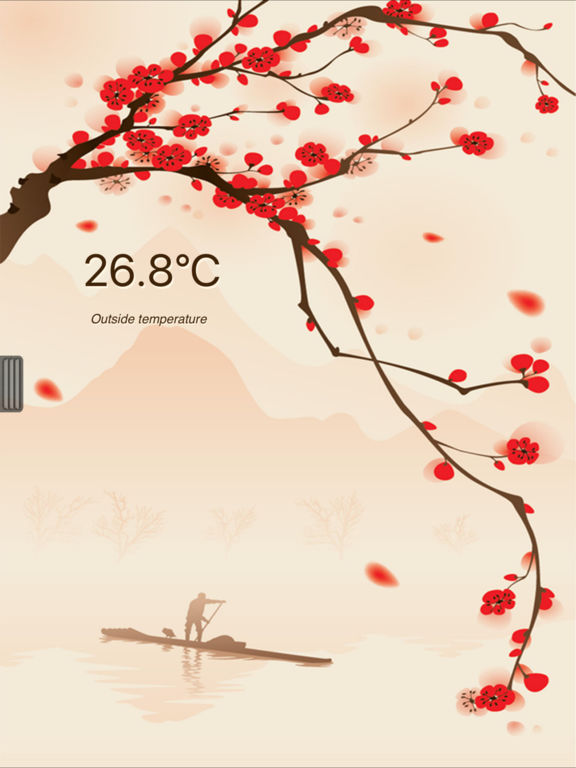 Reviews
So helpful!
Love having quick access to the current temperature! Thanks a bunch for making it available to us!
German
Sometimes I still need to know what Celsius is. Have many visitors from Germany. It helps a great deal. We all love the app. Thx!!!!
Great little app
This app is like old faithful it's always there when you need it.
This temperature app does a very good job.
This temperature app does a very good job.
Works well
Works as intended
Very useful
Pictures are plenty but just not enough for me.
Helpful.
This apps is very helpful, i can get the right temperature reading in my exact location.
Kevin
Application très utile. Je consulte tous les matins
Never steered me wrong
See above
Great
QUICK - EASY TO READ - ACCURATE !
Ads off
It's very good App but I pay $3.99 for no Ads and I still have .😥
Very useful
Stevenepstein@bellsouth
on
2/8/2017
Always very accurate
Mad Dog
First Time User . . .
on
2/4/2017
As I have compared the reading of this app to my local electronic backyard device, it is consistently a few tenth of degrees off. That is super good and it has me checking my machine, rather than my house thrmo all the time. Thank you for a accurate app. -- MN
a rehash of local weather, not a thermometer
Klimt Connoisseur:
on
1/28/2017
This app tells you the temperature in your area. I bought it thinking it could tell me the temperature in a given room I was in, and then dumped it. If you know of an app for room temperature, let me know.
Good App
Does just what it says. Quick and easy temperature outdoors of my location.
Does what you need it to do
Gives you the temperature wherever you are. Simple and to the point. Just what I need.
Useful application
I found this application useful, with accurate indications. Recommend to install.
Happy London
I have long enjoyed this temperature app. I like keeping tabs on the weather where I am, and I love London. So, the late two come together each day when I check the temp here in the USA. It is very simple to use, just open the app and it does its job. Thanks.
Super!
Love this app! So cool to be able to know the accurate temp reading ANYWHERE you are.
Overpriced
I like this app. But when I paid for it, I expected a lot more for that kind of money. What you get when you buy the app is very unimpressive. Guess you are really paying for having no ads. It's kind of a waste of money. I was better off sticking with the free version, ads and all.
Alshaibah
الهدف تحقيق العدالة
on
8/13/2014
Good
Nothing
What did the new update do
Sorry
Jackisgreat.
on
4/24/2014
So I was walking down the street one day and was all like i really need to know what the temperature is, because why would you not want to know how hot it is. As I reached into my pocket to pull out my handheld thermometer i notice that it was not there. I was furious. A man who was running noticed my frustration and ask what was wrong. I told hime everything and he said to just down load an app for it. I did, but it was not this app. It was a different one. So basically you have wasted your time reading this because this review will not even mention this app.
Why so few reviews?
Ethicalatheist
on
3/18/2014
I've been using this application for a year and I've checked it against mercury thermometers. It's perfect. Enough said.
Horribly inaccurate
Spokenwithhonesty
on
11/17/2013
It's a gimmick. App is huge (bloated) and ridiculously inaccurate. Don't bother wasting your time.
First review
Whoop Whoop!
Outside temperature only
If you love no content and a lot of bad ads, this is for you.
People are dumb
It does what it says. Do you REALLY think your iPhone has the hardware to tell the temperature?!!! C'mon use a brain cell. It can't tell the temperature via iPhone hardware alone so it has to get the data from somewhere that can - and it does. What's sad is that the developers try so hard to explain this to you- even in-app (outside temperature) and you still review it based on the immaculate mercury collection. I can understand kids who don't understand this concept, but if you graduated high school you should be ashamed of yourself.
Thermometer
Colleen byer
on
11/27/2012
This is not what I thought, I wanted to get a temperature inside or outside.
Cool
Humanakulia
on
10/29/2012
The froggy is so cute!!!
Nice weather temp app
Many people complain here because the app doesn't work as a physical thermometer (even though the name of the app favors this confusion). The app won't tell you if you have a fever, it tells you the temperature in the area where you are geographically located at the time you open it. So far it's worked fine for me. It's even more accurate than the built-in Apple weather app. I don't really like the themes, but the app works fine for me.
Where am I Uncle Waldo?
It finds my location and says its 76 when it's 82.. Does it know where I am?? LoL
LOVE IT
it works great and whp cares about ads u can still see the temp
Horrible
Don't make any sense. It would be a waste of time to try and even figure this thing out
Dumped it
I've had this app for years and it was fantastic but after this latest update it's a worthless piece of crap. It's going in the trash because I refuse to pay them 3 bucks now that they pulled this fast one on us.

Searching for temperature without resault!!!
Avoid it completely
It doesn't work. Ads load fine though.
Dont use
Did not even work!
Used to be decent, long time user
I've had this app on my iPhone for quite awhile, at least a couple of years, and I'd use it daily. But after this latest update, they went CRAZY with the ads, and want 2.99 to disable them. I don't think so, DELETED! It's too bad
This is terrible
Horrible
Would be okay if it was accurate and consistent
This "@Thermometer" app is a strange one, but the reviewers are even stranger! The app works fine on my iPad, except for one critical problem: it gives a different temperature every time I open it. First 10 degrees too low. Then moments later, about 4 degrees too low. Then 3 degrees. No other thermometer app that I've tried has this problem. I have a message to all those who complain that this doesn't sense the ambient temperature, that it just reports it from weather stations: please don't expect software to perform what the hardware doesn't support. Apple hasn't incorporated an ambient temperature sensor in their devices. Yet. And to the reviewer who complained about this needing an Internet connection: how do you think it can communicate with the weather stations? I suppose it could use radio signals... Hmm... :)) Overall, this would be an acceptable app, if it actually gave the correct current temperature, every time. So far, it has failed 100% of the time, for me. Thus, 1 lonely star.
What?!
Can't tell if I have a fever...
Ok basic thermometer
Doesn't display both F and C in the black and white theme which is useful in a mostly non metric country like the USA. Nature theme shows both. Otherwise works fine and seems reasonably accurate.
Meh
@tk-123 FYI digital thermometers do not have mercury in them
Close
Chanel24/7girl
on
6/4/2011
It is ten decrease to low. But it's closer then the weather app that comes with your iPod.
Fact Sheet
Publisher: Mobiquite
Category: Weather
Released: Nov 16, 2009
Current Version Released: Dec 18, 2016
Version: 73
Size: 53.7 MB
Compatibility: Requires iOS 9.0 or later.
Recommended Age: 4+
Game Center Certified: No
Supported Devices: iPad2Wifi-iPad2Wifi, iPad23G-iPad23G, iPhone4S-iPhone4S, iPadThirdGen-iPadThirdGen, iPadThirdGen4G-iPadThirdGen4G, iPhone5-iPhone5, iPodTouchFifthGen-iPodTouchFifthGen, iPadFourthGen-iPadFourthGen, iPadFourthGen4G-iPadFourthGen4G, iPadMini-iPadMini, iPadMini4G-iPadMini4G, iPhone5c-iPhone5c, iPhone5s-iPhone5s, iPadAir-iPadAir, iPadAirCellular-iPadAirCellular, iPadMiniRetina-iPadMiniRetina, iPadMiniRetinaCellular-iPadMiniRetinaCellular, iPhone6-iPhone6, iPhone6Plus-iPhone6Plus, iPadAir2-iPadAir2, iPadAir2Cellular-iPadAir2Cellular, iPadMini3-iPadMini3, iPadMini3Cellular-iPadMini3Cellular, iPodTouchSixthGen-iPodTouchSixthGen, iPhone6s-iPhone6s, iPhone6sPlus-iPhone6sPlus, iPadMini4-iPadMini4, iPadMini4Cellular-iPadMini4Cellular, iPadPro-iPadPro, iPadProCellular-iPadProCellular, iPadPro97-iPadPro97, iPadPro97Cellular-iPadPro97Cellular, iPhoneSE-iPhoneSE, iPhone7-iPhone7, iPhone7Plus-iPhone7Plus, iPad611-iPad611, iPad612-iPad612, iPad71-iPad71, iPad72-iPad72, iPad73-iPad73, iPad74-iPad74,
Supported Languages: Danish; Dutch; Flemish; English; French; German; Greek; Hebrew; Hindi; Italian; Japanese; Korean; Bokmål, Norwegian; Norwegian Bokmål; Portuguese; Russian; Chinese; Spanish; Castilian; Swedish; Turkish;