This version of the app is not recommended
App last updated
Mar 20, 2018
Screenshots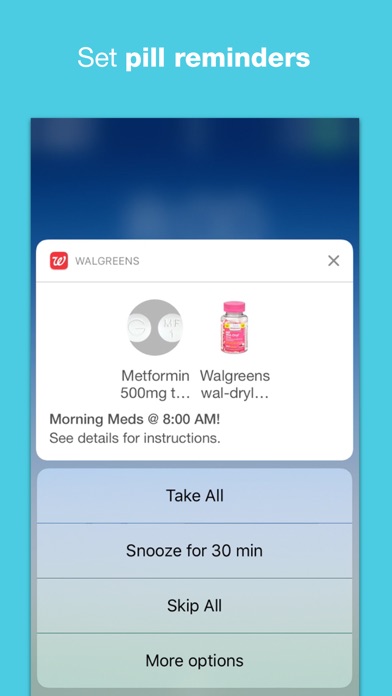 New in version 7.0
Trusted since 1901
- The same great app you love, with updated colors and styles

A brand new "in-store-mode" experience
- See your clipped coupons right on the homescreen
- No coupons yet? Clip coupons tailored to you, right from the homescreen
- Access Clip by Scan with a single tap and start saving immediately
- View your Balance Rewards balance at a glance, and never miss out on an opportunity to redeem


Beauty Updates
- The beauty experience got a makeover, and shopping just got a lot more fabulous!

Simpler Account Settings
- Change your settings quickly and easily from the reorganized Account Settings page

Ever experience a crash while uploading Photos? Now when the app quits amid an upload, we'll automatically start again where we last left off, so there's no extra work or burden for you.

Plus, bug fixes and performance enhancements
Questions? Comments? We want to hear them! http://bit.ly/1QhIUbv
Description
Pharmacy & Health
- Refill prescriptions in seconds by scanning your barcode
- Manage your medications with Pill Reminder*
- Set friendly Rx Alerts for refills and pickups
- Skip the waiting room with a video chat via Live Doctor Consultation**
- Easily refill and check prescription status for you and your family
- Duane Reade customers can use all these same great features as well!

Photo
- Print photos right from your device, Facebook, Instagram and more
- Create personalized folded photo cards
- Customize décor items including canvas prints and magnets
- Enjoy Same Day Pickup on tons of great photo products

Savings & Rewards
- Browse the Weekly Ad anytime, anywhere
- Clip coupons and save instantly at checkout with Balance® Rewards
- Track your Balance® Rewards points*** and save at the register
- Earn Balance Rewards for healthy choices® and automatically sync your steps with HealthKit

Shopping
- Shop products at home or on the go
- Find your nearest Walgreens or Duane Reade with Store Locator
- Use in store to save while you shop Walgreens or Duane Reade

Wondering why we ask for certain permissions? Mystery solved!
- Location: Find nearby stores and enable In-Store Savings
- Photos: Access photos stored on your device that you want to print or share
- Camera: Take photos and to use features that require scanning
- Microphone: Speak to a doctor in Live Doctor Consultation, or search for products and coupons using your voice


The Walgreens App is free to download, but specified rates from your wireless provider and other fees as noted in your Walgreens account agreement(s) still apply.

* Pill Reminder only available on phone
**Available in select states
*** Due to state and federal laws, points cannot be earned on some items. Points will not be awarded to anyone who currently is or was at any time in the 6 months prior to purchasing Pharmacy Items covered by Medicare, Medicaid, Tricare or any other government-funded healthcare program. Pharmacy Items must be purchased at participating Walgreens Drugstore, Rxpress, Duane Reade, or Walgreens Pharmacy locations ("Participating Stores") to earn points. Excludes Pharmacy Items purchased from AR, NJ or NY pharmacies and prescriptions transferred to a Participating Store located in AL, MS, OR or PR. See Balance Rewards terms and conditions for full details.
iPad Screenshots
Reviews
Walgreens app
Silk Road Catering
on
3/23/2018
I love this app the fact I can order prints as soon as my daughter sends pictures of the grandbaby makes my heart happy
Corrected Pill Reminder!
blind_access
on
3/23/2018
This new update seems to have fixed pull reminder issues. Hoping this stays consistent. This is the area not always dependable.
Good and easy to use
betrayed snapchatter
on
3/23/2018
...but super slow, kept crashing on my phone (6s). But got the job done!
Walgreen's Photo
Great options. We use after each vacation or trip.
Love walgreens photos!
its a secret!!
on
3/22/2018
This is my favorite store and especially the entire staff in Big Rapids, Michigan!! They always make me feel so very at home whenever I shop!
Aggrivating
I cannot figure out how to stop it from reminding me to take my medications during the day. I have looked at every screen multiple times and cannot figure it out. If it's there, it's very difficult to find! Also, if I forget to mark in the app that I took the medication three hours ago, it asks if I take if I took the medication But does not let me adjust the time, like another application called Medisafe which I like much better.. Walgreens app is just aggravating! The app is good in ordering refills. But not worth the aggravation for the problem stated above.
LOVE
- for the past 2-3 Years I've used the Walgreens app (mainly photos) & never was I disappointed by the price or time frame. Probably used it a good 8-12x and always will. Never an issue.
Very Good specials
Always making our days !!
My fav
I live the convenience
Wasted 2 1/2 hours!
This app crashed twice while I was choosing pics and took 30 minutes to upload once I did manage to choose the pics!
Staff
I always get all my questions answered if I have any at our Paragould, Ar. Walgreens l always get a smile with any staff at drive through window, as well as pharmacist always ask if I have any questions just feel very comfortable with the service. You have an amazing staff that should get credit for the great service. Thank you Kimberly Gilbert
Recent Update
App will not open today after recent update, just crashes after asking for finger print.
Refills
Refill were ezy to scan in but not it is more than it needs to b. Have had trouble from beginning of this last change. Return to other ways. The staff in Mooresville IN is most incapable of doing their jobs. Things have been screwed up since the first of the year. Had to take part of our scrips to CVS because of these problems.
My favorite
Walgreens is definitely my favorite pharmacy chain. I can puck up meds anywhere, and stores are typically clean, well-stocked & maintained, and staff patient and knowledgeable. Aside from having to find a staff member to open the ladies room, this one is just the same!
Photo prints for mom' bday bash
We are pressed for time!!! This is awesome. I'll go on my lunch break to get them!!! Yaaay!
Photo
The app kept closing out and had to restart my photo order multiple times.
Convenient
It is so convenient to be able to scan your refills! Best thing yet!
Walgreens App
Empress Cala Lily
on
3/22/2018
The app is fast, simple and very easy to use I love it!
Prescription Scan Issue
I loved the prescription scan for refill tool. It worked great... for a while. But now I have to enter the prescription numbers by hand. This is a challenge because the print on the bottle is so poor. (Streaky lines) The lesson from this? The refill function of the app is only as good as the print on the bottle. VERY FRUSTRATING!(And the refill scan is personally the only aspect of this app that I use...)
Convenient!
I love! Love! Love how easy and convenient the photo app is!!
Crashes
alexiemarcela
on
3/21/2018
I would give it all 5 stars if it didn't crash every time I tried doing photos but other than that it's great!
Refills By Scan, a Snap!
Fantastic, time-saving feature!!
Horrible app
Too many bugs. I tried several times to order pictures from the app but the app continues to crash
Happy
Love this store u guys are awesome
Laggy
xXLilMonster
on
3/21/2018
Trying to print multiple pictures off this app takes much longer than it should, and if you have too many pictures, the app crashes and you have to start all over again.
Scanning bar code doesn't work.
I got this app to refill scripts by scanning the bar code. So far this has not worked on the two prescriptions I have tried. Ended up having to type in prescription number anyway. Just as easy to call.
So far,so good.
This app was very convenient.
Personable Service
I have confidence in the Pharmacy department, they do their best in meeting my needs accurately.
Excellent
I'm glad to have my pharmacy app is incredible how you can done your refill without calls o trips to pharmacy
Wob
Walgreens is a good app
Pill reminder still not working for me
Had pill reminder set up but one day all the reminders disappeared even though I was still getting notifications to take pills. I would get a notification but when I tried to acknowledge it, nothing was there. Thought maybe I would have to delete the app, but eventually stopped getting notifications. That was a couple of months ago now. Have not tried it again since then and may not ever try it again because the problem was so frustrating. App works great for re-ordering prescriptions. That's the only thing I use it for now.
Photos
Bryanandmegan
on
3/21/2018
I just downloaded my Walgreens app. If it's this easy to get photos printed, I'm going to use this all the time. Thanks
D Keith
I attempt to change the preferred store while I'm snowbirding in the south but when I order a prescription it does not go to the new preferred store. I then have to enter the store for each prescription.
Very good
Mickey Rizzo
on
3/21/2018
Convenient!!!
Photo
Gaga over App
on
3/21/2018
I love Walgreens as a store and it couldn't be easier with obtaining photos. Thank u
Great service at a great price!
I'm very please with Walgreens service especially at Woodruff and Alondra store in Bellflower, CA.
TERRIBLE FLAW
Here's what stinks: while flipping through the coupons and scrolling, you can tap on the item to flip that coupon around to read the details of it… However, if you click a third time because that little square doesn't give you enough information and you want to see the qualifying products that go with that coupon, you tap it a third time and find you are not back in your original place when it brings you back to scroll through the rest of the coupons! Do you know how long the list of coupons is?? I was halfway through scrolling when I wanted to read which items qualify for a coupon i saw because that little square in the details cuts off a lot of product information and you don't even know what the coupon is for unless you tap it that third time! So I read the products that qualify, but it goes back to the details and lastly back to the entire list to continue scrolling, and the coupons aren't even in the same order they were when I first began! I was scrolling up and down trying to find my place to continue scrolling and I saw coupons above that I hadn't even seen before and ones that I saw at the beginning were now near the end! What kind of crap is this? Who has time for this nonsense? I'm not going to scroll through hundreds and hundreds of coupons 50 times because every time you take me back to the Coupon list you researched them! You should fire the programmers who designed this app and get your money back!!!
Fix Bugs
When you go into check ur messages & delete them, the app doesn't allow you to get back to the homepage!! Fix pls?
We favor Walgreens. The app is an example of why. 👍🏾
If I could get my Medicare Part D through Walgreens I might…Unfortunately, they're joined-at-the-hip with Express-Scripts. (Off-topic.) Walgreens always has what we want from a drug store at the better price. Our store is just a few blocks away. We've always used Walgreens for short-term prescriptions. The app is slick and stable. I appreciate TouchID login. (I also appreciate their association with CardStar for a quick flash of my awards card.) The app's coupon/specials notifications *could* be useful—though I don't use them. (I have an aversion to notifications.) Walgreens was among the first—if not *the* first—to accept Apple Pay. So that tells me they're tech leaders. I would therefore *expect* a great app. This is it.
Clean fast layout
Great app
App keeps logging me out
App logs me out, then won't send me the link to reset my password to reset my account. Have tried several times.
Annoying
My phone number has changed. So I informed the employees at the store and changed it on the app yet when I try to view my prescriptions it says I have to confirm my identity with the old number. Very annoying
Thank you!
Aileena was a wonderful helper thru this process. She is an awesome employee and person!
Repair site
I wAs never given the option to submit the discount code. I tried twice and a call to the store got me nowhere.
My second order
Clerk with hobbies
on
3/20/2018
I enjoy the easy way that I can order photos. Very convenient
Useful tool.
I enjoy how easy it is to find everything you need. Refill with a scan. Find a store that's close by. Or find sale items. I don't like how every time I come within 100 yards of a Walgreens my phone pops up with an ad. "Hey your close by stop in for 241 Hershey's snacks". Other than that your missing out of you don't have it.
Waste of time
Not worth effort
on
3/20/2018
Huge waste of time trying to refill. Call for refill. Store not open. Can't call in any more apparently. Rx has 7 more refills. Not class 3. So download app. Wast lots of time. Pix of barcode ok then msg call for refill! Hate Walgreens. Time to move rx.
Fatboy9392
Best pharmacy I've ever dealt with. Adam is excellent.
The best app for your health
manuel_delarosa
on
3/19/2018
Easy to use, fast and precise.
Photos
It would not allow me to enter the coupon code I had for this order MARCH4X6
Fact Sheet
Publisher:

Walgreen Co.

Category:

Shopping

Released:

Oct 26, 2009

Current Version Released:

Mar 20, 2018

Version:

7.0

Size:

263 MB

Compatibility:

Requires iOS 10.0 or later.

Recommended Age:

12+

Game Center Certified:

No

Supported Languages:

English;

Parental Advisory:

Treatment Information;