Recommended app!
App last updated
Nov 14, 2017
Screenshots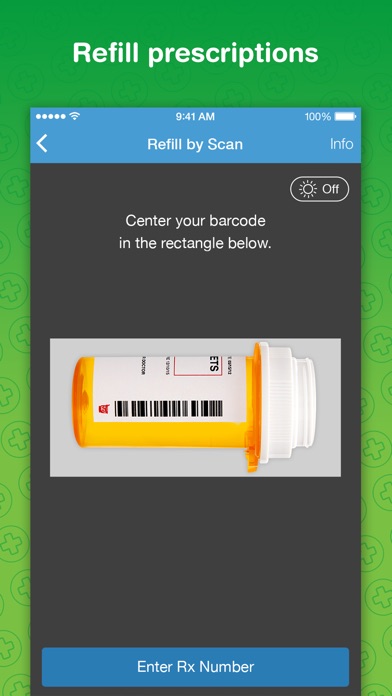 New in version 6.8
Just in time for the holidays!
- iPhone X Support
- Premium Cards – Share a special season's greeting with our thickest cardstock yet
- Photo Books – Showcase merry memories with up to 15 personalized, double-sided pages
- Calendars – Make someone's year with the gift of a customized photo calendar

Never miss a coupon again!
- Save your favorite coupon searches and get notified (push/email) when new offers arrive
- New saved offers will appear right on the homescreen to alert you too
- 3D Touch on coupon notifications to quickly see the coupons, and even clip them right from the expanded notification view!
Description
Pharmacy & Health
- Refill prescriptions in seconds by scanning your barcode
- Manage your medications with Pill Reminder*
- Set friendly Rx Alerts for refills and pickups
- Skip the waiting room with a video chat via Live Doctor Consultation**
- Easily refill and check prescription status for you and your family

Photo
- Print photos right from your device, Facebook, Instagram and more
- Create personalized folded photo cards
- Customize décor items including canvas prints and magnets
- Enjoy Same Day Pickup on tons of great photo products

Savings & Rewards
- Browse the Weekly Ad anytime, anywhere
- Clip coupons and save instantly at checkout with Balance® Rewards
- Track your Balance® Rewards points*** and save at the register
- Earn Balance Rewards for healthy choices® and automatically sync your steps with HealthKit

Shopping
- Shop products at home or on the go
- Find your nearest Walgreens with Store Locator
- Use in store to save while you shop

Wondering why we ask for certain permissions? Mystery solved!
- Location: Find nearby stores and enable In-Store Savings
- Photos: Access photos stored on your device that you want to print or share
- Camera: Take photos and to use features that require scanning
- Microphone: Speak to a doctor in Live Doctor Consultation, or search for products and coupons using your voice


The Walgreens App is free to download, but specified rates from your wireless provider and other fees as noted in your Walgreens account agreement(s) still apply.

* Pill Reminder only available on phone
**Available in select states
*** Due to state and federal laws, points cannot be earned on some items. Points will not be awarded to anyone who currently is or was at any time in the 6 months prior to purchasing Pharmacy Items covered by Medicare, Medicaid, Tricare or any other government-funded healthcare program. Pharmacy Items must be purchased at participating Walgreens Drugstore, Rxpress, Duane Reade, or Walgreens Pharmacy locations ("Participating Stores") to earn points. Excludes Pharmacy Items purchased from AR, NJ or NY pharmacies and prescriptions transferred to a Participating Store located in AL, MS, OR or PR. See Balance Rewards terms and conditions for full details.
iPad Screenshots
Reviews
Easy to use
Catlover952000
on
1/21/2018
It's very fast and easy to order photos. You will get a text and email when it's ready to be picked up. Excellent
Wonderful
I keep this app easy to get to and use it often. Easy to use and keeps everything you need easily accessible at your fingertips.
Frustrated
Overall I have enjoyed this app especially because it will pull pictures from my Dropbox account. I'm pretty frustrated today bc of a simple programming issue. They require that I have a phone number entered so they can text me when my orders done in order to move forward with submitting my order, however the "done" button for that section covers up the #1 on the number grid so I can't enter an accurate number.
From Julie Zieman.
I have gone to Walgreens in Minnesota for 50 years and now here in Vegas on Russell for 1 1/2 Years. For me it is one thing in my life that was always good and never changes!! Thanks! If this review goes to the one on Russell; that prescription pick up can go from one customer to way too many in a second and those employees get through it every time and people are not always nice! Sorry so long. Good job. Thanks!
Screen doesn't align with iPhone X
The button 'next' is overlapping with keypad to enter the phone number
Photo same day prints
CasablancaLori
on
1/21/2018
Just with a touch of a button you can order prints. I highly recommend to everyone.
Love it
Quick and easy way to print photos especially when you have pictures from your phone you don't have to go up to the store and wait for all your photos to load. You can do right from your couch!
Great!
Super easy! Love it!
Best
Customer Service is outstanding, always pleased to assist and willing to work with you. Whether an issue or not always a nice experience!
Memory saver!
samandtrishaelliott
on
1/21/2018
Thankful for the Walgreens Ap because I can quickly upload my photos and have them ready to pick up same day at my closest Walgreens. This has helped me to save memories and share photos with family and friends. Editing is easy too and so is the card creation. ❤️
App keeps crashing
This app keeps crashing every time I try to add photos. Its fully up to date and I've tried uninstalling and reinstalling. This has been an issue ever since they completely re-vamped/changed the app. When it was basic, I never had this issue.
3 stars because ....
Kirstie Edwards
on
1/21/2018
The app is not always in sync with the store. It will say that my prescription is ready for pick up and I go to the store where they say it is not ready. This can be very aggravating. I do give it a thumbs up for the convenience in submitting your prescription.
Satisfied
When visiting my neighborhood Walgreens the staff is always friendly. The pharmacy staff seems to be overwhelmed but do their best to be courteous.
Fix pill reminder AGAIN
1/21/18 Update: I don't understand why the pill reminder is STILL failing. After I fixed my reminders previously by deleting them ALL and re-adding them; I wake up this morning to find no notification AGAIN for taking my morning meds. When I went into the app it looked as though I had no reminders set even though they were still listed when I scrolled down. AGAIN I had to delete ALL of my reminders and re-add them. This is ridiculous! Fix this! Update: the pill reminder is not working consistently. Some days I get a reminder and some days I don't. I have triple checked my reminders are indeed set to EVERYDAY. Please fix this! Medication reminders are not something that should be taken lightly!!! This app was fantastic to use for the pill reminder feature but the latest update has made it confusing and hard to use. And this is coming from someone who knows how to use technology! Please change it back!
Photos
Get all our photos printed here. Sales clerk is always very helpful and I can always seem to fine a coupon code.
Belated New Yr / Valentine photo card
Love Walgreens!
Scanner
Scanner doesn't work
Walgreens Barnhart
This Walgreens has great employees however they allow some ill mannered people in the drive up more than their share of time IF your business is going to take more than 5 (five) minutes they should ask you to park and come in I have personally sat behind a car doing business 15 minuets This is ridicules
Pharmacy
Pharmacy is always is on time I change my pharmacy from riteaid to. Walgreens and I don't waisted my time anymore by going to riteaid and Safeway and target and costumer service to me they number one
Crashes
Kali_mexikan
on
1/20/2018
It crashed 4 times! Trying to upload my photos and also while trying to send my photos to the store. Very unhappy!
Photo cropping
I wish you could crop easier on the mobile app (iPhone users.) it doesn't let you crop the pics into the rectangle preview for your photo. This should be fixed so you're able to.
Reliable
Always reliable for fast service. Good quality and easy to use app to make memories happen.
Bad UI
you_bastards
on
1/20/2018
When creating an account and entering my phone number, the 'Done' button completely covers the 1 key. I had to type my number out in a text and cut/paste it into the field.
Compliment
Very easy to buy
Love this
This is really cool I love it!! I wish though you could pick between a matt or gloss finish on the picture
Great app
Jeremiah3772
on
1/20/2018
Easiest app I have ever used
Love my Walgreens
Fast, friendly, convenient, consistent service.
Me fascina
Todo es más fácil con esta app muy buena
Need to be better organized
Vikesh nemani
on
1/20/2018
It's supposed to be an in and out thing at photo pickup, but the staff always seems to be confused about which bucket to look in for pre ordered prints. It takes them a few minutes and they are pretty laid back about it. I would love it if I can be out the door faster.
Walgreens Adapt helpfully
Very nice questions that you do ask assistance to helpful to customers
Ease of Use
Biggie Duffer
on
1/20/2018
I travel between Michigan, Arizona and Mississippi. I Love being able to easily find a local Walgreens and scan my prescriptions to order refills or pull them from my records.
Rx updates
I wish the app would tell me when an Rx is no longer going be covered or can no longer get it, and not just remove it from my account and history. Thanks!
Walgreens app
Used the Walgreens app and tried to apply a coupon. Was not given the options.
Online Photo
I love using the online photo printing!
Great idea's
Walgreens has always kept up with technology and has made getting a prescription fast and easy.
Great app!
I can sit on my toilet and reorder my prescriptions while dropping logs!!
Very pleased
Easy & quick to use
Convenient
I find this is the best and easiest way to fill my prescriptions. No more calling and entering numbers.
Photo orders
HolltheDoll12
on
1/19/2018
I like being able to upload photos on my phone but I wish I could upload and save and come back to it. Sometimes I get interrupted and then I have to start all over! Also the app also shuts down mid upload which causes a hassle for me as well.
Impressed
I've used this on photo app several times and it's so easy. The coupons are great to use when you have a large order. It's a must for the price.
So frustrating
The app keeps crashing after I spend so much time uploading pictures to print! Grr!
Happy customer!!
I love your easy to use app!! I can reorder my prescriptions or get holiday pics printed in just seconds!! Thanks for making it so easy to use!!
Awful
Not user friendly at all, keep getting error messages. Don't like it at all. Very poorly designed.
Not user friendly
For one thing, there's a new glitch that when Im at the placing order screen and am required to type in my phone number the "done" button covers up the 1! I literally can't order because it won't let me type any phone number I know. (Area code is 716, so the 1 is important). (Using an iPhone X, so maybe your technology needs updated to match?) Another thing, why in the world can we not select prints and cards to add to the same order? I'm only going to Walgreens once but I gotta make 2 separate photo orders so I look like a crazy person with my multiple pick ups. It's 2018, apps are supposed to be quick and easy for us to spend senseless amounts of money on photo prints, it doesn't make good business sense to allow customers so much time that they change their mind.
Flip Book
I just created a Flip Book to commemorate by neighbor's 90th birthday party. Uploaded the photos from my phone. Could not have been easier! Add the 50 percent off promotion that's currently running, and you've got a no brainer. Books for everyone! Thanks, Walgreens.
No hassle
No dealing with the automated system or having to call to refill rxs... clip your coupons on the app and ta da
The Wallgreens App
QueenAnnette234
on
1/19/2018
This app is so cool but when you order photos they take a while to print ♥️
Fact Sheet
Publisher:

Walgreen Co.

Category:

Shopping

Released:

Oct 26, 2009

Current Version Released:

Nov 14, 2017

Version:

6.8

Size:

218.6 MB

Compatibility:

Requires iOS 10.0 or later.

Recommended Age:

12+

Game Center Certified:

No

Supported Languages:

English;

Parental Advisory:

Treatment Information;