TapNova recommends this app!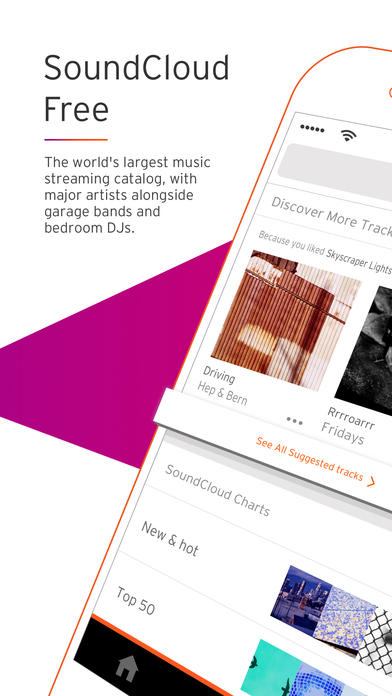 New in version 5.11.0
Performance improvements and bug fixes.
Description
SoundCloud is the world's largest music and audio streaming platform – 150 million tracks and growing. With a buzzing community of artists and musicians constantly uploading new music, SoundCloud is where you can find the next big artists alongside chart-topping albums, live sets, and mixes for every occasion.

Our enormous catalog lets you discover amazing hip hop, electronic, rock, classical, jazz, podcasts, audiobooks, sports and much, much more.

SoundCloud offers a family of products for all listeners and creators. Join our diverse community, connect with artists you love, and start discovering new music today.

SOUNDCLOUD FREE:

- Over 120 million tracks from emerging and established artists
- Get suggested tracks based on your likes and listening habits
- Discover incredible music in each genre with SoundCloud charts, from all-time greats to the newest and hottest tracks
- Connect with friends and interact with your favorite artists directly
- Create playlists for parties, workouts, on the way to work, or whatever mood you're in

SOUNDCLOUD GO:

- Discover, stream, and share a constantly expanding mix of music – anytime, anywhere
- Over 120 million tracks from emerging and established artists
- Take your collection offline, everywhere you go
- No ads, for an uninterrupted listening experience
- Support artists – a percentage of all revenue from SoundCloud Go is paid to creators on the platform
- All for just $5.99/month*

SOUNDCLOUD GO+:

- Upgrade to Go+ for a fully expanded catalog of over 150 million tracks, including superstars from major labels and indies
- Take your collection offline, everywhere you go
- No more 30 second previews — all music on SoundCloud, including premium Go+ tracks, is fully accessible to stream and save offline
- No ads
- Support artists – a percentage of all revenue from SoundCloud Go+ is paid to creators on the platform
- 30 days free, then $12.99/month**

SOUNDCLOUD PULSE:

Are you a creator? If you make music, podcasts or any type of audio and upload it to SoundCloud, this app provides an easy way to manage your account and keep your community humming:
- Reply to comments on your tracks, on the go
- Get up-to-date stats on the performance of your tracks
- Share your uploaded sounds, both publicly and privately
- Get it free on the App Store: https://itunes.apple.com/app/apple-store/id1074278256?mt=8

JOIN THE COMMUNITY

SoundCloud Blog: http://blog.soundcloud.com
Facebook: http://www.facebook.com/soundcloud
Twitter: https://www.twitter.com/soundcloud
Tumblr: http://soundcloud.tumblr.com
Instagram: http://instagram.com/soundcloud
G+: https://plus.google.com/+SoundCloud

PROBLEMS? FEEDBACK?

The more you tell us, the better SoundCloud gets.

http://soundcloudcommunity.com
http://help.soundcloud.com
https://twitter.com/SCsupport

SoundCloud is available in English, Brazilian Portuguese, Dutch, French, German, Italian and Spanish.

*Get SoundCloud Go free for first 7 days, and $5.99/month after that. Free 7-day trial only available for users who haven't previously subscribed to SoundCloud Go. Trial must be canceled within 7 days of subscribing or will automatically renew for $5.99/month. Offer limited to users based in the US.

**Get SoundCloud Go+ free for first 30 days, and $12.99/month after that. Free 30-day trial only available for users who haven't previously subscribed to SoundCloud Go or SoundCloud Go+. Trial must be canceled within 30 days of subscribing or will automatically renew for $12.99/month. Offer limited to users based in the US.

Privacy Policy: https://soundcloud.com/pages/privacy
Terms of Use: https://soundcloud.com/terms-of-use
iPad Screenshots
Reviews
amazing
love it !! i stan bts and one of the members has a mixtape on there and i'm really thankful they put it on there !! thank you 🤧💗🍾
1 music app
Download it's a must have app
I love it
It's great when people you know can make covers and stuff.
Really good
Really good app with lots of music
Great app
Really enjoy using this app. Don't go out of business SoundCloud!!!
iPhone must-have
Pretty Decent
I'm gay.
Jacob is a homo
on
8/16/2017
Just wanted to say. I'm gay.
The best app ever
Koolgurl_wassup
on
8/16/2017
This app is lit fr fr
What you want when you need it!
Great app that delivers!
All kind of music !!
I can find even Armenian music !! This app is amazing !
Lit😩💸👌🏽
Has all miiii fav songs
How much do I like SoundCloud
doughtnutgrl_17
on
8/16/2017
It's aight i guess it shouldn't have ads but I guess everything has ads to tell people bout it lol nah I'm just playing it's real good 👌🏾
good
Angelestrada_ae
on
8/16/2017
improved
Like but not happy with lack of options
Love the music available even without subscription, ads don't bother me. I like that I can upload my recordings via computer, but why is there no recording/uploading on the iPhone app? Will give 5 stars if this comes back (heard they had this in the past and recently got rid of it).
Love It
SoundCloud is an excellent source for "outside the heard" music, and direct access to the musicians and artists who produce it.
Awesome
I love it it's so easy to use
Love it
I discover so much new music and the ease of navigating the site is amazing. Love the platform and hopes it stays alive
I hate it!!!
LED_GalaxyWolf
on
8/16/2017
Like everything I play it plays each song and don't even play then when I'm back online its plays it whole😤😡
Works like a charm!
Rachel from SM
on
8/16/2017
I use it to listen to Ground Zero.
AWFUL Customer Service
And by awful, I mean non-existent. There is no contact email, phone number, or even a form to fill out. I bought SoundCloud Pro from my computer and the subscription hasn't crossed over to my iPhone. I tried restarting my phone and logging out and back in. Nothing happens. Awful.
Amazing
rockstar🤘🏾❤️🔥
on
8/16/2017
I love this app so much 💟
Best music app
MiniMohammadAli
on
8/16/2017
It works perfectly.
Great app
John escritorio
on
8/16/2017
It wasnt working when i first downloaded it but when it updated its working fine
It's the best when it comes to iOS music playing
Easy to use, saves previously listened songs to listen to in case you're offline. Good stuff really ❤️
جميل جداً
زومبي duball
on
8/16/2017
من احسن التطبيقات
SAVE SOUNDCLOUD
BartendersEverywhere
on
8/15/2017
Save it.
great app but....
I❤️ArianaGrande
on
8/15/2017
so i've been using soundcloud since the beginning of the year. it's been pretty alright and i've subscribed to the soundcloud go. that's been going pretty good up until recently. all of a sudden a few of my songs just say "saving offline" and at the bottoms it says "# tracks remaining." i don't know why it says that, it just kind of popped up one day. those three songs never play even when i'm not offline. it's really annoying and i hope you guys could fix it? thanks!
The BEST MUSIC PLATFORM
Johansen Flex
on
8/15/2017
I hear a lot of good music & talent everyday from new people I would've never heard of if not for SoundCloud
Interface problems
copper9lives
on
8/15/2017
1. I dislike that I have to pay a monthly subscription to download songs. I would prefer just to purchase the songs I want and download them. 2. I created a playlist. There is no way I can figure out to put it on repeat. Worse still, when the playlist ends, completely random music starts playing. It's jarring, and I've spent an hour trying to figure out how to fix it, to no avail. 3. I started the free trial just to be able to download the four songs I want. Only one of them is "available for offline play". I would REALLY just like to add my songs to my library, so I can play them in my iTunes music app. 4. Can you add a "help" feature so people like me can figure out how to do simple things in your app?
My music taste has grown
Without this app I would be lost & it has help me grow also just by linking up with others who have found music on here so many thanks...
Awesome!
Great way to stay in tune with your favorite music and podcasts!
AWESOME
Lolled judge
on
8/15/2017
This app is good for me because I love listening to music for free, and that is exactly what SoundCloud is(not counting the SoundCloud offline thing), I love it and use it everyday
Its dope
It be dope bro or bra
SoundCloud
I love SoundCloud so much there are no limited skips unlike Spotify and pandora
Awesome
Some song are not there there just previews but other than that it's great
BEST
19_nickalvarez_99
on
8/15/2017
LIT
Music you can't find elsewhere
linderlinder
on
8/15/2017
I love SoundCloud more than ... well... not more than coffee, but more than chocolate.
Very neat and based on you
I LOVE IT YOU SHOULD GET IT NOW 👌🏾👌🏾😍
Only app
jesus guti714
on
8/15/2017
That lets u play while on sleep mode and lock screen
Way too many ads
There's like an add after every song!! Not even pandora has that many ads.
Wack rappers
Other than that great app!
Love
I love that I can find songs I love here but nowhere else. And I close the app and it still plays!!! Thank you so much!!! So much better than YouTube!!!!
Good app
That's all I can say about it.
Awesome app
senor_schwifty
on
8/15/2017
Use it to discover and follow underground artists!
Perfect
Lellonrbflab200666
on
8/15/2017
I love this app it's great for when I need to make playlists for different things like working out , waking up, or chilling with my friends
Great app
It is easy to use. I can easily find the tracks I want without difficulty.
Its aight
Havent used it yet
Fact Sheet
Publisher: SoundCloud Ltd
Category: Music
Released: Nov 03, 2009
Current Version Released: Aug 07, 2017
Version: 5.11.0
Size: 122.1 MB
Compatibility: Requires iOS 8.0 or later.
Recommended Age: 4+
Game Center Certified: No
Supported Devices: iPad2Wifi-iPad2Wifi, iPad23G-iPad23G, iPhone4S-iPhone4S, iPadThirdGen-iPadThirdGen, iPadThirdGen4G-iPadThirdGen4G, iPhone5-iPhone5, iPodTouchFifthGen-iPodTouchFifthGen, iPadFourthGen-iPadFourthGen, iPadFourthGen4G-iPadFourthGen4G, iPadMini-iPadMini, iPadMini4G-iPadMini4G, iPhone5c-iPhone5c, iPhone5s-iPhone5s, iPadAir-iPadAir, iPadAirCellular-iPadAirCellular, iPadMiniRetina-iPadMiniRetina, iPadMiniRetinaCellular-iPadMiniRetinaCellular, iPhone6-iPhone6, iPhone6Plus-iPhone6Plus, iPadAir2-iPadAir2, iPadAir2Cellular-iPadAir2Cellular, iPadMini3-iPadMini3, iPadMini3Cellular-iPadMini3Cellular, iPodTouchSixthGen-iPodTouchSixthGen, iPhone6s-iPhone6s, iPhone6sPlus-iPhone6sPlus, iPadMini4-iPadMini4, iPadMini4Cellular-iPadMini4Cellular, iPadPro-iPadPro, iPadProCellular-iPadProCellular, iPadPro97-iPadPro97, iPadPro97Cellular-iPadPro97Cellular, iPhoneSE-iPhoneSE, iPhone7-iPhone7, iPhone7Plus-iPhone7Plus, iPad611-iPad611, iPad612-iPad612, iPad71-iPad71, iPad72-iPad72, iPad73-iPad73, iPad74-iPad74,
Supported Languages: Dutch; Flemish; English; French; German; Italian; Portuguese; Spanish; Castilian;