TapNova doesn't recommend this version of the app.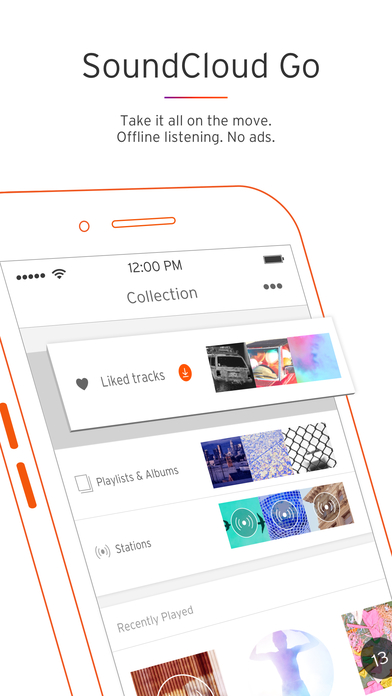 New in version 5.8.0
Performance improvements and bug fixes.
Description
SoundCloud is the world's largest music and audio streaming platform – 150 million tracks and growing. With a buzzing community of artists and musicians constantly uploading new music, SoundCloud is where you can find the next big artists alongside chart-topping albums, live sets, and mixes for every occasion.

Our enormous catalog lets you discover amazing hip hop, electronic, rock, classical, jazz, podcasts, audiobooks, sports and much, much more.

SoundCloud offers a family of products for all listeners and creators. Join our diverse community, connect with artists you love, and start discovering new music today.

SOUNDCLOUD FREE:

- Over 120 million tracks from emerging and established artists
- Get suggested tracks based on your likes and listening habits
- Discover incredible music in each genre with SoundCloud charts, from all-time greats to the newest and hottest tracks
- Connect with friends and interact with your favorite artists directly
- Create playlists for parties, workouts, on the way to work, or whatever mood you're in

SOUNDCLOUD GO:

- Discover, stream, and share a constantly expanding mix of music – anytime, anywhere
- Over 120 million tracks from emerging and established artists
- Take your collection offline, everywhere you go
- No ads, for an uninterrupted listening experience
- Support artists – a percentage of all revenue from SoundCloud Go is paid to creators on the platform
- All for just $5.99/month*

SOUNDCLOUD GO+:

- Upgrade to Go+ for a fully expanded catalog of over 150 million tracks, including superstars from major labels and indies
- Take your collection offline, everywhere you go
- No more 30 second previews — all music on SoundCloud, including premium Go+ tracks, is fully accessible to stream and save offline
- No ads
- Support artists – a percentage of all revenue from SoundCloud Go+ is paid to creators on the platform
- 30 days free, then $12.99/month**

SOUNDCLOUD PULSE:

Are you a creator? If you make music, podcasts or any type of audio and upload it to SoundCloud, this app provides an easy way to manage your account and keep your community humming:
- Reply to comments on your tracks, on the go
- Get up-to-date stats on the performance of your tracks
- Share your uploaded sounds, both publicly and privately
- Get it free on the App Store: https://itunes.apple.com/app/apple-store/id1074278256?mt=8

JOIN THE COMMUNITY

SoundCloud Blog: http://blog.soundcloud.com
Facebook: http://www.facebook.com/soundcloud
Twitter: https://www.twitter.com/soundcloud
Tumblr: http://soundcloud.tumblr.com
Instagram: http://instagram.com/soundcloud
G+: https://plus.google.com/+SoundCloud

PROBLEMS? FEEDBACK?

The more you tell us, the better SoundCloud gets.

http://soundcloudcommunity.com
http://help.soundcloud.com
https://twitter.com/SCsupport

SoundCloud is available in English, Brazilian Portuguese, Dutch, French, German, Italian and Spanish.

*Get SoundCloud Go free for first 7 days, and $5.99/month after that. Free 7-day trial only available for users who haven't previously subscribed to SoundCloud Go. Trial must be canceled within 7 days of subscribing or will automatically renew for $5.99/month. Offer limited to users based in the US.

**Get SoundCloud Go+ free for first 30 days, and $12.99/month after that. Free 30-day trial only available for users who haven't previously subscribed to SoundCloud Go or SoundCloud Go+. Trial must be canceled within 30 days of subscribing or will automatically renew for $12.99/month. Offer limited to users based in the US.

Privacy Policy: https://soundcloud.com/pages/privacy
Terms of Use: https://soundcloud.com/terms-of-use
iPad Screenshots
Reviews
Great quality music all in one place.
TheForeigner/MissKitty
on
6/27/2017
This is a well designed app it just knows which song or artist to play next. Always coming through with some of the best oldies till now mixes.
Really?
I really enjoy SoundCloud it has tons of songs Apple Music and Spotify don't have but why it is $12.99 on iOS like what a scam!!! And there is no family plan so you have to pay individually which is so annoying. If it was cheaper and had a family plan I would totally spend the extra cash on pro.
Change It Back
Shadow Shards
on
6/26/2017
I loved using this app for music but since the latest update it skips every other track, crashes in the middle of a song, and slows down or speeds up the songs I play. Please change it back to how it use to be.
Its ok
Jamesdurbinfanatic
on
6/26/2017
It mainly has remix and rap which may be good for someone else but i dont like it
Bleh
Heywassuphello890
on
6/26/2017
SoundCloud used to be the app where u listen to free music and know u can rely on it but every since constantly updating it and adding stuff now I feel like your just begging for money I can't listen to certain songs because it's only for the upgraded version where u have to pay so I'll just stick with my Apple Music family plan 🤷🏾‍♀️
Yes
TrickyXxnoobxX
on
6/26/2017
Found x and lil pump
It's great
My absolute favorite music app, and I found a bug but it's no reason to give any less stars Whenever I'm listening and it goes to the next song, the song will play and it'll be counting the seconds up, but no sound it coming out, just wanted to let you know
IT DOSNT MAKE ME LIKE SONGS!!! **please fix**
Amcthewalkingdead
on
6/26/2017
When ever I try to like a song it likes it then it just automatically unlikes it please fix this problem
Latest update not stable
the itunes person
on
6/26/2017
Ive been having a lot of crashing issues on my 7+ since the latest update. Songs playing in the background will stop suddenly and cause a springboard reset.
Fire
This is the most fire app ever
Great
Perfect!!! I love this app!!
This app is life
The title says all 👍🏼
Very Good!!!
I really enjoy this app because it has good music and it lets people upload originals or mashups. The app has an easy to understand layout as it took my at the most 1 minute to figure out and it's layout is very convenient for quick access to music whether it be in a playlist or on your feed.
I love !!
NorvinGuttyvpt
on
6/26/2017
Very good app i love !!
Ads
Not here to complain about ads themselves, my problem is that when an ad starts if my phone is locked the ad won't play, so all it does is pause my music. Very annoying to have to stop what I'm doing and press play every time an ad comes up
What y'all doing bruh?😂
Why you keep slowing songs down and making the tones deeper? Smh i just wanna jam but y'all out here messing w that
It was nice once...
What used to be a fantastic, stress-free music source and community is now an ad fantasy with no end. Kill the ads, make whoever wants to see them pay for them, give the creative community some slack. SoundCloud is losing users to Spotify and Pandora.
Love this app
Never had an issue but I do listen to pod casts mostly with this app. No Guitar Is Safe by Jude Gild is my favorite!
Works for me too
Picked up the app to listen to various media resources. The app is a good medium for doing exactly that. Meets my expectations.
"Free SoundCloud"
Whenever I try to get free SoundCloud. It pulls up paying for next month or 3 months and payment plans for it. And it forces me to fill the payment plan to get free SoundCloud
Repeat song
It's honestly unacceptable that there's no repeat song button on mobile
Playlist
Milkshakecat
on
6/26/2017
It will not let me make a playlist. Every time I press the add new playlist sign it freezes and won't unfreeze until I exit out and clear it out of my recents.
Best music
IG- _kinghai_
on
6/26/2017
helpful for on the go
Love it
Beast for life savage 21
on
6/26/2017
Has a great way to make music
Trying to hard
Agree with other reviews about ads
Option to customize profile is much needed.
Reynaldo Morales
on
6/25/2017
This app needs to be able to let the user customize or change their profile with out the hassle of going on a computer. Don't get me wrong, this is is great but if there was a way to change your profile picture or username while signed in in the app, that would be great.
Slowed down songs.
Ever since the newest update. Songs seemed to be slowed down. Hope this gets fixed soon because this is my favorite streaming app.
What the hell?
I've had this for years and no problems. I even have Sound Cloud Go and now I can't even download it on my new phone???
Is good
IraUi'Raghallaigh
on
6/25/2017
Would use again
Almost good
xXx OpTiC war xXx
on
6/25/2017
I loved this app lately the all has been getting stuck on adds for 10 to 15 minutes every time I use it might end up deleting
Really
Arianna Mitchell
on
6/25/2017
Why can't I put a song on repeat this app use to have that ability
Great App
Very app friendly able to share music and who doesn't live to share
Can't even enjoy app anymore!!!
Every other song has a commercial... It's a music app not a commercial app!!!
Hardly works
This app used to be great! Now it barely opens, even on wifi with an iPhone 7. That is honestly the worst part, waiting 1-2 minutes for the app to "load". Then after loading the app is prone to freezing then crashing. Please fix this!! I'm paying for SoundCloud Go+ and at least expect an app that works!!
Love it!!!!!!!!!<3
Lucky puppy love
on
6/25/2017
This app works great and fast! Yes it has adds, but that just makes it more like a radio station. So this app has most of the best music in the world I'm not kidding! BEST APP EVER!!!!!!!!!!!!!!!!!!!!!!!!!!!!! <3
Awesome
Love being able to send songs to my friends and have them actually listen to it rather than just having to keep pressing skip until you get lucky and hear it. great app few bugs but it's all good
Going downhill...
Ever since the latest update, all of my 600+ songs I had in my "liked songs" tab all just vanished as well as all the albums. I don't have the time to look up 600+ songs and re like all of them. Not to mention you can't listen to many popular songs unless you buy premium. Over all this app has just gone downhill. Hopefully in the future they improve and maybe I'll come back to SoundCloud. Until then, hello Spotify!
Works alright for me
Captain Sexy.
on
6/25/2017
I dig it
Free ad streaming with limit music interruption.
Sound cloud is a great website for music in so many ways. Their app however, was no developed for "free sound cloud" user. I get an ad after every song or every other songs do have even had an ad unable to end and just remained on loop. Thought it was my phone and closed the app. Started listening, same ad came on and never ended. I work 12 hour shifts over night and listen to music non-stop and it's needless to say I'm no longer using this app. I understand trying to make the company and I am all for ads, but be reasonable. If you're looking for a free music app, avoid like the plague until sound clouds app developers learn how to implement ads properly.
SOUNDCLOUD IS AMAZING!!!
Neon Studios2
on
6/25/2017
Edit: Can you pleaseee make it so I can edit my profile on mobile? It's really annoying to have to go to all the trouble of getting on my computer just to edit my profile. Soundcloud is my main way of finding new awesome music that I love. This app really changes my life and I use it everyday! I love listening to my playlists when I'm down and I want to cheer up or jam out.
Be humble
A very good app!!! Has a lot of music I listen to by artists like lil uzi vert and lil yatchy and 21 savage.
Every other songs an Ad
Commercials out the wazzoo I been just using YouTube again lately used to be good
Be better
Wesley Macintosh
on
6/25/2017
Where is the Apple Watch app? Please! Get better!
Fact Sheet
Publisher: SoundCloud Ltd
Category: Music
Released: Nov 03, 2009
Current Version Released: Jun 21, 2017
Version: 5.8.0
Size: 113.3 MB
Compatibility: Requires iOS 8.0 or later.
Recommended Age: 4+
Game Center Certified: No
Supported Devices: iPad2Wifi-iPad2Wifi, iPad23G-iPad23G, iPhone4S-iPhone4S, iPadThirdGen-iPadThirdGen, iPadThirdGen4G-iPadThirdGen4G, iPhone5-iPhone5, iPodTouchFifthGen-iPodTouchFifthGen, iPadFourthGen-iPadFourthGen, iPadFourthGen4G-iPadFourthGen4G, iPadMini-iPadMini, iPadMini4G-iPadMini4G, iPhone5c-iPhone5c, iPhone5s-iPhone5s, iPadAir-iPadAir, iPadAirCellular-iPadAirCellular, iPadMiniRetina-iPadMiniRetina, iPadMiniRetinaCellular-iPadMiniRetinaCellular, iPhone6-iPhone6, iPhone6Plus-iPhone6Plus, iPadAir2-iPadAir2, iPadAir2Cellular-iPadAir2Cellular, iPadMini3-iPadMini3, iPadMini3Cellular-iPadMini3Cellular, iPodTouchSixthGen-iPodTouchSixthGen, iPhone6s-iPhone6s, iPhone6sPlus-iPhone6sPlus, iPadMini4-iPadMini4, iPadMini4Cellular-iPadMini4Cellular, iPadPro-iPadPro, iPadProCellular-iPadProCellular, iPadPro97-iPadPro97, iPadPro97Cellular-iPadPro97Cellular, iPhoneSE-iPhoneSE, iPhone7-iPhone7, iPhone7Plus-iPhone7Plus, iPad611-iPad611, iPad612-iPad612, iPad71-iPad71, iPad72-iPad72, iPad73-iPad73, iPad74-iPad74,
Supported Languages: Dutch; Flemish; English; French; German; Italian; Portuguese; Spanish; Castilian;