This version of the app is not recommended
App last updated
Mar 01, 2018
Screenshots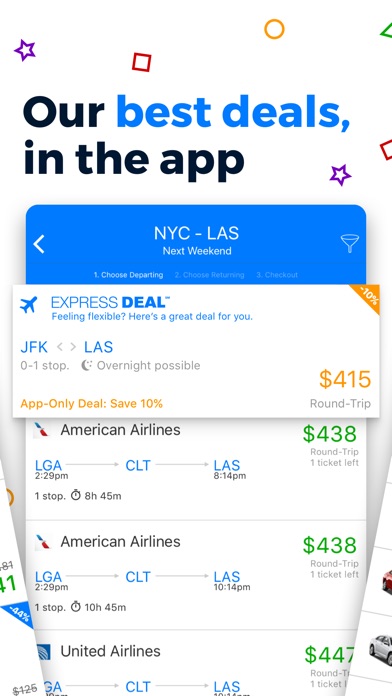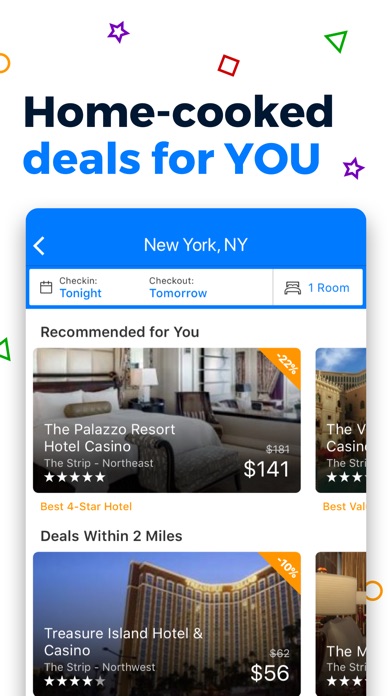 New in version 16.3.1
We want you to save more on every trip! Check out our app updates below.

- More rental car deals are now available! Our app has the lowest rates you can find.
- Never miss a trip update! We can now provide you with trip alerts for flights you booked on Priceline. Make sure you have push notifications enabled to enjoy this feature.
- As always, we tackled some bugs to improve your experience.

If you're happy with our app, tell others! Add a review in the App Store and help other travelers find great deals, too.
Description
Get exclusive app-only hotel deals, amazing discounts on flights and rental cars, and the best trip planning on-the-go.

Download the priceline.com app and join millions of happy travelers who book great deals with us every day.

Rated by Travel + Leisure as a Best App for Travelers!

Our app makes people happy:
• Book exclusive hotel deals found only on the app.
• Travel deals everywhere you look - low-priced hotels, cheap rental cars and discounted flights.
• You'll save up to 60% off with Express Deals® and even more with Name Your Own Price®. Seriously.
• Personalized, relevant hotel recommendations. We have the travel deals that matter to you.
• As you search more, we uncover even more deals just for you.
• Super-quick travel booking, especially when you're signed in! We do fast well.

Our app saves you time:
• Did we mention the super-quick travel booking?
• Easily access and make changes to your trip wherever you are with our My Trips feature.
• Get all of your reservation and travel info right on your phone, even if you booked on your computer. Like magic.
• Search by city, address or point of interest to book the most conveniently located hotels and rental cars.
• If you have an Apple Watch, view your upcoming trips and book nearby last-minute hotels just like that.

Our app takes you there:
• Anywhere you want to go, and it goes there with you. But it never complains.
• Across the globe with super deals on thousands of domestic and international flights across the globe. Pace yourself.
• On the road with rental car deals on 22 brands in 28,000+ locations. That's how we roll.
• To wonderful rooms in 800,000+ hotels worldwide. That's a lot of little shampoo bottles.

Our app has your back. And it's watching your wallet, too.

Priceline.com is part of The Priceline Group which includes leading travel brands such as Booking.com, Agoda, Kayak & Open Table
iPad Screenshots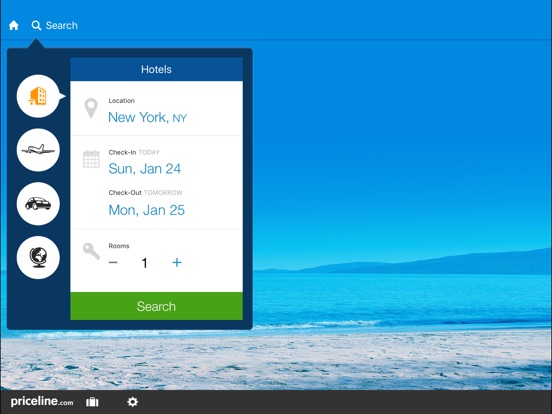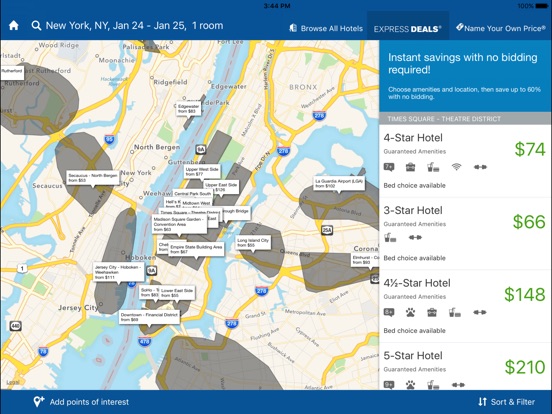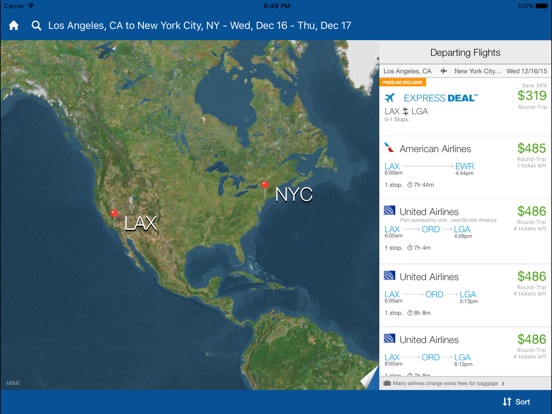 Reviews
Hotel Booking
Technic problem
on
3/17/2018
Went on a trip to NOLA, there was a miss communication between hotel and Priceline. I was directed to Priceline to get hotel confirmation after being charged almost 500$ for a room for the night. Priceline had no urgency with the matter and never was able to fix the problem. The hotel management came through and booked the room in hopes that Priceline will reimburse them. This rating is based on the level of terrible customer service the rep had with me and Priceline's relationship with their booking hotels.
Beyond Frustrated!!!!
I have used Priceline many times and NEVER have I been so disappointed in something! I just wasted over an hour between calling and being placed on multiple LONG holds!!! I got NO WHERE with Patrick (supposedly a manager in customer service)!!!! I was told I did something wrong and it was my fault the ticket was wrong even though I read VERY carefully the details and my ticket was NOT what I agreed to!
Mostly awesome
SnowFamily2000
on
3/16/2018
I love Priceline...mostly. I have booked a ton of trips with Priceline and usually get a fantastic deal. I just wish they had better policies for when things happen and you need to change plans. I always feel so nervous booking on Priceline because I know if something comes up I'm out the money I spent.
Non existent customer service
Non existent customer service
Non-existence customer service
Horrible attitude when I called them as I was having issues with my reservation
Great!
I was so afraid to book with Priceline because they don't tell you where you're staying until after you book. I literally went back and forth with my decision. I even did a google search to see what my options may be for the area I chose. I'm so happy with the hotel they gave me.
Best travel app on the market!
This is the only travel app I use. I have never once had a problem. A travel must
Great Price
Always an awesome deal, used Priceline for all my airline and hotel reservations.
Awesome prices
Awesome great deals. I purchased my ticket a day before my trip for way less than half the price of others.
Great
24 hr free cancelation. Great easy to use app
Your flights
For the past 8-10 days we have been struggling to book a flight. I found what I want but it wouldn't book. Your telephonic volume was high so I got on line and was quickly able to chat with Alec. He said be flight was probably sold out and the Internet posting was lagging behind. Ok, jump forward to last evening and now, that flight is still listed...same date, route, price. I am thrilled. I book...not coming up...won't reserve. So I thought ok, I pay more. Same destination, 12+ more hours and I now noticed that I am leaving at midnight Thursday instead of reasonable 1535 for a 2 hour flight!!! I'm annoyed. Paid more, wrong time, extra hours!!! Luckily I have 24 hours to rectify but that is now another call to you!!! Don't tell me the flight I want is still listed with a mistake due to lag time!! It's been 10 days! Thank you
Good App
I actually love this app. I frequent hotels and fly on occasion. I love the rates and comparisons of different places to lodge.
Love Love Love!!!
Ash_itzsimple
on
3/14/2018
Rent through them pretty often awesome prices
Best deals
I've saved a ton of money using the name your own price feature. It's amazing.
Unacceptable service !!
Booked a 3.5 star rated hotel through express deals and they ended up sending to a motel (crappy motel by the way) twice in a span of 11 days!! This is unacceptable and disrespectful !!! Stay away from Express deals and potentially from this app ! There are other good apps/sites who would kill for your money.
Love it!
I really do love Priceline. They have always met all my needs and continually have the lowest fares I can find online. I use exclusively Priceline to book my flights.
Mystery deals
unstisfied Customer
on
3/13/2018
Don't trust the Mystery deal just a scam!!
Best prices anywhere!
Very happy with Priceline they had the best deals on flights hands down!
Disappointed
Site v Agent ... agent wins
on
3/13/2018
Buyer beware...even though you may select how many adults and children and search, the prices that come up and you pay is double occupancy only for most all-inclusives. Searched for an all-inclusive in Mexico for 2 adults and 1 child, 15. Found the place our group is going and booked a standard room with 1 double bed and a king bed. Turns out the room is for double occupancy and my daughter was not included even though the search came up with a selection that even said "recommended for your party", my party being 3 people - or so I thought. So, the trip is in <3 weeks and Priceline tells me to contact hotel and hotel tells me to contact Priceline. Contact #3 and Priceline contacts the resort and the quote for my daughter is almost what I am paying for my husband and I for 6 nights. Still working through it but soo disappointed in what I consider to be a misleading and false site. Will be using a travel agent from now on.
DDJones
I have had no problems using the app. Good experience for me.
Easy
The process on Priceline is efficient and quick.
Most horrible experience ever 😩
I arrived at the hotel to check in. I prepaid for my hotel room through Priceline. There were no problems with my payment or on the hotel end but the card that Priceline used to pay best western declined!!! It declined several times. The Priceline representative told the front desk clerk that it would be 1 hour before I could check in that they had to straighten things out. The clerk told Priceline that I couldn't check in until the payment was received from them. They had to make sure they get paid. I had to go to my sister birthday dinner and because they had to do whatever I ended up waiting like 45-50 minutes then it finally worked. Priceline had to give the hotel clerk a card over the phone. I was a hour and half late for my sister birthday dinner. Not good at all!! This was the worst experience ever!!!
Priceline express deal
willard dissatisfied customer
on
3/13/2018
I booked what was advertised as a 2.5 star hotel. I had booked for my granddaughter for 2 nights. The motel provided was actually identified as a 2 star even though Priceline had the express deal as 2.5. The room was filthy, burn holes in the bedding, bugs, holes in the wall and refrigerator and furniture in a despicable state. I called Priceline and was told to see the hotel. The representative stated that Priceline had no representation in the states. The room was vacated after one hour but refund defused for both nights per the hotel (Quality inn northwest lexington ky) and Priceline Photos Dead bugs under the bed there's a lot of dead bugs Cigarette burns bedding and dirty customer service had no concern for me. According to the phone contact the condition of the hotel was not pricelines concern. No one is the US to address my issue stated the rep. Basically we have our cut and we have no further responsibilities
Best western was not 3.5 stars
Mercedes1967
on
3/12/2018
I'm too tired to fight but the deals are not deals if you offer one thing and if not it's a reason not to stay loyal. The room stank, the bed sheets old and worn out. I had to talk to a persons shoulder in the freezing cold, because I was late arriving. I did not stay at a 3.5 star hotel. But I paid for one on express check in.
Great Deals!!!
I always find a great deal even if I wait until the last minute to find a room!
Thanks
Was a lot easier then the other apps and cheaper with out the price going up every time you clicked out this will be the app I use and tell every one else to use I normally don't write reviews but had to for this one thanks for helping me make a buck list trip come true between some old veterans✌🏻
Impossible to book!
App timed out 3+ times...annoying
Express Deals are "Fake News"
I Am Calling Your BLUFF
on
3/12/2018
I booked a room with the Express Deal pricing, then out of curiosity checked how much the actual room went for. Priceline set up an EXTRA SERVICE FEE FOR THE EXPRESS DEALS that made the Express Deal MORE EXPENSIVE than the regular room after taxes. I am calling then out for their promises of cheaper prices. DO NOT TRUST THEM
Good but not honest
This app often shows special mobile deals but as soon as you click on them they change the price saying that special rate is no longer available. Which is fine, but if you restart the app it will show you those "special" rates again. Furthermore, if you check the app again days later, it will still show fake special rates. Click on them and they are again no longer available. It's like a game where the company is trying to trick its customers into believing that they had something good but now it's too late and you better book the current rate. Deceitful. Low.
Easy Interface - Great Prices - Great Customer Service
IllinoisCountryBoy
on
3/11/2018
I can't say enough good about PriceLine and the App. I have used the service numerous times, so my review is based on all of these experiences. I alway check other sources for deals and I always find the best deals on PriceLine. I have used it for business and personal vacations. But what made me actually write this review rather then just rate the app, was my recent experience with their customer service. In a rush to get a reservation done while sick and mildly medicated, I accidentally made the reservation for the wrong dates. I needed it for a week later. Once I realized my mistake, I called PriceLine directly from the app. The service rep (wish I could remember his name) was professional and friendly. He contacted the hotel for me and confirmed that they could cancel the reservation for me (it was a special deal that was supposed to be non-refundable). I received the cancellation notice seconds after getting off the phone. PriceLine went the extra mile for me, and that is why I am writing this review and gave them 5 stars. Thanks again PriceLine.
Great deals
savey traveler
on
3/11/2018
Love Priceline. I get great deals. I recommend it to all my friends. You should use it too!
Rude customer service that will not help
Terrible customer service. They do not try to help in any way. After talking to a supervisor and telling me he would not help me he hung up on me. I would not use Priceline
No package deals.
00victoria09
on
3/11/2018
This is Hard to use, no way to get packaged deals you'll have to purchase every single thing separately. No way. Don't waist your time nor money.
Clutch Performers
Always coming through when I need a deal most.
Want consistency
I used to love Priceline, but I now have had my second experience where I booked something and it was not properly booked. Tonight I lost my hotel reservation. Last time it was a flight screw up. Idk I guess it's become hit or miss for Priceline...
Some Bugs to Fix
Their customer service is less than helpful. -I booked a hotel using the Name Your Price feature in the app for what I thought was the following night because we were driving home from our trip the next day. It charges your card right away, so I assumed everything was alright. After hours of driving we got to our hotel (that I thought I booked for that night) and the less-than-friendly front desk attendant said our reservation was for the previous night. I double-checked my app, and sure enough, it was booked for the previous night. I was sure I entered the correct dates when I booked. I think there was a glitch in their app. When I called Priceline to see about a refund, they were sympathetic and said they thought it was funny that the app let me book the room after midnight. When the customer rep tried to call the hotel, the hotel wouldn't answer. Priceline wouldn't give me even a partial refund. How often does this happen? How much money is this company making off their app glitches? I wouldn't use this app. I guess the old adage of talking to a person is best in this situation and I think that's what I'll be doing in the future.
I am loyal to Priceline.com until the time I need to modify a reservation
I have used Priceline for several years, now I need to modify my rental car reservation by drop off one day earlier after picking it up 36 hours ago. The system does not allow any modification once the car is picked up. I am talking about two weeks rental. Now I learned my lesson will shop around, compare, and decide to switch if I choose to.
So far so good!!
JOHNNY BIG-EARS
on
3/9/2018
I been traveling to the Bay Area lately and trying to find a great hotel in the city is difficult with so many prices and choices but thanks to Priceline, I was able to find a great hotel, great price and close to my destination! Very happy
Great prices and very easy to use
Got the best prices on the app. Easy to use and navigate.
Charged me for a sold out room
I was booking a hotel for a few days tonight on the app. I did payment and it said it was getting confirmation and then it told me the hotel was sold out and could not be booked, but Priceline took $403 out of my bank account! So now I am unable to book a place to stay until it is refunded, and needed it for tomorrow night.
Great savings...if listing is accurate
This app is really only for people that need a place to crash and don't care what they get it or if the listing is accurate. While the service is great when it works, in my last and final usage of the site, the listing was wrong and the customer service rep refused to change the reservation and had the audacity to admit the listing was wrong but question why it mattered. Users should know if things get messed up you will be in for a non ending headache without filing complaints with regulation agencies and your credit card.
Miss
Thedtowning#1fan
on
3/7/2018
Es good company , responsable
Not bad, but...
When trying to modify a reservation to add insurance, the form presented was so badly mis-formatted / misaligned that it was impossible to enter information without generating an error that prevented completion. Please fix!
App ease!
Great being able to pull up all my info and get great deals right on my phone!!!!!! Makes my trip easy❤️
5 5 5
Priceline is the money saving bombest app there is! I use them every time (and I am a cheap skate!) 5 stars. 5 hearts. 5 happy emojis.
Trip booking
Love this app since it is very easy to use!
Love it!
I use Priceline for rental cars and hotels. I especially like the express deals, although you don't know exactly what you're getting, the deals can't be beat.
Finding deals
This is so much more organized than anyone else's I love using the app
Priceline is my new fav
I love this app. Just recently been traveling a lot and a friend told me she uses Priceline all the time. I have definitely saved some money using this site. It's convenient, easy and a little exciting to be honest. I love getting a good deal.
Love ur site
I choose Priceline to book my flights all the time
Fact Sheet
Publisher:

priceline.com

Category:

Travel

Released:

Oct 26, 2009

Current Version Released:

Mar 01, 2018

Version:

16.3.1

Size:

83.4 MB

Compatibility:

Requires iOS 10.0 or later.

Recommended Age:

4+

Game Center Certified:

No

Supported Languages:

English;