Screenshots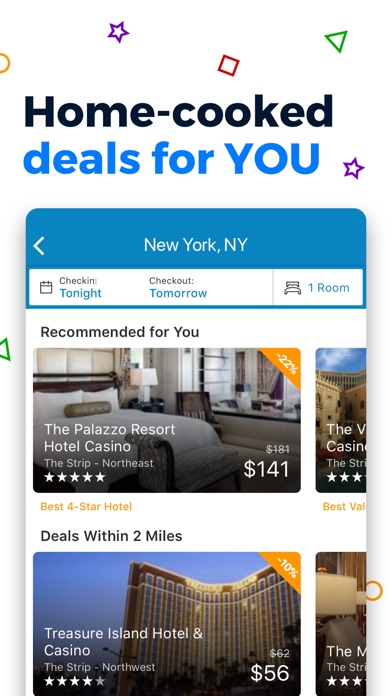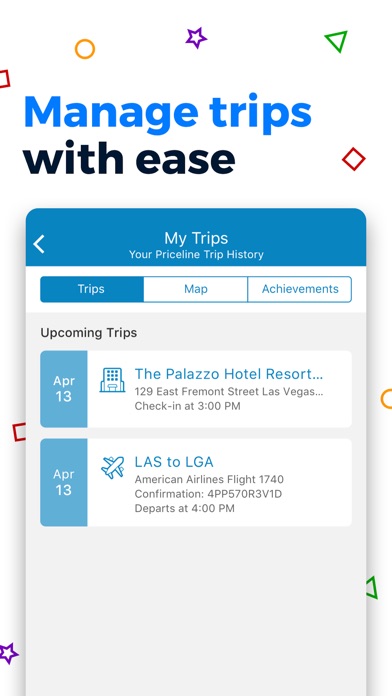 New in version 16.0
Book more, save more! It's easy to keep track of your travel savings and get access to our best deals. Check out our updated My Trips experience to see where you've been and the badges you've earned.

Looking for a place to eat? We've partnered with our friends at OpenTable so it's easy for you to make restaurant reservations near your hotel.

If you're happy with our app, tell others! Add a review in the App Store and help other travelers find great deals, too!
Description
Get exclusive app-only hotel deals, amazing discounts on flights and rental cars, and the best trip planning on-the-go.

Download the priceline.com app and join millions of happy travelers who book great deals with us every day.

Rated by Travel + Leisure as a Best App for Travelers!

Our app makes people happy:
• Book exclusive hotel deals found only on the app.
• Travel deals everywhere you look - low-priced hotels, cheap rental cars and discounted flights.
• You'll save up to 60% off with Express Deals® and even more with Name Your Own Price®. Seriously.
• Personalized, relevant hotel recommendations. We have the travel deals that matter to you.
• As you search more, we uncover even more deals just for you.
• Super-quick travel booking, especially when you're signed in! We do fast well.

Our app saves you time:
• Did we mention the super-quick travel booking?
• Easily access and make changes to your trip wherever you are with our My Trips feature.
• Get all of your reservation and travel info right on your phone, even if you booked on your computer. Like magic.
• Search by city, address or point of interest to book the most conveniently located hotels and rental cars.
• If you have an Apple Watch, view your upcoming trips and book nearby last-minute hotels just like that.

Our app takes you there:
• Anywhere you want to go, and it goes there with you. But it never complains.
• Across the globe with super deals on thousands of domestic and international flights across the globe. Pace yourself.
• On the road with rental car deals on 22 brands in 28,000+ locations. That's how we roll.
• To wonderful rooms in 800,000+ hotels worldwide. That's a lot of little shampoo bottles.

Our app has your back. And it's watching your wallet, too.

Priceline.com is part of The Priceline Group which includes leading travel brands such as Booking.com, Agoda, Kayak & Open Table
iPad Screenshots
Reviews
Great app
Not really much to say. Very clean UI, great deals and very fast. I love this app and am always scoring great deals.
Not Helpful!
2TheBeachIGo
on
11/18/2017
I have complained about this several times and they just don't listen!!! When the ad says POOL - there is no differentiation between indoor or outdoor. I paid extra for a pool and got to the hotel and learned it was outdoor! I have three kids —- seriously??? Nobody wants a fricken outdoor pool. Especially in the cold winter. While on the road traveling I do not have time to call every hotel to determine what kind of pool it is. Switching to a different service.
Usable
Charmanderofthesquire
on
11/18/2017
Very easy to use and much better than navigating a website on your phone.
Great app!
Triple Fail
on
11/17/2017
Easy to use!
Unauthorized
I have five cards on file. Used the CVV # for the right card but payment was taken from wrong card. I immediately called to change payment, they said the system would not allow it. Not cool
Easy to use; great deals
Spursfanmom
on
11/17/2017
Be sure you understand how Priceline works... but if you understand, it's the best way to get great prices. App is easy and convenient!
Business of Personal Travel, Priceline finds the best hotels at the best rates!!!
Barack O'Malley
on
11/16/2017
Ive been using Priceline for over 10 years now, mostly for business travel. I heard about it once when flying into LA from Seattle, seated in First Class. The guy behind me was recommending it to the person next to him, and I checked it out as soon as I landed. I saved way more over the years than the cost of the first class ticket. Sometimes it pays to keep an ear to one's fellow business people. This summer, my wife and I stayed in a 5-Star hotel in Seattle (The Fairmont) for about $125/night~ the standard price for that same room was $699! That is exemplary of the power of "Name Your Own Price."
Great app - love the express deals option
Daniel Taverne
on
11/16/2017
Never been disappointed using Priceline. I've booked at least 10 hotel rooms and flights through Priceline this year. Always get a great price and seamless experience
Great fares
Found my ticket here for over $200 cheaper
I like Priceline
Court_atl-hawaii
on
11/16/2017
I like this site . This is where I can always find cheap tickets . I was able to get a last minute ticket to New York for only $240!!
Worst service ever!!
That whole best price don't even work I've been trying for a month now.. and if you try and call to talk to a real person you can't even do that! I just book my stuff thru Hotwire.com where they honor their prices they post!
Travel Booking Review
ShaikJuharasha
on
11/16/2017
Priceline is LifeLine for Travel Deals.
Priceline Reviews section is broken
Traveltraveldude
on
11/15/2017
While I love Priceline, the Customer reviews section in the app is no longer scrollable and only shows just the last 3 customer review write ups. Please fix this!!!
Improve rewards
Crimson1478
on
11/15/2017
Wish rewards were easier, I use app often
Priceline review
I used Priceline for some 10 years or so and it has been an easy-to-use, modern, and rewarding site for me and my family.
Fun, easy travel bargain hunting
We've used Priceline.com for more than a decade and the app for as long as it's been around. There are often trade offs in flexibility for such great deals, but it's nearly always played out extremely well.
Be aware
Booked a rental car and my plans changed because of a family emergency. Unable to get a refund because my credit card had been charged already
Sold outs show when they are sold out
Sold out hotel deals still show when i am browsing, only after i restart the app does the listing get removed
Rocks!
Fast and convenient. I use it every time I travel. From weekend getaways to international trips.
Awesome
John till death
on
11/14/2017
I've used this app for years. It's been great up until they changed their "name your own price" policy. Say you see a 4 star rated place single rooms in express deals for $90....well if you choose to name your own price for 4 star hotels and the lowest you can bid is say $136... Now they sell you the express hotel but at the increased price. So instead of saving money on name your own price, you actually risk paying more for the same hotel. It took over an hour talking to customer service before they offered me 5% off my next express deal hotel... so yeah. I'm going to start using a new company. Priceline ripped me off. Instead of saving money through their "deals" it cost me an extra $40 and they didn't help me at all. Been using this service over a decade. This is super disappointing. Your loss
Actually works!!
wiiiildflower
on
11/14/2017
Works great!!
Priceline
Soua Eidmann
on
11/13/2017
Easy to use. Consistent. Great prices. Can't get better. Love the mobile prices too. Been using Priceline.com for years.
Horrible service
Dianadollaz
on
11/13/2017
My first time using this app I purchased an express deal. My room was not at a hotel anywhere near what was given as examples, the toilet wouldn't flush, the heat didn't work and Priceline has refused to assist me in any way. So disappointing!!! I will never use their service again.
Great app
Shahs galahs
on
11/13/2017
I have been using Priceline for the last 10 years and have always booked my hotels through them. Their express deals are amazing and has a price match guarantee, i have had a more positive experience with Priceline compared to Expedia and exclusively book my hotel through Priceline now.
Great customer service
I've used Priceline for several years now and they've always been great.
Express deals
Express deals are thee best and I love the app and the flexibility to book from my phone!
Great App
All was gets the job done!
Oowewweee
raresnosuares
on
11/12/2017
Greatest safest app. Flights and rooms card in my entertainment name wen booking still no issues. Great prices greater offers
Not sure what the deal is
But, why don't my trips show up in "My Trips"?! I have to manually look them up each time! I love you guys, but this makes zero sense.
Best out there
This is one of the best Hotel apps out there. We go out of town quite a bit and I️ always use this app. You get better deals on the app than you do on the Priceline website. Do yourself a favor and get this app.
Great
@iamdigitaljonez
on
11/11/2017
Best app.
Misleading offer
NY travellet
on
11/11/2017
Cannot find express deals or place to enter discount codes. Seems like a bait and switch
Al
Hurricane Albert
on
11/10/2017
Saves a poor boy like me a lot of $$$$
Better than the website
Cindy Elmwood
on
11/10/2017
One of those rare cases where the phone app is actually easier to use than the full website. Intuitive, and brings the map up right when you need it.
Never lets me down
Logansmum27
on
11/10/2017
I love this ap I use it for all my trips. I always get great deals. I tell all my friends and family to use it and will continue too.
Car rental
G.Millertyme
on
11/10/2017
This is a fantastic app Priceline is a great company
Starting 1 of many trips
Daddy Aleck
on
11/10/2017
I don't know about the random flights, rooms, and hotels. They were ok this trip. Previously Priceline was horrible with customer service and quality last time. Testing how things going.
Great way to travel!
We love being able to wait until we get tired of driving to book our hotel. Priceline makes it easy and economical for our budget. We book only 3 Star rooms with high client satisfaction ratings. Always a great deal!!
Poor customer service
Nicole Scruggs
on
11/9/2017
We used Priceline last week to book a hotel room. I paid through the app and everything was good to go. When we got to the hotel, much to our surprise a friend of ours called and paid for the room with his own credit card as a gift to us. When we called Priceline to issue a refund, they refused to do so because it was after the cancellation date. I completely understand having a policy like that in place but I feel like given the circumstances, they would be generous enough to issue the refund. Instead, they just get to keep the money for a room that had already been paid for. Such robbery!
Great Prices
Always can luck up on a ticket
So easy
They will help you Iran airline is not treating you right they are amazing
Easy to book, friendly system
Aaa112233557
on
11/9/2017
I'm flying domestic almost weekly, and have all apps on my phone. Kayak, booking, Expedia, Orbitz and Priceline. I must say that for me, Priceline has been the easiest to use, search, book and modify reservation. They are also friendly re unexpired cancellations. Thank you!
So sad
I have used Priceline on a handful of occasions and the hotels I've booked have always been comparable to my expectations. My latest 3 star had food encrusted top covers and sticky floors. I called to the front desk, the guy doesn't work at this location and is filling in. I call Priceline they ask the same questions many times. I saved maybe $10 on this room. Bottom line it's my birthday and I'm traveling to see my children. I will be deleting this app and use another as they offer zero resolution to a sub par experience.
Great Hotel Deals On Priceline.com
Golden Harvest
on
11/8/2017
Just scored a great Hotel deal on Priceline.com for my Anniversary!!! "WOW."
Will never book with Priceline
lost a loyal customer
on
11/8/2017
I had the worse experience with Priceline customer service trying to dispute a refund back. I got transferred to at least 5 representatives and was on hold for to long without a response. When I finally got to speak to a supervisor, every other word out of his mouth was "I understand ma'am" they clearly are getting trained wrong. I will never book with Priceline again. Horrible company!
Great deals
TheRandyMannn
on
11/8/2017
And not only of those cheap dirty places too.
Airline ticket
Awesome, I got very good price
Awesome
Have used priceline.com for a few years and have always been 100% satisfied. Definitely recommend over other sites.
Horrible Customer Support
So I booked a deal (so I thought) On Priceline.com. It was a express deal where they guarantee 4 star rating a hotel equal to some great hotel brands. So once you book it your email tells you where you are booked. So I was super excited and I started researching the hotel. Major fail!!! So Priceline's own customers wrote very poor recent reviews in 2017 - including bed bugs!!!, mold in rooms, damp smell in lobby, smelly carpet in the room, bug/spider bites etc. I researched other websites such as yelp, hotels.com, Expedia and orbit. The website reviews from those websites also supported the same reviews. So in 2017 if you were to take current year reviews the hotel would definitely not be a 4 Star. Bed bugs??? Spider bites??? Mold?? Hello!! So I think Priceline is huge right?? So they must have awesome support like Shutterfly or Groupon right?? Wrong!! So first I go online and start with customer support chat- I was connected with Georgia who tells me nothing they can do till I'm there- address the issue with the hotel and if they can't help you let us know. Ok so I explain to her that I'm trying to prevent a problem etc- especially bed bugs...cost thousands to get rid of those. Getting a hotel in SF same day will be so much more costly and take time from our trip- again trying to prevent that especially when traveling with a child. Nothing she can do. So I ask her Can I get this request escalated- she ignores my request "hi, are you there" she says yes she is and nothing- ok so I send my request again- what I get in return is the escalation phone number- info and she thanks me and disconnects. Nothing asking if there was anything else or anything. Fine. So I call the escalation support line and I reach Jill, Jill says she is researching other websites for star ratings and it's all 4 Star. I explain to Jill I understand at one point 4-5 years ago yes maybe 4 stars but currently their customers on their (Priceline) website are currently complaining- there is a current problem. Jill reiterated what she previously stated. And nothing they can do for me exactly as Georgia previously stated. I ask for escalation supervisor- she says yes I can transfer you mam but they are just going to tell you the same thing I did. So I am transferred and I get connected to KYM who states the EXACT same thing- i told him that I was very disappointed - I wasn't even asking for my money back but instead asking for them to credit it to a different hotel as this one was not currently in a condition to be 4 stars. They were all robots no concern for the consumer, not concerned at all. Waist of time & money...never again will I use Priceline.
What happened?
Just recently attempted to reserve a hotel room for this weekend in Fort Worth unfortunately my credit card was declined. I attempted to call Priceline they don't have a person to answer the phone, just an automated operator and a never ending cycle very disappointed I'll be downloading another app to replace you
Fact Sheet
Publisher:

priceline.com

Category:

Travel

Released:

Oct 26, 2009

Current Version Released:

Nov 14, 2017

Version:

16.0

Size:

84.3 MB

Compatibility:

Requires iOS 10.0 or later.

Recommended Age:

4+

Game Center Certified:

No

Supported Devices:

iPhone5-iPhone5, iPadFourthGen-iPadFourthGen, iPadFourthGen4G-iPadFourthGen4G, iPhone5c-iPhone5c, iPhone5s-iPhone5s, iPadAir-iPadAir, iPadAirCellular-iPadAirCellular, iPadMiniRetina-iPadMiniRetina, iPadMiniRetinaCellular-iPadMiniRetinaCellular, iPhone6-iPhone6, iPhone6Plus-iPhone6Plus, iPadAir2-iPadAir2, iPadAir2Cellular-iPadAir2Cellular, iPadMini3-iPadMini3, iPadMini3Cellular-iPadMini3Cellular, iPodTouchSixthGen-iPodTouchSixthGen, iPhone6s-iPhone6s, iPhone6sPlus-iPhone6sPlus, iPadMini4-iPadMini4, iPadMini4Cellular-iPadMini4Cellular, iPadPro-iPadPro, iPadProCellular-iPadProCellular, iPadPro97-iPadPro97, iPadPro97Cellular-iPadPro97Cellular, iPhoneSE-iPhoneSE, iPhone7-iPhone7, iPhone7Plus-iPhone7Plus, iPad611-iPad611, iPad612-iPad612, iPad71-iPad71, iPad72-iPad72, iPad73-iPad73, iPad74-iPad74, iPhone8-iPhone8, iPhone8Plus-iPhone8Plus, iPhoneX-iPhoneX,

Supported Languages:

English;