Screenshots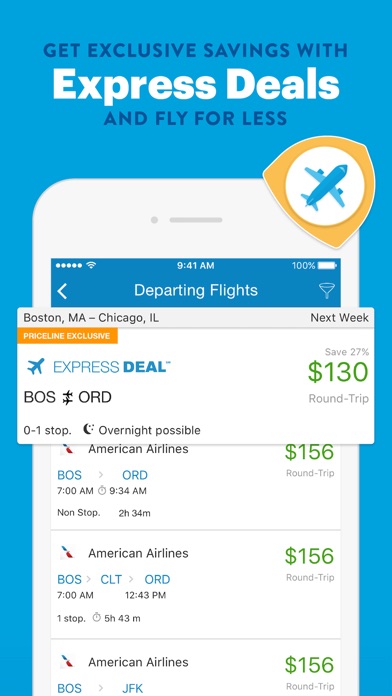 New in version 15.9
Thanks for using the Priceline app! We're always updating our app with new features and bug fixes so you can find the best travel deals faster and easier.

If you're happy with our app, tell others! Add a review in the App Store and help other travelers find great deals too!
Description
Get exclusive app-only hotel deals, amazing discounts on flights and rental cars, and the best trip planning on-the-go.

Download the priceline.com app and join millions of happy travelers who book great deals with us every day.

Rated by Travel + Leisure as a Best App for Travelers!

Our app makes people happy:
• Book exclusive hotel deals found only on the app.
• Travel deals everywhere you look - low-priced hotels, cheap rental cars and discounted flights.
• You'll save up to 60% off with Express Deals® and even more with Name Your Own Price®. Seriously.
• Personalized, relevant hotel recommendations. We have the travel deals that matter to you.
• As you search more, we uncover even more deals just for you.
• Super-quick travel booking, especially when you're signed in! We do fast well.

Our app saves you time:
• Did we mention the super-quick travel booking?
• Easily access and make changes to your trip wherever you are with our My Trips feature.
• Get all of your reservation and travel info right on your phone, even if you booked on your computer. Like magic.
• Search by city, address or point of interest to book the most conveniently located hotels and rental cars.
• If you have an Apple Watch, view your upcoming trips and book nearby last-minute hotels just like that.

Our app takes you there:
• Anywhere you want to go, and it goes there with you. But it never complains.
• Across the globe with super deals on thousands of domestic and international flights across the globe. Pace yourself.
• On the road with rental car deals on 22 brands in 28,000+ locations. That's how we roll.
• To wonderful rooms in 800,000+ hotels worldwide. That's a lot of little shampoo bottles.

Our app has your back. And it's watching your wallet, too.

Priceline.com is part of The Priceline Group which includes leading travel brands such as Booking.com, Agoda, Kayak & Open Table
iPad Screenshots
Reviews
Still use the app but star ratings are bogus
Often 2.5 stars should be 1.5 or 2. Many are old stinky places with fresh paint.
No cars
Beautyizdead
on
9/25/2017
App doesn't have the functionality for being able to rent rental cars and just makes you go to the site. Pretty pointless for the app to be around if you have to go to the website.
Booked at hawthorn in SC and loved it
Used Priceline to find a well priced hotel in SC to visit my husband while he is stationed at the joint base in SC Charleston. I found a great price for hawthorn suites close to the base and OMG I loved the choice. Paid for the hotel on Priceline and everything was great. We enjoyed the hotel, it had a full kitchen so we were able to cook meals. We had an amazing time. Thank you Priceline!
Don't Use This App !
I should Have Read The Reviews before Using this, I try Buying two Airline Tickets it Told me To enter My Card Information then said Card Information error But My Funds are Pulled out called the company and they said I have no upcoming trips with Them, Talk about a Nightmare. No Money on my Card because they are Holding My Funds but I don't have any upcoming trips .. Worse experience Ever ! They are Lucky to get A Star at all wish we had the Option of NO STAR.
Best
Princess Diane1
on
9/24/2017
The best and the best love it
Super quick & easy
The Priceline App is super quick & easy. Even when I book straight through the hotel I will use the App as a reference for a baseline figure but 95% of the time I book, it is usually through the Priceline App.
Should take pre filled info on my mobile
Monster poker
on
9/24/2017
This doesnt even take my info from the priceline account!!!!
Easy and money saving app
Nutsaboutdiving
on
9/24/2017
Love it!!!!!
Need more disclosures before booking
Fan Of FarmVille 2
on
9/24/2017
This app is great... very easy navigation making your search very stress less. The only thing is ... I have booked through the bid options and found myself paying for fees at time of checkin. The fees are not disclosed when you are booking the hotel... in the end it may just total out to the same amount as knowing everything first hand. Not really a great deal when you total all of it. But very convenient picking hotels in the area you will be staying in.
Great travel App
Have used Priceline on a number of occasions with great results! Mostly used for flights and lodging. Prices end up being reasonable.
All my travel needs
Priceline.com is the first place I visit for all my travel needs!!!
Unsatisfied customer
I've used this app several times without a problem. But my last trip to Indy was a nightmare!!!!!!!! Priceline sold rooms that wasn't available,it took a couple hours to find another one and after driving to two locations. Priceline/Booking.com did find me a room at DaysInn 2150 North Post rd Indianapolis,IN 46219. But this room had bedbugs. Hotel did issue me a complete refund. But I'm still a unhappy customer. 😡😢😡😢😡
Best travel app travel! Fast, easy, saves me tons of $$ I'm travel
I am a passenger
on
9/23/2017
I never write reviews but I love Priceline and the app so much that I need to write one. If you travel often and don't use this app, you're crazy. All my friends and family also use Priceline for their travels because why wouldn't you! IT SAVES you SO MUCH MONEY! It's super easy to search for hotel deals, cheap flights and rental cars. Whenever I think of travel whether it's last minute or planned, I immediately go to Priceline. I have saved thousands on hotels using Express Deals. The prices are in many cases better than other travel apps. Sure there's no loyalty program but I'd rather get immediate savings than have to wait until I've saved enough points that I could maybe one day redeem. The app is super fast. Like really really fast. It's scary how easy this travel app is to use. When launching the app I like that it shows my current location and default to today/tomorrow. This saves me time from having to input all those fields. I hit search and I'm done. The hotels that they display are always relevant to me. Great prices within my budget. Sometimes I can even stay in a 5 Star hotel for not a lot of money. Some have had bad experiences booking with Priceline but I've never had an issue and customer service is fantastic. I also like that I can see all my trips within the app. It makes it so simple to pull up where I'm going and my reservation details when checking into my hotel. Overall, I've been a loyal Priceline customer for years and tell all my friends to use it. You should absolutely try this app. It's incredible. This should be nominated as the best travel app of the century. Sure hotel tonight sounds hip but that's all marketing, Priceline backs it up and delivers a great product in a convenient, easy to use package. Try it yourself, you're missing out on the best thing in your life.
Priceline is a scam
Think you are saving??? Well you are not. They charge you a higher price. Just ask for a receipt at one of the hotels. Nope!! The invoice will not line up!!! Try calling Priceline to get answer... guess what!! They don't care!!! DONT DOWNLOAD APP AND DONT SUPPORT SCAMMERS!!
Unable to use discount code
Got a code from previous trip and at check out there was no place to redeem it !
Nice booking app!
Very nice booking app! I highly recommend it to everyone. Never had any issues with them. Friendly staff
So far so good!
I've found some great last min deals! I love how easy it is to search hotels and book from my phone.
Name your own price has not worked for a year
And the express deals shove second rate hotels down your throat. They say "three star hotel similar to x y and z". And you end up with something that motel 6 would scoff at. Today was the last time I will use them. Switching to Hotwire or Expedia for my travel needs from now on.
Worst experience ever!!!!
Every time I choose an Express deal for Downtown Atlanta they give me the worst Hotel down there which is the Sheraton. That hotel shouldn't even be considered a 4 star hotel. The rooms are extra small and it's old and outdated. When I called customer service and begged them to cancel the reservation because of my bad experiences there they would not. I've been a loyal customer to priceline.com for over 15 years but not anymore!!!
Horrible Customer Service...
Shoregirl1081
on
9/22/2017
I've used Priceline for the last two years to reserve our hotels (numerous trips at least 2 times per month). I'll never use them again and I'll be sure to pass my horrible experience along to all my family and friends.
Bob
99% excellent experience
I LOVE Priceline
Every since I started using it, it has been a great thing in my life. I use it so much I told my family and now THEY even use it. Wish the name your price could REALLY be your own price.
Good Value, App Buggy
John Bananas
on
9/22/2017
The service offered is second to none. The app has not let me pay via the Apple pay option nor the PayPal option ever. It freezes the app up or comes back with an error message of some sort leaving only the manual entry of credit card.
Bad Customer service
They answer very soon when I tried to reeschedule because couldn't flight because of Irma Hurricane. They wrote me back 2 or 3 times but never made the change and I lost my money. Their policy should not be as hard when this kind of things happens. I even tried to add 3 more nights. I change to Booking.com
No problems
Auntycandygal
on
9/22/2017
I have used the app and the website for all of my traveling and never had issues.
Quick booking and awesome prices
Make no mistake, this the best app to look for travel. I've been a customer for more than 10 years.
Amazing
This app has NEVER let us down!!! It has given our family so many wonderful weekends, in amazing hotels, for ridiculously affordable prices!!
Great app
Awesomely simple!!!!
Love this app
This app saves me so much money. Always get good deals and seamless transactions and convenient
Absolutely the best
I love Priceline.com so easy and cheap way to rent a car. Thank you!
Great App, Best Prices
Being honest, I don't use Priceline for booking flights, but I do for hotels and rental cars. I continuously find the best prices with this app. Easy to use, calendar integration option, overall a nicely designed app.
Awesome app
Mikeflyer 767
on
9/20/2017
Booked a hotel at a great rate in less then 2 minutes. The app is great and easy to navigate.
Getting a room
This site give the best deal. I search numerous sites and piceline app was 84. Cheaper then everyone. Loving it like Mickey D's!!!
Easy and intuitive
Kid Scissors
on
9/20/2017
Haven't been disappointed yet!
App is great, rooms sometimes not
The app works great. I almost always find the lowest price on hotels here, however, whenever I book an ExpressDeal, I get the room on the lowest floor next to the elevator. I guess you get what you pay for - at least tonight it's a 4.5 star hotel and it's not a weekend, so it's pretty quiet.
idea to save money
Thanks priceline
Book with ease
Easy, fast booking
Use at your own risk
BusterMcOlsen
on
9/19/2017
While our concert was cancelled and the protests in St. Louis was happening, I figured I'd try to call their customer service teams to see what could be done if anything. Priceline and the Hotel we booked did absolutely nothing in regards of rescheduling us for another night. "Sorry" is all we got. Non-refundable basically means we got screwed out of our stay, because of events out of our control. I will never use Priceline again, you shouldn't either. Stay away.
Poor customer service and disclosure
Priceline completely failed to disclose an extra deposit on my room when I got there. I did not have the extra money at the time and me and my three-year-old son ended up sleeping in my vehicle because Priceline would not refund my money immediately when they took my money from me immediately when I booked. Their customer service is terrible
A useful tool
Use it every week - usually stay in 3 ½ to 4 stars on a one star budget.
Priceline phone app
Words to yo motha
on
9/18/2017
It's good. Would be better if you could choose the amenities or sort hotels by stars.
Happy camper
HappyRetiree2015
on
9/18/2017
Priceline app is very user friendly. Very pleased with app and pricing variations.
Priceline
App works great. Makes get deals a lot easier.
Love it!
Always find great deals on here for flights and hotels! 🤗
Excellent choice
Mehrmashhadi
on
9/18/2017
I really love this app.
Easy to use
Very easy to use
One of the best app for travel
We travel around the world and we love to use this app for hotels & cars a lot and compare with others and it's rarely that some other site has a better price for the quality we look for.
Dirty room
Dirty, stinky, and ran down. Would not change the hotel for me. Have pictures of bed and room!
Fact Sheet
Publisher:

priceline.com

Category:

Travel

Released:

Oct 26, 2009

Current Version Released:

Sep 25, 2017

Version:

15.9

Size:

79.1 MB

Compatibility:

Requires iOS 9.0 or later.

Recommended Age:

4+

Game Center Certified:

No

Supported Devices:

iPad2Wifi-iPad2Wifi, iPad23G-iPad23G, iPhone4S-iPhone4S, iPadThirdGen-iPadThirdGen, iPadThirdGen4G-iPadThirdGen4G, iPhone5-iPhone5, iPodTouchFifthGen-iPodTouchFifthGen, iPadFourthGen-iPadFourthGen, iPadFourthGen4G-iPadFourthGen4G, iPadMini-iPadMini, iPadMini4G-iPadMini4G, iPhone5c-iPhone5c, iPhone5s-iPhone5s, iPadAir-iPadAir, iPadAirCellular-iPadAirCellular, iPadMiniRetina-iPadMiniRetina, iPadMiniRetinaCellular-iPadMiniRetinaCellular, iPhone6-iPhone6, iPhone6Plus-iPhone6Plus, iPadAir2-iPadAir2, iPadAir2Cellular-iPadAir2Cellular, iPadMini3-iPadMini3, iPadMini3Cellular-iPadMini3Cellular, iPodTouchSixthGen-iPodTouchSixthGen, iPhone6s-iPhone6s, iPhone6sPlus-iPhone6sPlus, iPadMini4-iPadMini4, iPadMini4Cellular-iPadMini4Cellular, iPadPro-iPadPro, iPadProCellular-iPadProCellular, iPadPro97-iPadPro97, iPadPro97Cellular-iPadPro97Cellular, iPhoneSE-iPhoneSE, iPhone7-iPhone7, iPhone7Plus-iPhone7Plus, iPad611-iPad611, iPad612-iPad612, iPad71-iPad71, iPad72-iPad72, iPad73-iPad73, iPad74-iPad74,

Supported Languages:

English;