This version of the app is not recommended
App last updated
Dec 21, 2017
Screenshots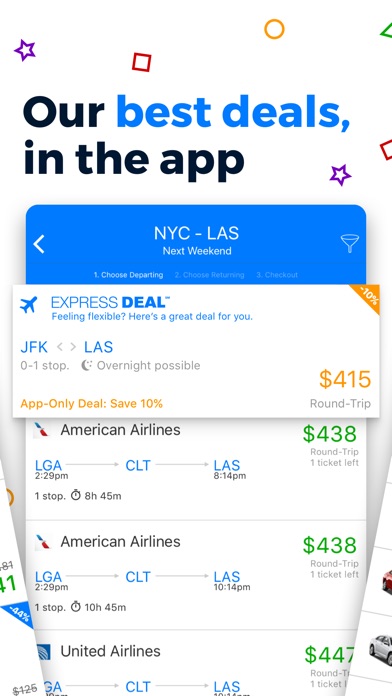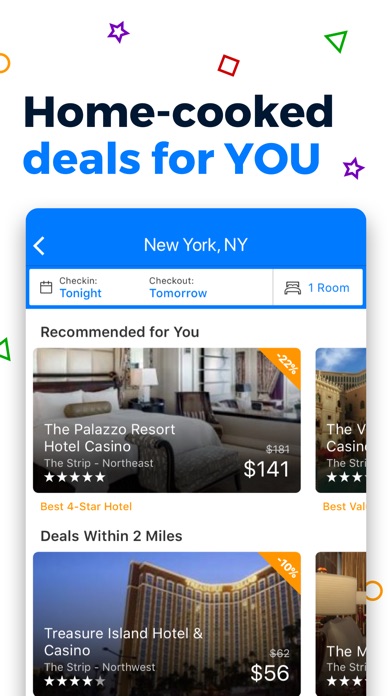 New in version 16.1
We want you to save more on every trip! Check out our app updates below.

• We got a facelift! Same great app, new look!
• Just in time for the holidays: We've added Basic Economy fares so you can save more on your next flight!
• Book our lowest priced rooms more easily! Now you can skip room choice and go directly to checkout for lightning-fast booking!
• Want to use your Discover card? It's now supported for Apple Pay eligible hotels.
• As always, we tackled some bugs to improve your experience.

Thanks for using the Priceline app! It's where our best deals are found.
Description
Get exclusive app-only hotel deals, amazing discounts on flights and rental cars, and the best trip planning on-the-go.

Download the priceline.com app and join millions of happy travelers who book great deals with us every day.

Rated by Travel + Leisure as a Best App for Travelers!

Our app makes people happy:
• Book exclusive hotel deals found only on the app.
• Travel deals everywhere you look - low-priced hotels, cheap rental cars and discounted flights.
• You'll save up to 60% off with Express Deals® and even more with Name Your Own Price®. Seriously.
• Personalized, relevant hotel recommendations. We have the travel deals that matter to you.
• As you search more, we uncover even more deals just for you.
• Super-quick travel booking, especially when you're signed in! We do fast well.

Our app saves you time:
• Did we mention the super-quick travel booking?
• Easily access and make changes to your trip wherever you are with our My Trips feature.
• Get all of your reservation and travel info right on your phone, even if you booked on your computer. Like magic.
• Search by city, address or point of interest to book the most conveniently located hotels and rental cars.
• If you have an Apple Watch, view your upcoming trips and book nearby last-minute hotels just like that.

Our app takes you there:
• Anywhere you want to go, and it goes there with you. But it never complains.
• Across the globe with super deals on thousands of domestic and international flights across the globe. Pace yourself.
• On the road with rental car deals on 22 brands in 28,000+ locations. That's how we roll.
• To wonderful rooms in 800,000+ hotels worldwide. That's a lot of little shampoo bottles.

Our app has your back. And it's watching your wallet, too.

Priceline.com is part of The Priceline Group which includes leading travel brands such as Booking.com, Agoda, Kayak & Open Table
iPad Screenshots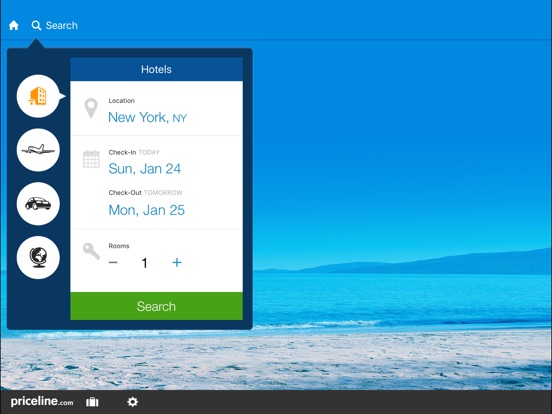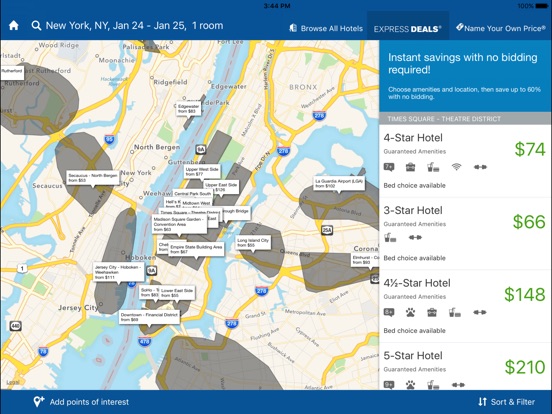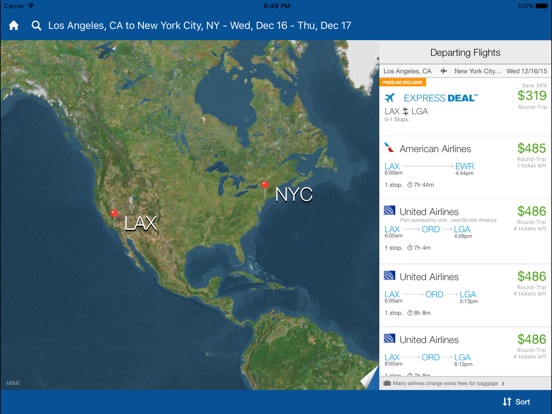 Reviews
Nice and easy!
When I travel, i book on Priceline. It's nice and easy!
Just another unhappy former customer.
Like others have said, issues aren't resolved. This morning I booked a room but got the month wrong. The dates were correct. I contacted customer care chat within five minutes and asked if it was possible to change the reservation dates. They said there was a cancellation fee but would call the hotel asking them to waive their fee. No manager was available at the hotel to answer for 15 more minutes. I re-contacted PL chat 20 minutes later. The new agent read the info from the previous agent and made the call. While I waited fir an answer, I called the hotel directly and talked to the manager who had PL on hold. She stated that they had no problem waiving the fee but PL was unwilling to waive their commission. Mind you, this commission would've happened as soon as I made the new reservation. PL said there was nothing they could do, blaming the hotel. I asked what the cancellation fee was and the said it was the total I had paid for the room, which isn't a fee of any sort. So, for $142, they lost any future business from me and every person I talk to. They could've simply allowed the change in dates, lost no money and been seen as caring about their customers. These people are greedy and stupid.
Excelent app
pigotticarlos
on
1/20/2018
Excellent app for vacations
Lousy for flight booking
Won't let you go back to look at lust if available flights once you choose one just to find out more info.
A company that books thousands of flights can't fix a mistake
I used priceline.com to book a flight to San Francisco out of Dallas.I choose the best price option and they gave me DFW-LAX-SOF and I was looking for a none stop DFW-SOF.Im 34 days out from my flight as I speak and I'm sure that's more then enough time to fix anything. I even offered to pay more money they said no.So all I got from this is I took your money and We are going to treat you like trash.This isn't my first flight with Priceline and I'm most definitely not looking for anything for nothing but if a person makes a request this early out from a flight he should get it I showed you as a business respect by making the request very early I think I should get the same.I say this with disappointment I will never use another third party for travel again my to be wife is very sad over this but it's ok lesson learned She will never have this to experience again.
Not bad!!
Just booked a flight.
Reservation
Easy to view the voices for hotels and to reserve one.
Best app I ever used
Priceline is that deal!!!
Reservation
badappandservice
on
1/17/2018
Got stuck on a page this morning... and no Matter what I did ...even turning off my phone multiple times... I kept coming back to the page. So I couldn't continue any more search's until this afternoon
Great experience
Shootsda Moon
on
1/15/2018
Easy to use app. I messed up a booked the wrong night. Customer service worked with the hotel to cancel and book the right night. Really great service experience.
Multiple flight options
It will be really helpful to be able to add multiple flight option while using the app.
Zero Customer Service
I use Priceline 2-3 times a month. When things go well, it's awesome. But when you have a problem, it's horrible. The hotel says, "call Priceline". When you call Priceline, they say, "You have to take it up with the hotel. Here's their phone or email info." And after a week of no corporate accountability and dozens of calls and emails, you simply give up. And you use them again because it's convenient. Bit their App is awesome.
Well thought out
Big winner 124
on
1/15/2018
Forgot password and had to reset. Second password did not match first. Only app that let me change original instead of having to retype both. Also, link to Apple Pay made fast easy check out and easy to add to my Apple wallet. Plus best price!
The Priceline App is Amazing most of the time!!
FreshBonAppetit w/ JJ
on
1/15/2018
The app is amazing most of the time... sometimes it will give you a lower price and then when you click buy (purchase) it will give you a higher price.... NOT good!🤦🏽‍♂️ However... I do save money with the app and it keeps a great log of all my hotel stays!! Keep up the good work.... Priceline!
Some good, some Really Bad!
Flight was easy, app works great to keep track of everything. Car rental was easy! The hotel... 4 stars on this hotel is a joke. I would give it 2 stars at best. Priceline you need to research your hotels better. Room stunk, toilet didn't flush without help, shower was gross. Pillow stunk. Bed had odd odor along with dirty floors. Behind the main desk of this "4 star hotel" we did have a choice of cheap wine, mac n cheese or Ramon noodles. Classy! Lastly breakfast was your average buffet, however most 4 star hotels include breakfast not charge $22 for an very average buffet. Radisson North Phoenix is extremely disappointing and I won't ever use Priceline to find a hotel again.
Best App ever.
I have used this app over 700 times for hotels and rental cars. I never have issues. You may want to exercise patience when trying to get the lowest prices because sometimes it takes some research and work. But I love this App. Shoot I swear by this app lol.
Amazing
Always my go to for traveling/hotels/cars!!!! Can't beat it 😘
Go on line and skip the app
Nordysgirl1963
on
1/14/2018
You can't search for packages and you're unable to change search to low to high pricing.....infant you can't change at all! Waste of time!
Great Application
A must have when you are booking hotels. May not be always best deal, but surely gives the near best deals. The secret hotel booking with huge discounts is the best feature.
Great app
Not bad considering all the information that has to go into it.
Great app
I've used this app a lot the past few years and I've always gotten great deals with flights and car rentals. Will always use Priceline.
Prices can be higher than other sites
Not always the cheapest route. Priceline definitely is taking a large profit off the top compared to other sites.
Always my "Go to"
I search & search multiple sites BUT always get my best deals with Priceline.
Easy and efficient
The Priceline app is so easy and efficient to maneuver.
Awesome!!!
Nook rook 222
on
1/12/2018
So fast! Very low prices on cars! I love this app!!
Saved As Soon As I Downloaded
I was searching for a one way flight two weeks out and all I was getting was $325, $325, $325. I downloaded the app and had an offer for $214 the instant I opened it. After I closed my gaping mouth I hit book now
Long Beach
DestinyFlower
on
1/11/2018
Very good deals most of the time, first come first serve
Deals show up but aren't honored
Worthless. Deals show up continually but don't go through when you try to book. Customer service is terrible.
Can't book a car twice in same day.
thank you lexy!
on
1/11/2018
So I manage to rent a car from the app for Friday night until Sunday morning. my flight changed so I tried unsuccessfully to rent a car for my new arrival time 8 earlier hours to attend to an important meeting. I want to keep my original rental agreement at 10 pm until Sunday morning. So I tried to rent a car from 130pm until 930 pm and the website won't let me. I talked with an agent and they said they can't help. Cause the website recognizes my original reservation and won't let me add to it. It's not a big deal for me to return to airport to switch or cars. I don't mind. As long as I can rent to make that meeting. But I can't rent a car for my new arrival time and the customer service won't adjust my time.
No Back button
Anthony isonhisgrind
on
1/11/2018
There are multiple places in the user interface..... checkout and settings come to mind but there are more, where there is no way to go back ..... seems this app was designed for people who have Android but we don't have a back button so we need one in the UI
No customer service
I called to cancel a non-changeable / non-refundable reservation from the "express deal" option due to the fact that the hotel selected had such bad reviews that we're scared to stay there. The bad reviews concerning this hotel mentioned activities involving drug dealing, prostitution and hotel guests running businesses out of their rooms. The only response I received from the "customer service" representative is to quote me their policy. I guess that's the default for this type situation. This is the last time I use Priceline after years of use. Deleting the app now. Good luck using this service, if you can call it that. You can bet I will be spreading the type of service I received.
Amazing savings
Priceline is a great way to save your money! Easy to use and they are very helpful if you screw up something. Lol
Horrible Customer Service
I have used Priceline regularly for the last few years, booking hotel rooms through them several times a month. When there are no issues, they're great, but the times there are issues make it unbearable. I booked a hotel using the app based on it being in a specific location, and being able to get a suite with a kitchenette at a great price. Once I received the confirmation, I realized that the hotel was located approx 20 miles away from where they showed on the map, and I had a reservation for a standard room. I was told by hotel employees that they had contacted Priceline several times regarding the incorrect information, but they had made no effort to change it. So after my family drove nearly an hour out of our way to stay in a room smaller than I had intended, I let customer service know about the incorrect information and requested a refund based on it. After a few communications with different CS reps, they have yet to acknowledge that the information was inaccurate, accept responsibility, compensate me for my inconvenience or correct the info on their site. They are intentionally deceiving their customers. Priceline's entire purpose is to curate travel information to simplify the process for users. If I have to use other sites and apps to verify that their info is correct before using them, then they are useless to me.
Bad
Bad customer service ever
Avid Golfer
Johnny Golf Hack
on
1/9/2018
Very easy App to use. Wish you could still name your own price with cars. That was the best.
So far so good!!
I have used the app for hotels and rental cars and have had no problems yet. I have not tried the name your price feature on the app.
Cheapests flights are in Priceline
I fully recommend priceline, I've bought all my plane tickets on here.
Amazing website
Great prices. Fast and easy.
Mrs. Cobern
AminaSahnouni78
on
1/7/2018
I booked a room for my son last minute through the name your price. Priceline took the Payment from his credit card instantly. An hour and a half later he shows up at the hotel to check in and there was not a single person there to check him in. All of the power was out to the entire place. People who had already checked in were running a muck around the lobby asking for answers on why they had no power. Nobody whatsoever was there to answer questions or anything. My son was left to sleep on the streets because we spent our last $45 on this room. I tried to contact someone through Priceline AND the hotel all night long. I understand that there is a no refund policy for this type of booking. However, there should be an emergency number in special circumstances as this. Now, the hotel won't refund him or give him a complementary room because they "never received payment" themselves. Told me I have to go through Priceline. Yet there's no number to talk to anyone. Just an artificial 2 question automated voicemail. Which only gives you the runaround. So we lost money and he had to sleep on the sidewalk in the cold. Mind me, he had no vehicle to sleep in. He showed up by cab to the location. I'll never use Priceline again, and will let anyone I know not to as well.
Good
Kevin12341234
on
1/7/2018
This app is good
Love it
I love this app and Priceline - we can get a good price on hotel stays - most the time we don't care we're in the town we stay and we can get great deals - we have use Priceline for years a never had a problem - if we have made mistakes- we call and they help us throw it and fix it for us - thank you Priceline
Tricked and lied to
i hate priceline so much
on
1/6/2018
Awful, use anything but this service the second time they gave me a list of hotels and yet for the the second time I get a hotel not listed as a possible choice. Of course they will not change or cancel it. Horrible service! Do not waste your time or money with these liars!
Me encanta
Me gusta esta aplicación todo muy rápido
Hotel bookings amazing
I have never been let down, even when doing the bidding and having no idea where they will put me. The one time I had an issue with a hotel shutting down, they immediately relocated me to an even better one AND refunded 25% of my money. Great customer service!
Love it!
I always use Priceline to rent a car. I never had any problems with the app. So convenient.
Don't booked any tickets from Priceline.com
I will never again booked any flights through Priceline.com! Bad experience!!!!
Please check the app's navigation
Daniel in Anaheim
on
1/5/2018
The latest version of the app on iPhone lacks navigation. For instance, I checked to see car rental rates at SNA airport; I then wanted to go back and check the rates at LAX airport for the same dates, only to find that there is nothing to click to navigate anywhere. I had to force-quit the app and relaunch it again. Somebody messed up the app when it was updated.
Price Line is a rip off
Ex Priceline User
on
1/5/2018
I ended up paying over $100 more than the hotel was offering the day before I left and in response to my request to use their "best price guarantee" they sent me a copy of the contract and told me they could not honor my request.
Fact Sheet
Publisher:

priceline.com

Category:

Travel

Released:

Oct 26, 2009

Current Version Released:

Dec 21, 2017

Version:

16.1

Size:

84.3 MB

Compatibility:

Requires iOS 10.0 or later.

Recommended Age:

4+

Game Center Certified:

No

Supported Languages:

English;