TapNova doesn't recommend this app.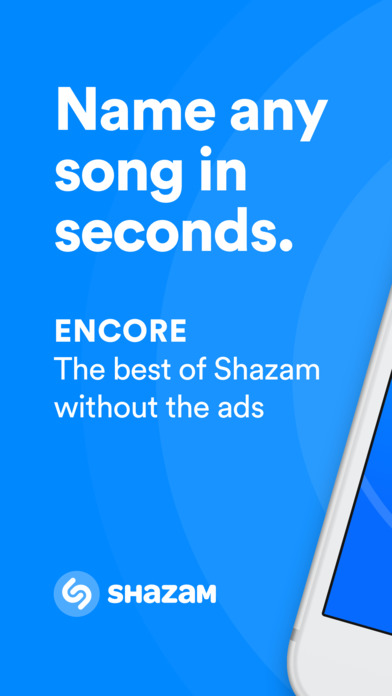 New in version 11.1.2
Thanks for Shazaming! We're always working hard to make the app faster and better than ever. Update to the most recent version to enjoy the latest and greatest Shazam.

Don't forget to keep your Shazams safe and in sync between your devices. Simply create an account and we'll back up your Shazams so you'll never lose them.

Love the app? Rate us! Your feedback is music to our ears, and it helps us make Shazam even better. Got a question? Visit support.shazam.com.
Description
Shazam Encore - the best of Shazam without the ads!

Shazam is one of the world's most popular apps, used by more than 100 million people each month to identify music, get song lyrics, and now to discover the music that artists discover themselves.

"Shazam is an app that feels like magic" --Techradar.com

Identify music instantly and share in the thrill of music discovery with the artists you love.

See what top artists like Calvin Harris, Pitbull, Meghan Trainor, Avicii, Jason Derulo, Wiz Khalifa and others are Shazaming.

• New discoveries from artists you've Shazamed appear automatically
• Follow new artists with a tap of a button and see what those artists are Shazaming
• Stay up-to-date about new singles, albums, and videos from the artists you follow

KEY FEATURES
• Enjoy music lyrics and YouTube videos
• Preview songs with Apple Music and add them to Rdio and Spotify playlists *
• Launch Pandora radio based on artists you discover *
• With Auto Shazam we'll keep finding tunes for you even when you leave the app

DISCOVER & BUY
• Stay in the loop with Shazam's real time charts
• Quick links to Apple Music and the iTunes store
• Connect Rdio or Spotify to play full tracks in Shazam
• Check out recommended tracks to discover new music
• Find out what's popular in your town, your country and the world
• Start an Apple Music radio station based on tracks you've Shazamed

CONNECT & SHARE
• See what your friends are Shazaming when you connect your Facebook account
• Share your discoveries through Facebook, Twitter, WhatsApp, Pinterest, Google+ and more...

SHAZAM FROM YOUR WATCH
• Launch Shazam on your Apple Watch for the artist, song, and lyrics that unfold with the music
• See your past Shazams at a glance with a simple swipe up
• Use Handoff on Apple Watch and iPhone to buy the song on iTunes, watch videos, and much more
• Turn on Auto Shazam and we'll keep finding tunes for you

MORE THAN MEETS THE EYE
• Shazam visual recognition gets you more - tap the camera icon on iPhone to Shazam posters, magazines or books; anywhere where you see the Shazam camera logo
• Visual recognition also works as a QR code reader
• Buy tickets to see your favorite artists in concert

Use Shazam as much as you like – it's unlimited

OTHER INFO
• Previewing and buying music requires the iTunes music store in your country
• Continued use of GPS running in the background can dramatically decrease battery life
• Facebook uses interest based advertising. More details: https://m.facebook.com/ads/ad_choices
• Some features are location, device and app version dependent
• For more information on Shazam's privacy practices, please read the Privacy Policy, available at http://www.shazam.com/terms#privacy_policy.

Any questions or feedback? Check out: https://support.shazam.com
iPad Screenshots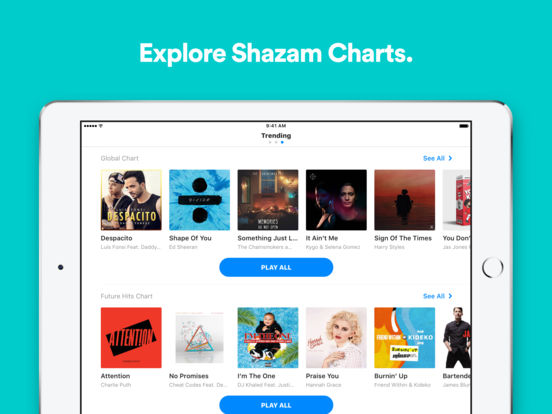 Reviews
AMAZING!
Keg great app
on
7/17/2017
Always accurate and provides you the easy of purchasing a song from any of 4 music providing services (ex. iTunes, Google, etc). So glad to have an app to help me figure out who sings a song AND I no longer need to call radio stations for the info. Well done!
Best
Angel Levario
on
7/15/2017
This app is everything
Wrong
Used to like it but these days it never gets a single song right. Wrong artist constantly. Always wrong. And I paid $6 for this couple years back. Disappointed.
Love it!!!
Love this... so helpful some I can never remember song names.
Wow
Amazing app, didn't really know what to expect, maybe an app that lagged and wasn't that accurate. Nope, this app does what it says. And more, even does movie scores too. Really surprised me and blew my mind. Wow.
Almost Never Works
First version rarely missed a beat, but newest rarely works. Too bad, because it was fun to use in the past; now not so much
Excellent App
itunes.johernandez
on
7/4/2017
Very fast and accordingly as expected.
Great utility
I never miss a song's name
Shazam
Very fast and correct songs and very high quality
Downhill man
Why is it they get rid of the basics in an upgrade? Now you can't listen to the song to check right after you grab it. Lame.
SHAZAM
Comes through all the time! Love it 100%
Great app
Use it all the time I don't know a song
Speed
I work in the electronic music industry. Finally this app is able to capture more of the underground music now more than ever before. And with speed. Excellent improvement!
A life saver
Julianintulsa
on
6/17/2017
I live for music, now I never miss a song to add to my ever growing collection
Faster than SoundHound
I like SoundHound a lot and it was my main tool for a long time, but the price dropped on Shazam and I bought it. Comparing the two, Shazam is waaaaay faster picking up the song. 10x faster. Not an exaggeration.
Used to be 4 stars but hey got rid of auto Shazam
Where is my auto Shazam?! That last update popped my balloon.
Great app
Awesome, does exactly what it is supposed to do. I just don't like all the notifications about songs that people are listening to in my area. I do love the app, always comes in hand.
Love!
This is an amazzing app!! If I don't know an artist or a song- it most of the time tells me! Glad I paid!!!
Falling behind SoundHound
Shazam is great, but it really needs to add the ability to search for lyrics or hum a song in your head like Sound Hound does. But Shazam is limited to only letting you identify songs you are actually listening to, not a song in your head. So SoundHound is WAY ahead in that area. And Shazam really struggles with identifying live performances of songs at concerts or on TV. 50% of the time it has no idea, and the other 50% it returns the wrong version of the song. Sound Hound nails it almost every time. Lastly, if you connect it with your music streaming service, Shazam ads every song you identify to your library. But many songs I identify I do not want in my library. So I have to go manually remove them. And Shazam had no option to pick and choose. But Soundhound lets you choose if you want every song added or just add the ones you select. That's a far better option.
Genius!
LordHappenstance
on
5/31/2017
Must have app for any music lover!
Quick response from developers
Filip Maksimovic
on
5/30/2017
Great app overall, I love the feature when it connect to Apple Music and automatically add song to my library
Still getting ADs (fixed) Great App!
They fixed it and I'm no longer seeing ADs! I also got notified. Great app and awesome customer service!
Stop Adding to Apple Music
This used to not be a problem, but I hate that Shazam adds every song you ID to your Apple Music library. Sometimes I just want to ID the song to know what it is. That doesn't mean I want it in my library. I'll add the ones I want, thank you. Sure you can disconnect Apple Music from Shazam, but then you can't listen to samples to confirm it's the correct song. I've tried tapping the little gear and choosing Previews but it doesn't actually change anything. Give me an option to add songs to my library on a case by case basis and you'll get your 5 stars back.
Even paid version has adds now
I have paid for this application when it costed almost $7. With the latest upgrade I started getting ads. Even though I have the encore version. I don't care about Pepsi or Encore. This is completely unacceptable. Switching back to SoundHound. Update: they reversed the ads and now they are not showing anymore.
Breach of contract
This version of the app has been specifically marketed and sold as being ad free. Ads are creeping in and this changes everything. Not cool to see my Facebook app and my account used upon opening it. Very disappointed. This has to stop!
WHATS WITH THE ADS!?!?
Guillermo S.
on
5/27/2017
Seriously? Ads? After I willingly paid to get rid of them. This is a joke.
Shazam Encore
Alaska Federation
on
5/27/2017
Was nice when this didn't have ads, not so much anymore...
Fixed!
Most used app I have.......
Paid and still "Sponsored" Ads
I had Shazam (RED) and loved, but now it just crashes since they are no longer updating the app. I purchased the Encore version for no ads and yet there is still annoying banner ads. What a rip off. Want my money back.
Adds in paid app
Greedy...
Lies!! Still annoying ads!!
justingenius1
on
5/26/2017
I purchased the Encore version specifically to get rid of that annoying banner ad with Jamie Foxx. I had already paid to have ads removed in the regular version of the Shazam app, and I tried "restoring" my purchase to no avail. I feel like I've been totally ripped off and want my money back. 😡
Works, except for one small bug
I'm one of the very few people that have an apple car play enabled stereo in my car. If I have my phone plugged in to the stereo (even if just to charge) and have the radio playing, Shazam continually tries to match a song and eventually times out and says a match could not be found. I then have to unplug my phone and Shazam matches in seconds. I know it's a small bug, but please fix!
Perfect in every way.
This app accomplices every music lovers dream of finding the name of that new song you just heard. I've used the app for more than three years. And I loved it then and I love it now. I would strongly recommend. 10/10
Good stuff😎
Edited: Not long after I complained about the login issue, the development team quickly fixed it, which is pretty awesome! I like the app along with the new update! Maybe adding a humming function in Shazam? If this feature comes in with next updates, I'd be glad :) ------------------------------------------ Huge update! Huge disappointment! Can't sign in my account. Confirmation email link opened in safari always said address is invalid!!! OMG! Fix it!!! Don't buy this encore version until they fix it!!!
Gorgeous new design!
Lakerfan8224
on
5/20/2017
I'm a huge fan of the new design! It's so much cleaner! Please never change it! Or at least not for a long time!
Great app!
Vondrake brown
on
5/20/2017
I love it
Login issues
Please fix the login issues
Awesome!
Love the new update
Doesn't Work
Since the new update the app won't recognize songs anymore. Very disappointing.
Shazam Encore Review- 5/17/17
Nicholas Hilby
on
5/17/2017
Please fix the crashes. The app will not open when trying to connect with Facebook. How am I supposed to log in with my Facebook account if it keeps crashing ?! Everything else is fine it's just impossible to sign in cuz it crashes.
No recognition anymore
Just doesn't recognize songs anymore......
Egg
Zach Armstrong
on
5/16/2017
You're an egg, Shazam.
Disappointing
I got the Shazam app back when it first came out and it worked so much better.Now it takes several attempts before it recognizes songs and sometimes doesn't at all. I also lost all my tags I had from 2010 when I got the new iPhone 7 Plus. Disappointed Shazam is not as good as it use to be.
Do not like the new update.
redsoxboii445
on
5/15/2017
Can't find anything I used before.
No longer has info on artists.
User interface better but no longer has biographies on artists.
Awful
How was I supposed to know "auto Shazam" now requires a long-press of the button instead of the former simple toggle?? I was all but certain it was gone until I read the change log entirely by chance. You do realize that many users allow iPhone to auto update their apps and don't read the chance log, right?
Fact Sheet
Publisher: Shazam Entertainment Limited
Category: Music
Released: Nov 09, 2009
Current Version Released: Jun 29, 2017
Version: 11.1.2
Size: 125.2 MB
Compatibility: Requires iOS 9.0 or later.
Recommended Age: 12+
Game Center Certified: No
Supported Devices: iPad2Wifi-iPad2Wifi, iPad23G-iPad23G, iPhone4S-iPhone4S, iPadThirdGen-iPadThirdGen, iPadThirdGen4G-iPadThirdGen4G, iPhone5-iPhone5, iPodTouchFifthGen-iPodTouchFifthGen, iPadFourthGen-iPadFourthGen, iPadFourthGen4G-iPadFourthGen4G, iPadMini-iPadMini, iPadMini4G-iPadMini4G, iPhone5c-iPhone5c, iPhone5s-iPhone5s, iPadAir-iPadAir, iPadAirCellular-iPadAirCellular, iPadMiniRetina-iPadMiniRetina, iPadMiniRetinaCellular-iPadMiniRetinaCellular, iPhone6-iPhone6, iPhone6Plus-iPhone6Plus, iPadAir2-iPadAir2, iPadAir2Cellular-iPadAir2Cellular, iPadMini3-iPadMini3, iPadMini3Cellular-iPadMini3Cellular, iPodTouchSixthGen-iPodTouchSixthGen, iPhone6s-iPhone6s, iPhone6sPlus-iPhone6sPlus, iPadMini4-iPadMini4, iPadMini4Cellular-iPadMini4Cellular, iPadPro-iPadPro, iPadProCellular-iPadProCellular, iPadPro97-iPadPro97, iPadPro97Cellular-iPadPro97Cellular, iPhoneSE-iPhoneSE, iPhone7-iPhone7, iPhone7Plus-iPhone7Plus, iPad611-iPad611, iPad612-iPad612, iPad71-iPad71, iPad72-iPad72, iPad73-iPad73, iPad74-iPad74,
Supported Languages: Czech; Dutch; Flemish; English; French; German; Italian; Japanese; Korean; Polish; Portuguese; Russian; Chinese; Slovak; Spanish; Castilian; Chinese; Turkish;
Parental Advisory: Mild Alcohol, Tobacco, or Drug Use or References; Mild Profanity or Crude Humor; Suggestive Themes;