Screenshots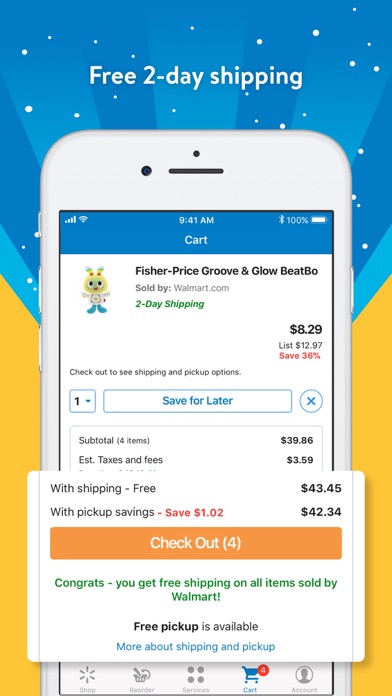 New in version 17.21
• Compatibility with iPhone X.
• Bug fixes for even smoother holiday shopping.
Description
Our award-winning app saves you time and money.

• Free shipping with no membership fee! Get millions of items delivered in as little as 2 days. Details below.
• Use your phone to pay at the store quickly and safely with Walmart Pay.
• Easily reorder the essential items you've purchased at the store and online.
• See which items are available — and on which aisle at the store.
• Transfer money without the long wait or the paperwork! Instead, use the app's Express Money Services.
• Order, transfer, and track prescriptions and refills.
• Faster pickup at the store! Check in from your phone.

Free shipping info: Orders placed before 2 PM get free shipping within 2 business days, not including weekends and holidays. Eligible items only. Min. order $35.

Save money. Live better.
iPad Screenshots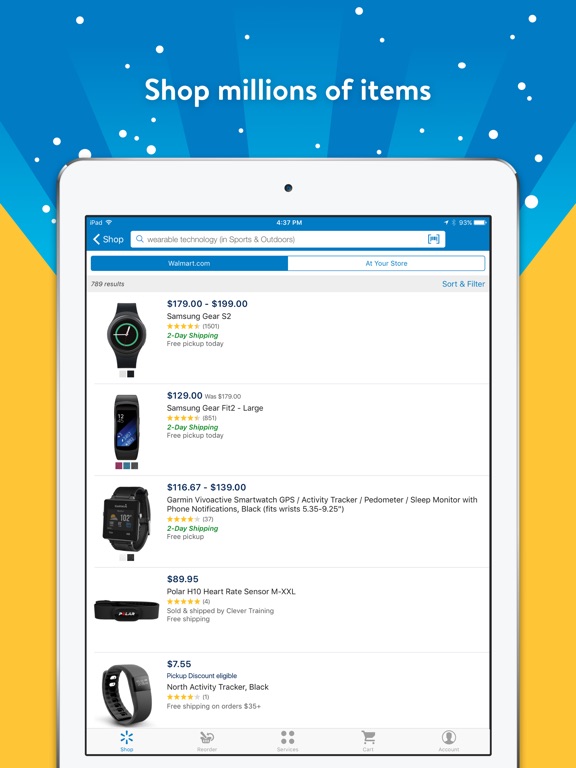 Reviews
Love it!
Far best the best app I've ever downloaded. Return customer for sure!
Disappointed
The best feature was the save your store receipt and now is gone
They limit the amount of items you can have in your cart
The fact that Walmart limits your cart to 36 items is mind blowing to me. Never encountered a store that tells me I've bought enough items and am not allowed to pay for any more. Guess I'll just buy the rest of my stuff from Amazon.
Prior version worked better
My name is Hunter
on
12/16/2017
Cumbersome, try's to be smart for you, but it's not. Slow, locks up...
Leaving gifts on porch but no knocking
DeeDee20005000
on
12/15/2017
Walmart delivered my package to and myself and my family were all at home. Many cars in the front. No one knocked on the door. With all the thieves stealing stuff you would think that they would be more careful!
Scanning reciept
The scan function on the savings catcher cuts off as soon as as it comes up
Essa
hcxxgjrxettess
on
12/15/2017
Exxon 😊aßtrteçhesssesdhbahtyydrsvsehctgfydexggf🌚🦐🦑👨🏼‍💻👨‍💻👙🐯 yusvcbeseeesesZfd is because fed ucraniano drs 😙😜😞😣🤓😣😑😔😤😎😫😮😑😻😫😒😭🤤😨😰😸☝️👩🏼‍🏫😑😁🤣😉zdgtyucuxtztecyftfttzfrdhffsh☠️😠👌🏼😁😛🤑😘😍😍😜🐠🐟🐎🐈🐖🐕⚡️
Can't find Check-Out
Tried using app today in store for check out, couldn't find the right button. Done. Good bye. I don't need the lock-in or aggravation.
Needs an update
When trying to load purchase history there is often an error loading. I think the app needs an update.
Reviews
Herb Smoker420
on
12/15/2017
I use this app a lot. You can find ANYTHING on there and ship-to-store is free and very convenient for me however, one thing that's been driving me bonkers is that I base my purchases on reviews and in order to look at ALL the reviews you have to back out of the listing and go back in to see them all. If you click all reviews from the listing it shows zero reviews. It's maddening. Recent things I've found surprisingly on the app: solar power everything including accessories like battery cables. Aromatherapy humidifiers and essential oils. Natural Ice chapstick (it's the best) Pretty much everything you find on Amazon but with FREE SHIPPING. Love the savings catcher. Love Walmart Pay. Love seeing my receipts. Love the reorder option. Love the app. Just fix the reviews.
Fix Walmart pay
Set up Walmart Pay....does not recognize the QR code, keeps telling me "that's the wrong code! Please scan the square QR code at the bottom or enter the code". What code???????? (And yes, I was scanning the square code at the bottom)
Log in problem
Everytime i will check my walmart credit it always ask to register . And i had done a couple of reset password cause wont go through .. even i change it still dont work 😤. Hope you fix it thank you
What happened-please fix
Chevy Cowgirl
on
12/14/2017
I'm not sure what's going on with this app, I used to love it. I'm extremely busy and do a lot of my shopping online. Now when I use this app I can only re-order things. If I click on an item to view details, it says there is a problem loading the item. If you can't load the item, you can't purchase it. I'm super sad and I hope it's fixed soon.
Great app
So easy to se and everything is in one place. Nicely done.
Walmart pay
Doesn't work. Walmart won't help fix. Walmart app works 30% of the time. End up having to re scan my items in order to pay with the same pay source that is on my Walmart pay that continually says use alternative pay source. Tried to get help with app got transfer to 5 different people. They are not knowledgeable about app. I love the premise of the app but it's not a reliable option.
Pricing Issues
The prices in the store for certain items are significantly less expensive than reordering them through the app. In the store, the cereal we like is $1.84. It is $3.77 when buying through the app. If Walmart is trying to compete with Amazon, they are failing. Having a price online that is almost twice the in-store price is ridiculous.
Frustrating to highest point
I try and try and try to apply to work here and get nothing but redirected to a sit that has nothing to do with Walmart! Very frustrating all I want is a job!!!!!
Disappointed "Lists" are inaccessible thru App
dwmcnall358
on
12/14/2017
See title. Please make this change. What's the point of allowing users to add items to create & add to a "list" if the only way to review or edit lists is through a web browser and currently NOT the app? Shortsighted, poor planning.
Update
averysweeley
on
12/13/2017
Latest update make is hard to use. So frustrating to look up things in categories. Going to have to start looking around at Wayfair
Unsatisfied customer
If I could rate it no stars I would. I used the app to order online, check store inventory, and for prescriptions. The app was recently updated and I am now in my third week of trying to get it cleared up. I have talked to my local pharmacy twice and talked with 7 people as of today and still nothing. Hate it.,...
1 ⭐️
AppleNutsSPM
on
12/12/2017
Just updated app. Now it automatically signed me out. Error to sign in. Fix this.
iPhone X
Johnnyboy1960
on
12/12/2017
Where is the Face ID. It takes too much time to type a password every time I want to sign on to Walmart's App. Target uses Face ID. I don't want to favor one App over the other based on typing or not typing passwords.
Don't buy from Walmart
ChinaTown77
on
12/12/2017
If I could rate them no stars I would. This company steals money on misrepresentation of their products and not owning up to their errors. I've personally made countless BBB complaints as well as have seen what others have gone through. Go elsewhere than here, do not give your money to these frauds.
?????
This app was working great but now everytime i want to use it it says no internet connection. Im highly disappointed
Pricing problem
russell1259
on
12/12/2017
I've found that the pricing of products is wrong in many cases so much so that I must check other sites to come pair! I'm most likely going to delete this app as unreliable.
Fire them all.
The developer team who decided to change how to view and order pharmacy in this app needs to be fired, along with everyone in the chain above them for approving it. I was able to view all my medication and order easily using verification I set up in the app. Now, I must go through a verification process for each medication, answering credit application like questions about a relative and where they live. Why do they need that information!?!
Amazing App!!!❤️
I love this app,it's easy to use very convenient..I highly recommend this app!!! More Power Our Team!!! Luveeet..👍❤️
Fantastic app
Fantastic experience. Always work seamlessly for me and able to find any single piece of information I want to find about past purchases
Good
Now it have supported iPhone x already
Nah, this app isn't tight!!
Can't order nothing. It wouldn't let me go to the payment method to finish out my purchases
Pharmacy History is gone!!
All my pharmacy history is gone. It says I haven't filled anything in 15 months. I filled something just last month.
Magnificent delayed.
Monjur murshed
on
12/11/2017
Orders never arrived on time.
Awesome
Kaylee.loves.cookies
on
12/10/2017
This is an awesome app......I love it , I can buy almost anything I can think of.👍🏻👍🏻
Needs iPhone X Support
The app is buggy and slow to load at critical times (ie Walmart Pay).
11/22/17 12/10/17
12/10/17 NOW THIS DAM APP IS FROZEN IT WOULD NOT OPEN👎🇹🇹 I used my iPod at this store and store WiFi is the worst! Also the app in store availability is dam flipping wrong I checked availability for this blue bissell vacuum THE APP STATED THEY HAD IN STOCK! I went there early using ACCESS A RIDE I AM DISABLED AND THIS APP FAILED IN VALLEY STREAM LOCATION AND COUPONS THAT ARE FROM MANUFACTURER THEY DID NOT TAKE IT MIND YOU THEY EXPIRE IN 2018! I used those same coupons at this Walmart earlier this year! The manager for cashiers that dude explanation I did not understand I WOULD NOT BE GOING BACK TO THIS LOCATION THE QUALITY FOR MOST ITEMS FOOD CLOTHES ETC MISSED MY SATISFACTION APPROVAL! Target is where I would shop from now on! Quality items yes WALMART HELL NO👎🏻
Great App
Love the convenience of using this app. It is easy to use and the app works with no issues.
Walmart In Wood River IL USA Is Racist!
Walmart in Wood River IL 62095 USA don't have Dance Moms on DVD at all therefore they are racist to me. They should have something for everyone when it comes to DVD's, they all get the same DVD every day and every year i know this because i shop there everyday.And not all of us like to shop on apps or on the internet because it is not safe at all.I am not lazy like some people, i goto the store if i need something.Take care. And God bless Earth.
Walmart
jaden12024881
on
12/9/2017
I love that we get to have our own cart
Dear GEC,
Where's Walmart Pay with the iPad app???
Needs iPhone X support
iPhone X support
Great prices daily
Awesome atmosphere, every time we visit, at Walmart ( Forney) with great prices world
Walmart will not honor return policy for online orders
cheated by walmart
on
12/8/2017
I ordered A drone from Walmart and it did not fly. when I tried to return it to Walmart they would not take it back because they said it was a third-party purchase. do not order from this site.
Of all the things to screw up for visually impaired users, why is it always the pharmacy?
Mom24monsters
on
12/8/2017
For most things, other than the fact that they keep changing where different buttons are, confusing those of us with visual impairments, I typically don't have many complaints, except for one, and it seems to be a constant. Please stop messing up the pharmacy. Just when I think that everything is OK, something gets messed up. Now, I can't even check the checkboxes for the items that I need to refill when using VoiceOver, which makes the iPhone talk for those of us who can't see. I shouldn't have to get sighted assistance.
Walmart Pay Not Working
Inlovewithtravis
on
12/8/2017
I *loved* this app, but Walmart Pay no longer works. It's very frustrating.
Ugh.....
cant login....EVER
on
12/8/2017
All I'm trying to do is "check-in" for pickup by clicking in YOUR EMAIL. When I get to the app, there is no pickup checkin option???? Seems it would be listed under services where one could actually find it!!!! Frustrating!
They don't really price match
They just to price match at the register, no anymore!! But the employee keep telling me to scan my receipt on the app and I'll get my money back. Well, guess what? They don't match liquor, meats, or produce and only god knows what else they don't match.
Nope, nope and nope
This app is absolutely useless. I'm NEVER able to pull up my purchase history. I get "Oops! Something went wrong. Try again." It's not my connection either. It's the app. They've managed to go from a 2 Star app to a -5 Star app. Way to go Walmart.
Ok I guess
App is fine. The convenience of pick up only applies to groceries. So I can buy a few bags of groceries and get curbside service, but if I buy a freaking SHELF I gotta go inside and pick up up? Riiiight.
Fact Sheet
Publisher:

Walmart

Category:

Shopping

Released:

Nov 02, 2009

Current Version Released:

Dec 11, 2017

Version:

17.21

Size:

168.1 MB

Compatibility:

Requires iOS 9.0 or later.

Recommended Age:

4+

Game Center Certified:

No

Supported Devices:

iPad2Wifi-iPad2Wifi, iPad23G-iPad23G, iPhone4S-iPhone4S, iPadThirdGen-iPadThirdGen, iPadThirdGen4G-iPadThirdGen4G, iPhone5-iPhone5, iPodTouchFifthGen-iPodTouchFifthGen, iPadFourthGen-iPadFourthGen, iPadFourthGen4G-iPadFourthGen4G, iPadMini-iPadMini, iPadMini4G-iPadMini4G, iPhone5c-iPhone5c, iPhone5s-iPhone5s, iPadAir-iPadAir, iPadAirCellular-iPadAirCellular, iPadMiniRetina-iPadMiniRetina, iPadMiniRetinaCellular-iPadMiniRetinaCellular, iPhone6-iPhone6, iPhone6Plus-iPhone6Plus, iPadAir2-iPadAir2, iPadAir2Cellular-iPadAir2Cellular, iPadMini3-iPadMini3, iPadMini3Cellular-iPadMini3Cellular, iPodTouchSixthGen-iPodTouchSixthGen, iPhone6s-iPhone6s, iPhone6sPlus-iPhone6sPlus, iPadMini4-iPadMini4, iPadMini4Cellular-iPadMini4Cellular, iPadPro-iPadPro, iPadProCellular-iPadProCellular, iPadPro97-iPadPro97, iPadPro97Cellular-iPadPro97Cellular, iPhoneSE-iPhoneSE, iPhone7-iPhone7, iPhone7Plus-iPhone7Plus, iPad611-iPad611, iPad612-iPad612, iPad71-iPad71, iPad72-iPad72, iPad73-iPad73, iPad74-iPad74, iPhone8-iPhone8, iPhone8Plus-iPhone8Plus, iPhoneX-iPhoneX,

Supported Languages:

English;