Screenshots
New in version 9.5.1
Hot off the press: the latest OKC improvements

- Upgraded our Swift code to version 4
- Removed non iOS 11 compatible frameworks. This included one for phone number detection in messages, so let us know if you have any issues saving those digits when you get 'em.
- Worked on multiple new features that will be releasing soon. One will even let you search profile text, so you can filter on "dog dads" or "plant moms".
Description
OkCupid is the only FREE dating app that knows you're more substance than just selfie. That's why over 40,000,000 people have used OkCupid to find better dates.

There are two kinds of dating apps: theirs and ours. We go below the surface to highlight your individuality and help you connect with people on a deeper level. Sounds like a nice change, right?

HOW IT WORKS
We ask you questions to get to know who you really are. The better we understand you, the better we can match you with people you'll click with.

Your profile lets your individuality shine through. Whether you're a dog lover, foodie, or zen master (or all three!), here's where you can show it off.

DoubleTake combines the ease of the swipe with the essential depth a rich profile provides. In DoubleTake, you learn more about potential matches right from the start.

When you see someone you like, send them a message! It's always free to message, and there's no worrying about who has to message whom first.

Go on dates! Whether you're looking for the one (or not), OkCupid helps you find more authentic connections along the way.

UPGRADE TO A-LIST
Joining A-List opens up a ton of awesome features to enhance your experience.
• See who likes you
• Enjoy advanced search options and filters
• See if your messages were read
• Change your username
• Store more messages

1 month packages start at $9.99
3 month packages start at $23.99
6 month packages start at $29.99
12 month packages start at $39.99

Payment will be charged to your iTunes Account at confirmation of purchase. Your account will be charged for renewal within 24-hours prior to the end of the current 1, 3, 6, or 12 month periods.

Auto-renewal may be turned off by going to the user's iTunes Account Settings after purchase. No cancellation of the current subscription is allowed during the active subscription period.

Privacy policy: https://www.okcupid.com/legal/privacy
Terms of use: https://www.okcupid.com/legal/terms
iPad Screenshots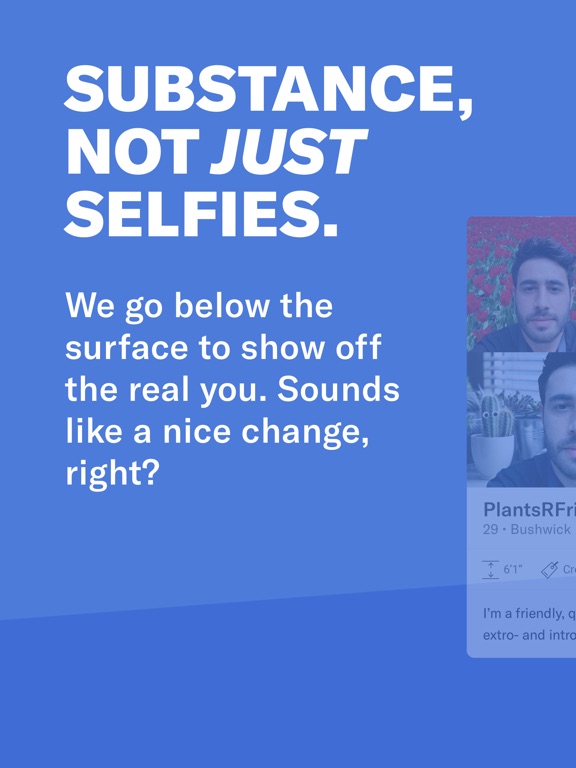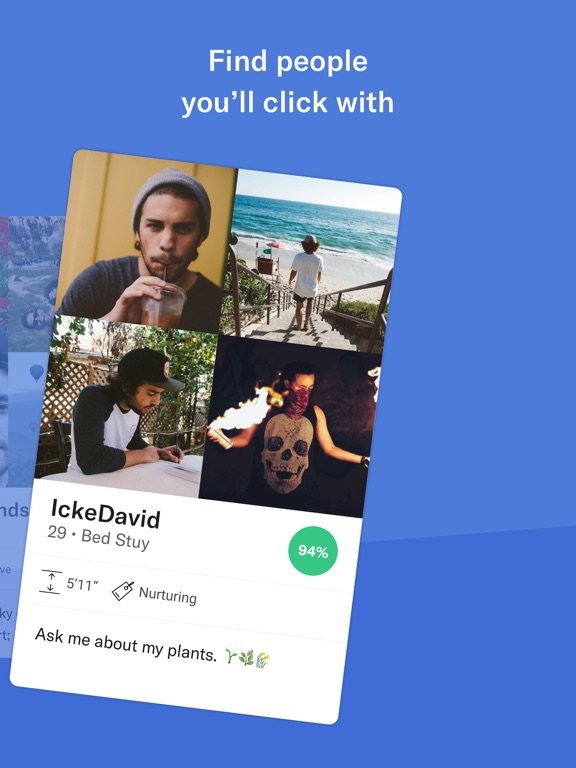 Reviews
Not liking the changes
Adding in all the ways to like a profile, or picture, or written section make this app way too stressful to use. It's meant to be based on profiles and actually seeing what someone's about, but every time I try to scroll down I end up liking something. It's a huge deterrent to actually looking at profiles. If everything is able to be liked, it should also be able to be unliked in case of accidents. And if you pass, that person is gone. But I don't live in a huge city. Maybe someone hadn't updated their profile in a while, and I wasn't interested based on who they were, but would be when they update their profile. But now I would never find out. Also, bring back the feature to see who looks at your profile, and the ability to message without liking. The views are how I figured out someone might actually be interested. This is just becoming tinder.
Got suspended without reason
After searching which is the good dating site, I gave OKC a try. I just signed up yesterday with Facebook account. Then I put my profile, answered questions and enjoyed reading other profiles so far. Because I'm new here, I have not done any violations at all. I have only clicked Like some profiles but not yet sent one single text to anyone. Suddenly, I got kicked out and couldn't log in anymore. It said my account got suspended. WTH!!!
Horrible decision removing "Viewed Me"!
I have been on the fence about removing my OkCupid account for a long time, but every time I am about to delete it, I meet someone. A few updates ago OkCupid made a horrible decision and removed the "Viewed Me" option, which makes it that much harder more annoying to use the site. OkCupid was never my main site, but I kept it because of the before-mentioned point. With the removal of "Viewed Me", I am finally going to delete the app and profile. Horrible decision!
Better after reversal of removing features
TheloniousMunnk
on
10/18/2017
Thank you for reversing some of the bad changes in search!
Issues
They ruined the app. This is not Tinder. No longer being able to see who views your profile and when is obnoxious. Constantly trying to get people to upgrade just to see likes is obnoxious. Anyone giving this app that has used it since the beginning more than two stars is lying. Any new review of 4 stars or better is fake.
Changed for worst
Used to have a lot of luck on here when I started over 3 years ago. Even had 2 relationships from this app and used to be so many users. Now its as if nobody uses the site anymore? When I search the only filters I put is 25 miles away from me and I live in a major metropolitan city btw, and I put my age range 21-27 and literally 10-15 people show up. What is going on???
Garbage since the new updates
iPhone App Reviews -
on
10/18/2017
Bring back the "who's viewed you" feature! And sort out the glitch that makes it to where you stop getting messages for no apparent reason. Rubbish
Likes are crappy now
Kittenz4Life
on
10/18/2017
Been using this app/site for some time. This most recent update makes accidentally liking someone a frequent occurrence since there are "like" stars ALL over everyone's profiles—just try looking closer at someone's pics or profile and boom! you've liked them unintentionally—and trying to unlike and get back to a state of neutrality is impossible since all you can do to unlike is "pass" and therefore remove them from your results altogether. Very annoying. Also—I paid for this subscription so that I could have the luxury of browsing invisibly but still seeing the likes and visitors I get. That's been taken away, so at this point I feel I haven't gotten what I paid for and will not be renewing my subscription.
White screen
Ericcccccvc
on
10/18/2017
Signed up and all I can see is a white screen. Need to fix
Getting worse over time.
BigBossCylon
on
10/18/2017
I've been on OkCupid now for 4 years and this by far the worst version to date. I'm not talking about the removal of the visitor page, that's actually okay. But the fact if you like someone they are completely removed from the match/enemy etc. pages. What's the point in that? Being a guy, women's accounts get flooded by.... desperate people... so how am I supposed to strategically message someone when they're online so I don't get lost in the shuffle or continue a convo if I never know they are online? Maybe it's for the best? But I don't believe so.
Awful update.
Down is the New Up
on
10/18/2017
The app has basically become a tinder clone and has locked everything behind paywall.
Liking pictures?
Darkpocalypse
on
10/17/2017
While the new picture liking seems interesting, I've accidentally liked pictures without having the option to remove the like which has led to a couple of messages from people who think I purposely liked their whole profile on the daily match. Please fix... This is awkward.
Last Few Updates Were Terrible
They keep removing functionality. Basically the app is becoming a crappy version of Tinder. You can't see who viewed your page. If you swiped left on someone you no longer see them and have no way of reversing it. Don't even bother. Just go to a bar or coffee shop. People keep telling OKC about their personal experience and they keep replying with canned responses with irrelevant data. We're telling you we're dissatisfied. Listen. UPDATE: Still terrible.
Can't see 90% match or higher without upgrade
oceanbreezecolorado
on
10/17/2017
As a woman who has strong religious belief it makes the top 10% most of a match. You have to pay to see these now You can't email without liking someone You can't see visitors The questions are very liberal and hypocritical And I never really get emails anymore since their upgrade They are milking the cash cow to get to you subscribe more. And it's apparent the developer responses are just them deflecting their issues As a engineer with ux let me tell you this is bad practice and you need to listen. Don't push off these comments as it will start effecting people signing up in general Your swipe you have to really pull left or right to take You limit swipes to the right as if you know what's best for a user They limit who you can see unless you're a list so people who you may be compatible with and decent looking you'll never see because you have to upgrade Ethics are key OKC - you wrote those questions why not take a page out of your book
Latest update ruined the app
Firesidezeus
on
10/17/2017
With the last update where you have to like someone to message them, and people that you liked and messages not showing up in searches anymore this app which was my preferred dating app is now my least favorite. There are other changes that I don't like but this one is the biggest annoyance.
New update is bad!!
Make the app boring
Dumb app
Gogoly!GOD94
on
10/16/2017
Didn't last 3 mins in this app. Tried connecting my Instagram 4 times each time it would give an error. Stupid
Liked the old app better
Not really a fan of all these changes. It's easier for dudes to get all creepy now.
The struggle is real
Jeanna Larae
on
10/16/2017
Lags, slow, takes forever to load, drains your battery (iPhone 6s) doesn't update quick enough after you delete, reply etc... I could go on and on.
Bring back
Your update stinks! Your app use to be really good! You use to be able to see more people now I can see like 5 when I tap the Magnifying glass to search, you cannot see who looked at your profile anymore this was a very nice feature along side letting others know who viewed them! Your app has gone down hill from when you started your look like a wantbe tinder!! You also took away the chat option on the profile you have like someone first to chat this needs to go back as well! The whole GUI and update are horrible!! Bring back the original don't try to be tinder or a Zuckerberg, we come here cause okc is better than tinder and the other pos apps don't push your customers away give them what they want!!
filters on liked list needed
since we have to use the like list, can you please add a sort and filters by online status on liked list, otherwise this app is useless
Jumped the shark
Thedonald90
on
10/16/2017
OKC feels like it's under new management. The algorithms have been changed wildly. And I don't feel it's for the better for anyone. I don't mind that you can't see visitors. And I actually agree with the big move, of only showing matches with whom you fall within their age category. With that in mind, I have definitely had successful dates in made long-term friendships with women with whom I fell outside their Age range. But also there seems to be some new algorithms that govern geography and some subjective "attraction" aspect. Thereby reducing matches for everyone who has been on here for a while. Most affected, are people who might not be heterosexual or are polyamorous at some level. Nevertheless, OK Cupid has totally changed for the worse. I'd recommend POF , before OkCupid.
Garbage
I tried this for a little while and even did the 7.99 for one month to see if that would increase views. All I got were spam bots. I closed my account but the subscription service kept rolling. Make sure you turn that off in your settings because I have been paying for this garbage since August and I stopped using it in June.
Terrible
voice_killer
on
10/15/2017
It updated and I lust all my matches and everything I had like 5 people in my feed. Had to delete. It's garbage
Not bad
Omar Alesharie
on
10/15/2017
It's a good app but very slow
Nothing against okc
leolovesearcher
on
10/15/2017
I don't think it's anything against okc, it's like every other dating site. Some are looking to get laid and some at catfish 😂🤷🏼‍♀️
Now this..
darkspine17
on
10/15/2017
So first you take out who viewed your profile, which was understandable because it doesnt make sense to have the feature on A list where you can see who liked you if you can see who visited you. But now you've made a generic update where you have to match to message someone. This is basically tinder now. Being able to message someone is the last thing that made the okcupid unique, but now its garbage. Good job 👍🏼
Connecting with divine souls!
I love it. It's so cool to have so many amazing people connect on a spiritual level!
Can we be discreet SOMETIMES?
There is no way to unlike someone you've accidentally liked. You just stuck with them thinking you're interested when you not at all be. If I get online at 4am to look at my messages I may not want others knowing at that time that I'm online. There should be an option in settings to turn this on and off.
Ok Cupid needs live chat for safety
Please think about creating live
Not OK
New changes are utterly useless. Makes the app even unappealing now. In search section, decision to filter Profiles that we swiped right before is dumb. Now I don't even know which profiles I found interesting
It was my favorite dating app
Raulthebest
on
10/15/2017
Before the app was perfect , you could see all different types of people now on "last online" or "match %" you can only see like 7 people is always the same girls I really don't get why would you ruin such a beautiful app you had , I would be deleting soon , is like a ghost town app .Hopefully you can bring back someday the original okc which was great .
Awful new version
I was going from talking with several women a week to zero the past few weeks. i think it's because they changed their format of needing to "like" someone first before messaging. just terrible. this app is not unique anymore. and the visitors have disappeared also. was doing so well with this app. now it's horrible.
This latest update destroyed the app!
This latest update completely destroyed all the great features OKC offered. Bring back regular messaging. If I want to message and not like someone give me the freedom to do so. All these restrictions are an enormous turn off!
Asking for review = 1 star
This is an active protest against review request nag screens.
Messaging failure
Wee-est of Brees
on
10/14/2017
I can't see messages people have sent me
you ruined your site
this site is awful now, all the new changes are just beyond stupid so swiping left on someone removes them all together.. that would have been nice to know before I swept left on a bunch of women trying to find one girl in particular can't even use the site, deleted my account
Why fix a system that wasn't broken?
Used to be able to search for people in all different ways. This is absolute garbage now. Goodbye okc Update. Yes your system is awful. Look at all of the complaints and negative reviews you are receiving. You took an app that used to be good and are trying to turn it into a tinder remake. Way to be innovative
Joke of a company
Been using this app for probably about 2 years and just recently, my account got banned for absolutely no reason. Support said I violated its terms of conditions but I have been doing nothing different. OKC wouldn't recover my account. Tried making another one but that didn't work either.
People who seen you
gone4thenight
on
10/14/2017
I miss being able to see who has looked at my profile
OKCupid is great
Mutate Or Die
on
10/14/2017
Personally I have found OKCupid to be a great resource for connecting to meaningful people I would have never met otherwise. I really appreciate OKCupid's attempt to civilize dating and believe it is working!
FORMERLY the best dating app
OkC used to be fantastic- far and away the best dating app. For this reason, I had an A-list subscription (and still do, though I intend to cancel it). Gradually, however, they've been removing more and more features. The most recent avalanche of changes is baffling: if you've interacted at all with someone (liked or messaged), apparently they cease to show up in your potential matches! Also, I'm entirely at a loss as to what is the benefit of having A-list. Perhaps the most disappointing aspect of all this, however, is OkC's dismissive and condescending attitude towards its users.
Once great app ruined in latest iteration
This app seems to get less useful with every release. First they take away visitors, which I don't like, but sort of understand. Now, in the latest version, liking someone removes them from your searches / feed. WAT??? Who thought it was a good idea to make it harder to see the people you like? I was so convinced that this was a bug, that I deleted the app and reinstalled on a different device to see if new hardware might fix the issue. It wasn't until more recently that I realized that this was actually.... gasp.... a "feature."
New Version Terrible
Not a good experience. What happened to the mutual likes? The visitors? I don't receive as many messages as I would like, I tried to like more profiles but what I don't understand is this: so in my search filter I have doesn't have kids and taller than 6'0" (I'm tall as well) and yet, the swiping thing gives me men as short as 5'4" and a good majority of fathers. How does that help?
Chill with the likes
I have been a paying subscriber for a while. I don't mind terribly that you got rid of visits. What kills me is how easy it is to inadvertently like someone's profile. I just want to peruse the photos of some, then "AAAAHHHH, NOOOO", my thumb just hit that stupid star on their photo! Move that out of prime thumb real estate please. Also add something truly useful, like the ability to filter bookmarked profiles.
Great App!
Janet Zipper
on
10/14/2017
Easy to use and I like the fact that they ask you many questions to make matching you with someone more successful
I just can't quit you
I've met all my 'longer relationships' on OKC in the past few years. Those aren't long though. It's nothing about the app but the people on there do not want long term, for the most part. But I've found some great friends. And it weeds out tree weirdos. So thank you.
Can't see anyone... What's the point?
jason.glassbrook
on
10/13/2017
Whatever the latest change was, it completely destroyed the experience. They "tidied" the search interface by removing everyone you've swiped on, regardless of view. Special Blend is meaningless, you can't see everyone sorted by Match%, you can't see who was last online, etc. The only indication you have of (mutual) likes is on the likes tab, which is sorted by when you/they liked, not when they were least online, how well you match, etc. Removing visitor tracking was actually a good decision. It meant you actually had to like someone to show interest, not just vaguely visit someone and hope they noticed (and that they didn't assume visiting meant interest). I stopped worrying about whether people would see me visiting them, so I viewed more profiles. This change actually breaks the experience: now it's basically Tinder with fewer people. If this change persists, I'll cancel A-List.
Bring back seeing who visited your profile
UPDATE: I don't know how on earth the reviews have gone from 1.5 stars to 4.3 when the app continues to be less and less useful. The only way to talk to somebody is if you like them. And then you get locked out of likes for using too many. This app is turning more and more like it's competitors instead of embracing the differences that make it better. I was always more likely to message somebody who visited me because I could see that they had interest outside of simply swiping right. Yes, the developers are getting more likes and messages, but that does not necessarily translate into responses, conversation, and dates. Developers, listen to feedback and make changes instead of attempting to placate and explain your horrible decisions and changes. At one time OKC had features that set it apart from other dating apps. Now it has moved to the age of swiping. I enjoyed seeing who was looking at my profile, as it helped me wade through countless other profiles. Now it is full of inane graphics that look like kindergarten drawings and no helpful ways to make a connection. Back up a few versions and maybe your reviews will be better. Update: I did not pay for A-List and did not care about browsing invisibly. I liked being able to see who was looking at my profile and letting people see I was looking at theirs.
Visiting feature
Scrolling through an overwhelming number of negative reviews in the last month criticizing the removal of the visitors feature has deterred me from paying for the paid version after hitting download. If this feature was so valuable, and so much feedback has told you that, why are you deliberately ignoring it on the basis of some arbitrary statistics? Does your company traditionally disregard the feedback from its consumers seeking a better user experience?
Fact Sheet
Publisher:

OkCupid

Category:

Social Networking

Released:

Nov 25, 2009

Current Version Released:

Oct 16, 2017

Version:

9.5.1

Size:

51.8 MB

Compatibility:

Requires iOS 9.0 or later.

Recommended Age:

17+

Game Center Certified:

No

Supported Devices:

iPad2Wifi-iPad2Wifi, iPad23G-iPad23G, iPhone4S-iPhone4S, iPadThirdGen-iPadThirdGen, iPadThirdGen4G-iPadThirdGen4G, iPhone5-iPhone5, iPodTouchFifthGen-iPodTouchFifthGen, iPadFourthGen-iPadFourthGen, iPadFourthGen4G-iPadFourthGen4G, iPadMini-iPadMini, iPadMini4G-iPadMini4G, iPhone5c-iPhone5c, iPhone5s-iPhone5s, iPadAir-iPadAir, iPadAirCellular-iPadAirCellular, iPadMiniRetina-iPadMiniRetina, iPadMiniRetinaCellular-iPadMiniRetinaCellular, iPhone6-iPhone6, iPhone6Plus-iPhone6Plus, iPadAir2-iPadAir2, iPadAir2Cellular-iPadAir2Cellular, iPadMini3-iPadMini3, iPadMini3Cellular-iPadMini3Cellular, iPodTouchSixthGen-iPodTouchSixthGen, iPhone6s-iPhone6s, iPhone6sPlus-iPhone6sPlus, iPadMini4-iPadMini4, iPadMini4Cellular-iPadMini4Cellular, iPadPro-iPadPro, iPadProCellular-iPadProCellular, iPadPro97-iPadPro97, iPadPro97Cellular-iPadPro97Cellular, iPhoneSE-iPhoneSE, iPhone7-iPhone7, iPhone7Plus-iPhone7Plus, iPad611-iPad611, iPad612-iPad612, iPad71-iPad71, iPad72-iPad72, iPad73-iPad73, iPad74-iPad74, iPhone8-iPhone8, iPhone8Plus-iPhone8Plus, iPhoneX-iPhoneX,

Supported Languages:

Arabic; Burmese; Central Khmer; Chinese; Danish; Dutch; Flemish; English; Estonian; Finnish; French; German; Hebrew; Hindi; Indonesian; Italian; Japanese; Korean; Lao; Malay; Bokmål, Norwegian; Norwegian Bokmål; Polish; Portuguese; Russian; Chinese; Spanish; Castilian; Swedish; Thai; Chinese; Vietnamese;

Parental Advisory:

Mild Alcohol, Tobacco, or Drug Use or References; Mild Profanity or Crude Humor; Mild Sexual Content and Nudity; Suggestive Themes;