Screenshots
New in version 9.9.0
Bug fixes and performance improvements.
Description
OkCupid is the only FREE dating app that knows you're more substance than just selfie. That's why over 40,000,000 people have used OkCupid to find better dates.

There are two kinds of dating apps: theirs and ours. We go below the surface to highlight your individuality and help you connect with people on a deeper level. Sounds like a nice change, right?

HOW IT WORKS
We ask you questions to get to know who you really are. The better we understand you, the better we can match you with people you'll click with.

Your profile lets your individuality shine through. Whether you're a dog lover, foodie, or zen master (or all three!), here's where you can show it off.

DoubleTake combines the ease of the swipe with the essential depth a rich profile provides. In DoubleTake, you learn more about potential matches right from the start.

When you see someone you like, send them a message! It's always free to message, and there's no worrying about who has to message whom first.

Go on dates! Whether you're looking for the one (or not), OkCupid helps you find more authentic connections along the way.

UPGRADE TO A-LIST
Joining A-List opens up a ton of awesome features to enhance your experience.
• See who likes you
• Enjoy advanced search options and filters
• See if your messages were read
• Change your username
• Store more messages

1 month packages start at $9.99
3 month packages start at $23.99
6 month packages start at $29.99
12 month packages start at $39.99

Payment will be charged to your iTunes Account at confirmation of purchase. Your account will be charged for renewal within 24-hours prior to the end of the current 1, 3, 6, or 12 month periods.

Auto-renewal may be turned off by going to the user's iTunes Account Settings after purchase. No cancellation of the current subscription is allowed during the active subscription period.

Privacy policy: https://www.okcupid.com/legal/privacy
Terms of use: https://www.okcupid.com/legal/terms
iPad Screenshots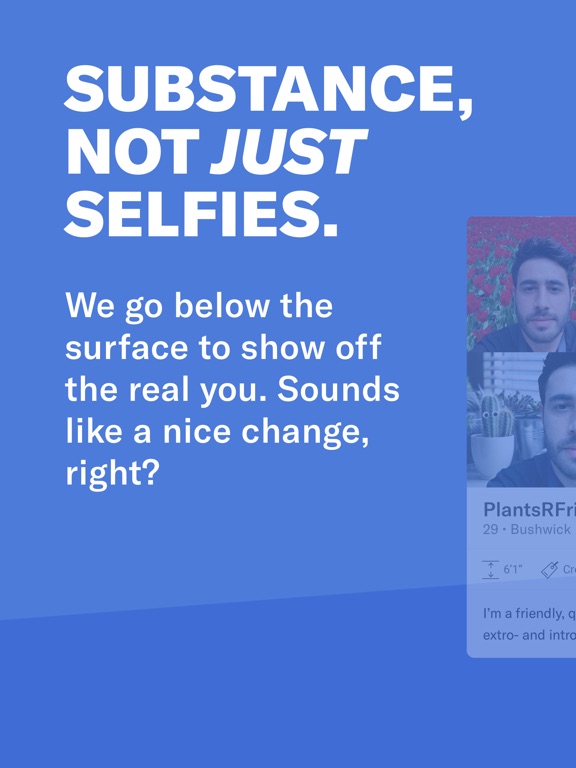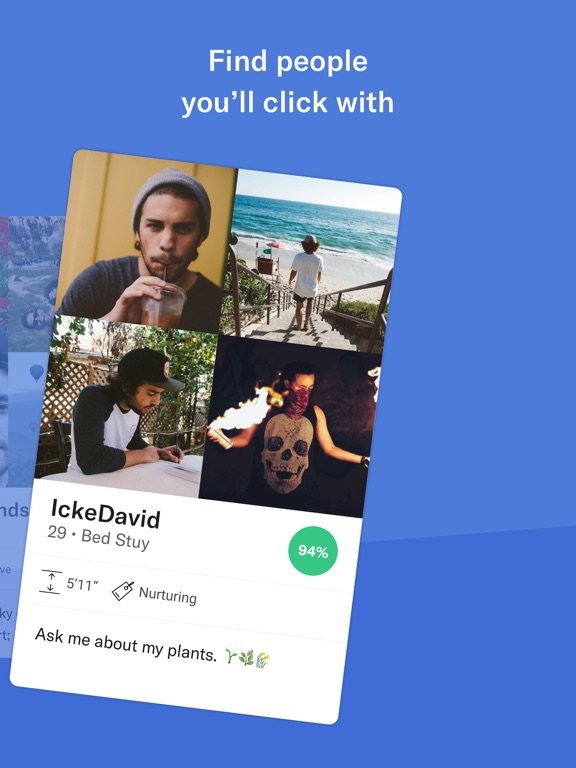 Reviews
Sorry guys, this app is terrible now...
Brandon Abell
on
12/11/2017
The new UI/UX of the app is an abomination. It seems intentionally designed to create false likes. Trying to use the app now has the same feel of a game of Operation, always worried that I'll get buzzed by inadvertently and inaccurately conveying interest in another person that I don't actually have. Revert, please.
I'm loving the app!
Easy to use, and plenty of options
Be Open Minded
Great to make friends and most people are honest and tolerable. Just be prepared for anything!!!
5 stars if...
Great app and would give 5 if you could have option to remove "last visited online" and stop matching me with international people.
From Iran
Ali0520714271
on
12/11/2017
Hi I'm from Iran but unfortunately I cannot sign up. Is it just because of some obligations that America has made upon us?? What's the problem? Is it fair that I can't have any accounts??
Crashing
Brandon smith182733772
on
12/11/2017
Can't even open app anymore nothing but crashes can't do anything
Can't log in or Sign Up
I've used OkCupid before and gotten some okay dates out of it, nothing super special but that's not the app's fault. But I always really liked the personality test and the visitor's list and seeing all these reviews saying those features are gone is really upsetting, but I tried to redownload it anyway. It wouldn't let me log into my old account, so I tried to make a new one with my second email. Every time I finished putting all the info in and pressed register, it brought me back saying I hadn't done the captcha, which only appears after the fact. Then, after I do it and pass and try again, it keeps bringing me back and asking me to do the captcha. So, eventually I tried making an account through my facebook, which I really didn't want to do, and even so it took me to a loading screen that went on for at least 6 minutes and didn't do anything.
Freeze up on WiFi.
The app needs to be shut down and reopened a lot on WiFi.
Good - the best - the questions are crucial
Cornelius D
on
12/10/2017
Awesome
Friendly website
Numbermover 91360
on
12/10/2017
Easy to navigate and best of all, its freeeeee!
Dead
This was once the best dating site around, but since it was bought by the giant Match conglomerate, they've gradually stripped away all the useful features. Their most recent change was removing the ability to see visitors, a change NO ONE wanted and that has been universally unpopular and agreed upon that it has finally completely ruined the site. They've been in a vicious circle of losing (active) users and removing features that drive more users away. What was once a great and fun site is now a featureless ghost town. Shame. RIP OkCupid.
Disrespect and fraud
Dashaafonich
on
12/10/2017
I was shadow banned. Without any reason. Just because some men did not believe that the photos belong to me and that I'm not a fake (I had good quality photos) or simply because they were angry that I did not answer them, so they insulted me and then reported. Is this fair? Should I prove to them I am a real person and have a video chat with several hundreds men per day so as not to be accused of being a fake and not being blocked? The support service ignores my letters. And the most terrible thing is that I did not immediately realize that I was shadow banned (just no one can see my account and messages now), so I was being in ignorance of the blockage and I paid the A-list for next 6 months. Why do you accept payment from banned accounts? Why do not you notify a person that his account can no longer function and that he should no longer pay for a non-existent service. This is a complete disrespect and fraud. You are fighting with scam and lie when you are being scammers yourself. Of course nobody refunded my money. No one even answered my letters to support. Why do not you check how honest the reports are and whether they were simply the desire of evil men to harm a woman and block her because of their own insecure and anger. I loved your app before and met my ex-boyfriend there. Now I'm very sorry that I lost the opportunity to find new relationships the same way
Boost problem
I trying get boosts and it keeps saying it's already been purchased and is being restored but it NEVER happens. As a paying subscriber this is UNACCEPTABLE
It's cool
Cool app lots of people around me, don't like how I have to upgrade/pay to see who liked me though. The layout is okay.
Meeting people tool
So I've changed the way I'm doing this today and big time results. If you view it as an introduction tool rather than a dating site it's a game changer. Good journey everyone:)
Get rid of non matches, will ya?
The app doesn't get rid of you don't like. Their profile just stays in your mentions for ever. Literally. Even if you delete them. It's still there. It's very annoying.
Love the app! But there should be perks for moderating!
Hsbdosgsjdocbdjdkcb
on
12/9/2017
I use OKC all the time, mer a lot of great people I'd never have met otherwise. But recently my subscription ended and I didn't feel like renewing, I may do it again but who knows. But I recently got asked to mod reported photos and profiles. I think it'd be reasonable since I'm doing work for them, that mods should get subscription perks, that just seems fair to me. Like being able to view who likes you and seeing if they've read your messages. Cause otherwise the only reason I'm doing it is to help other people from getting catfished (which is rewarding) but I wish I could get subscription access in exchange for moderating. I'm still gonna use the app of course, but in case I start paying again, I'm certainly not going to moderate cause then it's like I'm paying to work. Just my two cents Elia
Liars
It tells you in the beginning,"We will never charge you to see who likes you." As soon as I got a like it asked for money.
App freezes
The app freezes too much!!! Fix it!! Hate using it due to that!
Love okc
Janegerdanger
on
12/9/2017
The only thing I wish they would change is to make the chat screens flippable so I can have a fuller keyboard.
Meh.
It's kinda stupid that you have to pay to see who likes you, but I guess it works. You definitely get attention quickly.
Ho-hum.
Is it me, my age or the website? Lots of activity, flirts, likes, etc., but no follow-through. Exchange of numbers but no calls. Lots of people who say they are local but have out-of-country or out-of-area phone numbers. A lot of these gentleman would do well to proofread their profiles. Or read mine. What about "not seeking anyone with religious affiliation" causes a "god-fearing man" to write me? I could go on. But I am working on the premise that there's somebody for everybody.
Ok when it works
PeterM-12345
on
12/9/2017
My Tinder app and Okcupid app don't play well together, and they also seem to shut down Spotify. I'm using an iPhone 7 with OS 11.2. Maybe the developers watch the reviews?
Worth it
Looking for love ? Don't be stupid try okay Cupid .
OKC morphing slowly
(Update 2) well the new search feature is a flop! I intentionally search for keywords that I already knew existed in profiles. They come up with no matches at all to the keywords. The search bar disappears and it's hard to navigate back to at times, and does not allow you to search for words that you enter, it only gives you a list of possible word matches to choose from that are not necessarily what you're looking for. (Update)This app is dwindling fast. The developers continuously remove good usable features to make the app harder and harder to use without paying. This app is slowly morphing into match.com, who purchased OKC sometime back . Even the matching algorithms seem to change randomly, and often truncate matches above 89%. If you're just testing out the waters this is really the only app you can try out first, unlike match.com or the others where it's all about the money. Unfortunately I think this app might be next. (Old) The latest update removed a couple of items on the menu, Making it more difficult to navigate. Now I get a pop up saying someone visited my profile, but the "you visited" and the "visited you" tabs on the menu have been removed by the developers from the app.
Crashed
The newest version continually crashes, especially when you try opening a message
Best dating and friendship app!!
I met my three closest friends and my girlfriend on okcupid. We all live together now. Literally a life changing app. It's awesome 😊 especially great for us f*gs ;*
Used to be better
Ok Cupid was a great dating service/ app until they redesigned it to be more about the app then the community. It's now trying to be Tinder. It used to be about reading profiles along with photos to get an idea about people but now it's mostly superficial being 90% photo happy. Better to grow your niche than trying to be TinderTwo.
The OKC app
Priness_Katie_VA!
on
12/8/2017
Easy to use and intuitive! I love the blocking option so i can shield myself from the unwanted, unwelcome and plain rude advances.
Dating
Melissa Crown
on
12/8/2017
Yep it's neat and easy to use
OKCupid is about ad revenue, not you, silly
It is against OKCupid's interests to help you find someone. If you found someone, they would lose all their ad revenue. So searching is impossible. Restrict it to your country? Nope, can't do it. Search for key words? Nope, can't do it. Show list of ALL your top matches? Nope, well show you a few and make you search again. And again. And again. It's intentionally liked this to make you waste add much time on here add possible. It's not a match making app at all, it's an ad revenue app. UPDATE: Years after I wrote this, it's still the same. This is what happens when your vision is profits, not adding value.
Make it worse and call it better
linear_circle
on
12/8/2017
The development team is bass ackwards. They keep removing features and changing things for the worse, but call it better. Download this app if you like watching a program slowly die.
Good app
angry orchard 1978
on
12/8/2017
They continue to improve it which is always a positive sign. They've made it so it's more flexible in how you can look up and find people and I find that particularly helpful. Living right next to NYC, however, I do wish they could find a way to make it so you can look in a specific state rather than a particular radius. Sure, people in Manhattan are only 8 miles away, but that's a pretty steep toll to pay to cross any of the bridges or tunnels not to mention the traffic. Eight miles in NJ costs nothing, and is a 10-15 minute drive. Eight miles into NYC is a toll, and bumper to bumper traffic. If I'm luck it only takes 40 minutes, and that's a big difference, especially since most of the people I see come from NY, and would prefer not to travel. I would imagine this happens with other major cities and suburbs too, and I'm sure it can get frustrating anywhere. Other than that, however,it's a really good app. There are scammers, but the reality is they're everywhere in every dating app. If you use common sense, and don't give any financial information away, you can spot them from a mile away. OKC does do a good job of monitoring and removing inappropriate people swiftly, I know because you as a member can take part in the process of reviving reported profiles which also helps you see how the scammers profiles work. It's truly better than 99% of other free dating apps. Anyway, hope that helped.
Here's the catch:
I've met some pretty decent people through this app. Like two. But it also really depends on where you live. Therefore, the app mostly failed for me because of the quality of men and "matches" on this site, and not because of the app itself. It just really started to become bothersome when I received a bunch of messages each day from losers, creeps, and gross men. I find myself downloading this app when I feel like I'm looking to meet new people again, and then I just end up disabling it within a week. It's like a broken record with this app.
Not good anymore
Less visits now or not even any since they took the view visitors part away. No one even responds if you email them. Whats the point.
Good App
OK Cupid is better than most of the dating sites I've tried. You pay a subscription fee and you can do most of the things that you need to do to communicate. There are a few extras you can pay for but some dating apps you have to pay for every little thing separately. And there are a lot more active members than I have found on this app as opposed to the others I have tried.
Low traffic despite a large metro area
aqavetequila
on
12/7/2017
This site does not seem to have much traffic of people in my demographic. 40-50 years.
You cant see who views you anymore
Leagueofjinx1313
on
12/7/2017
Literally the dumbest thing ever now. I used this about a year ago or so where you could see like the first 20 people who viewed your profile and now i cant see anything... how am i supposed to meet multiple people if i cant see whos interested in me? A lot of people who use these apps tend to be shy and not speak, so they instead view/like you to show interest. Im not finding nearly as many people as i used to.
My Facebook account have been ban
I can't sign with my Facebook on the app because for some reason my account is suspended for no reason I didn't get a explanation for it I feel like it a error
Awful = Okstupid
****BEWARE*** Another dating site that only want paid users in order to get special features. MOVE ON this another rip off dating site. DON'T WASTE YOUR TIME AND MONEY. Dating sites should be monitor by third parties to make sure people are not getting ripped off for monthly dues. ****BEWARE***
❤️yes
I recommend this and bumble I really enjoy this app because of the questions they give you. The questions help match you with others, it is not solely on a pic.
eh
buttertop white
on
12/7/2017
the fact that anyone can message you is pretty wack. my inbox is loaded with people i'll never talk to
Discovery Feature?
I can't seem to find it. Is it being rolled out slowly?
Love it!
Been on OkCupid for 3 days now and I have met a few amazing guys! Unlike most dating apps where they just want to hookup, okcupid gives you the opportunity to state what you are looking for so you can attract like-minded matches! Wish I had downloaded it sooner.
BOTS-PHILADELPHIA AREA
This review is for any guy living in the Philadelphia area. I wanna preface this by saying, I should've known. Over the past 2 years almost every girl I saw was ugly or overweight, not that they're not good people. I deleted the app about 6 months ago because it was a waste of time. A couple days ago I downloaded it again, and to my Surprise I'm seeing cute girl after cute girl!! I should've asked myself why there's, all of a sudden, countless cute girls.... Needless to say, I happily sent out at least 15 messages (to 15 different girls). And what happened? Nothing!! Now I'm not a supermodel, but I'm a good looking guy that keeps himself in great shape; and my pictures are quality. And, in case anyone's wondering, the messages were not lame or inappropriate. I always put thought into them. So why no responses? Because the profiles are fake! I should've known it was too good to be true that, suddenly, there's countless cute girls on this app. That doesn't magically happen.. And btw- if the Developer responds with, "Well we did notice that you received some likes.." You're right, I did. I received likes from the same 4's & 5's that've actually been on this site for years. I can't wait to read the generic, smokescreen, response from the developer. Surprise me!
Used to be so good...
The new layout, ads and features are awful. Just glad I'm jailbroken and able to downgrade my version to the old ones.
Crashes
It kind of crashes a lot so I mean either than that it's ok.
5 Stars
I've met several really nice people. It's a great, pressure-free way to meet like-minded individuals. I am very pleased with the contacts I have made.
Good, little buggy
Solid interface overall. I can find the areas I'm looking for with relative ease. In recent releases the app has gotten less stable, especially in terms of push notifications being reliable and error in the message interface. Likes based on photos also feels super clumsy and I accidentally like people quite often when trying to swipe through photos. And having to tap into the photo to see someone's full profile from the cards interface is annoying to me.
Fact Sheet
Publisher:

OkCupid

Category:

Social Networking

Released:

Nov 25, 2009

Current Version Released:

Dec 11, 2017

Version:

9.9.0

Size:

56.4 MB

Compatibility:

Requires iOS 9.0 or later.

Recommended Age:

17+

Game Center Certified:

No

Supported Devices:

iPad2Wifi-iPad2Wifi, iPad23G-iPad23G, iPhone4S-iPhone4S, iPadThirdGen-iPadThirdGen, iPadThirdGen4G-iPadThirdGen4G, iPhone5-iPhone5, iPodTouchFifthGen-iPodTouchFifthGen, iPadFourthGen-iPadFourthGen, iPadFourthGen4G-iPadFourthGen4G, iPadMini-iPadMini, iPadMini4G-iPadMini4G, iPhone5c-iPhone5c, iPhone5s-iPhone5s, iPadAir-iPadAir, iPadAirCellular-iPadAirCellular, iPadMiniRetina-iPadMiniRetina, iPadMiniRetinaCellular-iPadMiniRetinaCellular, iPhone6-iPhone6, iPhone6Plus-iPhone6Plus, iPadAir2-iPadAir2, iPadAir2Cellular-iPadAir2Cellular, iPadMini3-iPadMini3, iPadMini3Cellular-iPadMini3Cellular, iPodTouchSixthGen-iPodTouchSixthGen, iPhone6s-iPhone6s, iPhone6sPlus-iPhone6sPlus, iPadMini4-iPadMini4, iPadMini4Cellular-iPadMini4Cellular, iPadPro-iPadPro, iPadProCellular-iPadProCellular, iPadPro97-iPadPro97, iPadPro97Cellular-iPadPro97Cellular, iPhoneSE-iPhoneSE, iPhone7-iPhone7, iPhone7Plus-iPhone7Plus, iPad611-iPad611, iPad612-iPad612, iPad71-iPad71, iPad72-iPad72, iPad73-iPad73, iPad74-iPad74, iPhone8-iPhone8, iPhone8Plus-iPhone8Plus, iPhoneX-iPhoneX,

Supported Languages:

Arabic; Burmese; Central Khmer; Chinese; Danish; Dutch; Flemish; English; Estonian; Finnish; French; German; Hebrew; Hindi; Indonesian; Italian; Japanese; Korean; Lao; Malay; Bokmål, Norwegian; Norwegian Bokmål; Polish; Portuguese; Russian; Chinese; Spanish; Castilian; Swedish; Thai; Chinese; Vietnamese;

Parental Advisory:

Mild Alcohol, Tobacco, or Drug Use or References; Suggestive Themes; Mild Sexual Content and Nudity; Mild Profanity or Crude Humor;