TapNova doesn't recommend this version of the app.
New in version 9.2.0
Profile commenting is here. That means if you see something interesting on a profile, just tap the message icon to leave a comment and start chatting. Maybe they have a picture of them with their German Shepherd, or a paragraph about German Shepherds in their self summary. What a great, realistic example this is. Anyway, this will help kick off better conversations, and we hope you enjoy.
Description
OkCupid is the only FREE dating app that knows you're more substance than just selfie. That's why over 40,000,000 people have used OkCupid to find better dates.

There are two kinds of dating apps: theirs and ours. We go below the surface to highlight your individuality and help you connect with people on a deeper level. Sounds like a nice change, right?

HOW IT WORKS
We ask you questions to get to know who you really are. The better we understand you, the better we can match you with people you'll click with.

Your profile lets your individuality shine through. Whether you're a dog lover, foodie, or zen master (or all three!), here's where you can show it off.

DoubleTake combines the ease of the swipe with the essential depth a rich profile provides. In DoubleTake, you learn more about potential matches right from the start.

When you see someone you like, send them a message! It's always free to message, and there's no worrying about who has to message whom first.

Go on dates! Whether you're looking for the one (or not), OkCupid helps you find more authentic connections along the way.

UPGRADE TO A-LIST
Joining A-List opens up a ton of awesome features to enhance your experience.
• See who likes you
• Enjoy advanced search options and filters
• See if your messages were read
• Change your username
• Store more messages

1 month packages start at $9.99
3 month packages start at $23.99
6 month packages start at $29.99
12 month packages start at $39.99

Payment will be charged to your iTunes Account at confirmation of purchase. Your account will be charged for renewal within 24-hours prior to the end of the current 1, 3, 6, or 12 month periods.

Auto-renewal may be turned off by going to the user's iTunes Account Settings after purchase. No cancellation of the current subscription is allowed during the active subscription period.

Privacy policy: https://www.okcupid.com/legal/privacy
Terms of use: https://www.okcupid.com/legal/terms
iPad Screenshots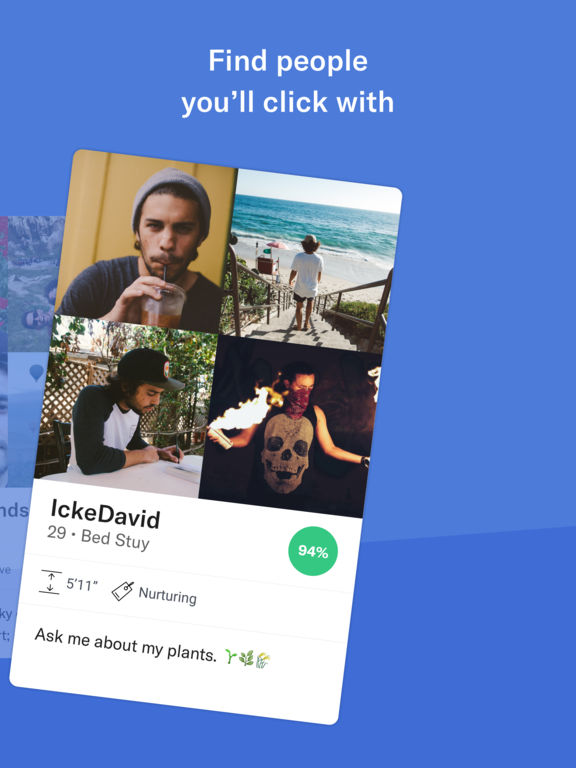 Reviews
The Very Best
This is the best dating app imho. You can chat for free. It has the swipey cards like Tinder. It gives you a percentage score for a person based on how compatible it thinks you two would be (pro-tip: 85+% seems to be the sweet spot). But the reason I decided to stop being lazy and write this review is that even when you're not paying for it it will sometimes notify you when someone likes your profile :O
OKCupid
Love the app. Meet people and do go on dates.
Disappointing changes
You're slowly stripping away more and more features. I understand that you're doing so to coerce people into purchasing information that they would have had access to for free previously. It's just not cool. But money makes people greedy for even more money I suppose.
Bring back visited views
Cmon... uninstalled to insure know ad revenue is made until rolled back
Lots of interest, no actual dates!
I seem to be very popular on this app and many many men and women have contacted me. However I have met very few of them and none of them have wanted to take me out on a date. They complement me highly, to the skies, and then they disappear. they mostly just want to have sex with me, and when they find out that I won't do that they go away. There are other men who don't mention the sex thing, but after a message or two messages they just disappear. I find this to be disappointing and disheartening. Despite my overwhelming popularity, -- I was even messaged by OkCupid staff to say that I was one of their more attractive members and that I would be shown to their more attractive members – – when is that going to happen? I've gotten no real dates and I've been on it for months. Where are the men who want to take me out? Or the women? There's a lot of attention here but nothing ever happens. There's a lot of disappointment and sadness. I was also contacted by OkCupid staff to say that I would be part of their matchmaking service and I would be contacted within two days, and it's been two weeks and I haven't heard from the woman who contacted me. I have tried contacting her but have gotten no response. Could somebody from OK Cupid staff please explain the matchmaking service that I was messaged about? I am very curious but have nowhere to go to answer my questions.
divorced female
Lots of scammers and fakes on this site. I did meet one nice man who I date in a regular basis though. Met a now"ex" who was a loser. No cost still gets a little bit of communication though.
Removed Visitors?
Greeted Urchin
on
8/16/2017
My guess is that the free feature of seeing your visitors was taken away so that you have to pay to see who liked you. There really isn't another way of coming across a list of people that at least found you initially interesting unless you can see who viewed you. Not to mention someone can "like" you without viewing your profile which makes them much less likely to be serious about you. Being able to see who visited you gives you a clear idea about who is more serious about you. It seems all businesses are moving away from accommodating customer requests so I have little hope they'll bring this feature back considering the fact they are copy+pasting the same generic link response at every 1 star review here
Great App!
The App really works well for being free. Has some bugs to be worked out because you may need to close and reopen the app to get all your notifications. Overall, I'm very pleased with my experience
Good app
••• OttoMan •••
on
8/16/2017
I have only been using it for one week, but everything seems to be going well with this app.
Good app
Backpacktraveling
on
8/16/2017
I wish I can send links and photos through the chat.
Hebby
Simpletask1David
on
8/16/2017
This one is a really nice girl and not afraid to make an introduction. 👍
Removing the ability to see visitors BLOWS
First time I'm rating an app I think. Many other "s (the swath of recent one-star ratings) gave said it more eloquently than I: getting rid of the ability to see visitors legit made me start using Bumble, Tinder, & Hinge more. Flat out. I won't be upgrading the app ever in the future until I've seen the after math vís-a-vís the subsequent reviews. MAJOR DROP OF THE BALL.
Few issues
Ke'Von Morrow
on
8/16/2017
Sticky badge icon notifications. Sometimes it will keep a number there even after I check all my notifications. Also notifications sometimes don't pop through when I get a message. I have push and email turned on. And still sometimes receive nothing.
Best.
Hands down the best dating site out there. And I've tried most. Real, quality individuals here from all over the world. Plus... it's free to communicate. No brainer.
The update killed it for me
It wasn't too bad before, certainly better than the boy infested Match.com site, but now you cannot see who visits your profile at all. Totally gone. I'm ready to end my subscription unless that changes.
Contempt for customer wishes
Removing the ability to see who visited a profile has made OKC a bad imitation of Tinder. Pass it by. PS The form letter reply of why the change was made does not explain why customers were not given the option to choose or reject this improvement'. Apparently OKC's new marketing strategy is to sell arbitrary feature removals as improvements. All I can say is that if that cynical strategy works, its brilliant.
I like OKC
No complaints! Still single but that's not OKCs fault. Lol.
These new updates are terrible!!!
All these features you have removed from okc are the same features I loved about this app. Bring them back!!!
Ok
Just be careful. A lot of fake people from other countries who say they live in the Us until last minute.
Good
Charles Geier
on
8/15/2017
Good
Unforgiving
linear_circle
on
8/15/2017
Just tapped on the wrong choice for a question. Ended up choosing, in my opinion, a really bad option. Now can answer for 23 hours?! You really need to fix this serious issue.
Messages
hankthetank45
on
8/15/2017
I can't receive messages don't know why please help
Okc
Sagreenia 26
on
8/15/2017
It's an ok site but a lot of scammers.
App ruined.
We don't want free invisible browsing. We wanna know who visited us.
Great app!
I found my husband through this app and I am so grateful! We talked on here for a couple weeks then met up. Perfect match. He proposed in 2014 and we got married the next year. ❤️❤️ we are expecting our first baby this February. 👶❤️
Well organized, streamlined
This app obviously differs from usual swipe-left-or-right dating apps because it allows users to read a person's self summary, but what impresses me is the layout. It's sleek and easy to navigate while still having a lot of options available to the user. Everything is well organized, and the site is well moderated as well. My only gripe is that the dev team recently decided to make Invisible Browsing automatic. It's now impossible to see who has visited your profile, which makes it difficult to know how interested someone is. The OKC blog said this is because interest is measured by Likes and sent messages, but I believe it would have been better to have more information rather than less. Besides, with Invisible Browsing essentially removed from the A-List (premium) rewards list, I believe there is much less motivation for the average user to invest in A-List. Other than that, the app is well made and useful.
Stop banning accounts for no reason!!!!!!!
I just joined a few days ago. Just now I logged out for like 10 seconds and when I tried to log back in said I'm banned?????? I didn't violate any TOS. Didn't send any crude messages. This is bs. And before you respond and say contact support I DID. And you guys don't even respond!!!!
Why would you change that?
Removing "who viewed you", and "who you viewed" was a terrible idea. Impatiently waiting for the app update where you bring it back, because my message inbox has been super dry since you made that change. It's a waste of time being on here now. I enjoyed the app and have met some great people in the past. I'm barely making any connections now
View
Don't like that I can't see who viewed me anymore... it was nice to see who was checking you out!
Despite fraud
VisualPlaythings
on
8/15/2017
There is SO much fraud in dating sites and Okcupid seemed to be able to dodge it for years. It's a good site the questions make a. If difference and love that it's mostly free! It also seems to attract good people. If there was some way to weed about the fake profiles it would be better and time to add questions. I'm a fan however.
Awesome
Billyopenheart10
on
8/15/2017
Okcupid is awesome 😍😍😘😘
randomly banned
another bad review due to being banned. i have no idea why i was banned and i was not even notified. i had to ask someone i knew irl to check and see if they could see my messages but my entire thread had been hidden from him. i also did not like the last update. with the removal of visitors, how am i supposed to know who matched me? makes the match system more like tinder so i just decided to use tinder instead.
I like it
This is the only app I ever have success meeting someone interested on. Weird..
Recent visitors feature
I've been on this app for several years and had some successful dates and some good prospects on here, but to be perfectly honest, once features that used to be free to all users start getting taken away, I start losing interest in apps fairly quickly. Initially, I had thought it was made a premium feature for paying customers only (which is still a turn-off in my opinion), but it seems to have been taken away all together. I used to use this feature to be able to see the users who tend to be a little on the shy side, that would just take a peak, but not contact you, but since I didn't have a problem with making the first move, I still would reach out to them if I was at all interested. With that gone, I think that the app lost some quality and I wanted to write a review to let the app developers know my opinion. I won't be mean and bash them with a one star rating, but I think with me considering it to be sub-par at the moment, as I had previously stated, I think 2 stars is fair. I'd be more than happy to go in and append my review, should this issue become corrected in the future, but as of now, this is what I think...
Happy ending
5 stars because I found my love on OkC a few months ago. 10/10 would recommend
Boo
Poor decision to strip out features
Even Tinder is better
Wordings Urga
on
8/14/2017
A real lack of talent on this site. I read it used to be the granddaddy of dating sites, well if so not anymore. After a month of seeing almost no one I felt like messaging and getting likes and messages from gals I had no interest in, I disabled my account. Go elsewhere!
Not fair
Rahchel brim
on
8/14/2017
I don't get many messages and I have my whole profile filled out . What is the problem, does no one like me ?
OK Cupid review !
Pasadena Chris
on
8/14/2017
Very happy with the dating site there's a lot of nice people out there !
Spend money to buy nothing
It's a waste, like all of these dating apps
Very Glitchy
Double messages and big delays.
Why did you get rid of the most useful feature?!
Getting rid of the ability to see who's visited you and who you've visited was the worst possible move by OKCupid.
Wrongly Disabled Account
I opened an account a few days ago. My pictures were appropriate. I sent one message that couldn't be deemed inappropriate by any stretch of the imagination. My profile was on no way offensive, etc. One day after opening an account, my profile was suspended due to "terms violation." What violation?? I then opened a second account using a different email address. Again, my pictures were appropriate, and nothing in my profile could be deemed inappropriate. No messages were sent. My profile was suspended again. Can someone look in to this, please. This issue needs to be addressed. I googled this problem yesterday, and apparently a lot of users are having this issue. Thanks.
Bad update
KAMASUTRAMAN
on
8/14/2017
Bring back "who view my profile" That was really bad idea to remove that future.
No internet connection
Jerseykid_93
on
8/14/2017
Every time I open the app I keep getting no internet connection. I've deleted and downloaded the app servals times and it still won't work. I've gone to the website on google chrome still the website won't load. I just want to delete my profile since I can't use this app anymore.
Great app
Thanks guys I love this app
Useless app
So I've been using OkCupid on and off for years; I've seen it go through it's ups and downs. However with the recent removal of the views, I have to say that this app has become junk. To top it off they put a notification that someone recently viewed me...however I can't see who it was so it makes that notification pointless. If they don't bring views back soon, I don't see myself keeping this app. I'll probably uninstall OKC and install POF since I can still see who viewed me on that site.
Recent update is terrible.
I enjoyed using OKC until this update. The "who viewed you" feature was one of the better parts, because I could see which matches actually took a second to look at my profile. Incognito mode helped when I didn't want to be seen, even if it deleted the history of who I had viewed. Overall, the new update has taken okc from a five star app, to roughly a two star. Very displeased. It's practically tinder now.
Bring back feature
I liked when others viewed my profile so I could go see theirs as well. Now it's kinda boring cause I get so many likes and can't see that either. : (
Fact Sheet
Publisher: OkCupid
Category: Social Networking
Released: Nov 25, 2009
Current Version Released: Aug 03, 2017
Version: 9.2.0
Size: 50.6 MB
Compatibility: Requires iOS 9.0 or later.
Recommended Age: 17+
Game Center Certified: No
Supported Devices: iPad2Wifi-iPad2Wifi, iPad23G-iPad23G, iPhone4S-iPhone4S, iPadThirdGen-iPadThirdGen, iPadThirdGen4G-iPadThirdGen4G, iPhone5-iPhone5, iPodTouchFifthGen-iPodTouchFifthGen, iPadFourthGen-iPadFourthGen, iPadFourthGen4G-iPadFourthGen4G, iPadMini-iPadMini, iPadMini4G-iPadMini4G, iPhone5c-iPhone5c, iPhone5s-iPhone5s, iPadAir-iPadAir, iPadAirCellular-iPadAirCellular, iPadMiniRetina-iPadMiniRetina, iPadMiniRetinaCellular-iPadMiniRetinaCellular, iPhone6-iPhone6, iPhone6Plus-iPhone6Plus, iPadAir2-iPadAir2, iPadAir2Cellular-iPadAir2Cellular, iPadMini3-iPadMini3, iPadMini3Cellular-iPadMini3Cellular, iPodTouchSixthGen-iPodTouchSixthGen, iPhone6s-iPhone6s, iPhone6sPlus-iPhone6sPlus, iPadMini4-iPadMini4, iPadMini4Cellular-iPadMini4Cellular, iPadPro-iPadPro, iPadProCellular-iPadProCellular, iPadPro97-iPadPro97, iPadPro97Cellular-iPadPro97Cellular, iPhoneSE-iPhoneSE, iPhone7-iPhone7, iPhone7Plus-iPhone7Plus, iPad611-iPad611, iPad612-iPad612, iPad71-iPad71, iPad72-iPad72, iPad73-iPad73, iPad74-iPad74,
Supported Languages: English;
Parental Advisory: Suggestive Themes; Mild Sexual Content and Nudity; Mild Profanity or Crude Humor; Mild Alcohol, Tobacco, or Drug Use or References;