Screenshots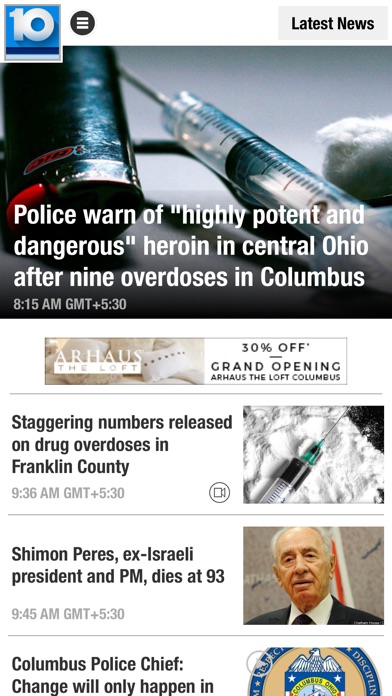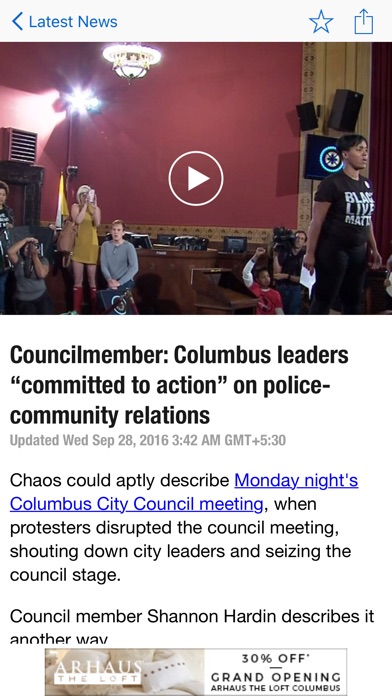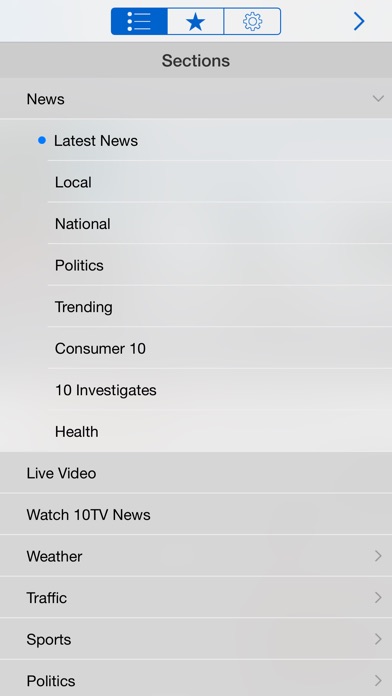 Description
Check out WBNS-10TV NEWS, the best way to get your local news, weather, sports and other content. We provide our news content, formatted to fit the iPhone screen.

We have a lot of great content. Here is some of what our app has to offer:

* We time stamp news to help you get a sense of the timeliness
* Our sports scores are updated during the games to keep you up-to-date
* Weather radar and animated radar help you to see what is going on and what is coming up

We strive to provide you with the best in local news and info, so check out our app and watch for updates as we make it even better.

This app requests location to help customize content for you. We will provide location information and information about your use of the app to our advertising partners in order to customize the ads displayed in this app and other apps you use. Please review our privacy policy for more details and for your choices.
iPad Screenshots
Reviews
Generally pretty good, but....
Notifications do not take you to that story. Also, currently the app goes to a blank black screen. Sad face. The anchors rock though!!
Won't stop with OSU!!!
Downloaded this app to get news and information and all I ever get is crap about the OSU football team all the time!!!! Give me a break. Do you ever say anything about your Blue Jackets hockey team by the way!! Deleting this app!!!
Popup add city
Buckeye chris
on
7/31/2017
ENOUGH WITH THE ANNOYING POPUP ADDS!! I can't even scroll through the feed now. It's like you're trying to trick people to click it? I can't even close it out to read the news. I'm done and I'm deleting.
Not good
Audiophile Tom
on
7/29/2017
Everytime channel 10 updates they have to put pop up advertisements, everytime they do I delete app. You can't read news cause the ads open. Not worth having!!!
It's okay could be better
Lugooooooooo
on
6/30/2017
When I receive notifications I click on them and it doesn't go to that story. Would be nice to go right to the notification you clicked on to read about
No sound with Alerts
I get the alerts but I never get a sound when an alert comes in. I have sounds & Alerts turned on, but still no sound. I have a iPhone 7 and my iOS & app updates are both current. I would love to get a tone for Alerts if at all possible.
Average
hbaldwin82308
on
3/18/2017
My only complaint about this app is when a notification pops up and I click on it to open the app, that news story isn't there to read for 10-15 minutes. Don't send me the notification until I can actually read it please. Otherwise I enjoy 10TV very much!
App forcecloses
App freezes and force closes when opening an alert. Please update and fix issue. Thanks!
Daily news
The app is ok at best, sends notifications that when you click on the app aren't even there. There "sponsors" or ads are snuck in to make you accidentally click on them making them look like a real story which is very annoying.
Too Many Notifications
It's borderline harassment how many notifications 10tv sends out. Some of them are the most trivial stuff too. Finally had to delete the app.
Too many pop up ads
Used to like this app until the numerous pop up ads after an update. Stick with Channel 4 or Channel 6 app where the is much more info and no pop ups.
Such a waste
Live video? "This video is not encoded for your device". Oh yeah? If you can't get it work, don't offer it.
Needs breaking news filter
I like a lot of the alerts and the function of the app, but I'd really like a way to filter out certain "breaking" news. Categories like sports, traffic, crime, weather, etc would be very helpful!
Live streaming
Never worked for me. I tried for a couple of days and gave up. So disappointed. I deleted app.
Much better
Gormagon9999
on
10/12/2016
I really enjoy the latest update for the app. It runs very smoothly, ads are less frequent, and it's much more appealing.
10TV Update
New interface is nice but I HATE the new icon! It looks like there's a black status bar on the bottom of it. It's distracting from the rest of my home page.
#1
Rightaboutitall
on
10/7/2016
10TV is the best channel there is. I'm retired, so when I sleep in late the app allows me to catch up on things I missed during the morning news.
Old format was much more user friendly and useful
New format is cumbersome and difficult to use and review. Last version was awesome.
Awesome
Boozefiighter13
on
10/2/2016
Great app love 10TV
Awesome app for news
Great app! My suggestion would be that when I get a notification about a breaking story and I click on it, it takes you to the home page instead of that actually sorry and I usually can't find the sorry then or later if I were to click on the notification again.
10TV
Love the app... can have all the news on the go... thank you
10TV - The Worst
E.C.G8423122
on
9/29/2016
If I could rate this app less than 1 star I would. Articles have terrible spelling and grammar, misinformation, and so many errors that it is difficult to tell what is going on. But let me stress this point, many times information communicated by 10TV is simply incorrect and inaccurate.
Best news
kttimberline
on
9/29/2016
I always watch 10 Tv news... the best.. love it.
10 tv
I love 10 TV. It keeps me informed and up-to-date on the latest news. And it also gives me information that I didn't know.
Very Unhappy!
Seafaring Mustang
on
9/28/2016
I have been using the app for a very long time. It is part of my morning routine and helps me catch up on what is happening around central Ohio and the rest of the country. I really do not like the new version though. Please change it back to the previous version as it was much easier to navigate.
Jim
App. Needs a lot of help to make this a number 1 app. Updated news is lousy getting it updated during the day.
Best News Channel/Application in Central Ohio
BaileyLauran
on
9/26/2016
This application could not be any more up to date. All current and breaking news released right away. You can set alerts so that they pop up on your locked screen as soon as possible. Can't go wrong with the reporters and cast at 10tv news!
Alerts need to be in newsfeed
I greatly dislike the disappearance of the alerts. They are not referenced at all in the app if you tap it to get into the story in the newsfeed. At least include the little bit of news you have for the pop up alert on you news app.
Don't pander to advertiser money
clairelover97
on
9/25/2016
I tapped the article link for 'Sandy Hook 2 Year Anniversary, involving families of Newtown suing gun manufacturer.' Immediately pops an add for Nordstrum. Impossibly bad timing. And tasteless advertising. Ignorant. I'd pay for an app that didn't link tragedy to advertiser profits. Sad sad 10tv. You could do a lot better.
Horrible news app
Never works horrible app
Unhappy
With new design
on
9/23/2016
The new design is more difficult to navigate. It was much better when the headline was under the picture instead of on the opposite side of the page.
Great App!
A good way to stay up to date with all the central Ohio news, weather, sports and traffic.
Very little up to date news, obnoxious ads.
The little news that is there is often days old. The ads block the screen and pop up.
Wonderful App
Love this app ...
I love watching 10TV
Enjoy reading updates. Love 10 tv The best in Central Ohio in my opinion
App was awesome
QuiddityOils
on
9/20/2016
Until they got ads! Now, the ads are annoying and not useful ones. And, the weather seems to be always messing up! And, the alerts do not match the stories in the feed!
OLD news
Stories are often posted days earlier. Need to update more frequently
Great App
Covers the news very well.
Alert
Slap shot 18
on
9/19/2016
When I receive the alert flash and then proceed to the app for an update, it is not on the news feed. I wish the news feed would update at the same time the alert flash is sent.
Can't scroll
This app was great until ios10. Now I can't scroll down on articles! *Update-if you experience this problem delete and reinstall. Changed from 2 stars to 4
Great!
Covers Columbus area news very well.
Love this app!
I love the notifications
So so
It's really bothersome when I get a notification about a story and when I swipe the notification to open the app, that breaking news story is not there in the app. It shows up hours later.
Works great!
White Wolf 98
on
9/8/2016
I don't watch much television so this is my go-to for staying up to date (with most things).
Overall wonderful app!
Keeps me updated and it's important to know what is going on in my community. The ads are easy to get through and not too distracting.
Great app!
I use this app a lot, especially local and Ohio news. There some little aggravations, or I would have given it five stars. One is that when you sent an alert for breaking news, clicking the link should take you to the story. Often the story isn't posted yet. The other is when opening a live video I don't have sound, just video. This was especially disappointing for today's OSU half time show.
Breaking news not there
I like the app but get frustrated that almost every time I get a "breaking news" alert, there's no story on the website yet. If you're going to have breaking news, at least have a story ready!!
Great App
This app is a great way to keep up on news and weather in central Ohio. Traffic alerts are helpful when I have to travel to the Columbus metro area. I highly recommend this app to all my family and friends.
Terrible
While the app is convenient, that's about the only benefit it has. Important notifications are slow (storm warnings AFTER they expire, traffic issues way too late). When a notification is "clicked," many times it links to an article that is not on the app. The ABSOLUTE WORST is getting notifications every day at 4:30 in the morning to tell you what they will have on the news! Only way to stop that is turn off ALL notifications.
Fact Sheet
Publisher:

WBNS TV, Inc.

Category:

News

Released:

Dec 08, 2009

Current Version Released:

Jun 05, 2017

Version:

3.5

Size:

44 MB

Compatibility:

Requires iOS 9.0 or later.

Recommended Age:

12+

Game Center Certified:

No

Supported Devices:

iPad2Wifi-iPad2Wifi, iPad23G-iPad23G, iPhone4S-iPhone4S, iPadThirdGen-iPadThirdGen, iPadThirdGen4G-iPadThirdGen4G, iPhone5-iPhone5, iPodTouchFifthGen-iPodTouchFifthGen, iPadFourthGen-iPadFourthGen, iPadFourthGen4G-iPadFourthGen4G, iPadMini-iPadMini, iPadMini4G-iPadMini4G, iPhone5c-iPhone5c, iPhone5s-iPhone5s, iPadAir-iPadAir, iPadAirCellular-iPadAirCellular, iPadMiniRetina-iPadMiniRetina, iPadMiniRetinaCellular-iPadMiniRetinaCellular, iPhone6-iPhone6, iPhone6Plus-iPhone6Plus, iPadAir2-iPadAir2, iPadAir2Cellular-iPadAir2Cellular, iPadMini3-iPadMini3, iPadMini3Cellular-iPadMini3Cellular, iPodTouchSixthGen-iPodTouchSixthGen, iPhone6s-iPhone6s, iPhone6sPlus-iPhone6sPlus, iPadMini4-iPadMini4, iPadMini4Cellular-iPadMini4Cellular, iPadPro-iPadPro, iPadProCellular-iPadProCellular, iPadPro97-iPadPro97, iPadPro97Cellular-iPadPro97Cellular, iPhoneSE-iPhoneSE, iPhone7-iPhone7, iPhone7Plus-iPhone7Plus, iPad611-iPad611, iPad612-iPad612, iPad71-iPad71, iPad72-iPad72, iPad73-iPad73, iPad74-iPad74, iPhone8-iPhone8, iPhone8Plus-iPhone8Plus, iPhoneX-iPhoneX,

Supported Languages:

Afrikaans;

Parental Advisory:

Mild Realistic Violence;