Screenshots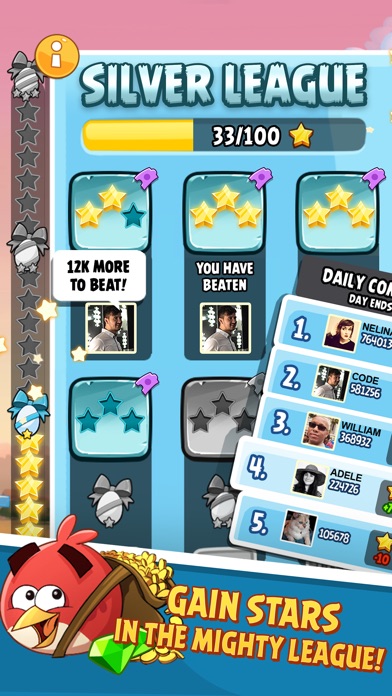 New in version 7.8.6
- New Star reward system for playing Mighty League and Episode levels!
- Use Stars rewards to unlock Episodes
Description
Use the unique powers of the Angry Birds to destroy the greedy pigs' defenses!??

The survival of the Angry Birds is at stake. Dish out revenge on the greedy pigs who stole their eggs. Use the unique powers of each bird to destroy the pigs' defenses. Angry Birds features challenging physics-based gameplay and hours of replay value. Each level requires logic, skill and force to solve.??

If you get stuck in the game, you can purchase the Mighty Eagle! Mighty Eagle is a one-time in-app purchase in Angry Birds that gives unlimited use. This phenomenal creature will soar from the skies to wreak havoc and smash the pesky pigs into oblivion. There's just one catch: you can only use the aid of Mighty Eagle to pass a level once per hour. Mighty Eagle also includes all new gameplay goals and achievements!??

In addition to the Mighty Eagle, Angry Birds now has power-ups! Boost your birds' abilities and three-star levels to unlock secret content! Angry Birds now has the following amazing power-ups: Sling Scope for laser targeting, King Sling for maximum flinging power, Super Seeds to supersize your birds, and Birdquake to shake pigs' defenses to the ground!??

HAVING TROUBLE? Head over to https://support.rovio.com where you can browse FAQs or submit a request to our support flock!

#1 IPHONE PAID APP in US, UK, Canada, Italy, Germany, Russia, Sweden, Denmark, Finland, Singapore, Poland, France, Netherlands, Malta, Greece, Austria, Australia, Turkey, UAE, Saudi Arabia, Israel, Belgium, Norway, Hungary, Malaysia, Luxembourg, Portugal, Czech Republic, Spain, Ireland, Romania, New Zealand, Latvia, Lithuania, Estonia, Nicaragua, Kazakhstan, Argentina, Bulgaria, Slovakia, Slovenia, Mauritius, Chile, Hong Kong, Pakistan, Taiwan, Colombia, Indonesia, Thailand, India, Kenya, Macedonia, Croatia, Macau, Paraguay, Peru, Armenia, Philippines, Vietnam, Jordan and Kuwait. ??

#1 IPHONE PAID GAME in more countries than we can count!

Terms of Use: http://www.rovio.com/eula?
Privacy Policy: http://www.rovio.com/privacy?

This application may require internet connectivity and subsequent data transfer charges may apply.


Important Message for Parents

This game may include:
- Direct links to social networking websites that are intended for an audience over the age of 13.
- Direct links to the internet that can take players away from the game with the potential to browse any web page.
- Advertising of Rovio products and also products from select partners.
- The option to make in-app purchases. The bill payer should always be consulted beforehand.
Reviews
Rest In Peace.
I remember Angry Birds when it first premiered. It was an excellent game. I purchased the iPhone X and thought it would be a better experience with better graphics, screen, etc. I was wrong. Angry Birds has changed, not for the best. There's too many additions to the different bird's features making Angry Birds less enjoyable. Sometimes simple is better and the developer lost touch of that aspect.
New updates have killed your previous game
Rovio. Please. Remove the stupid start related unlocks. If you do this, the game may be playable again. But until you do that there is no hope for the game and it will get 1-stars across the board
Used to be good
Slipknot160
on
12/16/2017
When I first got this game it was the best. Slowly but surely, though, they have turned it into a money grab. I didn't think it could get any worse, but I was wrong. The mighty league seems to be stuck on the feather league (whatever that is), and sits at 18 out of 27 stars earned. I have beaten the high score on every level but get no additional stars, coins or gems. Looks like another once good game headed for the junk heap. Thanks for nothing, Rovio...
Good
Life is baller
on
12/16/2017
It's good
Crashes - STILL!!
UPDATE December 16 Was happy to see an update in the App Store today, sad that it did nothing to address the crashes and is now even worse!!!! November 25 Latest version does nothing but crash when trying to open it. Might be successful in opening 1 out of 100 tries! VERY frustrating!!
Ads?!?!
Ads for a game I paid for.
Keeps crashing after update
Radmancoral
on
12/15/2017
The App was OK before the newest iOS update. Now I need to open the App multiple times until it finally works. I am tired of doing this so I have deleted the App. It was fun while it lasted
Why
U have to use stars to buy levels now which makes the game no fun because you beat the level and u can't advance any further cause u don't have enough stars, the gameplay is still fun but when I beat a level I beat it so let me advance. The new update is stupid and caused me to delete it.
Rip-off
RaiderPower 86
on
12/15/2017
Why are you now restricting content that I have already paid for?? I bought the app several years back and loved it and even bought several of the other versions such as seasons and Star Wars. Now with the newest update, the content that was once available to me is now locked and must be unlocked with stars. There is also an ad before each level now which is ridiculous. I will not be buying any more games in the angry birds franchise. Rovio, you taking back what I have paid for is basically theft in my book.
Are you kidding me?!
Are you kidding me? All my episodes were already unlocked (actually, they were never locked to begin with). With the update I now have to accumulate stars to unlock the next level? Retroactively locking episodes is a d*ck move by Rovio.
New star reward system is garbage
Big Smoothie
on
12/14/2017
I've been playing this game since 2010. New Star reward system is terrible. This is icing on the garbage cake after the abolishment of net neutrality today in the US.
Worst video game of all time
⭐️Awesome4️⃣2️⃣
on
12/14/2017
I first bought this in 2010 and for a year or so it was the best game on the app store. I suppose my dislike of the graphical refresh from v1.6 is a bit ridiculous by now. The next update added the first consumable in-app purchases, which never worked and were generally useless and bad. It's only gotten worse since then. You used to be able to disable powerups and Rovio ads but now you can't because Rovio is desperate for money. Having paid for this game, I was shocked to see (optional) ads added into the game when "Short Fuse" came out. Mad about all this, I abandoned the game in 2016 but left it on my phone in hopes that this would change. It did not. Rovio somehow managed to go below rock bottom. It added video ads with sound after every few levels (again, this is a game I paid for way back when.) And today, they released an update which locks level packs until you get stars. That was the last straw. There is nothing left, not even the quite good gameplay, that can save this game. When Rovio goes out of business from all the formerly happy customers like me deleting the games THEY killed, I will have only one thing to say: I told you so. Another formerly good game deleted. Why, Rovio, why?
Crash, Crash, Crash, ad nausem
Loosegoose2
on
12/14/2017
The game keeps crashing on my iPhone 6 Plus after upgrading to iOS 11. I deleted and reinstalled and keeps crashing. I did a hard reboot and even turning the iPhone around and crash's. The website comments were useless... Update - new version... same crashes out of the gate
Not cool
JaysGirl11907
on
12/14/2017
I used to love angry birds. After this latest update it's total bs now. The star rewards thing? And blocking me from playing the next level of an episode just because I don't have enough stars? "You're not good enough so screw you"?? Well screw you too Rovio.
Bloated
This game was awesome when it rolled out. Now there is so much noise on the home page and I got stuck on a level. Told me to click the screen and nothing happened. I had to uninstall out of frustration. Sad to see.
I lost my "Games for (RED)" purchase! :'(
Racing lover
on
12/14/2017
I lost my "Games for (RED)" Mighty Feathers Red purchase when I deleted and reinstalled the app to see if it would crash less, and then connected my Rovio Account. I know you said there's nothing we can do, but I hope you can update the app so the Mighty Feathers Red purchase is available once more. In addition, the app has all kinds of other problems that need fixes. 1. Bomb's slingshot launch battle cry needs to be changed so he sounds more exciting. HINT: His best battle cry can be heard in AB Seasons, Rio, & Friends. 2. The characters should be displayed on the bottom corners of ALL of the episodes' level select screens to attract the players. 3. The Mighty Feathers tutorial in the first level of the episode is finicky & needs fixing. 4. The lock-on icon for Red's Mighty Feathers ability needs to be brought back for better targeting. 5. The app will not stop asking for my birthdate & gender. Can you fix that, please? Other than these, it's 5 stars for the app.
No iPhone X support
Please fix
Angry Birds
This game was the best until this new update. This unlocking system defeats the whole point of angry birds, it's a casual game and now it's a game that's just trying to make profit like every other game.
Used to be fun
Unhappyuserstill
on
12/14/2017
This used be good a good game. Now it's just a money grab like the rest
Shut down
Why does the app shut down numerous times when launched?
Constantly crashes on intro screen
The app is unusable. The Rovio load screen comes up, then the home screen, then a popup, then crash.
Not even worth rating
Iorn man 77
on
12/13/2017
Just like all the other angry birds games they cheat you wins and points and constantly crashes and all for money yet they advertised it as free then there's when you need help they don't they won't even answer your complaints or questions it's another money scam my advice don't pay money to play this or any other angry birds game better yet don't play any angry birds games at all
Tickets? Deleted the app...BTD game instead
Fanfromoklahoma
on
12/13/2017
I literally deleted the angry birds app. Daily tickets limit play time- unless you buy $$ more. I'll be playing Bloons Towers Defense instead.
Waste of time and money.
Keeps crashing, especially when trying to get a ticket or the Mighty Scope. Used to be fun, not anymore.
Crashes
It ok it's not the greatest
on
12/11/2017
New update keeps on crashing
Won't load
I have had to delete and redownload at least three times. Which of course wipes out my progress. Whats the deal? Also in mighty league I was supposed to get 5 tickets if I signed into FB. Got 1. I'm officially done. App blows
Disappointed
I have played angry birds for a long time. With the new update I had to reinstall the game. This made me lose all my progress. Stars, money, gems & stickers all lost.
Want more.....release more birds
I am tired of all the advertisements interrupting game play
Crashing A lot
Despite sitting thru tons of ads to play the game, it is now rewarding me by crashing every time I try to play. Very disappointed.
PLEASE FIX!!!
UPDATE AGAIN, ALL THE PROBLEMS R KILLING MY RANKINGS, TICKETS ,AND COIN COUNT. PLEASE FIX BEFORE I DELETE Another update!! Still crashes and I'm no longer receiving my tickets and eggs for Facebook, please fix!!!!!! Update: non stop crashing!! APP IS ALWAYS CRASHING!! It crashes at least twice each time I play. And cannot get app to open 80%of time!!!!
Disappointed
Cool mens7654
on
12/8/2017
2 stars, but only for the content. I think the chapters are great. I have been a fan for years, but now it's hard to keep strong. The game crashes every time I open it. I have to reboot my phone if I want to get it to work, but when it does work when I reboot it. It crashes in the middle of my game and loses all my progress. Please fix this. I really want to play again.
Angry birds has been crashing a lot
The game crashed twice on me this evening and It took two of my tickets but didn't load the games for those tickets. This game has really gone downhill. It used to be fun but now costs too much to play especially when it cheats you!
FIX THE BUGS!
Love the app but every time I try to open it and play the ad crashes the app. Take the ads out and let us play... or at least fix the bugs. Thanks!
Garbage.
Firstly, I'd like to say that when I bought this originally, I paid to get the game, ad free, paid. And now, in the paid version, ads. Which is crap. More importantly though is the MIGHTY EAGLE which, was a dollar. I paid the dollar. Now, when I hit restore purchases, nothing happens. It's like the button isn't even there. Just, doesn't do crap. However that's not what prompted me to write this review, what prompted that was the price of the eagle. Before it was a dollar. Now though, listed on the In App Purchasers section is "MIGHTY EAGLE; 0.99", but listed under it is also "NEW MIGHTY EAGLE; 1.99", and in the app itself the eagle is listed as 4.99. I don't know what kind of crap that is, but even EA is thinking to themselves, "that's some shit".
Devrloper needs to update program
The game does not work at all with newest IOS for iphone gets to start up screen and app shuts down and takes you back to phone menu.
Crashes
The app works when it is opened the first time then crashes every time after I close and then reopen the app until this is fixed I'm uninstalling this app.
Good game, but there's a bug
So everyone loves the classic app Angry Birds, right? Well, I do at least! Anyway, I was just about to play when the game crashed at the title screen. I tried again and again, but it kept crashing! Fix this soon, please? Thanks!
Keeps crashing!
I can't get it to stay open to play the game! What do I need to do?
Many tries to open
Love playing angry birds, but every time I try to open the app it keeps crashing. It takes 10 or 15 minutes to finally open before I can play. It may be because of all the ads trying to open. Needs to be updated maybe, or fixed. It's ridiculous!
Frustrating
This game is a lot of fun to play but is very unstable. It will crash for no reason and at times it takes four or more tries to turn it on. It will also take you back to the previous days games and let you spend tickets only to tell you that series is over and then take you back to the previous day. Sorry Angry Birds, this player is more angry than you.
Game is Ruined
The Groverlord
on
12/1/2017
I played this game years ago, and I remember it being ad-free and without those pay-to-win power-ups. What happened? Greed happened.
CRASH CRASH CRASH
When I can get into it, it's a great app. The problem is, I can only get the app open maybe 1 in every 8 or 10 attempts.
All the game does is crash
dad and fred
on
12/1/2017
It has gotten to the point that I cannot even play the game anymore. As soon as I start the game, with 5-10 seconds it crashes
Fantastic game, AWFUL updates!!! confusing in app-purchase procedure!!!
Update: 11-30-17 This is one of my FAVORITE games. I have every version, and have completed every level, etc. Yeah, I love it. What I don't understand is why Rovio keeps updating and messing with things that work perfectly!?! After one of the last updates, the game crashes when you open it. It usually takes me about 6 times before the game will stay open. I emailed Rovio support and they responded quickly, that it is a known issue and they are working on it. Doesn't help right now, but at least they're working on it, and they were quick to answer.... On to THIS problem: Rovio added this "gem" into the purchases. Making everything TOTALLY confusing. I don't know why you can't just pay straight money instead of buying coins to buy gems, then converting gems into bombs. I messed up and used my gems for coins, now I can't get tickets unless I pay money for them. TOO CONFUSING ROVIO. Go back to the old way, where you earn what you earn. Please get rid of the gem, and just use coins. I'll give the game 5 stars if they fix the glitch, and get rid of the gem/coin issue...
What happened Timmy favorite app?
TerribleAp417
on
11/30/2017
This game used to be great! Now there's ads in a purchased app? Are you kidding? Microtransactions? Angry Birds turned into Money Hungry Birds. You can keep your app.
New Update - Crashes
Gamer0000000°
on
11/30/2017
It constantly crashes a few seconds into opening the app. 👎🏾😡👎🏾 The version before it was working just fine.
Glitchy
Fun game but half the time it won't load. Or if it does it shuts down unexpectedly. Pretty disappointing.
Too many ads/bull crap
Shame. Used to love this game... Uninstall.
Total money grab
rooster6424
on
11/29/2017
They took what was a great fun game ? Turned it into a total money grab, it appears to be that the fix is in, you can never quite get to wherever it is your going because it gets more and more difficult, and gets more expensive than a casino. The updates on all of there games are so slow. It was awesome when it came out, and it's been totally downhill ever since. But when you become a billion dollar business and forget how you got there, that's exactly what happens. They've totally forgotten about the consumer except to bury there heads in the money and how to make it from its users.
Sad Waist of a Good Game
Wanted to play this game after a few years of not playing it. The tutorial was the only thing that actually worked. Played all the way through it, then got to the first real level, and the game completely freezes. Have to shut the game off and turn it back on. When turning back on, the game crashes, and will not turn on without turning on airplane mode.
Fact Sheet
Publisher:

Rovio Entertainment Ltd

Category:

Games

Released:

Dec 11, 2009

Current Version Released:

Dec 14, 2017

Version:

7.8.6

Size:

158.6 MB

Compatibility:

Requires iOS 8.0 or later.

Recommended Age:

4+

Game Center Certified:

No

Supported Devices:

iPad2Wifi-iPad2Wifi, iPad23G-iPad23G, iPhone4S-iPhone4S, iPadThirdGen-iPadThirdGen, iPadThirdGen4G-iPadThirdGen4G, iPhone5-iPhone5, iPodTouchFifthGen-iPodTouchFifthGen, iPadFourthGen-iPadFourthGen, iPadFourthGen4G-iPadFourthGen4G, iPadMini-iPadMini, iPadMini4G-iPadMini4G, iPhone5c-iPhone5c, iPhone5s-iPhone5s, iPadAir-iPadAir, iPadAirCellular-iPadAirCellular, iPadMiniRetina-iPadMiniRetina, iPadMiniRetinaCellular-iPadMiniRetinaCellular, iPhone6-iPhone6, iPhone6Plus-iPhone6Plus, iPadAir2-iPadAir2, iPadAir2Cellular-iPadAir2Cellular, iPadMini3-iPadMini3, iPadMini3Cellular-iPadMini3Cellular, iPodTouchSixthGen-iPodTouchSixthGen, iPhone6s-iPhone6s, iPhone6sPlus-iPhone6sPlus, iPadMini4-iPadMini4, iPadMini4Cellular-iPadMini4Cellular, iPadPro-iPadPro, iPadProCellular-iPadProCellular, iPadPro97-iPadPro97, iPadPro97Cellular-iPadPro97Cellular, iPhoneSE-iPhoneSE, iPhone7-iPhone7, iPhone7Plus-iPhone7Plus, iPad611-iPad611, iPad612-iPad612, iPad71-iPad71, iPad72-iPad72, iPad73-iPad73, iPad74-iPad74, iPhone8-iPhone8, iPhone8Plus-iPhone8Plus, iPhoneX-iPhoneX,

Supported Languages:

English; French; German; Italian; Japanese; Portuguese; Russian; Chinese; Spanish; Castilian; Chinese;