Screenshots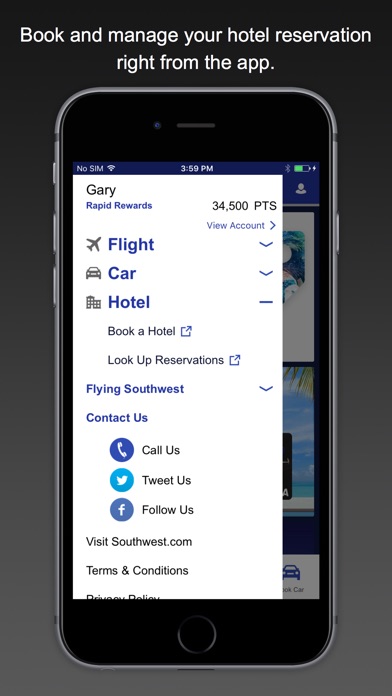 New in version 4.9.1
We continue to make bug fixes and performance enhancements.
Description
Ready for takeoff? Our new app is your digital pilot, guiding you through the Southwest experience. It's packed with easy to use features like express checkout and mobile boarding pass with Apple Wallet. Download our new app and see where it takes you next!


Features include:

• Check in, book, change, or cancel air reservations

• View your upcoming flight's status, boarding position, and gate information from the home screen

• Access your Mobile boarding pass and save it to Apple Wallet

• Book or cancel rental car reservations

• Check flight status and setup notifications

• Add EarlyBird Check-In® to an existing reservation

• Enroll in and access your Rapid Rewards account

• View travel and weather alerts

• Access helpful airport information
Reviews
What's the point
West Coast Carolina
on
9/23/2017
App requires you to look up reservations everytime you open the app. Nothing is stored properly. The worst of all Airline apps I've used.
Errors
Melissasplace
on
9/23/2017
Fix the errors please.
Too many error messages
WealthyOverRich
on
9/23/2017
This site can be a bit primitive at times. Waaay to may error messages. I love flying Southwest, however their team must do something about this app!
Worst airline app ever
1. User interface is awful and not very robust so I can't really do much of anything 2. Cannot see any true account settings to make updates to email address / personal info
No add to Wallet
Literally the only reason I downloaded the app was to be able to add my boarding pass to the passbook - a feature that this doesn't seem to support.
Passbook support no longer available????
Asia Monique
on
9/21/2017
What happened to Passbook! That is the most convenient thing and it's now no longer available. Help.
No mobile boarding pass for group reservation
Natural Gorl
on
9/21/2017
Overall, the app is fine, with one major flaw. When you have a reservation with more than one person, you can not download mobile boarding passes. Seriously?! Any other airline I have flown allows you to download all the boarding passes for all members of your travel group (I am only talking about a group of 3 people here). PLEASE make an update to the app to allow for this. Having to print boarding passes (and then keep track of them) is antiquated and cumbersome.
Terrible App Update
I DONT Concur
on
9/20/2017
Loved the SW app in the past, now the latest update continues to error. Ugh!
The app is still not working
Your app went down and will not allow you to log back in!!!!!!!! This app was a 5 star before this issue!!!!! I can log into the web with no problem get the this error "Looks like you have entered an invalid username/account number and or password. Please try again error 400618201". This is a shame no one at your company seems to be aware but many customers are upset!! This needs to be fixed
App Terrible A List to B Boarding Group!!
Downloaded the app awhile ago - decided to use while on a business trip to Checkin to my return flight using app for first time. 24 hrs prior with all info entered accurately and I receive an error. Error persists and had to close the app. Then already minutes into checkin, I relaunch app and it prompts me that I can checkin. I am A list and receive a B boarding group WHAT?!? My flight was booked months in advance and I was A List months prior to my booking. COMPLETE GARBAGE! Fix this app. Will use the website directly from now on.
App not working properly
Tried to create an account several times. Keep getting error message saying " this password is already in use by the username " changed user name several times, still same error message. Even tried deleting app twice.
Mobile boarding passes???
Why does SWA force us to use paper boarding passes with multi-passenger bookings? We all have to log in to the app individually, why can't SWA figure out how to just give each person their own mobile pass???!! The app designers have gone to great lengths to prevent this, what is the big deal? I can print out multiple passenger's boarding passes on paper from a desktop but I can't print from a mobile phone or get a mobile pass??? It's 2017 guys. Figure it out.
Okay, but much to improved upon
Lots of good features, but SWA's app doesn't seem to be able to handle multi-party ticketing within the app or provide travelers with updates on their checked bags. These are two huge gaps. Delta Airlines still has the most complete airline app.
Not good
This app is not helpful at all. Even after logging into your account, you still need to search for your flight information by entering the confirmation code, first and last name. Dumb
It worked until they fixed it
New app has some serious issues that need to be resolved ASAP. I get an unknown error when I try to see my information. NO GOOD!
Clearly wasn't tested
I'm blown away that a company like Southwest would allow something so poor out into the wild. This is buggier than some Alpha releases I've seen recently. Clearly Southwest got the wrong people working on this thing.
I Don't Understand the Hate
Anthony Park
on
9/15/2017
I've used this app quite a few times to date both for booking flights and for managing my booking/boarding pass. It's worked perfectly every time in a speedy manner. One time recently I even had a situation where I had booked a flight and actually checked in already, when I realised I wouldn't make the flight. I rescheduled to later flight, at no charge (the tickets were the same price, and Southwest don't charge for changes) and switched my boarding pass, all in a few hassle free taps. I really don't see any downsides once you are used to Southwest's seating policy and play ball. The only thing I would like would be for SW's cabin crew to keep their announcements to a minimum as it sometimes feels like they go on forever and can be annoying if you would like some peace.
How about a shopping app
I use SW shopping a lot. How about developing a SW shopping app. United has one called united x
Truly a piece of junk app
Wowie zowie sis boom owie
on
9/15/2017
Standing in line to board my connecting flight and the boarding pass is nowhere to be found. While everyone else boarded the flight and got seats I had to go to customer service desk, wait in line to get a paper boarding pass and then get on the flight--long after all the good seats were taken. So for next flight and all future flights I have to print a boarding pass so I don't get in this situation again. Sort of defeats the purpose of the app. I'll fly other airlines when possible!
Update
Countrygirl73
on
9/15/2017
When the last update was installed, now I can not use the finger print login. I have checked the print on my phone and it works fine on other apps. I have deleted and reloaded the app, same thing. It Would be Nice if this could be fixed.
Why bother having an app?!?!
Funny I can log on my computer - but the app keeps telling me "incorrect username or password"-?!?! I like using apps for boarding passes, etc, but this is truly worthless.... please try again!!!
Terrible app
Stevieboysgirl
on
9/15/2017
Too many steps needed to get anywhere on the app and after checking in for my flight there was no mobile boarding pass available. Only Mobile Boarding FAQ's. It said to get your boarding pass at the airport.
Wrong gate!
I almost missed my flight because the app had me go to the wrong gate. I ran to the other terminal and barely caught my flight.
You have it fix this!
SW you guys do so many things well, but this is the airline app in the industry. Take a look at Alaska's app if you need help, but please get this addressed immediately.
Touch ID
The Touch ID doesn't stay once you log out of the app. It used to. What's wrong?
Check out United Airlines App!
Daily Newsie
on
9/14/2017
This is a pretty rudimentary app. Check out some of your competitors and improve yours. Now we can't even get a mobile boarding pass. What's the point of this app if it takes too long to load and you can't even get mobile boarding passes.
Garbage
Good at what I do
on
9/13/2017
This is hands down the WORST airline App out there. FIX YOUR GARBAGE APP.
Deleted app after 5 minutes
Worst app I've used to date. Time consuming and SLOW process checking flights. Just let me type in the departing city and arriving City PLEASE!!! Don't make me scroll endlessly looking for that. Ugh. I deleted this app in less than 5 minutes.
Found Wanting
No Boarding Pass!!! I guess they think it is cheaper to print paper at the airport than put a boarding pass on your phone. Doesn't remember confirmation code. You have to enter it with each use of the app. Going online to print boarding pass the site doesn't know you've checked in using your phone so you have to check in a second time.
Can't create an account
I just wasted 20 minutes trying to come up with a username that the app didn't say was taken. I even used several very strange combinations and it either said "this username is taken" or that I had the wrong password for that username, which seems highly unlikely. Guess I'll just stick to using the website to check in.
SLOW
TheStanMonster
on
9/12/2017
I have been using the app for quite a while (I fly Southwest 2x per week), but the new version takes way too long to load . . . or to do much of anything. It is much faster to go online and email a boarding pass (rather than use the app).
Don't need it never flying Southwest again
Southwest worked like this app: their incompetent with getting boarding passes right. They say the app has been fixed but I won't need it. I had hoped it would work like, say the united app and inform me about my reservations and flights. It seems to me just for booking or selling stuff nothing else. I can keep track of my trip from my printout and save memory.
Would only provide one boarding pass
Barcode reader had difficulty scanning first boarding pass's QRC, finally indicating that I had already borded (though I had obviously not). I go to board my connecting flight and the app won't provide an option to display a boarding pass. Gate agent refers me to the check-in counter. Would have lost my boarding position if the gate agent hadn't paused boarding to clear the jetway.
Unable to Sign Into the App
I am able to sign into Southwest via the website but I can't when using the app. I keep receiving "Error: 400618201" regardless of whether I enter my username or account # and reinstalling the app doesn't work either.
Not the most useful
Only good for checking in which you can just do on the website. Can't download a mobile boarding pass which is really inconvenient.
Won't let me sign in
The app won't let me sign in
Please Apple Watch feature
The app works well. I've never had a problem with it. Please add an Apple Watch feature. Other airlines offer that and it's very helpful.
Mediocre app compared to other airlines
The app seems to be a thin front end to the website, which provides nearly identical experience. App refused to let be get a mobile boarding pass, or even email one to myself, telling me I has to go to ticketing at the airport. On the outbound flight I somehow tricked it to give me one (but not my wife). Couldn't do that on the return. App did not give notifications or even show gate information.
Would like better Apple Wallet support
I'd like to Apple Wallet stored boarding passes to show updated gate and boarding information and being updated as those information change. Also, somewhat sometimes the boarding passes are not available through the app altogether and that feels weird. Those apart the app works ok for me.
Not very useful
Seems very retail oriented, not user friendly for tracking flight departures and arrivals which would be of more value to me. I did find flight status but didn't update departure changes and didn't show any updated arrival info appropriately. But staring me in face was opportunity to open a credit card, book a hotel, purchase opportunity to check in early or book flights on sale. Also found no place in account to make make changes such as cancel Touch ID or add Trusted Traveler, passport info to keep on file.
Swabiz doesn't work on app
Hard to use for business travel when you don't support swabiz on here
Where's my refund??
Why would they not automatically apply your Southwest credits on your next purchase?? If I had known about this sneaky behavior, I would have just asked for the refund to my credit card instead of as Southwest credit.
Connection issues
Bob-San Diego
on
9/5/2017
Error 401120280 Cannot connect, even though I have good Wifi and/or LTE connection and parts of the app seem to be fine with connection. It errored trying to register for promotion in latest failure. The app has been having connection problems for at least this past version and I have not seen any update to fix it. Please release a fix.
Good app overall but needs fixing
Fix the login issues and the recent searches! Doesn't show up so i have to retype the destination each time!
Password login issues
I created my account and downloaded the app and tried to log in. I use a password manager so all of my login information is stored. If I login through the website I get in just fine, but if I try to login through the app it says my login information is incorrect. Turns out that the app won't work if your password is longer then 14 characters, even though the login works on the website it won't work on the app. As a programmer this is a terrible oversite I have no idea how this issue hasn't been fixed considering there's tons of other people reporting this issue on the southwest forums
Doesn't work anymore
Every time I launch I get an error it can't connect. I've tried it on LTE and several different wifi networks. I really hope they fix this before my next flight. It's unusable.
Errors
I get so many errors using this app. From not being able to login, to not being able to see my boarding pass, or to do much of anything. I've reinstalled it and restarted my phone and there are still issues.
Crashes all the time does not worl
It loads and displays an error code
App errors & crashes!!
App worked fine yesterday, now, its a DUD!! Many errors!! Crashes!! I Deleted app and reinstalled, but that didn't help, now I cannot log in at all. What a waste.
Fact Sheet
Publisher:

Southwest Airlines

Category:

Travel

Released:

Dec 18, 2009

Current Version Released:

Sep 08, 2017

Version:

4.9.1

Size:

90.1 MB

Compatibility:

Requires iOS 9.0 or later.

Recommended Age:

4+

Game Center Certified:

No

Supported Devices:

iPad2Wifi-iPad2Wifi, iPad23G-iPad23G, iPhone4S-iPhone4S, iPadThirdGen-iPadThirdGen, iPadThirdGen4G-iPadThirdGen4G, iPhone5-iPhone5, iPodTouchFifthGen-iPodTouchFifthGen, iPadFourthGen-iPadFourthGen, iPadFourthGen4G-iPadFourthGen4G, iPadMini-iPadMini, iPadMini4G-iPadMini4G, iPhone5c-iPhone5c, iPhone5s-iPhone5s, iPadAir-iPadAir, iPadAirCellular-iPadAirCellular, iPadMiniRetina-iPadMiniRetina, iPadMiniRetinaCellular-iPadMiniRetinaCellular, iPhone6-iPhone6, iPhone6Plus-iPhone6Plus, iPadAir2-iPadAir2, iPadAir2Cellular-iPadAir2Cellular, iPadMini3-iPadMini3, iPadMini3Cellular-iPadMini3Cellular, iPodTouchSixthGen-iPodTouchSixthGen, iPhone6s-iPhone6s, iPhone6sPlus-iPhone6sPlus, iPadMini4-iPadMini4, iPadMini4Cellular-iPadMini4Cellular, iPadPro-iPadPro, iPadProCellular-iPadProCellular, iPadPro97-iPadPro97, iPadPro97Cellular-iPadPro97Cellular, iPhoneSE-iPhoneSE, iPhone7-iPhone7, iPhone7Plus-iPhone7Plus, iPad611-iPad611, iPad612-iPad612, iPad71-iPad71, iPad72-iPad72, iPad73-iPad73, iPad74-iPad74,

Supported Languages:

English;