Screenshots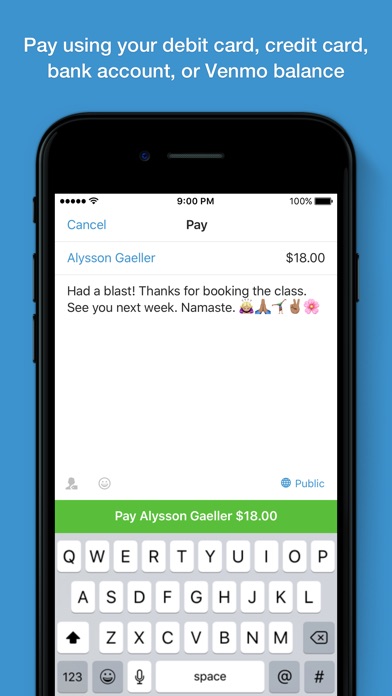 New in version 7.7.0
All that stuff that you love about Halloween now as emoji—skulls, candy corn, magic tricks.
And we also took the opportunity to make Venmo a bit prettier.
Description
Venmo is the simple and fun way to send & request money between friends. Whether you're splitting a dinner bill, the rent check, concert tickets, or the cost of a road trip, Venmo removes the awkward talks over who owes what.

Just send or request money with a message or emoji combo of your choice, then like or comment on all your favorite splitting moments.

The Venmo magic:
• Send money quickly to friends by simply linking your debit card or bank account.
• Find friends automatically using your friend's name, @username, QR code, phone, email or by syncing your Facebook or phone contacts.
• Stay on top of what you owe, what friends owe you and what you've bought.
• Make purchases in select apps using Venmo, so you can split with friends easily.
• Venmo protects you by using data encryption to guard against unauthorized transactions and access to your personal or financial information.

"Venmo, the #1 app college students should download right now" - BuzzFeed

A few more quotes that make us blush:
"One of the 50 Best Apps of the Year" - Time
"The crown jewel of all finance apps" - Forbes
"Revolutionized the mobile payment space" - Vanity Fair
"Just Venmo me" has become synonymous with "pay me back" or "I got it." - Business Insider

Venmo is a service of PayPal, Inc., a licensed provider of money transfer services. All money transmission is provided by PayPal, Inc. pursuant to PayPal, Inc.'s licenses. Visit https://venmo.com/legal/us-licenses/ for additional information. © 2017 PayPal.
iPad Screenshots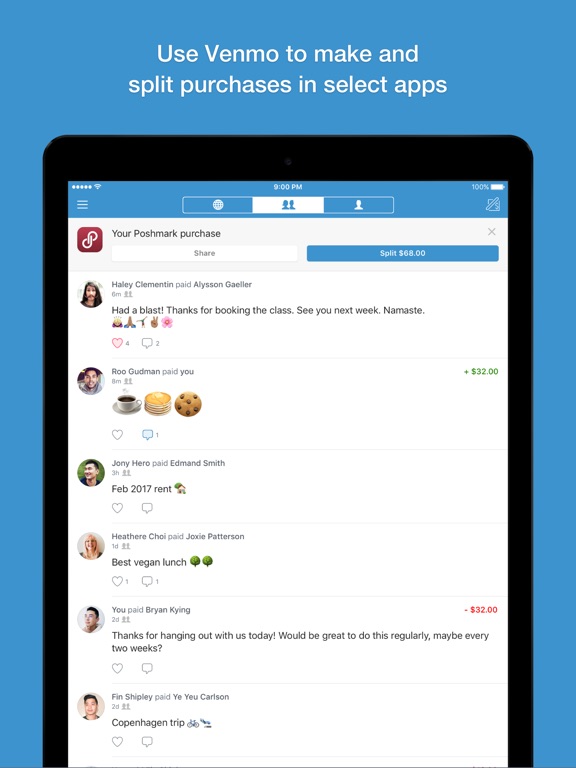 Reviews
Froze my account
I don't think I deserve to have my account frozen when I am the one who was victimized.
Hate this company and app
Southernspirit
on
10/19/2017
I can't link my card to this dumb app to get my money off it because they don't support my bank.. really dumb when not everyone uses the same banks this company has contracts with so because I don't bank with a traditional bank that means I don't get my money off their app!!! Completely unprofessional... I'm done
Easy and secure
Ellen from Meeker
on
10/19/2017
Not a better way to share expenses on a project secure and you have money immediately.
Love it!
AndrewJames1986
on
10/19/2017
One of my favorite apps. I love using it when at dinner with friends. It's fast and totally free.
Poor Customer Service
I've used this app for many payment transfers. There was a mistake in recipients, and the customer service to help to reverse the transfer was horrible. I will not be using this app any further. Ca$h or Google Wallet have a better product.
Everyone should be on this!
Better than a bank app, it is so easy, everyone should be on this!
Awesome
Phone app user
on
10/18/2017
Love the convience
It's great!
Quiz Mercenary
on
10/18/2017
Gimme your fingernails!
Hard to beat
I use Venmo to take payments from teammates to pay for our soccer field rental. It's very easy to set up, It works every time, it's easy to use and I've never had an issue with it.
Urgency
There are plenty of other apps that allow immediate transfers and In my situation, that's what I need. If that doesn't change my friends and myself will all be uninstalling this app for its lack of urgency. When one send another money, it's for convenience without having to go here, there and back here again. I would've had my money faster with less aggravation if I would've just got it myself rather then it being transferred via this app. One more week, and WE are gone. This has happened too many times.
Essential
Super useful app
Easy to use
Very easy to use. Only wish there was a way I could transfer the money to my bank account faster.
Como puedo ponerlo en español
Como puedo ponerlo en español
Great App
British-Man
on
10/18/2017
I use it all the time. It's great for college students, but I wish the transfer would be faster !
Notification
Good, but a little confusing when I get a deposit. I don't get a notification.
Love it!
So easy to pay friends and families quickly and safely!!!
Strange viewing other people's info
#myfavstorever
on
10/18/2017
Why do you allow others to see people's information of who paid who, when and how much etc... should be private. I Adam not sure about this sight yet.
Easy and convenient
Running Pearl
on
10/18/2017
Really great and easy to use interface.
Great app but don't love the public setting
Branflakes?
on
10/18/2017
The only thing I dislike about Venmo is that it sets your transactions to public by default. This is easy to change though, and otherwise I love it and use it nearly every day.
Easy
So-kewl-in-school
on
10/18/2017
Super easy way to transfer money to anyone in the world. Safe and secure. I use it for paying bills or splitting a pizza.
Convenient
Very quick and easy to use. Most of all very very convenient. Link bank, debit or c cards. Love it
Easy!
The JansFam
on
10/18/2017
Love the ease of this app. No fees!
Venmo
Captain Brittle
on
10/18/2017
Very convenient and user friendly. If I can do it, anyone can!! JB
Worst app ever
Succkkkiiitttt
on
10/18/2017
Downloaded this app because a friend of mine needed cash to pay rent. Told him the money sent, the next day my payments were returned to my Venmo app and my account was frozen. Venmo took the money out of my bank account and held it in my frozen Venmo account. I've been dealing with customer service for almost a week trying to get my money back. Useless, not user friendly, and definitely not worth your time. Spend the extra few dollars and go to Western Union.
Easily the best cash exchanging app
Venmo is the best and easiest cash app I have ever used. Zero hassle. I love it in all of it's entirety. It's THE BEST. I'll never use any other app for sending / receiving money.
College son
My son is three hours away in college and Venmo has been a lifesaver on more than one occasion! Love, love, love it! Dr. Linda H
Life Easier
I love VENMO! It's simplified my life!
Love It!
Easy & convenient!
Poorly informed customer service reps
I paid the wrong person and needed to recover the funds. The person emailed me and said "I don't think I am the one you wanted to pay, I am sending a payment now to you". I was told by the rep that t would take 3 days to post on my act, it posted immediately. Furthermore I was told that my account I have could not be used for it wasn't a checking account and that the bank that holds the account wasn't going to work. I tried to explain that I have a routing number and a account number and get a direct deposit, but she was trying to tell me things and not listening. I asked to speak to a manager 4 times finally she said hold , then was put on hold for 17 mins and then was disconnected. Well I decided to try to u my account and bam it worked - and it should be posted to my account by Wednesday- that's a lot different then 3 days
Speed of Transfer
trufacts3000
on
10/17/2017
It would be ideal if venmo could transfer money within the moment/hour of the transaction as opposed to having a two day wait period.
Garbage
splitsecond
on
10/17/2017
Total garbage. Stick to cash app.
Love/Hate
elledaniell
on
10/17/2017
Hate that it makes paying my friends so easy, but it's oh so convenient.
Not worth the trouble
Hard to navigate, trouble putting in payment info, and just didn't make sense. Deleted and will not use again. Square cash was easier to set up, even writing a check is easier.
A couple tips for improvement
I like this app a lot and use it all the time, but I have a couple suggestions of areas of improvement for the Venmo company: 1. You are allowed to sync multiple bank accounts, but the way you decide the bank account to use for payments is by the last 4 digits of the account number. Most people (including me) don't know all their account numbers, so when you have several it makes you take one more step (looking up your account numbers) to be able to determine which account to select. To solve this problem, all Venmo would need to do is program for the App to allow you to "nickname" the account. That was its easy to tell which one you want to pick when you are toggling between accounts. 2. EVERYTIME I make a payment, I have to go to the setting/bank accounts to make sure I have the right account synced, and then I go back to the front end and complete my transaction. Half the time the correct bank account is already selected from the last time I completed a transaction, but since there's nowhere to check on the homescreen, if you want to be certain, you have to check the backend. I've accidentally made payments to people from wrong accounts and it's always frustrating and annoying to have to transfer that money back over as a credit from the correct account to the incorrect account. Easy fix- just show ok the home screen which account is selected so that we know whether or not we need to change the default account before making the next transaction. That's my feedback. Otherwise, I gave it 4-stars. Fix those user interface issues and I'll change it to 5! :)
Zero stars!
Mrs Back ❤️🌹
on
10/17/2017
Venmo is the app for you if you want to scam people! My co-workers each sent me money through this app. However they sent to to the wrong person but with same user name with out the -1 at the end. My co-workers and myself have tried to request the money back from the user. This person constantly denies the request. I chat with Venmo customer service and all I was told is they don't offer mediator services!! WTH Venmo you make money off these scams to so maybe that's why you do nothing to help your customers get their money back!! I will tell all my family and friends to stop using this app. Cash app is better anyways!!
Essential
Nothing better. So fun. So easy.
Pay within seconds
Venmo has made it easy for me to pay people without having to go through the struggle and time to take cash out from the ATM. It's very easy to use and I am able to pay people with seconds!
Friendly and funny
Did a great job with my hair, kept me entertained, and listens to me talk about me. Basically everything you look for in a therapist/barber. Coming back next haircut
Ofcourse the app is incredibly useful. BUT....
Its well made, interface is easy to use, its better than most others I've seen. Now the 1-star part. The "social" part. Should've just left it out g0ddamit .. Well, lets put it this way. If fb ruined social interaction FOR GOOD between people, then this app is the cherry ontop. Its silly, Vain, nonsensical BS. Where are we going here?
Instant $ transfer to bank acc
Zelle transfers $ instantly to bank... what makes you think I want to pay you .25¢ every time I do it w Venmo when it is FREE on Zelle 🙄 #GetReal
Only gripe
Drivingmralec
on
10/17/2017
Only gripe is that two people can not use the same card. My debit card has the same # for two people and only one of us can use it to Venmo
Awesome app
Made so simple and easy to use 🙏
Easy and few-free micropayments
The easiest way to send money to anyone! No fees on top of it.
So easy!
Venmo makes going out with friends painless. We never have to ask to split the check. We can enjoy our time out and do the math later. Even my mom loves using this app!
Group approved
I have a group of 5 friends and this helps a lot with the issues of splitting the price amongst and assuring you are going to get the money.
Love venmo
Ethan Keiser
on
10/17/2017
It's great
Love it
Just what is says
Horrible
Worst app for payment transactions ever
Hate this app
I downloaded the app yesterday and this morning I had a text from my bank account asking me if I withdrew a large amount of money. I just got off the phone with my bank. They're freezing my account while they investigate the transactions. DO NOT DOWNLOAD this app!!!
Fact Sheet
Publisher:

The Delancey Corporation, LLC

Category:

Finance

Released:

Apr 03, 2010

Current Version Released:

Oct 09, 2017

Version:

7.7.0

Size:

73 MB

Compatibility:

Requires iOS 10.0 or later.

Recommended Age:

4+

Game Center Certified:

No

Supported Devices:

iPhone5-iPhone5, iPadFourthGen-iPadFourthGen, iPadFourthGen4G-iPadFourthGen4G, iPhone5c-iPhone5c, iPhone5s-iPhone5s, iPadAir-iPadAir, iPadAirCellular-iPadAirCellular, iPadMiniRetina-iPadMiniRetina, iPadMiniRetinaCellular-iPadMiniRetinaCellular, iPhone6-iPhone6, iPhone6Plus-iPhone6Plus, iPadAir2-iPadAir2, iPadAir2Cellular-iPadAir2Cellular, iPadMini3-iPadMini3, iPadMini3Cellular-iPadMini3Cellular, iPodTouchSixthGen-iPodTouchSixthGen, iPhone6s-iPhone6s, iPhone6sPlus-iPhone6sPlus, iPadMini4-iPadMini4, iPadMini4Cellular-iPadMini4Cellular, iPadPro-iPadPro, iPadProCellular-iPadProCellular, iPadPro97-iPadPro97, iPadPro97Cellular-iPadPro97Cellular, iPhoneSE-iPhoneSE, iPhone7-iPhone7, iPhone7Plus-iPhone7Plus, iPad611-iPad611, iPad612-iPad612, iPad71-iPad71, iPad72-iPad72, iPad73-iPad73, iPad74-iPad74, iPhone8-iPhone8, iPhone8Plus-iPhone8Plus, iPhoneX-iPhoneX,

Supported Languages:

English;