Screenshots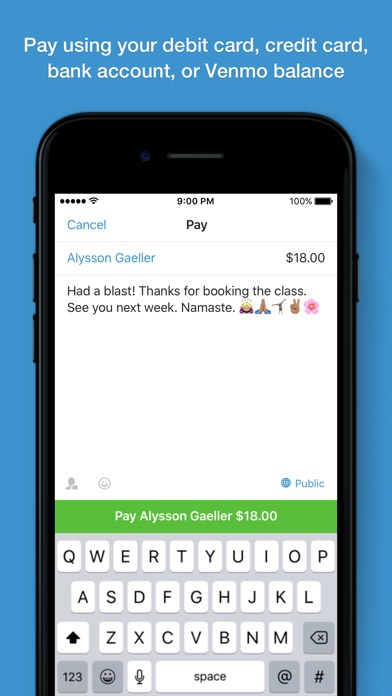 New in version 7.10.0
'Tis the season of giving. And in our last release of 2017, we're giving you a few new festive emoji. We've also wrapped up Face ID and a better way to shop with Venmo… with a bow on top.
Description
Venmo is the simple, fun money app for sending cash quickly between friends and shopping at your favorite online stores. Split purchases to avoid awkward IOUs, share your new buys, and catch up on what your friends are doing on the feed.
"Just Venmo me" has become synonymous with "pay me back" or "I got it." —Business Insider

QUICK & EASY
Send money quickly to friends by simply linking your payment method. There's no transaction fee for sending money with your debit card or bank account. Use your Venmo balance for payments, or easily cash it out to your bank.

CONNECT & SHARE WITH FRIENDS
Every penny tells a story, whether it's for a group dinner, road trip, or concert. Add notes to your payments using your favorite emojis, and like or comment on friends' stories.

BUY FROM YOUR FAVORITE STORES
Check out without your wallet. Use Venmo to pay in select mobile apps or at millions of retailers on mobile web—for free—so you can easily make, split, and share purchases with friends.

STAY ON TOP OF IT ALL
Easily track your finances. Keep up with what you owe, what friends owe you, and what you've bought.

YOUR SECURITY IS OUR PRIORITY
Venmo makes money transfers easy and fun, and we take the protection of your Venmo account very seriously by using security measures to help protect your account information. Learn more at https://venmo.com/about/security/

Venmo is a service of PayPal, Inc., a licensed provider of money transfer services. All money transmission is provided by PayPal, Inc. pursuant to PayPal, Inc.'s licenses. Visit https://venmo.com/legal/us-licenses/ for additional information. © 2017 PayPal. PayPal's NMLS ID is # 910457.
PAYPAL, INC., IS LICENSED BY THE GEORGIA DEPARTMENT OF BANKING AND FINANCE, LICENSE # 34967.
PayPal, Inc., holds Massachusetts Foreign Transmittal Agency License # FT3345.
PayPal, Inc., is licensed as a Money Transmitter by the New York State Department of Financial Services.
PayPal, Inc., is licensed to Transmit Money By Check, Draft or Money Order By The Department of Banking, Commonwealth of Pennsylvania.
PayPal, Inc., is a Rhode Island Licensed Seller of Checks and Money Transferor.
iPad Screenshots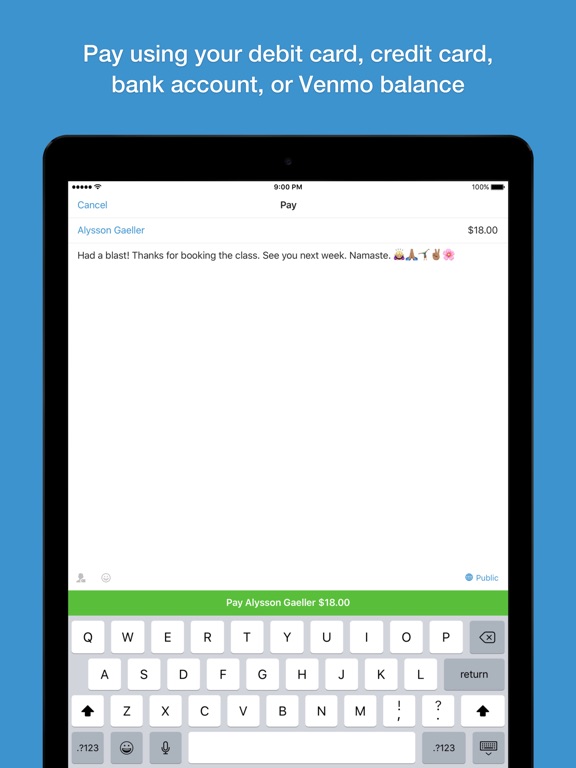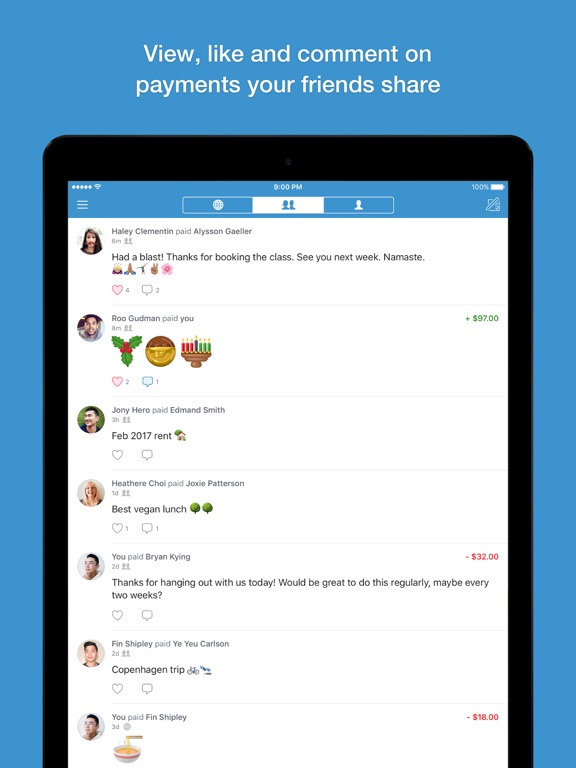 Reviews
L O V E
Christopher Vande Guchte
on
12/13/2017
Easy to use! At first I was skeptical; but once I began using it's safe and easy to use. My housemate pays me rent on time with the app, I can pay back co-workers for lunch they picked up for me and so much more.
Very good
Once I found out that my money was being held in my Venmo "account" and transferred it to my bank I was golden. Great app very useful and easy to pay people!
Best ever!
no wallet needed
on
12/13/2017
This has made life so much easier..... someone told me about and I shared it with all those I need to pay. Hairdressers landscaper Dogwalker....
It's alright.
It's alright. Cash app lets you instantly transfer money to your bank in seconds. I don't see that option here.
Great
Great app. So easy and quick! Better than all the rest.
Super easy
This is the new way to get it done.
Very user friendly
Ms Eliz Noche
on
12/12/2017
I really like this app it's easy to use
Great app, a must have!
A++
Love it!
Venmo makes my life much easier.
Quick & Easy
THE DON WIGWAM
on
12/12/2017
Love it! Everybody uses it. Fun and secure.
Bank account
For some reason, Venmo needs to verify my bank account but when I enter all the info in, it doesn't work. Leaving me unable to transfer money
Very expensive option
Jenny is the very best
on
12/12/2017
It costs so much to pay using Venmo unless you are willing to put your banking information out there on one more app. Not my favorite
Fee
3% is too much Why do we need to pay for the card fee?
I'm married and Venmo hates me
Switching to the Cash App
on
12/12/2017
Venmo hates the institution of marriage. I have a joint banking account with my husband. I try to add my bank account info and it won't let me because it's already being used by my husband's Venmo account. Way to make me feel financially inferior, Venmo.
Vemo
What a great way to give or pay someone ! It is secure and safe, we use it all the time!
To clunky
Site has way to much going on, very clunky. I'm forced to use it otherwise I'd definitely use another platform.
Free, Convenient Money App!
LOVE THIS APP!!!! Really love how easy it is to set up and use, but do not like the social media part of it. It makes me nervous. I have to be conscience of making sure I'm not blasting to the world that I'm getting paid.
Fantastically easy
Jo jazzy 88
on
12/12/2017
Yo
Money is not protected.
Garbage Franchise
on
12/12/2017
If you send money to the wrong person, or to a frozen account or any other nonsense like that, you lose your money. They do not have insurance. Lost $$250
Money
I love giving money to my friends and enemies.
The Best Payment App!
Brooke Rock
on
12/12/2017
This app is by far the easiest way to pay others and get paid. I run a business as a makeup artist and I LOVE receiving and sending money this way!
Essentially Essential
ninelettersthenfive
on
12/12/2017
Five stars out of five stars : twenty-five (arguably 50) times 5 points out of the same, total number. And they have excellent customer service and support, to boot.
So much easier than checks
lovelylady222
on
12/11/2017
Quicker too!
Other people's money.
Lisa127497295719479274916
on
12/11/2017
Why is there an option to see what other people have paid other people? Am I missing some this as to why a user would want this?
Fun
Cool app learning new things
Why can't a just use my atm card.
I don't have a debit card so I can only receive money. Why can't i go directly from my bank account? Silly.
Should be able to cancel/modify a payment
We are human, and make mistakes. I should be able to cancel/modify a payment made in error; amount or recipient. There should be a window of opportunity. Even airlines allow 24 hours before a reservation is set in stone.
Luv it!!! So easy!!!
Can't imagine life with out it!!!
Amazing app !!!!
Fast and easy to use!!
Excellent
Venmo is the best! Easy. Simple. Safe.
Transfer to account
Takes to long to transfer to my bank. Apple Pay now more efficient to use..
Handy!
Super easy to use , reliable and convenient.
The best!
Bestest thing ever! Thank you
Love it!
And So It Goes
on
12/11/2017
Makes paying everyone super easy!!
Cashless society
Mistress of the Calculaing Willow
on
12/11/2017
I never carry cash so this makes my life more convenient
It just Works
Corlissmedia
on
12/11/2017
The title says it all.
Scammers
Venmo appears to protect scammers that prey on honest individuals. They do not work with law enforcement and victims. Because of this, I cannot reccomend this app.
Great Service
CincyBearcats05
on
12/11/2017
Makes it extremely easy to make or receive payments at anytime. App works very well and is easy to maneuver.
Constructive criticism
STLxAnonymouSx
on
12/11/2017
Should be able to send some photos or something. Also should be able to report people for not doing what was asked for to receive money.
Awesome
I use Venmo for everything!
Easy and Reliable
Better and easier than going through the bank
Quick and Easy
Fast way to send and receive money.
4 stars
Seximanda06
on
12/10/2017
4 stars bc of having to download to send money to someone
Security nightmare
hoping fod better
on
12/10/2017
Downloaded app then found I have to give it full control of my bank account by giving them my account user name and password. Venmo is a great target for criminals who want bank account logins and passwords.
The future
The future is here.
Awesome sauce
She is fantastic!
Easy peezy
Redlushtrees
on
12/10/2017
So happy to have a convenient and prompt return of funds from the app to my checking account. Other apps work too, but this one is most reliable IMO.
Great App but annoying to switch between cards
I use this app for paying my rent and also general stuff between my friends and I. I use different cards for those actions, and it's annoying to have to go into the settings to change cards every single time I need to. Venmo should have an option that allows you to switch what card you use when you go to pay someone, the way it does for when you go to transfer your funds into your account. If they did that, I would give this app 5 stars.
Fact Sheet
Publisher:

The Delancey Corporation, LLC

Category:

Finance

Released:

Apr 03, 2010

Current Version Released:

Dec 12, 2017

Version:

7.10.0

Size:

82.9 MB

Compatibility:

Requires iOS 10.0 or later.

Recommended Age:

4+

Game Center Certified:

No

Supported Devices:

iPhone5-iPhone5, iPadFourthGen-iPadFourthGen, iPadFourthGen4G-iPadFourthGen4G, iPhone5c-iPhone5c, iPhone5s-iPhone5s, iPadAir-iPadAir, iPadAirCellular-iPadAirCellular, iPadMiniRetina-iPadMiniRetina, iPadMiniRetinaCellular-iPadMiniRetinaCellular, iPhone6-iPhone6, iPhone6Plus-iPhone6Plus, iPadAir2-iPadAir2, iPadAir2Cellular-iPadAir2Cellular, iPadMini3-iPadMini3, iPadMini3Cellular-iPadMini3Cellular, iPodTouchSixthGen-iPodTouchSixthGen, iPhone6s-iPhone6s, iPhone6sPlus-iPhone6sPlus, iPadMini4-iPadMini4, iPadMini4Cellular-iPadMini4Cellular, iPadPro-iPadPro, iPadProCellular-iPadProCellular, iPadPro97-iPadPro97, iPadPro97Cellular-iPadPro97Cellular, iPhoneSE-iPhoneSE, iPhone7-iPhone7, iPhone7Plus-iPhone7Plus, iPad611-iPad611, iPad612-iPad612, iPad71-iPad71, iPad72-iPad72, iPad73-iPad73, iPad74-iPad74, iPhone8-iPhone8, iPhone8Plus-iPhone8Plus, iPhoneX-iPhoneX,

Supported Languages:

English;