Screenshots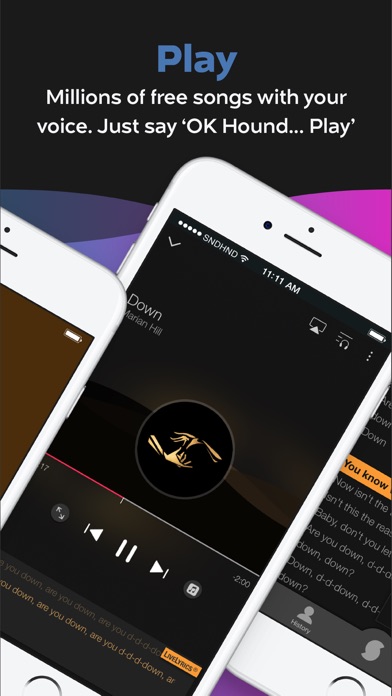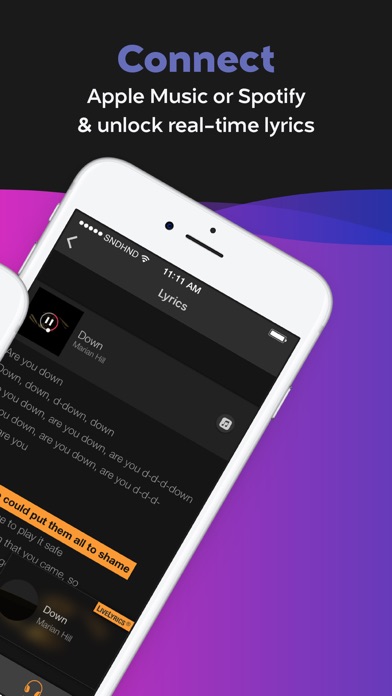 New in version 8.2
Optimized for iPhone X and bug fixes
Description
Music Discovery, Identification, & Voice-Controlled player
300M+ downloads, billions of songs discovered.

Hey, what song is that? SoundHound 8 makes it simple to discover music playing around you. Whether you're in the car or out and about, open the app, hit the big orange SoundHound button, let your phone listen for a few seconds, and we'll tell you exactly what's playing! Some folks have called it pure magic, and we tend to agree.

Dude, where's my app? We know your phone can get cluttered, so we've created a few shortcuts to that SoundHound button. Our notification center widget and 3D touch controls make discovering that song even quicker.

Look! No Hands! SoundHound comes equipped with "OK Hound…", an incredibly powerful way to interact with SoundHound through your voice. "OK Hound…" can help you navigate the app, discover new music and playback songs hands-free. Simply say 'OK Hound...' from any screen and say a command!

Hey DJ, turn it up! Discovering new music is only half the fun of SoundHound. We're music lovers too, so we've created an incredible experience for you to relive your discoveries with our music player. Connect your Apple Music or Spotify accounts to listen again, build playlists, explore music across genres, and find new favorites - all with real-time, karaoke-style lyrics through LiveLyrics®. Don't have an Apple Music or Spotify subscription? No sweat, we have you covered with our free, built-in YouTube player.

This is your music journey. Every song you discover will be kept in your own personal history. Look up where you heard that song on your Music Map. Want to keep all your devices in sync? Be sure to register for a free SoundHound account!

Still curious about SoundHound? Here's everything you need to know!

Discover
• Tap the SoundHound button in the app, in the notification center widget, or via 3D touch on the app icon to discover music playing around you! We'll let you know everything about the song including title, artist, album, and lyrics!
• Have a song stuck in your head? Press the SoundHound button, sing or hum the tune and we'll do the rest!
• To add the SoundHound widget to your notification center, swipe right on your iPhone's lock screen. From there, scroll to the bottom, tap 'Edit' and then the '+' next to SoundHound. You're now ready to go!
• Keep track of all your discoveries in your own personal history
• See the hottest new music across Genre, Global, and Popular charts
• Find out what's being played near you and around the world with our Music Map

Play
• Songs you discover can be played back for free via our built-in YouTube player
• View lyrics when playing back a song from YouTube
• SoundHound comes with 'OK Hound…', an incredibly fast and accurate way to find great music with your voice. Hound is built with natural language understanding, so speak like you would with a friend.
• Simply say 'OK Hound....' from any screen or tap the microphone on the play page. Once you see the listening panel, you can follow up with commands including:

App Navigation
• 'OK Hound...show me my discoveries'
Help/Questions
• 'OK Hound...Show me what I can say'
Music Discovery
• 'OK Hound...what's that song?'
Song Playback
• 'OK Hound... Play Hello by Adele'
Lyrics Search
• 'OK Hound... Show me lyrics to Castle on the hill'
Top Charts
• 'OK Hound...Play today's top songs''
Add to Spotify Playlist (registration required)
• 'OK Hound...Add this song to my playlist'

Connect
• Build personalized playlists through Apple Music or Spotify (SoundHound account and music subscription required)
• View and interact with real-time, moving lyrics for your songs with LiveLyrics(r)
• Keep all of your discoveries in sync across multiple devices

SHARE
• Share your music discoveries to Facebook, Twitter, messaging services and email!

Don't want banner ads? Upgrade to SoundHound∞: https://04ii.app.link/RXaRXypntA
iPad Screenshots
Reviews
Regularly Shows Incorrect Songs
Cat Stevens - Oh Very Young shows as Urszula - Podworkowa Kalkomania..no clue where that guess came from. Just before that was a song by Led Zeppelin - The Ocean; SoundHound repeatedly said it was The Ocean - The Ocean. And it couldn't find any info when Poison - Nothin' But A Good Time was playing. Did they forget to load up the classic rock libraries??
Love the updates
Love that SoundHound can create playlists on my Spotify.
Takes forever to load
boompowsurpise
on
11/20/2017
App takes a really long time to load/open, so I miss songs a lot. So then makes the point of the app useless.
Lyrics but no audio
What happened? This used to be an awesome app. I'm in my car and it searches for a song, finds the song and there is NO audio. Please fix this glitch
Love it
Poptart13136
on
11/18/2017
I don't know why people are so critical of this free app it is perfect and better than shazam. This app turned me into alot of bands👍
Works great
I've been using Sound Hound for years and it is my go-to app. Unlike Shazam which forces ads, Sound Hound picks up the song playing quickly when you speak the command and quickly integrates with Spotify. Only thing quicker is Siri!
Great app!
Really great app. I would love a setting that automatically starts listening when the app is opened. Clicking 2-3 times while driving is hard. Also it would nice to see is a list of other artists that did the same song. Occasionally it pulls the wrong artist.
Needs an Apple Watch version
BurningCosmos
on
11/14/2017
It would be perfect then. Kind of silly not to have a simple Apple Watch version. There's been plenty of times I would have used it but either I didn't have my phone or couldn't take my phone out to use the iPhone app.
Buying music
Luiz Cicero
on
11/13/2017
You used to be good now, You piece of crap
Hard to buy after clicking preview
I wish it was easier to buy in the app. When you click preview on a son you successfully Soundhounded the iTunes icon disappears. You must go to another song and click preview to get it to appear on the song you want.
No more lyrics
Myblueoctober
on
11/10/2017
I can google my own lyrics
Needs more variety
I am rating this app a 4 star since it is a good app to have, but it doesn't seem to know songs that are from outside of the US. If they could update their app to include songs from other countries or increase such songs, I would give it a 5 star rating. I have lost count of the times that I have been to a Chinese restaurant and liked a song it played, but SoundHound didn't recognize the song.
App not saving song to Apple Music playlist
Torensmith0815
on
11/8/2017
Not sure what happened but since the September update, song are not saving.
DJPastortroy.com Love SoundHound!!!
DJPastorTroy.com Love SoundHound and will use it on a frequent basis because it works, it gives you what you need and quickly identifies different songs and that's what we need today because we can't remember all songs but SoundHound can, we love it!!!
Best Music Search App
Hybrid Stigmata
on
11/4/2017
Finds the song almost immediately I would say about 80% of the time. Can't expect any app to find every single song or remix ever made. But the best thing about this app is you can link it with your Spotify and every song you search is automatically added to a playlist. I have a SoundHound playlist on Spotify that has legit hundreds of songs I searched. It's awesome and convenient and for people like me constantly looking for new music to add into the rotation, works seamlessly.
Yet another update and it still won't work with Bluetooth
Nov 2017 Update: it's been seven updates and they still haven't fixed the Bluetooth problem. It is so frustrating that they won't fix this. It used to work fine and was a great app but now it's worthless to see the lyrics but have no audio. They will respond to this review that they are aware of the issue and will fix it in future updates. I won't hold my breath. It really is unfortunate because this used to be an awesome app. Thanks to the other reviewers for recommending Shazam, just tried it and it's great and works with Bluetooth.
Lyrics wanted.
This review is redundant to several others, but I too, went to this app from Shazam for the lyrics now it's all just junk and accounts and FB. Screw it, going back to Shazam.
Hey SoundHound!
Can you get this app to work with the Apple watch?!? That would be greatly appreciated
X optimized
Thanks for being one of the firsr! stars⭐️⭐️⭐️⭐️⭐️
Terrible Update Broke It
TheFightingPizza
on
10/29/2017
Used to love it, super fast, saves results, some lyrics. Now the latest update has ruined it. Doesn't even work or recognize any songs, even when it's loud and clear next to a speaker. Deleting and moving to something like Shazam, hopefully that will work like SoundHound used to.
Great
Kiele Lafountain
on
10/26/2017
Awesomeness
SoundHound is THE best!!!
I use multiple times daily!! Sending huge hugs of appreciation to those who created the app, and those who are working it every day👍🏼👍🏼👍🏼
Unreliable
TheOriginalAlex
on
10/24/2017
About half the time sound hound cannot hear music that's being played. Apparently they refused to fix this judging from many blogs that I have read.
Mic can't hear
Bug in app doesn't let mic work . It shows ok hound on the screen when I speak but the app says can't hear anything get closer
Small problem
Derek Carter
on
10/24/2017
Apple Music playlist sync not working.pressing Playlist button brings up Connect to Apple Music screen every time but doesn't complete. Still doesn't connect to APPLE Music. 10/24/17
Sound hound AP is awesome !!
Logan Travis
on
10/23/2017
Sound hound AP is awesome, I use it All the time, it's great for 80% of the music out there !! But needs to update and STILL doesn't work very well with live songs ... 😢 OR BANDS LIKE TOOL & Garth Brooks too 😢
Review
Qwerty madd
on
10/20/2017
The best app I have ever used hands down!!!!!!!
Great app
I love SoundHound but would be great if we could put our music in alphabetical order. Must of the time finds the music.
Outstanding Technology!
SoundHound is rated as outstanding technology in my book with a promising future ahead with audio identification advancements! I am really impressed with its ability to "sniff out" the latest music as well as the classics! Very well done! Only one complaint which is not worth reducing my star rating, It could not figure out any of the songs from the original MYST Soundtrack for the game. Otherwise a great app!
Simple is Cool
Blackjack Cop
on
10/18/2017
Love this app. Whenever I hear a song that interests me or that I like to add to my library, SoundHound is my go to app. Couldn't be happier with it.
New is not always better.
Goofyjennifer
on
10/17/2017
I loved this app a year ago but the more you change things the less I like. Guess I'll try Shazam. Like the other post I love that I could find lyrics fast.
5 Stars
Lovee Macy's
on
10/17/2017
Great app
Love love this app
Top Dog & CAT29
on
10/17/2017
Best idea ever. Love SoundHound
Love it
Eskimopride07
on
10/17/2017
100times better them Shazam. I still love it! I've had Shazam years ago and I'm still with SoundHound and plan on keeping it
Create an Account Just to Add to Apple Music?
Previously Sound Hound worked great and I preferred it over similar apps. Now though it forces you to create a Sound Hound account just to add a song to Apple Music on the same device?! How long would it take that unnecessary account to get hacked? I have deleted Sound Hound off my devices and will use another app from now on!
AAAAA++++++
Love this app
Sometimes it works,Sometimes it don't
Lady Hardwick
on
10/15/2017
It works when it wants to...
Awful
Holdmydickpleaseandthankyou
on
10/15/2017
It is literally the worst app to use when trying to figure out a song by humming, esoecially if you don't know the words and only know the rhythm
Where Did Watch App Go!?
Gentlemannor
on
10/13/2017
I used to use Hound Hound on the daily on iOS 10 and for some time it worked on iOS 11 but then started crashing a lot on 11. I updated to the latest version just to get it to work on iOS 11 and it removed the watch app entirely!
You FAILED!!!
What the H happened to SoundHound? Used to just click and it went right to the song and showed lyrics. Now that got side stepped with a useless screen that I don't need when I really the old song identifying and lyrics screen to appear. SoundHound.... Your of all my devises now. You FAILED.! YOU'RE JUST JUNK TRASH NOW. ZERO STARS FOR YOU!
Awesome voice assistant
Nemra Naysikras
on
10/12/2017
This app is awesome . It's the best music search app with voice assistant. Totally hands free
Sound hound
mlp reactions
on
10/11/2017
This app is sooooo good you should definitely download it
Amazing
Best application for song identification ever.
5 stars.
Absolutely love how you guys have updated the app. It's perfect, YouTube play, live lyrics, everything. Thanks! And keep up amazing me with perfection!
I wish you guys were available from the lock screen
Larry998179
on
10/10/2017
Itd be so much easier if you had permission to access from lock screen. Right now I have to fiddle a little with my phone first
New update ruined it.
Schmittywebermangensen
on
10/10/2017
I always thought this was better than Shazam. But I'm switching back. Before this app would immediately pop up lyrics for whatever you were listening to (which was probably the highlight of this app in my opinion), but not anymore. They're now trying too hard to keep up with this thing everyone is doing when they talk to their devices. Which I think is dumb, unnecessary, and a trade down from previous features. Now they're persistent on having you make an account and attach your Facebook and a bunch of unnecessary crap. I just want to know what song I'm listening to, and I'd like the option to see what lyrics go with it! That too much to ask for?!
What the F is going on with this app!?!!?!!
What the Hell!!?!?!
on
10/9/2017
I used to trust and depend on soundhound... well, guess I'll never make that mistake again!! 😡😡😡 I had 548 songs on here... the app suddenly starts crashing since its recent updates, tells me I HAVE to register for an F'n account, then when I do ALL of my history and songs are erased!!!!! 😡 I could not be more livid!!! 😡 DO NOT USE THIS APP!!!!
track list
i used soundhound to help me identify songs on a great dj playlist .. i noticed that it did not retain all of them although it did identify them.
Hate it
Who tf created this voice bs man
Fact Sheet
Publisher:

SoundHound, Inc.

Category:

Music

Released:

Apr 27, 2010

Current Version Released:

Oct 30, 2017

Version:

8.2

Size:

77.3 MB

Compatibility:

Requires iOS 10.0 or later.

Recommended Age:

9+

Game Center Certified:

No

Supported Devices:

iPhone5-iPhone5, iPadFourthGen-iPadFourthGen, iPadFourthGen4G-iPadFourthGen4G, iPhone5c-iPhone5c, iPhone5s-iPhone5s, iPadAir-iPadAir, iPadAirCellular-iPadAirCellular, iPadMiniRetina-iPadMiniRetina, iPadMiniRetinaCellular-iPadMiniRetinaCellular, iPhone6-iPhone6, iPhone6Plus-iPhone6Plus, iPadAir2-iPadAir2, iPadAir2Cellular-iPadAir2Cellular, iPadMini3-iPadMini3, iPadMini3Cellular-iPadMini3Cellular, iPodTouchSixthGen-iPodTouchSixthGen, iPhone6s-iPhone6s, iPhone6sPlus-iPhone6sPlus, iPadMini4-iPadMini4, iPadMini4Cellular-iPadMini4Cellular, iPadPro-iPadPro, iPadProCellular-iPadProCellular, iPadPro97-iPadPro97, iPadPro97Cellular-iPadPro97Cellular, iPhoneSE-iPhoneSE, iPhone7-iPhone7, iPhone7Plus-iPhone7Plus, iPad611-iPad611, iPad612-iPad612, iPad71-iPad71, iPad72-iPad72, iPad73-iPad73, iPad74-iPad74, iPhone8-iPhone8, iPhone8Plus-iPhone8Plus, iPhoneX-iPhoneX,

Supported Languages:

Czech; Danish; Dutch; Flemish; English; Finnish; French; German; Indonesian; Italian; Japanese; Korean; Malay; Bokmål, Norwegian; Norwegian Bokmål; Polish; Portuguese; Russian; Chinese; Spanish; Castilian; Swedish; Thai; Chinese; Turkish; Vietnamese;

Parental Advisory:

Mild Profanity or Crude Humor; Suggestive Themes;