Screenshots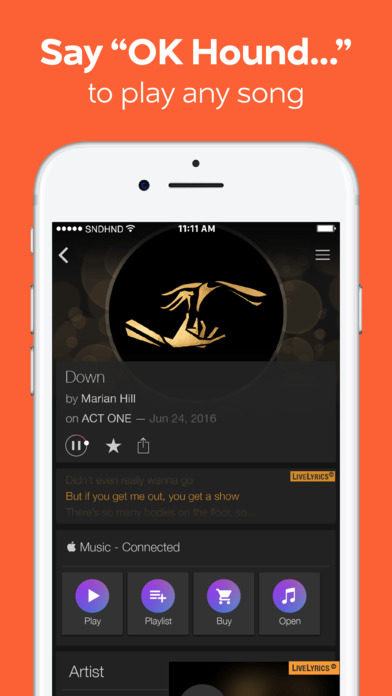 New in version 7.6.1
Thanks for using SoundHound! To bring you the best experience, we make regular updates to fix bugs and improve performance.
Description
The popular music app with 300 million+ downloads globally!

What's that song? SoundHound is the free music discovery app that can listen and identify what's playing. The music player gives you full-length songs and videos with real-time LiveLyrics®. You can even take your searches handsfree by saying, "OK Hound… what's that song?".

Enjoy an immersive experience whether singing along with karaoke-style LiveLyrics, watching full music videos, or simply sampling curated playlists of top artists and emerging performers. Browse throughout the app while your music continues playing in the background.

Want to get access to SoundHound search and history even faster? Identify a song or see what you've searched for previously with our SoundHound widget - all without opening the app! To add SoundHound to your widget list, swipe right on your iPhone's lock screen. From there, scroll to the bottom, tap 'Edit' and then the '+' next to SoundHound. You're now ready to go!
 
If your phone is locked, you'll need to enter your passcode or use touch I.D. If your phone is unlocked and you'd like to add the SoundHound widget, just swipe down from the top edge and follow the steps above - or swipe right from your home screen.

HANDSFREE
Connected Apple Music Members can easily find and play a song hands-free using "OK Hound… ".
Use "OK Hound…" to access playlists such as:
• Your personal SoundHound music history
• Emerging artists across the globe
• Hottest tracks in the US and around the world
• The newest and most popular songs this week
• Songs you have favorited
• Playlists saved on your device

Or continue to access all of the great SoundHound features you know and love through the classic tap, swipe and type modes:

SEARCH
• Tap the orange button to instantly identify songs and see live lyrics, video playback, share, stream, or buy
• Sing or Hum into SoundHound, for results when you can't get that song out of your head
• Access your History, showing your previous searches (register to ensure you can access all of your discoveries!) to add to your Spotify playlist
• Search hands-free. "OK Hound, what's this song?"
• SoundHound saves all of your searches for easy playback

DISCOVER
• View LiveLyrics, moving real-time with the music, and sing along
• Check out weekly featured songs, videos, artists & albums
• Find out what's being played near you & around the world with our Music Map
• Learn about 'Artists Born Today', showcasing artists on their birthday, everyday
• Access artist photos & biographies, album release dates & band info
• See the hottest in new music, across Global, Emerging and Popular charts
• Learn about new releases using your voice. "OK Hound, what's Taylor Swift's latest song?"

PLAY
• Play the full song and watch the music video with our embedded YouTube player
• Browse the top videos others are watching
• Listen to songs or playlists in your favorite connected streaming services, such as Spotify, Pandora, or Apple Music
• Apple Music Members can automatically save your history to a SoundHound playlist in Apple Music! Also stream the full song in SoundHound while following along with LiveLyrics
• Interact with the lyrics to navigate the song - double a line to jump to the chorus, skip ahead, or replay from the beginning.
• Purchase songs or albums instantly in iTunes
• Say it to play it. "OK Hound, please play Hello by Adele"

CONNECT & SHARE
• Share your music discoveries to Facebook or Twitter
• Easily import your searched music and favorites into Spotify
• Apple Music Members can automatically save your history to a SoundHound playlist in Apple Music

REVIEWS AND ACCLAIM
• Top 10 Must-Have iPhone Apps - Bob Tedeschi, NY Times
• Best Music Engagement App - BILLBOARD Music App Awards
• "Genius, isn't it?" - B.B.C. World Radio
• "This is amazing... insane, right?" - David Pogue

Looking for a premium experience without banner ads? Upgrade to SoundHound∞: https://04ii.app.link/RXaRXypntA
iPad Screenshots
Reviews
Song Lyrics Formatting Lost
I use this app to display the lyrics from music that is playing. The lyrics used to be formatted karaoke style and if not in their database, a search function is provided. Choosing the website will display lyrics in text format. This no longer works. Default appears to display the lyrics in one paragraph making it virtually useless.
G
Great app gets tha job done when that one song come on and u wanna find out wat it is ... give this app 5⭐️
Love this app
thehumanwolf
on
8/12/2017
It's always been reliable than Shazam, especially with classical and low volume circumstances. However, I wish there was an Amazon Music option along with all the other multitude of choices like; Google Music, Pandora, Spotify and others...
Amazing! I strongly recommend using it.
Golden_Shadow7
on
8/12/2017
This app has helped me find the name to every song I wanted over the radio and it's super simple to use just with the press of a button it hears the music and than tells you not only the song and artist name but also a lot of info about the artist and their top hits and much more. I highly recommend this app to anybody that hears those songs on the radio or wherever and just think I wish I knew the name of this but you just couldn't figure it out, well this app will help you in every one of those situations.
Useful, 5-Stars!
I love this app. Bless America.
👌👌👌
Great! Helps me find any music .
Love
Srhkween1605
on
8/11/2017
Sometimes I wonder how I learned music it's artist before soundhound 😂
Awesomeness
I am terrible at remembering who sings what, or what song is this. This app has turned me onto all of my favorite music!! When I'm listening to the radio and find a song I like, you can save the tune in your history an buy it later!!!! I've turned a lot of my friends onto this app and not one has come back to me with a better one. This app is total awesomeness!!!!
Over 5 years! A must have app
I have not had a smart phone that didn't have this app on it! It is very rare for SoundHound not to know the song, I use it all the time. I use it to find songs and to keep them to look up later. SoundHound can sync to ITunes however if you subscribe to Apple Music it doesn't recognize it, but that is a small price for what SoundHound can do!
By definition a scam.
CeeL Cappelletty
on
8/9/2017
This is called "scamming"… Stop lying to people to take their money… It's called a scam… Literally what you're doing is illegal… I can prove that you're aware of the bug… And have been for six months at least … You're scamming people when you make a post such as this: "What's New June be 20 2017" "We make regular updates to fix bugs and improve performance" Your app has continually gone down for the past year… I have complained for six months that I paid for an app that does not do you what it claims to do… You have replied me several times so I know you're aware of it and in your reply you claim that you are working on it… Lyrics…disappear… Fix it! Or give us that PAID our money back!
Love it!
I love SoundHound! My best app next to the ones that actually play music. I don't know how I'd find all my music without this app.
Great
Love this app better than Shazam
Touring
Winterstorm77
on
8/8/2017
Has really improved
Fantastic App!
DJDaveJay2K10
on
8/5/2017
I love this app, it recognizes almost every song.
App is not very smart
The last several songs I have "listened" to have been unknown by thus app. These were popular songs such as Life's Been Good to Me by Joe Walsh. Have had the same problem with other songs from that genre and era. I do not recommend this app for anything. Time to look for a new song identifier app!
Me gusta
Me gusta... lo recomiendo 🔟
This app does NOT have a wide database of songs. You will waste time if you are looking for oldies.
This app is not good. I attempted to hum a song in multiple ways for about 30 mins straight because I thought it was my humming that through the app off, but I then experimented with another song that I know the name of and stated the lyrics clearly and it still didn't work.. I don't take this app serious... You guys need to either update the variety of songs that can be searched or make the voice recognized better because I have the iPhone 7 Plus so I'm not sure it was my phone with the issues.
Thank you Soundhound
Thanks for understanding my humming and helping me find the tune I was looking for where other apps failed me!
Very good
Awesome app but the latest update broke the lyrics feature. Lyrics now display as one continuous text.
Color of the app
I really think you guys should change this black color and orange combination app icon, it's very disturbing.
Best Way to Find That Song Stuck In Your Head!
You hear a song, can't put a finger on the title or artist but NEED to know now? Here is the app to win that bet, prove a point or just be the "music expert" in your gang. I use this app at least once a day to try and find the right song for my evolving collection. Try it and become the music fan with more than a passing interest in all things sound.
Best ever!! It totally works!!
Honestly i was trying to find the name of this song i heard at work and i couldnt find it! Not even on shazam until i hummed some part of the song n it worked!!! Its crazy good!!
Song not playing
Hi I like the app and was trying to contact customer support but one of the albums I selected is not playing? It skips? Was just trying to get some assistance. Thxs
The best music app just keeps getting better
Jgpapa01235684268
on
7/25/2017
This app is a must have for any one! But for those of us that have been breathing for a long time and love a wide range of music it's essential ❤️👍
SoundHound
This is awesome I love this app I give it 5 star
Surprised how accurate it is!
I always hate when I hear a new song on the radio that I like while I'm on the road and I had to guess what the song is. With this app, I do not have to worry about that anymore! Works perfectly!
5 ⭐️ deserved
I have looked up well over 30 different songs and soundhound found them all perfectly with out any complications!!
Sucking it!!
I used to love this app and raved over it as way better than Shazam, but now it always says not connected even though I have wifi access. On works at home. Boo!
Tried contacting support but link does not work
My app keeps crashing. When I go into the history of pending searches it fails. I used to love SoundHound. Please fix
Works well, but needs update.
If not connected to wifi while listening to a song, the app/device will pull up the "choose a wireless network" pop-up, which causes the app to lose all progress made listening to a song. Therefore, every time opening Sound Hound to listen to a song while using cellular data requires you to press the listen button twice.
Help
What's the song playing when you download SoundHound app
Best app purchase
Not only can this app pic up on small bits of a song, but you can buy the song on iTunes in a flash. Songs played during movies or at the end of a tv show-- SoundHound identifies the song & sooooo much more.
I love Sound Hound!!!!!!
asfgtfhjiufgjk
on
7/17/2017
You will not be disappointed. I have used this app for years and not one negative thing!
I love it
Mob psycho 101
on
7/17/2017
👍👍👍👍👍👍👍👍
This is great 👍🏻👍🏻👍🏻
Awsome bossome
on
7/17/2017
I love this app. It tells me song names I don't even know. I found out my favorite songs name because of this app.
BEST MUSIC APP I have used!
herekitykity
on
7/17/2017
Soundhound continues to impress me. The latest addition that I love the most is that if you link it to your Apple Music it will automatically add it to a play list. Totally still worth it to have the free version, but highly suggest buying the app; you will not regret it. Millions of thumbs up! Thank you Soundhound for being so awesome.
.
Love that this app recognizes songs and will put them on a Spotify playlist!!!
Lovin It!
What a great app! Songs I've been mumbling through all my life now have meaning (or not, if the lyrics don't make sense). Point is I can now see exactly what the artist wrote and I'm re-enjoying songs I've known all my life. Love the karaoke feature (turning my IPhone sideways). Well done!
Favorite app!
Someone talked me into getting this app. I really didn't think I would use it much. But I use it all the time. I absolutely love it!
Great App!!
This app is planned well and has all the amenities of a $12.00 App Store purchase and it's free. I love it! Perfect!
Love this app
Use all the time
Great app
So easy to use, and always gets a song that I am wondering about. Also, I love that I can favorite a song so that I can download it later.
Not too baddddd
Actually like the app seems pretty cool
I love you I love you I love you
scubarosie67
on
7/16/2017
The lyrics stuck in my head I couldn't remember who sang it I needed to hear the whole song and thanks to sound hound and help me to remember the Beatles Michelle
Love it!
Love Soundhound!
Super Handy!
I really love the fact that SoundHound will automatically add songs to Apple Music.
Great App!
I've been using this app for years and it does a great job identifying music. Even does a pretty good job when there's background noise.
Can't live without
HolliWould75
on
7/14/2017
Live for this app! Love it goes straight to Spotify too!
Fact Sheet
Publisher:

SoundHound, Inc.

Category:

Music

Released:

Apr 27, 2010

Current Version Released:

Jun 20, 2017

Version:

7.6.1

Size:

70.5 MB

Compatibility:

Requires iOS 9.0 or later.

Recommended Age:

9+

Game Center Certified:

No

Supported Devices:

iPad2Wifi-iPad2Wifi, iPad23G-iPad23G, iPhone4S-iPhone4S, iPadThirdGen-iPadThirdGen, iPadThirdGen4G-iPadThirdGen4G, iPhone5-iPhone5, iPodTouchFifthGen-iPodTouchFifthGen, iPadFourthGen-iPadFourthGen, iPadFourthGen4G-iPadFourthGen4G, iPadMini-iPadMini, iPadMini4G-iPadMini4G, iPhone5c-iPhone5c, iPhone5s-iPhone5s, iPadAir-iPadAir, iPadAirCellular-iPadAirCellular, iPadMiniRetina-iPadMiniRetina, iPadMiniRetinaCellular-iPadMiniRetinaCellular, iPhone6-iPhone6, iPhone6Plus-iPhone6Plus, iPadAir2-iPadAir2, iPadAir2Cellular-iPadAir2Cellular, iPadMini3-iPadMini3, iPadMini3Cellular-iPadMini3Cellular, iPodTouchSixthGen-iPodTouchSixthGen, iPhone6s-iPhone6s, iPhone6sPlus-iPhone6sPlus, iPadMini4-iPadMini4, iPadMini4Cellular-iPadMini4Cellular, iPadPro-iPadPro, iPadProCellular-iPadProCellular, iPadPro97-iPadPro97, iPadPro97Cellular-iPadPro97Cellular, iPhoneSE-iPhoneSE, iPhone7-iPhone7, iPhone7Plus-iPhone7Plus, iPad611-iPad611, iPad612-iPad612, iPad71-iPad71, iPad72-iPad72, iPad73-iPad73, iPad74-iPad74,

Supported Languages:

Czech; Danish; Dutch; Flemish; English; Finnish; French; German; Indonesian; Italian; Japanese; Korean; Malay; Bokmål, Norwegian; Norwegian Bokmål; Polish; Portuguese; Russian; Chinese; Spanish; Castilian; Swedish; Thai; Chinese; Turkish; Vietnamese;

Parental Advisory:

Mild Profanity or Crude Humor; Suggestive Themes;