TapNova recommends this app!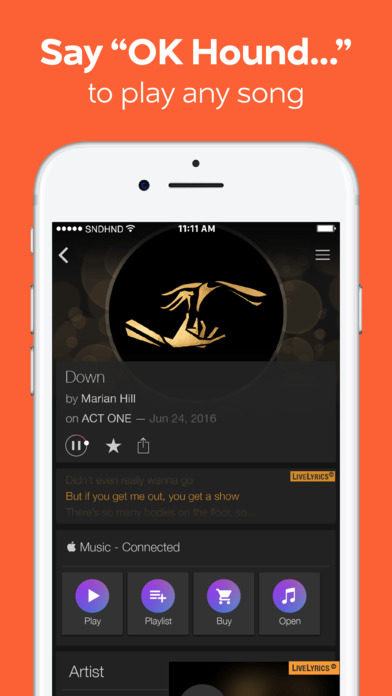 New in version 7.6.1
Thanks for using SoundHound! To bring you the best experience, we make regular updates to fix bugs and improve performance.
Description
The popular music app with 300 million+ downloads globally!

What's that song? SoundHound is the free music discovery app that can listen and identify what's playing. The music player gives you full-length songs and videos with real-time LiveLyrics®. You can even take your searches handsfree by saying, "OK Hound… what's that song?".

Enjoy an immersive experience whether singing along with karaoke-style LiveLyrics, watching full music videos, or simply sampling curated playlists of top artists and emerging performers. Browse throughout the app while your music continues playing in the background.

Want to get access to SoundHound search and history even faster? Identify a song or see what you've searched for previously with our SoundHound widget - all without opening the app! To add SoundHound to your widget list, swipe right on your iPhone's lock screen. From there, scroll to the bottom, tap 'Edit' and then the '+' next to SoundHound. You're now ready to go!
 
If your phone is locked, you'll need to enter your passcode or use touch I.D. If your phone is unlocked and you'd like to add the SoundHound widget, just swipe down from the top edge and follow the steps above - or swipe right from your home screen.

HANDSFREE
Connected Apple Music Members can easily find and play a song hands-free using "OK Hound… ".
Use "OK Hound…" to access playlists such as:
• Your personal SoundHound music history
• Emerging artists across the globe
• Hottest tracks in the US and around the world
• The newest and most popular songs this week
• Songs you have favorited
• Playlists saved on your device

Or continue to access all of the great SoundHound features you know and love through the classic tap, swipe and type modes:

SEARCH
• Tap the orange button to instantly identify songs and see live lyrics, video playback, share, stream, or buy
• Sing or Hum into SoundHound, for results when you can't get that song out of your head
• Access your History, showing your previous searches (register to ensure you can access all of your discoveries!) to add to your Spotify playlist
• Search hands-free. "OK Hound, what's this song?"
• SoundHound saves all of your searches for easy playback

DISCOVER
• View LiveLyrics, moving real-time with the music, and sing along
• Check out weekly featured songs, videos, artists & albums
• Find out what's being played near you & around the world with our Music Map
• Learn about 'Artists Born Today', showcasing artists on their birthday, everyday
• Access artist photos & biographies, album release dates & band info
• See the hottest in new music, across Global, Emerging and Popular charts
• Learn about new releases using your voice. "OK Hound, what's Taylor Swift's latest song?"

PLAY
• Play the full song and watch the music video with our embedded YouTube player
• Browse the top videos others are watching
• Listen to songs or playlists in your favorite connected streaming services, such as Spotify, Pandora, or Apple Music
• Apple Music Members can automatically save your history to a SoundHound playlist in Apple Music! Also stream the full song in SoundHound while following along with LiveLyrics
• Interact with the lyrics to navigate the song - double a line to jump to the chorus, skip ahead, or replay from the beginning.
• Purchase songs or albums instantly in iTunes
• Say it to play it. "OK Hound, please play Hello by Adele"

CONNECT & SHARE
• Share your music discoveries to Facebook or Twitter
• Easily import your searched music and favorites into Spotify
• Apple Music Members can automatically save your history to a SoundHound playlist in Apple Music

REVIEWS AND ACCLAIM
• Top 10 Must-Have iPhone Apps - Bob Tedeschi, NY Times
• Best Music Engagement App - BILLBOARD Music App Awards
• "Genius, isn't it?" - B.B.C. World Radio
• "This is amazing... insane, right?" - David Pogue

Looking for a premium experience without banner ads? Upgrade to SoundHound∞: https://04ii.app.link/RXaRXypntA
iPad Screenshots
Reviews
Love
Especially with Soundhound's new ability to connect to Apple Music.
Great App
Works great ! I love the link up to the YouTube video when you search a song .
Used to be good.
T-moneymillionaire
on
6/24/2017
It doesn't recognize the songs anymore! What a waste!
Amazing
Just amazing !!!!!!!!
What
It's ok but forces into rate
I rarely get lyrics except look up
Update 6/23/17-out of 3 Animals songs you have gotten 3 wrong with live lyrics being totally wrong. Plus these come from a greatest hits cd & you try to pull original album art & song but lyrics are wrong. Please try & fix. Also, what's up with RED background as I get ready to end song-it's a banner at top? Thank you, I hope you can get them fixed-To not recognize Animals Top hits-can't understand how that happens. Lists correct song, but wrong lyrics. When it works it's great-hope a glitch. Thank you. Update 4/2615 Asking for another review. Why with the most expensive version do I not get live scrolling lyrics. Why would I have to look up Jimi Hendrix lyrics whether I play it from my phone or a source. What has changed. Please if I am doing something wrong tell me. I still like & use its fast recognition but this feature I would like. Thank You-5 stars when I get live lyrics- I paid for that app & on 5s I used to get live scrolling kyrics with the top paid version- I can't even get them for Led Zeppilin- I am frustrated & tried all things- what has it gone from good to worse. Odd that I have been usingb& recommending this app, yet the new version I cannot get any live scrolling apps. So what the heck am I doing wrong. I play a song & I keep getting look up lyrics-all lyrics that are from common groups. Doors, Led Zep- where did they go? Have to say other parts of update good but until I figure this out.. I have been using a while now & just gets better. I find charts, you tubes , so Much more-I can hear lyrics I never knew what the artist was singing- but to find lyrics even in Blues category by a different artist & he might use different word-This is probably one of best apps & most used I have purchased- Well worth full version & gets better & better- treat yourself if you love music- Best money you will have spent on a good music app- Thank You
It's a great app
eherrera2380
on
6/23/2017
It's not perfect but for the most part no conplaints
HUHH???
I opened SoundHound because I wanted to know what song I was hearing. I couldn't figure out how to get it it listen before the song was over, so I switched over to Shazam. You guys had a simple interface before. Who messed it up?
RichyRichToo
Richy Rich Too
on
6/22/2017
AWESOME APP!! 😁👍🇺🇸
Hate what's happened
When I first started using this app, it would open, I would touch the orange circle, and it would tell me what song was playing. Now when I open it, all I see are hook up to this, hook up to that, connect to this, .......basically everything EXCEPT finding out what the name of the song I'm listening to is. I can't even find where to do that. It is hidden and buried so deep within the app it's rediculous. I'm pretty much done with this app. Shazam is getting close to this but at least I can still "quickly" find out what's playing when I want to. Surely I'm not the only one who has noticed this degrade with the SoundHound app. 👎🏼
Excelente!!!!
No importa si es inglés o español! Encuentra súper rápido la canción que está sonanado!!! That's why I love it!!!!
Fast and 98% accurate
I love how easy it is and how accurate. Rarely is it wrong and usually that's off a soundtrack of an obscure song. I use it daily.
Love it.
Great way to figure out what that new song is
Love this app!!!
I like that this app can sync with my iTunes. So I don't have to search for it 👍
Love Sound Hound!
I picked SOUND 🐾HOUND 6yrs ago cause, I have AND love Dogs! 9.5 times outta 10 S🐾H listens & retrieve the info! > in one of the revws it says something has change he e SH& Maybe your voice recognition mic is cloged w lent , or..?
Works better then Shazam
Airplane cookie
on
6/22/2017
There's also no adds
What has changed with SoundHound?
Last year I would have rated SoundHound 5 stars.... but something has changed in the last 3 to 4 months. I am no longer able to identify the newer songs on an oldies radio station I listen to daily..... the last 10 times I have tried to identify a song, at least 4 times there is not a match..... not sure what is different?
Love the app
Best app ever
Love my Hound
Best music app! Makes getting the music I like on my phone!!
re: very good app
Hiram hunter
on
6/21/2017
Very good app, it has come along way. Thank you!
5 stars!!!
Best thing since sliced bread!
One of my favorite apps!
Even gets the oldies.
It's dope
It's way better than Shazam
Great app
I love this app!
Great app
celestialcat
on
6/21/2017
I ❤️ you guys!
Doesn't recognize instrumental songs
It only recognizes songs with vocal sounds. It doesn't detect instrumental songs/ music.
Soundhound
Awesome app to not only get the name & artist but also the lyrics all at once. Nice!
Screw Shazam!
Bottom line NEVER pull a Shazam and limit the songs you rock. Never change THANK YOU FOR AUTO ADD TO APPLE MUSIC! I would LOVE to be able to add searched songs to both Spotify and Apple a music though!
Perfect and easy.
Love the quick and certain response on a dime and always right!! Thanks.
Excellent app
I like this app for found mi Latin music
Tap, aim, answered
I love when you're out somewhere, there is background music playing and some asks 'what's that song?' or 'who sings that?' I just tap, aim my iPhone mic in direction of music around spins the little S and BAM you've got the answer. I like Hound also.
Love It!! SoundHound
My rating is one that I should have done. Today is another day and you are THE BEST! I have used you on numerous occasions and I have had only less than five songs you weren't able to identify. Please up the great service you do very well.
Love the new widget!!
Great app!
Love it so far!!
Bingo Blitz Bumbled
on
6/18/2017
❤️
Touchy
Can't take any ambient noise and many of the albums and release dates are wrong
I ♥️ U SOUNDHOUND!!
Thank you so much 😊 Every time I can't remember the name of a song I go to this app!! I absolutely 😍 it!! And it almost always has the lyrics!!
Crashes repeatedly
CollisionSam
on
6/16/2017
I can't stand an app that crashes repeatedly. Ain't nobody got time for that!
Malo
He realizado varias búsquedas ya con la version pagada y misteriosamente ya no identifica nada. No lo recomiendo si puede use la gratuita siempre.
My memory
I love this app, not just that it can name the song, but catalog the songs I like and that I would like to have in my collection. It is my external song memory. I would never remember the random songs that play in bars, friends houses, shops, and my own cds that don't have the cd covers!
Widget isn't working
HockeyMike93
on
6/15/2017
The app itself is great but what was the point of adding the widget if you can't tag songs using it? Every time I try to tag with the widget it just opens the app. Either fix the widget or do a better job explaining how to get it to work properly
Didn't work
Had my phones microphone held right up to my iPads which is where I had the app download and it kept telling me it didn't hear anything. Even after I realized my headphones were plugged into the iPad, I took them out and tried again, it gave me the same response.
Another spam filled monstrosity
evilcartman-the -original
on
6/15/2017
What used to be an amazing app with better music recognition than Suzanne has turned into nothing but an advertising delivery monstrosity that makes it all but impossible to actually accomplish its primary purpose, to recognize songs. Immediately ,you're presented with having to make an account, having to sign your life away with the TOS, having to scroll through a bunch of distracting, flashy, seizure inducing advertising and you can't even see the search button. Save your time and money and bypass this piece of garbage. If you can actually find the place where what is hiding the search button it was a fairly good job of recognizing songs actually. The second star is only if you can find an older version without all the spam garbage, and the fact that it actually works , as opposed to some apps that simply crash,if you can find out how to work it.
O melhor
o melhor buscador de música do mundo
MIND BLOWING
lol I've been looking for this one song for the longest . I didn't know the words but I knew the melody THE FIRST TRY SOUNDHOUND GOT IT CORRECT AMAZING!!!!!!
Sound hound
Outstanding The best I use it all the time and love it !
Like giving your iPhone AIDS
I understand why an app needs ads, but this one is like a minefield for your fingers. Literally riddled with everything you don't need surrounding the song you're trying to identify. One false move and you're down the rabbit hole. Avoid this app.
Bad middle man
Downloaded app and linked with Spotify just for lyric section, the app opens google and enters "blank lyrics" so you have to find it yourself. rather than directly displaying top search result itself. I'll just google it myself, lot less steps. This app is a bad middle man. You can google things much faster on your own.
Excellent app for finding songs
Sorryallnamestaken
on
6/8/2017
Love this app. Very easy to use.
Fact Sheet
Publisher: SoundHound, Inc.
Category: Music
Released: Apr 27, 2010
Current Version Released: Jun 20, 2017
Version: 7.6.1
Size: 70.5 MB
Compatibility: Requires iOS 9.0 or later.
Recommended Age: 9+
Game Center Certified: No
Supported Devices: iPad2Wifi-iPad2Wifi, iPad23G-iPad23G, iPhone4S-iPhone4S, iPadThirdGen-iPadThirdGen, iPadThirdGen4G-iPadThirdGen4G, iPhone5-iPhone5, iPodTouchFifthGen-iPodTouchFifthGen, iPadFourthGen-iPadFourthGen, iPadFourthGen4G-iPadFourthGen4G, iPadMini-iPadMini, iPadMini4G-iPadMini4G, iPhone5c-iPhone5c, iPhone5s-iPhone5s, iPadAir-iPadAir, iPadAirCellular-iPadAirCellular, iPadMiniRetina-iPadMiniRetina, iPadMiniRetinaCellular-iPadMiniRetinaCellular, iPhone6-iPhone6, iPhone6Plus-iPhone6Plus, iPadAir2-iPadAir2, iPadAir2Cellular-iPadAir2Cellular, iPadMini3-iPadMini3, iPadMini3Cellular-iPadMini3Cellular, iPodTouchSixthGen-iPodTouchSixthGen, iPhone6s-iPhone6s, iPhone6sPlus-iPhone6sPlus, iPadMini4-iPadMini4, iPadMini4Cellular-iPadMini4Cellular, iPadPro-iPadPro, iPadProCellular-iPadProCellular, iPadPro97-iPadPro97, iPadPro97Cellular-iPadPro97Cellular, iPhoneSE-iPhoneSE, iPhone7-iPhone7, iPhone7Plus-iPhone7Plus, iPad611-iPad611, iPad612-iPad612, iPad71-iPad71, iPad72-iPad72, iPad73-iPad73, iPad74-iPad74,
Supported Languages: Czech; Danish; Dutch; Flemish; English; Finnish; French; German; Indonesian; Italian; Japanese; Korean; Malay; Bokmål, Norwegian; Norwegian Bokmål; Polish; Portuguese; Russian; Chinese; Spanish; Castilian; Swedish; Thai; Chinese; Turkish; Vietnamese;
Parental Advisory: Mild Profanity or Crude Humor; Suggestive Themes;