Screenshots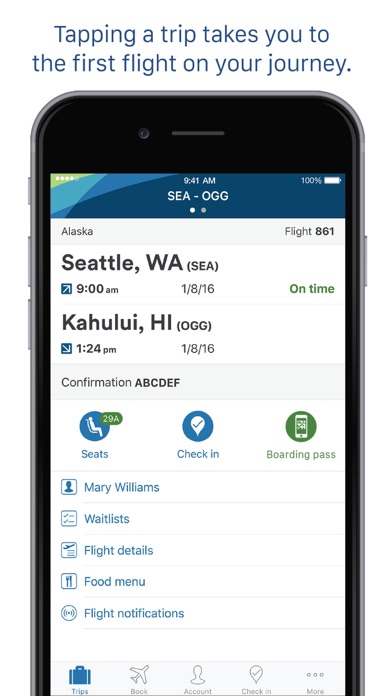 New in version 4.1.22
We're always improving our app to ensure you have the best experience on your journey. Thanks for your feedback - we're always listening!
Description
Travel light at each stage of your journey with our companion mobile app. Explore options, book trips, check in, and move hassle-free through airports. Find all the flight information that matters to you, as you need it.

Features of our travel app:

• Book a flight and select your seat
• Shop one-way, round trip, and award travel
• Shop using our calendar feature
• Shop using your percentage off discount code (more coming soon!)
• See your trips in a list for easy access
• Change your seat prior to departure
• Check-in up to 24 hours before your flight
• Add your precheck number during check in
• Access your mobile boarding pass—no more paper
• See your flight schedule and boarding time
• Share your travel itinerary by email with friends and family
• Sign in to your account to sync your trips saved in your My Trips
• Track your Mileage Plan balance & view your account activity and tier status
• Keep an eye on First Class and Standby wait lists
• Receive push notifications for flight delays, gate changes, and more
• Change to an earlier or later flight when you check in
• Add flight details to your iPhone's calendar
• Add your Alaska Airlines reservations to the app
• Track flights taken by friends and family

You can find additional information about the Alaska Air travel app by visiting alaskaair.com/mobile.

Thanks for sending us feedback at iphoneapp@alaskaair.com. We are listening, and welcome your suggestions.
Reviews
Great service as always! Love Alaska Airlines!
Sandra's playlist
on
10/16/2017
Great app and great airlines. Great service!
It just works
NW Muse Fan
on
10/15/2017
Nuff said.
It's 2017; add a track bag feature
Appisnotgood1224467&8
on
10/14/2017
Hey Alaska why am I still unable to track my bags on your app when I can on every other America airline? I don't understand this electronic bag tag feature and having to rrcheckin- it doesn't match the number I was given at bag check in or have any correlation. You should be able to link the bag tacking number I get from your check in agents in the app. This is ridiculous. The checkin in desk at Boston was extremely disorganized and chaotic and I want to make sure my bag was actually put on this flight
Missing features
Yak attack 420
on
10/14/2017
What is the point of this app if it doesn't save my credit card info for repeat bookings? And even though I turned on Touch ID sign in, it still prompts me to enter my mileage plan password, which is really cumbersome. (I spent lots of time in this app tapping away with my thumbs.) The only reason I downloaded the app to begin with is that mobile checkin is broken via browser. Great airline, I just wished their app/online experience was up to par with their service. I'll have to look into Expedia's app for those basic features I mentioned.
Easy to use
Easy app to use to manage your flights and I especially like the checking in process.
Wendy
Nice app user friendly nice to have updated
Easy app to use.
Just checked into my flight in under two minutes while standing in line at DisneyWorld. Doesn't get much easier.
Excellent Airline; Excellent App
Great app. It gives me all the info I need. Would ask Alaska Airlines to add a "landscape" mode for viewing on an iPad where users are using a keyboard. It makes it difficult to type using a bluetooth keyboard when the app is in "portrait" mode.
Patti
Patti's cave
on
10/10/2017
I like your app easy to use, I love the Respect you show us n the customer service of care n consideration! Kudos for the high quality, service n Respect to your customer! Bless all of you!
Love it
PSM-Seattle
on
10/10/2017
Super easy to use. Checked in in under 30 seconds. Seamlessly added passes to Wallet. Just what I want.
Quick and easy
Fast and easy access to your boarding pass.
Convenient and helpful, love it!
Love Alaska Airlines and the app is really convenient and helpful
Awesome Airline Awesome App
Darth Revan81
on
10/9/2017
The title says it all!!!
Perfect App
Hayden's Bug
on
10/7/2017
This app works great!
Amazing
Very nice app. Easy to use.
Love App
I love this site. I travel abt every 3 months and this app is so easy to use on my iPhone. I can just book a seat as soon as I think about instead of having to wait until I get to a computer. Alaska Airlines Rocks!!
Never had a problem
Well. I've never had had a problem with this app or this airline company. There's my review. They are the best.
Very easy to use
Very intuitive.
Very happy customer
We have used Alaska Airlines for many years and as long as they continue to be on time, competitive, and provide excellent customer service we will continue to be loyal customers for the foreseeable future.
Love
Doodlemaniak
on
10/5/2017
Love this airline and love the app. Thanks!
Works as promised.
Farmer bubba 00113
on
10/4/2017
Makes my life better!!!
Downloaded
See how it goes.
Great App!
Way to go Alaska on making an app that works well with my travel plans!!
Why have Watch App, if your gates aren't compatible?
Scott Fleming
on
10/3/2017
Not a single Alaska Air or Virgin gate can accommodate the Apple Watch (or any Watch). Ergonomics issue. You can't take off Watch either because then watch is locked. Been trying for two* years. Can't use boarding pass via App nor the wallet app. Get with it AK airlines. Every modern movie theatre in country (world) has simple scanner that you can point smart watch at for admittance. Would be nice if we could spend money on your planes with the Watch too (NFC) without digging out credit card. Thanks -
Easy to use, helpful
I just want to buy more flights so that I can see them show up on the app! Absolutely love what Alaska Airlines has done here, thank you for always serving the customer first Alaska!
Oh heck yeah!!
Honestly, this app is one of many ways that Alaska Airlines continues to earn my loyalty. Well done!
Best app ever!
Thanks Alaska for making an app that is idiot proof!!!!
Great App!
From the app I can check in, receive electronic choppy of boarding passs and load it into my Apple wallet. From there I can get through security and into the plane with my Apple Watch... phone in pocket. Thank You Alaska Airlines.
Grrreat App!
This app is very easy to work with, never had an issue. Love having one place to manage flights.
Continues to error
Mobile pass pls!
on
9/29/2017
Whenever trying to make a purchase it errors about four times before it will go through. I have continue to come back to the app and try again. It's very frustrating when trying to book a flight with limited seats left.
Love it!
MissBrianaRenee
on
9/28/2017
Very user friendly
Love them always!
Alaska is always the best customer service
Easy to use
New2thirtyone
on
9/27/2017
User friendly
Excellent app for an excellent airline
The app is simple, practical, and user friendly. You can book trips, view you trips, and see you mileage plan account all in one place. Very nice and helpful!
Works great!
Super easy to use!
Great App!
Love the app. So easy to use.
Alaska Air Group is #1 for me
I do everything in my power to never ever fly another airline. Sadly Alaska doesn't fly everywhere I go...and I cringe when this happens. Alaska treats me right: with respect and dignity as a paying customer.
Old codger review
Easy to use. Even for old timers.😃
Great functional app
Good job making an app that is easy to use and functional!
Well put together
Easy to use
One of my most used apps
Spunkyweasle
on
9/25/2017
Alaska Air has made it very easy to book flights, see account status...upcoming flights. Everything. Very well done app. I book many of my flights using JUST this app. My first choice for my boarding pass, etc. It's a well done app!!
Could make checkin easier
When checking in, should auto fill with appropriate flight info
Always great service
They are the best to travel with especially with animals
Crap app
Unhappy Camtasia user
on
9/24/2017
No way to reset a forgotten password from inside the app. Tried from website and that got itself confused with my account as well. Finally made booking as guest and went through a crappy user interface to finalize. Drop down fields are very poorly designed e.g. for entering credit card info. You are much better off using a third party app
New update crashes
I have used the Alaska app for many years, but the newest update does not work. After the splash screen pops up for a few seconds the app crashes and sends you back to the home screen. Download this update at your own risk. I have a flight in two days and now no Alaska app!
Excellent app, better than using laptop
Save time, use the app!
So simple
Just easy and perfect. Thanks
Awesome App!!!
Soooo easy to use!!!
Customer Service
Alaska Airlines has wonderful customer service and their online presence is excellent! It is really easy to contact them, if necessary, and I really feel like they care about making flying a pleasant experience for everyone!
Fact Sheet
Publisher:

Alaska Airlines, Inc.

Category:

Travel

Released:

Feb 19, 2010

Current Version Released:

Oct 16, 2017

Version:

4.1.22

Size:

61.9 MB

Compatibility:

Requires iOS 8.0 or later.

Recommended Age:

4+

Game Center Certified:

No

Supported Devices:

iPad2Wifi-iPad2Wifi, iPad23G-iPad23G, iPhone4S-iPhone4S, iPadThirdGen-iPadThirdGen, iPadThirdGen4G-iPadThirdGen4G, iPhone5-iPhone5, iPodTouchFifthGen-iPodTouchFifthGen, iPadFourthGen-iPadFourthGen, iPadFourthGen4G-iPadFourthGen4G, iPadMini-iPadMini, iPadMini4G-iPadMini4G, iPhone5c-iPhone5c, iPhone5s-iPhone5s, iPadAir-iPadAir, iPadAirCellular-iPadAirCellular, iPadMiniRetina-iPadMiniRetina, iPadMiniRetinaCellular-iPadMiniRetinaCellular, iPhone6-iPhone6, iPhone6Plus-iPhone6Plus, iPadAir2-iPadAir2, iPadAir2Cellular-iPadAir2Cellular, iPadMini3-iPadMini3, iPadMini3Cellular-iPadMini3Cellular, iPodTouchSixthGen-iPodTouchSixthGen, iPhone6s-iPhone6s, iPhone6sPlus-iPhone6sPlus, iPadMini4-iPadMini4, iPadMini4Cellular-iPadMini4Cellular, iPadPro-iPadPro, iPadProCellular-iPadProCellular, iPadPro97-iPadPro97, iPadPro97Cellular-iPadPro97Cellular, iPhoneSE-iPhoneSE, iPhone7-iPhone7, iPhone7Plus-iPhone7Plus, iPad611-iPad611, iPad612-iPad612, iPad71-iPad71, iPad72-iPad72, iPad73-iPad73, iPad74-iPad74, iPhone8-iPhone8, iPhone8Plus-iPhone8Plus, iPhoneX-iPhoneX,

Supported Languages:

English;