TapNova recommends this app!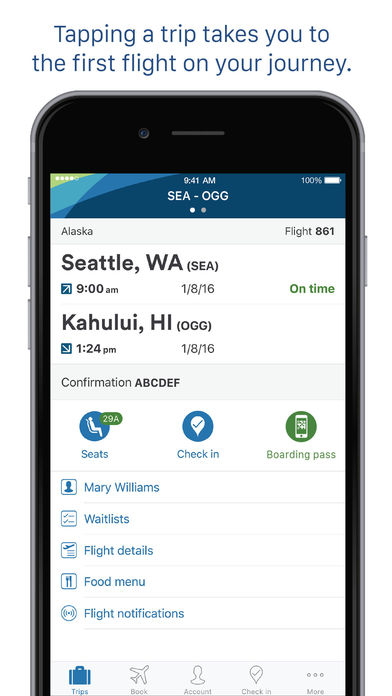 New in version 4.1.16
We're always improving our app to ensure you have the best experience on your journey. Thanks for your feedback - we're always listening!
Description
Travel light at each stage of your journey with our companion mobile app. Explore options, book trips, check in, and move hassle-free through airports. Find all the flight information that matters to you, as you need it.

Features of our travel app:

• Book a flight and select your seat
• Shop one-way, round trip, and award travel
• Shop using our calendar feature
• Shop using your percentage off discount code (more coming soon!)
• See your trips in a list for easy access
• Change your seat prior to departure
• Check-in up to 24 hours before your flight
• Add your precheck number during check in
• Access your mobile boarding pass—no more paper
• See your flight schedule and boarding time
• Share your travel itinerary by email with friends and family
• Sign in to your account to sync your trips saved in your My Trips
• Track your Mileage Plan balance & view your account activity and tier status
• Keep an eye on First Class and Standby wait lists
• Receive push notifications for flight delays, gate changes, and more
• Change to an earlier or later flight when you check in
• Add flight details to your iPhone's calendar
• Add your Alaska Airlines reservations to the app
• Track flights taken by friends and family

You can find additional information about the Alaska Air travel app by visiting alaskaair.com/mobile.

Thanks for sending us feedback at iphoneapp@alaskaair.com. We are listening, and welcome your suggestions.
Reviews
Convenient
Zappy Underpants
on
6/22/2017
Use it every trip.
Love It
No problem, straight forward and easy to use.
Best fares
Good fares from San to Newark and good services and non stop
Love this app.
Well designed and easy to use. Thanks Alaska Airlines!
Love Alaska, love the app!
Great, reliable carrier. Only wish they'd install wifi and provide complimentary access to all passengers.
Love it!
Alaska Nikki
on
6/22/2017
So simple and easy! I've literally never had a problem with the app! It's been a lifesaver when I was traveling with my 1 year old alone! Didn't have to try and rustle my ticket out of the diaper bag! Awesome app and awesome airlines
Always my go to airline!
Rosewood Photography
on
6/22/2017
I fly pretty frequently and Alaska has by far the best reputation with me as far is on time flights and great staff!
Great app
I'm using Alaska Air to fly to California for college. The app is really good in giving customers the necessary information in order to be fully prepared for the flight. Now we'll see how the staff and the actual flight is!
Works well
jaaronjacobs
on
6/21/2017
Works well for what I need it to do. Intuitive and doesn't overdo it with useless features that just get in the way. If it randomly gave away free tickets I would give it five stars.
Alaska Air App
Worked as expected. My computer was behind so I did it all on the phone
App
Great App for Alaskans that travel
First time User; Simple
First time booking by myself and its pretty simple to use since all the info was already there;bravo.
Love it
App is easy to use
I love to travel
Got it love it rate it
on
6/19/2017
With all the traveling I do for school and for vacations it's so useful and convenient for anyone
Can't do anything, just crashes
The app looks nice, and could be functional, but it always crashes before I can do anything. It's so bad I gave up and just used the mobile site to check in.
Love this app
Portlandriley2006
on
6/19/2017
I am a frequent traveler and love how this app helps make my booking, check-in and travel on Alaska Airlines easier. I am all about ease!
Easy to use
kinda have to use it so it's nice
App
For-get-Me Not Girl
on
6/18/2017
Great app! So easy to use!
Efficient
Who(areswhatmynameis
on
6/18/2017
It works like it should and saves time.
Used it
This didn't time out when I had to look for numbers
Excellent clean simple functional
Excellent, simple, and functional
Easy to use.
Drewmaticperson
on
6/16/2017
Easy to use on your travels and can reduce the stress of flying.
Amazing, and easy to use
Title says it all
Update
Jackie OBrien
on
6/16/2017
I like it but when I change something it takes forever to update and show my change.
Easy peasy
Super easy to use
!!!
Santiagotanyaa
on
6/16/2017
Love
Quick and easy
Bartemis Maximus
on
6/16/2017
Super simple and efficient
It's easy. I'm lazy.
It's kind of like a match made in heaven. Pretty much able to do just about everything from my phone. No longer do I need to get up off my couch and walk all the way over to my computer to book a flight check-in or get info. The future is now!
Great app
Great app. Great Airline.
Love it!
I really appreciate the fact I can check in a day early, and track an airplane at my convenience!
Works for me
I'm not a frequent traveler but this app checked me inn and added to wallet, showed my seats and gates!! Works for me!
Great Experience
Haven't used this airline much but so far everything has been excellent... From the app, to customer service, to the price. Joseph-
Great first experience
First time I ever used anything like this for travel. It was easy to set up and has made things easier. One check in for both my wife and I.
Fantastic app will comprehensive useful functions
Everything you need to do and know as a business traveler is available in the app
Great app
Great airline great app
Helpful app
Easy to use! Holds boarding passes as well as walking you thru any changes. Awesome!
Easy to use
App is very easy to use. The process of checking in is well thought out and simple. I appreciate how not complicated it is.
Well Constructed, Easy Check In
Well designed, and the integration with Apple wallet is super helpful. It automatically adds my ticket into my digital wallet, and I can check in before I arrive at the airport, which takes one more thing off of my plate!
Efficient
LeftysLoosey
on
6/13/2017
Don't fly Alaska Air often but this app is smooth, quick and efficient.
One drawback
I hate flying airlines that charge for checking baggage. They encourage you to take bags to plane. Adds to TSA lines Jams plane aisles. Takes longer to get off plane! Plus on an 800.00 fair!!! Not good!
Slick App
Intuitive- just what I expected.
Worse than flying with Alaska
ADigbySellers
on
6/12/2017
You need to tell it all of the info you were hoping the app would pull up for you in the first place. If I have a flight scheduled why can't the app show me all details once I login? Delta and United do it! It needs me to provide (look up elsewhere) the very information I want the app to provide. Want to check-in once you actually find your flight? It always tells me that you must wait until 24 hours prior to your flight time even when the flight departs within 3 hours. Luckily it finally lets me check-in about an hour before boarding. After, of course, I pay for my bag using the same credit card as always that the app will not save to my profile. Get out your card and enter "New Card" AGAIN because this app knows diddly about you. Abysmal!
Pretty good overall
One complaint is that I can't view award travel vs. ticket cost without award without starting a new search. It would be nice to be able to transition between or better yet compare side by side without the extra step. Overall though fairly easy to navigate.
It's a Dream
Love the airline and app. Checked in, added our luggage, confirmed our seats, received our boarding passes TSA checked pre screened and QR code. Also added our boarding pass to my IPhone wallet. Took less then 2 minutes for all. Love it!!!
Great app for the Alaska Customer
Automatically updates gates and times if there are any changes. Essential app for me.
Nice interface
Easy to navigate and use
Easy to use. Love it.
Keep hopping
on
6/11/2017
Well designed. Right info where you need it.
Didn't get delayed flight notification
Hellonurse10
on
6/10/2017
I have used most of the airline apps and was disappointed with the Alaskan app. My flight was delayed and with all my push notifications on in my iPhone settings and on the app it never alerted me. Also, after checking on the app, the app boarding pass had no QC code and also stated that it couldn't be used for TSA check in. I still had to go to a kiosk and print a paper pass.
Fact Sheet
Publisher: Alaska Airlines, Inc.
Category: Travel
Released: Feb 19, 2010
Current Version Released: May 17, 2017
Version: 4.1.16
Size: 62.1 MB
Compatibility: Requires iOS 8.0 or later.
Recommended Age: 4+
Game Center Certified: No
Supported Devices: iPad2Wifi-iPad2Wifi, iPad23G-iPad23G, iPhone4S-iPhone4S, iPadThirdGen-iPadThirdGen, iPadThirdGen4G-iPadThirdGen4G, iPhone5-iPhone5, iPodTouchFifthGen-iPodTouchFifthGen, iPadFourthGen-iPadFourthGen, iPadFourthGen4G-iPadFourthGen4G, iPadMini-iPadMini, iPadMini4G-iPadMini4G, iPhone5c-iPhone5c, iPhone5s-iPhone5s, iPadAir-iPadAir, iPadAirCellular-iPadAirCellular, iPadMiniRetina-iPadMiniRetina, iPadMiniRetinaCellular-iPadMiniRetinaCellular, iPhone6-iPhone6, iPhone6Plus-iPhone6Plus, iPadAir2-iPadAir2, iPadAir2Cellular-iPadAir2Cellular, iPadMini3-iPadMini3, iPadMini3Cellular-iPadMini3Cellular, iPodTouchSixthGen-iPodTouchSixthGen, iPhone6s-iPhone6s, iPhone6sPlus-iPhone6sPlus, iPadMini4-iPadMini4, iPadMini4Cellular-iPadMini4Cellular, iPadPro-iPadPro, iPadProCellular-iPadProCellular, iPadPro97-iPadPro97, iPadPro97Cellular-iPadPro97Cellular, iPhoneSE-iPhoneSE, iPhone7-iPhone7, iPhone7Plus-iPhone7Plus, iPad611-iPad611, iPad612-iPad612, iPad71-iPad71, iPad72-iPad72, iPad73-iPad73, iPad74-iPad74,
Supported Languages: English;