Screenshots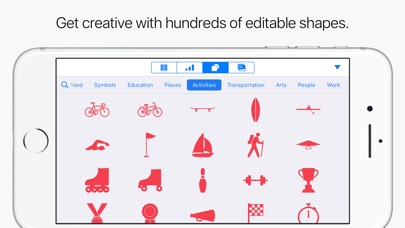 New in version 3.3
• Redesigned document manager makes it easier to access files stored in iCloud Drive or with third-party storage providers
• On iPad, drag and drop text, images, and more between Keynote and other apps
• Work more efficiently on iPad using Slide Over, Split View and the new Dock
• Quickly access and organize your presentations using the new Files app
• Use Unite, Intersect, Subtract, and Exclude commands to create new shapes
• Use Align, Distribute, Flip Vertical, and Flip Horizontal commands to quickly arrange objects
• Support for Break Apart command for complex shapes from the shapes library
• Performance and stability improvements
Description
Keynote is the most powerful presentation app ever designed for a mobile device. Built from the ground up for iPad, iPhone, and iPod touch, it makes creating a world-class presentation — complete with animated charts and cinematic transitions — as simple as touching and tapping.

Start with an Apple-designed theme and add text, images, charts, tables, and shapes with just a few taps. Highlight your data with stunning interactive charts. Present right from your iPad, iPhone, or iPod touch. Or use Keynote Live to present a slideshow that viewers can follow from their Mac, iPad, iPhone, iPod touch, and from iCloud.com. Preview your slides and notes on your device using the Presenter Display.

With iCloud built in, your presentations are kept up to date across all your devices. And with real-time collaboration, your team will be able to work together at the same time on a Mac, iPad, iPhone, or iPod touch — even on a PC using iWork for iCloud.

Collaborate with others at the same time
• Your whole team can work together on a presentation at the same time using real-time collaboration
• Collaboration is built right in to Keynote on the Mac, iPad, iPhone and iPod touch
• PC users can collaborate too, using Keynote for iCloud
• Share your document publicly or with specific people
• You can easily see who's currently in the document with you
• View other people's cursors to follow their edits

Get started quickly
• Choose from 30 Apple-designed themes to give your presentations a beautiful start
• Use the slide navigator to quickly skim through your presentation, add new slides, and reorder slides
• Design your presentation using your choice of slide layouts, animations, fonts, and style options
• Animate data with new interactive column, bar, scatter, and bubble charts
• Import and edit Microsoft PowerPoint files using Mail, a WebDAV service, or iTunes File Sharing
• Use Undo to go back through your previous changes
• Quickly open password-protected presentations using Touch ID on supported iPhones

Create stunning presentations
• Use predefined text styles or choose text options to personalize your slides
• Easily change slide masters and backgrounds
• Quickly add your photos and videos from the Photos app using the Media Browser
• Edit down to the pixel with rulers and alignment guides
• Use Instant Alpha to easily remove image backgrounds

Cinema-quality animations
• Beautiful cinematic slide transitions for easily creating stunning presentations
• Magic Move effect to easily animate and morph graphics
• Gorgeous slide transitions including Clothesline, Object Cube, Object Flip, and Object Pop
• Impressive text and object animations including Vanish, Crumble, and Fade and Scale

Present to your audience
• Rehearse a presentation with current slide, presenter notes, and timer all in one view
• Keynote Live lets you present a slideshow that viewers can follow from their Mac, iPad, iPhone, iPod touch, and from icloud.com
• Present on an external display or projector; navigate slides, view presenter notes; stream wirelessly using AirPlay and Apple TV
• Highlight with Apple Pencil while presenting on iPad Pro
• Use the Keynote Remote Apple Watch app to control a presentation

iCloud
• Turn on iCloud to access and edit your presentations from your Mac, iPad, iPhone, iPod touch, and icloud.com
• Use Keynote for iCloud to access and edit your presentations from a Mac or PC browser
• Keynote automatically saves your presentations as you make changes

Share your work
• Use AirDrop to send your presentations to anyone nearby
• Quickly and easily share a link to your work via Mail, Messages, Twitter, or Facebook
• Export your presentation to Microsoft PowerPoint or PDF format
• Print presentations on a wireless printer using AirPrint

Some features may require Internet access; additional fees and terms may apply.
Keynote does not include support for some Chinese, Japanese, or Korean (CJK) text input features such as vertical text.
iPad Screenshots
Reviews
It's Decent
KyleJames0408
on
9/25/2017
It's not universally sound and I'd recommend Google Slides or any other slideshow application, but in a crunch this is a great app to use.
Logitech Spotlight Not working after iOS11 update
stephkpalmer1
on
9/24/2017
I love using keynote and I've been using the Logitech Spotlight with it via Bluetooth. However after the iOS11 update it not longer works with Keynote. Please fix!
Dissolve transition Bug
Please fix the dissolve transition on ipad version, there is black screen appear before transition take place.
iCloud feature
It's very bad, it is of no need, you made an app file manager it is enough
Freezes up when updating
Firestarter2424
on
9/22/2017
It says there's a update when I try updating it freezes about 2/3 the way
Resigned Doc Manager
So disappointed in how Apple designed the document manager. Why even have different apps if they all start in the same place. It's annoying to have to travel through my iCloud Drive just to find a keynote file and it's hard to see because every is shrunk. I like the old doc manager!
Finding presentations
Please Apple can I just be taken to my iCloud Keynote folder when I want to open a Presentation instead of the WHOLE FLIPPIN FILES thing to sort thru to find the Keynote folder. I have a bunch of keynotes that I switch between as I'm teaching classes and lessons. This makes it REALLY difficult to do that. UGH! It was so nice before!
Going down down down apple
Going down
Decent
No tytties McGee compared to similar options.
Hi
Hiiiiiiiiiiiiiiiiiiiiiiiiiiiiiiiiiiiiiiiiiiiiiiiiii
Can't download the app
lore117lopez
on
9/17/2017
I have IOS 10.3.3 why can't I downloaded.
Good
A person with purpose
on
9/4/2017
The features on this app makes it very useful.
Stupid
I don't use it at all get it off my ipod
Great app.
I use this app for many different things. From keeping track of the farm equipment to tracking my dad's vitals on a daly basis. The lay out gets better and better though it could us a bit of work to make even more user friendly. It's great that there are so many color choices to use on cells...
Best app
This is the best presentation app I even use it for YouTube videos 👍it amazing I rally recommended it
Fantastic! But could use improvement.
PowerPoint doesn't have grouping... but this does! The new layout can get some getting used to (like double-tapping a picture to crop), but Iv'e found some important things that PP doesn't have that keynote does. As always, there's room for improvement... especially since iOS on an iPad is very spaced out and you should have more options in there. Specifically, I wish you could edit photos more. Brightness/contrast and beyond really should be included.
Back to basics
They add all these features to Keynote, and I still can't move a word over 5 spaces to line it up. Should be simple, yes? So instead of all these advanced features, how about text editing circa 1985?
Ugh
I wish I could save my presentations on my camera phone and use them in iMovie. I hope this is something developers are working on for the near future
App won't update
It keeps getting stuck during install and won't finish. You can't delete it so it's just stuck there.
Ptrxxzrcozzzodzxyyfyesxsfts
ZyyrsezyzdzZezfdryyzzzyzyzZvovkztzzzzzzdrsxzzzzdezSzxez📼🎐🗓💊💊🛁🚿🚿🎀💌🎉📨🛍📔📝🔐📔📁📘💜🎈✉️📪🖼🎈📈📊📜🗒📑🖋🎐🎉🎎📩🎉🏮☸️🖌🖌🖌📄📨💌🎉💌📭📅🏮🎉📪💌🏮🔑🕳🕳📆💊💊🎀📭📆📼📆📆📆📆🗒
Good, but could be a lot better
The app is solid. But, it could be so much better with very little imagination and effort (especially for the soon-to-be trillion-dollar company that makes the iPad Pro!). For example, Keynote needs drag to select. Long touch at a particular spot to activate selection mode and bring up crosshairs. Drag the finger, during which a dotted rectangle dynamically follows to show you what you are selecting. Lift finger, and all items touching the rectangle have been selected. Upon lifting finger, show popover action menu. This is pretty straightforward, and countless other apps already do it. The current approach of selecting one item at a time while keeping another finger on an "anchor" item is silly and slow for slides that have many graphical objects. Keynote developers need to work with OmniGraffle for a day. I get it that Keynote probably doesn't want to be as intricate as OmniGraffle with multitouch, but still.... there are some basic things (like drag to select) that could be done so much more intuitively and creatively to truly capture the magic of touch interface.
AMAZING
Puppy lover girl sugarcane
on
7/7/2017
This app helped me get lots of my work done in no time at all! Fantastic app!
Won't update
I've tried to updates this app several times, but it never completes the process. Can't use it or delete. The developer has to know there is a problem by now (this has been ongoing for weeks now). Not sure why they haven't fixed it yet.
Doesn't update
I sent myself a keynote presentation from my computer. It says I can't open it on my iPad until i update it. When i go to update all it says is open which takes me back to the file that I can't open. Totally useless. When are you going to fix it?
Light Software on Pro Machine
Justanotherterribleapplol
on
6/27/2017
Keynote includes only the most basic tasks. This is not helpful for Professionals on the iPad Pro. Similar story for iMovie. Add more features and functionality, even if it's only for iPad Pro! This is not Pro software to go with my $649 machine.
hi
sayargyeesai
on
6/24/2017
i 'll used now
Great replacement for PowerPoint
The real BigJim
on
6/22/2017
This is a great replacement for PowerPoint for most everyone!
Won't update/install
OvercastInWA
on
6/20/2017
Completely useless app.
good
E to w err day is a good rone
Actually worth only 0.5 stars
June 2017 review: App is just terrible. The export feature is to either PDF or PPT type format without transition capability nor sound. Export to any movie app is completely ZERO. What is the use of this app if the user cannot create and export to other apps so that it can be enjoyed by others? Will try again to use this app and update in a week or two.
App is stuck halfway through update and unusable
I don't use this app for anything, but it bugs the hell out of me because it's stuck on 'installing' halfway and I can't delete or use the thing. Worst apple app I've ever not used.
Great app
I used this app for a training presentation. I was able to put the slides together on my phone and used my Apple TV to mirror it to the television. It all worked great! Very simple to use!
Смешно
Прошу обратить внимание, что в новых фигурках Купертиновцы решили изменить представления России на глобусе!
School
Get it it's 5/5😛😛
on
6/9/2017
Keynote was really useful for school
YES!!!
So I do this in school sometimes. So when I searched up keynote at my house I had to pay so I was like NOOOOO!! Now it's free! YESSS overall it's awesome! But here's a suggestion, make it easier to highlight something instead of holding it.
If you have videos don't use this
Use Powerpoint
on
6/3/2017
Spent hours trying to do a presentation and come to find out the sound doesn't work with the video in IPad Pro. Complete crap on the design of this app. Used older version and loved it, but some engineers figured they would try to make the world better by fixing something that didn't need fixed.
AWESOMENESS IN AN APP
SavageSquadz
on
5/30/2017
I LOVE THIS APP! I use it for my projects at school!
AWESOME!
It is perfect for presentations but they should add this. What about a feature that blurs the edges of the image you put to blend better with the background?
A keynote remote worth 500MB
So much waste when all you wanted is just a keynote remote on 16GB phone. Now you got the picture
Great
Hunter Letua
on
5/17/2017
It was great for class work.
Extremely useful!
This app is a huge timesaver! I was stuck with PowerPoint on an old Windows Vista laptop. With no battery. Love the compatibility as I was able to transfer it directly off the Vista via email to my phone and kept everything! Great features and still simple.
Great app, lots of uses
I've used Keynote for presentations, creating marketing materials, and for flash cards and study materials. It is great for presentations. I use my iPhone as a controller for my iPad. Appreciate that and how you can set it to see both the current slide and the next slide. Easy to design slides, too. For marketing materials, the easy design makes for a professional look. For flash cards I just make one slide the front and the next slide the back. Then if I want to print I print double sided. But mainly I use on screen. Appreciate the ease with which you can move slide order, add new slides, and duplicate slides. In general I find it easier to use than PowerPoint and can still export to .ppt if needed for a particular project. Glad to have this and would buy again.
Useless
I haven't found a use for this app. I am trying to figure out how to delete it.
Installing...
StephieRawks
on
4/30/2017
Update has been installing for days. Wish I could delete it.
Like this app, it is stable again.
I don't use this app much but when I do I really need it. Thanks for the upgrade.
Ver. 3.1.1 not updating
Music---> YES
on
4/27/2017
This app is sitting in my updates. Trying to get it to update always fails.
Nice update!
Great to see Apple supporting Keynote! It's still far and away better than PowerPoint.
So much better than PowerPoint.
Great looks, feel and typography
Decent
Good to know that Apple didn't mess up this app like they did Pages and Numbers. Oops hope I didn't just jinx it😅
Fact Sheet
Publisher:

Apple Inc.

Category:

Productivity

Released:

Apr 01, 2010

Current Version Released:

Sep 19, 2017

Version:

3.3

Size:

636.7 MB

Compatibility:

Requires iOS 11.0 or later.

Recommended Age:

4+

Game Center Certified:

No

Supported Devices:

iPhone5s-iPhone5s, iPadAir-iPadAir, iPadAirCellular-iPadAirCellular, iPadMiniRetina-iPadMiniRetina, iPadMiniRetinaCellular-iPadMiniRetinaCellular, iPhone6-iPhone6, iPhone6Plus-iPhone6Plus, iPadAir2-iPadAir2, iPadAir2Cellular-iPadAir2Cellular, iPadMini3-iPadMini3, iPadMini3Cellular-iPadMini3Cellular, iPodTouchSixthGen-iPodTouchSixthGen, iPhone6s-iPhone6s, iPhone6sPlus-iPhone6sPlus, iPadMini4-iPadMini4, iPadMini4Cellular-iPadMini4Cellular, iPadPro-iPadPro, iPadProCellular-iPadProCellular, iPadPro97-iPadPro97, iPadPro97Cellular-iPadPro97Cellular, iPhoneSE-iPhoneSE, iPhone7-iPhone7, iPhone7Plus-iPhone7Plus, iPad611-iPad611, iPad612-iPad612, iPad71-iPad71, iPad72-iPad72, iPad73-iPad73, iPad74-iPad74,

Supported Languages:

Arabic; Catalan; Valencian; Croatian; Czech; Danish; Dutch; Flemish; English; Finnish; French; German; Greek; Hebrew; Hindi; Hungarian; Indonesian; Italian; Japanese; Korean; Malay; Norwegian; Polish; Portuguese; Romanian; Moldavian; Russian; Chinese; Slovak; Spanish; Castilian; Swedish; Thai; Chinese; Turkish; Ukrainian; Vietnamese;