Screenshots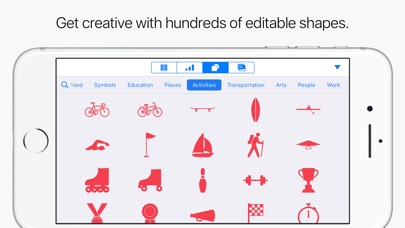 New in version 3.3.1
This update contains stability and performance improvements.
Description
Keynote is the most powerful presentation app ever designed for a mobile device. Built from the ground up for iPad, iPhone, and iPod touch, it makes creating a world-class presentation — complete with animated charts and cinematic transitions — as simple as touching and tapping.

Start with an Apple-designed theme and add text, images, charts, tables, and shapes with just a few taps. Highlight your data with stunning interactive charts. Present right from your iPad, iPhone, or iPod touch. Or use Keynote Live to present a slideshow that viewers can follow from their Mac, iPad, iPhone, iPod touch, and from iCloud.com. Preview your slides and notes on your device using the Presenter Display.

With iCloud built in, your presentations are kept up to date across all your devices. And with real-time collaboration, your team will be able to work together at the same time on a Mac, iPad, iPhone, or iPod touch — even on a PC using iWork for iCloud.

Collaborate with others at the same time
• Your whole team can work together on a presentation at the same time using real-time collaboration
• Collaboration is built right in to Keynote on the Mac, iPad, iPhone and iPod touch
• PC users can collaborate too, using Keynote for iCloud
• Share your document publicly or with specific people
• You can easily see who's currently in the document with you
• View other people's cursors to follow their edits

Get started quickly
• Choose from 30 Apple-designed themes to give your presentations a beautiful start
• Use the slide navigator to quickly skim through your presentation, add new slides, and reorder slides
• Design your presentation using your choice of slide layouts, animations, fonts, and style options
• Animate data with new interactive column, bar, scatter, and bubble charts
• Import and edit Microsoft PowerPoint files using Mail, a WebDAV service, or iTunes File Sharing
• Use Undo to go back through your previous changes
• Quickly open password-protected presentations using Touch ID on supported iPhones

Create stunning presentations
• Use predefined text styles or choose text options to personalize your slides
• Easily change slide masters and backgrounds
• Quickly add your photos and videos from the Photos app using the Media Browser
• Edit down to the pixel with rulers and alignment guides
• Use Instant Alpha to easily remove image backgrounds

Cinema-quality animations
• Beautiful cinematic slide transitions for easily creating stunning presentations
• Magic Move effect to easily animate and morph graphics
• Gorgeous slide transitions including Clothesline, Object Cube, Object Flip, and Object Pop
• Impressive text and object animations including Vanish, Crumble, and Fade and Scale

Present to your audience
• Rehearse a presentation with current slide, presenter notes, and timer all in one view
• Keynote Live lets you present a slideshow that viewers can follow from their Mac, iPad, iPhone, iPod touch, and from icloud.com
• Present on an external display or projector; navigate slides, view presenter notes; stream wirelessly using AirPlay and Apple TV
• Highlight with Apple Pencil while presenting on iPad Pro
• Use the Keynote Remote Apple Watch app to control a presentation

iCloud
• Turn on iCloud to access and edit your presentations from your Mac, iPad, iPhone, iPod touch, and icloud.com
• Use Keynote for iCloud to access and edit your presentations from a Mac or PC browser
• Keynote automatically saves your presentations as you make changes

Share your work
• Use AirDrop to send your presentations to anyone nearby
• Quickly and easily share a link to your work via Mail, Messages, Twitter, or Facebook
• Export your presentation to Microsoft PowerPoint or PDF format
• Print presentations on a wireless printer using AirPrint

Some features may require Internet access; additional fees and terms may apply.
Keynote does not include support for some Chinese, Japanese, or Korean (CJK) text input features such as vertical text.
iPad Screenshots
Reviews
When wil it support iPhone X?
When will it support iPhone X?
سلام عزيزم
Effatamelizamani
on
11/16/2017
سلام عزيزم
Great app but not working
Used to be a great app, but for some reason, it's not working anymore. It won't allow me to create or download existing keynotes. It won't allow me to open tags within the app either. The tag will just light up but will not open. This came at a horrible time, too. Have a presentation tomorrow I'm using keynote for. Fix ASAP!
Unneeded and unwanted
tgfathergoose
on
11/14/2017
Will never use.
Issue was resolved
xObeseNinja
on
11/14/2017
My issue was resolved. I think I just had a strange glitch. Apple support contacted me within a day with their concerns. It's a great app
W ea sa
Shelbyshark3
on
11/13/2017
Zwas zYrarrrwataewaay
While presenting the text in the box is very small.
Songwut Sae
on
11/12/2017
Hi , I want the keynote program In the next version. While presenting in the note box Can reduce or expand the text. Because my eyes do not see the text.Ask you to succeed thank you very much.
Noah
This is the best thing any business man could hav
Awesome!
RobertEsdale
on
11/11/2017
So many cool transitions. I love doing all of them, but so far "Orbital" is my favorite.
Make keynote great again!!
BigCountryDan
on
11/11/2017
Every time I want to create a brand new presentation, it would not load the present and it will say. " Could Not open presentations". Or " ( null)". Don't know what that means. Keynote was better before this clunky update. Now i have to resort to Microsoft PowerPoint. I still have hope that the developers will fix this problem, but until then. Is broken.
No iPhone X Support
DemonDestructor
on
11/10/2017
So silly...Apple doesn't have full screen support for their own apps on the iPhone X! This will stay 1 star until updated as it should've been.
Lost all Keynote Presentations
Just updated to Keynote 3.3.1 and all my Keynote Presentations were deleted!
Fixed hours after my initial review
Timing cricket
on
11/9/2017
I lost all of my presentations that I spent hours creating!!!! What happened to them?? All the names are there of my files but I cannot open them and when I try to drag them to a label it says that the file does not exist. What the heck is going on here? If Apple was trying to do the things they are doing now when they were first starting out they would have been laughed out of the industry. What happened.
Don't update, Bluetooth remote will not work. [updated 11-09-2017 with v.3.3.1]
UPDATE: Thank you Keynote developer, with version 3.3.1 update, my Satechi BT remote presenter works again. Kudos! It is a good app and I use it everyday to teach with, to a large lecture hall of about one hundred students. So I use the Apple TV and airplay it to the large 1080 projector and use my Satechi Bluetooth presenter, but since I'd updated to keynote 3.3 with my iOS11, my Bluetooth no longer respond to it. I had to revert back to iOS10 and allowed the older version of keynote to install (BT remote worked again), then turn OFF the autoupdate feature once I reinstalled iOS11. I can't find this issue on any forums. Hopefully Apple will have a patch for it soon. Needless to say, I am still lecturing to my pre-nursing students with an older version of keynote and would not update until Apple comes out with a patch.
Crashed
Fist time use. Don't know what I did wrong, but it crashed. I was just testing.
Keynote
I love this. It's is so helpful for my classes and other things
I love it but.......
fluffybannanagoat
on
11/6/2017
Keynote is so helpful and fun to use but I have to say It takes a bit long to load, but if you're patient this a great app for you
Apple TV app!
TheJuanFlorez
on
11/6/2017
There should be an Apple TV app, to be able to present slides. It's only purpose would be to show slides, not edit them. That would be a life saver!
What happened to using the "advance" and "back" keys
I've been using Keynote for my iPad Pro since the beginning of the year and grow to like it. Unfortunately, it seems that someone has made the decision to eliminate the use of the forward and backward buttons from my Bluetooth keyboard...but I think there's more than just that. At first I thought it was my keyboard going bad, but then I read that several others were complaining that Bluetooth wasn't working any more with Keynote. With that in mind, I thought maybe I'd try an Apple iPad Pro keyboard, but when I visited the Apple store, even that keyboard's forward and backward keys don't advance (or backup) the slides. The only way to advance the slides is to tap on the screen, but it becomes clumsy...especially when you want to back up. Why the change, as it seems to make little sense?
LACKING
The app is OK for getting a presentation done in a pinch, but it could be so much more! Maybe if the same attention that goes into updating hardware also went into updating software . . . Needs more fonts (Most of these all look the same), outline the letters and change the outline color, ability to change the shadow color, ability to make presentation a video presentation. For being cutting edge, apple dropped the ball on this app.
Please fix the Bluetooth!!
Newest update 3.3 Broke my Bluetooth remotes... super critical to my usage of this software but I don't have the time to downgrade. Fix me Apple you are my only hope!
No sound
I made keynote with video but when I check sound doesn't come out. Please check the keynote system
Bluetooth remote capability lost
I use a Bluetooth controller to advance slides however the new version, 3.3, has lost this capability. I noticed another review with the same comments. Please add this back! I plug my iPhone in via hdmi to a large monitor and then I use my Bluetooth controller to walk through my audience. I cannot do that tethered to the TV. This is important to some as I've seen this problem discussed in other forums.
Won't Work!?
It will not update on my iPhone 7. I have tried about 5 times to update it with WiFi.
ITS NOT LETTING ME DOWNLOAD IT ;-;
ITS NOT DOWNLOADING HELP ME PLEASE ;-;
I love this app but it sometimes gives me trouble.
Ethan venegas
on
10/25/2017
The first time i looked at it and i tried it but it was working soo Well that i almost used it every day.But in 25/10/2017 And other days i made Mistakes and it happens Easily. And sometimes I say Keynote is the app That many mistakes happen.And when i make mistakes i Have to do it again and again again and it won't stop sometimes.And i want more details. Thank you for listening . And be careful
Can't import a ppt or pptx file I created on my phone
Awesome Ash 98
on
10/20/2017
I created a presentation on my phone, a simple run of the mill thing, just class notes, and however much I try I can't seem to get keynote to read the file. I keep getting a message saying keynote can't read this file. Very disappointed. Thought this app would give me better service. Resorted to downloading the Microsoft app instead.
MERRY
George A. Adams III 552 Forestbrook Dr. Myrtle Beach, SC 29579 Our Dear Friend Merry passed away, Her name MERRY, She had been confined wheel chair for 30 yrs., But she reflected great LOVE among DEAF, God gave Merry Great patient sitting on wheel chair 24/7, God reflects great Love with Wheel Chair, Don't expect anyone burden great pains, Merry can communicate with pencil on keyboard, She can't communicate with her hands, She used America Sign Language, Merry wanted Deaf reflect JESUS LOVE, With her big Smile upon her face, God glorified wheel chair for reasons, God sent Angel taking Merry home upon high, Merry able dance with God. We
You can use it for so many purposes
I ❤️radio Disney
on
10/19/2017
So I used this app during school to make the best pictures and my teacher loves the app because we do all our planing on it so I decided to get this app for home so I can plan to make my slime (my mom loves it too) 🦄🦄🦄
Great products
These always come in handy for me. As does most apple products. Just wish they wouldn't hinder you by limiting downloads based on size and make us use Wi-Fi to download large apps it's our data and we should be able to use it how we see fit for me personally I have unlimited data and I do not have Wi-Fi at all never have never will so this is extremely inconvenient for people like me that is The only downside.
Deleted all my files
Grrrrrrr!!!!!!
on
10/14/2017
Holy crap apple. Why would you release something that deletes my files. Good thing I have google cloud backup or I'd be SOL.
Please bring back space bar advance.
The title says it all. I left powerpoint for the same reason. I use a mini Bluetooth keyboard to advance my slides using the space bar. The last update removed this. Please bring it back. I also love using apple pencil with keynote.
Keynote and other app removal
Why is it rigged so hard to remove apps? Some of us may not want them. We should have an easy and obvious way to remove apps just as easy as it is to signup for them. Also the billing needs to stop easier than it was to sign up for it
Won't download
Apple puts an app in their own App Store that doesn't work??!!! Tim must be counting those millions of people buying the iPhone X.
Disaster!!!!
Every time I always do my presentation on iPad pro9.7 and keynote which works fine. But now what happen?? I can't open any single of my presentation and those files are really important to me. I don't wanna hate this app but u guys screw up
I love this app!
Pokemon Goooooooo!
on
10/7/2017
Whenever I have to make presentations I only turn towards this app.
App is stuck halfway through update and unusable
I don't use this app for anything, but it bugs the hell out of me because it's stuck on 'installing' halfway and I can't delete or use the thing. Worst apple app I've ever not used. Edit: mistake was fixed, keynote team reached out to me, tried the app and it's on par with google slides
Use another app...
🇺🇸 Peace Maker
on
10/6/2017
This app erased entire presentations that I had stored on my school iPad. There is no way to get these files back or restore a fraction of the file. There are better alternatives to this app that actually save your work and will not lose them. You should not lose a file that A GLITCH OR CRASH ERASES. TERRIBLE PLANNING AND TERRIBLE APP. USE GOOGLE PRESENTATION INSTEAD.
Bluetooth does not work with ISO update
I have used Keynote and Keynote remote apps every week for several years with no problems. But after the ISO 11.0.2 update on my iPhone the Bluetooth no longer pairs between my iPhone and iPad Mini rendering the remote useless (as I have no WiFi in the location where I use them). Please consider an app update to solve this problem ASAP.
Don't update to v3.3
Hasty McNasty
on
10/5/2017
The new update has caused Keynote to not allow you to open or create presentations.
Reviews
Sort your reviews how are we supposed to know when crap gets fixed with updates. Also from the start I read it freezes was it fixed not willing to waste my time finding out. Check back next year
Too much storage other than that, good
A little hard for beginners
on
10/3/2017
An awesome app but I deleted t because of storage of course cause I have a 16gb phone. Other than that it's a great app
Let's us change the dimensions of a picture
Literally every other slide show app does this. It is impossible to make a photo long but not stupidly wide or vise-versa.
Update won't load
This update won't load
What did you do!!!!!!!!
What a disaster. You have no idea how to program apps. Apple's skills are withEngineering and manufacturing hardware and operating systems. You took a moderately easy to use application — not as good as full blown PowerPoint and turned it into a disaster — impossible to use, impossible to maneuver through. Return to what you previously offered. Add a few features to it such as an equivalent to the Paragraph settings on PowerPoint, and leave well enough alone. You are trying to imitate Explorer on Windows and you FAILED big time!! Again, this is a disaster!!!
Recommendation
@atrevetemoreno
on
9/30/2017
I used to love KEY NOTE; but after the last actualization, with difficulty I find my presentations, in a first sight. This has become a big problem for me, because I use every day this application in my work. Please go back ! Thanks that I already own my old iPad, I can face this ...but having to bring two iPads to school is disgusting
Too much ram
Sindriven7174
on
9/28/2017
This apps takes over 600MB of my ram and it's kinda harsh to iPhone 7 with only 2GB of ram to deal with so I would be happy to re install this app if It takes less ram.
Was a great app
I have been using Keynote to design digital planners and notebooks for about a year. I has been a powerful app and each upgrade has added new and needed features. But this latest upgrade is clunky. Don't get me wrong...some of thre new features are great, especially the ability to create new shapes. That was a winner. But the task of uploading a presentation to Dropbox has become a nightmare. I see that there is more than one way y To do it, but every method has its problems. Why does the name of the file change as it goes to Dropbox? Is this a Keynote thing or a Dropbox thing. Why can we no longer see and verify that the file is actually uploading. I am disappointed and this is a negative for my business.
Logitech Spotlight Not working after iOS11 update
stephkpalmer1
on
9/24/2017
I love using keynote and I've been using the Logitech Spotlight with it via Bluetooth. However after the iOS11 update it not longer works with Keynote. Please fix!
Fact Sheet
Publisher:

Apple Inc.

Category:

Productivity

Released:

Apr 01, 2010

Current Version Released:

Nov 09, 2017

Version:

3.3.1

Size:

636.8 MB

Compatibility:

Requires iOS 11.0 or later.

Recommended Age:

4+

Game Center Certified:

No

Supported Devices:

iPhone5s-iPhone5s, iPadAir-iPadAir, iPadAirCellular-iPadAirCellular, iPadMiniRetina-iPadMiniRetina, iPadMiniRetinaCellular-iPadMiniRetinaCellular, iPhone6-iPhone6, iPhone6Plus-iPhone6Plus, iPadAir2-iPadAir2, iPadAir2Cellular-iPadAir2Cellular, iPadMini3-iPadMini3, iPadMini3Cellular-iPadMini3Cellular, iPodTouchSixthGen-iPodTouchSixthGen, iPhone6s-iPhone6s, iPhone6sPlus-iPhone6sPlus, iPadMini4-iPadMini4, iPadMini4Cellular-iPadMini4Cellular, iPadPro-iPadPro, iPadProCellular-iPadProCellular, iPadPro97-iPadPro97, iPadPro97Cellular-iPadPro97Cellular, iPhoneSE-iPhoneSE, iPhone7-iPhone7, iPhone7Plus-iPhone7Plus, iPad611-iPad611, iPad612-iPad612, iPad71-iPad71, iPad72-iPad72, iPad73-iPad73, iPad74-iPad74, iPhone8-iPhone8, iPhone8Plus-iPhone8Plus, iPhoneX-iPhoneX,

Supported Languages:

Arabic; Catalan; Valencian; Croatian; Czech; Danish; Dutch; Flemish; English; Finnish; French; German; Greek; Hebrew; Hindi; Hungarian; Indonesian; Italian; Japanese; Korean; Malay; Norwegian; Polish; Portuguese; Romanian; Moldavian; Russian; Chinese; Slovak; Spanish; Castilian; Swedish; Thai; Chinese; Turkish; Ukrainian; Vietnamese;