Screenshots
New in version 3.3
• Redesigned document manager makes it easier to access files stored in iCloud Drive or with third-party storage providers
• On iPad, drag and drop text, images, and more between Pages and other apps
• Work more efficiently on iPad using Slide Over, Split View and the new Dock
• Quickly access and organize your documents using the new Files app
• Use Unite, Intersect, Subtract, and Exclude commands to create new shapes
• Use Align, Distribute, Flip Vertical, and Flip Horizontal commands to quickly arrange objects
• Support for Break Apart command for complex shapes from the shapes library
• Select a paragraph of text with a triple tap gesture
• Improved PDF export lets you view a document's table of contents in the sidebar in PDF viewer apps
• Performance and stability improvements
Description
Pages is the most beautiful word processor you've ever seen on a mobile device. This powerful word processor helps you create gorgeous reports, resumes, and documents in minutes. Pages has been designed exclusively for the iPad, iPhone, and iPod touch with support for Multi-Touch gestures and Smart Zoom.

Get a quick start by using one of over 60 Apple-designed templates. Or use a blank document and easily add text, images, shapes, and more with a few taps. Then format using beautiful preset styles and fonts. And use advanced features like change tracking, comments, and highlights to easily review changes in a document.

With iCloud built in, your documents are kept up to date across all your devices. And with real-time collaboration, your team will be able to work together at the same time on a Mac, iPad, iPhone, or iPod touch — even on a PC using iWork for iCloud.

Collaborate with others at the same time
• With the release of real-time collaboration, your whole team can work together on a document at the same time
• Collaboration is built right in to Pages on the Mac, iPad, iPhone and iPod touch 
• PC users can collaborate too, using Pages for iCloud
• Share your document publicly or with specific people
• You can easily see who's currently in the document with you
• View other people's cursors to follow their edits

Get started quickly
• Choose from over 60 Apple-designed templates to instantly create beautiful reports, resumes, cards, and posters
• Import and edit Microsoft Word and text files

Create beautiful documents
• Format your document with gorgeous styles, fonts, and textures
• Enhance your document with a library of over 500 editable shapes
• Easily add images and video to your document
• Use auto-text wrap to flow text around images
• Organize your data easily in tables

Advanced tools
• Add comments and join threaded conversations
• Turn on change tracking to mark up a document as you edit it
• Add bookmarks to easily link from one part of your document to another
• Create and view impressive bar, line, area, and pie charts
• Add linked text boxes so text easily flows from one place to another
• Create footnotes and endnotes and view word counts with character, paragraph, and page counts
• Automatic list making and spellchecking
• Add elegant mathematical equations using LaTeX or MathML notation
• Quickly open password-protected documents using Touch ID

iCloud
• Turn on iCloud so your documents are automatically available on your Mac, iPad, iPhone, iPod touch, and iCloud.com
• Access and edit your documents from a Mac or PC browser at www.icloud.com with Pages for iCloud

Share a copy of your work
• Use AirDrop to send your document to anyone nearby
• Quickly and easily share a link to your work via Mail, Messages, Twitter, or Facebook
• Export your document in ePub, Microsoft Word, and PDF format
• Use "Open in Another App" to copy documents to apps such as Dropbox
• Print wirelessly with AirPrint, including page range selection, number of copies, and two-sided printing

Some features may require Internet access; additional fees and terms may apply.
Pages does not include support for some Chinese, Japanese, or Korean (CJK) text input features such as vertical text.
iPad Screenshots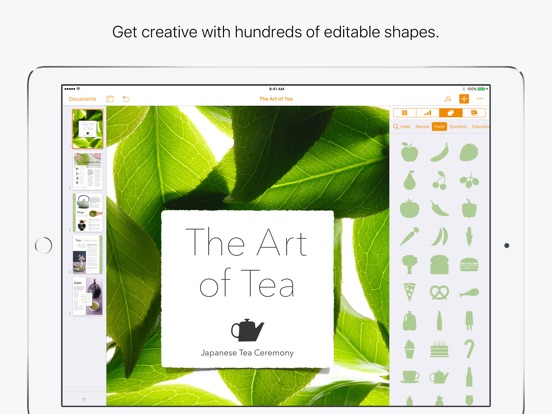 Reviews
LOVE THAT APPLICATION
PAGES STAYS WITHIN ALL US
Really?!
It's no longer intuitive. It doesn't show my documents in iCloud Drive note will it allow me to create a new document ("+" does nothing).
It's Decent
KyleJames0408
on
9/25/2017
It's a decent application to write papers and do other document related work, but it isn't universally used through work places and therefore is less reliable in that sense. For what it's meant for, though, it's a good app to have around.
Um no
I already have Files, and I love the layout of that app; however it's unappealing to have two of the same apps, and it's such a waste of time to have to go looking for my files. I loved the way it was designed before this update. Now it makes me want to downgrade. Very disappointing to look at how my files are displayed
Latest update
crashmaster 1
on
9/25/2017
What the hell did you do to Pages in the last update? It used to be so easy to use, now I can't even open a file.
Awful Update!
I can't open files I could before. I want the previous edition back. How awful!!
iOS 11
This new version is HORRIFIC!!!!! Cannot see the full name of documents on my IPhone!!!! Renders this app useless to me!!!!!!!! Why?????
New update is confusing
Why can't I just have my files sorted by date they were modified? The new version of pages made for iOS 11 is confusing and hard to use.
Update screwed up
I USED to love this app until the latest iOS update. Now, my docs won't open. The app locks up. ??????? Any chance y'all can fix this some time
iOS 11 not opening
Now that I am on iOS 11, I can't open a new blank document.....
Pages
sorrytoseethechange
on
9/24/2017
2 Stars for not having a save button. What good is it without this option. Removing from my iPhone finding another app that will have the useful button "Save" good by Pages.
Inaccessibility to Older Documents
I updated to Pages 3.3 a few days ago. Now, I cannot open documents that I created between October 2014 and mid-September 2016. When I tap one of those thumbnails several times in an effort to open it, I can't open anything until after I've closed and reopened Pages. Then I can open documents that do open. The logo on the non-opening documents is the Pages logo (a slanted pen on a horizontal line) with colors reversed from the Pages logo, rather than the text of first pages of the documents.
Currently not working
First time using since the update. I open it, find my documents (a little more complicated than it used to be), select a document, hit "share", and I go to a blank screen that lets me do nothing. I have to quit the program to escape the blank screen. So I figure I'll just open the document in Pages. Nope. It won't open any of my pages docs. As far as I can tell, the only thing it does is allow me to see a list of documents. That's neat.
The reason for that large App size?!
This issue has been forever; pages, keynotes, and numbers, all have ridiculously big sizes for iOS on my phone. I used to say that's it, but when I look at similar apps from Microsoft or Google or other companies like Kingsoft, etc. there is no point of that difference in Apple iWorks apps on iOS?! The 3 apps altogether takes a big space especially on 16 Gb phones (thanks Apple for such a historical scam selling that small storage for that money then), yet they either are less in features than some competitors or similar to others who have apps less than the half of Apple's any of iWork apps!
Terrible Update
Hate this last update. Now Pages, Numbers are mixed in together & the generic infantile look of the folders is a step backwards from the photo headers that the files previously had. Seems like more often than not, since Steve Jobs died..... Apple is going downhill more than they make any true advancements. Apple seems to be chasing after what everyone else is doing. I'm considering switching to Android.
Crashing is Huge Problem
Satorimoments
on
9/22/2017
This used to be my favorite app of all time. I have not been able to function on it with my iPhone 6 for some time because of the incessant crashing. Thought perhaps the lack of memory on my phone was the problem but just purchased a new iPhone 8 with 256 gigs - crashing still rampant. It still works with my iPad but the whole magic of this magnificent program was the ease of going between both. I too am a writer and time is of the essence. Please fix this! Thank you
New Update
I am having a lot of issues with the new update, pages will not download or basically app freezes and does not allow me to use it.
Can't find my stored documents
Joybellsmile
on
9/22/2017
My documents can not be found. All my recent documents have been lost if i did not specifically save them to an outside source. Very upset i have lost all my notes for college.
Hate the newest update
This latest update and file folder has been challenging.
New features new look great, BUT...
I need to be able to create a duplicate of my documents in Pages, as opposed to having to email the document to myself, then email it back.....HELP!!!
HATE THE UPDATE!
Organic Girl 1
on
9/22/2017
I have always loved Pages but the latest update to my iPad is horrible. It looks nothing like the old app and I'm unable to do things I used to. (ie make a duplicate of a document) HATE!!
Can open files
who's color blind?
on
9/22/2017
I just updated to the latest version and now I can't open half my files. Worked fine before the update.
Can't Change Title When Doc Open Anymore
With the new software update to iOS 11 my Pages app won't let me change the name of my pages document while having the document open anymore. It isn't a huge deal, but it is a huge pain in the rear. It would be really nice if that functionality was still available. Hoping this is a bug they will fix soon.
WTH? You've Screwed up a Perfectly Fine App
WTH? This app worked great. It was easy to use. Easy to open a new document. Easy to title document. Easy to sort the documents. But for some reason you had to come in here and screw it up. It is not user intuitive. It is no longer easy to use. It is no longer easy to title a document. This is crap. There are other apps easier to use. This one can be moved to a useless folder. WTH?
Good
A1S2D3asd123
on
9/22/2017
Nice
Redesigned Document Manager
So disappointed in how Apple designed the document manager. Why even have different apps if they all start in the same place. It's annoying to have to travel through my iCloud Drive just to find a pages file and it's hard to see because every is shrunk. I like the old doc manager!
Simply Awful Update
Dune Flowers 👼🏻
on
9/21/2017
Hmm, I am a very cautious writer who need to have the right version I know that I had once before if I decide to change my mind. Now, it does not show the date you last modified it but it will still have the date you last edited the document, even if you restored it.
Sending different format is hidden now.
You can't send a pages document in a different format like you used to. Now you have to open the document, go to the "More" option in the upper right corner and chose Export, instead of Share. Then you chose the exporting format then chose the way to send it. I tried so many different ways, even called support, who didn't know what had changed either. Then I just tapped Export, which I hadn't seen before, and voila! Success.
Where is my stuff?
Updated the app and a document I was editing disappeared and is nowhere to be found. Thanks a lot.
Keyboards in iOS 11 😭😭😭
Sad Boy Jessup
on
9/20/2017
It is heartbreaking to discover that the keyboard for Pages in iOS 11 is not the full sized board from 10.3.3 when typing in landscape. Oh crap I just tried it to type this review and the full keyboard is just gone now??? Oh man, this is, this is... I am so sad. Please please bring back the full keyboard with the comma and the drop function for full view. Please. I beg of you. Regards
Absolutely hands down the best!
I love Pages it's clean, simple, fast, fluid, and beautifully designed. You can't even compare Google Docs or Microsoft Word to it, they are just cluttered and messy looking. Good job!
What a mess!
iliketopreach
on
9/20/2017
Wow! With the iOS 11 update, you have created a real mess. I can no longer arrange by most recent. I select to arrange by date, and it does so with individual documents (which are all at the head of the line), but when I scroll down to folders, they are still arranged alphabetically. And now when I open a document, it first duplicates it, so now I have 2 of them. But Im afraid to delete one, not knowing if I'll lose it altogether. This was a great app that I use every single day. The last major update messed with some of the features, but this update has seriously reorganized my entire body of documents. Please restore the organization of documents to something more usable and controllable.
Changes to Title Name System
I used to love this app, but as of iOS 11, you can no longer use / or . in the file name. This change is extremely frustrating since all of my files up to this point have ended in dates using the MM/DD/YY convention for sorting and that no longer works. This change is extremely frustrating and seems to have no reason behind it.
Latest update is meh
Pages tends to lag on older devices, but is otherwise a good app...until the most recent update. It is impossible to find anything now, and its ease of access has vanished. I liked it the old way. We already have a dedicated files app, why would we need the exact same thing in Pages? Formatting sub/superscripts takes ages, because there is no quick action. Overall, the previous version was much better.
Helped me a lot
casanova_1106
on
9/20/2017
Helped me pass my senior project I would've failed if I used Google
It's a few things broken in pages on ios11
Swailsfam212
on
9/20/2017
When inserting anything the option to back out is gone. Pages in general is very buggy and I hope to have a update soon as this is the only word processing app I use!
Deleted
Alyssa_shoree
on
9/19/2017
I go to update my phone to iOS 11 and check this app all my stuff is gone...so is it the phone or app
Awesome on iPad Pro.
Great app, hope to see steady improvements.
Won't let me open the app??
IAMABURGER! 🍔😜
on
9/18/2017
I don't know whether it's because I've used too much data or if it's because I'm trying to use it on my iPad, but it won't let me open up the actual app!
What has changed. I can not copy documents and paste hem into Pages?
What have you changed? Hrichard
Missing Important Feature
DavidtheConfident
on
9/16/2017
The desktop app and the online version are splendid. My only concern is what made me to return to Google Docs and Microsoft Word on iOS. I wish the Pages for iOS app had a Mobile View feature like Docs and Word. That is my major concern and the deal-breaker for me because I hate having to squint just to edit my work. It's a mobile app for Pete's sake! If I wanted to edit my documents in "Desktop View", I would've used the desktop app or the online iCloud version. Please add this feature because this app has got a lot of potential.
Worst spell check ever!
Not only is the spell check the worst, Auto correct is like having a dumb blond as an editor. It does not even ask before changing a real word into gibberish. APPLE with all of you coolness what gives?
How do we change language?
Every time I do something it's in some sort of Latin British Indian language
Love it
I love pages so much keep up the good work apple.
No keyboard in "rename" function on iPhone
Dropbox will not launch under Locations on main screen. Please fix.
No back buttons !! OMG
This is a good app but the only two problems is that there is not back buttons so if delete something by accident you can't get it back you have to restart. This got me so pissed😠. The other problem is that when you are underlining something and you pressed the space button the stuff that you just typed is all gone and you can't find it, I don't if it's deleted or something happened to it, AND YOU CANT USE THE BACK BUTTON !!!!!!!!!!
I can't use it
Happygirl#God
on
9/4/2017
I can't download it anymore. I had it but then apple suddenly decided that only iOS 10 could have it. Well I have iOS 8 because I have a iPhone 4s. It is very aggravating!!!!!!
I really like the pages app.
I really like the pages app. I own my own tile company and I type up all my bids here in the pages app. People love the design of my bids. The only real recommendation that I have that would really improve this app is to be able to sign my name signature this way I can just type everything up then sign my name and email the document. Please find a way to make this happen. Thank you.
Crashes-- cannot use
Peeved Reviewer
on
8/30/2017
I absolutely LOVE the pages app, but every single time I try and open the template I made, the app crashes. Without fail. I don't know what else to do... FIX IT
Pages is Crap. I'm looking for an alternative
I've been using pages for years. I can't figure out why? The spell and replace features are stupid. Formatting is a nightmare. Importing documents from other programs is often impossible. I'm finally looking for an alternative after too much frustration.
Fact Sheet
Publisher:

Apple Inc.

Category:

Productivity

Released:

Apr 01, 2010

Current Version Released:

Sep 19, 2017

Version:

3.3

Size:

432.4 MB

Compatibility:

Requires iOS 11.0 or later.

Recommended Age:

4+

Game Center Certified:

No

Supported Devices:

iPhone5s-iPhone5s, iPadAir-iPadAir, iPadAirCellular-iPadAirCellular, iPadMiniRetina-iPadMiniRetina, iPadMiniRetinaCellular-iPadMiniRetinaCellular, iPhone6-iPhone6, iPhone6Plus-iPhone6Plus, iPadAir2-iPadAir2, iPadAir2Cellular-iPadAir2Cellular, iPadMini3-iPadMini3, iPadMini3Cellular-iPadMini3Cellular, iPodTouchSixthGen-iPodTouchSixthGen, iPhone6s-iPhone6s, iPhone6sPlus-iPhone6sPlus, iPadMini4-iPadMini4, iPadMini4Cellular-iPadMini4Cellular, iPadPro-iPadPro, iPadProCellular-iPadProCellular, iPadPro97-iPadPro97, iPadPro97Cellular-iPadPro97Cellular, iPhoneSE-iPhoneSE, iPhone7-iPhone7, iPhone7Plus-iPhone7Plus, iPad611-iPad611, iPad612-iPad612, iPad71-iPad71, iPad72-iPad72, iPad73-iPad73, iPad74-iPad74,

Supported Languages:

Arabic; Catalan; Valencian; Croatian; Czech; Danish; Dutch; Flemish; English; Finnish; French; German; Greek; Hebrew; Hindi; Hungarian; Indonesian; Italian; Japanese; Korean; Malay; Norwegian; Polish; Portuguese; Romanian; Moldavian; Russian; Chinese; Slovak; Spanish; Castilian; Swedish; Thai; Chinese; Turkish; Ukrainian; Vietnamese;