This version of the app is not recommended
App last updated
Nov 09, 2017
Screenshots
New in version 3.3.1
This update contains stability and performance improvements.
Description
Pages is the most beautiful word processor you've ever seen on a mobile device. This powerful word processor helps you create gorgeous reports, resumes, and documents in minutes. Pages has been designed exclusively for the iPad, iPhone, and iPod touch with support for Multi-Touch gestures and Smart Zoom.

Get a quick start by using one of over 60 Apple-designed templates. Or use a blank document and easily add text, images, shapes, and more with a few taps. Then format using beautiful preset styles and fonts. And use advanced features like change tracking, comments, and highlights to easily review changes in a document.

With iCloud built in, your documents are kept up to date across all your devices. And with real-time collaboration, your team will be able to work together at the same time on a Mac, iPad, iPhone, or iPod touch — even on a PC using iWork for iCloud.

Collaborate with others at the same time
• With the release of real-time collaboration, your whole team can work together on a document at the same time
• Collaboration is built right in to Pages on the Mac, iPad, iPhone and iPod touch 
• PC users can collaborate too, using Pages for iCloud
• Share your document publicly or with specific people
• You can easily see who's currently in the document with you
• View other people's cursors to follow their edits

Get started quickly
• Choose from over 60 Apple-designed templates to instantly create beautiful reports, resumes, cards, and posters
• Import and edit Microsoft Word and text files

Create beautiful documents
• Format your document with gorgeous styles, fonts, and textures
• Enhance your document with a library of over 500 editable shapes
• Easily add images and video to your document
• Use auto-text wrap to flow text around images
• Organize your data easily in tables

Advanced tools
• Add comments and join threaded conversations
• Turn on change tracking to mark up a document as you edit it
• Add bookmarks to easily link from one part of your document to another
• Create and view impressive bar, line, area, and pie charts
• Add linked text boxes so text easily flows from one place to another
• Create footnotes and endnotes and view word counts with character, paragraph, and page counts
• Automatic list making and spellchecking
• Add elegant mathematical equations using LaTeX or MathML notation
• Quickly open password-protected documents using Touch ID

iCloud
• Turn on iCloud so your documents are automatically available on your Mac, iPad, iPhone, iPod touch, and iCloud.com
• Access and edit your documents from a Mac or PC browser at www.icloud.com with Pages for iCloud

Share a copy of your work
• Use AirDrop to send your document to anyone nearby
• Quickly and easily share a link to your work via Mail, Messages, Twitter, or Facebook
• Export your document in ePub, Microsoft Word, and PDF format
• Use "Open in Another App" to copy documents to apps such as Dropbox
• Print wirelessly with AirPrint, including page range selection, number of copies, and two-sided printing

Some features may require Internet access; additional fees and terms may apply.
Pages does not include support for some Chinese, Japanese, or Korean (CJK) text input features such as vertical text.
iPad Screenshots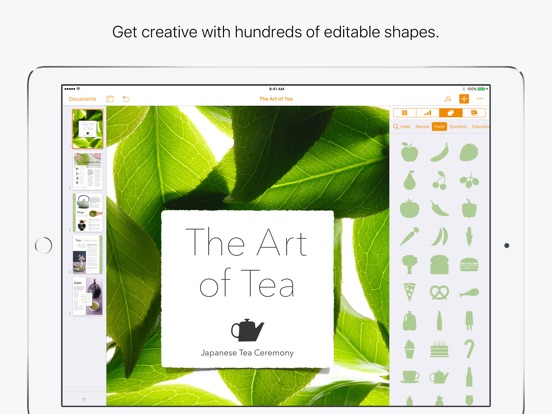 Reviews
Missing Document
..•**•..•**•..•**•..
on
1/21/2018
My son is been working on a paper for two months. The night I before it was due he was doing last minute editing...and the app froze. He brought it to school and since it was iCloud backed up they deleted the Pages app and reinstalled it. His paper he disappeared. 12 pages. Two months worth of work. Where is the paper? What solution can you recommend?
Does not work anymore!
I use this app 5 days a week for work but after the iOS update last week the app quit working. I went to the support site and found no answers. Everything I go to work on is either not available or null.
New Update
I hate the new update with the tons of locations, favorites, tags, etc. It's weirdly spacious, compartmentalized, and it makes me feel extremely disorganized. I have no idea how to find things anymore and do simple tasks like duplicating a document. I get the trying to do it better thing, but this is just making things more difficult. I sincerely hope this gets fixed soon.
Newest update crashes
High Desert Girl
on
1/20/2018
I loved this app. Are used to constantly on my cell phone to create documents fluidly moved between my MacBook and iPhone to iPad. My daughter uses this to compose her school papers. With the last download it no longer even begins to work. I downloaded the newest update and it crashed from the first time I opened it. I have tried all fixes including deleting and then re-downloading as well as changing where the documents are stored with no luck.
Buggy since iOS 11
I used to love this app, but major issues have appeared since iOS 11. Under circumstances I have unsuccessfully tried to find some rhyme or reason for, the screen goes blank. All my files disappear. The only recourse is to reboot my iPad. This brings back the files but more than 10 times so far, the file I was working on is irreparably corrupted. It won't open nor will it let me delete or rename it: the message I get is the "file doesn't exist." I have copies of many documents on my blog, so I can sometimes get an older version there, but if the doc isn't on my blog, I'm screwed. I've started making backup copies of critical files (many of which are hundreds of pages long) on Pages and other word processors – and pray the developers will FIX this issue for Pete's sake. I have hundreds of files (four years' worth) of files on Pages so moving to another word processor is potentially daunting for me. I warn any new user to STAY AWAY if you don't want to see hours (days, weeks!) of work corrupted. I use an iPad Pro with max memory and storage.
Having trouble lately
I purchased the Pages App for iPad shortly after purchasing an iPad 3...quite a few years ago, now. I have used Pages for lots of word processing and have had mostly good success. Up until a week ago I would have probably given the app a 4.5 star rating. But just recently I have nothing but problems with it. I do a lot of cutting and pasting when creating my documents. Now when I leave the Pages document that I am working on and open another source and come back I end up with my document disappearing and going to a checkerboard pattern. I have to close out of Pages completely and open it again and then open the document that I am working on to be able to add the information that I want to paste. A major pain! Very time wasting.
Useless
After last update, I can't open ANY documents. WHY DID YOU MESS WITH A WORKING APP!!
Loved this app
So now that I did the update I can't or haven't figured out how to send it in word form the way I could in the past .. 🤭 This is why I never do updates !!!
Used to be great - now totally unusable
Nitesong1968
on
1/18/2018
I'm trying to access my documents and it will show me a list of 'recent documents' but will not let me access them. It will not allow me to created a new document. It seems to have lost all my files and folders and the page that comes up is not helpful! I am frustrated beyond belief.
Crash
The app crashes when making a new doc. Which didn't happen before so that's why i'm writing. Also the new file manager is clutered and fustratkng to use now. I preferred the iOS 10 version. But I like the iCloud file intergration.
Update deleted ALL my files
AnnaRaphaella
on
1/17/2018
I just ran an automatic update and Now all my files are gone!! They are not in deleted, but in recent it shows I had opened them yesterday before I ran the update - but they are gone. I HATE when developers do crap like this. Basic feature should not be delete a users files. And yes I did look on the iPad, cloud, and any other place they could be. They were stored on the iPad. Thanks for nothing developers!
APA Format
Same, you right, and Woooow
on
1/16/2018
I love pages. It is super easy and simple to use. However on the iPad, it does not allow you to have a different header of the first page. This makes it impossible to write a paper in APA format. I a a college student who needs to be able to do this. Please make it possible to use a different header on the first page on the IPad Pro version of pages
NEW VERSION IS BAD!
I just got the iPhone 8 Plus and my pages updated. Well I restored all my old files on pages and starting work on them (I wrote devotionals). This new updated version of Pages is so slow, it freezes, lags, and sometimes will show that you no documents in Pages. You have to wait 5+ mins for it to show that you have something there. I wish I could load the old Pages. It was super fast and I never had to worry about anything with it.
Limited
Limited features & difficulties with sharing
Dislike
I really like the old Version very easy and simple to use Absolutely dislike the new version every time I write a letter and print it out it disappear then I have to find it again to save it ..... what you can't save your anything anymore.............. I have to figure out how to save it so it will disappear.... everybody don't know how to just automatically use this app.
Doesn't work after update
Bye bye boredom
on
1/14/2018
I just updated this app and it doesn't work anymore. My files are gone too! I'm very upset
Trouble
I love pages but it doesn't love me. I have an iPad Pro and I have trouble loading pages I have on file and getting to other pages and cannot at this time start a new document. Always tells me I have some sort of disruption. I hope it can be fixed.
App not working
This app has been trying to update for a week now. Deleted and rebooted phone tried to re-download app and in the App Store it's still circling
Unable to access files.
App currently doesn't open, no matter what. I've lot all my files. This is a useless app don't trust it.
Thanks for a broken update
Cannot open since your stupid update. Nothing can be done with the APP I use the most. Please fix something on your own time and don't use us as a test bed for your bad ideas. Fix my APP. I have deleted and redownloaded it 2 times. Oh My iPad Pro is less than a year old and no my memory isn't even close to full.
Very glitchy
Keeps on crashing on everything I do :( I open a page that loads from the cloud and it freezes and crashes . I'm editing a paper and change the font it freezes and crashes .........
Seriously Apple? ...although I'm not surprised
As each year passes I grow more and more disillusioned, disappointed, and disgusted with this company, and its products...and I have been team Apple since the beginning. Pages does not allow for sub folders. It's like seriously? Pages isn't some newbie app some developer made in their garage, it's made by what is supposed to be one of the most powerful and well designed computer systems on the planet. They certainly place a high dollar value on their product, and that's ok, if they offer a product that is head and shoulders above the rest as their prices are...and they used to be that good. USED TO BE. I guess as long as the expendable masses keep shelling out 2-3x the money for half the product nothing will change. No sub folders may seem like a small issue for such harsh criticism, but it's the point, it is a basic feature many people want. For the price of Apple products why must I download (and pay for because very little is free in the App Store unlike..say android) a third party app probably made in someone's garage to get basic functionality from a premium product? I love my ipad but until they put aside their greed and raise the quality of their products this will be the last Apple product I buy. I NEVER thought I would utter such words.
Extremely frustrating
This app is completely useless to me
If you're having trouble
I Love Pages! If you're having trouble getting the app to do anything at all and you can't find any of your documents, try restarting your phone.. I had this problem. Fixed!
Finally works on with an iPad Pro 12.9
SeriouslyDave
on
1/8/2018
I installed 11.2.2 and Pages now sees my files on iCloud Drive and lets me create new documents. I'll up my rating if the app continues to work smoothly. Previously: Pages does not display anything from my iCloud Drive so I cannot see existing documents. Nor can I create a new document. In Settings, iCloud Drive is set to on and Pages is set to on underneath iCloud Drive. These are the same settings as my iPhone 7+ and iPad Pro 9.7. Pages works as expected on those devices.
Update
I love mermaids
on
1/8/2018
All my documents on Pages disappeared after I downloaded the newest update, but all came back in a new file after I shut my apple product all the way down. Thanks!
Need something permanent
Google search Search
on
1/8/2018
OK so I've used Pages for two years, and I've used it for just about everything such as is making fake stories or just for fun and share them on the web, talking about things a lot more. When I use it I use my iPhone all the time. However: it seems like in this new iOS system, ever since you updated pages in September when you released iOS 11, now you can't rename your files if they need to be changed. It was nice to have it where you could rename a file, instead of having it the same thing. It's still a good app to use, although that should be changed. The thing I like to use Pages this is to share them on the web Jen, because then I can view them online. It's a great app even though there are some flaws, but it still good.
Great App! But poor compatibility
Sean Hannity Fox News
on
1/7/2018
Love using pages on my Mac, and trust it more than the other programs like Microsoft, but today Apple deleted it from my iPad 2 saying it was "not compatible"! Ridiculous! Please change it!
Oh dear...
I loved Pages for my iPad until today. I can't open any docs on my MacBook Air to edit them. I have everything in iCloud and my Mac recognizes them but "can't" open any Pages docs. So I'm stuck on the iPad? So disappointing.
Better than I thought
I was concerned after the new update had seemingly deleted some of my work, but I found a way to recover it by accessing the cloud. Thankfully I can say this app is still my go to for writing on the go
Keeps crashing and lose work as a result
Although Pages is a good app, at least for a tablet, the app keeps crashing when trying to auto save. As a result, I keep losing work from time to time. I really hope this bug is fixed in the near future.
Review update
Malarkeypaddy
on
1/7/2018
I recently wrote a review that expressed my frustration with this app. I lost all my documents. Thank goodness they were in the cloud. I could see them but couldn't open them up. No matter what I did they were gone. I had some important documents on this app. So I gave up and, Well I deleted the app for a few days. I downloaded it again today and, lo and behold, everything is back. I used to love this app but now I am a little nervous about it. That's why I gave the three star rating. I will update to a better rating if it stays stable.
Grade: F
The apps has worked wonderfully for years. Now it won't open...very frustrating!!!!
I loved the app on my iPad but...
I just got this iPhone about two weeks ago and I created a different Apple account for it. I have this story I was writing (just for fun) on my iPad and I though maybe I could try to transfer it over. I tried opening it in pages and it didn't work so then I thought I would try to copy and paste it. Turns out, I can't even create a new document. I tapped the plus sign more than a few times and it never did anything. I'm disappointed because I really would've loved to have been able to transfer my story over. Other than the fact it doesn't work on my iPhone, I loved it on my iPad but I just wish it worked on both...
Frustrating!
I used this app to create my Acting headshot and resume. I liked previous versions because it was very simple to go in and make changes adding jobs and updating my Acting experiences. It is no longer easy. Every time I go in to add to my resume it take hours just to figure out how to get into the text field to add text. I just keeps moving the page/ text bubble around and changing the boarders😡😡
When it works, it works great...
But this morning, I simply copied an existing document and attempted to create a new one where I'd then paste that info. No luck. I highlighted everything and selected copy, at which point the app froze. I quit Pages, reopened it and created a new document. But when I chose "Paste," nothing happened. So apparently, simply choosing "Copy" made Pages freeze.
Missing APA & MLA format
It's missing one of the basics and the other one is for the medical field. We need this to do our papers. Microsoft Word has it and so does Google Doc. Please, add it. It will make everyone enjoy the app more.
What's happening
I love pages until 3 weeks ago. Now it won't open and allow me to get into it. Just updated my ipad and the issue is still there😥☹️
Why does it freeze???
It freezes too often when I select a word/title and want to change anything about it, please help me figure this out!!
Terrible update
Taking a almost a day to update. Too long. No way to stop it.
Lacks basic features
Pages for iOS loses one's place in documents once the app has been refreshed. For very long documents this means scrolling through hundreds of pages all over again. This is not functional. This problem is compounded by the fact that one cannot edit a document on a Mac and then open the document to the same place automatically on iOS. Usually it opens at the beginning of the document on iOS. Furthermore, in order for pages to be truly functional, there needs to be a tab key on the keyboard, it needs to support vertical alignment, and non-contiguous text selection. Finally, have the 'developers' who respond realised that the links they post are not clickable? And there is no way to leave feedback about the App Store through the Apple feedback portal!
Not working
Aharonariaharon
on
1/2/2018
It's not working.
Pages Update? What a mistake!
Was going to continue revising a recent document and was prompted to get a free update: Just updated and opened the app only to learn that the multi page document I typed in Pages last Friday was gone! Pages indicated I had no recent documents, Impossible! and only much older documents in the file folder. Thankfully I had emailed a copy of the Pages document last Friday. BE WARY of the update.
awaful ! OS7 upgrade
I used to think that Pages was an excellent basic word processing app with just a few short comings here and there but since I took that awful upgrade there are more things going wrong than right. - lost information,jamming, and can't down load several documents. I once thought that Apple stood for Quality but I could be forced to buy another Brand. Yep' Jobs is gone' This App is rubbish!
Current Version Broken on IPod
Dragonrider•13
on
1/1/2018
I love working in pages. I'm writing a long long story and I'm always surprised how fast it loads, considering. I really like the formatting and wide range of cool fonts. But this new update makes it impossible to open any of my documents. The only way I'm able to reach them is by going to the Files app (that holds everything in iCloud), and opening my documents from there.
Honestly the worst app
Yo-ris Yeltzin
on
1/1/2018
Save yourself a headache and use Google docs
Opens, then blank screens
Pages previously worked flawlessly on my iPhone. After a few system updates, Pages now takes over five seconds to open, shows files for almost two seconds, then changes to a totally unresponsive white screen. Rebooting, deleting and re-installing, nothing fixes this app. Back to the Genius Bar I guess.
Lost functionality
I really wish it were illegal to take away functionality in updates. I use Pages on my iPad and am in the process of converting my .doc files over to Pages. I had them all in google drive and were opening them up, editing and saving on my iPad. With the new update (which I did not approve by the way), Pages no longer reads the files. Why on earth they would take that simple thing away is beyond me. This is why more people don't leave Microsoft, because converting over is such a pain. This makes it even more so. Since all the other features are useless now that I can no longer move my files, I am giving it one star.
It Freezes Up
Overall, I like the app but today I got the iPhone 8 Plus and transferred all things over to this iPhone and I tried to write a document but it keeps freezing up on me, especially when I try to close the file. I have to close Pages and try again. I would recommend you using MS Word app if you can because getting hung out to dry 10 times in an hour is ridicules.
My problems with the pictures
I really like writing on pictures so I would like to make picures be in the foreground, midground, or background.
Fact Sheet
Publisher:

Apple Inc.

Category:

Productivity

Released:

Apr 01, 2010

Current Version Released:

Nov 09, 2017

Version:

3.3.1

Size:

432.4 MB

Compatibility:

Requires iOS 11.0 or later.

Recommended Age:

4+

Game Center Certified:

No

Supported Languages:

Arabic; Catalan; Valencian; Croatian; Czech; Danish; Dutch; Flemish; English; Finnish; French; German; Greek; Hebrew; Hindi; Hungarian; Indonesian; Italian; Japanese; Korean; Malay; Norwegian; Polish; Portuguese; Romanian; Moldavian; Russian; Chinese; Slovak; Spanish; Castilian; Swedish; Thai; Chinese; Turkish; Ukrainian; Vietnamese;