Screenshots
New in version 3.3.1
This update contains stability and performance improvements.
Description
Pages is the most beautiful word processor you've ever seen on a mobile device. This powerful word processor helps you create gorgeous reports, resumes, and documents in minutes. Pages has been designed exclusively for the iPad, iPhone, and iPod touch with support for Multi-Touch gestures and Smart Zoom.

Get a quick start by using one of over 60 Apple-designed templates. Or use a blank document and easily add text, images, shapes, and more with a few taps. Then format using beautiful preset styles and fonts. And use advanced features like change tracking, comments, and highlights to easily review changes in a document.

With iCloud built in, your documents are kept up to date across all your devices. And with real-time collaboration, your team will be able to work together at the same time on a Mac, iPad, iPhone, or iPod touch — even on a PC using iWork for iCloud.

Collaborate with others at the same time
• With the release of real-time collaboration, your whole team can work together on a document at the same time
• Collaboration is built right in to Pages on the Mac, iPad, iPhone and iPod touch 
• PC users can collaborate too, using Pages for iCloud
• Share your document publicly or with specific people
• You can easily see who's currently in the document with you
• View other people's cursors to follow their edits

Get started quickly
• Choose from over 60 Apple-designed templates to instantly create beautiful reports, resumes, cards, and posters
• Import and edit Microsoft Word and text files

Create beautiful documents
• Format your document with gorgeous styles, fonts, and textures
• Enhance your document with a library of over 500 editable shapes
• Easily add images and video to your document
• Use auto-text wrap to flow text around images
• Organize your data easily in tables

Advanced tools
• Add comments and join threaded conversations
• Turn on change tracking to mark up a document as you edit it
• Add bookmarks to easily link from one part of your document to another
• Create and view impressive bar, line, area, and pie charts
• Add linked text boxes so text easily flows from one place to another
• Create footnotes and endnotes and view word counts with character, paragraph, and page counts
• Automatic list making and spellchecking
• Add elegant mathematical equations using LaTeX or MathML notation
• Quickly open password-protected documents using Touch ID

iCloud
• Turn on iCloud so your documents are automatically available on your Mac, iPad, iPhone, iPod touch, and iCloud.com
• Access and edit your documents from a Mac or PC browser at www.icloud.com with Pages for iCloud

Share a copy of your work
• Use AirDrop to send your document to anyone nearby
• Quickly and easily share a link to your work via Mail, Messages, Twitter, or Facebook
• Export your document in ePub, Microsoft Word, and PDF format
• Use "Open in Another App" to copy documents to apps such as Dropbox
• Print wirelessly with AirPrint, including page range selection, number of copies, and two-sided printing

Some features may require Internet access; additional fees and terms may apply.
Pages does not include support for some Chinese, Japanese, or Korean (CJK) text input features such as vertical text.
iPad Screenshots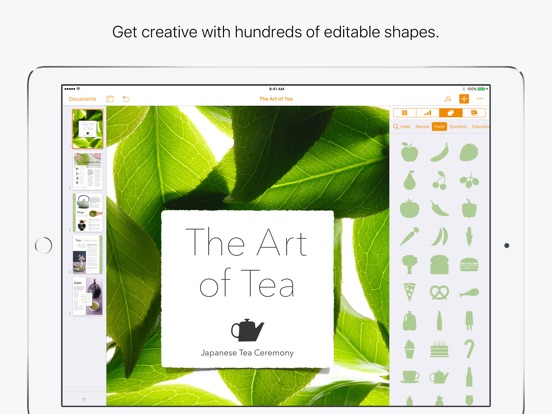 Reviews
Unusable
I got this app for homework purposes but when I went to create a new document it just gave my an error message and I can't use it because of that reason please fix this problem
Update issue
Jump doodle
on
11/18/2017
I installed the latest update and now I can't open any of my documents! Please fix!!!
Update wiped out files
After the latest update I can no longer open any of the files I have on my IPad. Do no update.
Worst update
I couldn't open my documents on my iPad at all after downloading this new update just last week. I have iMac but I'd rather do it here on iPad because it's so convenient to take it with me wherever I go. I'm so disappointed to apple. I never had any problem in the past updates but this new one is sooo sooo terrible.
Ugg
Luckeys Itunes
on
11/17/2017
App was good till the recent update now I can even get on any of my pages I created
Cannot Open Documents
sscaterpillar
on
11/17/2017
I love this app but for the past couple of weeks I've been unable to open any of my documents. Please fix this.
Cannot Open Documents
I updated the app today and I can no longer open the documents. I will click on them and it takes me no where. I even made a new document to see if the problem persisted with that one and it did. I'm very upset, I had some important works on there and I want to access them.
Please add tabs like One Note as Option
JustpeachynDC
on
11/17/2017
Love using Pages because it's a beautiful writing app and it syncs seamlessly with iCloud. MAJOR BONUS! But Pages Developers you soooo need to add a tabs format like Outline Pro or One Note, PLEEEEEASE GOD! Please ADD THAT AS A FEATURE. IT is so hard to see all the pages especially if you have sub folders. It is so hard organize and follow. Please update PAGES with that feature.
Why apple
Mlgproquickspoper
on
11/17/2017
Justa complete copy of word but slower and less choice this is the pinticle of why I hate apple
Frustrated
I can no longer access most of the documents that I created with this program since the last update!!
Does not open old docs
I did an update and it will not open nor let me share old documents, making this a nightmare as I have many docs on my iPhone that I cannot open.
Support iPhone X
When will it support iPhone X?
Not working!
Love this app and it was working fine but now I can't open any of my documents!!! Need help
ALL IMPORTANT DOCUMENTS GONE!!
Terrible. Like many others, my files will not open, delete or share all of a sudden. It says my files "do not exist" when I try to do any of the above. I have important documents that are completely inaccessible at this point. Gone. Ridiculous. They need to FIX THIS NOW!!
Constant problems
19harrison86
on
11/16/2017
I have nothing but problems out of this app. I have an iPhone 6 Plus with the latest iOS and the app is up to date. It is constantly glitching. May or may not recognize files and won't respond half the time.
GARBAGE. Where are my files?!
*UPDATE* 11/16/17 - Now all my files that were in Pages are GONE! They've somehow been deleted, don't know where they've ended up and some of the files were confidential. Awesome job, Apple. *ORIGINAL REVIEW* App freezes now and documents won't open. You click on files and it just hangs & does nothing. Newest Pages version 3.3.1 & newest iOS version 11.1.1 on an iPhone 7. The app at this point is essentially useless, and I desperately need to open/view/edit docs with it on this specific device, so right now I'm screwed. Also, the newest UI is something awful. Hard to navigate, control and find things that used to be very simple. iOS 11 (as a whole) and the version of Pages that was re-vamped to be compatible, has been an absolute nightmare. Completely ruined and it seems like nothing is being done. Look at the reviews; I'm far from the only person who is experiencing major flaws. What are you doing, Apple? What exactly is your vision for iOS 11 and the apps to go with it? Nothing has been seamless, good or IMO, improved at all. Feels like we've gone backwards.
升级之后文档全部丢失
这是搞什么鬼,也不提醒我备份,升级之后旧文档全部无法打开,提示我文档不存在。
Professional and easy.
I can't back to Microsoft.
You Fixed the Update!
Wade Preston
on
11/15/2017
What's the deal with I️ popping up every time I try to put in "I" Fix this, please. Wasting my time having to fix this every time ... like I️ just had to do ... see there?
Help
Old files do not open after the new update What is the solution
Why no Pencil Support?
TheRabidWookiee
on
11/15/2017
Honestly, I don't understand why you develop and IPad Pro with an Apple Pencil and you don't have it work with Pages app. Even the Microsoft Word app lets you use the pencil, tho, unfortunately you have to pay a monthly fee to use Word. But please add this feature! Also, you should allow the color of the background of the document to be changed.
Pages not working
I have an iPhone X and I have pages installed on it But it does not work Fix it Mad user
Does not exist
Since the last update I am unable to open my documents. When you try to open them or copy them to somewhere it says that it does not exist.
Unneeded and unwanted
tgfathergoose
on
11/14/2017
Will never use.
"File does not exist" problem
frankfromnyc
on
11/14/2017
Like many users posting reviews here and questions on the App Support site, I have a similar complaint: Pages now fails to open, modify, or otherwise recognize a number of files created/edited between 2014 and 2016. I'm not sure if this problem began with 3.3.1 or an earlier update, but it needs to be addressed. How drastically could this app have been changed that it no longer works with a number of files created on this same app and stored locally on an iPad?
Horrible since the update!!
Since the update I can't even use it. All of my documents are gone!! I wish I could give negative stars!!
Can't open documents
I use Pages every week for on the go notes, makes it easy to send it off as a pdf when finished. However, I can't open any documents in Pages anymore, it just does nothing when I click on it. And when I select a file and hit the export button, the whole screen goes blank, so, I can't even move the documents I have to something else. Thanks apple.
This newest update..
I updated pages yesterday and now everything I had in it is showing up as gone!!!! I need to know how to fix that and get my files back!
Lagging
Psyber Wolf
on
11/14/2017
Updated my IPad to 11.1.1 and there was of course an update for Pages 3.3.1 Now when I select all to copy and paste it took 47 seconds for the select and copy process, before it took only a couple seconds, if that. Occasionally while waiting for the select all and copy process it crashes (closes) pages. You guys may need to look into that. Pages was solid with IOS 9, 10, now its a problem. What's up guys? Apple product on a apple device. Someone needs to see what's going on. Again not sure if its the OS thats doing it or Pages, because several updates ago I never saw lag/crashing like this on pages. Please it needs to be fixed. Used to be 5 stars, now its 2. I'll revise it when it gets fixed.
Files won't open
AristocratLolita
on
11/14/2017
After the iOS 11.11 update, none of my files are opening. Please fix this.
BIG PROBLEM
Since the latest update, I am unable to open any of my documents. I can see them and that's it. Fix this, please!!
Deben
Aakajsbwhajab
on
11/14/2017
App lags way too much. Developers are proper degens.
The Best to the worst
El_panadero
on
11/14/2017
I can't find a single document that I've created in the last 5 years. NOT GOOD! I have use Apple search, app is completely useless to me now. I'm a writer and Pages is a major reason for me staying with Apple. MUST BE FIXED! I used to love this app. Can't find pages documents at all sometimes. I write on my phone. I want it to stay on my phone. iCloud is a safety to store them if lost. It shouldn't be my only way to access. iCloud will not open from app drop box will not open from app. Pages documents aren't there unless I go into recent documents. I can see my recent documents but can not open them there either. I write daily. This is extremely frustrating. I cannot write at home or at work. I do it while I commute. I got pages for ease of use. It's just not so easy anymore!
Doesn't Work
I have always used pages. I just purchased an iPad Pro 12.9 and Pages doesn't work on it. My IPad is up to date, so is pages and it never opens a new document. It is frustrating to say the least. Apple please fix this.
Pages! What happened?
Why can't I open my documents???
update makes app useless
Purple catss
on
11/13/2017
after the recent update i am not able to open any docs previously saved with pages .. please fix .. thank you
Not a great start
I just updated the app prior to returning to a document. I don't like the new format, with tags etc. and could not find a way to reorganize the file by date, for instance- would like to go back to the last version.
Cannot name doc after upgrade
Help! When I tap on "Blank (#)" at top of document nothing happens and I cannot edit the name. I have documents named Blank 2 to Blank 18.
I love my Pages
matonquiqui
on
11/13/2017
After moving from PC's Word to Apple Pages I will never go back. Too bad I didn't discover it before. So much easier to use and a very short learning curve.
Update horror
Don't update this app! It lost ALL MY DOCUMENTS and now repeatedly crashes. I'm angry.
Lost all my documents 😡😡😡
Hotmomma1624
on
11/13/2017
I just update ios 11.1.1 and my documents in ipages won't open. The tittle, the date and the size is there. But I cannot open my docs. Please fix this and recover my documents. It's my book project. I can not lose it. 😢😢
LOVE working in Pages!
Realestatemd
on
11/13/2017
Creating a "perfect" document in pages is not only possible, it is so easy! I read the negative reviews with astonishment and can only guess they were written by people who did not take the free Apple classes or participate in the workshops at their Apple stores. I have created booklets, forms, marketing fliers, and brochures for my real estate business and community activities that are second to none. One of them even captured a national award! Highly recommend, with the caveat that you will have a learning curve when you switch from MS Word and Pub - and it is well worth the transition. Your u will never go back!
iOS 11.1.1 has made this application useless AGAIN!
All documents are grayed out and will not open! I am starting to believe that Apple's idea of quality control is to push out updates every couple of days to attempt to fix WHAT SHOULD HAVE BEEN DETECTED BEFORE RELEASE.
New update doesn't let me open my documents
I can't open any of my preexisting documents. If I try to move a document, it tells me: "Can't Move (doc name) The file does not exist." Same with renaming a document. This is not ok.
Faulty App!
MommyBug2012
on
11/12/2017
Two days after Pages updated itself, it would not allow me to open any of my documents. I tried resetting my phone, and looking for the documents in the cloud but nothing worked. I finally tried to uninstalling and reinstalling the app and now everything is gone. I'm really frustrated.
What in the world about owner stopped sharing documents?
Forever Justice
on
11/12/2017
Why I can't even open the documents that I created! This app is getting worse as time goes by!
no longer remembers position in file
In large files, rougly more than 80,000 words, Pages no longer remembers where I left off working on either m iPhone 6 or iPad Mini 4
What's up
alaskantimberwolf
on
11/12/2017
Pages is an excellent tool but this update doesn't allow you to use it.
Used to love Pages; now I can't use it
The updates seem to have ruined it. I will miss it, but it no longer works. Can I give it a negative star?
Unsusable since latest update
I loved Pages until the lates ios11 update. I have no idea how to use it now. It is hard to Create folders, lost ability to copy, cannot see all my files at once, I can only browse or see recent files. Why do you fix what is not broken. I am going to have to use adobe or word now. This is so screwed up. Does anyone even bother trying to use these programs before you make changes that don't work for your users. I can't find my files anymore. Ugggggh
Fact Sheet
Publisher:

Apple Inc.

Category:

Productivity

Released:

Apr 01, 2010

Current Version Released:

Nov 09, 2017

Version:

3.3.1

Size:

432.4 MB

Compatibility:

Requires iOS 11.0 or later.

Recommended Age:

4+

Game Center Certified:

No

Supported Devices:

iPhone5s-iPhone5s, iPadAir-iPadAir, iPadAirCellular-iPadAirCellular, iPadMiniRetina-iPadMiniRetina, iPadMiniRetinaCellular-iPadMiniRetinaCellular, iPhone6-iPhone6, iPhone6Plus-iPhone6Plus, iPadAir2-iPadAir2, iPadAir2Cellular-iPadAir2Cellular, iPadMini3-iPadMini3, iPadMini3Cellular-iPadMini3Cellular, iPodTouchSixthGen-iPodTouchSixthGen, iPhone6s-iPhone6s, iPhone6sPlus-iPhone6sPlus, iPadMini4-iPadMini4, iPadMini4Cellular-iPadMini4Cellular, iPadPro-iPadPro, iPadProCellular-iPadProCellular, iPadPro97-iPadPro97, iPadPro97Cellular-iPadPro97Cellular, iPhoneSE-iPhoneSE, iPhone7-iPhone7, iPhone7Plus-iPhone7Plus, iPad611-iPad611, iPad612-iPad612, iPad71-iPad71, iPad72-iPad72, iPad73-iPad73, iPad74-iPad74, iPhone8-iPhone8, iPhone8Plus-iPhone8Plus, iPhoneX-iPhoneX,

Supported Languages:

Arabic; Catalan; Valencian; Croatian; Czech; Danish; Dutch; Flemish; English; Finnish; French; German; Greek; Hebrew; Hindi; Hungarian; Indonesian; Italian; Japanese; Korean; Malay; Norwegian; Polish; Portuguese; Romanian; Moldavian; Russian; Chinese; Slovak; Spanish; Castilian; Swedish; Thai; Chinese; Turkish; Ukrainian; Vietnamese;