Games
Arcade
Entertainment
Action
This version of the app is not recommended
App last updated
Nov 12, 2017
Screenshots
New in version 2.4.0
General bug fixes and minor improvements.
Description
Slice fruit, don't slice bombs – that is all you need to know to get started with the addictive Fruit Ninja action!

From there, explore the nuances of Classic, Zen and the fan favorite Arcade mode to expand your skills. Slice for a high score, use powerups and special bananas to maximum effect, and go crazy on the multi-slice Pomegranate.

All Blades and Dojos now have a unique effect on gameplay. Want a ten-fruit Great Wave? Bouncing clouds to never drop a fruit? Swirling tornados for epic combos? Mix and match your gear, experiment with all the powers and find what works for you!

There has never been a better time to play Fruit Ninja, so unsheath your sword and see what's new in the game that started it all.

This is still just the beginning – we can't wait for everyone to join us!


IMPORTANT NOTICE

This game contains optional in-app purchases. You can disable this feature in the settings menu of your device.

View our privacy policy at http://halfbrick.com/pp
Views our terms of service at Http://halfbrick.com/tos
iPad Screenshots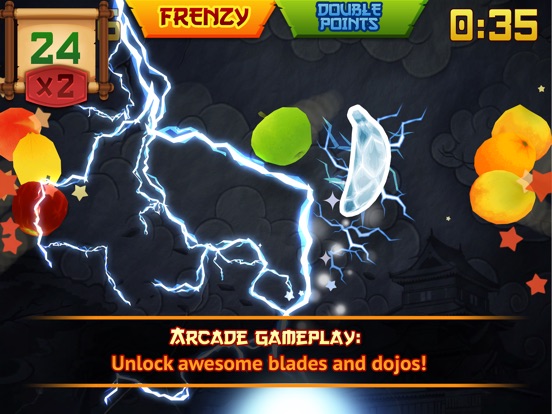 Reviews
ᑎOT ᗯOᖇKIᑎG
ᑎOT ᗯOᖇKIᑎG ᗩT ᗩᒪᒪ
👎👎👎
123❤️😀😈🐶⭐️⭐️⭐️⭐️⭐️
on
2/21/2018
Every time I click I mean slice watch the app crashes. Also can you make the app more fun?
I Love Fruit Ninja!
One and only CocoG
on
2/16/2018
My other review was from a while ago. I am SO happy they got rid of all that stupid star fruit and now you can just play the game like it was supposed to be! I think all that star fruit stuff is crap and that you should earn the blades by doing stuff. I have been playing Fruit Ninja since it came out all those years ago and then when they released the star fruit I stopped playing Fruit Ninja. Thank you Halfbrick Studios for removing star fruit!
Best game
Fake copied from other game
on
1/28/2018
Best game for ios😁
Swords aren't working, so many bugs
So many new blades!! Oh, sorry, did I say blades? I meant bugs. So many new bugs. Comet blade no longer creates the gravity waves Piano blade gets rid of bananas instead of turning them into frenzy bananas If I get a notification, like low battery, the game will think my fingers are where ever they had been when it popped up, and sparks or stars or what ever visual effect of the blade I was using will stay flying out of the spot. It will only go away when I force quit the app. If I used two fingers, the game will act like I'm using four and switch apps. Then when I come back, the game thinks I'm still touching my fingers there and will tap or cut anything underneath until I force quit the app. This has happened when I'm only using one finger a few times as well. Also, as someone on level 54, I would like to be able to earn more blades when I reach new levels. There's a blade on level 60 and level 100. It's just not as fun.
Extra game modes??
Spellslinger
on
1/20/2018
I've always been a fan of fruit ninja.. one of my favorite games to pass the time on my phone. However I recently redownloaded it after a while and I only have a classic mode? I don't see arcade mode or anything else anywhere
Online multiplayer
Why is online multiplayer gone?!?!?
Christmas update please
Parkerisnotimmortal
on
12/2/2017
It's December 2
Why!?
I am not going to slice fruit if you don't do good updates, the new update does not have new blades or new background, it was bugs that was fixed, not happy.
Great game.
Great game. Thanks for fixing my previous problem.
Lost all my swords
New bug just deleted all my data and Swords and level please fix .-.
Best game ever 👍👍👍
It is a really good app, but it needs a sequel like veggie ninja. 👍
Puss in Boots Fruit Ninja......
crazy4siberians
on
9/28/2017
Please make PIB fruit ninja compatible with iOS 11!
Great
This game is great it is so fun to unlock all the blades! But I think they should make a head swipe vr fruit ninja! It could be 180 or 360!! That would be so awesome! Please consider this!!!!!!!! Also I know there is a version for non mobile vr so it would be so awesome for mobile!! This game is so awesome ❤️ halfbrick.
The pause button
The pause button barely works. It's hard to pause when I want to.
Extra Blades and Dojos
This is awesome. The star fruit and golden apples are removed, and you can turn your star fruit and golden apples into experience, and get to level 100 for that, but it does NOT effect Fruit Ninja Free. There are a lot of new blades and dojos, and some of the normal dojos do different things. So, it has no in app purchases, but new blades and dojos. Nice!
Awesome Game
rixtoyfoxdfifiid
on
6/16/2017
Halfbrick the next time you come with a update in fruit ninja classic please put a new fruit in the game and let the new fruit be cherries that's one fruit you forget to put in the game that's not only my favorite fruit but in this game cherries in fruit ninja would be awesome so please do that in the next update and instead of the app icon being a watermelon let the icon picture be a cherry because if you put cherries in the game that should be the app icon because it's a new fruit so please do that in the next update peace
Great!
ECO NICKNAME
on
6/16/2017
Interesting Weapons! This app could be great! I had 2 iPads to share at times with my younger brother! On the red iPad, it was great! I'm getting really good at this! At the blue iPad, I really don't know if it might download, some of the apps can not work on the blue iPad! I'm kinda Excited this app worked perfectly for me!
What is this?
This new updated reset all progress. I was around level 56. And now I'm back to 1? Whats the point of having the game if you're gonna reset our progress?
Where is Ghostbusters?
Trish7774532
on
3/31/2017
I bought this app specifically because you were advertising a Ghostbusters version! However it is nowhere to be found! I want my money back!!!!
update reset me
the latest update reset all my ****ing progress
Abandonware
Digital Ruse
on
3/15/2017
If you bought the full version, don't wait for updates. If you are thinking of buying this version, don't as it appears it will not see significant updates. All efforts are clearly directed toward the freemium version hence the new "classic" designation in this "bug fix" update and the freemium version getting a new name.
EPIC
Great game with good graphics, not like the free version were everything cost stuff
Garbage
Why did you even bother changing the theme of this game? The old theme was better. What's with all the new characters?
Fruity-licious!
I love the roster of fruits to slice and dice! How about sending us more fruit, like the olive?
ITS AMAZING
GUYS ITS SO COOL IM MAKING A SECOND REPORT ON THIS APP IM IN LOVE ITS SO COOL 😎 AND FUN 😛 #I ❤️ 🍉NINJA!
Unable to play due to a corrupted profile. :/
It's been a few years since I've booted this game up. Game loads and I notice that my profile pic is LITERALLY corrupted. I became curious and decided to open it. Came crashing to the floor. Now whenever I try to reload the game itself, crashes as soon it's done loading. I don't know if I'm poor for using an IPhone 4th gen or the problem persists with others. I'd seriously appreciate the feedback on the matter. And yes, I've tried rebooting the phone and reinstalling the game multiple times. - indyana8965.
No iMessage App in paid version?
While searching for iMessage apps I discover that the free version of Fruit Ninja has one, but the paid for version doesn't? So I have to have both installed if I want an iMessage app?
Fun, but however....
Fruit Ninja was one of the first games I purchased when I got a iOS device, it's definitely one of my favorite games on mobile. However, as of right now the paid version does not have that much content compared to the free version for some odd reason. I didn't find out about about it until just recently that there are so much Fruit Ninja content that I have missed out on! There are special event blades that could only be unlocked on the free version?! If anything, I overall would recommend the free version over the paid one because you can just about obtain anything on the free version that the paid version has. After finding out about it, I did end up regretting purchasing the paid version since it is nothing special. Hopefully the paid version will eventually be able to get all the new content that the free version has in the future....
SPOILER ALERT
Sweet honey badger
on
2/6/2017
Nice game. Wasted hours on it. Decided to keep to playing over a few weeks until I earned the Golden Ember Blade at Level 100. Guess what happens who you reach Ultimate? The level-up ninja star indefinitely spins over "100". As for access to the Golden Ember Blade? DENIED. I'm still locked out. So you have to pay $9.99 no matter what if you want it. Otherwise 5 star game. But I have to deduct a star on this (and I refuse to pay the fee on principle). Probably this is not relevant to most who play the game, but this was a little frustrating.
Purchase does not include ghostbusters!!!!
This is advertised as fruit ninja with ghostbusters. Bought the game and found out it is an additional $5 in app purchase for ghostbusters content! This is terrible business to cheat your customers!
It's just a money grab
This used to be a great game, now it's just a money grab. Basically, you're not having any fun unless you pay for everything.
Garbage
This game use to be great, maybe the best on the app store. But now its just been drowned in in-app-purchases and forgotten. I miss Fruit Ninja's golden days
Downward spiral
What does ghostbusters have to do with fruit ninja?
Backwards Business
I don't even remember buying the Fruit Ninja app (I think it may have been one of or maybe the first purchase I made when I got an iPhone), but I feel like it's stupid to have two versions of a game and the free version is the one that gets the content. That's a backward business model if I ever saw one. I love in-app events! I don't mind paying a little bit every few months for something small. I'd be so down for the winter event if it was available on my version! But it's not, so Halfbrick has lost a surefire paying customer.
Great Game!
I like the game a lot. There are certain things about that are odd. For example, why is the free version different from the paid one. It should be the same. A winter theme needs to be done for the paid version.
When is the next update coming out?
I reached level 100 and expected to go further. The special blades and Dojo's should also be unlockable without having to spend money.
Waste Purchase
Natsume Kaze
on
12/9/2016
I have just purchased Fruit Ninja after 2 years of free version, and i see that it was a totally waste! The free version is 2.4.4 and the purchased version is 2.3.8. So if i want to join the XMas Event, i must have Free version on my gadget. 2 copies of 1 game on 1 gadget? So what the point to purchase this game?
RIP Full Version
Minecrafter SV
on
12/6/2016
Doesn't get updated. Halfbrick has given up on this full version. First they remove online multiplayer, then they stop updating. Don't buy this. Play the free one. Ads appear here too.
I still enjoy the game, however...
My biggest concern is that the first way one could earn the Golden Ember Blade was to beat these 5 characters in a duel match and BOOM the blade is yours, now the only way to earn it is to reach level 100 which is outrageous. I just leveled up to 43 and so now I have to wait 57 more level ups until I'm able to unlock it, otherwise to get it instantly one has to pay $9.99 for it and it just happens to be the most expensive item there. Now I understand people that make these game have to include in-app purchases or adds at worse to make money. My only request is that the duel tournament should be brought back to earn the Golden Ember blade so that it's more likely that player can earn it. My sister who is a level 42 (probably 43 where I'm at) was lucky to catch that duel tournament and won the blade and still has it after all of the recent updates that came before now. I don't think $10 is worth it for the blade.
Bring back the Starfruit!
p4nd0r4_0r_bu5t
on
11/19/2016
And can you guys get rid of what's-his-face going "Let's smash a different mode today!"? Seriously. He won't leave me alone.
Comet Blade
K5 smurf extra perfect
on
11/13/2016
This is my favorite blade and it doesn't work anymore. Please fix this it is a good blade but it stopped working.
🍏🍌🍒🍎🍇Amazing game!!!!!🤗
Kelsey space girl
on
10/19/2016
Could not stop playing it I love the different dojos especially the wave one!!!
Ruined it
I lost all my blades and backgrounds. I had every blade I worked so hard for them then the update came and there went years of work and effort. I do not recommend this app
Crashes
It loads halfway when I open it and crashes everytime please fix this
Lag
ch-check it out
on
9/14/2016
Used to be enjoyable
LOST EVERYTHING. Disappointed.
The Musician*
on
9/10/2016
This game's reputation has been plummeting as time goes on, as so has my patience. I have lost ALL my progression (level 50, all my high scores) as soon as I updated the app, having unlocked blades and backgrounds since the free fruit ninja game. Now I'm level one, with no High scores, no blades or backgrounds. IT'S ALL GONE. All the time and effort I've put in to this game, has all went down the drain. Such a Disappointment. Not to mention, these horrible decision making on what should be taken out and put into the game (whether it was for money), these updates have been ruining the game. This is my way of releasing the amount of frustration that has been developing due to the incomprehensible decisions that have been made. In addition, this is also a warning, for anyone that's coming in to play this game. The game itself isn't whats the problem, the problem is the path that the game is taking.
Horrible Game..Where Did It All Go?😨
Back in 2012 this game was amazing, didn't have to pay as much, no power ups, easier to slice and it was amazing. Now you update it, removing everything fun now it just makes the creators seem so.. Greedy. It's ridiculous! "Restore purchases" doesn't even work too, it just says "Success" and I went to go check my blades.. NOTHING!👌Nice job making it worse oh and did I mention. THERES the same version of this game but you have to PAY? Wow next time you make a game, don't seem so greedy.
Fact Sheet
Publisher:

Halfbrick

Category:

Games

Released:

Apr 20, 2010

Current Version Released:

Nov 12, 2017

Version:

2.4.0

Size:

106.1 MB

Compatibility:

Requires iOS 7.0 or later.

Recommended Age:

4+

Game Center Certified:

No

Supported Languages:

Arabic; Chinese; English; French; German; Italian; Japanese; Korean; Polish; Portuguese; Russian; Spanish; Castilian; Chinese;