TapNova doesn't recommend this version of the app.
New in version 9.24.1
Description
Subscribe Now on Your iPhone® or iPad®

Watch TV shows and movies recommended just for you, including award-winning Netflix original series, movies, and documentaries.

Netflix has something for everyone. There's even a safe watching experience just for kids with family-friendly entertainment.

How does Netflix work?

• Netflix adds TV shows and movies all the time. Browse titles or search for your favorites.
• The more you watch, the better Netflix gets at recommending TV shows and movies that you'll love—just for you.
• You can create up to five individual profiles within a single Netflix account. Profiles allow different members of your household to have their own personalized Netflix experience built around the movies and TV shows they enjoy.
• Instantly stream on iOS devices or on the web.

Try us free for 1 month! If you enjoy your Netflix trial, do nothing and your membership will automatically continue for as long as you choose to remain a member. Netflix membership is a month-to-month subscription that begins at sign up. You can easily cancel anytime, online, 24 hours a day. There are no long-term contracts or cancellation fees. Just sign up to get started!
If you subscribe via iTunes:
Payment will be charged to iTunes Account at confirmation of purchase. Subscriptions automatically renew unless auto-renew is turned off at least 24-hours before the end of the current period. Account will be charged for renewal within 24-hours prior to the end of the current period at the rate of your selected plan above.

Subscriptions may be managed by the user and auto-renewal may be turned off by going to the user's Account Settings on the device.

If you haven't subscribed through iTunes, you can manage your subscription through Netflix.

Privacy policy: https://help.netflix.com/legal/privacy
Terms of use: https://help.netflix.com/legal/termsofuse
iPad Screenshots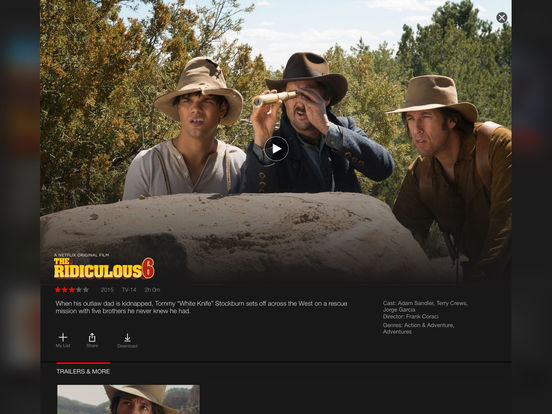 Reviews
New update... crap!!!
I have not been able to update to the latest version on my iPhone. My app is locked and I can't view it at all. I've tried deleting the app but that doesn't help either. It actually locked up my entire phone earlier, it took me 5 minutes just to get my phone to turn off. Get it together Netflix!!!
Update new 👎🏻👎🏻
Subtitle very very bad
Plz make more dragons 🐉 edge episodes now!
mike cool dj6574890
on
6/22/2017
I need to know if they are safe after the volcano 🌋 exploded! Stop ending on interesting parts and making it where we have to wait about a year to see what the heck happens!
Are you still there
Please stop asking if I'm still watching. Other then that I enjoy watching Netflix for my daily steaming.
Why
I can't figure out how to pay with my iTunes I have a iPhone SE helpppp😭
I love it ❤️
Atkins_Britney
on
6/22/2017
I love it but could you please add movies such as... o.. I don't know... Monsters Inc.... Thats a movie that I can't find anywhere anymore.... and I'd really love if y'all would add it😘❤️
Improvement
It would be great if they added 10sec skip forward button just like the 10sec backwards!!!!
Downloads Fail, Rating Method Fail
At least 3 out of 4 download attempts fail. The "Retry" button is an acknowledgement of the magnitude of the problem. The rating system or complete lack of any meaningful one is a major waste of your time. You basically have to take Netflix's opinion as to what's good and they get it wrong 99% of the time. They won't even show you a tally of the stupid thumbs up/down ratings. It's getting harder and harder to justify my Netflix subscription with so few quality shows and technical problems with their apps. Who needs the aggravation when there are so many streaming options out there nowadays. I'd post these comments in customer feedback but Netflix doesn't have anyway of doing that which might explain a lot.
Like it
I like it but bring back naruto shippuden more naruto
Quit Watching
There should be a quit watching or discontinue watching button for 'continue watching' shows and movies.
For Sensate
Bring back sensate to get the remaining stars
KEEPS CRASHING FIX ASAP
App keeps crashing for no reason it'll shut down if I press pause or try to change screen brightness. Please fix! I used to love before all the crashes.
FIX YOUR APP
netflix keeps glitching even before the update and after. it freezes and doesn't load and it's getting VERY annoying so fix it
Doesn't even work..??
I loved Netflix. Until it the app stopped working! Can't open it, it just crashes within about two seconds. AND YES I RESTARTED MY DEVICE AND NO ITS NOT MY PHONES FAULT. fix the stupid app.
Suggestion
App is slow and buggy. Customer service is atrocious. Netflix cancels shows on cliffhangers so what's the point? #BRINGBACKSENSE8
OH NO! NOT THE 10- SECOND SKIP BUTTONS!!!
NachoNinja13
on
6/21/2017
Bring back the previous video playback interface! It had a much better interface than the one right now! Actually, if it was a suggestion, I strongly suggest that the new interface stays with one exception....GET RID OF THOSE 10 SECOND SKIP BUTTONS! IT REMINDS US OF THE YOUTUBE APP!!! UPDATE: Thank you so much for listening to our suggestions. :)
Chromcast
Chromecast is hosed in one of the recent updates. Often fails to connect. Retrying doesn't work. You just have to go use another app that can handle Chromecast for a while and return later when Netflix has freshened up...This is a common feature that works flawlessly in all other streaming apps I use...Get your game together Netflix. Used to lead this pack...now you're falling behind.
Trash site
gucci_jesse_1
on
6/21/2017
Most movies are not even on Netflix I searched teenage mutant ninja turtles and nothing came out
Sick of login issues
Business Nunya
on
6/21/2017
I love Netflix but every single time I try to log on it tells me I have the incorrect username or password even though I absolutely 100% know that they are correct. I see that other people have the same problem so I know I'm not the only one.
DOES NOT WORK!!!!!!!! FIX IT!!!!!!!!!!!!
So annoying that I cannot connect in the app. I even deleted the app and reinstalled it. Now it's telling me incorrect email or password. I use my web browser and I can log in. FIX THE APP! I pay big bucks each month to use this
Newest Update
Unhappy customer :-(
on
6/21/2017
I used to love the Netflix app, however, the update that occurred at the beginning of June seems to be causing many issues. At first I thought it might just be my iPad but after reading the reviews I realized all of the error messages and freezing was due to the update. I actually had to uninstall the app and re-download it to get it to work properly (which fixed all my problem, not sure if it worked for anyone else). On the plus side when I did that, the new version had a new look with the play button in the middle of the screen, episodes on the bottom, and a fast forward button. Now, this newest update on June 20th, has returned the look back to the original and returned all the bugs along with it. I'm not quite sure what happened, but this was definitely not the update I was hoping for.
Please fix download
LunaBasketball771
on
6/21/2017
When ever I try to download a show or movie, all I get is download failed, I really would like it to be fixed, I love Netflix btw
Thumbs are terrible
The new rating system is terrible. I'm probably leaving. Even apple uses five stars.
Grrr
STAP IT NEFLIX
on
6/21/2017
I'm not having many problems, but the one I am having is very annoying. When I go to watch my show, it plays an episode hat was like 3 behind what I was watching. I ALREADY WATCHED THAT EPISODE.😒
Why!!!!?!????
It's a great app that works well but my own complaint. Why do you keep taking films off??!? First down the original Godzilla films and now both of the original ghostbusters films???!?!!! Either add the film and leave it or don't put it on Netflix!!! OK?????!!!!!!
Worse update ever
If anything I think Netflix had downgraded. The movies and shows are downloading at a much slower speed and every time I want to watch a show I see that annoying loading sign. Don't put the loading sign if it's not really loading. Judging from the other reviews and how my other apps work I know it's not just my server or connection. I hope Netflix takes this review as well as other reviews into consideration by fixing this problem in the next update
Previous update
Hi I use Netflix a lot everyday basically and the previous update was way better that the last because it had the play/stop in the middle of the screen and the 10 seconds thing in the the ends I really wish you would have kept that feature because it mod convineint that way and easier for me to use I hope u bring that back in the next update because it looks cleaner and sleeker thanks
skip ahead????
I Need My Skip Ahead Button™
on
6/21/2017
The last update got rid of the skip ahead button. This is really annoying when I'm binge watching shows I've seen already but want to skip ahead. The pause/play button used to be in the center with the skip/reverse buttons next to it, which I liked, but it was annoying that it darkened the screen. It's fine that it brought the pause back to the corner, but BRING BACK THE SKIP AHEAD BUTTON (4/5 bc of oitnb)
Not dependable
Ssdsdsdsdsdsdsdsds
on
6/21/2017
Real great app, especially when I save 6 shows for a plane ride, and then find out I got logged off my account in the 10 minutes since I downloaded my stuff and cannot connect without an internet connection... Real useful
Give me back my tv shows
IG: LLOGIC301
on
6/21/2017
I seriously hope that Netflix did not take off the television show Friends because that just broke my heart. I know it doesn't usually have up to date movies, but I usually can count on all the seasons of tv shows. And why take away a classic?!
It's great!
Great sometimes a bit buggy but they keep releasing bug fixes I guess? lol
Annoying bug
It doesn't show where I left off when I open the app. Same goes for every other device I used. So please fix this asap. It's annoying trying to remember where I left off.
Seriously??
Now I can't find the show Riverdale thanks to the update!
I want to rewind and fast forward
There was an update that let you rewind and fast forward now you can't and I want it back
Can't switch profiles from the app
Ellsbells0102
on
6/21/2017
It gives me the option and I click another profile but it won't go to that profile
Garbage
Whats the point of the app if it doesn't even work. Every 10-15 min while watching a tv show and/or movie I get an error message and the app disconnects. I rather catch up on my shows/movies online why pay for a useless application
Fix now
This app is terrible I keep trying to log into my old password and username or email and it does not work and I know it's the right one because I wrote it down if you're trying to kick me out so I can buy another trial all you guys want is money you're not even worrying about people who actually need something to watch because They don't have cable or something on the TV so you guys need a fix it. I don't even want to give this app any stores but it makes me before I send this comment. Today is a new day I am trying to watch 13 reasons why and keep saying error 10031 cannot play this title if it's telling me to update it tell me the updated if it's telling me that something is wrong with my phone used to tell me something because every time I try to watch something it says it's an error trying to put a title seen a picture stupid little add just because a lot of people watch it doesn't mean that is perfect near fix all the bugs and everything because I'm bout to come up to the Netflix center and ................ fix it my freaking self.
Última actualización
Me gustaba más la actualización anterior que tenía el botón de play y pausa en el medio y te daba la opción de adelantar o atrasar 10 segundos
TEEN WOLF
Laurenschmitz1
on
6/21/2017
Please add teen wolf on Netflix my friends and I would love to watch it!!!!!! PLEASE ADD
add feature
I volunteer.
on
6/21/2017
you should add the "skip intro" feature, other than that, i love the app
Update crash
Still crashing. Sad.
Upset
I'm very upset with Netflix right now because I try to download tv show episodes and it always says download failed
neeed my shows back on .😴
rileey .🤷🏽‍♀️
on
6/21/2017
yall took off my 2 favorite shows instead of just adding the new seasons to them .🙄 please put "bobs burgers" & "ghost adventures" backkk ?!! K THANKS .😘
?!?!
What happened to the the button arrangement? the play button in the middle was way better!! Please bring it back
Buggy sound??
I started watching a show today and noticed that the background voices like yelling from another room are no longer present. I don't know what the problem is and I tested the audio on my phone and it works just fine
Plz fix
I'm just a normal 12 year old, watching Netflix, but they are some things u need to fix. First off, could you rate 13 Reasons Why as TV-14 instead of TV-MA? I have no clue why you rated it for mature audiences. It doesn't have any nudity in it and it just has mild profanity. Secondly, my Netflix constantly crashes and says "error, cannot play episode". So, plz, plz, plz fix.
Perfect for binge watching in bed!
Love it!
Where did RWBY go?!
Poopsprinkles
on
6/21/2017
Bring back RWBY!!!!!!!!!
New Thumbs rating
Simple fix: Give the amount of likes "thumbs up" and number of dislikes "thumbs down". Very frustrated and may actually cancel. I decided on a movie by requiring it to be 4+ stars. I bet the guys in the programming office think this is really cool and probably got a raise, but it needs to tell us the statistics (just a percent guessing how much I'd like it). Now my Netflix app won't connect to my chromecast except once and a while.
Wth Netflix
protectedxxx
on
6/21/2017
seriously why are you taking all the good shows off😑
Fact Sheet
Publisher: Netflix, Inc.
Category: Entertainment
Released: Apr 01, 2010
Current Version Released: Jun 22, 2017
Version: 9.24.1
Size: 117.1 MB
Compatibility: Requires iOS 9.0 or later.
Recommended Age: 4+
Game Center Certified: No
Supported Devices: iPad2Wifi-iPad2Wifi, iPad23G-iPad23G, iPhone4S-iPhone4S, iPadThirdGen-iPadThirdGen, iPadThirdGen4G-iPadThirdGen4G, iPhone5-iPhone5, iPodTouchFifthGen-iPodTouchFifthGen, iPadFourthGen-iPadFourthGen, iPadFourthGen4G-iPadFourthGen4G, iPadMini-iPadMini, iPadMini4G-iPadMini4G, iPhone5c-iPhone5c, iPhone5s-iPhone5s, iPadAir-iPadAir, iPadAirCellular-iPadAirCellular, iPadMiniRetina-iPadMiniRetina, iPadMiniRetinaCellular-iPadMiniRetinaCellular, iPhone6-iPhone6, iPhone6Plus-iPhone6Plus, iPadAir2-iPadAir2, iPadAir2Cellular-iPadAir2Cellular, iPadMini3-iPadMini3, iPadMini3Cellular-iPadMini3Cellular, iPodTouchSixthGen-iPodTouchSixthGen, iPhone6s-iPhone6s, iPhone6sPlus-iPhone6sPlus, iPadMini4-iPadMini4, iPadMini4Cellular-iPadMini4Cellular, iPadPro-iPadPro, iPadProCellular-iPadProCellular, iPadPro97-iPadPro97, iPadPro97Cellular-iPadPro97Cellular, iPhoneSE-iPhoneSE, iPhone7-iPhone7, iPhone7Plus-iPhone7Plus, iPad611-iPad611, iPad612-iPad612, iPad71-iPad71, iPad72-iPad72, iPad73-iPad73, iPad74-iPad74,
Supported Languages: Arabic; Danish; Dutch; Flemish; English; Finnish; French; German; Italian; Japanese; Korean; Bokmål, Norwegian; Norwegian Bokmål; Polish; Portuguese; Romanian; Moldavian; Chinese; Spanish; Castilian; Swedish; Thai; Chinese; Turkish;