Screenshots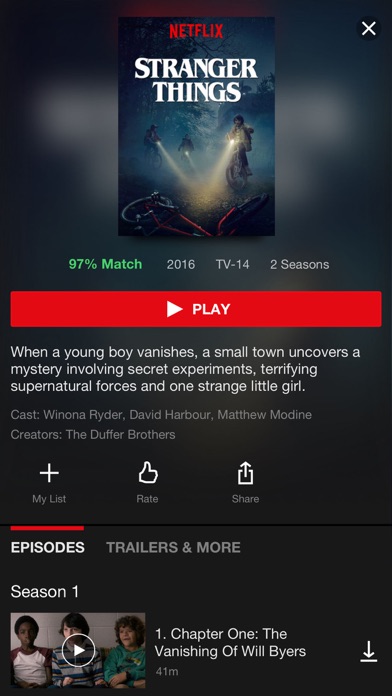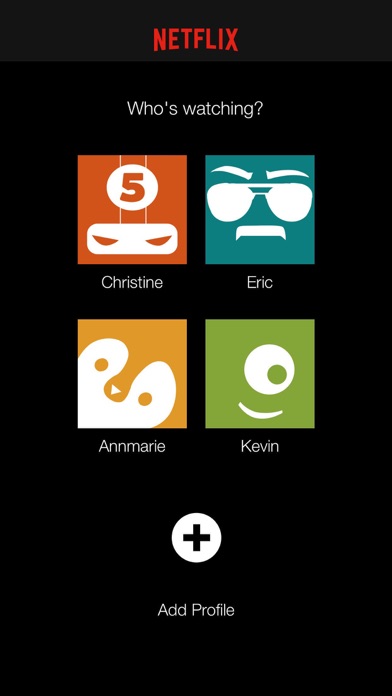 Description
Subscribe Now on Your iPhone® or iPad®

Watch TV shows and movies recommended just for you, including award-winning Netflix original series, movies, and documentaries.

Netflix has something for everyone. There's even a safe watching experience just for kids with family-friendly entertainment.

How does Netflix work?

• Netflix adds TV shows and movies all the time. Browse titles or search for your favorites.
• The more you watch, the better Netflix gets at recommending TV shows and movies that you'll love—just for you.
• You can create up to five individual profiles within a single Netflix account. Profiles allow different members of your household to have their own personalized Netflix experience built around the movies and TV shows they enjoy.
• Instantly stream on iOS devices or on the web.

Try us free for 1 month! If you enjoy your Netflix trial, do nothing and your membership will automatically continue for as long as you choose to remain a member. Netflix membership is a month-to-month subscription that begins at sign up. You can easily cancel anytime, online, 24 hours a day. There are no long-term contracts or cancellation fees. Just sign up to get started!
If you subscribe via iTunes:
Payment will be charged to iTunes Account at confirmation of purchase. Subscriptions automatically renew unless auto-renew is turned off at least 24-hours before the end of the current period. Account will be charged for renewal within 24-hours prior to the end of the current period at the rate of your selected plan above.

Subscriptions may be managed by the user and auto-renewal may be turned off by going to the user's Account Settings on the device.

If you haven't subscribed through iTunes, you can manage your subscription through Netflix.

Privacy policy: https://help.netflix.com/legal/privacy
Terms of use: https://help.netflix.com/legal/termsofuse
iPad Screenshots
Reviews
Ok...
Ive had my fun but im done...
on
11/18/2017
Love it but I hate the fact you guys don't have south Park or rick and morty. I liked Hulu better mainly for that Reason,Other then that great movie choices love it!!!
Please stop deleting stuff
i love netflix but it literally deletes everything i watch. please add juice, nana, and dope back on netflix. thanks
Bring back shows
Ok so all of a sudden How I Met Your Mother is gone??? Bring it back or i'm getting hulu
taking good shows off
maverick111111111
on
11/18/2017
Put One Tree Hill back on. It is better than 90% of the other shows on Netflix.
Using with Google Chromecast
When using Netflix on the chromecast sometimes it is amazing and I love how convenient it is but lately the Netflix app won't allow me to connect it just takes away the spot for the chromecast as I'm casting. I use the chromecast for YouTube also and don't have a problem just with Netflix and it's not all the time.
The service is great the app only so-so
St. Jimmy777
on
11/18/2017
I love watching Netflix on my phone because I'm constantly on the go but sometimes I need half an hour to watch a TV show. I love the download feature which I use ever time I fly home for break. But there are some things I hope they'll consider changing. For starters let's talk about this audio description thing. I don't understand why it's the default option on my phone and there's no way to change it. I would appreciate if you added an option to change the default language setting so I'm not constantly having to switch while I'm binge watching. Secondly, the ratings system needs to return to the star system. The thumbs up and down system is to broad and I can't imagine it helps the algorithm that lists potential movies and shows I would like. If I was only lukewarm about the movie then liking it would only show more movies I wouldn't like and disliking it might hide the ones I might like. Other than that it is a really nice app that I love using
ANDI MACK
Potato Blaster
on
11/18/2017
It needs Andi Mack And then it gets 5 stars!!!
Good but…
I want new shoes every day and shows or movies I want to come back on Netflix. Please, do this!
Downloaded movies
My downloaded movies never work offline. It's pointless and a waste of time to try the downloaded movies.
Doesn't work without WiFi!
ayyymendoza
on
11/18/2017
Don't even bother trying to use that app without WiFi bc it won't work if you're on your data!
I want to cancel Netflix's
Jumping throw hoops and they still won't let cancel!!!!
When will new season of shows come out?
masteradan10
on
11/18/2017
I love Netflix but when will new seasons come out. For example Riverdale, when will season 2 come out on Netflix? Please tell us when or most likely will it's next season come out.
Great, but
Lucky 10382
on
11/18/2017
Netflix is great. The app has been working really well on this version. The only comment I have is that Netflix needs to get their money back from the audio description company that they paid for slashers season two episode three. The descriptive audio volume is really low and it sounds like they used A really poor quality microphone.
Feature loss
Dan2737485839
on
11/18/2017
The control button to slightly resize the screen while watching something has disappeared. Or taken on a covert function I just touched something and the screen zoomed in, no idea how or if it'll go back. Why drop this feature?
I can't sign in
Jbiljsqabdvjiasd
on
11/18/2017
I love Netflix so much especially stranger things but when I accidentally signed out it wouldn't let sing back in. I even changed the password and did everything perfectly but it wouldn't work. I checked multiple times and changed my password multiple times as well, but nothing. I'm really disappointed right now. I would of gave a five star if this didn't happen.
Netflix is awesome!
Why the heck Netflix has only a 3.5 star rating makes no sense to me. This app is great! We use Netflix all the time and have for years.
Help!?
Tigers are beautiful
on
11/18/2017
I can't watch riverdale season 2 like all my friends can on my iPhone 7! Which idk why...
Bring Twilight Back
lokigirl360
on
11/18/2017
Please bring twilight back. I make miniature play productions with my my little pony toys and I was making a Twilight Production and I still need it.
netflix
the best movies tube✌️
Put more cartoons
8igt1mel4ter
on
11/18/2017
Put some dragon ball z and super on and can u please remove old movies
Ugh
Hope I get them
on
11/18/2017
I hate Netflix ever since they took one tree hill off of the app. That was my favorite show and I watched it all the time but I can't find where to watch it anymore after y'all took it off. Please put it back on Netflix!
Lot of Cheap movies
Azimbek2344
on
11/18/2017
Guys, I think you made enough money. Could you please stop uploading cheap old movies? Can you upload more good rated smart intelligent movies? Otherwise I'm going to stop Netflix. Thank you.
I rate Netflix a 4/5
I'm weird but funny
on
11/18/2017
It's a really great app! But I wish they had newer movies on there but overall it's a great app🤗
Download Feature
The downloading system won't work for my iPod.... Please fix this.
Crashes last update
Last update messed everything cannot open netflix it crashes every time!
Why the mlp series?!
This game slipped up
on
11/17/2017
Like I use to have season 6 but I didn't watch it in three months and now season 6 in gone and it is the best mlp series...
Rocky
It would be nice if Netflix would add Rocky movies or the movie Red Tails and even add Pokémon and Dragon ball series or movies. Some of the anime aren't even complete.
Netflix
I just want to say PLEASE put Mighty Med back in. Please. Tons of people love it, and it's one of my most favorite tv shows Of all time! Please... I'm begging you.
Bring Back Old Movies And Tv Shows!
I'm not saying the movies now are completely horrible. But all the movies i watched as a child have dissapeared as i've grown up, it's really distracting to me, everytime i try to refill my memory it won't pop up because it's DELETED. I used to watch this show with a blonde cartoon little girl i use to search her up but she wasn't there anymore i forgot to search on Youtube so now that part of my childhood is gone. I've Lost So Many Movies I Love, Mr.Bean Movies, Annie, and this one goldie oocks movie where go,die makes the bear's house out of candy and a bunch of flies come. All of that is my childhood that has been removed please, BRING THEM BACK!!!
Hulu is sounding goood right about now.
Old movies at a new expensive price is ridiculous! Why should we have to pay $10.99+ for old movies ??? Only reason i still have Netflix is for my kids to enjoy old seasons of kids shows. I wouldn't mind paying the price if you had new seasons and new shows like Hulu!!
I love netflix so much but
Aaliyah Herrera
on
11/17/2017
You guys should add DRAKE AND JOSH AGAIN😭💓I miss this show and I bet others do too
You're disgusting Netflix
CIA Task Force TickleVetting
on
11/17/2017
You need to make a feature for censoring out all of your disgusting features. Right now anyone who logs on to your app sees a display, for one of your shows, of a little girl having her period. Another smutty feature that you force users to see is for a Netflix show with a cover of people having sex and the woman is cuffed to the bed. Your app needs to have features for people who actually hate evil content. Not all of us love evil content, Netflix.
Punish Us Netflix
iPadProRican
on
11/17/2017
Woo Hoo!
Ezcast
Just wish it would work with ezcast
IPhone X full screen not supported
doffy=joker
on
11/17/2017
Should be able to make content stream in edge to edge full screen please add support for tht even if it crops some of the edges refer to the YouTube app you can toggle tht on and off
One reason why I left one star
Erin192747392917347
on
11/17/2017
That's because they raised the prices on me randomly.. kind of shady if you ask me to just randomly raise your price because your original was a "special" they said nothing about a special in the beginning. I still have all the info when I signed up it doesn't say anything about a special.
it didnt asked for approval
Cool awesomeness things
on
11/17/2017
I had an netflix account a few months ago.It was alr.I put one star because i'm mad that netflix just renewed itself without approval.I just put my payment information on my apple id.For another app.But then I automatically got a gmail that my old netflix account was renewed.I didn't approved for netflix to take out money from my account and renew my old account.Ik it's not much but I just want my money back.Since ik that i'm not going to use the account.Since i'm just to busy.
Could be better
Everything is good but PLEASE BRING BACK THE FAST FORWARD/REWIND OPTIONS!!
Crashing, annoying
Deborahlee52
on
11/17/2017
Your app is constantly crashing. I tried to watch a TV show last night and it crashed 14 times. I finally gave up. I don't know what you guys do but you're not doing it right. Your updates are getting worse not better. You are going to be losing clients left and right if this maintains this kind of momentum. Used to be top on my list, but now you are digging lower than dirt level. Not a happy customer.
Fix the crashes!!
App is used to be solid. Great content for the subscription price. But it's been buggy awhile now. Latest problem is green screening when a show starts and audio getting out of sync, even on 25mbps wifi. I'm so sick of the crashes and bugs! Fix that and add a 10 sec skip forward button and this app would easily be 5 stars.
Price raise...
Sometimes I go months without watching Netflix and when I decide to go on Netflix i always see the old shows and movies, I really do hope that with this new price raise you guys will add more movies and shows.
Downloads not playing
Khalil Bill
on
11/17/2017
Downloads won't play without WiFi
Won't stream to tv
This last update won't allow my iPhone 6 Plus to stream using hdmi adapter to tv. All I get is sound and a black screen.
Can you guys put on more anime
BatmanLover and superman lover
on
11/17/2017
Hi I'm a really big fan of anime I like watching it a lot but Netflix doesn't have great titles that are interesting I want Rosario + Vampire on Netflix I really want to watch that show and can you guys also put more seasons on fairytale I'm pretty sure there a lot of seasons and I don't want to search it up through YouTube its very hard for me to find please Netflix put on these shows for me it would make my day.
Lame !!!! ..
Yossi shimoni
on
11/17/2017
Need a way to Pass forward 10 second not just to go Back ..
Really? I have to choose EVERY TIME?
Bite me with your decision thy I HAVE to watch in landscape in one orientation. I spend half my time on this app trying to get the screen to stop flipping around. 🖕🏻🖕🏻🖕🏻🖕🏻🖕🏻 Seriously I can watch in plain old portrait orientation on my iPad I, and the app actually works better. (November 2017)
Ciao HIMYM, Ciao Netflix.
Hectic.Heids.88
on
11/16/2017
Hulu is now bae. Literally only because HIMYM is no longer on Netflix as of this week. Petty af, I know. uh-buh-bye 👋🏼
iPhone X
When will you release the full screen option for the iPhone X? I bought the phone and I'm still watching the top and bottom black lines.
I hate Netflix right now
SoccerGirl20@ELA
on
11/16/2017
Only because it's saying error try again later and one day later it says the same stuff
What the heck?!?
Chief Watimsay
on
11/16/2017
I don't understand why the new update has locked me out of my app and is making me re log in. At which point I do, it only offer to let me begin a free one month trial. What is going on please?!???
Fact Sheet
Publisher:

Netflix, Inc.

Category:

Entertainment

Released:

Apr 01, 2010

Current Version Released:

Nov 15, 2017

Version:

9.45.0

Size:

123.3 MB

Compatibility:

Requires iOS 9.0 or later.

Recommended Age:

4+

Game Center Certified:

No

Supported Devices:

iPad2Wifi-iPad2Wifi, iPad23G-iPad23G, iPhone4S-iPhone4S, iPadThirdGen-iPadThirdGen, iPadThirdGen4G-iPadThirdGen4G, iPhone5-iPhone5, iPodTouchFifthGen-iPodTouchFifthGen, iPadFourthGen-iPadFourthGen, iPadFourthGen4G-iPadFourthGen4G, iPadMini-iPadMini, iPadMini4G-iPadMini4G, iPhone5c-iPhone5c, iPhone5s-iPhone5s, iPadAir-iPadAir, iPadAirCellular-iPadAirCellular, iPadMiniRetina-iPadMiniRetina, iPadMiniRetinaCellular-iPadMiniRetinaCellular, iPhone6-iPhone6, iPhone6Plus-iPhone6Plus, iPadAir2-iPadAir2, iPadAir2Cellular-iPadAir2Cellular, iPadMini3-iPadMini3, iPadMini3Cellular-iPadMini3Cellular, iPodTouchSixthGen-iPodTouchSixthGen, iPhone6s-iPhone6s, iPhone6sPlus-iPhone6sPlus, iPadMini4-iPadMini4, iPadMini4Cellular-iPadMini4Cellular, iPadPro-iPadPro, iPadProCellular-iPadProCellular, iPadPro97-iPadPro97, iPadPro97Cellular-iPadPro97Cellular, iPhoneSE-iPhoneSE, iPhone7-iPhone7, iPhone7Plus-iPhone7Plus, iPad611-iPad611, iPad612-iPad612, iPad71-iPad71, iPad72-iPad72, iPad73-iPad73, iPad74-iPad74, iPhone8-iPhone8, iPhone8Plus-iPhone8Plus, iPhoneX-iPhoneX,

Supported Languages:

Arabic; Bulgarian; Danish; Dutch; Flemish; English; Finnish; French; German; Hebrew; Italian; Japanese; Korean; Bokmål, Norwegian; Norwegian Bokmål; Polish; Portuguese; Romanian; Moldavian; Chinese; Spanish; Castilian; Swedish; Thai; Chinese; Turkish;