This version of the app is not recommended
App last updated
Jan 22, 2018
Screenshots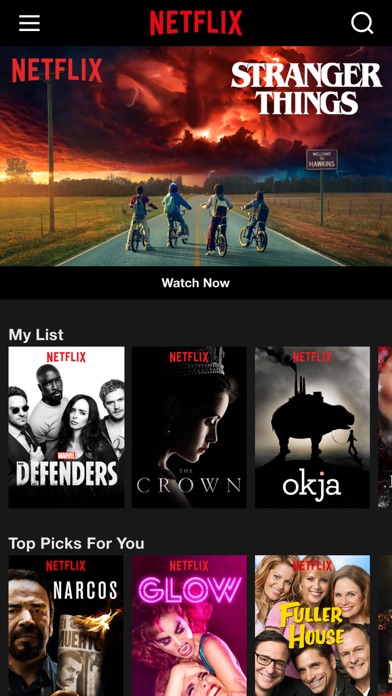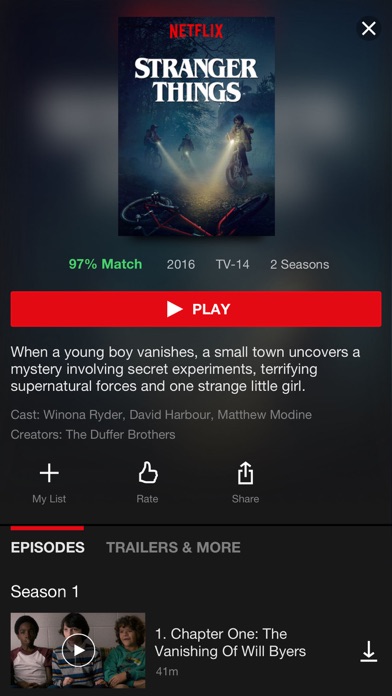 Description
Subscribe Now on Your iPhone® or iPad®

Watch TV shows and movies recommended just for you, including award-winning Netflix original series, movies, and documentaries.

Netflix has something for everyone. There's even a safe watching experience just for kids with family-friendly entertainment.

How does Netflix work?

• Netflix adds TV shows and movies all the time. Browse titles or search for your favorites.
• The more you watch, the better Netflix gets at recommending TV shows and movies that you'll love—just for you.
• You can create up to five individual profiles within a single Netflix account. Profiles allow different members of your household to have their own personalized Netflix experience built around the movies and TV shows they enjoy.
• Instantly stream on iOS devices or on the web.

Try us free for 1 month! If you enjoy your Netflix trial, do nothing and your membership will automatically continue for as long as you choose to remain a member. Netflix membership is a month-to-month subscription that begins at sign up. You can easily cancel anytime, online, 24 hours a day. There are no long-term contracts or cancellation fees. Just sign up to get started!
If you subscribe via iTunes:
Payment will be charged to iTunes Account at confirmation of purchase. Subscriptions automatically renew unless auto-renew is turned off at least 24-hours before the end of the current period. Account will be charged for renewal within 24-hours prior to the end of the current period at the rate of your selected plan above.

Subscriptions may be managed by the user and auto-renewal may be turned off by going to the user's Account Settings on the device.

If you haven't subscribed through iTunes, you can manage your subscription through Netflix.

Privacy policy: https://help.netflix.com/legal/privacy
Terms of use: https://help.netflix.com/legal/termsofuse
iPad Screenshots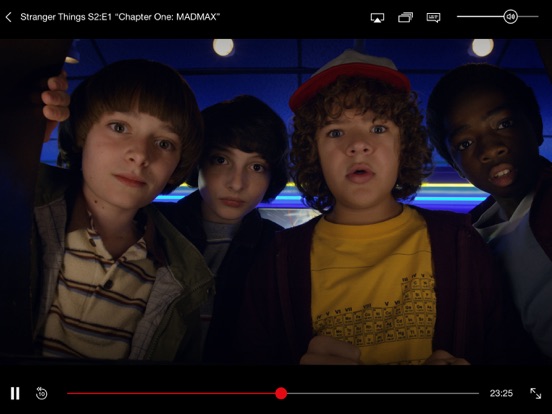 Reviews
Review
I love Netflix because it has kids Seting. Pulse good shows
I like Netflix but..
million_dollar_kid
on
1/23/2018
I love the apps it a good app but the bad about it that it doesn't have good movies even when u search a movie that is from 2013 and it was very good and u search it up it's not there🤔 plz add good movies I support u guys but plz add good moves there is only a few good movies in this app
Fix the app
This app keeps crashing, says error and won't play anything. Like what's the point of paying every month if I can't use it, It's annoying.
Need fixed
Since the last update my profiles have disappeared on my Apple TV version of Netflix. Every other version still has the profiles so I know they didn't get deleted. I have tried to redownload the app with the same results. I would like this to be fixed. Other than this I really haven't had any problems with the app. I really enjoy the interface.
Screen Limiting
DIAMOND ON DEMAND YT
on
1/23/2018
This new feature. I'm gonna cancel.
My sister made me do this
TheSmartWolfie
on
1/23/2018
I dont like complaining but my sister says ur missing a season of Miraculous The Tales Of Ladybug And Chat Noir
Doesn't work on IPad Air 2 with version 9.52.0
Since last update 9.52.0, the app doesn't even start. Always crash after Netflix logo. I'm on IPad Air 2. Please fix ! Otherwise, very good app.
PRINCESSSS
someonewith Aproblem
on
1/23/2018
The princess and the frog was one of my favorite movies to watch on Netflix and it's a amazing family movie that deserved to stay on this app
Bring AUTO-PLAY back!
Maximum AC93
on
1/22/2018
I HATE the "play next episode" feature on iOS. Many others have posted about the same issue overs the years and in recent time. Please at least give us app users the option to have auto-play back.
Needs New Episodes
Dear Netflix, You Guys Need To Add More Seasons And Episodes Of Family Guy
😠
Keep taking down my favorite movies.
Update installed 11 hours ago, but can't even start the app!!!???
What's going on!!???
Biggest A$$hole developers, take 29
RobertValenzuela
on
1/22/2018
Never tell anyone what is fixed! Alienate users! And... app never works. Over and over and over again! Stupid idiots! Biggest a$$holes ever!
SO SO SAD
I HATE YOU CREATORS
on
1/22/2018
Ever since the new update Netflix won't open, all I want to do is watch parks and recreation. Rip me. Please please fix :(((
Great
Amelia's a mermaid
on
1/22/2018
It's very good for kids my age I'm nine but in six days is my bday and I love LIV AND MADDY a lot and like FREE REIN a lot lot lot lot so it's Great
Fast forward? Profile selection?
1.) It is 2017 and yet we don't have fast forward yet? Every other video player has this basic functionality. 2.) Also, why do I have to choose the profile every day on my personal iPad? No one else uses my iPad. Can you please address this "nag" screen and let me "lock" in my profile via a setting on the iOS app? 3.) What happened to delete and play next for downloaded content? #Bug #Fail #Bugs Please help!
Taking away shows
Liam12345squaaa6789
on
1/22/2018
I love netflix and so does everyone in my family but I have an issue with you removing some of my favorite shows. For example you took away the new seasons of family, I would rather have the new seasons in hd, not the old ones. You are removing Futurama soon and it is very annoying as I feel that this is unnecessary. Thank you.
App doesn't work after last update
fernandotomac
on
1/22/2018
Last update broke the app. Already tried to delete, reset but it can't complete the login.
Works great again!
Not sure what happened but the app is back and working again!
Netflix
eetee weetee
on
1/22/2018
I hate Netflix for getting rid of Hanna Montana
Latest update now doesn't work
I have automatic downloads and since the download yesterday the app doesn't work on our iPod iPad or iPhones
Movie problems
Speedtime121
on
1/22/2018
Yeah I like the movies but the only thing that is making me not go back s this app is the fact that there is not a lot of movies. Netflix please add more
Ugh
Alexanderdavidsanders
on
1/22/2018
App is not working on my iPhone 7. Please fix.
Not working 😡
Don't waste your time or money! I'm currently paying for Netflix service that I'm not able to watch because they can't seem to get their act together!! Amazon and Hulu are looking better by the second!!😡
Please
Please add a download button to everything on Netflix not just some of the tv shows and movies on Netflix.
Not working
App never opens up
Won't load to the home screen
Fix your problem Netflix
This is amazing
This is amazing I like how on the kids thing there's ONLY things kids can watch I'm only 8 and to me this app is great and should always get a 5star Rate
No longer works w/ v.9.52.0
ClintGossman
on
1/22/2018
Version 9.52.0 now makes Netflix app not work on my iPhone X. It did an update 8 hours ago. Stays on black spinning wheel screen. Worked fine yesterday before update.
Amazing!
I love all the show on here! I have a suggestion for you to put on there as well, SpiderMan homecoming? You guys should also add a way for teen to watch things, like how there are options to switch what you watch from kids to anyone...and maybe a way to delete history just in case?
Newest update made the app not function
The gingersaurus
on
1/22/2018
The newest update for "bug fixes" added more bugs than they fixed. They need to get their ducks in a row This still applies as of 1/22/2018
Aggravated
ndjsksjdudicipp
on
1/22/2018
Netflix won't even let me login and Ik the password is right Bc I logged in on the website.
Bug fix
I'm trying to use the app and can't even open it. I've deleted it and re-install it, but all it does is have Netflix show up then a black screen. Anyone else having trouble? I do love Netflix though just want to get it fix.
Help!!!!
bad service.
on
1/22/2018
My NETFLIX is not working I open the app and all I see is a black screen with a uploading ring on it trued on my other phones and it won't work what do I do ???? HELP!
This pertains to the app on Apple TV 4K
Once the Apple TV 4K goes to sleep and you wake it back up the app no longer loads content. The red loading circle just keeps going until it says cant load and to check your network. Yet it works fine in my house on the same network on the Apple TV HD versions, so it's not the network.
What A Piece Of...
Black screen with a spinning circle all day. Again. I haven't been able to access my account. I thought it was maybe my phone or the internet, but from the hundreds of people reporting the same repeat outage today it looks like it's a problem with the app. Again. Netflix puts out a garbage app to match their atrocious brand name stamped garbage like The Open House and The Babysitter.
Bad update
They updated it today, now it doesn't work. If it works don't fix it.
Give me back Tenacious D
Ascendingpluto
on
1/22/2018
GIVE US BACK TENACIOUS D AND OTHER JACK BLACK CLASSICS
Needs Improvement!!
I shouldn't have to connect to cellular in order to watch something that I've already downloaded to my phone!!! Fix it!
The app is not working
Njfhjrjvejrjfhfhf
on
1/22/2018
The app is not loading in for any of the app devices please fix this soon
New update not working
Just updated six hours ago and can't get Netflix to work on any iOS device. Can't figure out how to report it either.
yaaay
yaaaay, newest update now it's broken and won't load!😡 always fixin that which is not broken!!!!!!!
😭😭Family Guy😭😭
Popofizo1234
on
1/22/2018
Ok let me just say that I LOVE Netflix and without it I would have nothing to do. The only complaint that I have is when you take off shows. I am a huge "How I Met Your Mother" fan and I was so sad when you took it off Netflix. Now it says that you're gonna take off "Family Guy" on February 14, but pleaseeeee don't. "Family Guy" is my absolute go to show and I can't believe you're taking it off. What's next, FRIENDS???? All I'm asking is for you to keep shows like "Family Guy" and maybe bring back "How I Met Your Mother." Thanks.
Won't load
Riley Sarabia
on
1/22/2018
The app won't load up and I'm just sitting there waiting for anything to pop up after opening the app.
Network issues
Why hasn't this been fixed yet ? Says I'm not connected to a network. Hey - guess what - yes I am. Hey Netflix, connect.
Can't download HD anymore
Tappedout0324
on
1/22/2018
Before update one office episode size was ~400MB now it's ~125MB looks atrocious even in a small screen. Even after checking app settings!
One of the most user hostile apps I've ever used!
If I can get it to open (which I often can't) it's such a confusing, frustrating, and annoying mess. The only consideration made when designing this app was to get you to watch more shows. No consideration was made for the user and how they would like the app to work. Paradoxically, their attempt to get me to watch more has resulted in my using the app less, because I don't want to deal with trying to navigating it. The auto playing trailers and auto playing shows after finishing another show are enough to cancel your account.
Used to be Better
Used to be better than it is today. I don't use it anymore. Another brand on its way out.
Netflix problems!
Was watching one of my tv series of "colony" went to run some errands while leaving it on pause, came back and it never played again! All it does now everything I go back to the Netflix app all it does is just shows it buffering! 😡 I tried everything but no help! Ugh if there's not one thing wrong, another thing happens!!
Unbelievable .
Disappointed i updated the app to the newest version and now the app won't let me sign in or nothing. I deleted it to see if it'll work again but nope it didn't. Please fix i love watching Netflix and this is a dissapointment
Fact Sheet
Publisher:

Netflix, Inc.

Category:

Entertainment

Released:

Apr 01, 2010

Current Version Released:

Jan 22, 2018

Version:

9.52.0

Size:

99.8 MB

Compatibility:

Requires iOS 9.0 or later.

Recommended Age:

4+

Game Center Certified:

No

Supported Languages:

Arabic; Bulgarian; Danish; Dutch; Flemish; English; Finnish; French; German; Greek; Hebrew; Italian; Japanese; Korean; Bokmål, Norwegian; Norwegian Bokmål; Polish; Portuguese; Romanian; Moldavian; Chinese; Spanish; Castilian; Swedish; Thai; Chinese; Turkish;