Games
Entertainment
Action
Arcade
This version of the app is not recommended
App last updated
Jun 01, 2011
New in version 2.0.1
Fixed bug where ads would sometimes show for people who have bought additional maps.

Fixed a couple of crashing bugs.
Description
Enjoy the best selling game Harbor Master on the beautiful big screen of the iPad. With completely new content and gorgeous high resolution graphics, Harbor Master HD will blow you away.

You are the Harbor Master in a busy harbor. Direct boats into the docks, watch them unload their cargo, and direct them off the screen. But be careful not to let boats crash!

Harbor Master HD gives you one beautiful free level called Treasure Island. With six docks and two cargo types, the game gets hectic very fast. For even more fun with your iPad, try playing with a friend!

If you need more harbors to master, there are 4 additional maps available for download from inside the app, each with its own unique twist:

★ Cargo City - You've hit the big time now! With three cargo colors and six docks to manage, Cargo City is every Harbor Master's dream!

★ Pirate Passage - Pirates attack! Manage three docks and navigate narrow island passages, all while fighting off pesky pirates!

★ Bermuda Triangle - The most dangerous waters on the seven seas - but they're no match for you! Defeat all the pirates, monsters, and cyclones to master this harbor, and you'll be a legend.

★ Kraken Atoll - Beware the Kraken! Four docks, two cargo colors, and an ancient beast that haunts the deep.

★★★★★★★★★★★★★★★★
REVIEWS
★★★★★★★★★★★★★★★★

One of CNET's 20 Best iPad Games

"Everyone who owns an iPad should download Harbor Master HD." - AppAdvice

"Something you shouldn't miss if you own an iPad" - TouchArcade

"No questions, the single most addictive game I have ever played." -- The Appera

★★★★★★★★★★★★★★★★
FEATURES
★★★★★★★★★★★★★★★★

- A gorgeous new HD map, Treasure Island
- 4 additional maps available for purchase
- Multitouch support - play with a friend!
- Two cargo types, which must be dropped off at the appropriate docks
- Online Leaderboards
- Tweet your score
- Multiple player profiles on one device
iPad Screenshots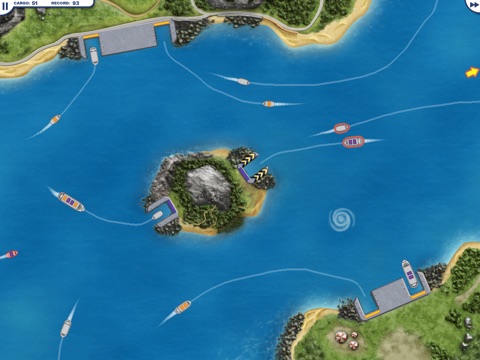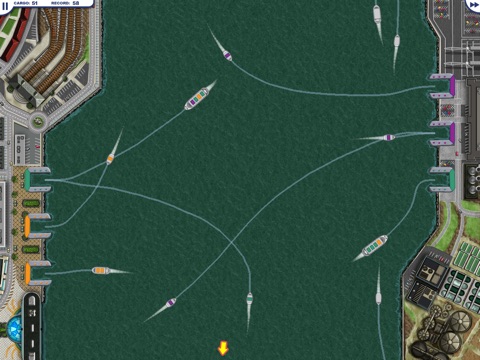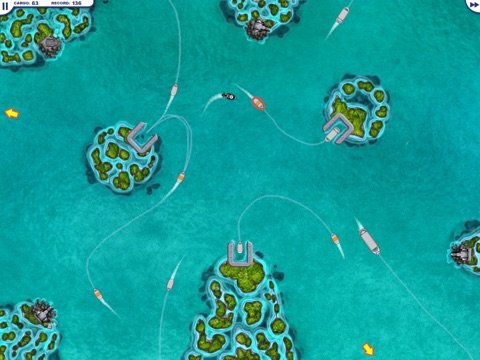 Reviews
Obsessive!!
Halbuggie rug
on
12/25/2017
I absolutely love this game! I'm obsessed!! The 3 stars is because I have to delete the game and download it again because it won't work sometimes!! I even bought a new map and was extremely excited to play it but the game wouldn't open so I had to delete it and re-downloaded and I lost the map I just purchased!!! Wish this could get fixed!!
Needs an update
Really fun and addictive. However, buyer beware. If you purchase a "rewind" package of 20 or 40 you will only get 5. AND the game freezes every time you try to purchase anything even a map. I will be happy to give 5 stars when the bugs get worked out.
Please update
Loved this game, wanted to add it to my new device, but game hasn't been updated. Please update
Please update
Real Harbor Master
on
10/14/2017
This is my favorite game and it is not compatible with the newer apple updates. This is my desperate plea to update the game so I may enjoy playing it again.
Game becomes unusable every few days
ZombiebyNight
on
9/7/2017
Every few days, a white patch appears on the game menu screen and everything else becomes unresponsive. Only way to fix this is by reinstalling the game. But then it happens again. It's so annoying.
Dead in the water
Topherstrudel
on
9/6/2017
I LOVED this game so much, but it's no longer compatible with newer versions of iOS so I guess that's over. From what I can tell from my own experiences as well as what others are saying it doesn't look too likely that they will release an update to fix this.... the last update was 2011 so I'm sure the developer is long gone from this game and support.
Update the app!
This is a great game but needs to be updated for the latest OS. It won't work on my iPad anymore.
Love the game, but wished I could use it.❤
Ebfiurgbireeriubfr
on
7/20/2017
I love this game so much. But it needs a update because it won't let me use it, please update! And also u should create a 2 person screen option, so that way 2 people may play. But I will always love this game, jus wish I could actually play it. Please fix the bugs! Don't abandon this game!!
Please update
Mistysunflower
on
7/11/2017
I still love to play this game.
Love it, but....
I used to play this game a lot, but then I upgraded to an iPad Pro. It doesn't work on the pro. The game starts, and a white box appears in the upper left corner. The touch screen goes dead...it just displays the menu and white box, and you are unable to click on anything. I notified the company...over a year ago. Still no patch. Looks like they haven't updated this game in years.
Used to be Great, but no longer
Used to be a fun app. But, now the app will freeze up after several days of use and has to be deleted from your iPhone or iPad and then downloaded again. Over and over and over. They haven't updated it in years. Too bad.
Update Please!
My kids and I love this game! We would love to see an update... it has quit working on my iPad and I have to keep uninstalling and reinstalling, so I lose my progress!
Still a great game
Just Once More
on
2/24/2017
Even after all these years it's still fun to come back and play a few rounds. It's still a good game and it still crashes every now and then, but oh well.
Freezes
I'm having same problems as the rest. Game freezes and is unusable until I delete it & reinstall & re-download new maps. Love the game but get tired of deleting and downloading.
Love this game but...
It keeps stopping with a small square white box in the corner and won't let me play or make any selection. This has happened on both my iPad Pro and my iPad 3. The only way to fix it is to delete and reinstall. Then I lose my high score.
harbor master
Great fun. Have to reload at least once a week. A strange white square appears and can't be removed without reloading app.
Glitch?
Love this game and have had it for a few years, but is anyone else having it freeze up and put a blank white box on the screen? So annoying!!!
Addictive
Captain A habit
on
1/10/2017
The game is great and super addictive. It keeps getting harder and harder until you loose. I don't think it is possible to win, just get a higher score. The only reason I took off a star is because every once in awhile a whit box will appear in the top corner and it will completely lock you out of the game. Tho only way to get rid of it is to delete the game. Then you have to repurchase all your levels and your score is wiped out.
Stopped working :(
Filibuster3
on
12/29/2016
Have enjoyed this app for a few years, but they haven't updated and it no longer works. The title screen comes up, but there's a white box in the left corner and nothing responds. Please fix!
App freezes on iPad
Fun addictive game, but the app freezes on the menu page and when pausing. I have to close and reopen, and sometimes that doesn't work either. Needs some bug fixes.
No longer works
This app was last updated in 2011. It no longer works, and obviously has been abandoned by its developer. It's a shame as it used to be a fun game!
Best two player game ever
trippthrcat
on
12/10/2016
This game is great when there are two players. I have tried to find good two players game, and this is the best I've found.
Won't start on new iPad -- fatal bug
White box appears on top left corner-- can't start game. Delete then re download works for a while then have to delete again.
Doesn't go past the main menu
KJ97Cowgirl
on
11/25/2016
Love this game but lately it won't let me press play... it won't let me leave the main menu!!! Please fix it!!!
Fun but can play only once
I play it one time and close it. I open it a second time and a white box appears with no dialog and the game does not function. I must then delete the game and reinstall it and I'm back to the start (play, close, delete, reinstall). Now when I update with purchased maps, it freezes and will not allow any play.
Too many bugs now
A good game when it came out, it now it hangs whenever the game is suspended. It has not been updated since 2011
Keeps freezing
Freezing5267890
on
11/23/2016
It keeps freezing and the only way to fix it, is to uninstall it and reinstall it. Im sick of losing my high score
Fixing
Alessandra de Campos
on
11/1/2016
Game is great but needs reinstalling all the time because it constantly freezes. Waiting for developers to fix the problem.
I love this game but....
Business Gal
on
9/27/2016
There is a major glitch somehow that will not let me push any buttons to play at all. Please fix this. I love this game very much.
Love it--no updates :(
I love this app! Unfortunately it will only play when I download it; then when I quit, it freezes. I see there have been no updates in a long time. Too bad...It actually deserves a 5...If I could just play it! Please fix Harbor Master...it is a favorite!
Fun game but cannot start it now.
I am having the same problem as other reviewers. The start button doesn't work after a while. If I delete and reload that fixes it for awhile but that is nor a good solution. Please update. Thanks
Cool Game that never works
After about a week and a half this game always glitches and freezes. This has happened on multiple devices, multiple downloads, new and old. I like the game but I can't ever play it because of technical glitches so one star.
Love
I love this game, it keeps me entertained. I would give 5 stars but my only complaint is that it keeps locking up and won't load so I have to delete the app and re-install and reload all the maps I've already paid for. Very discouraging.
Game locks up
Game is fine until you restore your purchases, then it locks up and u cannot play. Even killing it doesn't fix it. Lame.
Locks up
DarthDaleDidIt
on
8/19/2016
I really enjoyed the app but every several days I have to delete and reinstall in order to be able to play the game again. Sadly, deleting the app also deletes all the data.
A major bug
A fun game but keeps crashing on my iPad Pro. Game will launch but not respond to any touch. Only solution is to delete the app and re-install it. 4th time I've had to do this in 4 days.
Good game, but needs updates
This is definitely a very fun game! But it's been this way for over a year. We need new maps and more variety. I've bought all of the maps they've put out and had them for like almost 2-3 years now! NEED NEW STUFF PLLLEEEAAASSEEE!!!!!!!!!!!!!!!!!!!!
Love it... Till it stopped working.
Archangel Beth
on
7/24/2016
I'm going to try deleting & restoring the game to my iPad, but after playing it a while, it... Just stopped. So did the others, one by one -- HM for the iPhone, HM Free... Very sad.
Very fun when it works
One of my favorite games. But lately it freezes a lot. It won't open. I have deleted and redownloaded still won't open Very sad!!
What's so great?
Did u see the screenshot? That's all u get. Why are people calling this addicting. All u do is draw a line with your finger where the boats r supposed to go. Whoop-de-do. That gets boring after 10 sec. Has no purpose
Lots of fun but....
Since an update (?) it keeps freezing when trying to open and when after downloading maps already purchased. Frustrating, since it was a go-to game for sure before. Bought all the maps, enjoyed them all. Can't get to them anymore. Also, since writing the above, I have deleted and reopened several times, but game doesn't go to landscape mode and half is cut off. Awful. Please fix.
Not really compatible with iPad Pro
I love this app but after running the app 3 to 4 times it loads as if the tablet is inverted and will not start and it has to be deleted and reinstalled. Be forewarned Pro users!
Crashing problem!!
I love the game however every other time I try to play it's unresponsive. My wife and I started playing this game together and it's something she really enjoys. Very inconvenient to have to uninstall and reinstall every time we try to play the game. I even bought the additional maps to enjoy further gameplay. Please find the problem and fix it.
awesome - but an update is needed
Fun Girl 12343
on
5/12/2016
I love this game a lot, even on my phone! However the app is just out of date. I mean the last update was in 2011. Cleaner graphics, and more maps would be a great refresher!
Used to be 5 star, now crashes
I love the game. It was my favorite. In recent months though, it crashes if interrupted by any other app, such as accidentally touching the pull-up screen at the bottom. The only way to restore it is to delete and reload the app, thereby losing all your scores and current game. Why not fix the bug?! Come on, developers! Fix it and I'll pay for it.
Super fun BUT!
I love this game and it very addictive. But it tends to freeze up. The only fix seems to be deletion and re-download. I don't really care about losing my high score but what an aggravation to do this over and over!!!!
App Crashes Constantly
I wouldn't recommend this game - it crashes constantly & hasn't been updated since 2011!!!
No longer works
ManiacalMatt
on
4/29/2016
Doesn't work on my iPad mini anymore.
Fix home screen freeze bug!
As others have said, this is a fun and addictive game, but I've encountered the same problem with the game randomly freezing on the home screen. I then have to delete the app and reinstall, losing my high scores and any installed maps I've purchased. Truly annoying.
Not Compatible with iPad Pro
BobbyJDC22209
on
4/6/2016
I LOVE this game, but apparently it is not compatible with new iPad Pro. And for some reason the version that I have on my old iPad is not backing up to iTunes. If Apple cannot resolve this issue, the iPad Pro will be returned. I cannot imagine traveling without Harbor Master. It is a great way to kill time in the airport.
Fact Sheet
Publisher:

Imangi Studios, LLC

Category:

Games

Released:

Apr 01, 2010

Current Version Released:

Jun 01, 2011

Version:

2.0.1

Size:

12.1 MB

Compatibility:

Requires iOS 3.2 or later.

Recommended Age:

4+

Game Center Certified:

No

Supported Languages:

English;