Screenshots
New in version 6.1.1.
Documents gets amazing iOS 11 updates and now supports the new Drag and Drop on iPad!

What's new?
– Drop email attachments from email or any other app into Documents;
– Save images and text from Safari by dragging and dropping them directly into Documents.

Now Documents and other Readdle's apps like Spark, PDF Expert, Scanner Pro, Calendars and Printer Pro are one step closer to a powerful ecosystem that redefines what is possible on your Apple devices.
Description
A central hub for all your files. Read, listen, view, annotate almost anything you want on your iPad and iPhone. Files, documents, books, any content is at home in Documents by Readdle. It's the Finder for iOS you've always wanted.
App Store Editors' Choice in 70+ countries

"It's a tool that will help you stay better organised." - The Verge
"The app is super quick, it looks good and options are easy to locate and use." - The Next Web
"A surprising versatile app for consumers and businesses alike." - USA Today

Documents is the most capable application on your iOS device. It's the hub for all your files as it replaces a document viewer, PDF reader, "read it later", music and video player, file downloader, cloud integrator and bunch of other applications as the one elegant app.
Amazing attention to details, unmatched stability and design differs Documents from any app you have on the iPhone or iPad. You will use it constantly, at home, office, university or on the road, every single day.
Just have a look at the short list of things that Documents allows you to do. It's an app that makes your iPad and iPhone worth the price!

◆IMPORT and SAVE FILES◆
+ Import files from your computer, cloud, WebDav or any nearby devices
+ Download files from the Web
+ Store email attachments
+ Save web pages to read them later

◆MANAGE FILES◆
+ Manage your files and create folders
+ Zip/ unzip, color tag, rename, etc
+ Drag and drop files across apps (!). Open two Readdle apps in Split View on iPad* and simply move files between them
+ Share files with friends
+ Protect everything with a Password
*iPad Pro, iPad Air 2 and iPad mini 4

◆INTEGRATE ALL CLOUD SERVICES◆
+ Connect all cloud services to Documents and access your personal and business files anytime
+ Work in iCloud, Dropbox, Google Drive and other Services without downloading files
+ Set up two-way sync to specific folders to automatically upload your files

◆LISTEN and WATCH◆
+ Listen to music online and offline
+ Watch movies by importing them from your computer or online sources
+ Great and easy access to your photo library

◆READ◆
+ View Office files
+ Read and annotate PDF Files
+ Search inside PDFs
+ Create Text files
+ Read Books and Articles

Documents is a must have app for your iPhone and iPad!
iPad Screenshots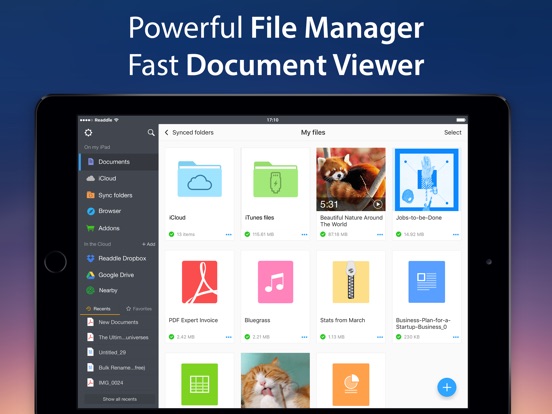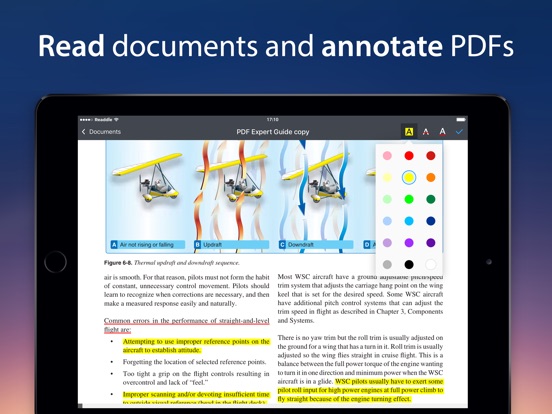 Reviews
Incredible Gem
Quite possibly the best app in the store!!
Night mode
I hope you add a night mode
Great!
HamsterLover99
on
9/25/2017
I like listening to Nightcore, but I can only with WiFi! But then my friend introduced me to this app where you could download things and watch them without WiFi!!! I can now listen to Nightcore at different places that have no free WiFi! :D
Add a feature
Please ability to pause downloads
By far the Best for Music
Myles Jaeger
on
9/24/2017
I trying to look for a music player app that would allow me to get and store all the music I wanted and this one is the only one that does it. And it's really easy too.
Helpful 4 IPhone addicts
shiya indian
on
9/24/2017
Good one
Absolutely Love the new update style!
The_jedicouncil
on
9/24/2017
The updated of the Document app was amazing and I loved the new theme put in, I wish we can customize it or put in themes of our own! Love the Documents App
Download it now!
The beeest
Absolutely Horrible.
Smooth123465
on
9/24/2017
This app is horrible. Do not buy this. Whenever you try to import a video it sends it to a random spot in your camera roll with you not knowing where the hell it goes.
Banging App!
This app provides a fantastic platform for organizing documents,music, pictures and the like in one place. I don't have any complaints... thanks.
Awesome
Very nice and useful app
👍🏻👍🏻👍🏻👍🏻👍🏻
Karen Tannia
on
9/24/2017
This app is so usefull
Best
th3breadcrum
on
9/23/2017
Best File Management App!
Downloading Videos from Savefrom.net
Please bring back this feature. Now, when I try to download videos on savefrom.net, it forces me to download a different app (Televzr), while I have all my other downloaded videos on here. It is too much of a hassle to re-download everything onto the other app, when I could just do it here if you guys brought that feature back. Thanks. EDIT: I'm not sure when you brought this feature back, but what matters is that it's back. Thank you! ❤️ This app is also great for storing PDFs and other types of "documents"😜
good
The R&B Singer Usher
on
9/23/2017
good
Why does it do this
Ok I use the app s lot and it works but ever since the dumb iOS 11 update came now it's saying video not found when I use savefrom.net the video doesn't work u guys need to fix the app because when I did it on my iPad before I got the update it worked and it still works on my iPad with out the update so u guys need to fix your app I'm giving this a 1 star rating because this is ridiculous!
The best app..
In my humble opinion this app is one of the best app in 2017 Thank you
Passkey Lock doesn't works anymore
Ever since I updated my iPad to iOS 11 Passkey Lock doesn't works anymore and if I enabled the passkey lock it says "error and please try again" on "Files" (the new files app from iOS 11)
?
Jennerbdmbrke r
on
9/22/2017
I'm having trouble downloading videos from importing them into my camera roll ever since the new update?? Please assist??
What is "internal server error"?
ShadowDemon68
on
9/22/2017
I keep getting this message when I try to download an mp3, used to work fine though
best document app
i would like to be able to open multiple tabs at once though
The best file manager app ever
Iphonist9999
on
9/22/2017
Love iitt
PHENOMENAL APP, a must-have
i rarely come across apps that i go crazy over... but Documents changes that completely. this app is a must-have for any iPhone user, honestly. very organized, very sleek and clean, super dependable, bug and ad-free. been using it for years and it's never failed on me. everyone can use documents and find it beneficial in their own way honestly
Amazing
It's a amazing software for iOS devices
Best iPhone app!
It's simply phenomenal. The end!
Not good
It's not even working for me all I download on it always say try another appppp😩
Essential app
I use it for accessing and reading documents in my google drive. Simple to use and beautifully designed. It makes reading and annotating a document an enjoyable experience. And it is free. Thumbs up for the developer.
So much better than the Files app
CaptainAmbivalent
on
9/21/2017
This app is a real Finder, letting you organize files any way you want to instead of only separated by app. You can set apps such as Pages to use Documents as their default storage area for new files. (Unfortunately there are permission errors trying to move or copy existing documents from app-specific storage so you have to share/open in Documents from the app the first time.) Documents uses the exact same interface for local documents, photos, and multiple cloud storage services. It has full text indexing and many other features Files lacks. With one glaring exception it uses screen real estate more intelligently - the exception being the big floating plus sign (and occasionally media player) that covers up part of the file list and individual file controls.
Using this application for the last 6+ years
I'm using this application and it's predecessor from the same company for as long as I recall owning an iPhone. This is my go-to place to read docs, spreadsheets, books, scanned texts, pdf - most of the attachments or downloads go right there. Kudos to the creators of this - it gave me an organized file and folder system of documents at the time when no such thing was offered by Apple. Thank you!
Supporting USB drivers
Does this App support USB Flash drivers? Thanks
Perfect
This is what the "files" app on iOS 11 should be.
Not good
Its not fast on my phone 5s . The document5 is better
Still Better Than iOS11's Finder!
DesertGuy II
on
9/20/2017
I just tried iOS11's new so called "Finder App" and its no file system by far nor can it use media streamers like my SanDisk Connect or RavPower File Hub Plus! I still plan to use this app and thank the Readdle folks for updating it to iOS11!
Gooooooooood app
I love it, but I would love it more if you can add an equalizer to the music player😁
Very Useful for IOS
As an iphone user I have always dealt with the problem that you can not access a downloads folder in any way. But with this app it is so simple to use the integrated browser to type in the link and download whatever it is I have to download and store it in the app to access whenever I want to. Very happy with it. 👍🏽
Awesome
It is amazing for what it does.... Well integrated into iOS 11! Better than Files (Apples file app) I just wish it could render album art of my m4v movies that is embedded in the file. Files can do it...
amir007
amirabasi007
on
9/20/2017
amirabasi
This app is the missing link on iOS
I don't know if this app works on iPhone BUT!! Let me tell you, it works wonders on the iPad!!! Then adding iOS 11 boom!! This really turns it into a computer. It's the missing link that my iPad has always needing, with Documents I can download actual files, videos, zip, etc., and manage them like in a computer. Even the new "files" app in iOS 11 can't do that. I love this app! I've recommended it to all of my friends!
My number one App
this is a must have Apps for your mobile for downloading any thing you want
Best app
Abdolmajid ghasemi
on
9/20/2017
This is best app for all my purpose
Lol
Herp_derp_XD
on
9/19/2017
Dis app so cul XD
Love it!
Love love love this app tons
Lame
for some apparent reason a website where I download most of my stuff from is not working, any other website work but that one and it just happened out of the blue.
It does the job!
Androidonios
on
9/19/2017
I could write a long review about a lot of features but I am here to request one. Split view for multiple (at least 2) documents! To work simultaneously just like on the Mac app or now in safari for iOS. I would like to be able to pull up the same document currently active so that I can be multiple places at once in the same file. The only way to accomplish this is to open the files you want in both pdf expert and the documents app together in split view. Implement this please!
Get out of my face
RandomXyzzyQuozl
on
9/19/2017
'Write a review' or 'do it later'? How about f*cking off and letting me get on with my work?
iOS 11 passlock not working
Come on
I love it
Très satisfait 🌟🌟🌟🌟🌟
Lags terribly
Good and tight 👌
on
9/19/2017
It needs an update becuase it crashes out of no where and sometimes lags badly. And takes a while to play the song i chose. And in the middle of a song it'll stop playing and i have to restart the app and that takes a mintue too. And it makes my device unlock slowly when its lagging.
Fact Sheet
Publisher:

Readdle Inc.

Category:

Productivity

Released:

Apr 01, 2010

Current Version Released:

Sep 20, 2017

Version:

6.1.1.

Size:

118 MB

Compatibility:

Requires iOS 9.0 or later.

Recommended Age:

17+

Game Center Certified:

No

Supported Devices:

iPad2Wifi-iPad2Wifi, iPad23G-iPad23G, iPhone4S-iPhone4S, iPadThirdGen-iPadThirdGen, iPadThirdGen4G-iPadThirdGen4G, iPhone5-iPhone5, iPodTouchFifthGen-iPodTouchFifthGen, iPadFourthGen-iPadFourthGen, iPadFourthGen4G-iPadFourthGen4G, iPadMini-iPadMini, iPadMini4G-iPadMini4G, iPhone5c-iPhone5c, iPhone5s-iPhone5s, iPadAir-iPadAir, iPadAirCellular-iPadAirCellular, iPadMiniRetina-iPadMiniRetina, iPadMiniRetinaCellular-iPadMiniRetinaCellular, iPhone6-iPhone6, iPhone6Plus-iPhone6Plus, iPadAir2-iPadAir2, iPadAir2Cellular-iPadAir2Cellular, iPadMini3-iPadMini3, iPadMini3Cellular-iPadMini3Cellular, iPodTouchSixthGen-iPodTouchSixthGen, iPhone6s-iPhone6s, iPhone6sPlus-iPhone6sPlus, iPadMini4-iPadMini4, iPadMini4Cellular-iPadMini4Cellular, iPadPro-iPadPro, iPadProCellular-iPadProCellular, iPadPro97-iPadPro97, iPadPro97Cellular-iPadPro97Cellular, iPhoneSE-iPhoneSE, iPhone7-iPhone7, iPhone7Plus-iPhone7Plus, iPad611-iPad611, iPad612-iPad612, iPad71-iPad71, iPad72-iPad72, iPad73-iPad73, iPad74-iPad74,

Supported Languages:

English; French; German; Italian; Japanese; Portuguese; Russian; Chinese; Spanish; Castilian;

Parental Advisory:

Unrestricted Web Access;