Screenshots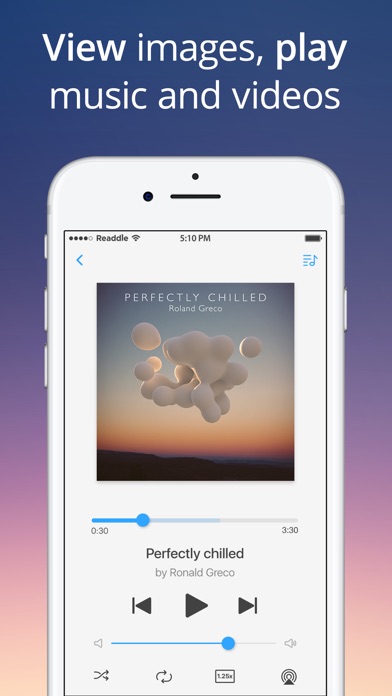 New in version 6.2.3
Navigate through your PDFs with a Brand New Search!
Now you can simply find what you've highlighted by searching within your annotations and bookmarks or even filter annotations by color.
The update also fixes bugs and provides general improvements.
If you like the update - please leave us a review.
Description
A central hub for all your files. Read, listen, view, annotate almost anything you want on your iPad and iPhone. Files, documents, books, any content is at home in Documents by Readdle. It's the Finder for iOS you've always wanted.
App Store Editors' Choice in 70+ countries

"It's a tool that will help you stay better organised." - The Verge
"The app is super quick, it looks good and options are easy to locate and use." - The Next Web
"A surprising versatile app for consumers and businesses alike." - USA Today

Documents is the most capable application on your iOS device. It's the hub for all your files as it replaces a document viewer, PDF reader, "read it later", music and video player, file downloader, cloud integrator and bunch of other applications as the one elegant app.
Amazing attention to details, unmatched stability and design differs Documents from any app you have on the iPhone or iPad. You will use it constantly, at home, office, university or on the road, every single day.
Just have a look at the short list of things that Documents allows you to do. It's an app that makes your iPad and iPhone worth the price!

◆IMPORT and SAVE FILES◆
+ Import files from your computer, cloud, WebDav or any nearby devices
+ Download files from the Web
+ Store email attachments
+ Save web pages to read them later

◆MANAGE FILES◆
+ Manage your files and create folders
+ Zip/ unzip, color tag, rename, etc
+ Drag and drop files across apps (!). Open two Readdle apps in Split View on iPad* and simply move files between them
+ Share files with friends
+ Protect everything with a Password
*iPad Pro, iPad Air 2 and iPad mini 4

◆INTEGRATE ALL CLOUD SERVICES◆
+ Connect all cloud services to Documents and access your personal and business files anytime
+ Work in iCloud, Dropbox, Google Drive and other Services without downloading files
+ Set up two-way sync to specific folders to automatically upload your files

◆LISTEN and WATCH◆
+ Listen to music online and offline
+ Watch movies by importing them from your computer or online sources
+ Great and easy access to your photo library

◆READ◆
+ View Office files
+ Read and annotate PDF Files
+ Search inside PDFs
+ Create Text files
+ Read Books and Articles

Documents is a must have app for your iPhone and iPad!
iPad Screenshots
Reviews
Most useable app
Benjamin511
on
11/18/2017
Best multipurpose app ever , even more efficient than apple default file manager , by Documents you could have all in one .
Текст
Пожалуйста добавьте в редактор текста возможность вставить изображения. Очень прошу!!!
Love it!
Best app ever no joke
Nice 👍
One more things need mega cloud support
Nice app
Very good and either free👌👍
It's Very Good!! Awesome
I Really Like The App But It's Ability On IPhone 4s Is Slow Or On 9.3.5v. But Anyways Thanks For The Awesome App. Big Love ❤️❤️🌹🌹
Mil
Not that bad But definitely need equalizer for music-player
need add dictionary to app
nguyentienquan
on
11/17/2017
must be great feature
Mehrdad
Tanks for this amazing app 🙏🏻
This app very very good app thanks
Thank you
2nd favorite app
Daltonlee23
on
11/16/2017
I download A lot of music for free
can play music
Good, can play mp3, and can remember the play history, I love that feature.
Documents
I really thanks to this guys it works great wait...amazing! Recommend it .
Great app
May God bless you for this app.
Best app
I've been using Documents app for a few months and it works really great. While lots of app say they can do a lot, this one Truly lives up to its description and then more. I recommend it for all iPad users who need to download files etc
Top notch!!!
Wonderful Time Tracking App
on
11/16/2017
Wonderful app.
Fantastic
Amazing for organizing folders and files and saving compilations of information into easy to find filing and viewing system. Simple and smart.
MUST HAVE.
If you have an Iphone and use it productively, you must have DOCUMENTS.
All functionality got outsourced.
Want to Print? Try this other App! Want to convert to PDF? Try this other App! I'm abandoning this app because IT DOESN'T ACTUALLY DO ANYTHING!!!
New tabs
Please bring the browsers tabs.
Great app
Update 3: just keeps getting better Update 2: very useful tool Update 1: still great Has all the functions I was looking for in a file manager for my iPad.
Making playlist
reviewer😋😎🌈
on
11/15/2017
Hi plz make a optinon to creat playlist in document 5 for arranging our musics in this app, Also if a movie has subtitle, document 5 will not show propely plz improve it **** 4 stars 😎
Very well done
I have been using this app and so far I am happy with it. It's simple and works great for videos and music. Still somewhat new to it, so looking forward to see how else I can enjoy it. Great job so far. I believe I will no doubt give it the five Star. I have tried other apps and must say this has work good for me. Thank you and keep up the good work.
The best! #1
Some apps slowdown when you add big files or sometimes they wont open. This app does everything fast and it opens any file without slowing down i love it! Five star app!
BLOWN AWAY
My previous review had a request saying to add skim! And that's what documents finally did!!! GETTT THIS APP. Now one more thing is being able to add thumbnails.
Only giving 3 stars
This rating is based upon the fact that this app is very slow to open. It takes forever to go from the "documents" logo to the screen with the folders. For me who is just trying to download and move on, it's annoying.
Great app
Thanks for your development. It's a great application.
Too Much Adds
These application browser has too much Adds They cheat in the Appstore by fake messages
My Go-To files app
Versatile, yet easy to use. The app is consistently updated with new features and capabilities, too. If I download PDF files into iBooks, I regularly lose those files when I do phone/iPad restore (such as upgrading to a new device), but I never lose anything with Documents by Readdle. You won't regret getting and using this great app.
Still much better than the ios 11 files app
Out of thousands of apps I've tried, this is in the top five. Essential
Great app!
This app is perfect and always improving.
Downloader issue !!!
The downloader does not function since the recent updates!!!
Very good app
This is Very good app
One of the Top apps
DisturbedInside
on
11/13/2017
From my many years using hundreds of thousands of apps, very few ever make it across all my devices. This is one of them. Amazingly useful and extremely powerful. I'm always quick to recommend it to friends and love the continued improvements the developers make. Keep up the great work.
Just Brilliant
Mark Zucaritas
on
11/12/2017
Absolutely love it, simple as that.
Documents
Excelente aplicación para descargar y guardar archivos.
Movie player not in iOS 11 style
I really like the features in this app, and obviously that's it free. It's super solid and I'd certainly recommend it. The only wish I have is for the video player to use the updated style for iOS 11. It's kind of annoying switching between Safari's version and Documents (especially with seek + volume switched).
Reading
Ahmed Kausar
on
11/12/2017
It's the best app for reading PDF books
Everything
Best organized🗄, find🔎, eliminate✂️, sort📚, process app.
Follow me at shelbys_fried_memes
Megawyatt99
on
11/11/2017
I️ steal memes wit this app. You should follow me
Readdle Rocks!
Ahhz u were
on
11/11/2017
We've enjoyed Documents as a free, high-quality, feature-rich app with absolutely -NO-googlish-style, extremely-annoying-ads. When Readdle announced their Ultimate app bundle, we drove a great distance to buy an iTunes Store card so we could contribute back a bit to Readdle, and to get the great deal on the bundle. If Readdles' are the only apps you buy this year you won't be sorry. Yep, we're Readdle fans.
Every day app
Djangosound
on
11/11/2017
Without this app I probably would't use ipad as much as I do now.
Review
This is a great app. I use it constantly. If you're considering buying it be advised they will bug the hell out of you until you give them a review. I hate that. I paid money for the app and should not be under constant pressure to review it. On second thought I'll give it a 2
show rate/speed download
This app is great, if you can add the speed of download to the app. Thank you
App is amazing !
Nicepinkgirl123
on
11/11/2017
I love it. It manages all my files and I feel very organized Few things I would like though (getting to business I'm appreciative I promise) : 1)Colored files 2) More ink colors if I had to draw something 3) When I download a document from drive and wanted to add a slide I hope there is a more convenient way to add a page.I hate having to click out it takes so much time (I'm lazy plus my professors talk fast) I hope you understand what I mean 👌🏼(most likely not) 😂 Thank for developing something that makes even a procrastinator like myself want to be more productive.
Can't download files
This Used to be an awesome app but recently I can't download anything.
Fact Sheet
Publisher:

Readdle Inc.

Category:

Productivity

Released:

Apr 01, 2010

Current Version Released:

Nov 17, 2017

Version:

6.2.3

Size:

151 MB

Compatibility:

Requires iOS 9.0 or later.

Recommended Age:

17+

Game Center Certified:

No

Supported Devices:

iPad2Wifi-iPad2Wifi, iPad23G-iPad23G, iPhone4S-iPhone4S, iPadThirdGen-iPadThirdGen, iPadThirdGen4G-iPadThirdGen4G, iPhone5-iPhone5, iPodTouchFifthGen-iPodTouchFifthGen, iPadFourthGen-iPadFourthGen, iPadFourthGen4G-iPadFourthGen4G, iPadMini-iPadMini, iPadMini4G-iPadMini4G, iPhone5c-iPhone5c, iPhone5s-iPhone5s, iPadAir-iPadAir, iPadAirCellular-iPadAirCellular, iPadMiniRetina-iPadMiniRetina, iPadMiniRetinaCellular-iPadMiniRetinaCellular, iPhone6-iPhone6, iPhone6Plus-iPhone6Plus, iPadAir2-iPadAir2, iPadAir2Cellular-iPadAir2Cellular, iPadMini3-iPadMini3, iPadMini3Cellular-iPadMini3Cellular, iPodTouchSixthGen-iPodTouchSixthGen, iPhone6s-iPhone6s, iPhone6sPlus-iPhone6sPlus, iPadMini4-iPadMini4, iPadMini4Cellular-iPadMini4Cellular, iPadPro-iPadPro, iPadProCellular-iPadProCellular, iPadPro97-iPadPro97, iPadPro97Cellular-iPadPro97Cellular, iPhoneSE-iPhoneSE, iPhone7-iPhone7, iPhone7Plus-iPhone7Plus, iPad611-iPad611, iPad612-iPad612, iPad71-iPad71, iPad72-iPad72, iPad73-iPad73, iPad74-iPad74, iPhone8-iPhone8, iPhone8Plus-iPhone8Plus, iPhoneX-iPhoneX,

Supported Languages:

English; French; German; Italian; Japanese; Portuguese; Russian; Chinese; Spanish; Castilian;

Parental Advisory:

Unrestricted Web Access;