This version of the app is not recommended
App last updated
Jan 03, 2018
Screenshots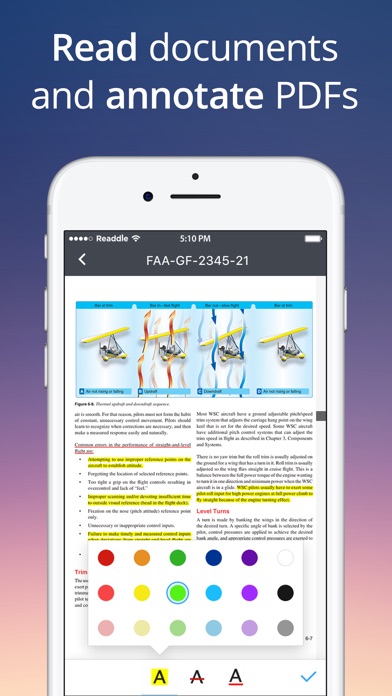 New in version 6.2.8
Happy New Year, everyone!
Let's start 2018 with the first in this year Documents update, which brings you a number of major fixes and improvements!
- The feature you can't see, but you can sure feel it. Now Documents' launch speed time becomes faster than ever before.
- Page Management with a Grid View in PDF Viewer works like a charm. Tap thumbnails of pages for a quick navigation through the document.
- Download progress bar is now under your control; so you can always know when the content is locally available on your device.

We think you'll be pleased with the update.
If you need us, you can find us at rdsupport@readdle.com
Description
A central hub for all your files. Read, listen, view, annotate almost anything you want on your iPad and iPhone. Files, documents, books, any content is at home in Documents by Readdle. It's the Finder for iOS you've always wanted.
App Store Editors' Choice in 70+ countries

"It's a tool that will help you stay better organised." - The Verge
"The app is super quick, it looks good and options are easy to locate and use." - The Next Web
"A surprising versatile app for consumers and businesses alike." - USA Today

Documents is the most capable application on your iOS device. It's the hub for all your files as it replaces a document viewer, PDF reader, "read it later", music and video player, file downloader, cloud integrator and bunch of other applications as the one elegant app.
Amazing attention to details, unmatched stability and design differs Documents from any app you have on the iPhone or iPad. You will use it constantly, at home, office, university or on the road, every single day.
Just have a look at the short list of things that Documents allows you to do. It's an app that makes your iPad and iPhone worth the price!

◆IMPORT and SAVE FILES◆
+ Import files from your computer, cloud, WebDav or any nearby devices
+ Download files from the Web
+ Store email attachments
+ Save web pages to read them later

◆MANAGE FILES◆
+ Manage your files and create folders
+ Zip/ unzip, color tag, rename, etc
+ Drag and drop files across apps (!). Open two Readdle apps in Split View on iPad* and simply move files between them
+ Share files with friends
+ Protect everything with a Password
*iPad Pro, iPad Air 2 and iPad mini 4

◆INTEGRATE ALL CLOUD SERVICES◆
+ Connect all cloud services to Documents and access your personal and business files anytime
+ Work in iCloud, Dropbox, Google Drive and other Services without downloading files
+ Set up two-way sync to specific folders to automatically upload your files

◆LISTEN and WATCH◆
+ Listen to music online and offline
+ Watch movies by importing them from your computer or online sources
+ Great and easy access to your photo library

◆READ◆
+ View Office files
+ Read and annotate PDF Files
+ Search inside PDFs
+ Create Text files
+ Read Books and Articles

Documents is a must have app for your iPhone and iPad!
iPad Screenshots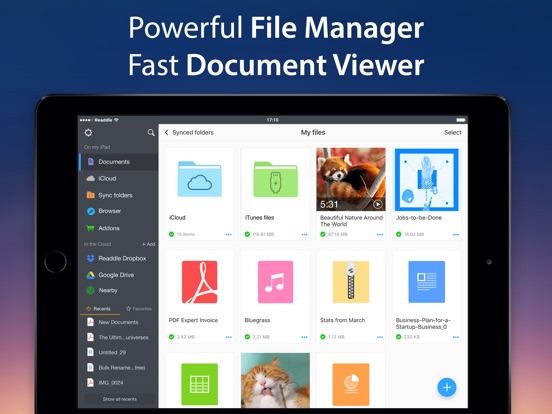 Reviews
Crash
This app has a bug in playing videos with .ts Format, audio is crashed.
Amazing app
This is such a great app but i showed it to my mom and now every time she wants to listen to a song i have to download it for her 😂😂😂
Review
Mohammad7815
on
1/23/2018
Awesome
Tnx
mostafahamedi
on
1/22/2018
Applicable
What an app!!
I almost never write reviews but for this one I had too. This app has literally changed the way i handle documents and has turned my iPad into a mini computer on its own. It's beyond any other program or even the files app that I got with iPad! It's just so amazing that I am able to do so many different things and find all my docs in one place. I'm really impressed! Good job Readdle! I call this a home run!
5 stars
I use this only app to organize all my files. An excellent tool if you use Apple Pencil and most of your files are pdf. This app is very versatile and easy to use.
Best app ever
highlightking
on
1/22/2018
It's so useful for adding videos to my instagram its the most easy app to use
update completely ruined it
Jdbndjkdighghuwuwid
on
1/22/2018
every time i open the app it freezes at the downloads screen or crashes. please fix and go back to the old one. update: changed my 2 star to a 1 star because it literally never loads at all now. thanks a lot
Very good app but...
shahla amini
on
1/21/2018
Have a problem ; the app crashed while listening to music☹️ Pleeeease please work on it.
Help
I really loved this app but one day it just wasn't on my phone I tried to open it and tried to re download it. when going to my cloud and trying to do so it just won't download i don't know if it's just my phone but can someone tell me what's wrong??
You can browse AirPort Extreme time capsule via this app
CantTrackWaterIntake
on
1/21/2018
I don't like the forced pressure to buy other apps, but I will say using this to browse my AirPort Extreme from my iPad is an awesome feature.
Freezes often when I open the app!
Freezes often when I open the app!
Great app!
Everything is great and I am especially impressed with the pictures.
Needs more
Charchar9243
on
1/21/2018
I need it so I can explore game files
Amazing
Readdle continue to be my favorite company. Thank you guys for this!🙏🙏
App keeps crashing.
It freezes at mp3 loading. Stuck.
I like this app
Oh_Well_Whatever_Nevermind_
on
1/21/2018
I love the highlighting and note writing feature, it made annotating a 276 page text extremely easy.
Archive File Protection
Dr Nadeem Rafique
on
1/21/2018
Please add the feature to protect the files with password when we create the archiva
Great app but stop working about a week ago
This app is awesome ,, love it it's easy to use
Annoying Demand
Never ending demands to review the app. No way to shut it off.
Great app but could do better
No way to submit!
on
1/20/2018
This is a great app. I use it every day. It is the best way to read student papers and theses; the best way to review a journal submission. College professors spend most of their time reading and commenting on papers, and Documents puts all that paper into an iPad where it is convenient, light, and saves trees! I would expect that high school teachers, editors, and anyone else who has to get through a ton of reading would find it just as useful. Most of the gripes in my original review have been addressed, but I have some new ones: 1) Many of the new bells and whistles are invoked by swiping - something that can be done accidentally, giving rise to unexpected screens that one then has to figure out how to dismiss. So these facilities turn out to be distracting rather than useful. It is possible for an app to attempt too much! An option to turn off all such "swiping" commands would be useful for those who want to focus on reading and annotating. 2) The app now appears not to download files by default, rather it cleverly annotates them online. This saves device storage but can be very confusing if not understood (and is probably responsible for the complaint of the reviewer who complains of "hiccups" in musical output). In my case, a primary attraction of Documents used to be their permanent availability whether or not I had an internet connection. Now I keep forgetting that to have offline access I must download the paper. This should be the app's default behavior, overridden only to reduce the drain on available storage and presented as such. Because of these self-inflicted problems I still cannot give the app five stars. But I still use it every day, despite my frustrations.
It can be the best app if developer puts some improvements
It's the very good app for managing files, download media, play musics & videos in one place. But it will be by far the best app if we can send multiple files by Wi-Fi Drive. In addition, if developer adds an option to choose whether music played from the begining or continued from last played, I will be happy :)
Problem
Tnx to great app Sometime's not responding & crashed app in 2last update on 7plus. please find problem & fixed it.
awesome
awesome application , whitout this app we should take our iphone into trash
Make fire songs
I-Like-Iphone
on
1/19/2018
This app helps make songs without a microphone
Literally the BEST 😩💯💀💕🔥
Bababoom1748
on
1/19/2018
It's better than files and you access the internet within the app.
Interrupts work to prompt for reviews
Repeatedly interrupts work to prompt user for reviews, outside the official API. It has been doing so for years; this behavior is disrespectful to users and taints what is otherwise an excellent app.
Great but...
Seth Blessing
on
1/19/2018
It seems like at least once's a week. Somethings wrong with it. It's really getting nerve racking. It won't start up or. I can't even download anything. It needs to be fixed. Other then that. I guess. It's a good app.
Problem
It doesn't work sufficiently on older devices like 5s And and it get frizzing some time that i have to reboot my phone to solve it
Terrible
Youngniggaaaaaaaaaaaa
on
1/18/2018
It hasn't finished downloading
Super app
Afzalinfosys
on
1/18/2018
This app was amazing Easy to download u tupe links So it amazing app
🔥🔥🔥
I cant understand why ppl rate this app 1 star. Best app so far. Good organized. Simple downloads from any sites u like. Awesome. 👍🏻👍🏻👍🏻👍🏻👍🏻
Indispensable
This app is really indispensable, especially for those of us who switched from Android to iPhones. Using the included browser can be a bit cumbersome but it's really worth it when I can download files from my google drive and keep them on my phone indefinitely (for one example). Well done, devs.
perfect
Documents is the best one.It can do any thing.I live it
Yass
Love it killed
on
1/17/2018
I freaking love this app kill me
Browser is Horrible
Please just make the browser usable. Implementing tab system and an ad block feature would be great.
Error in your region
Why i can't download the music here in california???
Nothing Better
DumbDumbLover
on
1/17/2018
Nothing better than this app. Must have for everyone.
It's a good app
Rebecaonfleekalways
on
1/16/2018
I really like this app. It is 100x better than the files app, but when I make more than one playlist the app shuts down and when I try to go back to the documents app it freezes, which makes me have to delete the app and download it for the 50th time just to download certain videos, but other than that it's a good app. I'm also not 100% sure if that one problem is the app itself or just my phone so it might not happen to you if you have the iPhone X or iPhone 8s/8s Plus.
Doesn't last long
it's an amazing app, but it doesn't last long. Every time I try to download something it doesn't work. First it'll make progress and then it'll stop with an Orange exclamation point. I have enough space on my phone, and even reinstalled it.
Nice!
owoxmrieuxjrhxhwh
on
1/16/2018
Good file manager, feels like a real one. Best part is it works on internal storages and works with the native files app.
Great App
Handles all my files excellently and FTP support works with no problems.
Superbly useful! Indispensable!
This app is outstanding! Really does great at storing files, displaying them, playing them, sharing them and interfacing to get them from your device to your computer and vice versa. Also I received very good tech support when I had a question. Be sure to enable iTunes and store all your files/folders in that as your main folder for interfacing exchanging over USB with a computer.
browser history
browser needs improvement
I love it..but U have to know how to use it.
JOEY BUB BIRLEMMM
on
1/15/2018
You have to open the app and inside the app go to save from.net and there u will put the link of whatever u want to download and it will download.
Personal opinion
This app is great. It supports and opens up all kinds of file types with ease. Very good quality. I love it so far. Thank you!
Ausome
It is litttttt🔥🔥🔥🔥
Simple yet fully featured
Badr the master of Aoz
on
1/15/2018
It has every thing i need. File management and player.
Fact Sheet
Publisher:

Readdle Inc.

Category:

Productivity

Released:

Apr 01, 2010

Current Version Released:

Jan 03, 2018

Version:

6.2.8

Size:

160.6 MB

Compatibility:

Requires iOS 10.0 or later.

Recommended Age:

17+

Game Center Certified:

No

Supported Languages:

English; French; German; Italian; Japanese; Portuguese; Russian; Chinese; Spanish; Castilian;

Parental Advisory:

Unrestricted Web Access;