This version of the app is not recommended
App last updated
Mar 06, 2018
Screenshots
New in version 7.0.2
Thank you for parking with Parkmobile! You can now see exactly where the open parking spots are around you. Turn on "Availability" from your map to find parking quicker and easier.

The Parkmobile 7.0.2 update includes:
- Improvements to the ParkmobilePro Subscription process
- Other crash fixes
Description
Parking just got a whole lot easier! Parkmobile provides a better and more convenient way to pay for parking using your mobile phone.

Parkmobile's perks include:

• Pay for parking with your phone. No more quarters!
• Simplified map view showing nearby zones
• Know when your parking session is almost up with timely notifications.
• No more going back to the meter - simply extend your parking time from the app

App features:

• Save your car and payment information for a speedier parking experience
• Quickly change vehicle information for guest cars
• Customizable notifications will tell you when your parking is about to expire
• Track parking expenses with a full history of your parking sessions
• Use the Parkmobile app across the country in hundreds of cities

Parkmobile locations:

You'll find Parkmobile in private and public parking lots, on city streets, at airports, stadiums and just about anywhere you park. Some of our most popular locations include:
• Top Cities: Atlanta, Washington DC, Houston, Dallas, Indianapolis, Minneapolis, Fort Worth, Pittsburgh, Los Angeles, St. Louis, Charlotte, New Orleans, Miami, Oakland, Chicago, Milwaukee, Boston, Palm City Market, Newport Beach, Ponce City Market, Santa Cruz, Providence, Los Angeles (LA), New Haven
• Universities: Cornell University, University of Arkansas, Boise State, Arizona State University, University of Southern California, Texas A&M, University of Colorado, Georgia Tech, University of Virginia
• Transit authorities: MTA (NY), CTA (Chicago), METRA (Chicago), RTD (Denver)
Venues: Fenway Park (Boston), Soldier Field (Chicago), Wrigley Field (Chicago), Barclays Center (NYC), Prudential Center (Newark)
For a complete list of our locations, go to us.parkmobile.com. 
Description of permissions used by the app: 
• Location Services - To provide nearby parking zones and offers. Note that continued use of GPS running in the background can dramatically decrease battery life.
• Camera - Used for scanning QR codes for parking
• Notifications – To alert you when your parking will expire

Feedback:

We love receiving feedback. Find a bug? Have a great new idea for us? Just want to tell us how much you love us? Please send any feedback you have to pmfeedback@parkmobileglobal.com. If you need immediate help please email us at helpdesk@parkmobileglobal.com
Parking Tickets:
If you received a ticket, check your parking session to ensure that the license plate, zone number, space number (if applicable), and time of the transaction, corresponds with the information listed on the ticket. Follow the instructions listed on the ticket to dispute. 

In the unlikely event that you received a ticket during a valid parking session, you must contact the parking authority. Parkmobile does not own, operate, manage, or enforce the parking areas. We do not issue parking penalties and we cannot review or remove them for you. If you do not have a session active at the time you were ticketed, it is possible that you didn't confirm the transaction before starting it. It is important to wait for a confirmation message to ensure your parking has started, whether starting it in the app, on the website, or by phone.
iPad Screenshots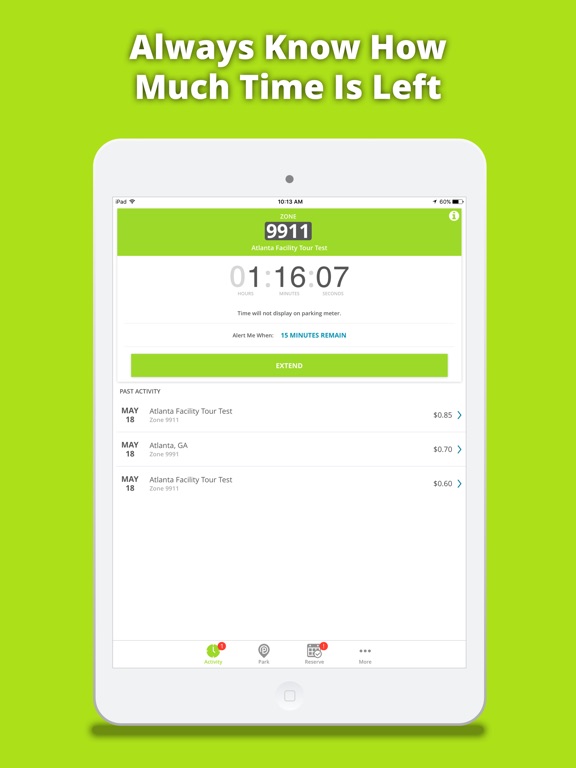 Reviews
Easy and efficient
Love this app. Just wish there were more signs in the street to show you which number you are. Can be very confusing at times.
Do not use this app
Right now I have an investigation with this app for charging me 43.75 for 4 in a parking mobile that says after 6 PM there is 0.00 charge, after double checking on the machine and doing through my iPhone when you click to complete this purchase. The next day I was charged 43.75. I called customer service which it was awful they hang up on me multiple times, finally I get to talk to a lady which first said yes I can see your purchase takes 30 minutes later and says oh I don't see no purchase in your account, I asked her to transfer me to the supervisor she said they are going to do an investigation and they are going to sent me an email so I can email them evidence of the parking being $0.00. And thank God I realized this before going back home because I am from Tampa so I would have not been able to show evidence because the parking is in Nashville. Ok, I waited for the email didn't got one. After this while inconvenience I checked my whole history in purchasing this parking and I see a $20 charge the week before, and now it brings to the same problem parking in this spot after certain hours they don't charge and I remember my boyfriend trying to paid on the machine but it says 0.00 so I just did it on the phone now and they charge $20.00 now I have to wait to go back home in Tampa and go to the same parking spot to take a picture so they can return my money. I am definitely after this is done not using this parking app again it is horrible and I BET it had taking people money without noticing. I'm so furious right now.
No Complaints
So convenient! No more scrounging for quarters. I can pay to park from my phone and keep track of the time I have left. I can even add more time to the meter if I need it.
Horrible customer service
Ghost4MyShadow
on
3/11/2018
And a horrible app Regret having ever put such a useless app on my phone!
Great!
Saves me lots when parking for my hair appointment in Oakland / Piedmont Ave. thanks!!
So convenient!
I love this app! It comes in handy all the time. Never wait in line again to pay for parking!
App
Great app fast and reliable
SCAM!!!!!
They are a big scam! Two times I bought parking and when arrived to the said parking lot they did not have that reservation number in place. When emailed they don't respond and then I wrote a review and they respond all nicely cause customers are reading it, like "email us..we will be more than glad to fix this issue" meanwhile when I emailed them they told me to call 311 LOL. No credit no nothing. DO NOT USE THIS APP, SAVE YOUR MONEY.
Previous version was much better and use experience
PubRadiomobile
on
3/8/2018
Previous version was better and more use friendly. It let you select which vehicle you were parking. This version automatically selects the default vehicle. If you are in a hurry parking then you'll let the app use the default vehicle and park with the wrong vehicles info and there is no way to switch to your other vehicle after you've confirmed. The only way to correct it is to pay again. Very frustrating user interface. You guys need to hire a good product designer to fix user experience.
Beware
I used this app to pay for parking and got a citation. Be careful to make sure the correct license plate is in the app. We parked my husbands car and I paid for parking and didn't realize I had to update the plate number. They should place a warning on the confirmation page to alert you to the car you are driving. Now I'm out the money I paid for parking and my $45 citation. I tried to contest the citation and was told too bad, it was my fault I didn't have the correct plate number. Too bad because I like this idea but it's just not implemented correctly. I won't use this app again!
Edited review
Submitted to local parking authority and they cancelled the ticket. Employees ticketing cars need a real time way to see who has paid and who has not paid. Left review during a frustrating time period. Pretty good app. I still use.
Easy to Use!
parachute.girl
on
3/6/2018
I use this app in DC and it's always worked great. Easy to use, can be set to alert when parking is about to expire, and if you forget where you parked, the app can help you find your car.
Confusing and Hard To Use
Tried to book parking from the app and it asks for a Zone number. No idea what zone number I am supposed to put and wasn't going to sit there and try to figure it out. What about just asking: "What address would you like to park at?". Didn't feel like figuring out this zone concept so went with the "bestparking" app as I have used it in the past which worked flawlessly so I deleted this app.
Great app very expensive parking
Ana M. Lugones
on
3/4/2018
$4+ Per hour!! There is not even bathroom Nearby! Very expensive anyways the app is very sharp.
Great idea plagued by a few major problems
I use this app primarily to go to the gym. I park in a parking garage, and use the app on my walk inside. Not sure if it's the parking garage or what, but half the time I go in the app logs me out. If I restart the app enough times, it might work. Sometimes I have to log back in. The app also has a bad habit of saying that valid promo codes are invalid a few times before accepting them... The concept is great - it's the way parking always should have been. Unfortunately it is a source of annoyance for me in the mornings.
Just let your car be towed
User with a parking ticket
on
3/3/2018
It would be easier than this BS app...
it got worse again.
Update: 3/3/18 Now they changed the app and web interface so I cannot see or download my parking history and payments. Even though they say you can see your history o have searched everywhere on the app and laptop and it is gone! I park here every day I take the train and have the money taken out of my check pretax. I used that PDF for my receipt to send to the pretax company. Why do you people keep making it harder to use rather than easier? You say it is parking made easier but it is just not true. Here are previous concerns that they haven't fixed: OK, we are moving back down. I still wish they would set up an alert to remind me to initiate my daily parking session for example every morning at 7. Then a little number pops up like on other apps that I have 1 reminder waiting. Then at a glance, I can see that I forgot something. You have other reminders such as when it is going to expire so you should be able to add one reminding me to start the session at a set time every morning with a snooze feature on it so I don't forget. I have gotten far too many tickets just because I forget. The fix they did a while ago to show a badge icon that shows that I have started my session so that at a glance I can see that I have no sessions or that I have started my session, went away a couple of upgrades ago. If you can bring this back or add an alert to remind me to park this would be a perfect app and I'll give 5 stars. What is sad is the developers do not have to fix anything if they don't want to. It's not like there is competition within one individual parking lot. Thanks!
Garbage app
Humanism is the Future
on
3/2/2018
They'll suspend your account for no reason.
Crashes when I try to connect to BMW app
I updated to take advantage of new feature allowing user to connect to BMW Connected Drive app. I've tried to connect on the app on my Iphone and my Ipad. Both crash when I try to connect. New update today addressed the issues. Now connects. Good response and work, Parkmobile.
Love Park Mobile
Empress of Essos
on
3/2/2018
As an attorney I'm running from Courthouse to Courthouse. Park Mobile lets me park close to the entrance and still keep a record for billing clients. If I have to add more time, all I have to do is open the app and thereby avoid Imperial entanglements. Win/Win all around.
Timing countdown
So I parked in one of the free spot and used my app to put the the in. How it work here in Bloomington is that instead of putting a countdown timer, you stop the timer (12 hr automatic) when you go back to your car. 1. I don't like how it's not universal across cities. In Indianapolis, you put the time you want, kind of like a pre paid. Make it consistent 2. The app is so slow One time, it wouldn't let me stop the timer so I got charged extra. I took a screenshot of this
Horrible customer service
While I love the ease of using the app (I'm actually a PRO member) - heaven help you if you ever have a problem because ParkMobile support won't. I've sent in three separate emails to the support email address over 3 days because the parking charge suddenly increased 50cents over the posted rate in my usual lot. I have heard NOTHING back from ParkMobile other than the automated response stating they will be in touch. For a regular user (and a PRO member at that) - I am pretty disgusted.
Crashes every time I try to select a zone
Nathanisthere
on
2/27/2018
Crashes every time I try to select a zone
Convenient but flawed
Nice convenience but there needs to be an add time function. I have got many tickets because I missed their notifications. One would think this function would be positive for both parties too. They get more surcharge fees because you continue to use their app to pay to park and you don't get tickets. Instead an obvious and very easy programming change continues to not arrive, and the parking authority gets the money via a ticket. That sole function is worth 2-3 more stars in my opinion.
New version faster but cluttered
I appreciate the performance improvements in this release. The design updates, on the other hand, have made the app a little clunky. It seems like you need a few more taps to set the duration than before. The previous design was simple and preferable to use.
Stupid
Your stupid application just charged me twice and still it didn't give me a count down clock
BMW Connected Drive
The app crashes every time I try to connect to BMW connected drive :(
Linking to BMW Connected Drive crashes the app
I was pretty excited when this latest version offered integration with BMW Connected Drive. The only problem is I can't link my BMW account because the Parkmobile app crashes after I log in on the BMW side. I've got an iPhone 7 Plus and a 2017 BMW X1 with Connected Drive services. Bummer.
Simple
Download and go. Super easy.
Meter me this
Fishtowntony
on
2/26/2018
Love the app comes in handy reminds you when your meter is about to expire and lets you add time
App is ok, but support is non-existent
The app works great if you just need simple parking, but heaven help those that need support after starting a parking event. Radio silence, so you are left to hope and prey you don't get a ticket
Make sure you're careful
musicmoviesgames
on
2/25/2018
Usually this app works fine but I'm pretty irritated because I tried to pay for parking, thought I was fine, and my car got booted because the transaction didn't go through.
Stupid Update For All Us NON BMWers
Scrabble Problem
on
2/25/2018
Why send us the update?!
BMW connect crashes
Trying the new BMW connect feature but it crashes the app on iPhone X 11.2.6. Pls fix
BMW Connected
Zeeshan Jafry
on
2/25/2018
The app crashes every time we try to sign in to BMW Connected. Fix it please!
Doesn't return Parkmobile lots when searching for reserved parking, but full site does
Went to an event in Tampa at the Straz Center which uses Parkmobile for prepaid event parking. I tried to use the app a few times entering the address of the venue, "Tampa, fL", and address of the parking lots/garages they work with Parkmobile. Never returned any reserved parking locations. When I went to the full website, I had no problem purchasing reserved parking at a Parkmobile lot at the Rivergate Parking facility.
So far I love this app!
Saves me soooo much time, especially when I'm rushing to class.
Keeps signing me out
This app used to be pretty foolproof but recently it's been temperamental, signing me out and then not accepting my (correct) log in credentials to sign back in. So I have found myself, multiple times, racing to delete and then completely redownload the app just to extend my parking. So frustrating!!
Doesn't work properly on iPhone X
Doesn't generate the full QR code on iPhone X, so your not able to scan it to pay for parking. I was stuck trying to leave the airport for awhile. Luckily they had personal at one of the booths who was able to generate a paper ticket. Attendant took my name and said she would clear the ticket from my park mobile app. It's been 9 days and the ticket still shows ups. I better not get stuck paying again as the days continue to generate. I'll never trust this app again. I plan to delete once my ticket issue is resolved.
Essy app
Easy, friendly and convenient app!!!! Love it
Super useful app
suzealicious
on
2/21/2018
Great app for not having to go out to put more money on your meter - just make sure you have the right parking spot number!
Why no Apple Pay?
Says you can use Apple Pay as a default payment. Even shows up. When trying to pay for parking makes you enter payment information and no option to select Apple Pay although it's my default payment method in the settings.
Very convenient!
Easy to use with Apple pay. I love this app because it helps you not pay for more time then you truly need.
Good app and speeds up process
Good app and speeds up process
Still received a ticket.
Pro dirt bag
on
2/20/2018
Park Mobile is a scam. They receive a parking fee cut and law enforcement does not check "their handheld devices". I disputed this with the city and they said to bad so sad. Use correct change like normal and don't give these scum bags your money. No stars.
New update crashes
New app update crashes when trying to sync BMW connected drive to the app.
BMW Connected doesn't work
Excited to try the new BMW Connected Drive integration, but the app crashes upon agreeing to account permissions.
Can't switch cars
Big issue. App allows you to add all your cars. One is the preferred car. If you forget to switch cars when parking you can't once you pay. That's bs. Must happen all the time. U should get at least 5 minutes to allow you to switch cars.
Told me no empty spots in entire city
SparkyGirl1012
on
2/20/2018
There were many spots open downtown but everyone I put in app was supposedly not available. So I did a parking search and according to app, there was not one single spot available in entire city. What a crappy app, wasted 10 minutes downloading and signing up. Delete!
Saves time
Makes parking so easy, have used it in a number of different cities and towns
Fact Sheet
Publisher:

Parkmobile USA, Inc

Category:

Travel

Released:

Apr 04, 2010

Current Version Released:

Mar 06, 2018

Version:

7.0.2

Size:

78.1 MB

Compatibility:

Requires iOS 9.3 or later.

Recommended Age:

4+

Game Center Certified:

No

Supported Languages:

English;