Screenshots
New in version 5.4
This Sudoku update includes improvements and bug fixes
Description
▻Sudoku is Sudoku with Point System, Runs, and Online Leaderboards. Discover the next evolution of Sudoku with amazing graphics, animations, and ease of use. This is a Sudoku like one you have never experienced before ;)

...Thousands of puzzles, all free. Top class puzzles with selectable level of difficulty :)
________________________________
To the classic Sudoku, we added:

=> A smart point system, wherein your score is based on 1) the value of each number multiplied (at the time of its match) by a multiplier that decreases in time and 2) the value of each block, row, column multiplied (at the time of its completion) by the decreasing multiplier

=> Thanks to Game Center, you can now rank and compare Sudoku scores and achievements against friends and strangers

=> ▻Sudoku also counts the runs, that is, each uninterrupted sequence of games won, and adds them to the online leaderboards
________________________________
In ▻Sudoku, you win a game when you solve a puzzle with 3 errors or less (we used this threshold to give a bit of slack for mis-tapping :) Also, you have a number of hints to help you play (more at the easy, less at the hard level). To fit any taste, you can choose between a lush tile look or a more classic board look :)
________________________________
You gain access to medium level after you win the easy level 2 times consecutively, same for hard level (3 times)
________________________________
What our testers are saying:

• "The game is perfect! I am really loving ▻Sudoku. It is very addicting and fun, absolutely the best sudoku I have ever played."
• "Fabulous! You turned me into a ▻Sudoku fan hook, line and sinker :)"
• "The gameplay of ▻Sudoku is great, very smooth."
• "Great app - love it! Well done! Love the start up sounds/music!"
iPad Screenshots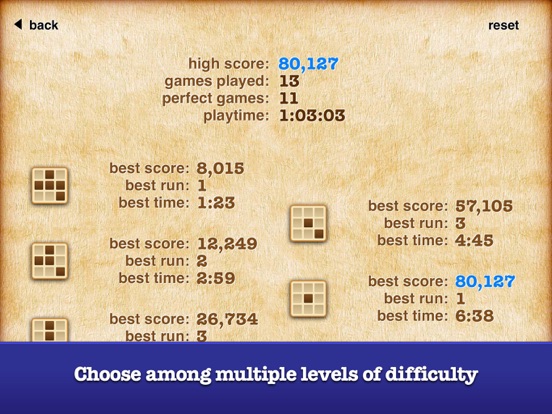 Reviews
Best
Andrei Neagu
on
10/18/2017
Best sudoku Game design
Great product with dangerous ads
Little Aubergine
on
10/17/2017
Great game. Unfortunately they don't do verification of honesty of advertisers in localized market ads. Seen ads for malware, fraudulent economic products and what could be porn, not sure didn't click. Don't put crap on people's screens. Some aren't clever enough to spot it and it could make you liable.
Sudoku 2
Tueirkelheadstone
on
10/16/2017
Too many interruptions, don't enjoy this anymore
Most distracting sudoku app ever
I downloaded it, started playing, and almost immediately had to stop. If you like any mind of a natural feel when playing sudoku, this is not the app for you. 1) There is no way to switch off the distracting red and green highlights. Every time you click in any cell - in note taking mode or otherwise - it highlights the cell either red or green and then highlights all the other numbers that it thinks you want to be looking at in the same color. EXTREMELY DISTRACTING!!! I cant concentrate on trying to solve the puzzle with all these red and green highlights, who on earth thought this was a good idea? 2) the method they use for switching between note taking and choosing a final answer is extremely unintuitive. In other apps I have used, they give you two sets of numbers at the bottom of the screen, one is for notes and the other is for final answer. This would be a far superior method as it's more intuitive and you have to click less buttons. 3) There is no way to stop the app from automatically showing you when you've made an error in your final decision on a number choice. If you accidentally tap the wrong number (or if you just messed up and didn't realize it) then it automatically tells you that you have an error. Cant turn it off, which is annoying for anyone who is fat fingered or prefers to figure out their own mistakes in the end. All in all, they really couldn't have done much more to make this app distracting, unnatural, and annoying. The "hints" and auto error deduction are infuriating. I am uninstalling immediately. Would not recommend.
Buttons on bottom of screen
Buttons on bottom of screen need to be spaced more. I use an iPhone SE so my screen is quiet small and I end up 'fat fingering' wrong answers which results in a penalty. Otherwise great game
Love the app
I have been. Playing this app for years. Easy to use. Never had an issue with it. Love the different options for look and difficulty.
Great game but don't understand the scoring
The game and app are awesome. Games are challenging. App never crashes or has issues. My only problem is I do not under the scoring mechanism or how it works.
Fun game
I enjoy this game. Keeps my mind working. Different levels present different challenges. Easy levels/relaxing, higher levels/exercise mind.
Great Game!
I really like this one compared to other Soduku apps I've used. This is user friendly. Very easy to use notes.
Good app.
A little glitchy.
Bob
Great game I play everyday
Great game not so great scoring
This is one of my "go to" games. It was one of the first games I downloaded years ago when I got my first smart phone. I love the interface, the colors, the layout. The highlighting of the buttons makes it easy to see which number you are working on. The note function is great. I usually turn the sound off on any game I'm playing, but I actually like the sound effects! My only real issue is with scoring. Why is the score based on which number I "finish"? Currently you get a higher score if you finish all the 9's or 8's first. Sudoku is a game about patterns, not the actual value of the numbers you're entering in the squares. The scoring should be based on finishing any given number not the numerical value of that number. I finished a game in less time, with the multiplier at a higher number than my last game but had a lower score because the pattern of the lower numbers (1,2,3) was easier to figure out than the higher numbers (7,8,9). Please change this or have the option to turn the scoring off.
Fun game for free
Great game for the price runs as it should minimal distractions
Love it
Enjoyable, easy to use but please get rid of the timer or allow us to hide it. It ruins the fun of it and frankly I don't care about the score either really.
Great game
Polochick4life
on
9/24/2017
So much fun!
Excellent.
Love this game. Excellent time passer, and helper at keeping ones mind sharp. Wonderful.
Great
I could spend days playing this game.
Awesome!
Butterscotch kiss
on
9/24/2017
Great game! Quiet fun for one! Love it! Been using this app for over a year and haven't run across one issue yet!
Fun
Fossildragon
on
9/24/2017
It's simply a fun game. It's great for killing a few min here and there.
Great Game
Very addictive.
Fun app!
If you enjoy sudoku you will love this app
One of my favorites
I gave it a high rating because it is one of my favorites. I agree with a previous reviewer that it should be an option to put in a wrong number.
Love the game
Purpleteddy2
on
9/24/2017
Fun fast challenging. Something quick when waiting in line
For a novice
Great to learn how to play the game and then advance to the more challenging boards.
Amazing
VvvFireboyvvv
on
9/24/2017
The game is great
Excellent way to keep the mind in shape
Simple and more about the game than a ton of variations.
Timely
Great for a calm but strategic game. Keeps me thinking with out feeling pressure.
Sudoku 2
Vannacabanna
on
9/23/2017
I love it 🙂
The best 🙂
Simple and fun with a really nice user interface.
My Game
Delilah89shine
on
9/23/2017
This game is my favorite pastime and I'm so glad I don't have to keep buying sudoku books. I love the way it keeps my mind sharp on the go
Great
Fun game, no glitches, easy to play at whatever skill level you want. Have had this app for years and love it.
Outstanding
Best out there.
Ads
Love the app! Been playing for years. Occasionally run into an ad that refuses to quit after repeated attempts tapping the "x". Found no way to report to App Store.
Great Fun
Enjoy the game and making me think at times. I take a break at lunch and use my mind in a different way.
Fun
I enjoy the game and the board designs
Sudoku 2
Lulu's and Luna's Mom
on
9/22/2017
Enjoy the game! Still playing after all these years. It is a great way to pass the time.
Addictive and challenging
Fun game❤️✅
Love it!
This is my favorite game and I play it every day. I wish your company would make a wordoku game. I love your style ❤️
Very good game. It works perfect.
I have been using it for about 2 months and I love this game. It works perfect with my iPad.
Ads are out of control
I've had, and enjoyed this game for several years. Up to now the ads between games has been tolerable. However, they are now running 12-15 seconds with no was of opting out. If you try to opt out it will send you the the ads web page. This is true for all of Finger Art's programs. Frustrating.
Good & practical
Redmart happy client
on
9/22/2017
So good and fun way to train your brain
Excellent!
Love the way you can make notes and play a short, easy game or a longer more difficult game.
Really like it!
I really enjoy playing
Soduko
Nice way to kill some time.
Great functionality
RedandBlack78
on
9/21/2017
I like it for waiting rooms and where I need to kill time.
Love it
Very addictive love it
Awesome game!
This game is one of my favorites. It helps when you are getting older to keep your mental capacities at fine-tune pitch. I wish they had a opportunity to turn off the timer which is A constant stress promoter that does not need to be in the game if you don't want it to be. But a great game anyway.
Simple and addictive
The app works very well. I've never seen a glitch or bug. Very well designed.
Fact Sheet
Publisher:

Finger Arts

Category:

Games

Released:

May 07, 2010

Current Version Released:

Nov 18, 2016

Version:

5.4

Size:

71 MB

Compatibility:

Requires iOS 6.0 or later.

Recommended Age:

4+

Game Center Certified:

No

Supported Devices:

iPhone3GS-iPhone-3GS, iPhone4-iPhone4, iPodTouchFourthGen-iPodTouchFourthGen, iPad2Wifi-iPad2Wifi, iPad23G-iPad23G, iPhone4S-iPhone4S, iPadThirdGen-iPadThirdGen, iPadThirdGen4G-iPadThirdGen4G, iPhone5-iPhone5, iPodTouchFifthGen-iPodTouchFifthGen, iPadFourthGen-iPadFourthGen, iPadFourthGen4G-iPadFourthGen4G, iPadMini-iPadMini, iPadMini4G-iPadMini4G, iPhone5c-iPhone5c, iPhone5s-iPhone5s, iPadAir-iPadAir, iPadAirCellular-iPadAirCellular, iPadMiniRetina-iPadMiniRetina, iPadMiniRetinaCellular-iPadMiniRetinaCellular, iPhone6-iPhone6, iPhone6Plus-iPhone6Plus, iPadAir2-iPadAir2, iPadAir2Cellular-iPadAir2Cellular, iPadMini3-iPadMini3, iPadMini3Cellular-iPadMini3Cellular, iPodTouchSixthGen-iPodTouchSixthGen, iPhone6s-iPhone6s, iPhone6sPlus-iPhone6sPlus, iPadMini4-iPadMini4, iPadMini4Cellular-iPadMini4Cellular, iPadPro-iPadPro, iPadProCellular-iPadProCellular, iPadPro97-iPadPro97, iPadPro97Cellular-iPadPro97Cellular, iPhoneSE-iPhoneSE, iPhone7-iPhone7, iPhone7Plus-iPhone7Plus, iPad611-iPad611, iPad612-iPad612, iPad71-iPad71, iPad72-iPad72, iPad73-iPad73, iPad74-iPad74, iPhone8-iPhone8, iPhone8Plus-iPhone8Plus, iPhoneX-iPhoneX,

Supported Languages:

English; French; German; Italian; Japanese; Chinese; Spanish; Castilian;