Screenshots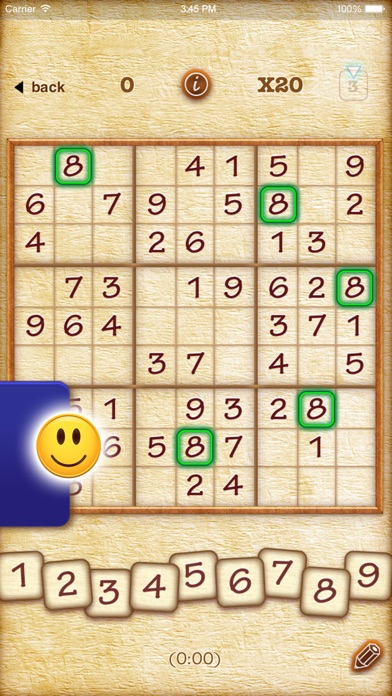 New in version 6.2
This Sudoku update includes improvements and bug fixes
Description
▻Sudoku is Sudoku with Point System, Runs, and Online Leaderboards. Discover the next evolution of Sudoku with amazing graphics, animations, and ease of use. This is a Sudoku like one you have never experienced before ;)

...Thousands of puzzles, all free. Top class puzzles with selectable level of difficulty :)
________________________________
To the classic Sudoku, we added:

=> A smart point system, wherein your score is based on 1) the value of each number multiplied (at the time of its match) by a multiplier that decreases in time and 2) the value of each block, row, column multiplied (at the time of its completion) by the decreasing multiplier

=> Thanks to Game Center, you can now rank and compare Sudoku scores and achievements against friends and strangers

=> ▻Sudoku also counts the runs, that is, each uninterrupted sequence of games won, and adds them to the online leaderboards
________________________________
In ▻Sudoku, you win a game when you solve a puzzle with 3 errors or less (we used this threshold to give a bit of slack for mis-tapping :) Also, you have a number of hints to help you play (more at the easy, less at the hard level). To fit any taste, you can choose between a lush tile look or a more classic board look :)
________________________________
You gain access to medium level after you win the easy level 2 times consecutively, same for hard level (3 times)
________________________________
What our testers are saying:

• "The game is perfect! I am really loving ▻Sudoku. It is very addicting and fun, absolutely the best sudoku I have ever played."
• "Fabulous! You turned me into a ▻Sudoku fan hook, line and sinker :)"
• "The gameplay of ▻Sudoku is great, very smooth."
• "Great app - love it! Well done! Love the start up sounds/music!"
iPad Screenshots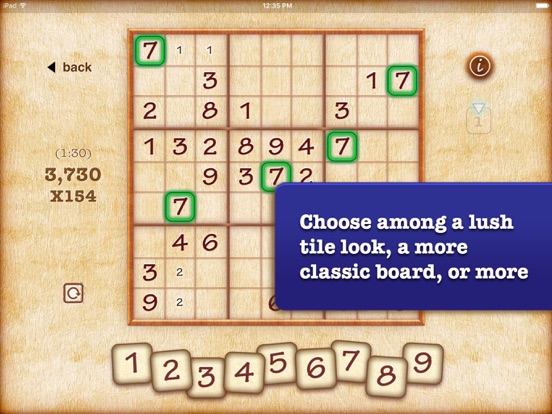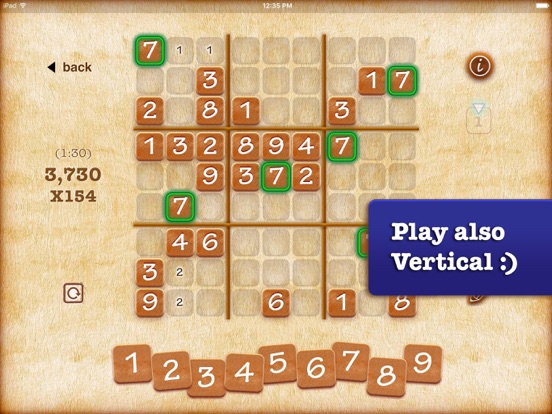 Reviews
Loooove
Play this while standing in long lines!
Love it!!!!
It is the best of these!!!!
Dee Jay Supreme
Djgregmoney
on
12/11/2017
Good pass time, you can win. Patients patients patients. Good luck!
No complaints
Been playing on this app for a couple years and I don't have any complaints. I love how there are multiple levels, from flash to expert. Sometimes I want easier when I play just before bedtime. Then other times I'll like a challenge and go with a bigger level. I like the set up and I recommend it.
The ads are ridiculously annoying!
They drive me nuts
Excellent
I love to exercise my mind by playing this app.
Can't stop playing!
Claire159733
on
12/9/2017
Love this app. Hours of fun!
One of the best games out there!
Best Sudoku on the go.
Fun mind exercises
Great game, fun time and keeping my mind sharp.
Very well designed game!
Love it!
Love this game
Sudoku is a great game that really challenges the mind. I'm only ten years old and I play this game all of the time
Fun game
I love this game. It is fun and challenging at times.
Soduko
I play this game everyday for relaxation and to stay mentally sharp. Love it.
Great game!
This is the very best Sudoku game I have found!!
Soduko
Great app! Tried others and found this one easy and fun 👍
Great game
This game app has everything you need to make playing an enjoyable experience.
Sudoku
This I a great app. Have enjoyed it for several years.
Fun and easy to use.
Rightfootpress85
on
12/7/2017
This has been my go-to iPhone game for several years now. The note taking feature works great. There are no glitches in the app that I've noticed. Great for relaxing but still doing a little something using your brain.
Pretty Great Game
I love the forat; being able to highlight a number (even just a note!) helps immensely. Even though it's a silly detail, I also love the textures the game comes with! Fabric is my favourite. It's just so soft! Besides, (having easily spent 100 hours on this thing) the same background gets rather boring, so it's fun to change it up every now and then.
Good game
I play this game everyday. Really enjoy.
Brain Food
I enjoy filling my free time with this app and keeping my brian sharp.
Spoiler
Like the game. Choice of levels is great. But over time, it will spoil you. More fun than pencil and paper.
Great game!
Nice brain teaser! A good interface and simple to use. Love it!
Addicted to Sudoku
It's addicting. I have to keep trying to better my score, plus try to have a longer consecutive win streak!
Louise
Frieghtliner
on
12/4/2017
Great challenging game!
Fun App
My favorite game on iPhone by far!!!
Great
Totally addictive! Favorite game app.
Daily release
After a long day, this comes in handy as a refresher. To avoid a break stay clear of alcohol.
Fun App! Perfect for spending a few minutes
Really love this app. Play it at night to unwind, keep track of scores and runs and keep trying to beat my best!
One update
This app would play better if when you tapped a bottom number tile, it highlighted the filled in numbers on the board. This should only work if a filled in tile is highlighted. Thank you for the opportunity.
Akwoman
This is a really fun app. Once a friend showed me how to play I really enjoy it.
Captain's Choice!
This game is simple satisfying and a great way to relax. Well done!
Easy app- good functionality
Good voice of options and settings. Boards at expert level vary in skill, but good to pass time.
Okay
Viktornikiforv
on
12/2/2017
Wish the how to place tiles pop up could be turned off its not very entertaining after a while and is pretty easy
A good version of Sodoku
thelarkspurgardener
on
12/2/2017
This one gives you highlighted squares when you pick a number, so it's a little bit like having training wheels, but still challenging. I love that there are no ads.
Love this game !!
Love this game !!
What I like
This game is mind building. It is very enjoyable and takes no internet.
Sudoku
I love the way Sudoko keeps my mind busy. Bring some more difficult ones to expert stage.
Great game!
But I wish ere were levels that you could attain rather than just try to beat your own high score.
Horrible
It doesn't let you make a wrong move! What is the point?
Sudoku
I really enjoy this app but there be an "are you sure?" button. I have been penalize d so any times for hitting an unintended number. ie. I'd mean to hit the number 8 but inadvertently hit 9. This makes it frustrating at times. I'd be so much more ahead in the game if this weren't so. Bottom line though, having fun and it's a great way to kill time. Yes, an "Are you sure?" button.
Suduko
Great game. I like to pass time playing.
suduko review
being 71 years old my memory was not as good as before but playing this game daly my wife says I have been getting better plus this game is a lot of fun to play
Great
I love this game. I play almost daily and I like being able to pick a skill level depending on how much time I have or want to spend.
Great Game
Sudoku is great fun. Several levels to challenge you.
Easiest screen placement and use of possible numbers while solving puzzle
Easy to use possible number placement
Fact Sheet
Publisher:

Finger Arts

Category:

Games

Released:

May 07, 2010

Current Version Released:

Oct 31, 2017

Version:

6.2

Size:

80.7 MB

Compatibility:

Requires iOS 6.0 or later.

Recommended Age:

4+

Game Center Certified:

No

Supported Devices:

iPhone3GS-iPhone-3GS, iPhone4-iPhone4, iPodTouchFourthGen-iPodTouchFourthGen, iPad2Wifi-iPad2Wifi, iPad23G-iPad23G, iPhone4S-iPhone4S, iPadThirdGen-iPadThirdGen, iPadThirdGen4G-iPadThirdGen4G, iPhone5-iPhone5, iPodTouchFifthGen-iPodTouchFifthGen, iPadFourthGen-iPadFourthGen, iPadFourthGen4G-iPadFourthGen4G, iPadMini-iPadMini, iPadMini4G-iPadMini4G, iPhone5c-iPhone5c, iPhone5s-iPhone5s, iPadAir-iPadAir, iPadAirCellular-iPadAirCellular, iPadMiniRetina-iPadMiniRetina, iPadMiniRetinaCellular-iPadMiniRetinaCellular, iPhone6-iPhone6, iPhone6Plus-iPhone6Plus, iPadAir2-iPadAir2, iPadAir2Cellular-iPadAir2Cellular, iPadMini3-iPadMini3, iPadMini3Cellular-iPadMini3Cellular, iPodTouchSixthGen-iPodTouchSixthGen, iPhone6s-iPhone6s, iPhone6sPlus-iPhone6sPlus, iPadMini4-iPadMini4, iPadMini4Cellular-iPadMini4Cellular, iPadPro-iPadPro, iPadProCellular-iPadProCellular, iPadPro97-iPadPro97, iPadPro97Cellular-iPadPro97Cellular, iPhoneSE-iPhoneSE, iPhone7-iPhone7, iPhone7Plus-iPhone7Plus, iPad611-iPad611, iPad612-iPad612, iPad71-iPad71, iPad72-iPad72, iPad73-iPad73, iPad74-iPad74, iPhone8-iPhone8, iPhone8Plus-iPhone8Plus, iPhoneX-iPhoneX,

Supported Languages:

English; French; German; Italian; Japanese; Chinese; Spanish; Castilian;