Recommended app!
App last updated
Mar 31, 2017
Screenshots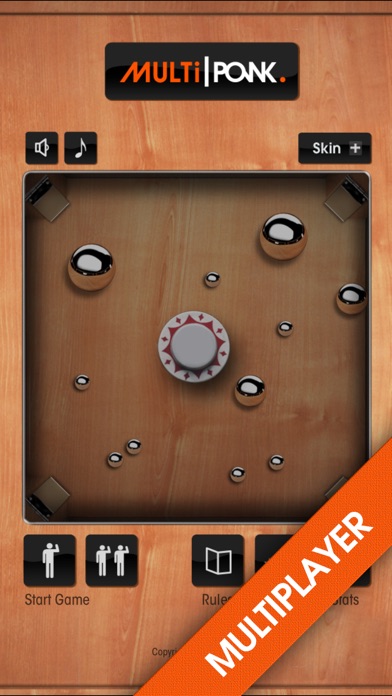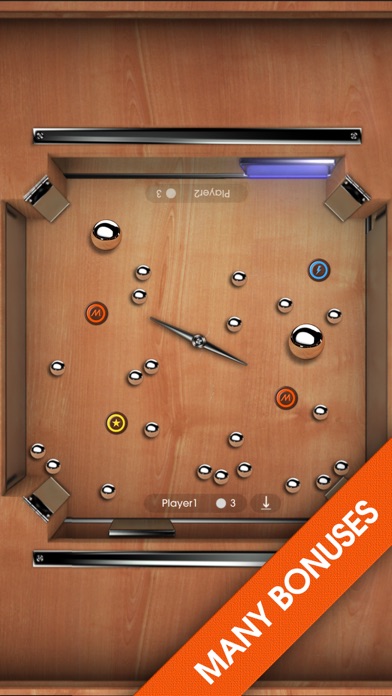 New in version 2.2.1
- UPDATED: Minor fix for iPad3
- iOS 10 ready
- Optimized for 64-bit
- User interface graphic update, ready for iPad Pro
Description
Multiponk Featured by Apple: App of the Week June 2010 / iTunes Rewind 2010 / Game Starter Kit / Huddle Game / iOS original

"This game is absolutely amazing, it has polished and extremely smooth and addicting game play. I HIGHLY RECOMMEND" by ANFLU

"Great graphics, fun and surprising features. Must-have multiplayer fun" by AkzoMonakzo
"It's a hit!" by HMD08

"This is exactly what the iPad should be about, multiplayer games to take advantage of the large multi touch screen. My Favorite app." by LolPad

Multiponk graphic designs and ultra-realistic physical engine will make you feel like playing on an real wooden board. A classic already !
Up to 4 players on iPad and up to 2 players on iPhone & iPod touch.

One finger to control your paddle. Give your ball smooth effects and thwart the traps to win the game !
In Multiplayer mode, catch the bonuses, use the bumpers and beat your opponents.
In Solo mode, try to beat A.I computer and defeat Mr Monster, from standard skin to 8bits skin, or try to beat your score and share it through the Game Center.

Features:
-Solo to up to 4 players
-Immersive HD design / Retina Display
-Realistic physical engine
-Game center: Leaderboard & Achievement
-Universal binaries (iPad / iPhone / iPodTouch)
-7 game modes : A.I. revenge, classic, baby, crazy, flash, dual, death ball
-11 bonuses: Multiball, Power, Big ball, Gravity, Autopilot, Time warp...
-5 ball sizes
-Paddle slice effect
-Game statistics
-4 skins ( Standard, 8 Bit, White, Pop)
-14 Original music themes by KingQ4

WATCH US : vimeo.com/​fingerlab
VISIT US : fingerlab.net
FOLLOW US : twitter.com/​fingerlab
CONTACT US : contact@fingerlab.net

Powered by Fingerlab.
iPad Screenshots
Reviews
great game
great game for multiplayer or to kill time in single player. If you like paddle style games this is a must have on ipad for the 3-4 player functionality. great layout graphics everything about this game is cool.
Mullti ponk
Just downloaded did not like it. Would like my money back. Tku
I like it
crazylover337
on
6/15/2017
I've played it before and it cool!
Really fun
Really good game for two or more people. Excellent on the iPad Pro especially. Thanks for the update!
It's back!!!
Yay! An iOS 10 update for one of my most favorite games ever! Was phenomenal when it was first released years ago for its use of Skeuomorphism (made to look like real-world objects). Still something I like to play every once in a while! Great game design! Go play it! And thank you to devs for giving Multiponk much needed attention!
Good Game
It's a fantastic Game
Amazing app
We all loved it as a family
This game is good
giovannacoelho
on
7/21/2015
I LIKE this game A LOT U should get it 🌋🌋🌊🌌🌊🌀🌊🌀🌈⛄️🌈🌈⛄️⛄️🌊🌈🌏🌠🌎🌠❄️🌁❄️🌏🌎🌏🌎⛄️🌏🌀🌀☁️🌈☔️☔️☔️☔️☔️☔️☔️☁️⚡️⚡️☀️☁️🌊🌠⭐️☀️⭐️⛅️🌊🌋📣🔉📺🔊📺🔉📻🔈⌚️🔏🔅🔒📺⌚️⏰📺📺⌛️⏳📢📣⏳📣⌚️⏳🔓🔋🔅🔅🔋🔌🔌🔅⏰🔅🔅🔏🔒🔐🔓🔒🛀💸💸💸💶📏📥📧📧💶🔫🔫💣🔫🔫🔫🔫🔫🔫🔫🔫🔫🔫🚬💣💣💣💣💣💣🚪🚬🚬📤💳✂️📛📌📐📎📏📐✒️📗📉📕📚📕✒️📛📛📛📛✒️📛🎱🃏🎳🍈🍇🍯🍨🍏🍦🍦🍦🍮🍓🍯🍈🍓📌📧🃏🃏🎱🎱🎱🃏😝😒😝😌😜😃😍😍😍😍😍😘😘😍😟👶😈😯😕😏😮😧😐😦💩🙉🙈👺😾👹👹💫👹👺👺🙏👏🙏🎽🎽👉👫✌️👅✋👏👏💪💪✊💖👤💘💘💗💔💙💗💋💔💙💌💞💬💬💓💓💓💓💗💔💘💍💍💎💎💌💞👥💖👥👥💄💞💔💄❤️💛❤️💙💛💚💚💜💖🌂💛🌂💛💙💄🌂💙💄💙💄💌💞💙💄💄🌂💄💋💞💖🎀💕👡🎩🌄⛺️🏤🏰🏪🌇🏰🌇🏰🏬🌄🏯🏬🌆🏬🏬🌅🗽🌅🌇🏰🌆🏰🌆⛺️🏦🎠🌇🌇🎠🌇🏰🌇🏰🌇🏰🌇🌇🏭🏭🏰🏰🏰🏭🏭🏰⛺️🌆🏤🌇🏰🏣🌆⬆️🔡⬇️↕️2⃣➡️#⃣8⃣🆙🔀🆙🈁🈺🚻🈺🚻🉐🚻🉐🚻🈲🈺🈲🆖🆕🆕🆕🈲📶🈲🆙🆙🆖🆖🆙🆖⏪ℹ️🆕🆕🆕🆙🆙🆙🆕🔂🆕🆕⏩🆕🈶🆙🆒🆒🆒🆓🆓🆓🆓🆖🆖🆖⤴️📶🆗🎦🎦📶🎦🆗🆗⏫⤴️🆒🆒🆙📶🆙📶🆒⤵️📶⏩⏩⤵️🆒🈺🛅🆑🚯🛄🔞🔞📵📵🔞📵📵📵📵🚯🚷🚱🚷🚱🚳❇️🉑🆔🛂🛃🈶🈯️🆖🆒🆒🆒🆙🆒🎦🎦🈲🆒⤴️⏩📶⏩⤵️⏫⤵️⏫📶⤵️⏫⤵️🆒⤵️🆓🆙⤴️⏪⏪🎦⏪🆙🔀⤵️📶📶🆖⏬⏪⏪🆖⏪⏪⏬⏬⏬⏫⏪🆖🆙🆖🆕🆙🆖🆖🆖🆖📶🆒🔀🔀🛂🛂🛂🛂🆔🉑❇️📵🈲📵📵🈲🈲🈲🈲🈲📵🈲🈲⏬🚱🚳❇️❇️🚯🚯🚷❇️🈶🚯⤵️🚱❇️🚳🛄🚷🆕⏫⏫🔞🈯️🔞🚷🚷🔞🚷🛄🈶🚱🚱⏬⏬🚷🚷🆕🚷🚱🚱🈶🈶🈶🆕🆕🈶🈶🚷🚷⏫⏫🚯🚱
Absolutely amazing😊😊😊😊😊
Might delete /:
on
4/12/2015
This game is fun and addictive I played with my nephews and we couldn't stop
مميزة
لعبة جميلة وتركيزية وتحتاج انتباه و(ري اكشن) سريع 👍
What else can I say?
Please, correct the music bug, difficulty level and more multiplayer options; this game needs serious updates. Make more skins too! These are too boring.
Needs to save progress
shhhhhlisten
on
10/2/2014
Otherwise cool game
Great on 6plus
Bigger screen helps a lot. Fun game, decent music and sound effects, but game physics could be better.
Multiplayer fun
Good for same screen multiplayer.
Great
It's a great game. I think they copied of of other games. Think about it, MULTIponk. But it's still a good game.
Great game!
Easy enough for anyone to play but gets trickier and trickier with each level you advance to. Like that it lets you continue from the level you just died at or start again from the beginning! Super smooth graphics! Just try it!
Expect the Unexpected!
Lots of twists and turns! A fun way to pass the time. It's not your Grandpa's game of Pong!
Instantly enjoyable
Mr. H. Rocks
on
6/15/2014
Had so much fun with this right from the start!
Fix music muting!
Fixfixfix.
Should save my progress
When the game is over it again starts with first level I would like to continue from where I left if that is possible Great graphics & music too spot on..!!
Let me turn the music off!
Couldn't get beyond the fact that I couldn't turn the crap music off.
So…
How long will it take the "Devs" to realize after "testing" this app that every time I shut OFF the game's music and sound but leave ON the iPod tunes that the game's music still overrides that user setting and continues to come through after a round of play???? D E L E T E D . . .
I can't hear you 'cause my music is to loud.
I love this game even though it is rigged to where it is practically impossible to win. What I love most about it is the music! One question: Is there a patent or copyright on this music? If not, I'm screaming at the top of my lungs with joy because I've always DREAMED of putting something like this in a movie! 😃🎬
Can it get any better
The game is still awesome and the music makes it even better
You need to do camera on ball reflect
But otherwise you did great!!!
A LOT of fun
It's challenging and one of the best games in iTunes for playing on one device. I have played countless nights at hotels playing, winning and losing Multiponk. Quick to learn and tons of fun. Unfortunately it has not been updated since 2012. No retina support dampens the fun quickly. Come on, please update for us retina users ...
Thank you
This is a very great game!! :]
Awesome!
I'm seriously in love with this game. I still want to play it after I beat it, so I play it again. I've been playing for a few years now. It's fun!
Great game
A great mix of old school ~ Nu Skewl with loads of twists
Excellent multiplayer
ariiiiiiiiiin
on
11/30/2013
Excellent multiplayer. My kids and I return to this one again and again for a few quick and fun multiplayer rounds.
Great multiplayer; add camera view to ball reflection!?
derdeutsche
on
11/30/2013
Lots of fun for multiplayer!! More skins would be cool but still 5 stars! A super cool effect would be to have the camera on the ipad feed into the "reflection" on the ball... somehow :D
Awesome
It's amazing and all but what would be fun is if u could play against a computer player and if you could play against each other on different devices. But overall a great game. GET IT!
Great game
THA BOSS GO BLUE
on
11/4/2013
Love the game. Add more game modes
Excellent
Sergioangel8
on
10/21/2013
Great game!
Fun, Passes The Time 🎉🎊🎉
Check Title.
Great game, worth every penny.
This game is wonderful: tons of levels, multiplayer, four different designs. This is like the old "pong," but modernized. This game is really worth it - can't wait for more levels!
Good game
One of the best game of the year
Great Game
Mister Flister
on
6/19/2013
Great music and graphics. It is an ultra modern pinball game.
Please release original game
The original release was fun. You could get the ball enlarged and then trapped in a corner or in the pegs and rack up huge points as the ball bounced back and forth at super high speed. The update has prevented this from happening. Also what's the point of reverse and ghost ball? It's just not fun. Please release the original game. The classic version in the update is not the same as the original. Thanks
Very Good, Fast and Addictive
Please fix the music problem. After turning off the music it restarts on its own at the next level.
I love dat game so much
This is the best game and challenging :). So download it
Ed
Lots of fun. But hard nice game. Thank You.
Great fun with friends
Twilight_Realm
on
5/21/2013
I play this game all of the time with a few of my friends. We always have a great time playing 4-players, but sometimes games are lost due to slight control issues. I recommend this app regardless, but only if you have people around to enjoy it with as the single-player mode is somewhat lacking after AI are defeated numerous times.
Solid
TheHygienist
on
5/16/2013
This is an extremely polished game on every level. Plays 4 players quite well. Classic physics married to computer generated power ups/ handicaps. I highly recommend this game!
Boring
Matt Lundstrom
on
5/15/2013
While this game has decent graphics for what it is its terribly boring as a single player game. It was 2.99 also, which seems high for a simple Pong style game.
Pain
The control sensitivity needs work. I have only tried a few levels and already have a blister developing.
Fun!
Juan Pc Lopez
on
5/5/2013
It's a really fun app. Keeps me entertain.
Multiponk
Great fun! Wonderful graphics, fast action. Love it!
Fact Sheet
Publisher:

Fingerlab SARL

Category:

Games

Released:

Jun 10, 2010

Current Version Released:

Mar 31, 2017

Version:

2.2.1

Size:

75.3 MB

Compatibility:

Requires iOS 9.1 or later.

Recommended Age:

4+

Game Center Certified:

No

Supported Languages:

English;