Screenshots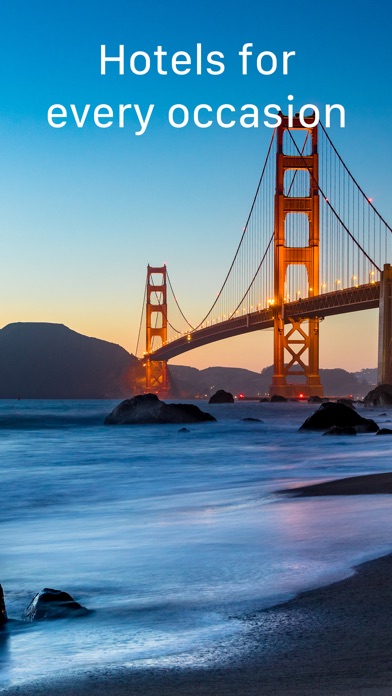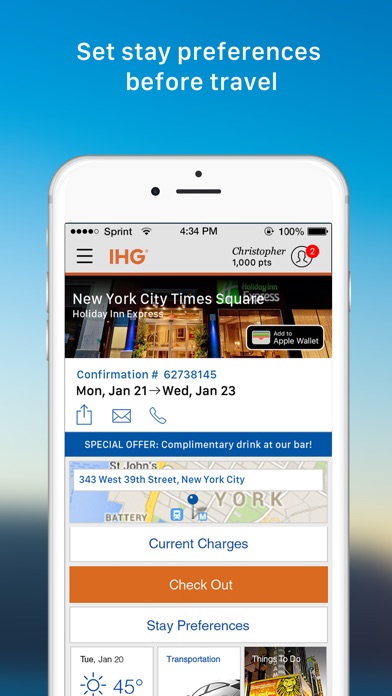 New in version 4.6.0
Hello! You'll find the following features in this release:

- Get your next Reward Night faster. Just purchase additional points right on the app.
- Want to rebook a trip? Your recent hotels now appear directly in the search form, ready to book.

Until your next stay, have a great one.
Description
Book and manage your stays at 5,000+ hotels in 100+ countries and find the world is at your fingertips in one, convenient place.

Top Features
·         Book quickly at 5,000+ hotels while you're on the go
·         Receive mobile exclusive rates — only on our app
·         Review IHG Rewards Club points and redeem them for rewards
·         Check out from your mobile device and receive an email copy of your bill (at participating hotels)
·         Explore which brands is perfect for your business trip or vacation

Loyalty Guest Offers & Discounts & Features
·         Access special IHG offers and discounts
·         Redeem free Reward Night stays, Digital Reward downloads and so much more with your IHG Rewards Club points
·         Discover ways to earn more points through Bonus Points Packages and partnerships
·         Track IHG Rewards Club points balance and progress to Elite member status
·         Turn phone to see your IHG Rewards Club or Ambassador card
·         Qualify for special rates using your corporate ID

Simplified Stays
·         Communicate what makes your trip perfect — from setting pre-stay preferences to hotel requests
·         Learn more about transportation, dining, and area attractions
·         View charges during your stay in real time (at participating hotels)
·         Bypass the front desk and get on the road faster with Mobile Check Out (at participating hotels)
·         Receive an email copy of your bill (at participating hotels) or from a past stay
·         Find the ideal hotel thanks to reviews from travelers just like you

IHG® brands:
- InterContinental® Hotels & Resorts
- Hotel Indigo®
- Crowne Plaza® Hotels & Resorts
- Holiday Inn® Hotels & Resorts
- Holiday Inn Express®
- Staybridge Suites®
- Candlewood Suites®
- EVEN™ Hotels
- HUALUXE™ Hotels & Resorts
- Kimpton Hotels®
iPad Screenshots
Reviews
Nice job with the app
Easy to book and friendly app
IHG App
Very simple to use! Makes travel planning super easy and hassle free. I use this App all the time and never have issues.
Great service for those who love to travel.
Jennifer Trimble
on
12/8/2017
Either for business or pleasure the perks from being an IHG member make traveling more comfortable, more fun. One of the best programs I have found of it kind!
Can't download to iPhone X
Bloodline of Judah
on
12/6/2017
I can't even download the app, nor did it transfer from my previous iPhone device.
Ver. 4.6.0 Glitchy
So anytime you get messages and you click on the message this is what happens: 1) You go to the message and try to back out after reading it a. Nothing happens - app freezes. 2) you got to the message and try to delete it a. Nothing happens - app freezes. Not happy with the app and thinking about just chucking it. I use it quite frequently for business travel but this version is no good....waiting for a fix..l
Nice clean interface
Plastic-Vinyl
on
12/3/2017
Easy to book with points and/or monies.
Owner of All Things Tetail
Just would like to let people know!! Maggie is wonderful at the Holiday Inn in Richardson, TX ON 1655 N Expressway!! She knows by name and supports and encourages us! Thank you
Not worth the aggravation
Terrible app. Locks up whenever you try to look at messages. Will not delete messages under any circumstances. Developer should be fired!
Update
iphone_nasser
on
12/2/2017
Need an update for iPhone x
Won't work on my iPhone X
Kristin_Ashli
on
12/1/2017
I did rate it 5 stars at first! Been with you all since 2011... but, now I can't use it on my iPhone X!!! Please fix! My app won't work and I travel and stay with this hotel group a lot
App with glitches!
When go to account to read messages, app spins and spins when try to erase the message and then no way to come back to home page! Please fix, this is an iPhone X!!
App very buggy with version 4.6
The IHG app has generally been pretty good, but this update has been very buggy, freezing multiple times even with restarts.
Things don't work as they say they do
I can't get this app to function properly. For example, I get these email offers from IHG for a free Kindle book. I click on the link provided in the email notice. That takes me to Amazon. I pick out my "free" Ebook then go to my cart & am charged the full price. I click on the app looking for help and I can't login even though I can login via my computer with no problem, same credentials. I get email notifications that I've earned a free night. I click on the link and the "free night" doesn't exist anywhere once I'm logged in. Its very annoying. I feel like a bait and switch tactic is happening and I fell for it.
Deleting Messages is a Pain
The app requires you to open a message before you can delete it, and then the app freezes during the deletion process. Turned off badge app notifications so I'll never see this garbage.
This is a review regarding this App and Voiceover
Good evening, As a Voiceover user I am having trouble signing in to this app. I input the correct credintials, however, I am unable to sign in. This issue needs to be fixed so others who use Voiceover have no trouble accessing the app.
New release crashes my iPhone
Master of the Univers3
on
11/22/2017
Since installing the new release, when I try to launch the app, it goes to the splash screen and when I select sign in, it crashes
New update installed
New update installed and now, some of my existing reservations won't open! Need to get that fixed.
Will not log in on iPhone X
I can log in on my other ios devices (iPad Pro and previous 6s+), but when I try to log in with my iPhone X, the action times out. The IHG service representative was unable to fix it or explain why it doesn't work. All devices are running current ios (11.1.2). UPDATE: I discovered that the login issue depends on which location that my VPN is set on. This seems silly, but when I disable the VPN (not preferred) or select a different VPN location, the app works okay. I have no idea why this would be an issue with my iPhone, and not with my iPad Pro. I now would upgrade my rating of the app to 4 Stars. When it works, I like the app, but VPN issue reduces it from 5 to 4 stars.
Unusable after update
Just updated and now won't be able to do anything.
Could be better
Comparing it to other hotel apps, the IHG app is just ok. Too many steps to do nothing. Wish you could check in and pick your room before arrival like some of the other hotel chains.
No issues with app
The log in features work just fine for me. I don't have to log in each time I open the app even after IOS updates.
POS
Can't associate stays with account or make requests through app. Then what is the point of an app?
Quick and easy
I can view my points and be nice and easily!
Lousy Third Party Advertising
IHG is a poster child for how to continually screw up an app. The most recent "improvement" is the addition of 3rd party ads. Keep it up and you will lose the loyal following you already have.
I love IHG rewards
The app is great and I love earning rewards and free stays.
App spazzes out worse than using safari
The homepage is not compatible with my iPad so I downloaded the app and it's actually worse. I couldn't even log in! Had to actually call to make a reservation. Yuk! At least the rooms are nice, staff friendly and my pups are welcome at St. Louis Route 66. I give the actual location 5 stars.
Going home to visit or for business
Love how friendly the front desk is at my favorite Candlewood in Troy, Michigan. Not only friendly but very accommodating, they keep me coming back.
Cancel early, still charged me!
Former IHG Gold - No More!
on
11/11/2017
Booked to use some of my points. Had a birth in the family, so canceled trip early, as per IHG policy, should have been full credit. They still charged me for room on my credit card. When I called them on it, they credited amount billed to my card, but took the points away for the room. Don't use IHG.....stay with Hilton!!!
Had to delete and reinstall
Frustrated53#
on
11/9/2017
Couldn't even book a room, it kept bombing out. Finally deleted it and reinstalled, now it's working again. Still cumbersome though.
Sign in Frustration
Onemorefortheroad
on
11/8/2017
I just deleted this app. It was working fine until the last update and now I cannot even sign in? The app didn't recognize my email or my PIN number, frustrating! Please fix the app then I'll give it one more try.
Crashed App
This app won't let me update my information & i can make a reservation with my credit card
Need to save specific hotels and save to calendar
I don't see how to save or favorite certain hotels or save reservation details to my calendar. Please help
New update is horrid
Guess I will take all my stats to Marriott and Choice Hotels.
Agree 100% with alter e Joe
IHG after I use all my remaining benefits with Membership level...it's bye-bye IHG... A disgrace
Poor
Much like your hotels your app is hit or miss. Having to sign in everytime is a real problem, especially when I'm in a hurry for the informant.
Crashes wi-if
Had to delete. Crashes my iPhone 7 wi-if each time it's opened!
Terrible!
This app is just awful. Constantly hangs up with the revolving circle of doom. Can't check reservations quickly which is the point of the app. Please, please invest some time and money and fix it!
No More Accelerate
They took off the ability to look at your accelerate status from the app. Pretty useless if I have to go to website.
We love ihg hotels!!
We love the pound system and can always count on a great night of rest! Thank you ihg hotels!
I'm so Loyal to IHG
Mez2percenter
on
10/14/2017
Great service, great team!
Love this app!
Love this app and such a great travel tool when I'm staying at IHG hotels.
Battery killer
Over 5 hours running in the background over the last week and I haven't launched this app in a couple of weeks. I turned off background updates for this app.
Can't manage preferences for my stay
The app description says I can manage preferences for my stay. I got the app and signed up for rewards program. Then the app said I can't manage preferences for my stay. Maybe the app will let me find accommodations but I already have apps for that. False advertising.
Good solid useful app
Not sure what all negative reviews are about. I've had good experiences with it.
Best Travel App
Keeps getting better and better for this road warrior who can't live without it. Great app, great hotels and great loyalty program..
Manager
The benefit never expires and immediately credited to you Nimer
Great
App, everything you need for IHG at your fingertips, it's a must have for hotel users!!!!
Updated app won't stay signed in
App worked perfectly until last update now will not stay signed in. Very inconvenient.
Love Intercontinental
TownLake Runner
on
9/19/2017
App works great
Always there always easy
Haven't had a problem with IHG app or services in several countries. I don't always get upgraded like I would like to, but I think that is a local problem. Keep up the good work.
Fact Sheet
Publisher:

Six Continents Hotels, Inc

Category:

Travel

Released:

Apr 26, 2010

Current Version Released:

Nov 19, 2017

Version:

4.6.0

Size:

239.5 MB

Compatibility:

Requires iOS 9.3 or later.

Recommended Age:

4+

Game Center Certified:

No

Supported Devices:

iPad2Wifi-iPad2Wifi, iPad23G-iPad23G, iPhone4S-iPhone4S, iPadThirdGen-iPadThirdGen, iPadThirdGen4G-iPadThirdGen4G, iPhone5-iPhone5, iPodTouchFifthGen-iPodTouchFifthGen, iPadFourthGen-iPadFourthGen, iPadFourthGen4G-iPadFourthGen4G, iPadMini-iPadMini, iPadMini4G-iPadMini4G, iPhone5c-iPhone5c, iPhone5s-iPhone5s, iPadAir-iPadAir, iPadAirCellular-iPadAirCellular, iPadMiniRetina-iPadMiniRetina, iPadMiniRetinaCellular-iPadMiniRetinaCellular, iPhone6-iPhone6, iPhone6Plus-iPhone6Plus, iPadAir2-iPadAir2, iPadAir2Cellular-iPadAir2Cellular, iPadMini3-iPadMini3, iPadMini3Cellular-iPadMini3Cellular, iPodTouchSixthGen-iPodTouchSixthGen, iPhone6s-iPhone6s, iPhone6sPlus-iPhone6sPlus, iPadMini4-iPadMini4, iPadMini4Cellular-iPadMini4Cellular, iPadPro-iPadPro, iPadProCellular-iPadProCellular, iPadPro97-iPadPro97, iPadPro97Cellular-iPadPro97Cellular, iPhoneSE-iPhoneSE, iPhone7-iPhone7, iPhone7Plus-iPhone7Plus, iPad611-iPad611, iPad612-iPad612, iPad71-iPad71, iPad72-iPad72, iPad73-iPad73, iPad74-iPad74, iPhone8-iPhone8, iPhone8Plus-iPhone8Plus, iPhoneX-iPhoneX,

Supported Languages:

Arabic; Dutch; Flemish; English; French; German; Indonesian; Italian; Japanese; Korean; Portuguese; Russian; Chinese; Spanish; Castilian; Thai; Chinese; Turkish;