Screenshots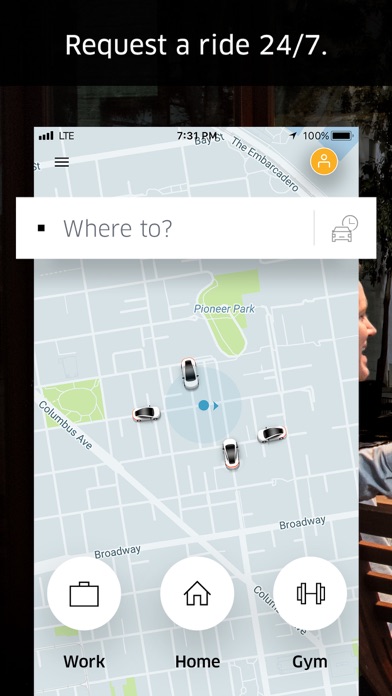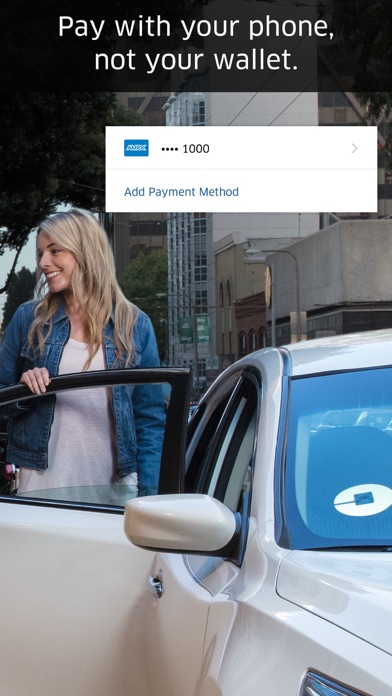 New in version 3.275.10000
More control over when you share your location with Uber. Now you can choose between "While Using the App," "Always," and "Never" in your location settings.
Description
Uber is a ridesharing app for fast, reliable rides in minutes—day or night. There's no need to park or wait for a taxi or bus. With Uber, you just tap to request a ride, and it's easy to pay with credit or cash in select cities.

Whether you're going to the airport or across town, there's an Uber for every occasion. Uber is available in more than 500 cities worldwide—download the app and take your first trip today.

Requesting your Uber is easy—here's how it works:
- Just open the app and tell us where you're going.
- The app uses your location so your driver knows where to pick you up.
- You'll see your driver's picture, vehicle details, and can track their arrival on the map.
- Payment can be made by credit card, cash in select cities, Apple Pay, PayPal, and more.
- After the ride, you can rate your driver and provide feedback to help us improve the Uber experience. You'll also get a receipt by email.

Need a simple way to get from A to B quickly? Take uberX, our most affordable individual option.

Want to save money on your ride? Take uberPOOL—you'll travel with other riders headed your way and enjoy a lower fare.

Want to elevate your experience? Take a high-end vehicle with UberBLACK. And there's still more options—whether you're traveling with a big group, or need a vehicle with accessibility features.

See if Uber is available in your city at https://www.uber.com/cities
Follow us on Twitter at https://twitter.com/uber
Like us on Facebook at https://www.facebook.com/uber

Have a question? Visit uber.com/help.

Note: Continued use of GPS running in the background can dramatically decrease battery life.
iPad Screenshots
Reviews
Review of Driver
The Ghost Gray
on
12/16/2017
Very smooth ride. Great conversation. Very clean car. Great service.
First Time User : Horrible App + Terrible Help .
If it was possible to give less than a one star rating i would . I've never used uber before so one day i decided to download the app . i had a coupon code my friend sent me like $10 off your first ride the ride was $4 i believe so it was just going to charge me i think either $.1 or $1 that was fine . i ended up not requesting one ( i know that for sure . so don't think like maybe you accidentally requested because i for sure know i did not . ) nor getting into one and IT TOOK THE MONEY OUT MY BANK ACCOUNT i dont care if it was actually one cent or not i didn't request anything so it should've never withdrew anything from my account . so i delete the app and let it go . then yesterday i downloaded the app again to request one and it pops up saying i have an outstanding balance of $40.85 . LIKE I SAID IVE NEVER USED UBER NEVER REQUESTED A DRIVER BEFORE NOR HAVE I BEEN IN A UBER CAR OR ANYTHING SO I DON'T SEE HOW I HAVE A OUTSTANDING BALANCE . so i went to the help section in the app and its not giving me an option to contact anyone only the option to pay this unknown balance to use the account . maybe its a in-app bug but completely horrible and the fact that cs acted like they couldn't help me was the worse thing ever also . Just overall horrible .
Insecure app. Account hacked. No support
My account has been hacked and I see unrecognized rides in another country. Multiple rides in the same day and charged my credit card. Scared to use Uber going forward. There is no helpline to report issue as well. Very disappointing and frustrating. Not able to delete the account as well. Goodbye Uber. Piece of sh**t
Uber pool - worst service on the market!
5 people in the car.... REALLY???? What kind of service is this? It is Toyota Highlander, it can not fit 3 200lb people in the winter on the back sit! It's not even worth 1 star!!! Bus is more comfortable....!
Should I go back?
I used to use uber daily but then my card got declined because I meant to use another one, and now my card with benefits I can't use. App says I have to call but I'm too lazy or too millennial to make a phone call. Who does that?? So now I use Lyft. But I would go back if uber included a "Quiet Ride" option, I would run back in heartbeat. These drivers interrupt me reading my work emails in the morning which drives me crazy. Or you know, maybe let me use my card again.
$20 coupon: 99qtk
ufasjkfan368
on
12/16/2017
First of all, if you haven't taken a ride yet make sure you use the coupon above to get $20 off your first ride!! Enter it right before you request a ride. Go to the Payment tab in the app and enter the coupon under promotions. Might as well try it out since it won't cost you a thing!!! The app is simple, easy to use and intuitive by design, giving you important info like the driver's face, phone number, and car make and model. It's amazing how quick and seamless the entire process is. A car comes to your door within minutes of pressing a button! The drivers are real people, they are very polite and their cars are clean! Some even come with complimentary water, gum and candy!!! Even if you want to charge your phone, a lot of drivers have phone chargers at your ready!!! UberX is definitely cheaper than your average cab. And if you want to share the ride with others going your way with uber pool, it's even cheaper. After all this, I don't see why you would ever use a yellow cab again. Who even needs a car anymore? It's becoming more and more pointless to own a car these days. The customer support is also fantastic. I got overcharged on one of my trips and I didn't have to say anything more than a comment on my driver feedback to get a full refund. I'm very happy and I hope Uber continues to exceed my expectations in not only the app but customer service!! I also prefer Uber much more than other competitors, mainly because they have so much more supply and cars are always just a few minutes away. Overall you should definitely give it a try, especially with the $20 coupon I gave you!
Change my review
Soulflavor18
on
12/16/2017
Update 12/17: Uber and lyft now both take prepaid cards. Uber is cheaper 80% of the time because of uber pool in nyc. Shared rides for $12 instead of $19 lyft and $30 yellow/green cab. I can now take cabs instead of transit without going broke. I complained and they listened 4.9 stars. Gps is crappy though. Idirect every uber driver myself using waze live traffic Previous review: Instead of a $22 Uber ride, they don't accept prepaid cards so I have to pay $40-$45 to yellow/city cabs. Personally Uber gets 0 stars for me. Because the yellow cabs always take ALL of my prepaid cards when Uber is the tech company .......
Problem on iPhone X
When the ride is over the app doesn't properly complete the trip (it still shows the same driver and Looking status). I need to force close the app to be able to order Uber again. This started when I switched to iPhone X and it is really annoying.
They've ruined more trips than i can count
Stephaniemariejacobs
on
12/16/2017
If i had a dollar for every trip Uber has screwed up, i could buy my own car. they've regularly left me stranded. wrong addresses. drivers driving right past me and still charging me for the ride. overcharging every time they can. not to mention the company itself is a mess. horrible customer service - they don't even read your messages and they send canned "were soooo sorry" responses. huge corporate culture of sexism and racism (just google it - you'll see). they're horrible. don't support this company when lyft is a way better alternative.
De cinco estrelas para três.
Léo Cerqueira
on
12/16/2017
Infelizmente o aplicativo de um mês para cá tem demorado muito para finalizar uma corrida. 4G , Wi-Fi, não importa piorou muito e já me prejudiquei numa situação de emergência. Espero que melhorem.
Lv UBER till last night
We were charged for riding with SUPERMAN WHO WAS LOST, did not speak English & never showed up. Very dissiponited😡
Bribery and Wiretapping? Bye!
Uber has been exposed for its illegal use of surveillance.
terrible
First of all i can't even change my location if i accidentally put it wrong unlike lyft you can change it. Also i get charged even if they never came to pick me up. Poor customer service.
FANTASTIC
U B E R IS ABSOLUTELY FANTASTIC !
Attempt to order Uber Service
Admiral_53224
on
12/16/2017
I download the app, because you are force too, in order to Uber. I enter in my bank card information and Uber does not accept my bank card. It's just a regular bank card of a bank of FDIC 😂🤣😂🤣😂. Of course, to my surprise, there is no posted customer service number. With all that being said. I think paying cash to a regular cab service is a lot better then Uber!!!! Alvin from Milwaukee, Wisconsin
Double charged
This is the second or third time already when the uber driver shows up and doesn't pick me up
Wrong address
No matter how times you manually enter an address into the system and it gives a GPS address for another business nearby repeatedly example of being when you're on the opposite side of an airport and it always send your driver to pick you up from the airport regardless of you not being at the airport. And then charges he repeated fees because it send a driver to the wrong location despite you manually entering an address, and it's sending it to a different location from where you entered
SAVIOR
what's my nameeee
on
12/16/2017
Uber continues to expand and assist the people of bustling cities.
Horrible navigation
Horrible navigation. Please do something finally!
Why, Apple?
This app violates specific guidelines yet Apple allowed it. Why? Screen overlays and other shady practices make this app more about data collection from a dev standpoint. Bottom line: Uber was affordable cheap and fast, now they are none of those things. Try working for them on any level, driver or coder: they don't have any good intentions and the public is now well aware. Drivers don't stick around long anymore, for good reason- the app for drivers is rigged to charge the customer more and fake out the driver into thinking surge and other additions will be added to their total. Wrong, it goes right into the pockets of this greedy disease of a company. Good riddance from a past developer, may you invest in your customers one day. And to Apple: A company like this shouldn't receive special treatment no matter what they paid you.
Fares
boston marky
on
12/16/2017
It i sad to say. Today i took a metro can from Logan airport to my house,it was five dollars cheaper than uber. Plus i didnt go all points north and south getting there. Hope you fix this Mark Boston
Frustrating
Datbaemonique69
on
12/16/2017
Love the app but unfortunately I cant sign in now
So bad
Yomil y el dany
on
12/16/2017
So bad they play with your money they charge me twice on a single tripe, not safe to get Uber is better call a taxy
Costumer service is no help
Wam_bam_sam_
on
12/15/2017
Had my account banned because I was trying to order food with Uber eats and somehow broke rules and conditions by doing so and costumer service was no help and told me there was nothing they could do. So not only did they ban my account they won't even fix it
Horrible
Drake's Macbook Pro
on
12/15/2017
The app wouldn't let me use my email saying that I had an active account yet gave me no way to log into the account nor recover the password. I contacted customer support and got a generic "your device has created too many accounts and cannot create anymore." I replied telling them that I had never created an account before and literally GOT THE SAME REPLY word for word from a different person. Probably a computer emailing me. I'll be using Lyfe instead. Ridiculous.
THANK YOU!
SimpleReviewYes?
on
12/15/2017
UPDATE - want to marry Express Pool. Best idea ever. $5 to go forever... cheaper than driving or parking! ----- First ride today: perfect! Bye, cabs!
Waiting time fee
Use the app on regular basis and love it. One complaint is on the waiting time fee. So far the amounts have not been to high but what I don't get is how can I be charged a waiting fee if I'm at the pick up location before my driver or if my drivers calls me to ask where I'm I and he is no we're close to the pick up location. Also if I have to go to where my driver is because he couldn't find the location I shouldn't have to be charged a waiting fee. Just a thought.
Fun
Juan was cheerful & knew his way around
Done with Uber
StevieRayRam
on
12/15/2017
No customer service, complaints are completely ignored and drivers are gaming the system.
Expensive for lateness
Littledevil2551
on
12/15/2017
Price always expensive, it's rare that the price is affordable. And to kill it off, if you order it one hour before you need to be at a location, it's still possible to arrive 10 minutes before you need to be there
Apple pay does not work!
I enjoy the app except for when i have tried to use Apple Pay. I attempted several times for several rides and i get the error "Oops, something went wrong, please try again." Please fix.
Use at your own risk
The app-based customer service is terrible. When I had an issue with a driver, I contacted the help center repeatedly with personalized messages, and each time got identical, boilerplate responses that never actually referenced my specific issue. It was obvious that no one was reading my messages. Very disappointing.
Okay
Worst Game App ever period
on
12/15/2017
The drivers never know where to go. Also, I think you should be able to pick whether you want a female driver or a male driver. I do not feel comfortable riding with all male drivers.
Never again
Drivers love to take their sweet time picking you up. One driver was only 3 minutes away but it took her 15 minutes to pick me up for whatever reason. I ended up being late to work. Not to mention the drivers are terrible, they swerve, don't use signals, drive under the speed limit in the passing lane, as a driver it scares me how bad the majority of uber drivers are. And I can't count how many times I felt uncomfortable because I was hit on by a driver on the freeway, unable to leave the situation. I'm using Lyft until I get my car fixed. Uber has only been a burden.
Can This Be Any More Difficult?
PennyRobert
on
12/15/2017
I have spent way too much time trying to set up an account with Uber! No link or phone number for customer support. Just never ending trial and error!
Rapido,Com Eficiência ...
Jerrys Rogers
on
12/15/2017
Este é o melhor serviço de transporte urbano. Vocês estão de Parabéns pela prestação e qualidade do mesmo.
Complaint on here
Local263947
on
12/15/2017
Do bother to drive for Uber. Its a rigged system. Its not sharing rides. They are using your car instead of making the capital investment themselves. They come out ahead not you. The app map needs lots of work. Riders and drivers are misinformed. They are terrible at paying cancellation fees and the best way to get resolution is writing a review. Otherwise they ignore you.
Double pricing for same exact route/time
No longer will be using Uber. My friends and I have been noticing the difference in pricing between our requests. I never cared too much about he small differences (mine cheaper than theirs and vice versa) until yesterday. I had 2x the price for the same exact route at the same time. I know uber will claim that it's because of surge pricing that the requests are different, but I'm the one who requested first and we tried the request several times, closing out of the app each, time to see if it would change and I had double the pricing every time. If this is happening with people I actually know, can only imagine how many times this has happened to me with strangers..
The app just keeps getting better all the time
I love how Uber keeps making the app better and better all the time. I couldn't live without the great service Uber provides and the app is such a great interface to that. Every once in a while the GPS is off but given the complexity of the Technology – that's totally excusable. And the non-technology component, the drivers, most of them are super great and friendly!
New Orleans airport someone took my Uber
state college cyclist
on
12/15/2017
Someone took my Uber and then I couldn't cancel because it said in transit! Now I am in an Uber of a nice man. Hopefully I will be able to cancel the other charges.
Classic Bait and Switch
They lure you in with promotional codes that you aren't able to use. I am going back to Lyft where I never had this problem. The promotional codes that Lyft has offered always seem to work for me, but that is not the case for Uber. Edit: I appreciate that the developer wants to try and make things right, so I will update the review to 2 stars, but the truth is that I am over it already and I have moved on. I took a different ride-share service home the day that the Uber code did not work. Anything that their customer service does at this point is too late - I can't travel back in time to use it. It was a Uber-Events code and the event has passed.
My experience
My last Uber ride was excellent. The driver had great communication skills.
Wait times
There lately has been a noticeably poor gap between suggested wait times and actual wait time once a driver accepts. A two minute wait time sounds phenomenal however, when this suddenly changes to 12 minutes once a driver accepts, that is not at all preferable.
Love the ride
BrittBrat1992
on
12/15/2017
Great app
Terrible
DeleteUberEats
on
12/15/2017
Terrible service. Uber should go away.
Cheating Uber at it again
Uber going about it's usual cheating ways by pushing insignificant updates in order to game their App Store rating. Also, Uber has come out in support of illegal activities by foreign nationals stealing from Americans, depriving them of higher wages, and defrauding American children while rotting out our higher education and society with anti-American ideology by foreigners who have no respect for what they have stolen, let alone for America and their illegal presence. I will be moving away from Uber and will be advocating for Uber to be investigated for illegal support and harboring of illegal foreign nationals as accomplices in crimes of fraud and support of illegal activities against Americans. RICO act really does seem applicable in collusion against American workers in order to fake corporate profits through fraud against America. Also, everyone know you're pushing updates without update notes in order to use the App Store as marketing tool.
Work on estimating arrival time.
I get it, living in a city means unpredictable traffic. But waiting twenty minutes when the app says 7 isn't the fault of the driver, it's a mis calculation on Uber's part. As a loyal user, pleas just be realistic with me.
Fix it
Pandaliver333333
on
12/14/2017
A girl just got raped I Atlanta by one of your drivers and she's not the only you guys have to do better that make it safe for others like how about we have options if we want male or female drivers to come pick us up and how about you guys have number two so anything happens we can report to you guys also the app is laggy and I still haven't get my refunds not only male drivers do be harassing the ladies
Use LYFT
Daniel Envy
on
12/14/2017
Don't EVER use pool, u could almost walk to ur destination in that amount of time. Too much time wasted. Too many late appointments. Lost a daily customer. Uber is trash!
Fact Sheet
Publisher:

Uber Technologies, Inc.

Category:

Travel

Released:

May 20, 2010

Current Version Released:

Dec 11, 2017

Version:

3.275.10000

Size:

281.4 MB

Compatibility:

Requires iOS 9.0 or later.

Recommended Age:

4+

Game Center Certified:

No

Supported Devices:

iPad2Wifi-iPad2Wifi, iPad23G-iPad23G, iPhone4S-iPhone4S, iPadThirdGen-iPadThirdGen, iPadThirdGen4G-iPadThirdGen4G, iPhone5-iPhone5, iPodTouchFifthGen-iPodTouchFifthGen, iPadFourthGen-iPadFourthGen, iPadFourthGen4G-iPadFourthGen4G, iPadMini-iPadMini, iPadMini4G-iPadMini4G, iPhone5c-iPhone5c, iPhone5s-iPhone5s, iPadAir-iPadAir, iPadAirCellular-iPadAirCellular, iPadMiniRetina-iPadMiniRetina, iPadMiniRetinaCellular-iPadMiniRetinaCellular, iPhone6-iPhone6, iPhone6Plus-iPhone6Plus, iPadAir2-iPadAir2, iPadAir2Cellular-iPadAir2Cellular, iPadMini3-iPadMini3, iPadMini3Cellular-iPadMini3Cellular, iPodTouchSixthGen-iPodTouchSixthGen, iPhone6s-iPhone6s, iPhone6sPlus-iPhone6sPlus, iPadMini4-iPadMini4, iPadMini4Cellular-iPadMini4Cellular, iPadPro-iPadPro, iPadProCellular-iPadProCellular, iPadPro97-iPadPro97, iPadPro97Cellular-iPadPro97Cellular, iPhoneSE-iPhoneSE, iPhone7-iPhone7, iPhone7Plus-iPhone7Plus, iPad611-iPad611, iPad612-iPad612, iPad71-iPad71, iPad72-iPad72, iPad73-iPad73, iPad74-iPad74, iPhone8-iPhone8, iPhone8Plus-iPhone8Plus, iPhoneX-iPhoneX,

Supported Languages:

Arabic; Azerbaijani; Bulgarian; Croatian; Czech; Danish; Dutch; Flemish; English; Estonian; Finnish; French; German; Greek; Hebrew; Hindi; Hungarian; Indonesian; Italian; Japanese; Korean; Latvian; Lithuanian; Malay; Bokmål, Norwegian; Norwegian Bokmål; Polish; Portuguese; Romanian; Moldavian; Russian; Chinese; Slovak; Slovenian; Spanish; Castilian; Swahili; Swedish; Tagalog; Thai; Chinese; Turkish; Ukrainian; Urdu; Vietnamese;