This version of the app is not recommended
App last updated
Apr 30, 2010
Screenshots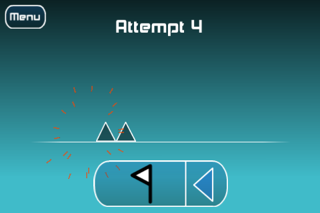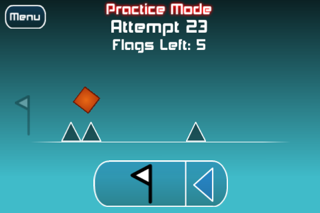 Description
The best selling Xbox Live Indie Game comes to iPhone and iPod Touch - it's quite possibly the world's hardest game!

With just one control, tapping the screen to jump, guide your orange square over spikes and jump onto blocks to get to the end of the level. Any mistake will result in instant death and a respawn at the beginning of the level. With an awesome soundtrack synced to the game you'll quickly become addicted!

Also included is a Practice Mode, allowing you to lay checkpoints along the way so you don't have to start from the beginning every time.

Check out the full version for more features, including a medals and stats page!

Praise for The Impossible Game on iPhone:

"The most original platform gaming I've ever experienced... A ton of fun"
- Touch Arcade

"Insanely addictive"
- Destructoid

"Lovely, clean graphics and addictive music"
- Gizmodo

"Words can't describe how 'right' this feels."
- DIYgamer

"An incredible ride. High-tempo, life-or-death, and completely seamless. 4/5"
- 148 Apps

"A great boredom buster. 9/10"
- NXT Gamer

"A minimalistic yet very stylish design that draws you in and keeps you coming back for more"
- App Advice

More Info: http://flukedude.com/theimpossiblegame
Contact: info@flukedude.com
Reviews
Fun game but needs to be updated
This game won't let me play unless it's updated
Screw this lite version
Americannadiann22
on
5/11/2017
" "
Great but needs more levels
It took me a while to get used to the timing, but I beat the game. The only flaw I see is the lack of levels. Other than that, I really love this game
8 simple words..
SneakyNinja453
on
4/29/2017
The game is to short I'm deleting the f-ing game...
Waste
I'm glad I tried out the demo first... the impossible game is the low budget shadow for geometry dash. I've played geometry dash for a few years and it was worth it. If your deciding to buy this get geometry dash. It has better graphics and has 20 default levels and basically a endless supply of user created levels. So spend the extra $2 and get geometry dash instead
Too short
Gjgtgchtukgjj??????
on
3/5/2017
It's far too short. I literally beat it first try, about ten seconds in.
👎👎👎👎👎👎👎👎
Muito ruim!! Copia do Geometry dash.
How to trigger you
A random person in Ohio
on
1/14/2017
Geometry dash is better
Amazing
This is the original geometry dash. The geo-dash wannabees just like geo BUT this is where geo-dash started and those geo fanboys should relize this.
Piss poor
Jaqui cuhjil
on
9/16/2016
Beat it in 10 seconds
Rip Off
Sky landers master
on
8/27/2016
The demo is so short and this is just a copy of Geometry Dash, i hate this game and the music doesnt have dubstep i would like it if it had dubstep. WUB WUB CRRRZZZH BRRRZHC
Terrible
Asriel dreemor
on
7/17/2016
YOU HAVE TO BE JOKING i played this game thinking that it will be a fun not to like long but not to short kind of game but it cut me of right when I was getting the hang of it! WAIST OF MY TIME!!!😡😡😡
This is the original geometry dash
Boss man 6932
on
7/2/2016
This game was out a long time before geometry dash and is still a great game
AWESOME
Super cool, I've had it for 5 minutes, and it is my FAVORITE GAME Just so you know, it is SUPER frustrating, very fun it is worth like 10 dollars (approximately) it is so good, I DEFINITELY recommend this game to everyone Just so everyone knows, IT IS SOOOO ADDICTING!😀😀😀😀😀😀😀👍🏻👍🏼👍🏽👍🏾👍🏿😎🤓😛😈👻😹😺
Wow.
The demo has a third of a level and that's it, wow. Geometry dash is so much better, (yes it was made after) but geometry dash is a lot better and that is why I bought the full version of geometry dash on steam and iPad.
Stupid Demo
Kat33426365654
on
6/21/2016
I think the demo is a rip off of geometry dash. Geometry dash is way better and I completed the demo in the first 3 min I got the game. Extend the demo and maybe I would give it at least 2 stars.
Don't hate this game
No name no hackers
on
5/16/2016
Don't hate this game without this game there wouldn't be geometry dash because robtop got the idea from this game
The original geometry dash
Joloxsa Frost
on
5/5/2016
Before all u noobs say this is a rip off from Gd it's not. Gd was based from this game. I remember playing this before Gd was thought of.
Not much
Obsessed duck
on
3/20/2016
(My opinion) Although this is the free version it only lets you play an eighth of the first level. I had very open mind when I downloaded it but when I played through it, it gave me a "buy full version now" screen within a matter of about 20 sec. Because of these reasons I gave 2 stars
🙄
chickencrab2004
on
2/25/2016
This game it terrible. It is very hard to play. If you want a game just like this but a little easier and more fun and has levels download Geometry Dash! It's very fun!! There are different levels and they get harder as you go!
10 SECONDS?! BRUTAL
I was excited to download this game. After 10 seconds of playing this game, it said "Demo is over. Please buy full version" and then took me back to the middle. It's literally forcing you to buy the full version just so the creator can get money. This is Geometry Dash but brutal. DON'T DOWNLOAD THIS GAME IT'S A WASTE OF YOUR LIFE.
Needs to be longer
This is a great game, but the lite version is way too short. I got to the end at attempt number 2. That's not at all worth it.
So stressful
Flower kitty 123
on
1/31/2016
What!!! I went to school one day and I couldn't focus cause I was so stressed!!!!!! Make it a tad Easier or I'll delete it😖😡😡👿😾😾😤
Hate it
The lite version of this game is very stupid. It gives u like 2 seconds to play the game and it's a LOT harder than Geometry Dash. I know that has nothing to do with it and it's supposed to be impossible, but I just think it's stupid. I can't even delete it now!!!!!!!!!😁
Please extend the demo
I just installed this. I want EVERYONE to know that this game is not a rip-off version of Geometry Dash. Geometry Dash is BASED off of this game. At least stop telling lies in the reviews, people! I do have one complaint, though. I have a first-generation iPod, which can only run games up to iOS 4.1.2 and with OpenGL 1.0. These games are rare on the App Store. I cannot install the full version on my iPod. Even though that would be almost impossible to fix, and cumbersome to iOS users 5.0 and above, that is only part of my full complaint. Because you can see this review, I have obviously installed the Lite version of The Impossible Game successfully. However, since I cannot install the demo or the full version of Geometry Dash, I plead that the developers of The Impossible Game extend the level in the Lite version to its full extent. I would think that would make many gamers happy. Sincerely, WAUthethird
Hate this game
I hate this game so much you have to spend a bunch of money just to get more stupidness
Don't even bother
10 seconds of demo only
Fun but short
SlayaplayaODST
on
1/15/2016
I seriously only took three tries and the the lite version ended. Geometry Dash is the same thing, but gives like eight levels on the lite version
Horrible
The lite version is not even worth the space you only get a few seconds to play don't waste your time on this trash
STUPID!! DONT WASTE TIME
The_Critic_Kid
on
1/8/2016
This is a rip off of geometry dash. if you liked the preview go get geometry dash lite or full version ( full version costs $ ) this is a game exactly like geometry dash but geometry dash is better
Very fun but...
Very Impressed!! 😍
on
1/2/2016
This game is just Geometry Dash but less professional and not well made. Nice try.
Oh my gosh what
Growls kraal
on
12/30/2015
I am glad that I didn't pay for this because it seems way to easy. Geometry dash level one is harder than that. And it just cuts u off in the middle of the level in lite. 😟😟. I am going to go pay 2 dollars for a better game. This isn't fair man. If I could I would rate 0 stars
10 Seconds of a game
Coleco Smurf
on
12/27/2015
thanks
Bad
Easy_brezzy_
on
12/3/2015
The full version is .99 cents and Comes with 2 levels. I bought the full version of geometry dash and it comes with 20 with a way better sound track better mechanics and way better. Even the demo version comes with about 9 levels you can play, just don't get this, geometry dash is better.
WASTE OF TIME!!!!
I literally beat the demo in under a minute. Please just get geometry dash instead guys, it's worth it. Because after playing geometry dash this game is a piece of cake and a waste of storage space for your device, unless you have an iPhone, because your just going to get the next one in the next 3 months anyway. So get it, if you have an iPhone, but I'm warning you, I beat it in under a minute in 4 tries. TRUST ME IT IS NOT WORTH THE STORAGE
FREE THE IMPOSSIBLE GAME
Iam_NickSpace
on
10/22/2015
This game was introduced to me yesterday, and it irks me that while other people without iPhones can download it for free, I have to pay $.99. Which doesn't seem to make other people happy either. MAKE IT FREE SO I CAN PLAY THIS THING PAST THE FIRST 20 SECONDS!!!!! 🙏🏼⁉️😆
Same thing as Geometry Dash
This is just a bad version of Geometry Dash that doesn't look as cool and the music is a little boring. I wouldn't recommend buying the full version. Just get Geometry Dash for a better deal, or at least a better deal in my opinion.
Boring and easy
This is a super unaddictive and very, very easy platform game synced to a horrible soundtrack. That's the opposite of what the flash version says. I know geometry dash based their game off this, but it's WAY better than this weird thing.
I wish I could rate it 0 ⭐️
Worst game ever! 1: Too easy 2: Rip off version of Geometry Dash 3: boor
Shouldn't of downloaded this XD
Cadet krya leena
on
8/25/2015
I can't stop playing it! It's so fun But... Why do I keep dying on stage three?! Is that where it's suppose to become IMPOSSIBLE 😂:D
Love it but...
Elly 2003 27 9
on
8/19/2015
I love this game so much but come on half a level I have had it for a week and I can finish it in one try upside down, sideways, diagonal (all four diagonals) and of course right side up so I think they should at least make it a bit longer
It's okay. But....
Frank Iêrwøâh
on
8/9/2015
As you know, when you first open the app, it has a loading screen. But, the first time I got the app, it took about 30 minutes to load. It is really frustrating. I had 3 bars of wifi and there was nothing wrong with my phone. It just took long to load. Please adjust this problem. Thank you.
Disappointed
Not impossible
Fun and easy and SHORT
After two years of playing geometry dash, I completed the lite version in about ten seconds. Very fun and very easy game, but it'd be nice if the lite version featured at least a full level.
Not really impossible
Savage gremlin22
on
7/20/2015
It is frustrating but I spent hours trying to beat it and I did so it's not impossible
Hey guys want something longer and similar
If u want something exactly like this, then try geometry dash it gives u the whole level even if it's the lite version. The full version is basically designing ur character. You should check it out!!!! To be honest this game (the one that is too short) is just another version of geometry dash, just a different colored block and background. Waaaayyy too short. Make sure to check out geometry dash!!!
This is all I have to say
.....
Fact Sheet
Publisher:

FlukeDude Ltd

Category:

Games

Released:

Apr 30, 2010

Current Version Released:

Apr 30, 2010

Version:

1.0

Size:

6.1 MB

Compatibility:

Requires iOS 3.0 or later.

Recommended Age:

4+

Game Center Certified:

No

Supported Languages:

English;