Screenshots
New in version 7.0.4
- Bug fixes and improvements
Description
The Rue La La app is the quickest, easiest way to shop Rue La La from anywhere. Shop the most-wanted brands every day at up to 70% off. Featured by Apple as one of the Best New Apps, Rue La La has style for any occasion. Bring your favorite shopping experience on-the-go with the award winning Rue La La app. Rue La La's iPhone app and iPad app were selected from nearly 13,000 entries as Official Honorees in The 19th Annual Webby Awards in two categories: Most Innovative Mobile Shopping App and Most Innovative Tablet Shopping App. New sales launch every day at 11AM ET and 3PM ET, featuring the best brands in apparel, shoes, accessories, beauty, home, travel and more. Turn on push notifications for exclusive app-only sale launch notifications.

Our most popular items sell out very quickly, but with the app, you will never miss a can't-live-without-it bag or the perfect gift again. Plus, 30 Days of Free Shipping are yours on the app after you make a first purchase. Consider your warm-weather style in the bag – or in this case, in your hand.

Not a Rue La La Member? No problem. It's free and you can join quickly right from the app. Take it for a spin, we know you'll love it. If you have questions, just contact mobile@ruelala.com and we'd be happy to help make your experience better.

Here are some of the best features on our iOS 10 compatible iPhone and iPad apps:

+ Get exclusive access to app user only sales. (Note: Make sure you have push notifications enabled so you don't miss a beat.) For information on how to turn push on, visit https://now.ruelala.com/turn-push-notifications/
+ Free Shipping for 30 days after you make your first purchase on the apps.
+ Check out in just 1 tap.
+ Stay logged in so you can get to the sales faster.
+ Add upcoming sales to your device calendar so you don't miss out (app-only feature).
+ Filter sales to shop by category, brand, color, and size.
+ Sort sales to shop by best sellers and price.
+ Add new credit cards with our easy to use credit card scanning functionality.
+ Add a product to your bag on one device and your cart stays with you across all of your devices (perfect for shopping in bed on your iPad or on your iPhone while on your way to a meeting).
+ Be a good friend, tell them about those sought-after heels with your friends via Pinterest, Facebook, Twitter, email or SMS. They'll thank you for it.
+ Track your order from your apps.
+ Manage your account info on the run.

Frequently Asked Questions
Q: How Do I Update my iPhone (4s or later) or iPad (2 or later) to iOS 10?

+ Open the device Settings
+ Tap General > Software Update
+ Tap Download and Install
+ Enter your iTunes Account password
+ Tap Agree option when the Terms and Conditions screen appears.

Q: How do I turn on the app-only push notification alerts, so I never miss a Boutique opening?

+ To turn on push notifications, first turn them on from your iPhone or iPad's settings.
+ Open the device Settings
+ Tap Notification Center > Rue La La
+ Set your Alert Style to Banners or Alerts
+ Slide Show in Notification Center to green
+ Slide Show on Lock Screen to green.
+ Then you're all set!

Have a question?
Email mobilehelp@ruelala.com or contact a Rue La La Concierge at 1-888-992-LALA (5252).
iPad Screenshots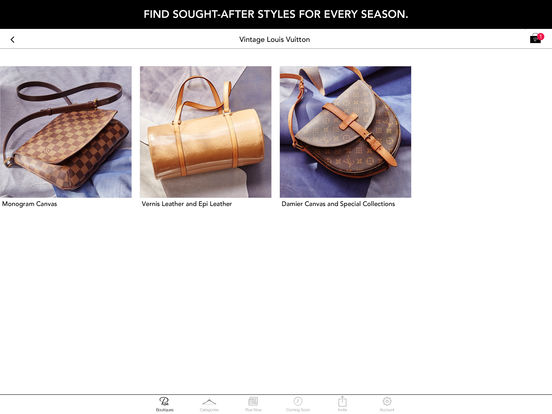 Reviews
Love it!
Great site to get good deals on luxury items. Highly recommend!!
Totally addictive
Rue is an amazing source of diverse options with great deals everyday. I am sure at least 1/3 of my clothing purchases have come from this site over the past year.
Love it
Easy returns, great customer service, and great values. For the busy professional it is fabulous. And i recently took a risk and bought patio furniture - couldn't be more pleased!
Great Shopping App!
The site is so easy to use. I find things I didn't even know I needed.
I Love Today's Fix!!!
I love checking for the greats deals everyday. "Today's Fix" is my addiction. Ha! Always great deals. Thanks Rue!
Wonderful source for quality items
I have been using Rue La La for a couple of years, and have been quite pleased with my purchases. There are so many high quality clothes and other items offered. Returns are very easy, too.
Great Sales!
DC Panda Bear
on
8/15/2017
Love the app. Love the items they sell. Name brand items at a good deal. Gave 4 stars because if shipping was always free, I would have given 5 stars!
Great way to shop
I use the app and website. Very easy to use and shop. Returns are easy also.
Good deals, good user experience on app
I've purchased several things both clothes and accessories from this site and they have all been good buys and arrived quickly.
Great app
Dark Chocolate 2013
on
8/12/2017
Great app with great deals and savings.
My favorite online shopping for clothes & shoes, has something for all tastes and price ranges
Rue has become my favorite store, easy, great options high and low priced items. Something for everyone and every taste!! Sent from my iPhone
The ultimate in shopping websites
I've been shopping on Rue for going on a decade. There are many shopping sites on the web, so you have to be special to set yourself apart from the rest. Rue has done this with exceptional customer service and easy accessibility. In addition Rue only selects the highest quality merch for their offerings. I've never once been disappointed.
Love this app
I love this app. I visit often.
The best shopping
a macedonian
on
8/10/2017
I love Rue because of the high quality merchandise at reduced and sometimes extremely reduced prices. I have found designer jeans, spanx, lole, boots, spiffy sneakers, dresses, awesome jewelry, etc, as well as numerous household items. I really like that I pay shipping once per year, $50 (I think my first year was $39) and then I get free shipping all year! So I can order one small item, say a spanx bra, and not pay outrageous shipping like at other sites. I can buy whatever and not pay any shipping. Also the quality is excellent ! I think the QA department here gets a 10! Love Rue!!!
Superb app Love it!!!
I'm Very Glad I came across this app by way of Wendy Williams show. Great products / Selection / Quality / Price! The only thing is I'm always finding stuff for Friends & Family!!! The Shipping helps out when U order & Pay just $9.95 Which covers a Whole Month!!! Thank U Rue ❤️❤️❤️
Awesome variety
Kelly kell 100000000007443
on
8/8/2017
I've ordered many items from Rue excellent product selection . You can catch some really good deals but the shipping prevents me from ordering more often... love the app
❤️
I am tall and need designer jeans like Hudson's for their bum style & length! RLL is my go to for getting the deal on Tall & Skinny Clothes!
Excellent App
This app is the best one that I have used for shopping to date. It makes browsing, selection, shopping and checkout easy and enjoyable!
Favorite App to Shop
There's always a great deal to be found!
Good App to Check
If you are looking for something high end and new, this is a good app to check. Prices are pretty good. I've found quality to be good, too.
Doggie5389
Great app. I find way too much stuff that I feel I need and at a great price.
Erikats
I love ❤️ app todo de la mejor categoria, te llegan las cosas super rapido y muy profecionales
Love it!
I've been a Rue La La member for years. The app helps so I never miss a sale.
Repeat
cupcakewithsprinkles
on
8/2/2017
I really like this app, most of the time. But at time it does seem to have a lot of repeats. I'd like to see more fresh new items more often.
Oooh lala
Love rulala but mobile app needs to update (such as payment via paypal)
Dedicated shopper
I love this app always a great steal. I just wish there was a way to add something to your wish list
Awesome
daughterofanative
on
7/31/2017
Great items at Great prices... my go to for shopping fashion.
VERY BAD PLACE TO SHOP NOW
spyderbaby5000
on
7/30/2017
Years ago, RueLaLa was great. Now they have gone the CHEAP route. No more packing inside the box, just everything thrown in and things arrive BROKEN. Jewelry, storage boxes, mirrors, you name it. They say "Sorry, we will instruct our warehouse". Next order, no difference! THEY JUST DO NOT CARE ANYMORE. WARNING to anyone looking to purchase PANDORA - a lot of what Rue sells now is FAKE!!!!!! They, of course, deny it. But I know PANDORA; I've been buying it since they started, I have over 600 charms alone, I go to my local Pandora jeweler often and I know fake when I see it. Rue should, too, but they are just after money. Trust me, half of their Pandora is FAKE!! The market has been flooded with FAKE Pandora over the past few years. If you buy it, you can return it, but they, of course, want to charge you the shipping fee. RueLaLa no longer values it's customers. They also have a great tactic of not answering emails, so you can't return things because the time limit has expired. There are better online options, and I would steer clear of RueLaLa, unless you just want some cheap towels. Those they can probably ship without breaking. I would hope. Oh, wait, they could arrive shredded. Your money.
Rue la la
Great sales prices on so many items. I wish it were a bit easier to search for items I'm looking for!
Great flash sale site
Always have been a fan, still finding amazing deals years later
Absolutely love
RealtyGalNYC
on
7/28/2017
Between the selection the prices and the constant surprises I absolutely adore this app.
Love it !!👍👍👍👍
Great app!!!!
Ohrue LaLa
Awesome! Great prices!
Almost Perfect
Virginia Story
on
7/27/2017
Super sophisticated and simplified shopping experience. The search engine is incredible, aside from not being able to narrow down your search results as easily as you can on a computer; and the shopping cart split up by shipping date is amazing, aside from not being able to see how long an item has left on the website from your cart like you can on a computer. Overall deeply satisfied though. Love this store!!
Great products and service!
Loveonlineshopping
on
7/26/2017
Love Rue La La
High end products at a semi affordable price
I love seeing the new products on sale everyday. The prices on many sales are reasonable and very tempting.
Broken!
Completely unable to login either via email and password or Facebook. Both work fine over the web. Please fix this!
LOVE IT
I have shop several times with Rue La La, and have always had wonderful service! I save up for special events so I can get everything I want! Love it!
High class shopping at affordable prices
I love the selection of brands that they offer. I, too, wish there was a way to search for something specific I might be looking for without having to go into an individual sale. If you're looking for good prices on high end items, this is the site/app for you.
Cannot open app
Why do I need more than one item in my bag to change my shipping address????? That makes NO sense.
Ooh la la
Love this company! Great value on name brand items. Highly recommend !!!
Love this App
RueLaLa is a wonderful app to find just about anything you need (or want!) I love them and they deliver right on time in a well packaged box.
Addictive
Dredlockeddiva
on
7/19/2017
Using this app to shop on Ruelala is very addictive. The app groups your favorite designers, sorts by price, color, size & a multitude of other features. Payment options include Apple Pay!! I buy so much stuff until my delivery man is almost part of the family. I wonder what he'll bring to the next family cookout 😂
Great App!
Wonderful, well presented, easy to use app! Enjoy a great shopping experience on Ruelala with this app.
Always Fresh 😎
Rue keeps up with the latest trends for all ages. I have also found unique items for the home. Love it ❤️
So far good
Everything is easy to find. Would like a bit more content. Everything is great. Shipping is amazing.
Upped the stakes
I dressed to hide my body most of my life, but in my 40s decided to embrace and celebrate it. Rue La La made it possible for me to completely revamp my wardrobe with well made, high quality clothes from fantastic designers. I shop here more than any other single shop.
Search option?
Wish there was a search option !
Fact Sheet
Publisher:

RueLaLa

Category:

Shopping

Released:

May 20, 2010

Current Version Released:

Aug 11, 2017

Version:

7.0.4

Size:

84.6 MB

Compatibility:

Requires iOS 8.1 or later.

Recommended Age:

4+

Game Center Certified:

No

Supported Devices:

iPad2Wifi-iPad2Wifi, iPad23G-iPad23G, iPhone4S-iPhone4S, iPadThirdGen-iPadThirdGen, iPadThirdGen4G-iPadThirdGen4G, iPhone5-iPhone5, iPodTouchFifthGen-iPodTouchFifthGen, iPadFourthGen-iPadFourthGen, iPadFourthGen4G-iPadFourthGen4G, iPadMini-iPadMini, iPadMini4G-iPadMini4G, iPhone5c-iPhone5c, iPhone5s-iPhone5s, iPadAir-iPadAir, iPadAirCellular-iPadAirCellular, iPadMiniRetina-iPadMiniRetina, iPadMiniRetinaCellular-iPadMiniRetinaCellular, iPhone6-iPhone6, iPhone6Plus-iPhone6Plus, iPadAir2-iPadAir2, iPadAir2Cellular-iPadAir2Cellular, iPadMini3-iPadMini3, iPadMini3Cellular-iPadMini3Cellular, iPodTouchSixthGen-iPodTouchSixthGen, iPhone6s-iPhone6s, iPhone6sPlus-iPhone6sPlus, iPadMini4-iPadMini4, iPadMini4Cellular-iPadMini4Cellular, iPadPro-iPadPro, iPadProCellular-iPadProCellular, iPadPro97-iPadPro97, iPadPro97Cellular-iPadPro97Cellular, iPhoneSE-iPhoneSE, iPhone7-iPhone7, iPhone7Plus-iPhone7Plus, iPad611-iPad611, iPad612-iPad612, iPad71-iPad71, iPad72-iPad72, iPad73-iPad73, iPad74-iPad74,

Supported Languages:

English;