Screenshots
New in version 7.3.0
New feature alert: Keep an eye out for a lightning round of finds (gone in a flash), available exclusively on our app!

Also, some small user experience updates and bug fixes to make your shopping experience as seamless as possible.
Description
The Rue La La app is the quickest, easiest way to shop Rue La La from anywhere. Shop the most-wanted brands every day at up to 70% off. Featured by Apple as one of the Best New Apps, Rue La La has style for any occasion. Bring your favorite shopping experience on-the-go with the award winning Rue La La app. Rue La La's iPhone app and iPad app were selected from nearly 13,000 entries as Official Honorees in The 19th Annual Webby Awards in two categories: Most Innovative Mobile Shopping App and Most Innovative Tablet Shopping App. New sales launch every day at 11AM ET and 3PM ET, featuring the best brands in apparel, shoes, accessories, beauty, home, travel and more. Turn on push notifications for exclusive app-only sale launch notifications.

Our most popular items sell out very quickly, but with the app, you will never miss a can't-live-without-it bag or the perfect gift again. Plus, 30 Days of Free Shipping are yours on the app after you make a first purchase. Consider your warm-weather style in the bag – or in this case, in your hand.

Not a Rue La La Member? No problem. It's free and you can join quickly right from the app. Take it for a spin, we know you'll love it. If you have questions, just contact mobile@ruelala.com and we'd be happy to help make your experience better.

Here are some of the best features on our iOS 10 compatible iPhone and iPad apps:

+ Get exclusive access to app user only sales. (Note: Make sure you have push notifications enabled so you don't miss a beat.) For information on how to turn push on, visit https://now.ruelala.com/turn-push-notifications/
+ Free Shipping for 30 days after you make your first purchase on the apps.
+ Check out in just 1 tap.
+ Stay logged in so you can get to the sales faster.
+ Add upcoming sales to your device calendar so you don't miss out (app-only feature).
+ Filter sales to shop by category, brand, color, and size.
+ Sort sales to shop by best sellers and price.
+ Add new credit cards with our easy to use credit card scanning functionality.
+ Add a product to your bag on one device and your cart stays with you across all of your devices (perfect for shopping in bed on your iPad or on your iPhone while on your way to a meeting).
+ Be a good friend, tell them about those sought-after heels with your friends via Pinterest, Facebook, Twitter, email or SMS. They'll thank you for it.
+ Track your order from your apps.
+ Manage your account info on the run.

Frequently Asked Questions
Q: How Do I Update my iPhone (4s or later) or iPad (2 or later) to iOS 10?

+ Open the device Settings
+ Tap General > Software Update
+ Tap Download and Install
+ Enter your iTunes Account password
+ Tap Agree option when the Terms and Conditions screen appears.

Q: How do I turn on the app-only push notification alerts, so I never miss a Boutique opening?

+ To turn on push notifications, first turn them on from your iPhone or iPad's settings.
+ Open the device Settings
+ Tap Notification Center > Rue La La
+ Set your Alert Style to Banners or Alerts
+ Slide Show in Notification Center to green
+ Slide Show on Lock Screen to green.
+ Then you're all set!

Have a question?
Email mobilehelp@ruelala.com or contact a Rue La La Concierge at 1-888-992-LALA (5252).
iPad Screenshots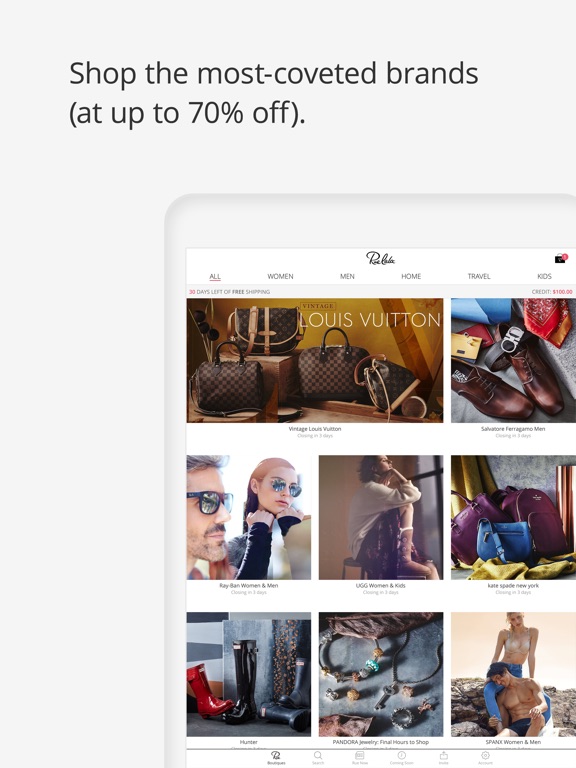 Reviews
High end shopping app
Great selection of high items at lowered or deeply discounted prices. The shipping cost is higher than average only worth it if you plan on purchasing many things in a month span. Shipping is fast
Filter options
Why is it that you can filter by men and women in adult clothes, shoes, watches etc but when it comes to kids you can't filter boys and girls??? There are by far more girls than boys clothes and shoes which is fine, stores are the same way but they have separate boy and girl departments. With two boys I have zero interest in scrolling through the tutus, dresses, pink, purple etc. GIVE ME BOY/GIRL FILTERS!
Pricey, But Great Product Selection and Service
This is a flash sale site, and by far my favorite in the world of luxury brand flash sales. Tip for new customers: If you access Rue La La's full website (instead of their app), you can see almost every product they carry. Not just the products on 48- or 72-hour flash sale, but every in-stock item. I like this because it helps me make thoughtful purchasing decisions when comparing Rue La La's products with those on Gilt, eBay, Neiman Marcus Last Call, HomeGoods, etc. The outstanding clothing and accessories curating and the great communication with Rue La La's "concierges" is what makes this my first stop for on-trend fashion and family gifts.
Awesome shopping experience
I love to shop at Rue la la. I have always had a positive experience when ordering and love the name brands.
Great shopping!
This site has great brands and great deals, easy to navigate and buy.
Love it!!
Every morning I look forward to seeing what's on the site!!!
A Shoppers Paradise!
Detroit Delta
on
10/9/2017
I love the RueLaLa app. They offer fantastic clothing for fashion savvy people and beautiful, unique items for the home. Their prices are great too! It's a win-win for me every time I shop with RueLaLa!
Great online shopping!
Potomac Sharon
on
10/8/2017
I've been shopping with Rue for years and have always had a positive experience. Purchasing is quick and easy, returns are a breeze, phone consultants are knowledgeable and quick to help, and the clothes are excellent quality! I recommend Rue to all my friends!
No longer interested in a certain brand
Be careful when choosing the brands you like when "shopping your brands." You can't edit/update your preferences. I was told to delete the app and reinstall it, did that twice, still can't get rid of a certain brand that I am no longer interested in buying.
Great Organization!
I've nothing but good things to say about Rue La La. Excellent selections and prices!!!
Rue La Ahhhhhh
So cool and so easy to check on and buy(!) from my favorite Rue.
Eh
I have always loved Ruelala, but the recent update has taken away the filter options. Not a fan of that, will shop on HauteLook until the filters are restored!
👍🏻👍🏻👍🏻
Одессит очка
on
9/27/2017
5+👍🏻👍🏻👍🏻
Great App
Super easy to use.
For those who miss My Habit
DebDurikDesigns
on
9/25/2017
I've purchased a few things from Ruelala and so far have not had any problems. I have also returned a few things that either didn't fit or turned out to be not me. I like the selection and getting a discounted price but wish there was more stock in the M/L size range.
RueLaLa
Great education on suggested products, & it makes it easy for consumers to place an order and/or where to shop for similar product. This site is a most enjoyable for shopping & pasing quality time.
Poor user interface
This app makes it difficult to do business with. It can't locate your e-mail (associated with YOUR account) if you forget your password or need to make changes of some kind to your account. I usually just end up finding what I need elsewhere.
Rue La La is the best !
Food empress
on
9/23/2017
I am an avid shopper of great products at great prices. Rue La La has never let me down. From kids' items to cashmere to designer jewelry to luxe handbags, I have been very satisfied. Only once did I need to return an item and I was able to spend the refund on something else. The only thing I'd like is a search function for when I'm looking for something specific. Not enough for me to take away the 5*****'s.
Wonderful company and App
I love Rue La La. the customer service is amazing as is the deals you can get. My only recommendation would be to put in a search engine so you can locate specific designers that may have items in different boutiques.
My Favorite!
Orchidgirl101
on
9/15/2017
I have been a customer of Rue La La for a very long time. I have watched the company grow over the years but one thing has remained the same from the very start and that is their superior customer service! I am never disappointed when I check to see which boutiques are "on" that day. Because of Rue La La, I have a wardrobe that I am proud of, a home that is more beautiful and gift giving is so incredibly easy! I was thrilled today when I made my purchase and the shipping was FREE!!!!!!!! It can't get much better than that!
Easy to navigate & browse through
Love this app! Makes it insanely easy to browse through awesome designer sales!
This is awesome!!!
I am so delighted with this and I feel like I have an elegant wardrobe at affordable price now because of this website!!
JJ
Funky mommom
on
9/11/2017
Nice merchandise is offered. I especially like the return policy. I have been ordering for years and I look forward to seeing the nice items for sale.
Really enjoying
A girl can dream!
Trackin
Please fix the tracking link!!
Love this shopping destination!!
I really like this app. Rue La La is a great way to shop at your fingertips. I often find deals right here. I'm even introduced to items that I would have never known about.
Love Love Love
The best shopping site EVER! I get at least a box a week - returns (when needed) are easy - selection and variety of items, prices are awesome. My GO TO SHOPPING SPOT!!!
Love it !!👍👍👍👍
Great app!!!!i buy my stuff every time from ruelala😉👏👏👏
Great Shopping App!
Livvvvvyteeeee
on
9/7/2017
Love shopping using this app. Super easy!
Good shopping app
Been a member for years. They keep making it better. Easy returns and they fix problems quickly.
Love it!
The app is easy to navigate, very user friendly. The merchandise is always good quality
Great Diversity!
I've been shopping on Rue for a few years now and I love the selection they carry. It's nice to be able to shop for clothing, household items, jewelry and even travel all in one place. Rue carries all kinds of designers that I've never seen in the stores I have access to. Great quality stuff and they've got their shipping and return processes down so it's hassle free! Unbeatable prices every time would have earned them 5 stars but that's a pretty tall order!
Happy Shopper
I don't shop much but, when I need to I head to Rue. Over the top quality merchandise for the best discounts. There's a wait for certain products but, it's always worth it.
Cart
lalalovelyla
on
8/27/2017
I do not like Rue removing items from my cart
Loyal customer
Been using rue lala for years. Love the site and they have some of the best customer service I've experienced!
My new favorite way to shop
I just found this app when searching for discounted designer gear and I love it! Great brands, great prices, fast shipping and easy returns. I have been a Gilt fanatic for years, but Rue La La has been luring me to buy from them lately!
I love it too!
I do Love RueLaLa! Good prices. Fast shipping. Overall fantastic!
Love it!
Great site to get good deals on luxury items. Highly recommend!!
Totally addictive
Rue is an amazing source of diverse options with great deals everyday. I am sure at least 1/3 of my clothing purchases have come from this site over the past year.
Love it
Easy returns, great customer service, and great values. For the busy professional it is fabulous. And i recently took a risk and bought patio furniture - couldn't be more pleased!
Great Shopping App!
The site is so easy to use. I find things I didn't even know I needed.
I Love Today's Fix!!!
I love checking for the greats deals everyday. "Today's Fix" is my addiction. Ha! Always great deals. Thanks Rue!
Wonderful source for quality items
I have been using Rue La La for a couple of years, and have been quite pleased with my purchases. There are so many high quality clothes and other items offered. Returns are very easy, too.
Great Sales!
DC Panda Bear
on
8/15/2017
Love the app. Love the items they sell. Name brand items at a good deal. Gave 4 stars because if shipping was always free, I would have given 5 stars!
Great way to shop
I use the app and website. Very easy to use and shop. Returns are easy also.
Good deals, good user experience on app
I've purchased several things both clothes and accessories from this site and they have all been good buys and arrived quickly.
Great app
Dark Chocolate 2013
on
8/12/2017
Great app with great deals and savings.
My favorite online shopping for clothes & shoes, has something for all tastes and price ranges
Rue has become my favorite store, easy, great options high and low priced items. Something for everyone and every taste!! Sent from my iPhone
The ultimate in shopping websites
I've been shopping on Rue for going on a decade. There are many shopping sites on the web, so you have to be special to set yourself apart from the rest. Rue has done this with exceptional customer service and easy accessibility. In addition Rue only selects the highest quality merch for their offerings. I've never once been disappointed.
Fact Sheet
Publisher:

RueLaLa

Category:

Shopping

Released:

May 20, 2010

Current Version Released:

Oct 19, 2017

Version:

7.3.0

Size:

90.2 MB

Compatibility:

Requires iOS 9.0 or later.

Recommended Age:

4+

Game Center Certified:

No

Supported Devices:

iPad2Wifi-iPad2Wifi, iPad23G-iPad23G, iPhone4S-iPhone4S, iPadThirdGen-iPadThirdGen, iPadThirdGen4G-iPadThirdGen4G, iPhone5-iPhone5, iPodTouchFifthGen-iPodTouchFifthGen, iPadFourthGen-iPadFourthGen, iPadFourthGen4G-iPadFourthGen4G, iPadMini-iPadMini, iPadMini4G-iPadMini4G, iPhone5c-iPhone5c, iPhone5s-iPhone5s, iPadAir-iPadAir, iPadAirCellular-iPadAirCellular, iPadMiniRetina-iPadMiniRetina, iPadMiniRetinaCellular-iPadMiniRetinaCellular, iPhone6-iPhone6, iPhone6Plus-iPhone6Plus, iPadAir2-iPadAir2, iPadAir2Cellular-iPadAir2Cellular, iPadMini3-iPadMini3, iPadMini3Cellular-iPadMini3Cellular, iPodTouchSixthGen-iPodTouchSixthGen, iPhone6s-iPhone6s, iPhone6sPlus-iPhone6sPlus, iPadMini4-iPadMini4, iPadMini4Cellular-iPadMini4Cellular, iPadPro-iPadPro, iPadProCellular-iPadProCellular, iPadPro97-iPadPro97, iPadPro97Cellular-iPadPro97Cellular, iPhoneSE-iPhoneSE, iPhone7-iPhone7, iPhone7Plus-iPhone7Plus, iPad611-iPad611, iPad612-iPad612, iPad71-iPad71, iPad72-iPad72, iPad73-iPad73, iPad74-iPad74, iPhone8-iPhone8, iPhone8Plus-iPhone8Plus, iPhoneX-iPhoneX,

Supported Languages:

English;