TapNova recommends this app!
New in version 7.0.0
- Bug fixes and improvements
Description
The Rue La La app is the quickest, easiest way to shop Rue La La from anywhere. Shop the most-wanted brands every day at up to 70% off. Featured by Apple as one of the Best New Apps, Rue La La has style for any occasion. Bring your favorite shopping experience on-the-go with the award winning Rue La La app. Rue La La's iPhone app and iPad app were selected from nearly 13,000 entries as Official Honorees in The 19th Annual Webby Awards in two categories: Most Innovative Mobile Shopping App and Most Innovative Tablet Shopping App. New sales launch every day at 11AM ET and 3PM ET, featuring the best brands in apparel, shoes, accessories, beauty, home, travel and more. Turn on push notifications for exclusive app-only sale launch notifications.

Our most popular items sell out very quickly, but with the app, you will never miss a can't-live-without-it bag or the perfect gift again. Plus, 30 Days of Free Shipping are yours on the app after you make a first purchase. Consider your warm-weather style in the bag – or in this case, in your hand.

Not a Rue La La Member? No problem. It's free and you can join quickly right from the app. Take it for a spin, we know you'll love it. If you have questions, just contact mobile@ruelala.com and we'd be happy to help make your experience better.

Here are some of the best features on our iOS 10 compatible iPhone and iPad apps:

+ Get exclusive access to app user only sales. (Note: Make sure you have push notifications enabled so you don't miss a beat.) For information on how to turn push on, visit https://now.ruelala.com/turn-push-notifications/
+ Free Shipping for 30 days after you make your first purchase on the apps.
+ Check out in just 1 tap.
+ Stay logged in so you can get to the sales faster.
+ Add upcoming sales to your device calendar so you don't miss out (app-only feature).
+ Filter sales to shop by category, brand, color, and size.
+ Sort sales to shop by best sellers and price.
+ Add new credit cards with our easy to use credit card scanning functionality.
+ Add a product to your bag on one device and your cart stays with you across all of your devices (perfect for shopping in bed on your iPad or on your iPhone while on your way to a meeting).
+ Be a good friend, tell them about those sought-after heels with your friends via Pinterest, Facebook, Twitter, email or SMS. They'll thank you for it.
+ Track your order from your apps.
+ Manage your account info on the run.

Frequently Asked Questions
Q: How Do I Update my iPhone (4s or later) or iPad (2 or later) to iOS 10?

+ Open the device Settings
+ Tap General > Software Update
+ Tap Download and Install
+ Enter your iTunes Account password
+ Tap Agree option when the Terms and Conditions screen appears.

Q: How do I turn on the app-only push notification alerts, so I never miss a Boutique opening?

+ To turn on push notifications, first turn them on from your iPhone or iPad's settings.
+ Open the device Settings
+ Tap Notification Center > Rue La La
+ Set your Alert Style to Banners or Alerts
+ Slide Show in Notification Center to green
+ Slide Show on Lock Screen to green.
+ Then you're all set!

Have a question?
Email mobilehelp@ruelala.com or contact a Rue La La Concierge at 1-888-992-LALA (5252).
iPad Screenshots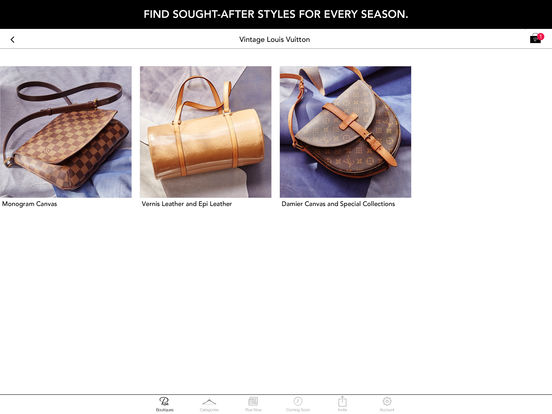 Reviews
Great company!
Charles porter
on
6/26/2017
I have been a member for years now and have never been disappointed. Great merchandise and wonderful customer service. Recommend to friends and family all the time.
Great Source
The Column Guy
on
6/24/2017
Keep up the good work. I love the deals you bring to your customers. I have placed more orders than I can count. Love the value and selection.
Hard to navigate
It's difficult to find a specific brand that you are looking for
Clunky interface
Love the deals, but seriously--why is there no easy way to search? It should be a one-click operation, not having to click through multiple categories and filters.
Disappointed
Twice I have ordered sunglasses and haven't received them. Highly disappointed
Great way to shop!
Great way to shop, I've found a lot of designer items for an affordable price.
⭐️The Best Deals Ever⭐️
Alvi's Closet
on
6/4/2017
I absolutely LOVE Rue LaLa... All items are discounted and guaranteed to be authentic. Also, you can't beat the shipping cost. ⭐️⭐️⭐️⭐️⭐️
My Go To Site
I love Ruelala. I've been shopping it for a few years and I absolutely love the steals that I have scored. I check daily for selections!
Awesome deals!
Love the convenience of daily alerts for specific brands. I've found many great deals and have always had a great customer service experience. Highly recommend.
Love the Ru
Shopping is easy and the supply is endless🤗
Love it!
It's my favorite shopping site. I've ordered many things and never disappointed!
The BEST
❤️❤️❤️ Love RUE Lala!! Have purchased several gorgeous, quality dresses from them, and have been happy with my purchases. Highly recommend this website. ❤️
Rue la la❤️❤️❤️
Love the updates and all the different items Rue has to offer! Ordered a very nice eternity band. When received it, was so excited the quality and name of the item was better than expected and it shipped before estimating date! 😍 the Rue!
Love the site!
Chunky_fatness
on
6/2/2017
Rue Lala is a great site and app for finding a super deal!
Love it
Great deals everyday!
Love Rue
Don't ever change!
Best online shopping site
I have been shopping on this site for 7 yrs and I have never been disappointed. All products are like you see and you can't beat their prices. The products are good quality too. Can't compare to most websites..
Only one problem
Phoenix Cindy
on
5/28/2017
I love this site and have bought some items. My only complaint is no free shipping returns. I paid $30 for a year of free shipping so I began to order more things. Of course things don't always fit as expected and need to be returned. I don't want a huge credit on Rue in order to get free returns. I'm starting to use other sites more frequently because of this.
Always find something cute!
Has been a customer for over 10years, great value and fun to shop here!
I love Rue La La
I've made two purchases so far for a trip and got fantastic deals designers I couldn't otherwise afford. My orders arrived before the estimated delivery date which made me extremely happy. Everything was easy and I had no issues at all. I will continue to shop Rue La La and I've recommended it to friends.
Love!!
My favorite online shopping site! Customer service is phenomenal!!
Rue la la la wow!
sheila'smusic
on
5/23/2017
Love this site. Super good deals on super good stuff!
App won't open or even download
TC Bsktball Mom
on
5/23/2017
Apparently I purchased this app but when I try to download it to my phone it won't download.
Amazing app
Loved this app easy way to shop
Rue La La is the best !
Food empress
on
5/21/2017
I am an avid shopper of great products at great prices. Rue La La has never let me down. From kids' items to cashmere to designer jewelry to luxe handbags, I have been very satisfied. Only once did I need to return an item and I was able to spend the refund on something else. The only thing I'd like is a search function for when I'm looking for something specific. Not enough for me to take away the 5*****'s.
Great Deals
Love getting Pandora charms at discounted prices! Delivery speed on most items is reasonable but you're always kept apprised of delivery status, which is great!
Great Designer Shopping App
Enjoy the deep discounts on all my fav designers.
Natalie Ouch
I love this app best thing ever happen to me and the return is easy only thing I don't like is the return policy
My Favorite Online Shopping
I've shopped RueLaLa for years and highly recommend it to anyone who likes high-end, quality items, at a discounted prices. I have purchased all kinds of clothes, swim wear, shoes, coats, lingerie, hair and face products and tools, food (as gifts), jewelry, purses and other accessories-just about everything except furniture! I have never been disappointed and the concierges are fabulous! Do yourself a favor and take the time and give it a try. It does take several visits to get used to how it works, but once you are used to it, set up notifications, etc., you will love it too!
Good app. Could be great
SixxtheGreat
on
5/10/2017
I've made several purchases at prices lower than similar apps. Customer service is on par with high end retail brick & mortar which I appreciate. Even got a price adjustment when an item I'd purchased went on sale shortly after. The app doesn't feature a search option, which makes navigation a pain when looking for a specific designer, for instance. I've yet to have any luck with sizes in the high end designer shoes. The selections are good, but I've never lucked up on my size (which is only 10.5) This is why I say the app is good, not great. UPDATE: Returns: no invoice or shipping label is included with the package. A free return shipping label is available upon request. The app has a link for returns that leaves the app & redirects to a web browser that "does not allow online returns on a mobile device." Kinda redundant. Kinda feels like an attempt to discourage returns. Dropping one star for this reason.
Wish item even if sold out would stay in the cart!
Stylisttziporah
on
5/8/2017
Wish item even if sold out would stay in the cart! I now can't even try to find it elsewhere! Other similar apps have a search key as well. Thanks :)
Long Time User & Rue La La Lover 😍
What's not to love? Easy to use interface. Great discounts. Terrific selections. "Still Want It" option really works! Quick deliveries and easy returns and No! I don't work for them. Candy Greenblott
Mm
Out of all the company's that I have used this has been the worst experience ever ! I threw away $300 for something that your company could have prevented and didn't get anything in return. Horrible horrible service don't waste your time not worth it.
I'm a fan
Shopping mainly for clothing and shoes for myself, I find the descriptions to be a bit generic but useful enough with the photos to get an accurate impression of the merchandise. Returns are simple to do - if you have a functional printer. Mine broke down but a helpful customer service person actually mailed me a return label. Great customer service is a huge plus! Prices are pretty good too.
Poor web site design
Very difficult to place an order with out mistakes! Not very user friendly.
Good
Very good app and good company!!!
So Far I Love It!
I just got this app and it is awesome! Such a great variety! Unfortunately, I have spent a lot recently shopping the other popular shopping apps out there. I wish I would have tried this one first! I have been buying most of my clothes from apps such as this over the last six months to a year and now know most of the other comparable apps out there very very well. Maybe too well ha ha! It will be exciting to try this app and compare it to the others. As soon as my fun money account is replenished, I will be trying this app out! Then I will update this review. Sincerely, Tricia
Great way to shop for everything
I love how it gives you previews in your email. And returns are very easy. Only recommendation i would make is to include a prepaid sticky label with it instead of printing and getting charged. Although, I understand why they do that (pushing you to do store credit) ;). Either way, both easy and awesome! Prices are great and quality is always awesome.
Great. Deals
Mostly used for jewelry but many other designer deals.
Fantastic options for women and men
I love looking for fantastic deals on here. It's been my go to for years!!! Just stocked up on a bunch of Nike gear for my husband and I!!!
Great website
Trai Nikki B
on
4/26/2017
I have been a member of this website for numerous years. They have great products and deals. Prices range from low to high. It's very easy to order. App works well from my experiences.
Rue la la Ease of Ordering
This is a fantastic site! Offered earrings I have been looking for months to complete a necklace & bracelet set! To complete the ordering process tookme about 5 minutes & I am a 70 year old arthritic woman! Rue la la rocks!🤗
Great products!
This website offers you a wide array of products for anything and everything you could think of your home your car your child or children yourself and many more I have placed orders and they all come in on time that they say they will be and I am absolutely pleased with their outstanding customer service you cannot beat their customer service when you call they always try to make you feel comfortable and assist you to solve your issues or issues great work Ruelala I know I'll keep coming back!
Love it
SouthMemphis
on
4/23/2017
I love this site. It offers mid-level designer goods in a variety of sizes. I wear size 12 shoe and size 16 clothing. Some other sites disregard the full figured ladies who like nice things. An expansion of size offerings into Women's World could be lucrative. Many sites just have cheapo vendors
Awesome!
Delayed delivery but my purchase arrived well & I LOVED it.
Veronica Emerson
Great app...excellent prices...wide variety of products...good customer service...
Love the deals
But Shipping takes entirely too long.
Love this app and love RueLaLa!
Love RueLaLa and this app is easy to use. I wish that that some of the functions were available through the app, like instituting returns and editing your Still Want It list. The descriptions and the sizing also sometimes glitches out. Also, searching by a specific brand would be great. But these are minor issues, and the app is very easy to use and great to use!
Fact Sheet
Publisher: RueLaLa
Category: Shopping
Released: May 20, 2010
Current Version Released: Jun 26, 2017
Version: 7.0.0
Size: 84.3 MB
Compatibility: Requires iOS 8.1 or later.
Recommended Age: 4+
Game Center Certified: No
Supported Devices: iPad2Wifi-iPad2Wifi, iPad23G-iPad23G, iPhone4S-iPhone4S, iPadThirdGen-iPadThirdGen, iPadThirdGen4G-iPadThirdGen4G, iPhone5-iPhone5, iPodTouchFifthGen-iPodTouchFifthGen, iPadFourthGen-iPadFourthGen, iPadFourthGen4G-iPadFourthGen4G, iPadMini-iPadMini, iPadMini4G-iPadMini4G, iPhone5c-iPhone5c, iPhone5s-iPhone5s, iPadAir-iPadAir, iPadAirCellular-iPadAirCellular, iPadMiniRetina-iPadMiniRetina, iPadMiniRetinaCellular-iPadMiniRetinaCellular, iPhone6-iPhone6, iPhone6Plus-iPhone6Plus, iPadAir2-iPadAir2, iPadAir2Cellular-iPadAir2Cellular, iPadMini3-iPadMini3, iPadMini3Cellular-iPadMini3Cellular, iPodTouchSixthGen-iPodTouchSixthGen, iPhone6s-iPhone6s, iPhone6sPlus-iPhone6sPlus, iPadMini4-iPadMini4, iPadMini4Cellular-iPadMini4Cellular, iPadPro-iPadPro, iPadProCellular-iPadProCellular, iPadPro97-iPadPro97, iPadPro97Cellular-iPadPro97Cellular, iPhoneSE-iPhoneSE, iPhone7-iPhone7, iPhone7Plus-iPhone7Plus, iPad611-iPad611, iPad612-iPad612, iPad71-iPad71, iPad72-iPad72, iPad73-iPad73, iPad74-iPad74,
Supported Languages: English;