Screenshots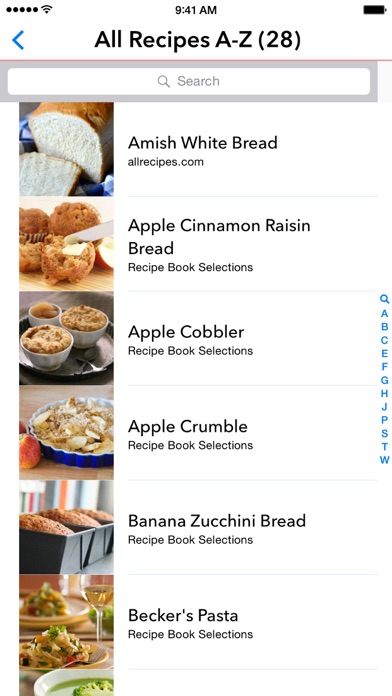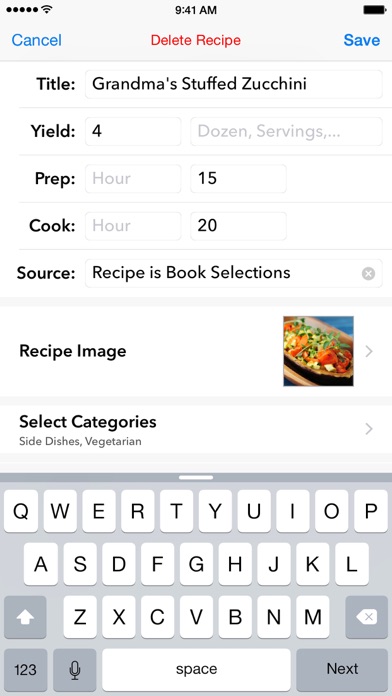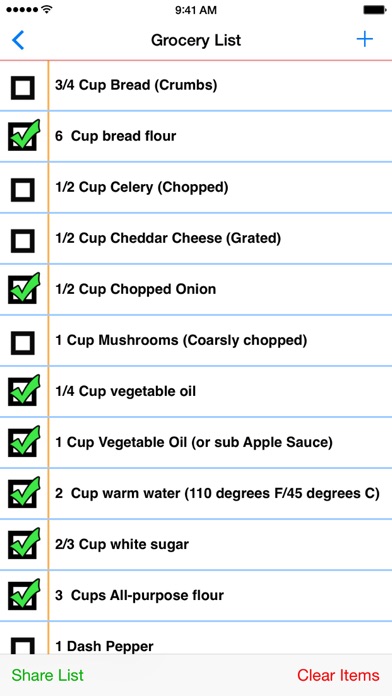 New in version 3.3.4
Bug fixes, including:
- An issue when new recipes wouldn't be saved correctly
- An issue handling recipes without titles.
Description
My Recipe Book is ONE place to store and organize the recipes you find and tear out of magazines, bookmark online, store on faded recipe cards – in a format that can be carried & used directly in the kitchen.

You can now also manage your Grocery List right from your Apple Watch. Quickly see what you need without pulling out your iPhone. Add new items right from your wrist with powerful dictation. The Glance (accessible from your Apple Watch's clock) shows your list without even opening the app.

Our favorite features:
- RECIPESYNC, an iCloud enhanced syncing solution that lets you seamlessly synchronize your recipe catalog and grocery list between all your iOS devices.
- IMPORT recipes directly from selected websites into the app
- SORT recipes by keyword, category, ready time, or dietary restriction
- GROCERY LIST to make sure you have all ingredients - now add your own custom ingredients!
- SERVINGS ADJUSTER: modify your recipe servings easily, and save the modification to use in the grocery list now!
- SURPRISE ME decides what to make for you
- FAVORITES button for quick reference
- QUEUE button to add recipes you want to try
- SHARE recipes with friends via email - and now they can automatically import it into their Recipe Book App!
- NO INTERNET connection needed to view recipes saved in the app
- CONVERSION tools including temperature, weights and measures, and metric to US standard

iPad only Features (for now):

- Multiple KITCHEN TIMERS built in - now they work in the background
- Multiple PHOTOS can be added for each dish
- Input NOTES about each recipe
- CUSTOMIZE your categories & dietary restrictions by clicking on the settings icon, then edit categories

Whether you're a busy mom looking for a great go-to app to get dinner on the table, a gourmet chef who wants to look for a recipe to use up the rest of your truffles, or you typically only cook for one or two, and need to halve all your recipes, this app is for you.

We love and enjoy your feedback on new features & ways to make this app better.
iPad Screenshots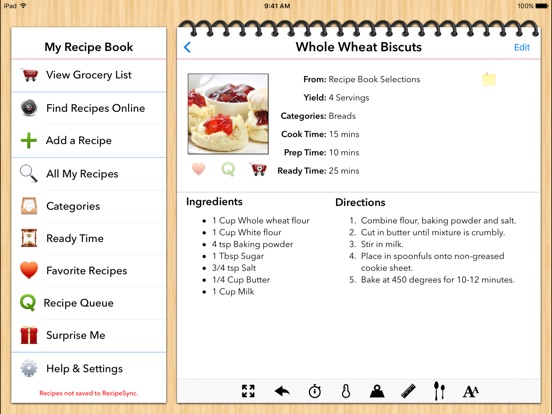 Reviews
Love it, love it,love it
Had this app for a couple of years and it's wonderful having one place to keep all my recipes. Almost ready to say good by to my recipe box. Each time I take a card out of the box to prepare the recipe, I enter it into this little app. That way I don't get overwhelmed imputing them all.
Been using for several years
Roberts-dlr
on
11/29/2017
I have been using this app for several years. I have not been disappointed. It is nice to have the app on my iPad when I am cooking and also on my phone if I am in the grocery store and need to see the ingredients I need to pick up. Very happy!
No category selection current version or syncing
JimHill1933
on
11/27/2017
I had liked my previous version and can't move recipes to new iPad
Was good years ago
Balletgirrl
on
11/25/2017
It's a bit frustrating when you pay for an app and they don't update it. I just did the most recent update and still no notes?!? Really so disappointed in this app. Don't recommend it 👎🏼
Recipe App Rocks!!!!!!
I am so happy this app is being updated to be compatible with the new iOS update. This is my one and only app for storing my recipes. I was recently thinking what would I do if it were to be put by the wayside by the developer. Thank you for continuing with this great app! The tutorials are wonderful as I am not a big techy! This app is well worth it!
Good idea, buggy app
You could have also updated a version release date, real programmers play like that. I feel strongly that a "cutting board diary" UI design needs to go. Dinosaurs belong in a museum.
Love this App!
I really love the ease of using this app. I wish the developer would make it compatible for my MacBook! This would make it perfect!
Great app
This is a great app. I like having my recipes with me and easier to change. Currently been using word documents and pdf files of family recipes that will never need changing. It's easy to add them to this app. Only problem I have is making a shopping list. It doesn't combine the ingredients to tell you how many cups of chicken broth you need for all the recipes you are shopping for. And they aren't grouped in alphabetical order so I'm shopping and realized I need more broth. Or bigger container of parmesan cheese.
Needs an update
Not a native nyorker
on
11/4/2017
Not operating up to par after iOS updates. Help!!
Awesome
This is the best app I have tried. I try other apps, they do not compare to this app.
Love app till today
Marlamar 123
on
10/21/2017
I have been using this app along with my girls. It has always opened up and We love it. Today I tried using it and it says New Timer (1) Your kitchen timer has expired OK My app on my phone works. BUT not on my iPad. What can I do?
No way to contact developer
I don't know if they still. Red to update to the latest IOS, but when I click to add picture to my recipe, nothing happens and I am unable to add the picture. Please fix and I will be more than happy to give you 5 stars.
Buggy
If this app worked correctly consistently, it would get 5 stars. But I often have trouble with the custom importer. Selecting text is tricky & the "title/ingredients/directions" doesn't always pop up when I can finally select the text, which is infuriating.
Enjoying this app
I recently lost about a years worth of recipes from another app, so I am greatly appreciative that this app backs/syncs everything online. The recipes are clean & clear, and I love that you can add/change the category names on iPad. Improvement feedback- I would love if photos were bigger on the printed recipes. I would also appreciate if you could print your notes and extra pictures, as it is nice to have on the iPad, but doesn't help if you are making a printable recipe book. My last request is to change the formatting when you type "-" in the directions. It is nice that it makes it bigger (like an addition heading), but it comes out larger than the headings that you have for instructions & directions, and it would be nice if it could match. Thank you for this app!! I'm so glad to have it!!
Waste of money
nichollecaren
on
9/22/2017
This app comes with a set of recipies that cannot be deleted. It does not allow for paragraphs or sections and bullets and numbers everything. Terrible if you are a stickler for detail. Response to dev: not sure I will be willing to individually delete the number of unwanted recipes. I'll be happy to reinstall it if the updated app is able to meet my needs. Thanks for responding!
One of the most useful apps
There isn't many more apps that let you not only import recipes from any website, but also let's you add your own personal ones as well. It's truly a "one stop shop" cooking tool. I use it all the time. They've never bugged me about rating the app, so that makes me more likely to write a review, and a positive one at that. Totally worth the money.
Crashed adding recipe
I got the title and time entered and when I clicked category it crashed.
No check off list while preparing a dish :-(
I'm a little surprised not to see a check off list for when ingredients are added while preparing a dish, in this latest release. :-( Will there be a check off list while adding ingredients while preparing a dish ??
Not as good as it used to be
Have used this app for years and loved sharing with family members. All of a sudden when I try to share a recipe via email, it doesn't go through? Major bummer!
Love this app.. but some suggestions
jenn just learned to cook
on
8/21/2017
This app is awesome! I just wish I could access the app from my desktop so I don't have to do the strenuous cut and paste when the website i am cutting and pasting from is formatted differently. The recipes I get are not always from the ones that are easily downloadable to this app. Also, would be nice if we could get a link to the video that we found online, or a link for the original location of the website. Maybe you can let us do a "custom" category, for "slow cooker" or type of food. That would be great. Other than that, love the app!
My Favorite recipe app
This is my favorite recipe app that I have ever tried. I like that I can easily import from popular recipe sites. It is intuitively easy to use!
Use to love it, now moving on...
Loved the app and used it for many years. At this one time you were able to backup to your iTunes account. Now they removed the backup button and you have to use their cloud sync. No thanks. Not everyone has their head in the clouds for big data purposes. Moving to Paprika app.
So far so good.
So far so good. I wish we could log in to our account on a computer and add recipes from there. I have a lot of recipes and having to retype them is taking forever. It would be way faster to be able to copy and paste
It works but there is better
This app was probably a life saver when it came out. But one free and one $5 app are better now. The home screen is busy with things besides YOUR stuff and they decided to fill my recipes with a bunch of ones I didn't ask for. The categories are not customizable unless I'm missing something on the website that I'm not going to see because I'm on my phone. So I can't search by categories that are important to me or by ingredients that I made as categories like on the other good recipe apps. The option to selectively add ingredients instead of the whole recipe is the one stand out of this app over others.
I recommend this recipe app to all my friends!
I still love and use this app almost daily. I recommend it to all of my friends and family especially since it makes swapping recipes so easy. Way to add new recipes, easy to edit and easy to use. I'm glad everything is working again. This is still my favorite recipe app. I wish that the new iOS7 version of this app so many others were easier to see. The fonts and symbols are so thin and the type is so light that I am now always scrambling for my glasses. I wish individual apps had an option for making print bold just as you can do in the general setting for the iPad. I have been using and loving this app and now the categories have changed to dish type and dietary needs but neither choice will open so I can use them. Please get this fixed! I recommended this to a friend but it is the same for her.
Couldn't live without it!
I love this app!!! We cook a lot and have a lot of tested recipes. This app is logical and easy to use. Easy to find categories, or make your own category ie: "Nonna's recipes". Easy to search "string beans" at grocery store for recipes. I love the "yellow sitcky" where you can write personal notes/changes on recipes without altering the original. Easy to email recipes to friends. Syncing iphone with ipad is great, I just wish I could sync with android.
Love it - but needs menu plan option
I have had this app for years and paid much more than what it is now. I love it but find myself searching for a menu planner and several offer what this app does + planner but with so many recipes I haven't jumped ship ...yet. I write my weekly plan on paper so this option would make this app perfect, especially if allows you to add non-recipe items and food to complete menu for the week. Providing more customization for the grocery list would also allow me to delete my grocery IQ app (another fave).
No longer imports
I have loved this app for a few years, but now it will no longer import recipes from the internet (custom or otherwise). It seems this app is dead in the water and I'm going to look elsewhere. It's a shame, because it's a great app (5stars) when functioning.
Excellent Support
Carditashell
on
4/24/2017
I have had this app for years and live it! From time to time I have had questions and the support has been prompt, and efficient, and in terms I can understand!! I literally refer to or use this app everyday!
iPhone 0 stars
This was a favorite app of mine but I can no longer add recipes using my iPhone. Works fine on my iPad though. Wish they'd fix the iPhone issue. Would give 5 stars if it worked.
Excellent App! Deserves 10 stars,
UPDATE - 2017. Still the best recipe app out there. Still loving it and after all this time, it is still my go to app. UPDATE - I am still loving this app! It is my 'go to' for all my recipes. I had one suggestion. I wish I could keep small cooking videos in there as well. This is STILL the best recipe app in the App Store bar none and it still deserves 10 stars! I have been using My Recipe Book ever since it debuted in the App Store and I have never found a better one. I can add any recipe I find on the web by using the custom import, I can use the cooking sites suggested in the app to find recipes and I can add my own. I can even use my own pictures. All of this is accomplished so easy that I enjoy using it. You can add your own categories and delete the ones you don't use. There are so many options that organizing your recipes is a breeze. Simply put, I LOVE this app. There's nothing else like it.
Love this App!
Sunkistanngel
on
4/2/2017
Great app, I love it!! I do hope updates will be continue by its support team. One suggestion I would love to see is a way to add additional categories or tag recipes for things like Paleo, Whole30, specific holidays; or even allow us to customize our own categories. I would also like to see them add weekly meal planning features to create meal planning using my recipes that I've saved. My app works great with no problems noted. It loads recipes from other sites and syncs with my other electronic devices for recipes, grocery lists, etc. I can even share recipes with my friends. It will let me import recipes they share as well. When saving recipes from on line recipe sites, I have to tap "importing" if it seems to be taking an extended time to import. It will tell me it's still "importing" or immediately finish importing without a problem. Great app! Please do continue to update and support this app!
This app is still crap
I have had this app for 5 years the fully paid version. The issues are its slow, the easy import recipe function is terrible and doesn't work any longer. When you search for a recipe via their search it doesn't bring up the right recipes on the actual website. Food network example search Hollandaise sauce it brings up meatloaf. If you click the search bar on the site and search you find the recipe. It refuses to import it in. As a long time user this app frustrates me.
No need for any more cookbooks
Update Feb 2017: this app was so amazing when it came out. I don't think it has been updated for a very long time. The import function is no longer working. I have lost my recipes when I updated my iPad. I am so sad because this was an amazing app. After one month of using this, I have put my favorite recipes from all over and now have gotten rid of all my old recipe books and have de cluttered my kitchen. What a lifesaver.
Not importing
I can no longer import from My Recipes. There needs to be an update to correct this or let us know if that web site is no longer supported so we can move on
Frustrated!
Exactly what I want, but it doesn't work on my iPad Air 2! Works fine on my iPhone, but it won't allow me to copy/paste ingredient lists on the iPad. It requires that I enter each item's measurement and name. Incredibly time-consuming. (When I click on INGREDIENTS, detailed measurement blanks appear. No blank page to paste onto.) Nothing in the instructions helps. 😡😕
Very easy to use!
Update 3/5/017: I still love this app, but I need something more. I want to be able to use the app on my laptop or computer. It's too hard/takes too long to input new recipes on myiPad. I am searching for another app that lets me switch between the mobile iPhone/iPad and my PC. Original review: I love this app! I've had it for a week and used it every day. It's so easy to find a recipe, prop up the iPad and cook away. I've been uploading my favorite recipes and sharing with my sister. I love that I can immediately take a photo to add, or even add my own photo to an existing recipe.
A good app gone bad and No support..!
Was a wonderful app until the import feature quit working. No pretty much useless for me. Was going to rate this two stars but I went to the support page bit it won't let you post comments (won't accept the pasted password) nor ask for help - no address.
The Best
Without a doubt the best recipe app I have ever seen. I love that i can load it on a couple of devices and when i need it on one I only have to load it on another and they sync. Great ability to adjust recipes for smaller or larger serving sizes. Great value and great app.
Update!
Dalwan Daddy
on
2/16/2017
I don't know what happened to this app. It was my go-to app for all of my recipes. It used to be able to import recipes from my favorite cooking websites but now it doesn't do anything. You can manually import them, but it's kinda a hassle. Get with it! Please fix and you'll get five stars again.
Great app, but no import
This app is good, especially the quantity multiplier. However i have not been able to import recipes from websites with its "easy import". Please fix this Thanks
The app does not work anymore
I am trying to "Easy import" recipe from FoodNetwork "Pesto" by Ina Garten and when I try to input into search box on FoodNetwork website the app keeps reloading the website and typing into the search box is next to impossible. When I finally got the recipe showing the Easy Import does not work. It shows "importing" but nothing happens, I wait for several minutes and it is still "importing". Tried numerous times. Other recipes and websites don't work well either. There are no recent postings from users so I do not advise anyone to buy it because you will just waste your time. I think that whoever made this app is not supporting it anymore. If you try the website there is no way to contact any customer support. I am very disappointed. I've used this app for a few years and have spent a lot of time inputing recipes into it and now I have to get another app and start all over again.
Good, could be better
I've used this app for years. It's OK, but I'm terrified to update it, because I'm afraid to lose all of my recipes. There's no sure way to back it up to my computer without possibly losing everything (there are directions for how to do it in the app itself & on the website, but they are outdated). My old-school solution is to print out EVERY SINGLE RECIPE that I put in, just in case. It also only "easy imports" recipes from a few websites, none of which I use, so that "feature" is useless to me. I really wish (as do many other people) that it was possible to input recipes on my computer instead of on my iPad. Also, the support & customer service for what could be a great app is atrocious; Jess, who I'm assuming is the inventor or person running it, hasn't posted an update or answered a question on the website since 2013!
My Favorite App!
I love, love, love how I finally have a way to combine all of my favorite recipients together! I have imported recipes just fine. I have two wishes for future upgrades: to be able to import from food.com and to be able to send the entire recipe book to PDF so it can be shared with my kids or printed.
Outstanding app
Patty's account
on
1/28/2017
I'm not sure why some people are having problems uploading recipes. I have to admit when the app first came out several years ago it did not work well so I moved to all recipes. But that site doesn't let you make private recipes or alter existing recipes of other people. I came back to this and have had no problem at all. I am using an IPad Pro so I'm not sure if that makes a difference in uploading. Anyhow, I'm very happy with this.
Custom Import for IPhones.
I would give this app 5 stars but one of the features I used most on my iPad doesn't work on my IPhone. So I can only give it two stars. Add the custom import for the iPhone. I miss that feature. I no longer have an iPad at all and use an iPhone 7 so I really can't use your app anymore if I can't custom import thru my phone. I'm very disappointed to lose that feature.
Great App
This is an awesome app. I love that you can find recipes on-line and use the 'easy import' feature to add them to your recipe book. I haven't reached any limit, haven't had to use tech support, and haven't had it automatically put in recipes I don't want. And I have typed in many recipes but use a Bluetooth keyboard synced to my iPad so it's as easy as typing in on a computer. I will update if I have issues but all in all I would highly recommend. It does what I want it to do.
Love this app!
I love this app and recommend it to everyone I know. My husband and I share an account, so that our grocery list can sync between devices. I love being able to input recipes from my phone and have them on my iPad while cooking. It does have some bugs and not everything works like it's supposed to. If I text to share a recipe, it doesn't share the recipe but the website I got it from. So any notes or tweaks are lost and they can't easily put the recipe in their own MyRecipeBook. Sometimes when going to a website, it doesn't import well. Sometimes the loading bar never finishes, so you can't import, even manually. In future, I would to be able to make a note from the iPhone app, as well as fixing functions that don't work properly. I still gave this app five stars, because I love it and hope the developer continues to dedicate time to improving and maintaining it. I use it EVERY time I cook!
App needs updating/bug fixes!
Rr moves again
on
12/31/2016
Have used this app for many years and loved it- have 100s of recipes and use the app regularly. For some reason the ability to add recipes manually no longer exists- can bring the recipe up on a website but the ability to add to "my recipe book" does not show up on my phone. Haven't tried on an ipad so maybe better there? Can still access and use my existing recipes, and also able to add by the express import with supported website- all recipes.com, myrecipes.com- without any problem so that is good. Just please give some updates to this app so can continue to be useful.. Would love the ability to add recipes with cut/paste feature from my home computer- so much faster than adding manually with my phone.
New user..
Why doesn't the "queue" work or the "categories"....? they seem frozen... will not pull up recipes and I can't add anything into the category section. Will give this app a chance but will be moving on if this isn't resolved. I'm sure there are other apps out there...
Fact Sheet
Publisher:

Cross Forward Consulting, LLC

Category:

Food & Drink

Released:

Jun 05, 2010

Current Version Released:

May 06, 2016

Version:

3.3.4

Size:

24.7 MB

Compatibility:

Requires iOS 8.0 or later.

Recommended Age:

4+

Game Center Certified:

No

Supported Devices:

iPad2Wifi-iPad2Wifi, iPad23G-iPad23G, iPhone4S-iPhone4S, iPadThirdGen-iPadThirdGen, iPadThirdGen4G-iPadThirdGen4G, iPhone5-iPhone5, iPodTouchFifthGen-iPodTouchFifthGen, iPadFourthGen-iPadFourthGen, iPadFourthGen4G-iPadFourthGen4G, iPadMini-iPadMini, iPadMini4G-iPadMini4G, iPhone5c-iPhone5c, iPhone5s-iPhone5s, iPadAir-iPadAir, iPadAirCellular-iPadAirCellular, iPadMiniRetina-iPadMiniRetina, iPadMiniRetinaCellular-iPadMiniRetinaCellular, iPhone6-iPhone6, iPhone6Plus-iPhone6Plus, iPadAir2-iPadAir2, iPadAir2Cellular-iPadAir2Cellular, iPadMini3-iPadMini3, iPadMini3Cellular-iPadMini3Cellular, iPodTouchSixthGen-iPodTouchSixthGen, iPhone6s-iPhone6s, iPhone6sPlus-iPhone6sPlus, iPadMini4-iPadMini4, iPadMini4Cellular-iPadMini4Cellular, iPadPro-iPadPro, iPadProCellular-iPadProCellular, iPadPro97-iPadPro97, iPadPro97Cellular-iPadPro97Cellular, iPhoneSE-iPhoneSE, iPhone7-iPhone7, iPhone7Plus-iPhone7Plus, iPad611-iPad611, iPad612-iPad612, iPad71-iPad71, iPad72-iPad72, iPad73-iPad73, iPad74-iPad74, iPhone8-iPhone8, iPhone8Plus-iPhone8Plus, iPhoneX-iPhoneX,

Supported Languages:

English;