Screenshots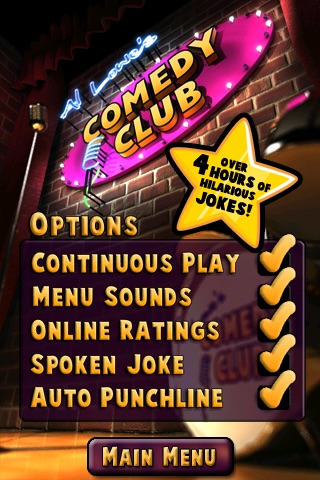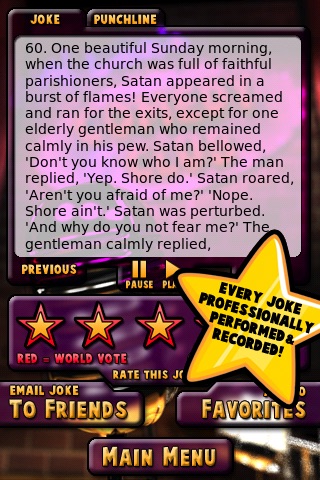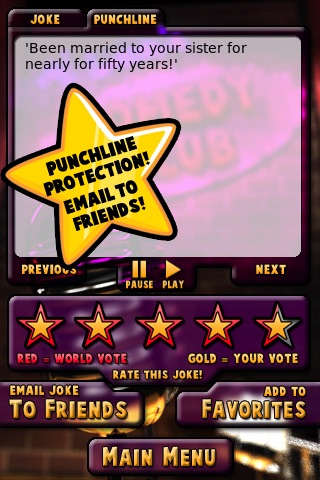 New in version 1.2.3
- Fixed pack screen pop-up after jokes (never intended!)
Description
Thanks to thousands of people who have downloaded Al's Comedy Club - we look forward to keeping you all laughing!

Here's one for you, a priest with a 12-inch pianist walks into a bar and... uh, how does that one go again?

Ever find yourself stuck for a laugh? Well never again, thanks to Al Lowe's Comedy Club. That's right, the man behind the original Leisure Suit Larry series has teamed up with veteran comedian Chuck Myers & a development studio you've never heard of to deliver a treasure trove of quality jokes direct to your ears.

Ears? That's right! As they say in the biz, it's all in the delivery, and Chuck delivers them better than a Stork on steroids. We locked him in the recording studio for three weeks with nothing but a bucket of cocktail shrimp and a copy of Swank, and what we got back was pure comedy gold. Well for the first few days it was gold, after that things went kinda... weird.

So sit back, relax, and prepare to bust a rib, split a side, and/or wet yourself as we treat you to over four hours of the best jokes you'll hear this side of a seedy Vegas stripclub.

WHAT YOU GET:

★ Now with over 400 studio recorded, professionally performed jokes! That's over 10 HOURS worth of jokes - some of them even funny!

★ A simple, intuitive interface that even a moron can handle (well, most morons.)

★ Read along if you want — or not. Our PUNCH LINE PROTECTION PROVISION won't let you ruin a joke by reading ahead!

★ Play each joke one at a time, or hook it up to the stereo and let Al's Comedy Club become the life of the party (or flop horribly leaving you with even less friends then you already had, which will still be really funny, just not for you.)

★ Comprehensive SEARCH feature — for when you absolutely positively need a rectal thermometer joke, STAT!

★ GLOBAL TOP 10 LIST — laugh along with what the world thinks is funniest!

★ Become a critic with the ONLINE RATINGS SYSTEM that lets you add your (largely irrelevant) vote to the Global Top 10!

★ Mark your FAVORITES so they're always just a tap away!

★ Share the good times with a friend via e-mail (Warning: Al's Comedy Club not responsible for subsequent sexual harassment suits)

★ Native support for iPad — perfect for those extra-pretentious moments at your local Starbucks

WHAT WE GET:

★ Your hard earned cash.

Look, we're not saying you're going to find ALL of these jokes funny. Heck, what would a Comedy Club be without a solid cue for crickets or a cringe-worthy stinker that'll make your eyes roll right through the back of your head? But, we GUARANTEE* you'll lol some point (*not a guarantee).

WARNING: that 17+ rating up there isn't just for show. Some of these jokes contain profanity, sexuality, suggestive themes and other hilarious taboos. Mmm, saucy.

So tell me, have you heard any good ones lately?
iPad Screenshots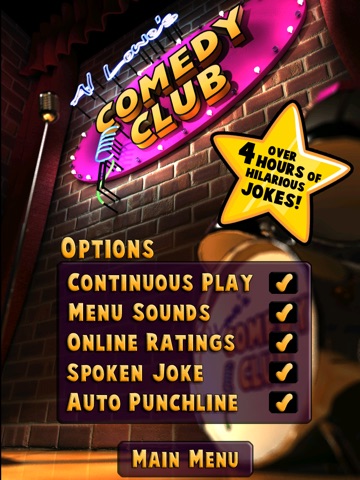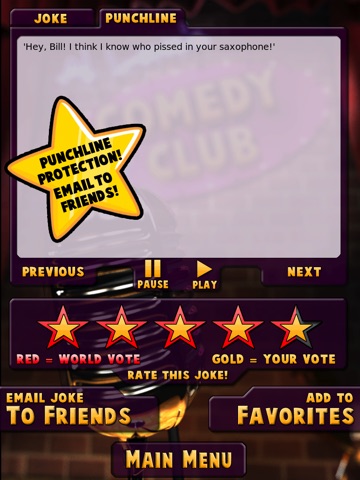 Reviews
The worst jokes I've ever heard.
Just some guy reading crappy puns off a sheet
Crash
Won't even load. Title screen starts and the app shuts down. Thought it was just my crappy iPhone 4s, so I got a brand new iPhone 6 and latest iOS and still won't even load.
Thanks Al!
Bought it just because it was made by Al, plain and simple. In my opinion, very few people have had the impact on the gaming community as has Al (and others at Sierra, like Ken and Roberta) Some of my best memories of gaming are due to Al's games and the other Sierra games. His characters were great, Larry, Torin, Freddy; the other series form Sierra like Space Quest, Kings Quest, Police Quest, all of them have left me with fond memories of my 486 computer.... I love thinking back to the days when 16 colors blew my mind and 14.4Kbs was fast. Thanks Al!!!
Al Lowe is my hero!
Buy this app and support the genius that created Larry Laffer. I love that he reads the jokes himself. Nice touch.
Absolute cheese
Worst jokes I have ever heard/read. Nothing about this app is funny. Save your money!
Over 400 Jokes For Just One Dollar!!!
If you like jokes, especially ones involving adult content, then this is for you! The initial purchase of this app will give you 200+ jokes that can be listened to and/or read along with. You can also rate the jokes as well as add them to your favorites. Al does a great job of reading these with enthusiasm and even changes his voice for the various characters. You can purchase the additional two joke packs for .99 cents each, or you can do what I did....click the "Earn Comedy Coins" option instead. Then just download a few of the recommended free apps, run them once, and you'll be able to get the additional joke packs for absolutely no additional charge! This is a great app, but like any app there's a few bugs. On one of the jokes plays the first part.....but as soon as it gets to the punchline it boots you completely out! Then there are a few with glitches making the sound skip a little bit. Lastly, a couple of the jokes are repeated. Two things that I wish this app had is a "shuffle" option and a "browse/search" feature. Overall, I can't really complain though. To get more than 400 good jokes in audio format for one buck is amazing!
Don't know what I was expecting
Waste of money. Do not buy. They have you buy more jokes if you run out of jokes.
Latest update much improved!
Great job on the update, guys! Streamlined it well, all the previous issues fixed, and the jokes are still great! When's leisure suit larry coming to the iPhone, so to speak? ;)
Crashes at loading!
The developer does not even list this program on their support page. The app continues to crash each time I attempt to open this app. I had deleted and reloaded without success. A fun app is now a piece of junk!
Terrible
B BALL LOVER
on
1/19/2011
Had some good jokes in it, but the update ruined the app and made it crap. DO NOT BUY!
Some jokes are pretty stupid
It's an ok app
Comedy. Store
This is a tipoff I want money back or fix it. It crashes right away
Fantastic but needs regular updates to jokes...
This is really a fantastic application. I really like the jokes are narrated. But it needs updates to the jokes.
Very good
Very much enjoyed this app but needs more jokes
Must have
Mansooratyale
on
9/19/2010
I spend hours with it, recommended
What's with all the haters?
My little Cabbage
on
8/30/2010
I think this is actually a pretty good fun little app. Alot of the jokes are Acually really good... Although hardly worth 3 bucks, this is not a bad app... Just bring the price down a bit, perhaps a dollar.
It is OK
Elementalcobalt
on
8/28/2010
The comedy club is an app consisting of several jokes, most of them dirty. There are only 207 jokes, putting the amount slightly below most joke books. You can rate each joke, and look at the global rating. Some jokes make no sense, some aren't particularly funny, some I have read 100 times on other sites and some are very good. You can check the top rated jokes as well. However you look at it, you're still limited to only 207 jokes written mostly as stories. Some of these stories are much longer than they needed to be to get the joke across. The person who reads the jokes performs often poor impressions when using people's voices. Rather than having a real female perform the female voice, he tries to impersonate a woman, also poorly. Furthermore, the joke is separated by the setup and punchline on different pages. Even jokes that have no punchline make this separation. You can't shut the speaker up short of muting or hitting pause after each joke. If you don't hit pause, the joke will cut to the punchline often before you have finished reading it, another very annoying feature. So a small amount of jokes, a poorly designed system with an obnoxious speaker and the incredible stupid punchline separation makes this app much worse than it could have been. I got it for free, so I don't have regrets getting it, but I would never spend money on this. If it connected to a live frequently updated joke list with global ratings, joke type separations, and better format for delivery, it would score higher and might actually be worth what they are trying to charge.
It's alright
Some of the jokes are actually funny but it takes a lot of time to find really good ones. There are a lot of marriage jokes but those get old fast and the Punchline is obvious halfway through the joke. Recently I can only go through about ten jokes and the app freezes, like big time with and without audio. After waiting for five minutes nothing and I have to reboot. VERY annoying.
Funny
Great jokes but add more cuz I went through it in about 2 hours max
funny
appoholic12321
on
8/20/2010
all of the jokes are funny, original, and they read it to u. just get it. besides doodlejump, it will be the best dollar you ever spent
Best app ever
I love this app it's the only one I use! Best jokes ever, but NOT for kids there alot of sex jokes. Haha my soon to be gf loves it
Terrible, just terrible.
I would be embarrased to have my name associated with the creation of these "jokes." They shouldn't have labeled this as 17+ because the only age group that would stand a chance at finding any of these funny are 6-10 year olds. Even an intelligent child would have a hard time finding any comedy in this app. You don't have to download the app, just imagine sitting through any female comedian's standup routine. It's that bad, trust me.
Funny Love it
UnchartedSnake
on
8/14/2010
This app is amazing, simply said it's a coned
:(
I enjoyed the jokes, but now every time it opens it crashes... :( makes me sad, cause now there is no laughter in my life...
Alas...
Crashes while loading every time, even after reinstall.
Why intentionally make an app with bland jokes?
Quality check
on
8/12/2010
Nice app; poor jokes!
Awsome but
It's a great app and the jokes are way funny but now it just keeps crashing hope you guys fix it
This app isn't The worst
Supersonic44
on
8/11/2010
This app isn't bad at all. I can't find one thing wrong with it. The menu is easy to navigate, the e-mailing option works, and the searchbar works well. Not all the jokes are funny, but read the apps description, you idiots. Since humor is subjective, not everything in this app is funny. Get used to it.
Very Funny
I'm assuming that most of these bad reviews are from kids who wanted to hear dirty jokes but don't understand adult humor. Not dirty humor; jokes that take maturity to understand. I just downloaded this app a few minutes ago and am only on joke 26, but so far, it's pretty funny. My only problem is when he tries to do female or ethnic voices in the joke. Pretty annoying. But the jokes themselves are great so far.
Horrible excuse for comedy
Shadow Zujed
on
8/11/2010
This app is terrible. The jokes are not funny whatsoever. I actually suggest you get it while it is free to just listen to some of this garbage and scratch your head thinking why someone would think this was funny.
Horrible
Dimitri Osborn
on
8/11/2010
All the jokes are so lame! Even the top 10 are at most  if that. Don't wast your time. Just deleted it about 15 min after downloading.
About as funny as AIDS
My advise would be don't bother. Another example of how bad apps can get. The best joke on here was so bad I got embarrass for the so called "comedian" that created it. The app was free but still overpriced.
Pretty good
There are some good jokes and the app is well done.
Dumb as ever
Wow. I'm glad it was free. The jokes are dumb and some don't make sense. Don't get it. It may be free but it's not worth the 3 minute download.
FIRST!!!
El DiiabliiTo
on
8/10/2010
Good game and by the way 1st to comment
Funny App
This app looked interesting when I first saw it on FAAD and When I downloaded this the jokes are pretty funny and there is a lot to keep you entertained for a while and it's great to have when your at a party.
What?
flightlessbuff
on
8/10/2010
This is the free app of the day? Oh well, it's kind of funny, I just want to know who made it their wish?
Fact Sheet
Publisher:

NextGen Reality Pty. Ltd.

Category:

Entertainment

Released:

Jun 22, 2010

Current Version Released:

Mar 31, 2011

Version:

1.2.3

Size:

163 MB

Compatibility:

Requires iOS 3.1.2 or later.

Recommended Age:

17+

Game Center Certified:

No

Supported Devices:

iPhoneFirstGen-iPhone, iPodTouchFirstGen-iPod-touch, iPodTouchSecondGen-iPod-touch-with-mic, iPhone3G-iPhone-3G, iPhone3GS-iPhone-3GS, iPadWifi-iPadWifi, iPad3G-iPad3G, iPodTouchThirdGen-iPodTouchThirdGen, iPhone4-iPhone4, iPodTouchFourthGen-iPodTouchFourthGen, iPad2Wifi-iPad2Wifi, iPad23G-iPad23G, iPhone4S-iPhone4S, iPadThirdGen-iPadThirdGen, iPadThirdGen4G-iPadThirdGen4G, iPhone5-iPhone5, iPodTouchFifthGen-iPodTouchFifthGen, iPadFourthGen-iPadFourthGen, iPadFourthGen4G-iPadFourthGen4G, iPadMini-iPadMini, iPadMini4G-iPadMini4G, iPhone5c-iPhone5c, iPhone5s-iPhone5s, iPadAir-iPadAir, iPadAirCellular-iPadAirCellular, iPadMiniRetina-iPadMiniRetina, iPadMiniRetinaCellular-iPadMiniRetinaCellular, iPhone6-iPhone6, iPhone6Plus-iPhone6Plus, iPadAir2-iPadAir2, iPadAir2Cellular-iPadAir2Cellular, iPadMini3-iPadMini3, iPadMini3Cellular-iPadMini3Cellular, iPodTouchSixthGen-iPodTouchSixthGen, iPhone6s-iPhone6s, iPhone6sPlus-iPhone6sPlus, iPadMini4-iPadMini4, iPadMini4Cellular-iPadMini4Cellular, iPadPro-iPadPro, iPadProCellular-iPadProCellular, iPadPro97-iPadPro97, iPadPro97Cellular-iPadPro97Cellular, iPhoneSE-iPhoneSE, iPhone7-iPhone7, iPhone7Plus-iPhone7Plus, iPad611-iPad611, iPad612-iPad612, iPad71-iPad71, iPad72-iPad72, iPad73-iPad73, iPad74-iPad74, iPhone8-iPhone8, iPhone8Plus-iPhone8Plus, iPhoneX-iPhoneX,

Supported Languages:

English;

Parental Advisory:

Mild Alcohol, Tobacco, or Drug Use or References; Mild Profanity or Crude Humor; Suggestive Themes; Mild Sexual Content and Nudity;