Screenshots
New in version 5.8.1
Our revamped badging system will help you identify content availability. For example, "New" badges on both live and on-demand shows will point you to the next best episode to watch, whether this is airing right now or if it's something you missed and it's now on-demand.

There's so much to watch and sometimes not enough time. We want to give you as much info as possible with fewer clicks so you can make better choices. Now, whenever you go to the context menu (those three little dots on the corner of a video tile), we are surfacing more details about the show, game or movie.
Description
Enjoy all your TV in one place with a new Hulu experience – more personalized and intuitive than ever before.

The choice is yours - select a plan featuring Hulu's entire streaming library, or if you've subscribed through Hulu to a plan that includes Live TV*, enjoy the entire library plus 50+ top live and on demand channels.

Hulu:
Watch TV anywhere with a huge streaming library featuring current and past seasons from many popular shows exclusively on Hulu including Seinfeld, This is Us, South Park and Fear the Walking Dead; bold Hulu Originals you can't stream anywhere else including The Handmaid's Tale, Harlots, The Mindy Project, and Casual; along with current shows, hit movies, kid's series and more from many top channels including FOX, NBC, Disney Channel, ABC, Cartoon Network, FX and A&E. Limited and commercial-free options are available for Hulu plans without Live TV.

Hulu with Live TV:
Enjoy the entire Hulu streaming library, plus over 50 top Live and On Demand channels, including FOX, ABC, NBC, CBS, ESPN, FX, NBCSN, FS1, History Channel and TNT. Watch live sports from top pro and college leagues plus regional sports networks available in many areas. Plus, enjoy national news with local feeds available in select cities, popular kids shows and can't-miss events.

Features for Everyone:
With any subscription, you'll enjoy features that help you customize how you watch TV.
• The more you watch, the better it gets. Enjoy a reimagined TV experience that adjusts to your tastes every time you use Hulu.
• Create up to 6 personalized profiles for the whole household. Enjoy your own collection of shows, movies, networks, and more.
• Track your favorites with My Stuff. Add shows, networks, and movies for quick access across your devices.
• Browse while you watch with Fliptray for recommendations of what to watch next.

Features for Hulu with Live TV:
If you've already signed up for Hulu with Live TV, enjoy additional features:
• Record Live TV with your Cloud DVR to watch your favorites anytime.
• Watch concurrent streams on multiple devices
• Track and record games and shows from your favorite teams with My Teams

*Hulu with Live TV plan only available on Apple TV Gen. 4 or iPhone/iPad running iOS10 or later.

Download the Hulu app now, and start enjoying Hulu's Limited Commercial or No Commercial plans.

If you're new to Hulu, your base Hulu subscription fee will be $7.99/month for the Limited Commercials plan or $13.99/month for the No Commercials plan. You'll be charged as a recurring transaction through your iTunes account starting the end of your free trial (unless you cancel during the free trial). Payment will automatically renew unless you cancel your account at least 24 hours before the end of the current subscription month. You can manage your subscription, cancel anytime, or turn off auto-renewal by accessing your iTunes account. Hulu is available to US customers only.

Terms of Use: http://www.hulu.com/terms

Privacy Policy: http://www.hulu.com/privacy

This app features third party software, enabling third parties to calculate measurement statistics (e.g., Nielsen's TV Ratings).

We may work with mobile advertising companies to help deliver online and in-app advertisements tailored to your interests based on your activities on our website and apps and on other, unaffiliated website and apps. To learn more, visit www.aboutads.info. To opt-out of online interest-based advertising, visit www.aboutads.info/choices. To opt-out of cross-app advertising, download the App Choices app at www.aboutads.info/appchoices. Hulu is committed to complying with the DAA's Self-Regulatory Principles for Online Behavioral Advertising and the DAA's Application of Self-Regulatory Principles for the Mobile Environment.

Hulu, LLC
Web Site
Hulu: Watch TV Shows & Stream the Latest Movies
Support
iPad Screenshots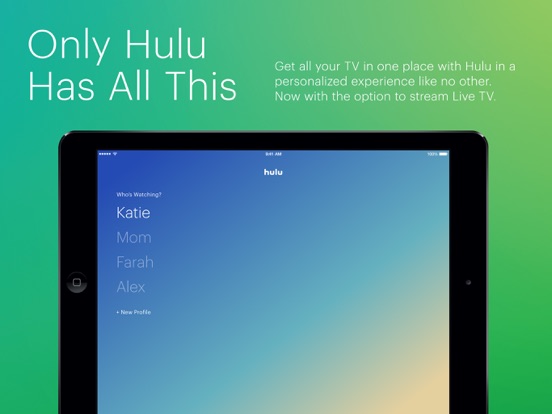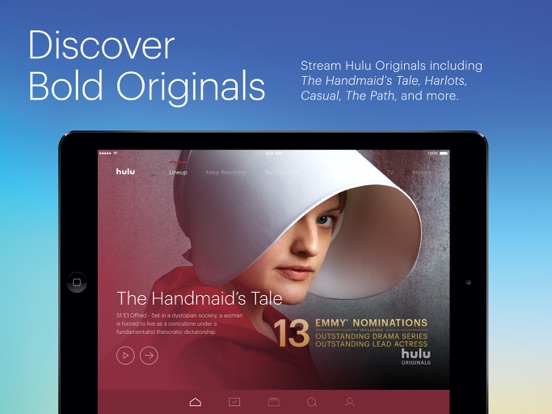 Reviews
Not Working On Apple TV!
I'm writing this review because there are specific issues with Hulu. These are some issues that I've been having that I have not had before and now I am contemplating getting rid of Hulu because of these issues. With running the most current version of Apple tvOS on my 4k Apple TV the app seems to not remember my account info or want to keep me signed in. Therefore it sits there buffering, and then tells me that my AppleTV does not have an Internet connection. If I do get it to work after It sits there,and buffers I go to try and play the show and it will sit there and buffer on the show I want to watch. It takes about 10 minutes to start a 43 minuet show when really that should be instant. Then if the show starts playing after the 10 minute period of waiting for it to actually begin the show. It decides to try and buffer after that or it kicks me out of the show. I would like to see some bug fixes to the tvOS because if there are not any fixes soon I will be canceling my subscription.
New Episodes should be easy to find/play
I hate that the dashboard shows new episodes but when you click it the last episode is what automatically plays. I then have to click on seasons, find the newest and one then search on the actual new episode. It's beyond annoying!
Don't fix what wasn't broken
The new update makes the app look awful. Way to busy and unnecessarily complicated. In addition to that no shows want to play.
Come on people
This new update removed my queue. It's difficult to figure out to remove shows from the watchlist and you have to stroll on and on to find what you actually want to watch. They could have the colors and all to the old layout and been just fine. I really dislike this new app. After building up the My Stuff queue the auto play feature just plays whatever it feels like it after the show goes off, not the next episode or the next show you selected to watch. I really wish I could delete this update!
I only use it for when Netflix doesn't have a shown I want to watch
a dissapointed gay
on
10/19/2017
I'm not gonna give you a paragraph. Hulu is just sad Netflix with 10x for ads and crashes WAY too much. There.
Latest update is TERRIBLE!!! Don't update until they fix this mess!
2001 called, it wants its UI design ideas back. Whose idea was this?? The app went from bad to worse. I have to click through every show I'm following just to see if there are any new episodes. Is this for real? And forget discovering new content. I'm not thumbing through your entire library! And that's just the tip of the iceberg. You know there are other video streaming apps/services out there, right? You just can't afford to be this bad. The product people could've just not done anything at all for a few months and that would've been better for the users. Makes you wonder how much of Hulu's money is being wasted on busy work. Try investing their salaries into adding more popular shows to the menu instead, at least that will actually add real value. Oooh, and maybe you could ask some intern to upload the old version back to App Store? She/he'll do more good for your users in one hour than all those engineers did in weeks of building out this ridiculous update (more like a "downdate" really).
Seriously Hulu?!
KnykholetteM
on
10/19/2017
App will "cannot load content" regularly. The only way to fix fix it is to restart the system or uninstall and re-install it. Constantly and randomly logs out (huge pain on the apple tv). Freezes up, but internet connection is still registering at 5Mb+ speeds. This app used to be great. What happened?!!!
Broken
Robotic Dreamer
on
10/19/2017
Can't log in to account. Keep getting an error telling me try again later.
New update FAIL
Do the makers of this app even use it? It's so stupid. Not user friendly and just ridiculous. I wish I could go back to the original version. It doesn't make sense. 😡😡😡
Latest update
Absolutely terrible format. Can't find anything! Going to cancel my subscription!
Horrible
Ya boi randon
on
10/19/2017
This app is trying too hard! The forward and rewind features are annoying when trying to pause! Make it simple!!! The whole setup is just trying to hard to be better than Netflix. It doesn't work it's just annoying frustrating and inefficient. Make the app simple please!
Come on Hulu
I used to watch every show on my phone or iPad cause I don't have a tv or cable. I pay for Hulu cause I was able to watch all cable network tv shows. I loved it before this new design and now I hate it. I won't get rid of it but man fix it ASAP. I hate that I can't minimize the screen and do something else while the show still plays in the corner. But even more I hate that I maybe touch the screen and it either fast forward to where I by accident touch or rewinds. And the commercials are outrageous. 2 minutes of commercials on every show. And if you touch you have to rewatch the get to the place you were. It's stupid. I want to know how much time left in a show not jump ahead or rewind. Please fix this
The UI is terrible v5.8.1
The UI is terrible, the shows are difficult to find when not using the search engine. The worst part is when watching the video, if you accidentally touch the sides it either rewinds to the beginning or worst, to the end.
Don't download this!
I've given this app chance after chance, always a disappointment. If I click anywhere on the screen or briefly touch it I get fast forwarded into my show. Even the simple task of just finding a show becomes hard with the new design. The only reason I'm even bothering with Hulu is because it keeps up to date with some of my shows so I don't have to wait a year for the whole season on Netflix. I thought with all the bad reviews and rating Hulu would at least attempt to fix their app, listen to their customers. Zero changes have been made that actually improve my viewing experience. I highly recommend to just watch Hulu on your tv or computer since anything on your cellphone will bring nothing but headaches.
Deisgned by stupid hipster using new art degree
This Is the worst update I have ever seen on hulu. Just useless and non functional. looks so "cool" but just difficult to use. What were you thinking? This sort of format just infuriates me.
What happened....?
MikePatriot11111
on
10/18/2017
What happened to Hulu? Live service is garbage, just buffers and buffers. I have a eero WiFi system (100 mbps download). Issue isn't on my end. Used to love this service, it's useless now.
New interface
HombreDeAcero
on
10/18/2017
Change the look back in the Apple TV!!! This new look is not functional. It was created for touch devices and the Apple TV is not a touch devise. You are forced to scroll down a list to look for a show and when you wanna go back or change the upper tab you have to scroll all the way back.
Live tv is soooooo buggy
Iphonecommander123
on
10/18/2017
Constant lag and stuttering and skipping.
Getting worse
Direct Junk
on
10/18/2017
The latest updates has just made finding things worse and when I plug to a tv so I can watch something on the tv it just does simple mirroring does not take advantage of wide screen. Actually mirroring does not even work, sound goes to the tv but video is displayed only only on my iPad. It look like only Netflix's is technically competent. It would be nice to have a choice other than Netflix but if you can't handle the technical side content becomes worthless.
Can I give less than 1 star?
Your app is terrible! But don't take my word for it. Look at the writing level and attention to detail that reviewers are using when critiquing your app. The vast majority have outlined thoughtful and intelligent feedback clearly demonstrating intelligence worth considering. These aren't blubbering idiots who are reviewing your app; their feedback is spot on. Way too many clicks required. Not always easy to tell what episode I watched previously. The number of clicks required to navigate to the list of episodes is absolutely ridiculous. So easy to see all my available new episodes in the old version; terrible now. No one downloads your app because it's pretty. They download it because they want to watch shows. Don't change for the sake of change. FIX!
???????
Dewormerizer
on
10/18/2017
I don't even know what there thinking, by far the dumbest design for trying to find something to watch. You only get to see one item at a time instead of a page full of options. Shame, used to be good.
Difficult UI
The recent UI updates make shows harder to find. When you are in a show it is way too easy to fast forward or rewind when you just want to tap the screen to pause the show. Please, please bring back the previous UI.
Worst update ever
The layout is crap bring back the old lay out and maybe I'll keep paying for the subscription
Can't Even Log In
Workaholic999
on
10/18/2017
I can't even log in! The cursor and screen freeze when I reach the 14th character of my pass phrase. I have to force quit the app. Deleting and reinstalling didn't help. That's the sort of ineptitude I expect from Comcast. Maybe I cut the cord too soon?
Hulu removed casting functionality
I used to use this app all the time, then in the last update they removed the casting functionality without saying a word. I uninstalled and reinstalled thinking it was a glitch, but it isn't they just removed it. I'm going to be cancelling my subscription soon and probably going to Netflix, their app still has that ability.
Bring back the old hulu!
Ellington13
on
10/18/2017
The new update is a flop. I accidentally rewind or fast forward every time I watch a show because if you touch anywhere on the screen that's where the show will start playing. I also liked how the old display had all my shows in a list instead of one by one. Please fix the rewind feature! It's so frustrating!
Whoever thought of the hulu update is dumb af
DRAKE!!!!!!
on
10/18/2017
I actually liked hulu more then netflix but then hulu had this update and screwed me over. Im literally paying for nothing but loading signs and nothing. I hope whoever wants this lame app reads these reviews and realizes that this is just a cash grab rip off at this point
Horrible streaming
Bearcat1234kitty
on
10/18/2017
Do I can't stream. It says too many people are streaming at once but only myself and one other person have access to this account and it hasn't been a problem. I pay for unlimited streaming. I managed my devices so that NONE of the devices are on my account and STILL same error message of too many people streaming at once. REFUND OR FIX IT HULU! $12/ month to not be able to watch when I just subscribed 3 days ago is BS. None of the troubleshooting worked either!
Terrible interface and buggy
MrTastyBubbles
on
10/18/2017
Searching through shows is a pain, and subtitles keep turning on no matter which setting is chosen.
Won't work
Cute girl 1998
on
10/18/2017
I tried logging into my account and it wouldn't let me log in than I pressed restore and it still didn't let me log in I was already logged in but it logged me out they really need to fix that I have also uninstalled and reinstalled multiple times
I'm sorry
I'm sorry to say but I absolutely hate the new update.
Keeps glitching and kicks me out for any video
Please fix the glitch it's for Iphone 7 and it seems to be only mine. My girl has the same phone and works perfectly. I tried deleting it, installing it, turning my phone off, logging out and deleting data and nothing seems to work.
Buffering Issues!!
XoCarpeDiemXo21
on
10/18/2017
I absolutely love the Hulu app! The option to catch up on shows from my phone is awesome. With the new update though, the buffering is a huge issue. If I so much as touch my phone, it'll skip right through an episode. Forcing me to watch 5 minutes of commercials before I can even go back to where I was. The buffering was never a problem before. I believe in the progression of things, but the skipping is too much and not in a good way.
Awful New Update
The old one layout was much better I could see when the shows had new episodes.
Terrible app
Steak sauce a1
on
10/18/2017
I just want to browse. This app will not let you do that. You MUST go through an arduous picking process before it lets you browse. Simply awfull
New update is terrible!!!!
New update is terrible. Please use old format in future updates.
The play bar.
The v game guy
on
10/18/2017
The play bar, which is at the bottom of the screen acts like your are tapping it to move where you are in the video regardless of where I tap. (Top corner to get rid of HUD, video moves. Tapping pause, Video moves. Just miss the back arrow, video moves. Fix this plz it's really inconvenient
New update
New update horrible, the app won't open!!
Awful
The app is trash. If I could've given it 0 stars I would've. The amount of times I've accidentally jumped around and had to rewatch ads 10 seconds after just watching them is ridiculous. Get it together Hulu
Huge design flaw
Jamison125637
on
10/18/2017
I'm sure you've seen this complaint 100 times already but I feel it needs to be said again. The tap the screen to fast forward feature does not work correctly and constantly results in unintentional jumping. Let me be clear: this is not a growing pain. This is not something that your users are going to simply get used too. Is is far to easy to accidentally jump to a different spot in your movie and spoil the plot. The feature itself is flawed and I beg you to consider removing it, this would greatly imposed the user experience.
Hulu is great but new interface keeps me from using it
dababyicegurl
on
10/18/2017
The new interface is frustrating and literally impossible to use. Trying to figure out how to navigate login and set up made me want to throw my phone across the room. I had set my account on hold because I was not watching Hulu since there was nothing new or interesting to watch for a while. When I tried to reactivate, it started a whole other account through the apple app. I'm done dealing with it. My phone isn't going to pay the price of some idiot who thought Hulu needed a new look. They need to redo how the interface works or revert back to the old interface.
WHAT HAVE YOU DONE!?!?
MamaBirdPigKiller
on
10/18/2017
This "update" is AWFUL! I came to App Store to figure out if I could go back to old version. Seriously, give back the screens of selections! One screen per show is seriously taxing. Also, what happened to the ability to watch in small screen so you can have another application active? This wasn't an improvement. It's awful. I will be cancelling. Directions: Go to Netflix. Copy them. Rinse. Repeat.
Horrible update
smdiundjdbdnms
on
10/18/2017
I won't waste my time typing what everyone else already has. The update is horrible and unusable.
Won't let me login at all
Aliciasuxxx
on
10/18/2017
Everytime I press login it says error occur and won't let me do anything
Won't let me login
Gamer boy 73
on
10/18/2017
I've heard good reviews about this app so i went and got a membership and downloaded the app. But as i type in my information, a message stating " An Error has Occurred. Please try again later." popped up. it's been a full 24 hours and i did everything the Hulu Website told me to do. i'm disappointed. can someone help me? i'm running iOS 11.1 Public Beta 4 .
Terrible
I never write reviews, but they absolutely ruined this app. I find myself watching far less Hulu than I used to because of this God awful interface. It takes way too long to continue watching a show, 3D Touch support is completely broken, you can only see 1 show on the screen at a time when browsing, the colors are terrible, outdated, and distracting, the "watch next episode" button is so tiny you have to use total precision to hit it, tapping on the screen to clear the massively overbearing controls overlay will skip to a random point in the content. That's just a few piles of crap off the top of my head. On top of the fact that Hulu has become terrible at keeping track of where you left off in a show (episode and playtime), it's kind of jumped to the top of the list of things I could cut to save some money. SAD!
No pip.
Bring back picture in picture and you'll get a higher rating. App is good over all, a little weird interfacing and and some things could be a little more simple and convenient but the loss of pip has me very upset.
Terrible
evanstewart4
on
10/18/2017
The new update made this app completely unusable. You can't find shows through search, browse season episodes, pull up season pages, get additional show information, etc. The navigation is hard to understand and the results are inconclusive. This app feels very "Beta."
Doesn't work
Samtheantiman88
on
10/18/2017
Every time I try to log in , it says error occurred !!!!
Hate the new update!!!
Hggggeetthbvxsd
on
10/18/2017
Too complicated
Fact Sheet
Publisher:

Hulu, LLC

Category:

Entertainment

Released:

Jun 29, 2010

Current Version Released:

Oct 19, 2017

Version:

5.8.1

Size:

89.9 MB

Compatibility:

Requires iOS 10.0 or later.

Recommended Age:

12+

Game Center Certified:

No

Supported Devices:

iPhone5-iPhone5, iPadFourthGen-iPadFourthGen, iPadFourthGen4G-iPadFourthGen4G, iPhone5c-iPhone5c, iPhone5s-iPhone5s, iPadAir-iPadAir, iPadAirCellular-iPadAirCellular, iPadMiniRetina-iPadMiniRetina, iPadMiniRetinaCellular-iPadMiniRetinaCellular, iPhone6-iPhone6, iPhone6Plus-iPhone6Plus, iPadAir2-iPadAir2, iPadAir2Cellular-iPadAir2Cellular, iPadMini3-iPadMini3, iPadMini3Cellular-iPadMini3Cellular, iPodTouchSixthGen-iPodTouchSixthGen, iPhone6s-iPhone6s, iPhone6sPlus-iPhone6sPlus, iPadMini4-iPadMini4, iPadMini4Cellular-iPadMini4Cellular, iPadPro-iPadPro, iPadProCellular-iPadProCellular, iPadPro97-iPadPro97, iPadPro97Cellular-iPadPro97Cellular, iPhoneSE-iPhoneSE, iPhone7-iPhone7, iPhone7Plus-iPhone7Plus, iPad611-iPad611, iPad612-iPad612, iPad71-iPad71, iPad72-iPad72, iPad73-iPad73, iPad74-iPad74, iPhone8-iPhone8, iPhone8Plus-iPhone8Plus, iPhoneX-iPhoneX,

Supported Languages:

English;

Parental Advisory:

Mild Cartoon or Fantasy Violence; Mild Sexual Content and Nudity; Mild Realistic Violence; Suggestive Themes; Fear Themes; Mild Profanity or Crude Humor; Mild Simulated Gambling; Mild Alcohol, Tobacco, or Drug Use or References;