Screenshots
New in version 5.12
We improved our look and feel. Also we did some routine pest control: we squished some pesky bugs!
Description
Enjoy all your TV in one place with a new Hulu experience – more personalized and intuitive than ever before.

The choice is yours - select a plan featuring Hulu's entire streaming library, or if you've subscribed through Hulu to a plan that includes Live TV*, enjoy the entire library plus 50+ top live and on demand channels.

Hulu:
Watch TV anywhere with a huge streaming library featuring current and past seasons from many popular shows exclusively on Hulu including Seinfeld, This is Us, South Park and Fear the Walking Dead; bold Hulu Originals you can't stream anywhere else including The Handmaid's Tale, Harlots, The Mindy Project, and Casual; along with current shows, hit movies, kid's series and more from many top channels including FOX, NBC, Disney Channel, ABC, Cartoon Network, FX and A&E. Limited and commercial-free options are available for Hulu plans without Live TV.

Hulu with Live TV:
Enjoy the entire Hulu streaming library, plus over 50 top Live and On Demand channels, including FOX, ABC, NBC, CBS, ESPN, FX, NBCSN, FS1, History Channel and TNT. Watch live sports from top pro and college leagues plus regional sports networks available in many areas. Plus, enjoy national news with local feeds available in select cities, popular kids shows and can't-miss events.

Features for Everyone:
With any subscription, you'll enjoy features that help you customize how you watch TV.
• The more you watch, the better it gets. Enjoy a reimagined TV experience that adjusts to your tastes every time you use Hulu.
• Create up to 6 personalized profiles for the whole household. Enjoy your own collection of shows, movies, networks, and more.
• Track your favorites with My Stuff. Add shows, networks, and movies for quick access across your devices.
• Browse while you watch with Fliptray for recommendations of what to watch next.

Features for Hulu with Live TV:
If you've already signed up for Hulu with Live TV, enjoy additional features:
• Record Live TV with your Cloud DVR to watch your favorites anytime.
• Watch concurrent streams on multiple devices
• Track and record games and shows from your favorite teams with My Teams

*Hulu with Live TV plan only available on Apple TV Gen. 4 or iPhone/iPad running iOS10 or later.

Download the Hulu app now, and start enjoying Hulu's Limited Commercial or No Commercial plans.

If you're new to Hulu, your base Hulu subscription fee will be $7.99/month for the Limited Commercials plan or $13.99/month for the No Commercials plan. You'll be charged as a recurring transaction through your iTunes account starting the end of your free trial (unless you cancel during the free trial). Payment will automatically renew unless you cancel your account at least 24 hours before the end of the current subscription month. You can manage your subscription, cancel anytime, or turn off auto-renewal by accessing your iTunes account. Hulu is available to US customers only.

Terms of Use: http://www.hulu.com/terms

Privacy Policy: http://www.hulu.com/privacy

This app features third party software, enabling third parties to calculate measurement statistics (e.g., Nielsen's TV Ratings).

We may work with mobile advertising companies to help deliver online and in-app advertisements tailored to your interests based on your activities on our website and apps and on other, unaffiliated website and apps. To learn more, visit www.aboutads.info. To opt-out of online interest-based advertising, visit www.aboutads.info/choices. To opt-out of cross-app advertising, download the App Choices app at www.aboutads.info/appchoices. Hulu is committed to complying with the DAA's Self-Regulatory Principles for Online Behavioral Advertising and the DAA's Application of Self-Regulatory Principles for the Mobile Environment.

Hulu, LLC
Web Site
Hulu: Watch TV Shows & Stream the Latest Movies
Support
iPad Screenshots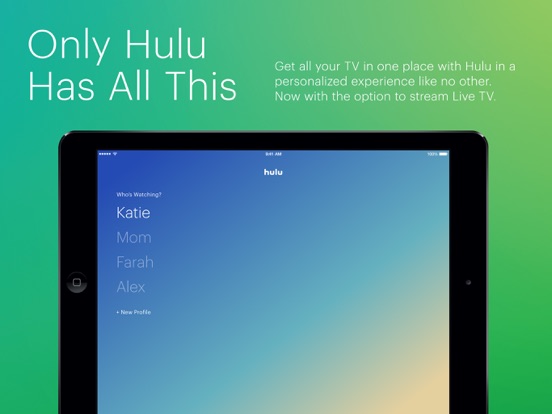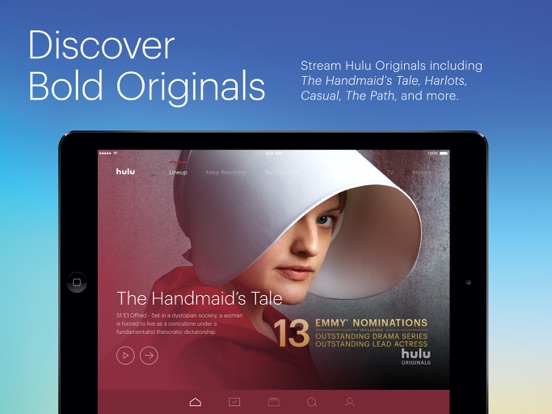 Reviews
Poor run for paid tv
Disliked lies
on
12/13/2017
Crashes as well as opening okay log in then doesn't play video. No wonder Netflix is better than you.
BET on Hulu needs to be more up to date
Leeleebeaute
on
12/13/2017
Hulu can you please get some up to date episodes ON BET?! It's only one episode and it's really old and it's if the game 🤨 I was going to watch Then Mane Event or anything on BET and there is nothing literally.
Horrible
One of the worst app update I've ever seen. Legacy compatibility is gone and harder to navigate. Progess just for progess is always a bad idea. Yes, you needed to change for new Live TV option and implement new DRM controls. BUT, old interface worked fine for that and better tested. New interface framework has broken too many user options. I can tell you 90% of the people I know cancel Hulu since update. Reasons being; doesn't work on old apple products, didn't work on Ruko for a long time, more ads even on commercial free plan, annoying push for new add-on and live tv options.
Horrible Udate
Let me start off by saying I NEVER write reviews. So I am not the user who goes around bad mouthing apps. So, I am not particularly tech savvy, but I can maneuver through technology intuitively, and I can confidently say that this update is absolute garbage. Pretty much everything has already been said but the change that has been driving me completely bonkers is the scrubbing. This sensitive as heck feature has me watching a million ads, and when I can get through them, I have to scrub to my original spot, then rewatch the same ads, all to have the audio work, but no visual. I'm not gonna hold my breath for a change though, as I can see that this complaint has been stated in reviews repeatedly for at least a couple of months. Write reviews people!! Squeaky wheel gets the oil!
Cheating paying customers
I am paying for Hulu's limited commercials plan. Except it's not so limited. I'd be fine with the multiple minute commercial breaks if it weren't for the obvious design of the app to make you watch more no matter the turmoil for their customers. The rewind ability which is soo extremely sensitive to touch that picking up you iPad forces you to accidentally go back to the beginning of the show and then forces you to watch a few mins of commercials. Then if you want to go back to the spot in the episode you have to suffer through another commercial break. Everyone seems to complain about this feature but Hulu doesn't even give us an option to turn it off which is insignificant for a programmer to do. This is obviously planned. If your customers hate something but you refuse to remove it, there has to be some reason. And the only reason is money. Just like they lied to people many times in the past in google results where you'd search for a show, their ad pops up with the show your looking for but they did not actually have it once you signed up. Cheaters and scoundrels is who runs Hulu.
Why
Instagram: @iceagesartorius
on
12/12/2017
This app is NOT user friendly. I've tried multiple times to find shows,movies etc that are around my common interest and they are just things that you have to pay extra for. People are paying $15 a month for just the limited things to watch and all the good shows and movies are locked and you have to pay another $7 just to watch one show you want to watch. This app is useless and the hype before it came out was unnecessary
Casting Issues
Is anybody else having problems casting from the Hulu app to their tv? I have a Google Chromecast connected to my tv and since the Hulu update I haven't been able to broadcast any of my shows or movies from my Hulu app on my phone to my tv. The app is becoming super inconvenient and difficult to work!
Please remove the rewind feature!
Torimonsterx
on
12/12/2017
Show and movie selections are great but too many ads. I watch a lot of anime and having 6 ads on a 20-25min show is a bit much. The feature where you tap to rewind is literally driving me crazy. There have been countless times when I've picked up my iPad to move it, accidentally fast-forwarding to the end and having to wait for the ad to finish before I'm able to movie it back (and then sometimes having to watch another ad). Please REMOVE.
Chromecast?
robertjackcook
on
12/12/2017
Why is there no ability to cast to my Chromecast? Makes the app nearly useless to me.
HORRIBLE
If I could give 0 stars I would, I got this iPad, tried logging on, they told me I had "too many devices, delete one to continue" so after 30 minutes trying to figure out how to manage devices, I deleted a few I didn't need AND IT STILL WON'T LET ME WATCH ANYTHING. Hulu has turned very disappointing.
Not user friendly
I can't even use Hulu with this update. Let alone my 50 year old dad who just wants to watch Alaska: the last frontier without 100 hoops to jump through. Ps you will be getting a letter from him soon. Yes. A real letter.
Error
Too many error messages. Had to delete to re download. Still won't play vids.
Broken
Pastor/Non Profit Employee
on
12/12/2017
Newest update doesn't work. Won't load. Keep getting error message, even after re-logging in.
Update doesn't work
Ever since update the app stop working and It is slow needs to get fix ASAP
Network problems
On all iOS apps bad app
Won't let me login
App won't let me login with user name and password. Tried to uninstall/reinstall it. No luck. Tried technical support, hulu.com wont load chat and waited for 40 minutes when they said the wait time was 15. Not sure what to do about this app. It still won't let me log in even though I pay. I will use my computer to cancel this app and hulu. It is a waste of time and money
Omg so dissatisfied
This crash all the time. This is so disappointing.
Rewinding by accident
icorrectotherpeople
on
12/12/2017
You guys changed the app so that when you click the video to get to the controls you can rewind or fast forward just by tapping the screen again. It will go to a random place and then I have to find where I was. This keeps happening so maybe fix that, it didn't need to be that way. If you're hell bent on pulling a MS Paint at least do what they did and include an undo button for this bug- I mean feature.
Terrible update
This update was beyond trash I can't even use multiple devices so stupid like I don't have one set house for Hulu on the tv I go places 🙄
Can't use it
I can't use it it won't let me open it on my iPad it keep saying there is something wrong and it doesn't make any sense I uninstalled and reinstalled I shut down my iPad and nothing it says that a 10 iOS is need but for the iPad they don't have that only 9.6 and that's not helpful 😔😔😔😔
App keeps crashing..
peterbilt579
on
12/12/2017
My iPad, iPhone 7 and iPhone 8 all have been crashing on every video I try to watch. (My 7 and 8 are even on different carriers and different locations). Fix or I'm canceling and going back to Netflix!
Wow can't believe someone thought that this deserves two stars.
This app has nothing going for it. You can only see one show at a time while browsing, and it is difficult to get to a list of all the episodes for a show
MOST ANNOYING APP EVER
haeshoelace
on
12/12/2017
Hulu app is so incredibly annoying. You tap one part of the screen wrong in a certain place, and it fastforwards or rewinds you like 20 minutes. Then you have to end up watching ads for the time you skipped, and watching ads again to go back to the time that you were at. So annoying. 0/5 stars.
Update for iPhone X
Its been over a month since the iPhone X came out and its so annoying watching with black side bars. Update app for iPhone X
Such and annoying app
When I got this app I was excited to watch a bunch of great shows I couldn't watch anywhere else, but then I tried to do it and I got mad. Whenever I tried to find a show about half the ones I wanted to watch weren't there which is fine it happens I understand that, but so many of the shows I did find had a bunch of episodes missing. One show had the first part of a two-part episode missing. Also, anytime I tried getting my hands into a comfortable position on my device, or tapped to see how much time was left in my episode and tapped again to make my darkened screen with giant buttons over my episode go away it reminded or fast forwarded and I had to go back to my spot which generally involved watching a set of commercials I've already watched.
Bring back the profiles.
Twickster14
on
12/12/2017
Where did the profiles go? I can't use this app like I used to. We have kids that watch Hulu but I refuse to let them use the app now because only the main adult profile shows. Yeah, I know it works on the computer, but my computer won't play the videos normally.
Dumb Screen
Every time I touch any part of the screen it jumps for ward or backwards then it takes forever to load. Then I can't even get back to the spot I was because it's not connecting. This update isn't a good one plus it took away the automatic start when you are texting and go back and it plays without having to press anything. But now that's gone and a whole bunch of junk replaced it! What is happening??
Lots of good shows; poor experience
Atrocious interface, their layout makes no sense. Kinda like netflix, but with ads. Doesn't like when you skip around and sometimes just crashes when you want to rewind. The time slider is touchy when you don't want to mess with it and doesnt work when you do. Just godawful
Not sure
Rodneydoodles
on
12/12/2017
I,Minot sure what to title this because in the past ( about ten years ago ) I remember loving Hulu . All the obscure tv shows that no longer play on sindication . A seemingly endless library of movies to choose from . And most of it was for free . So get this , last night I download the app in hopes of the same thing . However I found myself watching the only movie that I was interested in , in the entire library . Hulu is offering far less than what they used to (10 years ago) for a higher price . I used to love watching shows like knight rider , Eureka , the pretender , A team , Gillian's island . And the newer releases as well . I must admit that the Hulu originals are pretty good . I'm guessing that this is the reason why certain aspects of the experience are suffering . It seems a greater effort has been put forth to create original shows . I did delete the app not because the app didn't work properly , in fact it worked quite well and the movies streamed in high quality . I deleted it for lack of choices , compared to my past experiences with Hulu .
iOS 9 compatibility issues
Was working fine with my iOS 9 iPad last week or so ago. Now it has stopped working, giving me a "something is wrong" error. 😡😡😡 Fix it please otherwise I'll be terminating my plus subscription.
This Hulu app is horrible
The app was never good but now it's so much worse!! The UI is not user friendly at all. The "for you" suggestions they give are never my taste & is the same short list where u can't delete any. Plus they give the same ones day after day. Browsing is also extremely bad-I can't believe how few offers they list per genre! And the if u go to "relateds" it leads to VERY few options vs Netflix or Amazon AND each layer includes 1–6 options already displayed. And again no way to dismiss any permanently from any part of the app! Plus the app randomly rewinds or fast forwards things while viewing so much so that I try to watch where I am in minutes. It's so awful. I'm out after the free trial. Not worth paying for the service since I intended to use this app a lot.
Where'd My List Go?!?!
Since the new app update on my iPad, the platform has gotten terrible to use. I have a number of items added to my list for easy access, but when I click the "my stuff" button on the bottom of the screen, all that shows up is the one show I just finished watching and nothing else. The option to access my list is not on the home screen either. The platform when on the web on my desktop is amazing, I love it! But when it comes to accessing it on my iPad and iPhone, its terrible.
Horrible
Just plain horrible. Garbage interface and scrubbing through an episode is the worst function I've ever seen in a streaming app. Don't even bother with Hulu unto this fix this crap.
I'm being nice with 3 stars
I respect Hulu for what they started with TV streaming and I finally somewhat got used to the cookie cutter functionality, but please get rid of the tap the screen to FF or RW, I hate it, you should have to drag or put extra pressure on the tablet but to just tap and all of a sudden your at the beginning or end of your show in ridiculous.
Help
GabrielaOcean
on
12/11/2017
Don't remember the email on this and need to update it cause I want show time! Please help :(
Not user friendly
Loosethread
on
12/11/2017
I hate how easily you can skip forward even if I accidentally touch my screen and I have to sit through an advertisement just to go back to where I was. And sometime when I take a break and return to the app it's in a completely different episode!!! It drives me crazy! And I hate how the whole app is set up. I'm on a trial right now and I like Netflix's set up way more
Not the best
I've had the app for about a week and I paid for the "no commercials" and I still have a lot of commercials the sound goes out sometimes it's very annoying
The Update is Terrible
itsjust_jennifer_
on
12/11/2017
The update is horrendous. It put design as the number one priority instead of the user. Everything is harder to access and you only see one show at a time, instead of say, your entire watchlist. It is really visually pleasing but completely mind numbingly stupid.
Touchy controls
You have to be careful when touching the screen. They have the controls set that if you touch the screen to pause, you could accidentally reset the playback either way far in advance.
Awful
Heyyallitsme
on
12/11/2017
Doesn't support HDMI streaming, only way to use airplay is with a brand new Apple TV or I'd have to use some other internet dependent device and where I live in Alaska I cant get wifi so I have to use my phones data, and with AT&T I can't hotspot; so I'm stuck using a tv adapter to watch any kind of tv. Goodbye Hulu and welcome back Netflix.
just got an authorized charge from hulu
The California Cuban
on
12/11/2017
even though i took the one month free offer hulu went ahead an charged itunes. now i have to spend time on the phone and follow up on this crap. canceling the whole thing asap.
Not very intuitive
ToastaBredz
on
12/11/2017
Not a super intuitive app to use compare to Netflix and even Amazon Prime Video. I don't know what it is but finding what I want isn't great. Function Request: can you add the ability to play the video even when the Hulu app isn't in the forefront or when the phone is locked. I like to listen to shows while I play games etc. and Netflix allows me to do this.
Love it
Snugglebug001187
on
12/11/2017
At first I really did not like the update but as time went by I started to get used to it and now I love it 😁😍
THIS APP NEVER WORKS
Id give it zero stars if possible
backlight issue
eathumanrawhide
on
12/10/2017
for some reason hulu overrides the ipad backlight settings and adjusts itself NON-STOP while i'm trying to watch a show with the brightness down and i'm in a dark room. it happens when there is a particularly dark scene. really really distracting. also no matter what i do, one punch man cannot be removed from "my stuff". i've removed it, added it again, removed it again, skipped thru every episode to trick hulu into thinking i've watched it again. it won't leave!
Terrible
MichaelBeni
on
12/10/2017
I can't even log in because the password section doesn't allow me to input the whole password. It just freezes , terrible app and the developers should care enough to listen to the consumer and HULU should want an app that actually works. Extremely frustrated with this app.
Meh
No airplay support which is a bummer so the app is useless if you're trying to watch Hulu in your tv with the hdmi our adapter in a hotel or a friends house. Asinine limitation as it's not supported
No HDMI support
Charlie Piff
on
12/10/2017
No HDMI support and new layout is difficult to navigate
Ruined after the latest set of visual updates.
Hulu, what have you done? Why did you take a very user friendly interface, and trade out function for a visually stimulating backsplash. I do agree that the new interface looks really cool on the surface, but Jesus it is soooo slow and clunky and just terribly unintuitive. I constantly find myself grabbing my 7 year old iPad 3 just so I can interact with the previous interface. I want to find the shows I enjoy watching, and I want them all on the SAME SCREEN!!!! Don't make me flip through tons of tiles, with no logical order, just to find a particular show, and then open up the tab for that show, just to see if there is a new episode available. Also, don't bury shows I regularly watch under shows I have never even seen!
STILL the AV Adapters are broken! New Version Very Broken
1337H34D$H07
on
12/10/2017
-Using AV adapters (both HDMI and VGA) gives a blank screen now where before it worked. This makes me want to discontinue my subscription alone as I travel for work a whole lot. -Does not always load -PIP is gone Your UI was not broken Hulu, your ability to compete with Netflix and Amazon was...get it together or I'm gone as a user
Fact Sheet
Publisher:

Hulu, LLC

Category:

Entertainment

Released:

Jun 29, 2010

Current Version Released:

Nov 20, 2017

Version:

5.12

Size:

74.9 MB

Compatibility:

Requires iOS 10.0 or later.

Recommended Age:

12+

Game Center Certified:

No

Supported Devices:

iPhone5-iPhone5, iPadFourthGen-iPadFourthGen, iPadFourthGen4G-iPadFourthGen4G, iPhone5c-iPhone5c, iPhone5s-iPhone5s, iPadAir-iPadAir, iPadAirCellular-iPadAirCellular, iPadMiniRetina-iPadMiniRetina, iPadMiniRetinaCellular-iPadMiniRetinaCellular, iPhone6-iPhone6, iPhone6Plus-iPhone6Plus, iPadAir2-iPadAir2, iPadAir2Cellular-iPadAir2Cellular, iPadMini3-iPadMini3, iPadMini3Cellular-iPadMini3Cellular, iPodTouchSixthGen-iPodTouchSixthGen, iPhone6s-iPhone6s, iPhone6sPlus-iPhone6sPlus, iPadMini4-iPadMini4, iPadMini4Cellular-iPadMini4Cellular, iPadPro-iPadPro, iPadProCellular-iPadProCellular, iPadPro97-iPadPro97, iPadPro97Cellular-iPadPro97Cellular, iPhoneSE-iPhoneSE, iPhone7-iPhone7, iPhone7Plus-iPhone7Plus, iPad611-iPad611, iPad612-iPad612, iPad71-iPad71, iPad72-iPad72, iPad73-iPad73, iPad74-iPad74, iPhone8-iPhone8, iPhone8Plus-iPhone8Plus, iPhoneX-iPhoneX,

Supported Languages:

English;

Parental Advisory:

Mild Profanity or Crude Humor; Suggestive Themes; Mild Alcohol, Tobacco, or Drug Use or References; Mild Sexual Content and Nudity; Fear Themes; Mild Simulated Gambling; Mild Realistic Violence; Mild Cartoon or Fantasy Violence;