This version of the app is not recommended
App last updated
Mar 02, 2018
Screenshots
New in version 4.8.3
• Bug fixes and performance improvements for an enhanced experience.
Description
Plan your next vacation and discover the best hotels at the best prices when you search with trivago! Easily compare over a million hotels from more than 180 worldwide booking sites when you use the world's largest hotel deals app.

Make your next trip stress-free with trivago and search for hotels in over 190 countries. Compare room prices and travel for cheap with deals on hotels all around the world!

trivago features:

Save Money Whilst You're On Vacation
• Find the best prices from a million motels and hotels worldwide.
• Travel for cheap with last minute discounts and holiday deals on hotels for your next trip.

Search for Hotels
• Compare hotels from over 180 worldwide booking sites by location and price.
• Search based off your maximum price to suit your vacation budget.
• Discover cheap hotels nearby for last minute vacation planning.

Find the Best Hotels
• Find and save on hotels near well-known sights or attractions.
• Set a trip itinerary to have the ideal vacation.
• Save vacation and travel sites so you can book your ideal hotels later.

Vacation with Confidence
• The trivago Rating Index creates combined ratings of all available hotel review scores online to see what other travelers have to say.
• Our massive workforce will always find the best hotel deals to make your next vacation stress-free.
• Find hotels and their ratings from Expedia, Hotels.com, Holidaycheck, ebookers, Booking.com, Priceline, HotelTonight and more.

Search for the best hotels, compare prices and plan for future bookings on the go, with trivago!

Download now and start planning your next vacation!

The Guardian lists the trivago app among the "10 best money-saving apps"

Tech Times calls it one of the "must have apps for frequent travelers."

NY Times lists it among the "7 steps to a cheaper hotel room."

Lifehacker ranks trivago as one of the "best price-comparison apps you need to download now."

CNET called it one of the best "travel apps to start summer vacation planning now."

Get further assistance on finding hotel for bookings at http://company.trivago.com/support/

Visit us at http://www.trivago.com
iPad Screenshots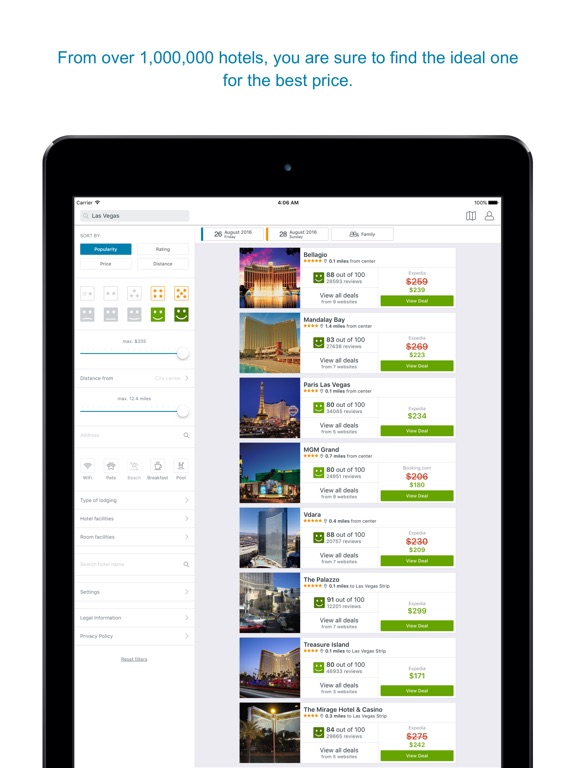 Reviews
Awful
Absolutely a rip off. Showed rooms with deep bathtubs so we booked only to find it was only a shower. Tried to cancel but would not refund. Calling CC company and reporting to BBB. Do not trust this scam
Nope, not a good app
So disappointed, high prices where I can find them cheaper on other apps & websites
Too expensive
It's high price compared with other app
Junk
No iPhone X update after months! Deleting the app and using a competitor.
Doesn't Support iPhone X
Fabiam Fagner
on
2/14/2018
Does not support iPhone X screen layout
High
App doesn't have Marriott Hotel on there listings
iPhone X Screen support
Update to new screen Trivago, come on One more time... One more time
Big savings!
Mrs. Molar Mechanic
on
1/31/2018
We found a nice hotel for three nights for less money than a comparable hotel nearby for only two nights and much more money! Thank you for the bargain!
Trivago
Idk y this app gets so much praise. Its horrible.
Was looking for a group vacation !
Bessa aiwaaa
on
1/16/2018
Nice app !
Awful app
They redirected me to a website that charged me $148, but no room available when I tried to check in. It wasted me 3 hours to get the refund back. That day was the only day that's warm enough to the beach on my 4 days vacation in Miami!!!! No beach time at all!! Wasted my day!
Download & Save!!
lauren willard
on
12/31/2017
I love it. It has helped me find 4 hotels over the past year for cheap!!
iPhone X
BrianSMcDonald
on
11/21/2017
I'll give you a 5 star review once the app is updated to support the iPhone X!
To expensive
This app show me extra 100$ more than other apps
So annoying
The time you claim that I will save by using this app, you waste more than 10 times with your silly, stupid and most boring commercial on TV So I promise you when I will need a hotel I will check all websites and app but your's
Great when get past some bugs
If used in a certain way, it is very frustrating (see below). However, if you don't use it that way, or know how to get past it, it is a very useful app for the visual hotel ratings alone. My only wish for enhancements would be for it to take Apple Pay and consolidate a payment, so I would not have to create accounts on a bunch of different sites. ---- past review ---- BUG: if you use the "map" to define your search area, and it is zoomed out about 20 miles across, then go to "list", and change sort to "price", it messes up their SQL and includes motels from hundreds of miles away. In addition after that happens, if you use zip codes starting with "0" like those in Massachusetts, it will search SPAIN. Once it gets confused, you need to kill the program and start over. KLUGE TO GET AROUND THEIR BUG: Zoom map in to search about 5 miles and do the same procedure and you will get a list of local hotels sorted by price. You just need to repeat the process afew times to search a larger area.
Spokesman
Super annoying guy. Please find someone else. I'm tired of seeing him on my TV every 15 minutes.
Buggy
I tried multiple times to look at hotels 11/11-11/12. Every time I tapped on a hotel to get referred to the website that was offering the deal, it reset my dates to this evening. I could not find any way to fix that. I guess the app would be good for last minute rooms, but I cannot use it if I plan a couple of weeks in advance.
Viewing
Your app doesnt have the option of viewing the current hotels ive booked😡
Zaddy
I downloaded this app cuz the Trivago commercial guy is zaddy as fuh. The app works well.
Very Good Options
Very Easy to use.
Excellent app!
GregoryMcFuzzyBottom
on
9/28/2017
Helps with all my booking needs!
Map View is Flaky
Markers don't always appear on map when you zoom into an area or scroll slowly by.. if they do, they often all disappear when you zoom in a bit to differentiate. Web version works perfectly and is useful; app version is crap at present.
Service is terrible
I had to evacuate for Hurricane Irma. I purchased a hotel through Trivago for two nights. When I got there the hotel refused to honor the reservation. It was 1 am and all area hotels were full with evacuees. Thanks Trivago for making a bad situation a lot worse.
Don't trust the information
StugglingWithHarvey
on
9/11/2017
I live in Houston, TX but work in Port Arthur, TX during the week. Both areas were recently hit hard by hurricane Harvey. In light of that I was very excited last week to find a listing for a hotel I could use for work this week. I made the reservation, accepted the "no cancellation" "no refund" notices accompanying the booking, then proceeded to turn away other offers and notices, from friends and coworkers, of hotels with a room available or offers to sofa-surf. I go to check-in today and I'm told the hotel has NO vacancies and does not have any communication with any online booking sites. So far my credit card has not been charged but if it does I'm going to go ballistic. With the stress of everything going on, this is just one more straw on the camel's back ... the load is getting heavy & the only thing keeping me from breaking is the constant reminder that there are MANY others MUCH worse off that me. I've used Trivago in the past, but this undermines just about any faith I have/had in the app.
هوتيل ؟
هوتيل؟ ترفاجو
on
9/8/2017
ترفاجو
Useless
The prices shown in searches is not always accurate. which really pisses me off
MBooking.com is better
Just download the bookings app to be honest.
برنامج ضعيف وكذب بوكينق افضل
ا
TV 광고와는 다르군요.
Austine.Meng
on
7/29/2017
확실한 것은, 최저가를 검색 해주는것 같지는 않은데, 이 어플의 주요 기능이 뭔지 궁금합니다. 같은 이름에 다른 어플이 또 있는것은 아니겠지요? 별 하나도 아까운데, 어쩔수 없이 주네요.
والله دبلتني كل فيديو حطونه حاته السفر كرهته
فاشل فاشل
Oops!
Something went wrong! Error message getting old.
Not the best prices
I tried to book a hotel through this app, first use! The hotel price trivago gave me was 30% higher than another app for the same room. I guess I'll stick with the other app.
Amazing!
Jxjesjzsjsjs
on
7/16/2017
I used the filters to only show hotels for $300 price range and for Free wifi, pool, and amenities also for a 5 night stay and a found one for $353! This app is amazing.
I don't like it
It is a huge advertisement for nothing! I found many other sites stronger than this.
Solid app
Henryblick97024
on
6/20/2017
I really like this app. It helped me find my hotel quickly and for the best price. It was also cool that you could narrow your search down so you could see if it offered free breakfast, had a pool, a restaurant, etc.
Crappy Search Engine
While I've liked the results of this app, getting the results is frustrating. The search engine is not user friendly. There does not appear to be a way to refine searches and the pop ups for a review, alerts, etc. are a PITA. There must be a better hotel app out there!
صندوق بريد 1122 الفروانية
محمدالطويح
False advertising!!!
Wanted to see for myself if it was true that trivago compares cheaper prices to other websites. the Sheraton on trivago for 115 then I went to Priceline and I saw the same hotel for $87 advertising that Priceline is having the room for the same price 115 guys don't bother. go to Priceline its way much cheaper false advertising false advertising!!!!
False advertising
When you search the hotel fix the filter based on the days you want to stay,, it gives you the price and offer for one night But then when you're ready to book it gives you a surprise price (higher) than the offer it says!
Love its
Wow I love it simplicity 🤑
the best
trivago 🌹the best 😎👍
Best hotel app on the market
Tmac Squiggles
on
5/19/2017
Hands down without a doubt the best platform and deals are on the Trivago app & web page. International or continental booking Has saved me quite a bit of dough! Thanks & keep up the good work... maybe expand into flights and car rentals 😉
A real money saver
Have used this from the parking lot of the hotel I wanted to stay at to save money. Called hotel site prior and they wouldn't come off the price on trivago so I booked through trivago and saved over $20 that night alone.
Great help
Chin cooking
on
5/14/2017
Great helo
Très utile et efficace
La meilleure façon d'avoir le meilleur choix au meilleur prix.
Useless
Tried to fill out personal info. Entered my last name and got "one field does contain an invalid entry". Tried on both the app & logging into the site from my computer, neither would accept my name (it's a common word). Tried to enter my state and New York is missing from the pull down. Impossible to manually enter. Done now, deleted the app.
Fact Sheet
Publisher:

trivago GmbH

Category:

Travel

Released:

Jun 15, 2010

Current Version Released:

Mar 02, 2018

Version:

4.8.3

Size:

67.2 MB

Compatibility:

Requires iOS 10.0 or later.

Recommended Age:

4+

Game Center Certified:

No

Supported Languages:

Arabic; Bulgarian; Chinese; Croatian; Czech; Danish; Dutch; Flemish; English; Finnish; French; German; Greek; Hebrew; Hungarian; Indonesian; Italian; Japanese; Korean; Malay; Bokmål, Norwegian; Norwegian Bokmål; Polish; Portuguese; Romanian; Moldavian; Russian; Serbian; Chinese; Slovak; Slovenian; Spanish; Castilian; Swedish; Thai; Chinese; Turkish; Vietnamese;