Screenshots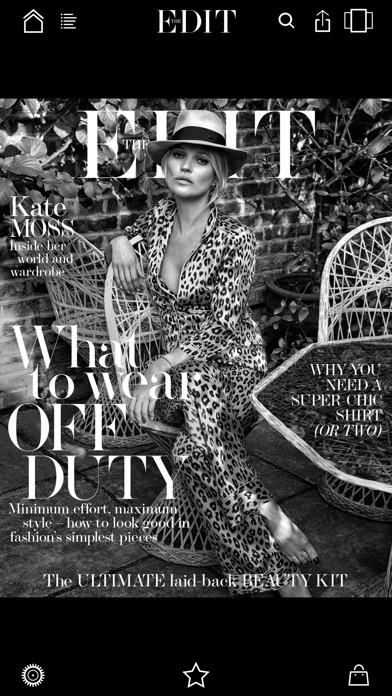 New in version 3.0.0
A number of visual improvements and bug fixes make for an enhanced user experience.
Description
The EDIT, the ultimate modern fashion magazine, is now available in a beautiful, free-to-subscribe and download app. Full of incredible fashion, styling advice and shopping inspiration, each weekly issue is totally shoppable wherever you are, via NET‑A‑PORTER.COM, the world's premier online luxury fashion destination.

From the must-have looks of the international catwalks and collections, to the most wanted new buys and closet-changing pieces, The EDIT offers a definitive, desirable fashion round up every week. Simply click to shop your favorite pieces or get ahead on the waiting lists – #SeeitLoveitBuyit. Plus, discover the latest beauty innovations and advice from leading experts in makeup, skincare, fitness and wellbeing, as well as interviews with the world's most stylish women and insider guides to the chicest travel destinations on the planet.

A must-read authoritative voice on fashionable living, The EDIT is available at the App Store, with a new issue every Thursday. Subscribe for free to stay one ultra-stylish step ahead.
iPad Screenshots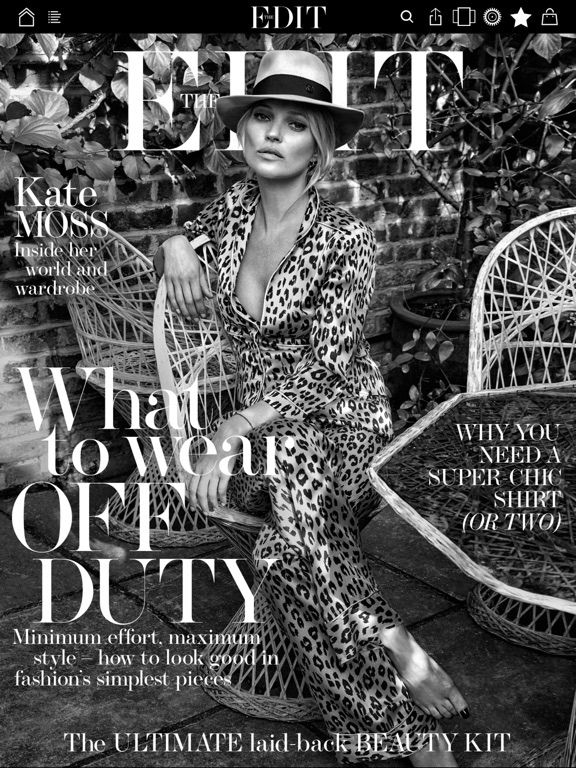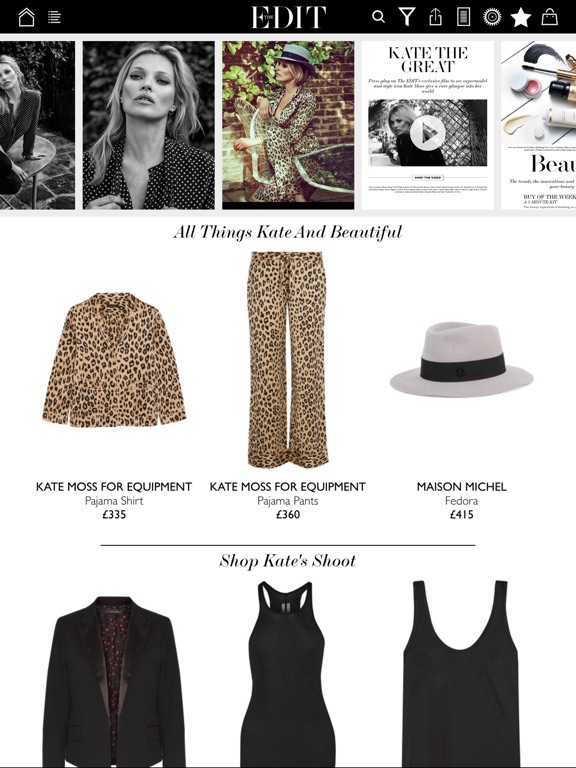 Reviews
Simply beautiful!
Beezieweezie
on
11/2/2017
I love Net-a-Porter and I love The Edit. Full of stunning photography, stylish accessories, irresistible clothes, and intriguing interviews, you cannot go wrong with this magazine. It's the best women's fashion, lifestyle, and beauty magazine on the market right now - hands down, thumbs up. Keep up the incredible and inspiring work, Net-a-Porter!
Why did I come across this sooner!!
Well written and well put together magazine love all the Fashion best place to shop
Love it!
This is a wonderful magazine. I truly enjoying reading it as keeping up with the best products and trends.
One of my favorite apps!
The photos, the user friendly interface, The Edit app is a win-win.
Fantastic!
Great app. I love that it's a weekly and the ease of buying the collections. Love it!
Fun and easy
I had a blast shopping each page. Beautiful clothes.
Update doesn't work at all
Just get "app downloading" but it never does- never works correctly...shop the magazine never works
Complete failure
I have had this iPad app for two years. Beginning three weeks ago no new weekly magazines are available for downloading. I did nothing to cause this. I always download new versions when available to keep the app current. What is going on?
New version is total garbage.
Slow and hangs.
Bad app
When I did most recent update I lost my entire library. Now the app says it is downloading and it never does. Before this update I could only get the app to download the most recent issue....previous issues would say they were downloading but wouldn't . This app used to work great and now there is something very wrong with it......unless it gets fixed this app is completely worthless.
Loved this app until..
mickyfikimix
on
7/16/2012
Now that I can finally open it again, my old issues aren't there anymore. Is that's what gonna happen everytime I update? The downloaded issues will be erased? :(
Not Working
New app is not working...help! I just get an "app is downloading" message but it never downloads.
What's up
I loved this app before, but update does not work at all. All I get is download in progress.
Update does not work
Ms Know-It-All
on
7/7/2012
I love, love, love, love this app. However, the new download isn't working. I'm very upset about this because this app is truly one of the best free app's out there. Pleas fix this problem I love and miss this app too much.
Luv it and its FREE !!
great magz and it is FREE!! cant believe this free magazine has alot fashion info, pls keep it Up!
Best iPad fashion mag
First of all, it's free to download the issues. Then you don't have to wait every month, just every week, to get a quick fashion fix. Please keep up the good work.
worked better before
rotate takes you to help screen which can't be turned off...no more nice pics of products!
Love but I have a glitch
My Immersive View dies not work. When I change the directional vertical, it takes me to the Help Guide...
AWESOME App!
AWESOME...I L.O.V.E this app and look forward to viewing my weekly updates!
Love it!
This app is such fun! I love fashion.....and this has replaced my subscription to vogue and w. The clothes are lovely and the format makes it easy to download and browse through. The creators went out of their way to feature a breezy and attractive vibe....and yes, I have bought clothes featured on the site(but I felt more comfortable ordering from my laptop).
Won't install new mags
Won't Download new issues. Otherwise, awesome when works.
Super slow even on an ipad2
Subject says it all. If patient with computers this is okay....
Pricey shopping but good content
These clothes are way out of my price range but the app reads as a fashion magazine so it's good inspiration and trend watching.
Crash
This app crashes constantly. Some pages can't be viewed and doesn't load smoothly.
It's 2 Seasons Old! No Updates?
interiordesigner
on
12/18/2010
Looks great but it's outdated and doesn't download seasonal updates. Too bad.
Good, but it doesn't download the newer editions
It has a library with all of the magazines and I try to download one of the next editions, but it just kept saying Downloading.
Brillante! Amazing concept, execution, and editorial work.
Alfonso Aguilera
on
10/17/2010
Sin duda, la mejor aplicación de moda en el universo ipad/iphone. impresionante calidad en el diseño, ejecución, y sobretodo en las editoriales. Entiendo que una "marca" como Net-a-Porter que vende vestidos de 5000€ debe hacerlo con los mejores recursos, pero desgraciadamente son una excepción, puesto que la mayoría de marcas que tienen sus propias aplicaciones fracasan estrepitosamente en el momento de mostrar sus colecciones. Soy consultor en el sector moda, y sin duda voy a inspirarme en este excelente trabajo para proponer a mis clientes como estar presentes en los dispositivos móviles. Felicito al equipo de Net-a-Porter.
Crashes
Waste of time. Crashes.
The future of magazines!
I am totally sold on this revolutionary app! Photographs and fashion spreads are beautiful and presents everything in an eye catching manner. Tapping on a photograph helps access the clothing/accessory featured. Moreover, the ads in the magazine also acts as a portal to that particular designer's collection that is sold at Net-a-Porter. A great and convenient tool for shopping! I look forward to the updates and future issues of this magazine. And thank you so much for bringing high fashion to the iPad-- without the upscale price!
Wonderful!
Great look, easy navigation, beautiful photos and layouts... The only reason not to give this five stars is a tendency to crash, which I'm hoping will be fixed soon.
A great magazine
This is probably the future of magazines. Editorial content seamlessly mixed with shopping. Great pictures, fashion tips and video. Easy to navigate and to use. Better than most of the fashion magazines that wants a cover price for the same content.
Fact Sheet
Publisher:

THE NET-A-PORTER GROUP LIMITED

Category:

Shopping

Released:

Jul 21, 2010

Current Version Released:

Nov 17, 2017

Version:

3.0.0

Size:

79.6 MB

Compatibility:

Requires iOS 10.0 or later.

Recommended Age:

12+

Game Center Certified:

No

Supported Devices:

iPhone5-iPhone5, iPadFourthGen-iPadFourthGen, iPadFourthGen4G-iPadFourthGen4G, iPhone5c-iPhone5c, iPhone5s-iPhone5s, iPadAir-iPadAir, iPadAirCellular-iPadAirCellular, iPadMiniRetina-iPadMiniRetina, iPadMiniRetinaCellular-iPadMiniRetinaCellular, iPhone6-iPhone6, iPhone6Plus-iPhone6Plus, iPadAir2-iPadAir2, iPadAir2Cellular-iPadAir2Cellular, iPadMini3-iPadMini3, iPadMini3Cellular-iPadMini3Cellular, iPodTouchSixthGen-iPodTouchSixthGen, iPhone6s-iPhone6s, iPhone6sPlus-iPhone6sPlus, iPadMini4-iPadMini4, iPadMini4Cellular-iPadMini4Cellular, iPadPro-iPadPro, iPadProCellular-iPadProCellular, iPadPro97-iPadPro97, iPadPro97Cellular-iPadPro97Cellular, iPhoneSE-iPhoneSE, iPhone7-iPhone7, iPhone7Plus-iPhone7Plus, iPad611-iPad611, iPad612-iPad612, iPad71-iPad71, iPad72-iPad72, iPad73-iPad73, iPad74-iPad74, iPhone8-iPhone8, iPhone8Plus-iPhone8Plus, iPhoneX-iPhoneX,

Supported Languages:

English; French; German;

Parental Advisory:

Mild Sexual Content and Nudity; Mild Alcohol, Tobacco, or Drug Use or References;