Screenshots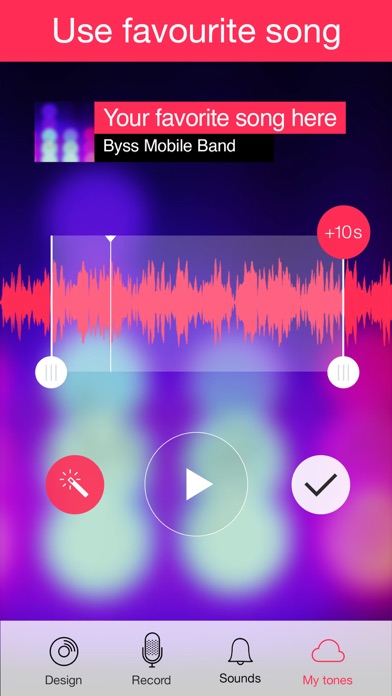 Description
All in One free Ringtones App (convert music & record tones with microphone & use extensive library)

Never again pay for your iPhone ringtones! 20'000 reviews! Get it gratis!
And over 20'000'000 happy customers!

We give you unlimited free tone choices!

Designer will convert all (mp3 & AAC) iTunes music to ringtones.

Recorder will allow to record family and friend voices as ringtones.

Key ringtone maker features:
- easily adjust start and end markers
- fade in and out option
- pitch and volume adjust
- trim & cut tones

Top ringtones app in US UK AU and many many more AppStores! This is Best free Ringtones for iPhone App in AppStore period!

Premium quality just read AppAdvice.com "it's like four apps in one — an extensive soundboard, a collection of tones, a ringtones recorder, and a ringtones creator."

unique features:

Share your ringtone creations on Facebook & Twitter

iOS 10 Text & Alert & SMS & iMessage tones support

Real waveform for each of your sound.

If you love this app or just our ringtones, please review it in iTunes and add comments and request to help spread the word!

App works flawlessly with: iPhone 7, 7+, 6S, 6S+, 6, 6+, 5,4S,4,3GS : iPad and iPad2 : iPod 2,3rd,4th and 5th generation.

Our ringtones service offers ringtone and wallpaper update weekly. It's an auto-recuring 1 month $0.99 subscription with first month free.

By subscribing to ringtones update, you authorize us to charge the subscription cost monthly to iTunes Account. You can cancel at any time.

Ringtones subscription automatically renews unless auto-renew is turned off at least 24-hours before the end of the current period. Account will be charged for renewal within 24-hours prior to the end of the current period.

Ringtones subscriptions may be managed by the user and auto-renewal may be turned off by going to the user's Account Settings after purchase.

Any unused portion of a free ringtones trial period, if offered, will be forfeited with purchase.
Ringtones for iPhone App terms of Use are available here http://byssmobile.com/priv/terms.html

iPod 1st gen and original iPhone (2007) and 3G is not supported by Ringtones for iPhone
iPad Screenshots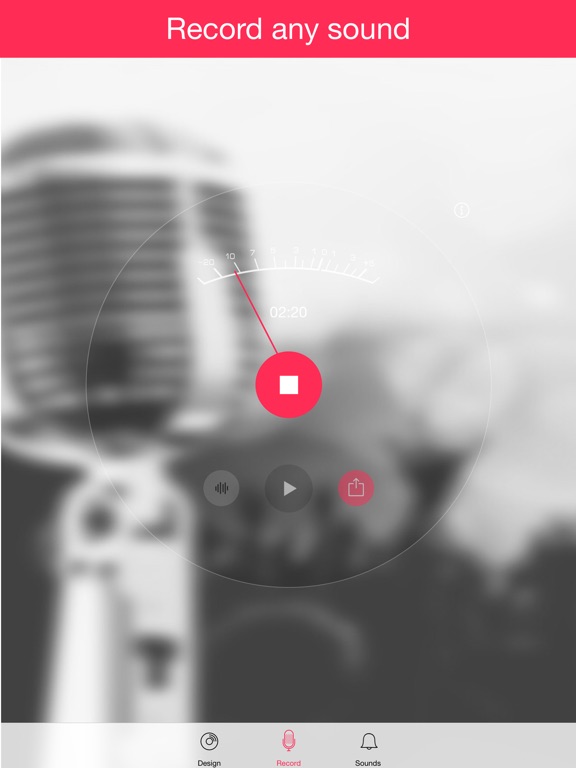 Reviews
Why does it take forever to load?
I just download it. Went for the paid versions although I'm in the free month. I click on it and sit and stare at the screen for several minutes before ANYTHING shows up. When it does, I can't get out of it. No way to back out of where you are or back up to where you were before. If you click on a tutorial you are stuck watching the tutorial to the end. No way to stop and go back to the main screen. When you DO get to the main screen...you get to stare at your red swirly screen for several more minutes before the options load again. Sigh. Don't think I'm going to approve the paid version of this after my free month. I don't think I'll be using it much. I don't have time to wait 5 minutes for the options to load every time I want to use it. My time is money. I get paid $1.00 a minute for my job. If the creators of this app want to credit me $1.00 for every minute I spend waiting for it to load...I'll keep it. At this rate, I'll either make a lot of money off of them or I'll be able to keep this app for free forever. In other words...don't waste your time. There are others out there that work and load.
Ring tones.
Not enough movies tv shows and animal ring tones. Don't want any know. Cancel my 30 day free. Don't want any at this time.
It's a fine app but there's too many ads and missing some music files
Guavajuice71
on
9/23/2017
I want to have a ringtone with my favorite music but the problem is that some of the music on my phone doesn't show through the app! please fix this ASAP!!!
Stay away 😔
Nothing is going to work, not saving tones on the phone, nothing to do here 😔
🗣GARBAGE!
This app is completely useless, it's full sized adverts are beyond frustrating just to make a 30 second ringtone I have to watch an ad for 1 minute, never had this issue with any other app, 🗣WILL BE UNINSTALLING A.S.A.P!
yoooo
AWESOMENESS IS THAT THE YOU ARE THE Reason On YOU CAN BE YOUR DADDY WHEN YOUR MOM GETS TO SEE THEM WHEN THEY COME OUT WITH YOU BUT THEY HAVE A GOOD REASON FOR IT
Want to do just from my phone
sassy.friend
on
9/17/2017
Don't want to have to do from a computer, want an app that I can do from my phone
-5 stars
Don't download it. You can listen to 10 tones per day and million of ads plus their tones horrible
Not worth it
Chicken_fingers 88
on
9/16/2017
After I downloaded the app. It asked me to either buy the one-month trial or just do it without ads. But then he kept bombarding me with the saying ads over and over again every time I tried to click one thing and I had to watch a video to get 10 more clicks. Not worth it!
Trash
Baseballman54
on
9/16/2017
😐😐😐😐😐😐😐😐😐😐😐😐😐😐😐😐😕😕😕😕😕😕😕😕🙁🙁🙁🙁🙁🙁🙁😡😡😡😡😡😡😡😰😰😰😰😢😢😥😢😮😑😯😐😐😳😦😡😤😐😲😯😖😣🙁😕😫😐😑😠😣😤😐😐😑😯😡😣😖TRASH
Absolutely terrible
Yes this app has a wide selection of ringtones buttttttt you can only play 10 ringtones in one day and there are a LOT of adds!!!!!!!! Don't download this app
Can't Close Ads
Ultimashinobi
on
9/12/2017
You either pay a monthly subscription or you can do it free "with ads". That would be fine except whenever an ad pops up you can't close it! To be fair you actually can't click anywhere on the ad. Since the ads pop up whenever you click literally anything this is clearly just a scam to get you to pay their subscription fee. Broken app.
Scam
I purchased this app because it offered a trial period. Unfortunately, they have not responded to my requests to cancel subscription within the required period. I plan to report this to iTunes and Apple. Don't get bait and switched with this app!!!
Useless
I'm not sure how all of the reviews I read were 1 star and yet the app has almost a 5 star review. App is terrible
Too ad heavy
Way too ad heavy... holy cow! also it's not really free... you have to watch ads or pay 99 cents...
Use for wallpapers
FireFoxGirlNYC
on
9/6/2017
I normally use this app to get good wallpapers, but the ringtones thing doesn't even work. Apparently I need a subscribed account. Make it better.
Ripoff
Halloween Minion
on
9/6/2017
Loved it when I originally got it. I UPGRADED because I wanted longer ringtones. Easy to use & the step by step for getting them to iPhone are great! Fast forward got new phone & now I have to see advertisements every time I touch a button! Sent message in July and got no response. RIP OFF.
Good
Meabye they could be a little better?
Awesome
Amazing ringtones!
Garbage
Too many adds, to the point where you can barely use the app without subscribing. Everything is scattered and mis-labeled, and poor quality. There's not even any type of search options. I've had the free app for a few years, and ever once in a while I'll re-download it to see if it ever got any better, but it never does. I'll be permanently deleting this, good luck everyone
Why would you need to buy ringtones?
Fatality Moon
on
9/3/2017
This is not good like i said Why would you need to buy ringtones its just not fair
Love it!
Heather in the desert
on
9/3/2017
It has always worked for me! XOXO
Spam Central
Don't be fooled by all the positive (likely fake) reviews. This app spams you with advertisements every few seconds. Plus the catalogue is poorly organized and full of typos. Yankee Doodle Dandee is categorized as "Toilet Song", and you can find other alerts like "Mexican Going Crazy" (someone excitedly saying "arrrrrriba!"). Don't waste the space on your phone with this download.
Best
I want ringtone on my mobile phone
AWSOME
KILLINAZATION
on
8/25/2017
IVE MADE SO MANY RINGTONES FROM THIS APP TY SO MUCH
Free vrsn is useless
Housecrazy#1
on
8/25/2017
Way too many adds/pop ups
You are the best
Awesome sauce
Terrible -- too many ads
emorystudent
on
8/17/2017
You can't even get anything done there are so many ads. The high reviews are probably fake...
Hard as Hell to Use
HackMulliganJr
on
8/16/2017
This thing is more aggravating than Hofeeni arithmetic. Nothing works like it's supposed to, I'm out $6 bucks and can't even get a ringtone from my itunes. Piece of crap.
Good
faith_slays.2
on
8/16/2017
It is good just does not need to talk about money like that
The Flash
Extreme Thunder Flash
on
8/13/2017
The Flash ringtone
Horrible
This app has adds every few seconds, you can't get anything done.
Super easy to use
I love this app because a ring tone can be created with your iTunes library and the app is super easy to use
Pretty good
Popular pounder
on
8/11/2017
Yea
Careful
This app offers "free usage with no ads" and when I code that it shows next the add and says "swipe to dismiss". And then that it as far as it goes. Hence ...Freezes there and does not allow you to swipe. If they want subscriptions then say that up front.
Good good good
went the trolley
on
8/5/2017
Some fun stuff. Keeps me amused for hours.
Can't even use the ringtones
Way too many ads! Every time you switch screens there is an ad. And you can't even use the ringtones you create without using an apple computer to download them onto. Waste of my time.
Terrible
I can't even use it and I don't have a computer /Pc or mac
Jimi Dude
Enjoy app does exactly what I need it to do.
Terrible stock sounds
I purchased this a few months age the "pro" version and with the new update all the features have been replaced with annoying ads. Good job guys way to take care of your paying customers! The poorly recorded sounds these guys make are a joke don't bother with this app.
terrible (deleted)
hdjsjsnsbshdh
on
7/25/2017
Each time I choose a ringtone and I go to settings tap sounds and it's not there and the adds are so disappointing this is a free app but then I have to pay!!!!
Cmon people, we're not sheep..
These would be maybe suitable for children... also you have to watch ads which is lame.
Great app
I love this app and to me is a fun, easy way to make ringtones💯💗
Fact Sheet
Publisher:

BYSS mobile

Category:

Music

Released:

Jul 12, 2010

Current Version Released:

Sep 05, 2017

Version:

8.9.10

Size:

109.9 MB

Compatibility:

Requires iOS 9.0 or later.

Recommended Age:

12+

Game Center Certified:

No

Supported Devices:

iPad2Wifi-iPad2Wifi, iPad23G-iPad23G, iPhone4S-iPhone4S, iPadThirdGen-iPadThirdGen, iPadThirdGen4G-iPadThirdGen4G, iPhone5-iPhone5, iPodTouchFifthGen-iPodTouchFifthGen, iPadFourthGen-iPadFourthGen, iPadFourthGen4G-iPadFourthGen4G, iPadMini-iPadMini, iPadMini4G-iPadMini4G, iPhone5c-iPhone5c, iPhone5s-iPhone5s, iPadAir-iPadAir, iPadAirCellular-iPadAirCellular, iPadMiniRetina-iPadMiniRetina, iPadMiniRetinaCellular-iPadMiniRetinaCellular, iPhone6-iPhone6, iPhone6Plus-iPhone6Plus, iPadAir2-iPadAir2, iPadAir2Cellular-iPadAir2Cellular, iPadMini3-iPadMini3, iPadMini3Cellular-iPadMini3Cellular, iPodTouchSixthGen-iPodTouchSixthGen, iPhone6s-iPhone6s, iPhone6sPlus-iPhone6sPlus, iPadMini4-iPadMini4, iPadMini4Cellular-iPadMini4Cellular, iPadPro-iPadPro, iPadProCellular-iPadProCellular, iPadPro97-iPadPro97, iPadPro97Cellular-iPadPro97Cellular, iPhoneSE-iPhoneSE, iPhone7-iPhone7, iPhone7Plus-iPhone7Plus, iPad611-iPad611, iPad612-iPad612, iPad71-iPad71, iPad72-iPad72, iPad73-iPad73, iPad74-iPad74,

Supported Languages:

Dutch; Flemish; English; French; Italian; Japanese; Portuguese; Russian; Chinese; Spanish; Castilian;

Parental Advisory:

Fear Themes; Mild Sexual Content and Nudity; Suggestive Themes; Mild Cartoon or Fantasy Violence;