Screenshots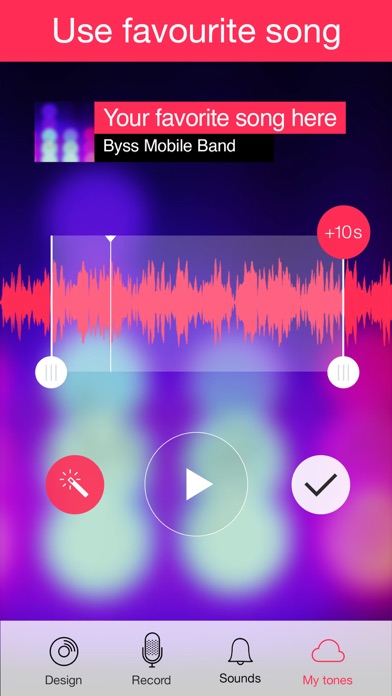 Description
All in One free Ringtones App (convert music & record tones with microphone & use extensive library)

Never again pay for your iPhone ringtones! 20'000 reviews! Get it gratis!
And over 20'000'000 happy customers!

We give you unlimited free tone choices!

Designer will convert all (mp3 & AAC) iTunes music to ringtones.

Recorder will allow to record family and friend voices as ringtones.

Key ringtone maker features:
- easily adjust start and end markers
- fade in and out option
- pitch and volume adjust
- trim & cut tones

Top ringtones app in US UK AU and many many more AppStores! This is Best free Ringtones for iPhone App in AppStore period!

Premium quality just read AppAdvice.com "it's like four apps in one — an extensive soundboard, a collection of tones, a ringtones recorder, and a ringtones creator."

unique features:

Share your ringtone creations on Facebook & Twitter

iOS 10 Text & Alert & SMS & iMessage tones support

Real waveform for each of your sound.

If you love this app or just our ringtones, please review it in iTunes and add comments and request to help spread the word!

App works flawlessly with: iPhone 7, 7+, 6S, 6S+, 6, 6+, 5,4S,4,3GS : iPad and iPad2 : iPod 2,3rd,4th and 5th generation.

Our ringtones service offers ringtone and wallpaper update weekly. It's an auto-recuring 1 month $0.99 subscription with first month free.

By subscribing to ringtones update, you authorize us to charge the subscription cost monthly to iTunes Account. You can cancel at any time.

Ringtones subscription automatically renews unless auto-renew is turned off at least 24-hours before the end of the current period. Account will be charged for renewal within 24-hours prior to the end of the current period.

Ringtones subscriptions may be managed by the user and auto-renewal may be turned off by going to the user's Account Settings after purchase.

Any unused portion of a free ringtones trial period, if offered, will be forfeited with purchase.
Ringtones for iPhone App terms of Use are available here http://byssmobile.com/priv/terms.html

iPod 1st gen and original iPhone (2007) and 3G is not supported by Ringtones for iPhone
iPad Screenshots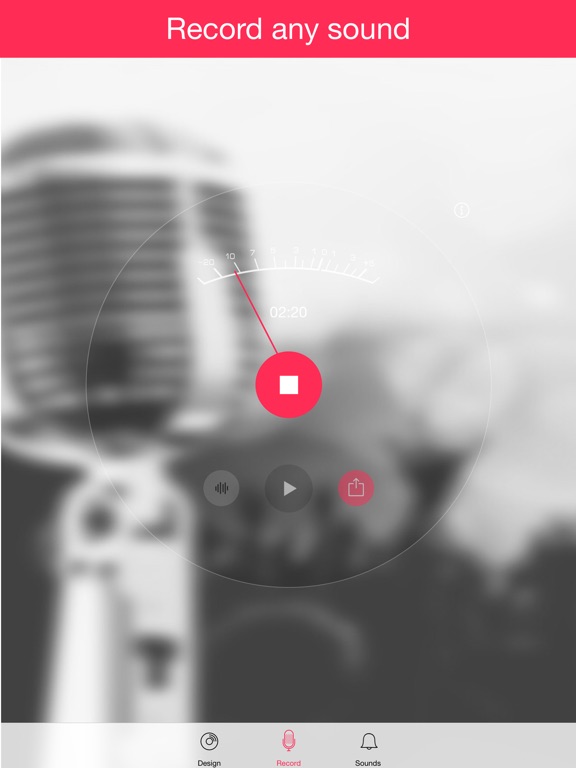 Reviews
Bad quality
#fixmusical.ly
on
11/12/2017
Trash
Hard to use
It's frustrating and impossible to use. Constant ads. No timer to let you know where in the song your at. And after every test you need to watch another ad. I don't have 20 mins to make 1 ringtone that takes 1 min to create in iTunes for free.
GARBAGE AD MACHINE
BUYER/SUBSCRIBER BEWARE! This app is junk. Outdated and very spammy like with ads. I'm appalled Apple allows it in the App Store. I also imagine they've paid for the thousands of favorable reviews.
It won't let me use Apple Music songs
I have over 1000 songs from Apple Music and it doesn't let me use any of them... I know cause some I downloaded from YouTube is on it and it lets me use those...
Too many pop ups and advertisements
Mae Mae Mills
on
11/5/2017
You can hardly listen to the ringtones without being forced to answer their pop ups and be thrown a million adds. It's overwhelming and not worth it.
WAY too many ads.
Wow. It takes forever to make a ringtone. The ads & pop ups are ridiculous. Trying one more time then going to delete. Is it just me??
awsome
KillerCoool232
on
11/3/2017
THANK U
Horrible app
Ever had ads slap you in the face. Well this app is buried with them. On top of that it has the worst ringtones and you can't even preview more than 10 before you have to subscribe. Horrible...
Halloween ring tones
Clairettewh
on
10/29/2017
Appropriate for Halloween
Ads
Nothing but ads that you can't get out of. Never saw the app after 4 tries.
Ringtones
These are not for me. Please cancel immediately! Thank you. Jane Wade
Won't Work in New iTunes 12
If you updated your iTunes recently, then this app is useless
Developers Bought 5 Star Reviews
There's no way any real person would rate this app 5 stars. Riddled with ads and on top of that forces you to watch a video ad every 10 tones you listen to. Tones are complete trash too. Uninstall button works though.
No adds
jessy090510
on
10/23/2017
I think that this app is amazing but I strongly Segway that u get no adds because if u don't they will pop up every second
Doesn't work for iTunes 12.7
I really like this app, been using it for while but now I can't sync the new ringtones I made from my music library because Apple won't let any apps from third party anymore. Is there anyway we still can sync the ringtones?
Too many ads!
I get putting ads in an app but this app has a static ad on the screen plus an ad pops up about every 3 seconds. It was impossible to even look at screen savers or listen to a single ring tone. I uninstalled after maybe 2 minutes. I'm pretty disappointed.
Too man ads
Never got to download anything bc the ads popped up every 3-4 seconds. It's too bad, the app looked like good quality but the ads were infuriating. And I'm an understanding person about ads but this was out of control!
Trash
Fukface McGee
on
10/17/2017
Trash!
All Ads, no functional UI!
I had downloaded this app some time ago when it was still usable, but now there are so many ads they get in the way of the navigation buttons so that when you drill down into a subtopic there is no way to back out. There are lots of buttons that look like nav buttons but in fact are just ads for their other (presumably) crappy products. As they say on the side of firecrackers: "light and get away!"
Simple and yields fantastic results.
For a long time I have searched for a good ringtone app—or any way to make a custom ringtone. Every app I found did not fulfill my needs in any way; however this app has. It is simple to use. The display is very user friendly, allowing for easy access and great guidance in making a ringtone. In addition to this, you have a "folder" for the ringtones you created, so you can access them at all times. Just to show how easy it is. I found a song I really like! Thus, I bought the song for a dollar and in under a minute made a ringtone I will now use! At the end of the day, of you asked me, I would advise this app for making ringtones.
iTunes is screwing all third party ringtone apps
seeker.of.light
on
10/14/2017
With the upgrade of iTunes to 12.7 has now made it impossible for third party apps to be used to make your music into a ringtone. iTunes has taken away their app icon, so that you cannot follow the instructions given for this app to work. I hate Apple for their arrogance.
WHY
chad and missy
on
10/12/2017
I got this to get good ringtones and it doesn't work I give it two stars you should not get this app
Devildog1956
Devildog1956
on
10/11/2017
Not worth the time!!!
Nope
AmyLynn1984
on
10/11/2017
I don't know where all the 5 star reviews came from. The App is "free" but you can't get into it without subscribing or having to buy smithing. Don't bother...
What???
Color critic
on
10/11/2017
Ok so I get this "free app" fun! So then I click on the app ready to get some cool ringtones and guess what? I get a big fat screen saying I need to pay or I can have the first month free but then pay! Are you kidding me? Yeah good job you fooled us all on the cover when it said it's a free app! Good luck getting more people to get this app because I'm deleting it. I won't pay for something free. Everyone, just letting you know, it's not free. If you want your ringtone more than a month!!! Yea only a month! You need to pay.
Pretty cool app love itHsksnoamskdjjbdhdbdbdhxboen
Bdjdnjsn
Ads and not really functional.
Tons of ads and you can listen to three or four tons to see if there is even one you like and then it just stops and wants you to pay. You cannot really evaluate if there is anything there you want to pay for.
Good but not Great
I'm not sure this will ever happen but it's certainly my wish that Apple would allow downloaded music to be synced and customized, making it usable without having to sync to a PC or MAC. Simplistic is the new era and that's this apps only downfall.
Crap
Tried it. Didn't end up with a ringtone. Deleted it
Aykm?
Does nothing. Just directs to other sites that make you pay and download ringtones. Totally stupid. Waste of time.
The rating are fake... It's a joke
I run to drink more wine
on
9/28/2017
Immediately I was bombarded with ads. Every time I pressed an option... Ad. And the ring tones are a joke. Don't waste your time or data on this spam.
Nice
Eagle lilies
on
9/26/2017
Good
Excellent
U can c a difference
on
9/25/2017
You can record your own tunes with clear sound and customize your ringtones.
Why does it take forever to load?
I just download it. Went for the paid versions although I'm in the free month. I click on it and sit and stare at the screen for several minutes before ANYTHING shows up. When it does, I can't get out of it. No way to back out of where you are or back up to where you were before. If you click on a tutorial you are stuck watching the tutorial to the end. No way to stop and go back to the main screen. When you DO get to the main screen...you get to stare at your red swirly screen for several more minutes before the options load again. Sigh. Don't think I'm going to approve the paid version of this after my free month. I don't think I'll be using it much. I don't have time to wait 5 minutes for the options to load every time I want to use it. My time is money. I get paid $1.00 a minute for my job. If the creators of this app want to credit me $1.00 for every minute I spend waiting for it to load...I'll keep it. At this rate, I'll either make a lot of money off of them or I'll be able to keep this app for free forever. In other words...don't waste your time. There are others out there that work and load.
Ring tones.
Not enough movies tv shows and animal ring tones. Don't want any know. Cancel my 30 day free. Don't want any at this time.
It's a fine app but there's too many ads and missing some music files
Guavajuice71
on
9/23/2017
I want to have a ringtone with my favorite music but the problem is that some of the music on my phone doesn't show through the app! please fix this ASAP!!!
Stay away 😔
Nothing is going to work, not saving tones on the phone, nothing to do here 😔
🗣GARBAGE!
This app is completely useless, it's full sized adverts are beyond frustrating just to make a 30 second ringtone I have to watch an ad for 1 minute, never had this issue with any other app, 🗣WILL BE UNINSTALLING A.S.A.P!
yoooo
AWESOMENESS IS THAT THE YOU ARE THE Reason On YOU CAN BE YOUR DADDY WHEN YOUR MOM GETS TO SEE THEM WHEN THEY COME OUT WITH YOU BUT THEY HAVE A GOOD REASON FOR IT
Want to do just from my phone
sassy.friend
on
9/17/2017
Don't want to have to do from a computer, want an app that I can do from my phone
-5 stars
Don't download it. You can listen to 10 tones per day and million of ads plus their tones horrible
Not worth it
Chicken_fingers 88
on
9/16/2017
After I downloaded the app. It asked me to either buy the one-month trial or just do it without ads. But then he kept bombarding me with the saying ads over and over again every time I tried to click one thing and I had to watch a video to get 10 more clicks. Not worth it!
Trash
Baseballman54
on
9/16/2017
😐😐😐😐😐😐😐😐😐😐😐😐😐😐😐😐😕😕😕😕😕😕😕😕🙁🙁🙁🙁🙁🙁🙁😡😡😡😡😡😡😡😰😰😰😰😢😢😥😢😮😑😯😐😐😳😦😡😤😐😲😯😖😣🙁😕😫😐😑😠😣😤😐😐😑😯😡😣😖TRASH
Absolutely terrible
Yes this app has a wide selection of ringtones buttttttt you can only play 10 ringtones in one day and there are a LOT of adds!!!!!!!! Don't download this app
Can't Close Ads
Ultimashinobi
on
9/12/2017
You either pay a monthly subscription or you can do it free "with ads". That would be fine except whenever an ad pops up you can't close it! To be fair you actually can't click anywhere on the ad. Since the ads pop up whenever you click literally anything this is clearly just a scam to get you to pay their subscription fee. Broken app.
Scam
I purchased this app because it offered a trial period. Unfortunately, they have not responded to my requests to cancel subscription within the required period. I plan to report this to iTunes and Apple. Don't get bait and switched with this app!!!
Useless
I'm not sure how all of the reviews I read were 1 star and yet the app has almost a 5 star review. App is terrible
Fact Sheet
Publisher:

BYSS mobile

Category:

Music

Released:

Jul 12, 2010

Current Version Released:

Sep 05, 2017

Version:

8.9.10

Size:

109.9 MB

Compatibility:

Requires iOS 9.0 or later.

Recommended Age:

12+

Game Center Certified:

No

Supported Devices:

iPad2Wifi-iPad2Wifi, iPad23G-iPad23G, iPhone4S-iPhone4S, iPadThirdGen-iPadThirdGen, iPadThirdGen4G-iPadThirdGen4G, iPhone5-iPhone5, iPodTouchFifthGen-iPodTouchFifthGen, iPadFourthGen-iPadFourthGen, iPadFourthGen4G-iPadFourthGen4G, iPadMini-iPadMini, iPadMini4G-iPadMini4G, iPhone5c-iPhone5c, iPhone5s-iPhone5s, iPadAir-iPadAir, iPadAirCellular-iPadAirCellular, iPadMiniRetina-iPadMiniRetina, iPadMiniRetinaCellular-iPadMiniRetinaCellular, iPhone6-iPhone6, iPhone6Plus-iPhone6Plus, iPadAir2-iPadAir2, iPadAir2Cellular-iPadAir2Cellular, iPadMini3-iPadMini3, iPadMini3Cellular-iPadMini3Cellular, iPodTouchSixthGen-iPodTouchSixthGen, iPhone6s-iPhone6s, iPhone6sPlus-iPhone6sPlus, iPadMini4-iPadMini4, iPadMini4Cellular-iPadMini4Cellular, iPadPro-iPadPro, iPadProCellular-iPadProCellular, iPadPro97-iPadPro97, iPadPro97Cellular-iPadPro97Cellular, iPhoneSE-iPhoneSE, iPhone7-iPhone7, iPhone7Plus-iPhone7Plus, iPad611-iPad611, iPad612-iPad612, iPad71-iPad71, iPad72-iPad72, iPad73-iPad73, iPad74-iPad74, iPhone8-iPhone8, iPhone8Plus-iPhone8Plus, iPhoneX-iPhoneX,

Supported Languages:

Dutch; Flemish; English; French; Italian; Japanese; Portuguese; Russian; Chinese; Spanish; Castilian;

Parental Advisory:

Fear Themes; Mild Sexual Content and Nudity; Suggestive Themes; Mild Cartoon or Fantasy Violence;