Screenshots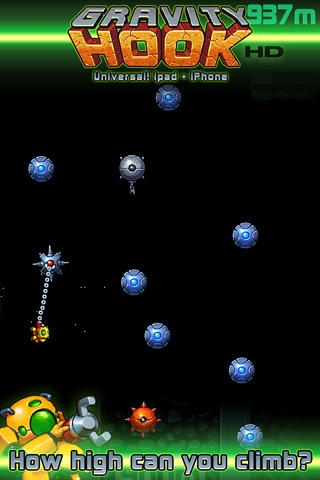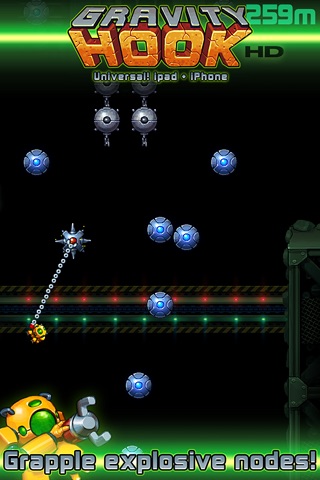 New in version 1.1.2
bugfix for crash under iOS 3
Description
"[Gravity Hook HD] provides much of what I loved about Canabalt, only in a vertical climb instead of a side scrolling run... it really is a much better experience with your finger."
- Touch Arcade

"Gravity Hook became a high score-focused game that I could whip out and play any time, making it a title that'll be a mainstay on my Apple devices for a long time to come."
- GamePro

"...the presentation here is simple yet exquisite. With hand drawn backgrounds and lovingly-detailed nodes, the art direction manages to be a perfect fit. Baranowsky's soundtracks are among the best in video games today..."
- Gamezebo

"...not only easier on the eyes, but easier to play as well."
- Kotaku

"You can feel the evolution of Semi Secret's reflex-intensive design ideas in [Gravity Hook HD]."
- IFC.com

"Like the [Canabalt], Gravity Hook HD is punishingly difficult and encourages a just-one-more-game mentality."
- MTV Multiplayer

"I can't say it's as fun or as simple as Canabalt, but it is colorful and addictive for sure."
- TUAW
iPad Screenshots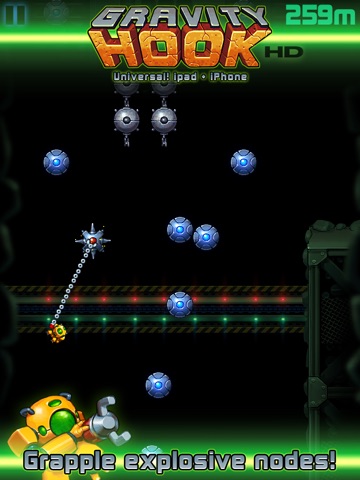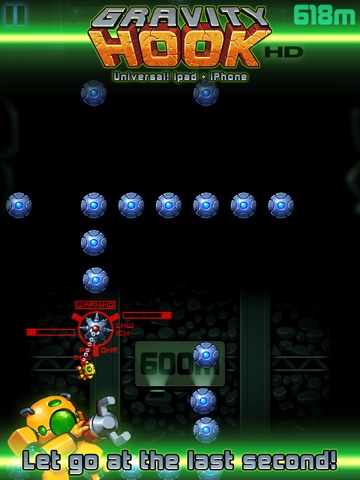 Reviews
64-bit (iOS11) support please!!
I'd love to be able to play this on the latest iOS version (11). It looks like it's currently missing 64-bit support
Suxzz
Boring as... What's the point?
Wat do?
Hhmm. My guy lines up his laser, shoots the hook, the chain shoots up and the hooks catches on. Then he just stands there, looking at me. Uhm, maybe I'm missing something? But since there is no indication of what to do, I don't know what to do.
Great game😄
This is a great game it's hard and challenging but there needs to be some missions and it has no tutorial but it's really easy to learn great game it's worth $1 😄😄😄😄😄😄😄😄😄😄
HD?!
HD?! Really?! Doesn't support iPhone 5/5s screens just like canabalt one of my fav games, update your apps!!
Love it
My cousin illustrated it and so my dad had me try it out and it's awesome.p.s my cousin also made cannibalt that's addicting
Awesome
It is definitely worth the money awesome
Hardcore
Awesome hardcore game, 4 stars for no iphone 5 screen support.
Disapointing
Regret having to pay $ for it. Gameplay is near impossible and quite boring.
Needs tutorial
It's fun if you can figure out how it works, please put in some kind of instructions
So much potential
Great idea but far off of release. This game needs instructions, achievements, and a purpose except climbing just to have to start again. Giving a 2 because needs more development.
Hardcore climber.
For those seeking a bit more than tilting and bouncing, your game has arrived. Utilize perfect timing and manage physics to climb as far as you can without being overcome by gravity. The challenge lies in unfixed and exploding platforms that you'll have to detach from at the last moment. This is risk/reward gaming at it's finest, and challenging like you wouldn't believe. Not for the casual gamer, yet worth every penny for the hardcore. Note: if you prefer the original PC physics, tap "Play Classic" at the bottom of the title screen.
New physics are terrible!
I used to play this game all the time, but with the new update changing the physics it is rendered practically unplayable! The new physics are terrible!
The Type of People
Look down a few reviews and you'll see one written by Kanmara. Read it carefully. If he strikes you as an idiot, then you're the type of person who will enjoy playing Gravity Hook.
Boring and irritating.
insainlewey
on
12/16/2011
I dislike this game very much.
Classic mode stays locked
I've unlocked classic mode about a dozen times but it cannot be accessed. I'll happily update my rating when this is fixed though! UPDATE: As of yesterday 8/11 Gravity Hook now correctly records high scores and shows classic mode unlocked. I'm very happy about this and hope it's the case for other players! It's gone from a 2 star game to 5 in my opinion.
Perfect
(vincent)the)man)
on
6/16/2011
I seriously could play this game all day. Buy it for sure
A Challenge
Very cool see how far you can make it game. It also has 2 game types classic or regular. Classic is retro with old school graphics and just mines. The new one is with updated graphics and more to grapple then mines. I loved it and I would recommend it.
Very difficult
This game is just plain difficult. On occasion, I hate it and I'm not sure if it's fun or not. But for some reason I can't stop playing it.
NO INSTRUCTIONS!
It amazes me how these guys can create these "games" while continuing to perpetuate exactly the same errors and absurd omissions as countless airheads before them. Guess what, dev? Full telepathy is still 18-20 months away (although for you, it's probably many millennia away yet). So we can't read your arrogant mind yet. So please come back down and install all of the basics that you "forgot".
Dum game
Got it when it was free it should go back being free
Brilliantly fun, but buggy
This is crazy fun and a perfect game for touch-screen devices... but it's buggy. My highscores and save data are randomly appearing and disappearing -- this is especially annoying when I get a highscore and find out that my profile just disappeared. The game likes to crash itself too, mostly on menus and after you finish a game. Fix it up and it's a five-star game. :3
Sorely in need of upgrades
I love this game. It's pretty addicting, but with any addiction if there is a behavior that extinguishes it, it will slowly lose its affect. Right now, I'm averaging 330m - not bad, but I want to go higher. If there were upgrades strewn across the playing area, this will not only reward achievement and continue to sustain the addictive nature of the game, but it will also render the game perpetually replayable. I have plenty of iPad games, but only play a select few because I find that the gameplay becomes repetitive and/or impossible to beat without upgrades of some sort. Multiplayer mode would be great as well but let's take care of single player first. Thanks!
Confused
Jason Wuliger
on
5/29/2011
Anyone else having a problem with randomly having your screen jump to an area with some places to latch on to, but no player anywhere to be found, and no way to move past that screen or return to your previous screen? Im having games get stuck there over and over. It's happening at different heights for no reason I can figure out. Would be a five star game if I had a clue why this was happening. Is it a bug? I have to turn my iPhone off just to get a new game to play.
Awesome
Finally free!! I've been wanting this game for so long!! The gameplay is just what I expected! Love the graphics too, very crisp and clean on my iPhone 4! The only thing missing are Game Center Achievements!!
Elegant
The_Good_Names_are_Always_Taken
on
5/29/2011
Just like Canabalt, this is simple, creative, unique, and really ****ing difficult. I hope these guys keep making games.
Crashes
Crashes on startup :(
I'm do glad this was free
Because YOU GUYS FAILED!
Stuck
WolfRathmA_GR
on
5/29/2011
The app when is connected to the Internet wont load.
Game Center
After I added my Game Center credentials I can't even play the game. It continues to get stuck at the loading screen.
Hmmm...
No way to shut off the STUPID music. No instructions. What a waste of time.
crashes
does not work at all!
Better than Canabalt
Plasmakirby2
on
5/28/2011
The gameplay is much more addicting but slightly more complicated. I like the physics in Classic mode a bit better, so it would be nice if HD mode felt the same. Last but definitely not least, the music is absolutely amazing (especially with headphones) and there's quite a few unlockable tracks. My highscores is 1500 but I'm pretty sure there are still some tracks I haven't made it to yet. Definitely worth 3 bucks, but glad I got it free.
Keeps crashing
Downloaded for free, but it won't get past the start screen.
Amazingly addicting
I saw a tweet of this on twitter went to go check it out expecting alittle amateur app but was pleasantly surprised to find a nicely made game it's so simple its fun! Keep up the great work!
free and awesome
not quite as good as past releases, but great for the price of 0.
Great, but too expensive
Who wants to know?!?!?
on
4/4/2011
This game is insanely fun. One of those games you will never get tired of. The reason I only gave it 3 stars is because it is not worth the price. 3 dollars may not be much, but it makes a big difference in the long run. I'd give it 5 stars if it was only like a dollar
Fantastic
The design of this game is fantastic...beautiful graphics and some of the best game music I've ever heard. Gameplay is alternately punishing and rewarding, with a great use of physics. Please make more games!
Nice game. Not a fan of the new physics.
I was slightly addicted to v1. The gameplay was interesting and addictive it was possible to improve your skills over time and move up the leader boards. It was clearly a 5-star game for me. But then... The new physics introduced in 1.1 are entirely different and value momentum over finesse. I find myself playing for shorter and shorter periods. I guess that's one way to cure an addiction... Any chance the developer could make the game physics be an option in the game preferences?
Canabalt addictive
Skeletron6000
on
1/7/2011
Unlock the regular mode for Classic. Classic is hyper fun.
Good
joe brown1212
on
1/3/2011
Good
Great
StarvngArtst
on
12/19/2010
Semi-Secret is one of those developers that churn out a diverse selection of QUALITY iDevice games. Canabalt was an App Store sensation and Gravity Hook doesn't fall far behind. I love the main character and personally think he looks amazing. And although you can find many games with this concept; launching and attaching grappling hook to explosive nodes and mines in order to pull yourself higher and higher to acheive a high score while also avoiding direct contact with these mines; I can confidently recomend Gravity Hook as the greatest one of these games on the market. Semi-Secret has also included an older version of Gravity Hook in this app, so it offers a duel challenge with two seperate high score lists. I do think it's bit overpriced, but if you're looking for something addictive to play in your free time and also willing to spend the three dollars, I say give Gravity Hook a go, :)
Used to be okay
Shane Rimmer
on
12/18/2010
In the 1.0 iteration, this was an okay 3 or 4 star application. Unfortunately, the recent patch has introduced a lot of bugs. I had unlocked classic mode, but the update removed that and, though the game says I've unlocked it several times, it is not available on subsequent runs. I even ended up at nearly 6,000 meters one time with the robot reading that it was 7,000 meters below the onscreen mines. I have no idea where it really was, though. The game crashes a lot now, too. It may be me, but I liked the old physics model better. Now, it is very hard to get any momentum going. All in all, I'll probably remove this app until it's updated.
Fantastic
I was hesitant to pick up this game because of the amount of one star reviews and I was HORRIBLY WRONG. Terrific game and I should not have doubted the studio that produced Canabalt. Challenging and fun with great presentation. Easily worth the price tag.
A Perfect Fit
The original, Flash-version, of Gravity Hook was a slice of awesome -- the same game played with touch controls is more like an entire awesome pie.
Alright
Can you add a flash game mode where the robot is like a little square. This game is fairly fun
I guess it's my fault
Can't believe I paid money for this. I never buy an app without playing the lite version first. This one just looked like fun... Don't be fooled! There are no instructions, no demos, no nothing to get you started. So you are frustrated from the beginning. Once you figure out what you supposed to be doing, you realize that it's more frustrating than fun. Huge disappointment.
App Crashes
I used to keep on playing this game. For me, its really fun and challenging just like Canabalt. Now it keeps on crashing for me. I would really like to give it five stars but it doesn't work. This game needs an UPDATE. Please make an update for this.
Fact Sheet
Publisher:

Last Chance Media, LLC

Category:

Games

Released:

Jul 29, 2010

Current Version Released:

Feb 23, 2012

Version:

1.1.2

Size:

16.3 MB

Compatibility:

Requires iOS 3.0 or later.

Recommended Age:

9+

Game Center Certified:

No

Supported Devices:

iPhoneFirstGen-iPhone, iPodTouchFirstGen-iPod-touch, iPodTouchSecondGen-iPod-touch-with-mic, iPhone3G-iPhone-3G, iPhone3GS-iPhone-3GS, iPadWifi-iPadWifi, iPad3G-iPad3G, iPodTouchThirdGen-iPodTouchThirdGen, iPhone4-iPhone4, iPodTouchFourthGen-iPodTouchFourthGen, iPad2Wifi-iPad2Wifi, iPad23G-iPad23G, iPhone4S-iPhone4S, iPadThirdGen-iPadThirdGen, iPadThirdGen4G-iPadThirdGen4G, iPhone5-iPhone5, iPodTouchFifthGen-iPodTouchFifthGen, iPadFourthGen-iPadFourthGen, iPadFourthGen4G-iPadFourthGen4G, iPadMini-iPadMini, iPadMini4G-iPadMini4G, iPhone5c-iPhone5c, iPhone5s-iPhone5s, iPadAir-iPadAir, iPadAirCellular-iPadAirCellular, iPadMiniRetina-iPadMiniRetina, iPadMiniRetinaCellular-iPadMiniRetinaCellular, iPhone6-iPhone6, iPhone6Plus-iPhone6Plus, iPadAir2-iPadAir2, iPadAir2Cellular-iPadAir2Cellular, iPadMini3-iPadMini3, iPadMini3Cellular-iPadMini3Cellular, iPodTouchSixthGen-iPodTouchSixthGen, iPhone6s-iPhone6s, iPhone6sPlus-iPhone6sPlus, iPadMini4-iPadMini4, iPadMini4Cellular-iPadMini4Cellular, iPadPro-iPadPro, iPadProCellular-iPadProCellular, iPadPro97-iPadPro97, iPadPro97Cellular-iPadPro97Cellular, iPhoneSE-iPhoneSE, iPhone7-iPhone7, iPhone7Plus-iPhone7Plus, iPad611-iPad611, iPad612-iPad612, iPad71-iPad71, iPad72-iPad72, iPad73-iPad73, iPad74-iPad74, iPhone8-iPhone8, iPhone8Plus-iPhone8Plus, iPhoneX-iPhoneX,

Supported Languages:

English;

Parental Advisory:

Mild Cartoon or Fantasy Violence;