Screenshots
New in version 4.35
Check out all these updates to checking out!

New countdown clock lets you know when to get your order in – Never just miss the ordering window again with a handy dandy clock letting you know how much time you have left to place it.

Pay another way with American Express – We've added American Express Checkout as yet another payment option at checkout. This way, you can get the food you want even faster.

Now enough of all this blabbin'! Get onto orderin', and don't forget to give your favorite food delivery app some love with a rating and review.
Description
Order food for delivery or pickup from a huge selection of restaurants near you. Dine with Seamless and get local menus, fast, easy online ordering service and the best places in New York, where and when you want it. It's how New York eats.

Top 5 reasons to download Seamless:
Explore the local food scene with Seamless — all 5 boroughs, no hidden fees
Reorder favorite meals faster with Express Reorder
Track your order with real-time delivery updates
Preorder your next meal from two hours to up to four days in advance
Easily search by cuisine or dish & view ratings of Seamless restaurants from other New Yorkers for no nonsense, honest reviews

Never be without your favorite eats again.

Seamless has a huge selection of delicious restaurants that deliver wherever you are — Brooklyn, Queens, Manhattan, the Bronx, Staten Island, or wherever you're hungry. Got a go-to sushi order that's never let you down? Tap "Express Reorder" to quickly bring a previously ordered meal straight to checkout. Craving pad thai? Just type "pad thai" into the search bar and a listing of the nearest local Thai spots will pop up. All you've got to do is pick your place, choose your noodles, and place your order. That's a three-tap pad thai — it doesn't get much easier than that.

Seamless has numerous ways to pay — Apple Pay, PayPal, Seamless eGift Card or a good old-fashioned credit card. Whatever is fastest for you works great for us.

Searching for the tastiest tamales in the Bronx, spiciest hot pot in Queens or the freshest pasta in Brooklyn? Download Seamless and see how New York eats.
iPad Screenshots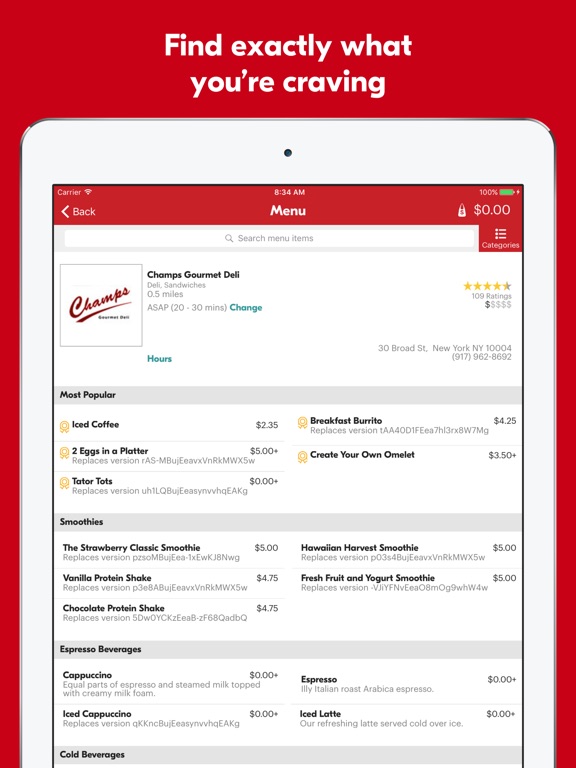 Reviews
Pretty much doesn't work
Katieraygun
on
12/16/2017
Freezes constantly and seems to also freeze up my phone. Takes 10+ minutes and multiple restarts to place an order. So frustrating.
Awesome
Gordotranquilo14
on
12/16/2017
Easy to place order and to use.
adequate
DouglasAugustus
on
12/16/2017
it does its job
Good app
britishcass
on
12/16/2017
I love the app just wish delivery wasn't an hour or more for everything
What happened?
I never used to have a problem with seamless and used it all the time. But lately it's almost unusable. It makes me phone freeze constantly and if I can actually make it all the way through an order it never lets me use my saved address. I have to enter all the info every single time.
Buggiest app ever
Iphonesevenplususer12345
on
12/15/2017
This app crashes my phone every time I try to use it. Ordering food takes way longer than it should. Fix this app
2-Thumbs up
Great & reliable service, with great customer service.
Freezes when searching
SpacemanSpade
on
12/15/2017
Keep freezing on me on search - a frustrating problem when one is hungry
Pretty friggin awesome!
I've had very few issues with this app. 80% of the time it is flawless. The margin of error lies only in holding the restaurants/drivers responsible for missing items or super late deliveries. The phone numbers aren't always right for the restaurant. There is no access to the drivers (like UberEats) -- but 80% is pretty friggin awesome! I love this app, especially when I can't make it home in time to cook for the family. There are so many options for me to make sure they have a healthy meal! Thanks for all your hard work.
Love the app, hate the crashes.
I love using seamless and I use this app more than once a week, but very frequently it causes my phone to freeze and crashes repeatedly. This is the only app this happens with; I am always up to date with the latest iOS.
Keeps crashing
It's very annoying.
Good app with one HUGE flaw
DERP the hero
on
12/14/2017
Seamless is an extremely streamlined and accessible app that shows you hundreds of restaurants in your neighborhood and even some you might not know about. In most cases it works very well and even when it doesn't the customer support is top notch with short wait times and support representatives who know what they are doing and know the solution to most, if not all, problems. One system, however, is by far the most baffling one I've ever seen; When a restaurant doesn't have its own staff for delivery, seamless will send it's own drivers to pick it up and deliver it to you. The problem is that seamless gives the restaurant no way to identify a driver besides the driver saying so. This can lead to smart thieves walking into restaurants with the seamless logo on the window and walking out with your food because they claimed to be drivers. This is a huge oversight and I've gotten food stolen from me already. Fix this seamless, and you get 5 stars, this should not have been a problem in the first place.
can't live without it!
My go-to app for ordering food. My favorite interface. The customer service is great, sometimes there can be an issue with a restaurant and I have never had a problem being reimbursed. Love you Seamless!
Indispensable
Longoriamazing
on
12/14/2017
Great selection of nearby restaurants, easy to use, and never have any issues with delivery or pickup orders being on time. Love Seamless.
Constantly locking up my phone
The last few weeks this app constantly locks up my entire phone (latest version of iOS) after tapping on a restaurant. It doesn't happen every time, but often enough to be extremely annoying. It locks my phone for a good minute or two before killing the app. Pretty much can't reliably use Seamless until this is fixed.
Crashes all the time
Not only does the app crash constantly one my iPhone 7+, it also freezes my phone. What gives!?
Quick and cheap
Love the app. Easy to use and accepted by many places.
Terrible.
ifThisThenThat
on
12/12/2017
Constantly freezes up on iPhone X, asks you to rate every time, even if you say no. Ok then, here's your rating.
Almost perfect..!
Twinkle ninja
on
12/12/2017
I have religiously used this app for years now. I am a single mom, journalist and producer. I have been renovating my kitchen, so Seamless Web has been a savior for my family. Even though I write under an alias, life is very real at the moment for everyone. It gives me peace of mind that I can order healthy food 24/7 for my (constantly hungry) teen sons on Seamless. One last thing to worry about, right? I reached out and asked Seamless to put phone numbers and locations of restaurants to make a better app - done! Thank you Seamless! Now to make it perfect, I would love to see the tip selector to be adjusted to tip the SUBTOTAL ONLY. I don't want to tip DELIVERY FEES or TAX. I realize there is a custom tip option, but it looks like I am being "cheap" when I don't use the the standard tip options. Can this be fixed please? I would greatly appreciate it! Thank you Seamless Web!
Good for urban areas
stephenwhite78
on
12/12/2017
Not a bad app at all. My only issue is that I travel for work 99% of the time, and this app only seems to work in big cities. Wish there were more restaurants on board nationwide. Other than that, it's pretty awesome. Also a tip- pay attention to fees. I once ordered from a restaurant not seeing they had a $10 fee added on.
Crashes all the time
This app is not even usable if I don't close every single app I have running at the time.
Crashing on iPhone X
PassedmyCPT
on
12/11/2017
iOS 11.2 keeps crashing
Never again
James107644
on
12/11/2017
Here's the abridged version. And trust me this is: Took 40min online hastle and talking to Seamless in the phone just to get my order through. They estimated 20-30 min. Cool. Except it took over 2 hours. Somewhere in between ordering and receiving I called them and had the audacity to ask me if I wanted them to send a driver to deliver my food... By then my food was soggy and cold. I would've picked it up but I was bed ridden sick and super contagious.
First order they messed up - bye
Back to uber eats - do better seamless
Must delete to work
To make this app work I must delete it amd then re-download. Every time. Every single tone. The app says "welp, that didn't work, must be a planetary alignment issue" as if I want the app to try and be cute while it's failing. If I delete the app and reinstall it it will work, then very next time -same thing. I have to suffer a cute failure message, delete the app, then reinstall it again. Infuriating.
Can no longer filter by food type??
FraniaReeax
on
12/10/2017
So, we're now supposed to scroll through the hundreds of restaurants listed without being able to filter? Yeah, not doing that. The option to filter is still there just no longer works. Unless/until this is fixed this app is useless.
App crashes every single time!
So frustrating! Please fix it. I used to use this app all the time...not anymore
EXACTLY THE SALE AS GRUBHUB
So this app is the same as Grubhub. Exact same restaurants, layout, etc...
Very happy
The only complaint i have is that they should make it easier to see were the restaurants are located from the very first step
Awesome but one flaw
AWESOKME BUT ONE FLAW
on
12/9/2017
I used to order from the same place for about 2 weeks until one day, the app says I can't order there anymore, but other than that, GREATTTTT
Hungry Hungry Hippo
I love this app.
Latest version crashes constantly
I have to constantly force restart seamless now. The app just hangs indefinitely. I'm having this issue in my iPhone X and the same issue on a 7. Unusable on iOS at the moment.
Glitchy
brockgbarlow
on
12/9/2017
Recently the seamless app has been extremely glitchy. The app will freeze which then freezes my phone. After I turn my phone off and then back on, I go to close the app from running in the background which freezes the phone again. This needs to be fixed.
It does what it's supposed to do
The only trouble I've had with this app is that sometimes it's glitchy and just doesn't open. With that said when it is working it does exactly what it's supposed to do.
Incompetence is contagious
Mattyyy123456789
on
12/9/2017
4 years ago, not a bad application. Since then, utter garbage and incompetence. If you place an order, plan to call several times, because it may get cancelled and you'll never be informed. Overall, bad experience. 100% uninstalled and you should to, or not sign up in the first place.
Good app
His app helps me find tasty food that strange men deliver to home
Lack of payment options
im1ofakindni99a
on
12/8/2017
In other Apps, if you choose to pay via Apple Pay, you have the ability to then choose which card on your Apple Pay file you'd like to use for the purchase. Example, Uber. Choose Apple Pay, you can then choose which card you'd like to use.
Not user friendly
If you are in the bag tab of the app checking out and type in a new address you have to go back to the restaurants tab and change the address from the drop down menu at the top of the screen. If you just type the new address in the bag tab while you're checking out it will deliver to the last address you used NOT the address you just typed in. That's a glitch that needs to be fixed. If I'm checking out and type in an address I want it delivered to that address. I shouldn't have to go back to the search page to select where I want my food delivered when I just plugged in the address I want to use.
Terrible
This company takes a long time for the food
Technical disaster
A true garbage fire of an app. The delivery service is great, but this is the app that freezes my devices (plural!) more than any other.
Please Fix Bug
blake28374829349
on
12/6/2017
Even tho my address is loaded into the app and I see it on the first screen when I open it, I randomly get prompted to enter my address and then it adds that to a list of addresses (all the same address that I've had to re-enter multiple times.)
TA Wifi vs Seamless
Disgruntled and hungry
on
12/6/2017
Seamless doesn't not play well with TA Wifi. Very slow. Bad, very bad!
Why did you remove support for Apple Pay?
You require me to give you my credit card data directly now? And refuse to use Apple Pay? Why?? This makes me seriously not trust that you've properly setup a secure way to store my info.
5 Stars bihhhh
People be hating on seamless but honestly I loveeeee itttttt!
Crashes w iPhone X
You would think they would update it by now. It crashes sometimes
Really just the worst of these apps
HdjsiwnegsysinazgygVajsi
on
12/5/2017
Seamless fails where every other delivery app excels, there is no reason to download this application. They will always side with the business even if an order never shows up. In one instance the store took my pizza to the wrong address and then seamless agreed to give me a gift card, upon recovering the code they sent me I learned I must spend 100$ to obtain my 20$ "credit". HA, keep it seamless you are terrible.
Horrendously broken on iOS11 iPhone X
Seamless has always been a pretty crappy service. Probably because they have a near monopoly on online food ordering. But since I upgraded to a iPhone X on iOS11, Seamless somehow manages to cause my *entire phone* to freeze for ten to twenty seconds at a time. I now actively dislike giving money to Seamless on the pure principle that we'd all be better off if there was competition in online food ordering. Too bad they bought out grub hub.
This app is the most convenient
The unlikely architect
on
12/5/2017
You went to your information, you pick up would you want to eat, press the button, and wait for your meal. What's more convenient than that. Technology is fantastic. My only complaint is that it appears that as soon as restaurant gets popular they leave seamless. What a shame Richard
Hfuyvjhv
Jimmyyang123
on
12/5/2017
We jsdj h d day. Wrk Edith
Fact Sheet
Publisher:

Seamless North America, LLC

Category:

Food & Drink

Released:

Jul 17, 2010

Current Version Released:

Dec 07, 2017

Version:

4.35

Size:

168.8 MB

Compatibility:

Requires iOS 8.0 or later.

Recommended Age:

4+

Game Center Certified:

No

Supported Devices:

iPad2Wifi-iPad2Wifi, iPad23G-iPad23G, iPhone4S-iPhone4S, iPadThirdGen-iPadThirdGen, iPadThirdGen4G-iPadThirdGen4G, iPhone5-iPhone5, iPodTouchFifthGen-iPodTouchFifthGen, iPadFourthGen-iPadFourthGen, iPadFourthGen4G-iPadFourthGen4G, iPadMini-iPadMini, iPadMini4G-iPadMini4G, iPhone5c-iPhone5c, iPhone5s-iPhone5s, iPadAir-iPadAir, iPadAirCellular-iPadAirCellular, iPadMiniRetina-iPadMiniRetina, iPadMiniRetinaCellular-iPadMiniRetinaCellular, iPhone6-iPhone6, iPhone6Plus-iPhone6Plus, iPadAir2-iPadAir2, iPadAir2Cellular-iPadAir2Cellular, iPadMini3-iPadMini3, iPadMini3Cellular-iPadMini3Cellular, iPodTouchSixthGen-iPodTouchSixthGen, iPhone6s-iPhone6s, iPhone6sPlus-iPhone6sPlus, iPadMini4-iPadMini4, iPadMini4Cellular-iPadMini4Cellular, iPadPro-iPadPro, iPadProCellular-iPadProCellular, iPadPro97-iPadPro97, iPadPro97Cellular-iPadPro97Cellular, iPhoneSE-iPhoneSE, iPhone7-iPhone7, iPhone7Plus-iPhone7Plus, iPad611-iPad611, iPad612-iPad612, iPad71-iPad71, iPad72-iPad72, iPad73-iPad73, iPad74-iPad74, iPhone8-iPhone8, iPhone8Plus-iPhone8Plus, iPhoneX-iPhoneX,

Supported Languages:

English;