TapNova doesn't recommend this app.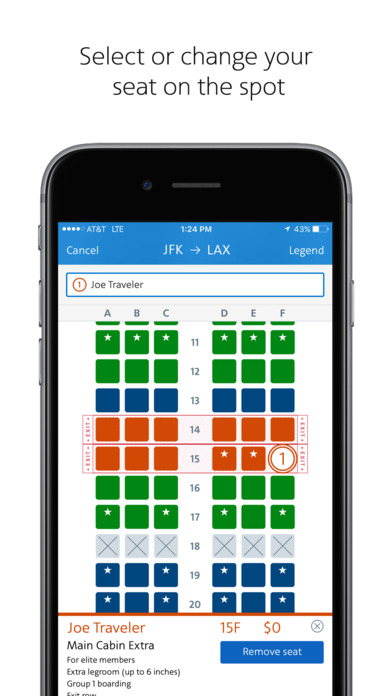 New in version 5.1.0
- An alert when it's time to check-in
- Travel advisories (like weather or airport issues) that impact your trip
- An easier-to-find upgrade list on the day you travel
- Bug fixes and minor enhancements
Description
With the American Airlines app, you're covered with the information you need exactly when you need it. Curious about traffic to the airport? Need a mobile boarding pass? Wondering where the closest Admirals Club® lounge is located? All of this info, and more, is available at your fingertips.

- Dynamic home screen: Knows where you are in your travel journey and gives you easy access to the right tools at the right time.

- Mobile boarding pass: Check in for your trip and retrieve your mobile boarding pass. No need to print, and it's updated along the way.

- Flight updates: Get the latest flight updates by simply retrieving your reservation and allowing American Airlines to send notifications to your mobile device.

- Interactive terminal maps: Navigating airports is a breeze with our interactive terminal maps. Find the closest Admirals Club lounge or get directions to your connecting gate.

- AAdvantage® account details: Review all the details of your AAdvantage account right from the app. Not an AAdvantage member? Sign up today.

- Upgrade your seat: Request and purchase upgrades with ease. Want to see where you are on the list? The app displays the upgrade standby list within four hours of your scheduled departure.

- Seat selection: Select or change your seat within the app. Just pick the one you'd like and change it on the spot.

- Track your bag: Know exactly where your bag is from the time it leaves your hands to when you extend the handle at your final destination.

- Save your reservation: Your recently viewed reservations are automatically saved in the app so you can easily grab the details for your next flight in seconds.

- Quick interactions: The American app utilizes 3D touch and is Apple watch compatible, giving you quick access to the most important info.

- Wi-Fi access in the air: Don't forget on flights with Wi-Fi, you can use the American app and aa.com at no cost.

There's a new group of flyers out there – The World's Greatest Flyers. They know that having the right travel tools contributes to a great experience.

New with iOS10, the sky's the limit with the American Airlines sticker pack! Let friends and family know that you're traveling, headed to the Admirals Club® lounge to take it easy before taking off, snapping photos at 30,000 feet or that you've arrived.

Contact Us: 1-800-222-2377
iPad Screenshots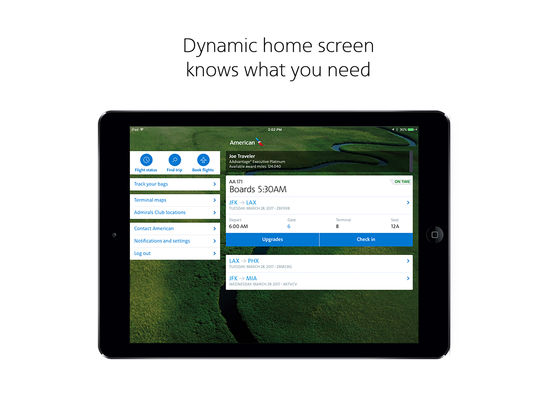 Reviews
Terrible waste of time
I have 4 airline apps and this is the worst. To book it redirects you to the website and even then it often crashes or simply doesn't deliver. Features are limited. Honestly I'm confused how a reputable company could honestly put out such a trash app.
Horrible app
Slow to load and update and too many swipes and taps just to check in. Why can't it remember my contact info?
Information and peace of mind
I don't need another nickname
on
6/24/2017
I think this app is great. It gave me all the info I needed to not lose my sanity on a recent trip filled with weather delays. It updates in real time for delays, often before the gate monitors did. It let me track my bags when I missed one flight and had to catch another, and even gave me a suggested alternate flight which let me go straight to that gate and get one of the few remaining seats (sorry, other travelers who didn't have the app). Stop all the complaining, people! It's an app, not a personal concierge!
Can't book a flight via the app
Lilly Angelino
on
6/23/2017
I'm not sure if I'm making a mistake but when selecting book a flight ...I'm taken back to the .com and have to enter my login details again? I can't afford the space on my phone to have an app. Seems useless. United can book straight through one destination. I don't need an airport map from an app.
Can't check in on multiple segment flight
The Next Flight button doesn't work on an iPhone 6s Plus.
Terrible
We flew Delta to Anchorage. The Delta app worked flawlessly. Checked in, picked seats, no issues. Flew American Airlines back to Grand Rapids. Terrible app. Won't let you check in gives error. I choose seats about 5 times and it never took. I was given total different seats upon arrival to airport. AA...please figure out how to fix your app and make it awesome like Delta
Terrible
Mrclassic215
on
6/22/2017
Nothing to say about this junk. Everything about American airline lately has been trash.
3 Hour Flight & No Entertainment
How do I watch shows/movies. Could not find wireless entertainment using this app. Is this the correct app for this ? Is there another ?
Deleted
Kept logging me out and wouldn't log me back in. I'm usually in a hurry using an airline app and this app consistently slowed me down. Can't help but wonder who tested/approved the app.
Slow to update
This app is useless because it is so slow to update with information. For example, my bags are still showing as being in another city, but actually left that city on a flight 12 hours ago! American just called to say they found my bag and are going to deliver it. Also, the notifications with flight updates happened well after we received live info with updates (like saying we were going to takeoff at a time that had already passed 5 minutes ago). The info in the app is so old that the app is really useless.
Not designed for convenient use
It costs my time to figure out what means about "record locator ". Passengers like me are not aware of the term. Why not just post a explanation or say " confirmations numbers " showing on booking page.
Crappy app
million miler mike
on
6/20/2017
Has mgmt ever tried their own app? Try to book award travel and it takes you to buy flights path. Pos
New Slogan Should Be
Ima read a book
on
6/20/2017
American's new slogan should be "fly with us at our convenience. Not your convenience." Literally the worst airlines to fly with. They don't care about customers and they don't care how long it takes for anything to happen as long as they're making money. Last time I fly with American. I hope this airlines dies out.
If I could give ZERO STARS I would
The app is complete junk and nonfunctional. Just like every other "service" that American provides, it's all for show. By definition it is an "app", but clearly they invest very little money into the actual functions that an App provides. Just like their frequent-flier program, all the benefits are in name only. "50 complementary upgrades" that can never be used, points that can't be redeemed (and now expire) because of so few available seats you will never find a seat to use the points in. And now an App that can be touted in marketing but can never be used. NEW American Airlines is complete crap!
Add/edit passenger information option
Must have add/edit passenger information option to be able to enter AA frequent flyer number. Better yet, detect and enter it automatically once you open your app on your device to find your reservation.
Best Airline App of all major carriers
While no app is perfect, when it comes to the essentials such as checking in, selecting or changing seats, upgrade requests, flight status, push notifications, changing reservations and tracking baggage I've found that American Airlines app is by far the most nimble and intuitive app of the major carriers.
Pass Error Made Me Miss Flight!
I was literally at TSA fighting with them over how this app was glitching out. They wouldn't let me through because pass wouldn't show. By the time I called AA, it was too late and I missed my flight (first time ever!)
Continues to hold strong as worst airline app
Imagine if there was a single feature that would (literally) bring in more money than any other feature, and that feature was neglected for nearly three years. No need to imagine, this is reality. There is no other mobile capability that would bring in more revenue than native flight booking, and for nearly THREE. YEARS. this app *still* throws you to a mobile web wrapper. They say they're working on it, but they haven't shipped this for threeeeee years. This timeline is truly beyond parody and they'll offer tickets to the moon before I can book them from my phone natively. So shameful. Bottom line: American Airlines does not take digital seriously, period.
Update* If you have flown AA over the years you know this app is a perfect fit
Sunday Morning Focus
on
6/17/2017
Update and another Update I think this app keeps getting better and better. Someone at AA realized that less is more- very clean interface. And for those who are in a huff about not having easy access to support by phone just swipe up :)
I can't log out of the app
I have done exactly as instructed by the American Airlines App FAQ page to try to log out of my account in this app. I go to the my account, I pull down the envelope, I select log out. However as soon as I select "done", it takes me back to the app where I am STILL LOGGED IN. I need to log out so my husband can access his account and get his mobile boarding pass. This is infuriating.
Has become the worst Airline App.
The newest version is terrible. American needs to do seriously take a look at the Delta App and fire their current designers for User Design and Experience. For example, their is not even an easy way to Contact American through the App! There should be the ability to contact quickly so a phone number appears for a call. This is basic 101 for these Apps! I am a Platinum on AA and Delta is getting much more of my business now purely for the fast they make their App easy to use for business executives like myself. Wake up AA!
Doesn't Update
I would have given the application four stars. However, it doesn't update on my iPad Air2 unless you log out and log back in. The application on my android phone has an update button.
Weak app is even weaker (but pretty pictures?)
Revising rating to one star with new release. Inexcusable that months later, core issues still haven't been addressed. Like the rest of the American experience, everything is a giant step behind other airlines like Delta and Southwest. Exec Platinum flyer using the app multiple times a week. App still slow, upgrade list now doesn't work (just shows requested), booking is still a redirect to so-so mobile web. Far behind other domestic carriers and not getting better.
Horrible update
Jeffrey's Personal Account
on
6/14/2017
Dear developers. This app DOES NOT update when you pull down to refresh. As I can tell from the comments, I'm not the only one having trouble with this. My app has not updated in 2 days and 4 hours. Due to this, I was not aware that my flight from ROC to PHL is delayed. App says flight is on time. PLEASE address this. The app is a great tool for my business but only when the info is correct.
Terrible compared to Delta app
Continuously getting server error when trying to log in. First time flying with American and will likely switch back to Delta at this point.
Just use the internet or your mobile browser
The app redirects you to the internet when booking. The app seems pointless.
Poor effort
This poorly designed app is a reflection of the company - if you want to see how it's done check out Delta's mobile app.
No check in for Code Shares
Have been using AA app for years and loving it, but this last update illuminated so many features that the app is now useless!!! I am on able to check in through the app for Alaska Airlines code share flights booked through AA.com. I'm also forced to wait in the Alaska airlines check in line and cannot find in the AA app the Alaska airlines flight number needed to check in at the Alaska airlines desk.
Update for inapp booking!!
So the update is good. The UI is nicely updated but why in the hell cant you book a flight within the app? Instead it redirects you to the website. Just trash! Trash trash. American Airlines do something constructive and update the app like all other airline apps that you can actually book through the app.
Worried
I just downloaded the app and looked at my upcoming flights. I'm concerned that it's not showing me the seats that I have already purchased. I already paid for the seats last week.
Useless app due to update
With the latest version, you have to be an AAdvantage member to access any useful features of the app. Even though I'm a member, it won't recognize my AAdvantage number so I can't get my boarding pass or anything.
App changed my seat to the back
New iPhone 5s owner
on
6/12/2017
This AA app changed my seat to back of the airplane. When I attempt to try to change it back at the kiosk the AA representative told me "the app can do that. Read the fine print" and then offered to charge me $46 to get a seat closer to my original location. This is ridiculous! Terrible app!
Terrible like the company
Dysenteryharry
on
6/12/2017
Terribly buggy and don't even try using this to contact customer service or book a flight because you'll never reach your destination. Maybe that should be their next motto?
Server Error Every Week😤
I use the AA app nearly every week. Most weeks I receive a Server Error which cannot be resolved except by downloading the app again. I have waited days to see if it was temporary but it never is. This morning I was able to show the TSA my boarding pass at the beginning of the line but 2 minutes later the app could not pull it up due to a server error causing me to exit the line and print a paper boarding pass. When I reloaded the app and logged in it said that I did not have any trips. I logged into aa.com and no trips there either until I entered my record locator. This never happens on any other airline app.
Horrible
Can't do anything on it. Some how checking in on this app changed our two seats next to each other, one window one middle, to two middles in separate rows. Just garbage. I guess it matches the airline though.
Lack of backwards compatibility is unacceptable
phillysteakmmm
on
6/11/2017
While the app has typically had reasonable functionality, the mandatory updates and lack of backwards compatibility (esp to older iOS) is outrageous for a major company. AA seems to have hired a cheap developer who is not up to the job. Also, the new Map function is difficult to use - you shouldn't have to search to find an Admirals Club - the icon should be present by default!
American Airlines is Great
I love having the app to watch movies and tv it great
Lacking in features and guzzles battery juice
therealmorfic
on
6/10/2017
You can't manage your family's trip with it, everyone needs their own app. Arrived in Europe and battery life was abysmal, blamed service until iOS came to the rescue to ask if I want to continue allowing the app to always use location, switched to "only when app is running" and battery is normal. Never seen an "always uses location"-app be this mean to battery life... 2* because it has promise and should be better for people travelling alone, so long you fix how it gets to access location.
Awful update
Awful update, bad design
Can't book at all-goes blank
Been trying to book-picture with no functionality...
First Class Upgrade Status Elminated
melrosemattyd
on
6/6/2017
In recent versions of the app it would tell me where I was on the first class upgrade list. A couple of updates ago, that functionality was eliminated. As a frequent flyer, I'd like to see that functionality come back.
Single Boarding Passes only!
I traveled with 2 children. The app only produced my boarding pass. Useless! We also flew another airline on this trip; all 3 boarding passes loaded up with my reservation code on their app.
Bags
What happened to the baggage tracker for checked led bags??
Imposible to submit Form
chintomendoza
on
6/3/2017
Trying to join AA but countless times show error 500 ! And I am here in the States!!
Not nearly as slick as the UAL app
One of the most needed features is an up to date seat map and full standby list, just like they do in the UAL app. United has had this for years and it's very useful. What's the problem getting it here AA???
Checking bags or traveling with kids? This app WILL NOT help.
Flying with American Airlines for the first time in years. Downloaded the app because, I thought, it would save me from making lines at the counter and spending extra time at the airport. I was able to check in (via the app) with minimal problems. And that's where the usefulness stops. I had to check bags - the app doesn't do that. I needed to get the boarding passes for my family, but *nope*. You'll only get yours. I called costumer service and they tell me that, if the rest of my family wanted to have their boarding passes, they needed their own mobile devices with the app. This is hard to do, since most of the family I'm traveling with are children aged 8 and less. So, I STILL have to make the line, stop at the counter and spend time I could've saved with a decent app. So, unless you're traveling *alone* and *don't* have to check any bags, THIS APP IS NOT FOR YOU. [Note: in the app's defense, I haven't booked any flights with it, so that may be another point in favor of the app. However, since it did NOT serve my immediate need, I deleted it]
App developed by Non-travelers?
Dust Behind Truck
on
6/2/2017
This app has 3-4 major flaws. For example, it doesn't automatically update travel info so NOTHING is current. Isn't that the point when you're traveling? To have current, immediate information? RESPONSE TO DEVELOPER - Yes, you can MANUALLY update, but that takes time (I tested it for 4 current reservations and it took an average of 37 secs each before updating). When waiting for a flight does this make sense? Is it unreasonable to want app to show up-date flight info?
Confused
What the heck is a RECORD LOCATOR???
Booking on the app
Edgarpuello84
on
6/1/2017
I love the layout and design of the app, but... Why instead of having the app redirect you to a website to look/book a flight, it does not allow you to do it in it? It would be really amazing seeing this and way more comfortable.
Definitely needs to be updated...
I've been traveling with American Airlines for a while and found it exciting when they released their mobile app. However, this app is very restricting and inaccurate. Although it tells you the time of boarding and gate changes, etc, they have a few flaws; one of which is the upgrade and check in system. I can't check in sometimes on my mobile app and when I request an upgrade, it doesn't show on the actual AA system by the kiosk.
Fact Sheet
Publisher: American Airlines, Inc.
Category: Travel
Released: Jul 26, 2010
Current Version Released: May 31, 2017
Version: 5.1.0
Size: 120.8 MB
Compatibility: Requires iOS 9.0 or later.
Recommended Age: 4+
Game Center Certified: No
Supported Devices: iPad2Wifi-iPad2Wifi, iPad23G-iPad23G, iPhone4S-iPhone4S, iPadThirdGen-iPadThirdGen, iPadThirdGen4G-iPadThirdGen4G, iPhone5-iPhone5, iPodTouchFifthGen-iPodTouchFifthGen, iPadFourthGen-iPadFourthGen, iPadFourthGen4G-iPadFourthGen4G, iPadMini-iPadMini, iPadMini4G-iPadMini4G, iPhone5c-iPhone5c, iPhone5s-iPhone5s, iPadAir-iPadAir, iPadAirCellular-iPadAirCellular, iPadMiniRetina-iPadMiniRetina, iPadMiniRetinaCellular-iPadMiniRetinaCellular, iPhone6-iPhone6, iPhone6Plus-iPhone6Plus, iPadAir2-iPadAir2, iPadAir2Cellular-iPadAir2Cellular, iPadMini3-iPadMini3, iPadMini3Cellular-iPadMini3Cellular, iPodTouchSixthGen-iPodTouchSixthGen, iPhone6s-iPhone6s, iPhone6sPlus-iPhone6sPlus, iPadMini4-iPadMini4, iPadMini4Cellular-iPadMini4Cellular, iPadPro-iPadPro, iPadProCellular-iPadProCellular, iPadPro97-iPadPro97, iPadPro97Cellular-iPadPro97Cellular, iPhoneSE-iPhoneSE, iPhone7-iPhone7, iPhone7Plus-iPhone7Plus, iPad611-iPad611, iPad612-iPad612, iPad71-iPad71, iPad72-iPad72, iPad73-iPad73, iPad74-iPad74,
Supported Languages: English;