Screenshots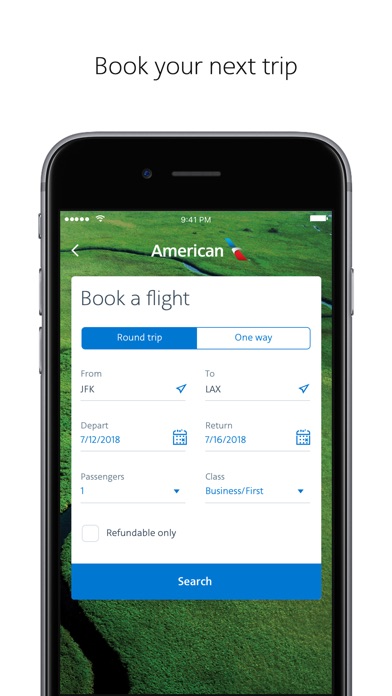 New in version 5.3.4
- Enjoy a better search experience when you book flights.
- Order food on-the-go from terminals in DFW, AUS, LAX, ATL, MIA and LHR. Pull up the terminal map to see what's cooking and look for more locations soon.
- Manage and update your AAdvantage account on-the-go. We'll keep you logged in.
- Plus, other small enhancements and bug fixes.
Description
With the American Airlines app, you're covered with the information you need exactly when you need it. Curious about traffic to the airport? Need a mobile boarding pass? Wondering where the closest Admirals Club® lounge is located? All of this info, and more, is available at your fingertips.

- Dynamic home screen: Knows where you are in your travel journey and gives you easy access to the right tools at the right time.

- Mobile boarding pass: Check in for your trip and retrieve your mobile boarding pass. No need to print, and it's updated along the way.

- Flight updates: Get the latest flight updates by simply retrieving your reservation and allowing American Airlines to send notifications to your mobile device.

- Interactive terminal maps: Navigating airports is a breeze with our interactive terminal maps. Find the closest Admirals Club lounge or get directions to your connecting gate.

- AAdvantage® account details: Review all the details of your AAdvantage account right from the app. Not an AAdvantage member? Sign up today.

- Upgrade your seat: Request and purchase upgrades with ease. Want to see where you are on the list? The app displays the upgrade standby list within four hours of your scheduled departure.

- Seat selection: Select or change your seat within the app. Just pick the one you'd like and change it on the spot.

- Track your bag: Know exactly where your bag is from the time it leaves your hands to when you extend the handle at your final destination.

- Save your reservation: Your recently viewed reservations are automatically saved in the app so you can easily grab the details for your next flight in seconds.

- Quick interactions: The American app utilizes 3D touch and is Apple watch compatible, giving you quick access to the most important info.

- Wi-Fi access in the air: Don't forget on flights with Wi-Fi, you can use the American app and aa.com at no cost.

There's a new group of flyers out there – The World's Greatest Flyers. They know that having the right travel tools contributes to a great experience.

New with iOS10, the sky's the limit with the American Airlines sticker pack! Let friends and family know that you're traveling, headed to the Admirals Club® lounge to take it easy before taking off, snapping photos at 30,000 feet or that you've arrived.

Contact Us: 1-800-222-2377
iPad Screenshots
Reviews
Great app until updates
App worked fine. After updates, app won't do anything after the initial launch. It freezes. Annoying.
Doesn't work
Since the last update, cannot use it
Fix the app
KonaAppRater-Hater
on
10/16/2017
Can't choose the dates or close the date calendar to do a flight search. Tried one way then round trip. How can we try to book if we can't even get past the date selection? Horrible!
Award travel option removed
discolandstudios
on
10/16/2017
The update removed the option to book an award ticket. 👎🏽 Please fix.
Feature Suggestion
When checking-in on the app, I'd like the ability to pay my bag fee(s) at the same time... and then just use an airport kiosk to print a bag tag.
Upgrade list is missing
Don't understand why this functionality has been dropped. United Airlines includes not only the list but also 1st/Business booking and check-in status so you can get an idea how many upgrades might clear. Prior AA app gave you the list but not the other info.
Don't waste space on your device, use AA.com instead
Don't Bother, use AA.com. Since the American Airlines app was redesigned, it has become a bloated, useless app. Trying to do anything besides use your e-boarding pass is useless. Trying to book an awards ticket is impossible. Frankly I am truly surprised they didn't pull this app the day after it was released. Obviously the app's designers are clueless, but is AA's management just as clueless????
Not good
I was traveling for work and making a connecting flight in Dallas today, when my boss and co-worker ran to the restroom. We had been watching the gate and knew the departure time however....when they say they lock the gate at ten minutes till they are NOT joking. We were two minutes late, still ten minutes prior to departure, when the ladies at the gate closed the door right in front of us and said we were too late. We were polite and explained that we were right there and just needed to use the restroom. They did not care. TWO MINUTES! So now we will wait for four more hours because we have no choice. Poor customer service! We watched the plane sit there for another 10-15 minutes. Apparently flight regulations are more strict with American Airlines than ANY other airline.
Great app!
I travel often and the app is very easy to navigate. I like that I have the ability to flip through my booked flights as well as track my bags. One thing I have not seen yet that I would love to see, is the the ability to view multiple boarding passes without it deleting another. As well as being able to manage a family key under one email. As a mother of multiple it is frustrating to have to login to different accounts for the kids miles number.
Please hire Delta's app developers
Just an inferior app
App freezes when opening
Every time I open this app, it freezes on either the first or second page.
Poor app
Frequent flyer 66
on
10/13/2017
The World Largest Airline has The Worst travel app
Fails at its most important function
This app is good if you want to see your balance or status but the most important part it, buying a ticket, fails. It hard to believe I can't book a flight within the app. The app makes you go to AA's website to complete the transaction. I might as well just start there.
Great app
This app is far superior to other airline apps!
Beware - sometimes your boarding passes disappear
Bubba P Smith
on
10/13/2017
I recently had a three segment trip. What I normally do is add the current boarding pass to my Apple wallet and then once that flight is over, delete it from my wallet and then add the next one and so on. When I got to the last segment of my flight I want to go get the boarding pass from the app but it was nowhere to be found. Good thing I had my paper copies still.
Clunky App. Should do more and work better.
I find I only use the app for checking in and saving my boarding pass. I have been unable to book flights using it. The calendar won't change dates and you have to close it down and start over. Also, I get messages saying that a secure connection can't be made. I wish I could use it more often and for more functions as I travel a lot.
Lock screen boarding pass unreliable
Recently the boarding pass on the lock screen started not showing up before flights. Have to delete and reload pass to get it to show and it disappears again. Makes the app much less useful than it was.
App will not load
The app will not load after the latest iOS update!!!
Booking with Miles
All other apps with airlines allow you to book flights with miles and that option is not available in this one.
No confirmation page on reschedule??!!
My flight was canceled due to some wildfire, so I need to reschedule my flight. I was given a bunch of options, but it seems most of them are unavailable, so I have to try them out. And I hit a flight by mistake, which is totally a bad choice for me(arriving 5am, and I have an interview next morning!!) and the app just booked that for me without a CONFIRMATION PAGE??!!!! After that, I didn't even get a chance a chance to schedule another flight, because I could only reschedule to another flight on the next day. What is it???!!!!! So I had to call aa to reschedule and then, why the hell do I still need this app??
Wow
Worst airline app in the Apple Store. You should be embarrassed by uniteds app. Step your game up.
Crashingggggg
The last update of this AA app doesn't work with the latest iOS 10.x.x update. Needs to be looked at ASAP.
Errors!
Waterboy87643
on
10/11/2017
Trying to upgrade seats for a flight tomorrow. Error of "valid email address required". I've typed my valid email addresses multiple times. Do I have to sit in a bad seat due to a bad app? Brutal. Maybe I'll call in and sit on hold until the good seats are gone I guess.
App crashes
After latest iOS update, the app simply crashes.
Crashes after Update
App worked great until the update. Now it crashes immediately. I cannot access my Boarding Pass info
Crashes every time I open
Since the most recent update this app crashes every time I try to open it.
CRASH
This app crashes constantly. It's useless with iOS 11. Fix this piece of crap.
App version 5.3.3 keeps crashing
David Truong
on
10/11/2017
App version 5.3.3 update keeps crashing for iOS 11.0.2 for iPhone 7 Plus. Had to delete the app then reinstall. Now works great.
Crashing
The app continues to crash after launching it. Not sure of the fix but hopefully there will be an update soon.
Can't sign out of app!
I am trying to sign out of my account. I no longer see that option!
Fixed crashes, now works
Despite the criticism from others, this is a solid application that provides information useful to the AA traveler.
Crashes upon launch
Scary bug considering...
App is not opening at all after iOS 11 upgrade... need a way out quickly. Please fix it
App is not opening at all after iOS 11 upgrade... need a way out quickly. Please fix it
Crashes every time
MemorialDay7
on
10/10/2017
Not only does the update crash and not even start up, but it does so every time and all the time!
Only crashes, please fix
We're sick of it
on
10/9/2017
It was a good app, but now crashes every time I try to run it on an iPhone 7
App not working on latest iOS
After update crashes on launch! Trust me I want to login haha. Thanks AA!
Needs flight status feature.
If southwest's app can allow passengers to track the in air distance status of their flight over an interactive map, then so can American. Add it!
Minimal functionality
Manny-012345
on
10/9/2017
Why can't I book with miles? Why so difficult to log in? Why such minimal functionality? My advice to the developers: download the united app and try to copy as much as you possible can. They are a decade ahead of you.
Crashes constantly after the updat
This is was great, but with the update, as soon as I open it... it crashes. Please fix as soon as possible please.
App crashes since Apple update
Abcdefg12345775436
on
10/8/2017
Click app opens and closes, really? With all the money the airline has the app gets the smallest attention. Frustrating to say the least. How about keeping up with the rest of the airline apps.
Data hog
Installs at 85mb and balloons to over 450 mb with a little use. Stupid.
App crashes
Won't even open. Useless to me now.
0 star
alberthtchang
on
10/8/2017
I don't think I could even review this app because it doesn't even start on my iPhone 6 and iPad. After I clicked on the app, it just froze.
Crashes on the iPhone 8 plus - doesn't even load.
Sonoran hope
on
10/8/2017
Would rate is a zero if I could.
Great Job, but a bug
Great to print tickets but your wallet Passport does not update when you are changing seats
Latest version is useless - non functional!
Auto updated to latest version - I use this app constantly for regular business travel and it's now useless as it crashes every time on loading. Can't get in. Please fix this!!
So bad and rude staff
The worst airline ever
Crashing
Used to work fine but latest update now has app unable to open, crashing. Please fix!
Newest Update
My app will not even open up now with the newest update. PLEASE FIX THIS ISSUE
Much better
The latest updates have been much needed. Like the ability to book flights and search airports.
Fact Sheet
Publisher:

American Airlines, Inc.

Category:

Travel

Released:

Jul 26, 2010

Current Version Released:

Oct 12, 2017

Version:

5.3.4

Size:

154 MB

Compatibility:

Requires iOS 10.0 or later.

Recommended Age:

4+

Game Center Certified:

No

Supported Devices:

iPhone5-iPhone5, iPadFourthGen-iPadFourthGen, iPadFourthGen4G-iPadFourthGen4G, iPhone5c-iPhone5c, iPhone5s-iPhone5s, iPadAir-iPadAir, iPadAirCellular-iPadAirCellular, iPadMiniRetina-iPadMiniRetina, iPadMiniRetinaCellular-iPadMiniRetinaCellular, iPhone6-iPhone6, iPhone6Plus-iPhone6Plus, iPadAir2-iPadAir2, iPadAir2Cellular-iPadAir2Cellular, iPadMini3-iPadMini3, iPadMini3Cellular-iPadMini3Cellular, iPodTouchSixthGen-iPodTouchSixthGen, iPhone6s-iPhone6s, iPhone6sPlus-iPhone6sPlus, iPadMini4-iPadMini4, iPadMini4Cellular-iPadMini4Cellular, iPadPro-iPadPro, iPadProCellular-iPadProCellular, iPadPro97-iPadPro97, iPadPro97Cellular-iPadPro97Cellular, iPhoneSE-iPhoneSE, iPhone7-iPhone7, iPhone7Plus-iPhone7Plus, iPad611-iPad611, iPad612-iPad612, iPad71-iPad71, iPad72-iPad72, iPad73-iPad73, iPad74-iPad74, iPhone8-iPhone8, iPhone8Plus-iPhone8Plus, iPhoneX-iPhoneX,

Supported Languages:

English;