Screenshots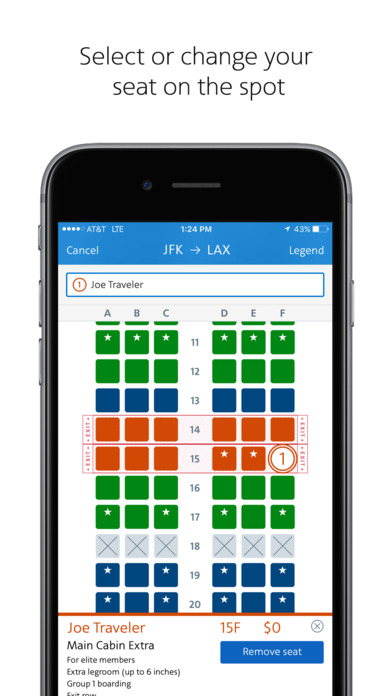 New in version 5.2.1
- An improved booking experience (with more improvements on the way)
- The ability to rebook your flight when there are delays or cancellations
- New background images
- Use terminal maps to order food from restaurants at DFW, LAX, ATL and AUS; more airports coming soon
- Minor enhancements and bug fixes
Description
With the American Airlines app, you're covered with the information you need exactly when you need it. Curious about traffic to the airport? Need a mobile boarding pass? Wondering where the closest Admirals Club® lounge is located? All of this info, and more, is available at your fingertips.

- Dynamic home screen: Knows where you are in your travel journey and gives you easy access to the right tools at the right time.

- Mobile boarding pass: Check in for your trip and retrieve your mobile boarding pass. No need to print, and it's updated along the way.

- Flight updates: Get the latest flight updates by simply retrieving your reservation and allowing American Airlines to send notifications to your mobile device.

- Interactive terminal maps: Navigating airports is a breeze with our interactive terminal maps. Find the closest Admirals Club lounge or get directions to your connecting gate.

- AAdvantage® account details: Review all the details of your AAdvantage account right from the app. Not an AAdvantage member? Sign up today.

- Upgrade your seat: Request and purchase upgrades with ease. Want to see where you are on the list? The app displays the upgrade standby list within four hours of your scheduled departure.

- Seat selection: Select or change your seat within the app. Just pick the one you'd like and change it on the spot.

- Track your bag: Know exactly where your bag is from the time it leaves your hands to when you extend the handle at your final destination.

- Save your reservation: Your recently viewed reservations are automatically saved in the app so you can easily grab the details for your next flight in seconds.

- Quick interactions: The American app utilizes 3D touch and is Apple watch compatible, giving you quick access to the most important info.

- Wi-Fi access in the air: Don't forget on flights with Wi-Fi, you can use the American app and aa.com at no cost.

There's a new group of flyers out there – The World's Greatest Flyers. They know that having the right travel tools contributes to a great experience.

New with iOS10, the sky's the limit with the American Airlines sticker pack! Let friends and family know that you're traveling, headed to the Admirals Club® lounge to take it easy before taking off, snapping photos at 30,000 feet or that you've arrived.

Contact Us: 1-800-222-2377
iPad Screenshots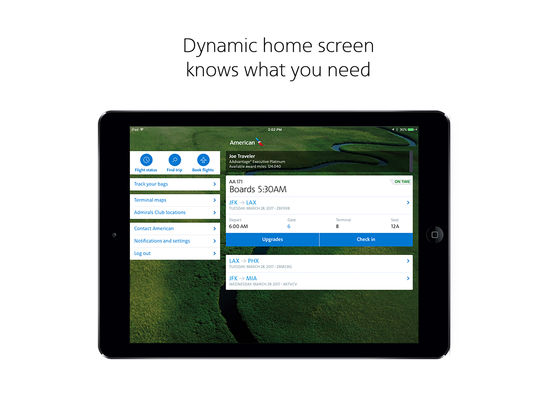 Reviews
Great app.
Great app with real-time updates. Love the track your bags feature!
Frequent flyer
The app won't open anymore and I have an upcoming flight
Doesn't work
Got to TSA agent and it couldn't read my boarding pass so I had to go get paper boarding pass THEN go back into line. Good thing I was at the airport early or I would have missed my flight. My united app has never had this problem
Terrible app even worse company
How is it I can add my itinerary to the AA app that is hooked up to my AA advantage number but never get any miles credited to my account????? Then to get the miles credited to my account I have to jump through a bunch of stupid hoops to do so. Then even when I go through that whole process it rarely ends up even working. Worst frequent flier program in the world. Alaska or delta is farrrrr superior.
Worst Airline App
This app constantly reverts me to Safari, and many of the features (noticeably the standby/upgrade list) doesn't even exist as the screenshot on the AA website indicates. AA needs to get its act together and spend money developing an app that actually works. The checked baggage fees from a few flights should be more than enough to cover development costs for something 10x better than this awful app.
Moving in the right direction
After lagging behind every other airline app for what felt like forever, they finally have implemented a cleaner in-app booking interface. I'm still not sure it's entirely native to the app as it has to load and it's a bit jittery still, but it's way more organized and user friendly than the horrendous unusable mobile site it just took you to before. Still needs some work though to smooth things out a bit, but it's a major step in the right direction and at least makes this app actually usable for booking flights now.
Apple Watch complication led me to the wrong gate
For some reason the AA complication on my Apple Watch always displays information that will be relevant in a few hours, but not now. On my way to the airport, it was displaying my arrival gate, so I went to the wrong gate at my departing airport. When I got to my (correct) gate, it was displaying my baggage claim (3 hours before I'd need that info!). It makes absolutely no sense that American can't properly handle dates and times.
Worst flight app on the market.
Muerta Tripleta
on
8/16/2017
Not very user friendly at all.
Suggestion:
Add functionality to link flight to frequent flyer /rewards number. My tickets are booked third party, I would like to be able to link rewards program to tickets on app. Now I have to do it at airport kiosk.
Unreliable
This app is so unreliable. I'm a frequent flyer (platinum or exec platinum every year) and loyal to American, but this is enough to make me want to switch. More than half the time, the server isn't responding, or there's some type of error message when I try to login, or it can't find my reservation. I end up having to go to the website to check in. Waste of time!
Recent issues
Since the last update I cannot launch the app. It begins to open then immediately quits out. AA needs to debug this
Infinite loop
When I open the app I get a message that it must be updated. I click on Update and I'm taken to the App Store. I click on Open ( the only option) and it goes to the app. Then the update message again.
Not really
Not an app, just a link to a website. Poor design.
Unreliable
Tooldude2222
on
8/13/2017
Beyond slow. Seat maps won't load more than they will.
Aadvantage Activity history broken
"Manage my account / Your activity" functionality doesn't work. After entering a date range, the app always returns an empty list. Please fix.
Horrible
Only able to bring up one of 4 boarding passes. That combined with a small airport... almost cost us our flight. Boo. Going back to old fashioned boarding passes after this. Thanks for a stressful hour
Functional, but not worth having
Travelalot4funnn
on
8/12/2017
Missing lots of functionality. Award miles booking, etc. Embarrassing to the company.
Know What You're Paying For
American Airlines is popular for violating preexisting agreements made to clientele by staff to ensure a zero-sum win game in the company's advantage. What this means is that American Airlines will answer any customer questions with an answer clients will enjoy hearing. Assuring each customer with a guarantee that they have been assisted appropriately. Believing the airline will acknowledge any guarantee previously made by staff is where all customers meet their downfall. Customers then wait confidently for a resolution to an issue that has been guaranteed to them only to be denied shortly after by the airline. To simply put it, if you can travel flawlessly and win at all times then you might stand a chance for satisfaction with this American Airlines. However, if you have doubt or disbelief that you will be cared for appropriately then do yourself and anyone traveling with you the favor of not having to fly with American Airlines. We have suffered for flying American, so please don't make the same mistake we made.
You ruined the app!!!
What did you do to the app on this version? It's ruined!!! To change my seat now you have to do it in Safari and then the website doesn't locate the reservation, before you could just see the map on the app and change or upgrade right there. The boarding time moved from the big letters on the flight home page to some hidden information icon in tiny gray letters? Seriously FIRE THE DEVELOPER for complete lack of common sense, and making customers' lives more complicated. What were you thinking? Oh! Not to mention that when I went to check in my bag two days ago, somehow my AAdvantage account had been erased after doing the check-in on the app.... this would be an excellent time to revert to the prior version until you find someone better for the job
Payments don't work
Jgoconnor346
on
8/12/2017
Tried repeatedly to upgrade seats, credit card payment fail every time. Tried multiple cards, wasted tons of time and did not get seats that appear available on the app's seat map.
App is only able to show a single boarding pass
Completely broken basic functionality. After checking in entire family, the 'boarding pass' button would present only one boarding pass, although screen shows all 3 persons as checked in. I discovered the issue in front of the officer and missed my flight because he sent me back to the AA counter. PDFs sent over email don't scan either. Horrible experience! AA employees had no idea either how to make the app show other boarding passes- just broken. Please avoid.
The app forgets who you are
It keeps asking for passport info even when I have entered it before. Then it says it doesn't match the names on the ticket (they do). Instead of instructing you on how to correct it just asks you to check in in person. Rubbish.
Not the best
I had a flight changed in February for an August trip. Both trips are still on my app! I called and the nice gentleman told it was updated so wait 15 min and try again. Both trips are still listed.
Impossible 2
Unable to Log In. Called the 800-882-8880 number for help. As suggested by customer support, I deleted the AA app from my iPhone 7+ and reset my account password on the AA website. Reinstalled app and again attempted to log in with the new password. After being on the phone with customer support for 53 minutes and several methods to log in to the AA app, it still did not work. I would give it zero stars, if I could, for wasted time and effort. App needs to be fixed ASAP.
Takes forever to load and crashes
This POS crashed while I was at the TSA check point, right when I was trying to scan my boarding pass. Also, on multi segment flights, it often presents the wrong flight leg on the screen, usually the first leg of the trip.
Worst of the airline apps
kidzbopsuckseggs
on
8/10/2017
Terrible, buggy and slow. I have deleted it. It's useless.
Works
App works well only minor complaints. As a frequent traveler wish you would have remove expired boarding pass somewhere more visible and not buried in the options. Also there is a bug in your notifications. I live in central time zone but travel to Eastern time zone weekly. I get the notification to check in at 25 hours before departure when the app only lets you check in at 24 hours.
Crashes
App constantly crashes on startup. Cannot watch in-flight entertainment.
So slow
The old app was so much better. This one takes forever to load flights and to load the app itself. I would rather use safari at this point
Great Improvements
It's been a while since I last used the App. Great to see some more intuitive UI and adding baggage information and other relevant info is great. Well done!
Worst airline app ever!
No sure which is worse, the app or the airline. Unable to get all boarding passes to download at once, inability to get my kids boarding passes through app, emailed passes only allowed for first of two flights for passes. Pretty much useless. Going back to Delta!
Worst airline app ever
You guys need to check out Delta and see how a real app is supposed to work! The American app is hard to navigate (where's my electronic ticket?!) and YOU CAN'T CHANGE YOUR SEAT THROUGH THE APP!!!??? WTH?
No communication
Stuck in Orlando. First it was mechanical. Then it was weather. Then change of gate. Then we moved you to tomorrow. Blah blah blah. Tell the truth American
Impossible
I've never been more frustrated in my entire life trying to get a mobile boarding pass. Where??? How??? Do I have to solve a riddle or find some hidden clues? There's no button! Please put me in touch with your UX designers so I can fire them.
This app is horrible!
I fly tonight and the app is not updating. This is horrible!
Pretty Effective, Incremental Improvements
Christopher Steves
on
8/4/2017
The first time I downloaded this app years ago, it was pretty rough. Over the last few years, they have been incrementally improving it to the point where I now feel like it's actually pretty good! - Booking: you can now book directly inside the app without it opening Safari on your iOS device. Nice improvement, been quite a while waiting for this! - Trip Status/Updates: gate changes, departure changes, delays, etc. are quick and are often received on my phone before the airport kiosks or gate agents/flight attendants announce them - Seat Changes: seat changes are easy and reliable via the app - Airport Maps: pretty decent, although for any level of detail I usually Google the individual airports map to find special D.C. stores/restaurants as I travel anyway... - Upgrades: upgrade requests and upgrade request statuses are easy to see and manipulate within the app - Account activity/rewards status: easy to see activity and rewards status via the app also
Want more access
I fly every week between Phoenix and Minneapolis. I use delta an American Airlines. I can do all I need in the delta app. American airline app keeps connecting me via safari for most things. The extra step is annoying and sometimes causes errors or me to have to re enter info over again. Lame
App issues
American fan1
on
8/3/2017
Won't open
Doesn't refresh with updated information, made me miss my flight
I checked in via the app late last night, when looking at my specific reservation record and flight it told me my gate was A20. This morning I look again and try to get it to refresh, it still tells me gate A20. TSA was up my butt that caused delay and I got to A20 with just minutes to spare only to find a flight deplaning instead of my flight boarding. I looked at the app and THEN it decides to refresh saying my flight was leaving from D40 which is AN ENTIRELY DIFFERENT TERMINAL!!! Needless to say I didn't make my flight and now am sitting around the airport for FOUR HOURS waiting for the next flight. All this while trying to go on vacation after a very rough summer. USER BEWARE: DO NOT DEPEND ON THIS APP FOR ACCURATE, UP-TO-DATE INFORMATION. This actually isn't the even the first time I've had this problem of the app giving me outdated info, but last time it was at least a gate change within the same terminal.
Great app with real time updates
its.me.mario92
on
8/3/2017
Recently went to Miami and was easily able to view and share flight information. Also got notification on gate changes and flight delays that where all accurate. I would recommend this app
Basic
listenerinthecity
on
7/31/2017
It's good when you're flying to have your boarding pass handy or get gate change info. But you can't do much else such as book flights. It kicks you to the browser. What's the point in that!
it is what it is
aparnaishungry
on
7/30/2017
is quite functional for what it is supposed to be. but could be improved. e.g., often takes decades of seconds to load boarding pass, which is a bit absurd. otherwise, everything else is user-friendly.
Kiosk wouldn't read digital passes
I only downloaded the American Airlines app to be able to quickly use our iPhones to read our TSA pre QR codes and avoid boarding paper passes. Glad we printed a hard copy because the kiosk wouldn't accept the QR code on the iPhones. This app only added to the stress of traveling.
Useful
ijustgetbored
on
7/28/2017
This app works well for me. I like being kept apprised of gate changes, etc. It significantly cuts down on airport stress. It really proved itself on an extremely stormy day when flights kept getting grounded and cancelled. I was trekking all over airports as flights changed, and the app led me the whole way without a glitch.
Poor App and inaccurate flight status
Chapmaster G
on
7/28/2017
Frequent traveler. Poor updates, inability to change flights when canceled, no memory when searching or tracking flight status. Delta app is significantly better. More frequent and accurate updates for American Airlines flights on my free FlightAware app.
Great update
WingedTravel
on
7/28/2017
Booking in the app, flight changes during and cancels and the new background images are cool.
Great update
Native booking! Finally.. thank you for adding this feature
Not that bad
I fly every week and rarely have problems with the app for what it does. Biggest problem is sometimes I don't get good internet service at the airport so if I haven't already downloaded my boarding pass I have trouble. I also don't like that when I travel international I need to enter my passport info twice during check in. It's not fully featured and there are better airline apps, but it's certainly worthy of better than a 1-star review.
American is the Worst!!!
The great thing about American Airlines is that when they leave you stranded in the airport, instead of an apology, they put you up in the dirtiest, most rundown hotel in America! Never again--I knew I should've stuck with Southwest!
Horrible
It is getting better but the Delta app is still 1000x better. They need to add alerts when your flight is boarding, ability to book within the app, ability to change flights within the app when your flight is delayed. Basically just make Delta's app for American
Fact Sheet
Publisher:

American Airlines, Inc.

Category:

Travel

Released:

Jul 26, 2010

Current Version Released:

Jul 21, 2017

Version:

5.2.1

Size:

105.9 MB

Compatibility:

Requires iOS 9.0 or later.

Recommended Age:

4+

Game Center Certified:

No

Supported Devices:

iPad2Wifi-iPad2Wifi, iPad23G-iPad23G, iPhone4S-iPhone4S, iPadThirdGen-iPadThirdGen, iPadThirdGen4G-iPadThirdGen4G, iPhone5-iPhone5, iPodTouchFifthGen-iPodTouchFifthGen, iPadFourthGen-iPadFourthGen, iPadFourthGen4G-iPadFourthGen4G, iPadMini-iPadMini, iPadMini4G-iPadMini4G, iPhone5c-iPhone5c, iPhone5s-iPhone5s, iPadAir-iPadAir, iPadAirCellular-iPadAirCellular, iPadMiniRetina-iPadMiniRetina, iPadMiniRetinaCellular-iPadMiniRetinaCellular, iPhone6-iPhone6, iPhone6Plus-iPhone6Plus, iPadAir2-iPadAir2, iPadAir2Cellular-iPadAir2Cellular, iPadMini3-iPadMini3, iPadMini3Cellular-iPadMini3Cellular, iPodTouchSixthGen-iPodTouchSixthGen, iPhone6s-iPhone6s, iPhone6sPlus-iPhone6sPlus, iPadMini4-iPadMini4, iPadMini4Cellular-iPadMini4Cellular, iPadPro-iPadPro, iPadProCellular-iPadProCellular, iPadPro97-iPadPro97, iPadPro97Cellular-iPadPro97Cellular, iPhoneSE-iPhoneSE, iPhone7-iPhone7, iPhone7Plus-iPhone7Plus, iPad611-iPad611, iPad612-iPad612, iPad71-iPad71, iPad72-iPad72, iPad73-iPad73, iPad74-iPad74,

Supported Languages:

English;