Screenshots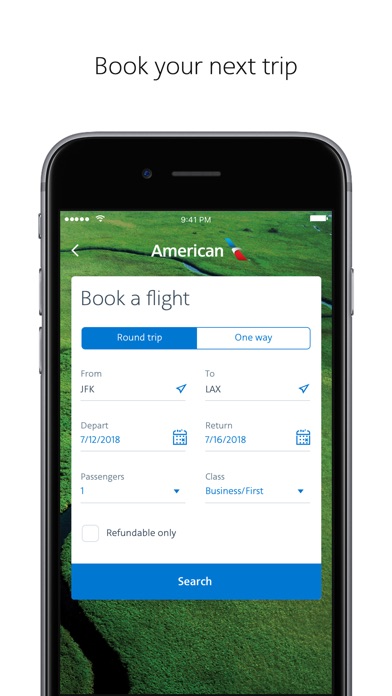 New in version 5.4.1
- Make a same-day flight change—just tap your trip and slide up the travel tools menu
- Enjoy a new look and feel when you check in for international flights
- Bug fixes and other enhancements
Description
With the American Airlines app, you're covered with the information you need exactly when you need it. Curious about traffic to the airport? Need a mobile boarding pass? Wondering where the closest Admirals Club® lounge is located? All of this info, and more, is available at your fingertips.

- Dynamic home screen: Knows where you are in your travel journey and gives you easy access to the right tools at the right time.

- Mobile boarding pass: Check in for your trip and retrieve your mobile boarding pass. No need to print, and it's updated along the way.

- Flight updates: Get the latest flight updates by simply retrieving your reservation and allowing American Airlines to send notifications to your mobile device.

- Interactive terminal maps: Navigating airports is a breeze with our interactive terminal maps. Find the closest Admirals Club lounge or get directions to your connecting gate.

- AAdvantage® account details: Review all the details of your AAdvantage account right from the app. Not an AAdvantage member? Sign up today.

- Upgrade your seat: Request and purchase upgrades with ease. Want to see where you are on the list? The app displays the upgrade standby list within four hours of your scheduled departure.

- Seat selection: Select or change your seat within the app. Just pick the one you'd like and change it on the spot.

- Track your bag: Know exactly where your bag is from the time it leaves your hands to when you extend the handle at your final destination.

- Save your reservation: Your recently viewed reservations are automatically saved in the app so you can easily grab the details for your next flight in seconds.

- Quick interactions: The American app utilizes 3D touch and is Apple watch compatible, giving you quick access to the most important info.

- Wi-Fi access in the air: Don't forget on flights with Wi-Fi, you can use the American app and aa.com at no cost.

There's a new group of flyers out there – The World's Greatest Flyers. They know that having the right travel tools contributes to a great experience.

New with iOS10, the sky's the limit with the American Airlines sticker pack! Let friends and family know that you're traveling, headed to the Admirals Club® lounge to take it easy before taking off, snapping photos at 30,000 feet or that you've arrived.

Contact Us: 1-800-222-2377
iPad Screenshots
Reviews
Not the best app
Not user friendly- directs to website for seat changes now rather than change within the app like previous versions. No info on app regarding WiFi or gogo or inflight entertainment unlike the description. Always forces an update even when international and possibly unable to update iOS to support. Has left me stranded several times
Hire a better app writer!
I travel a lot and experience many different airlines around the world traveling between the U.S., Europe and Africa. American Airlines is one of my favorites, so to have an application this bad is tough for me to write this. Unfortunately, I need to in order to get this fixed. You can't log into your account and therefore cannot look up flights, have etickets on your phone, or book flights through the app. I would have paid to upgrade my seats, but I can't even check-in. Please match your app quality to your quality service.
Unreliable
RyanCrosley
on
12/12/2017
For a company of such high standards you would think they would have a reliable application. I have flown with them 4 times in the last few months and have tried to load my boarding pass on the app. However when I try to pull it up- the app immediately stunts down. Very disappointing.
totally screwed up this app now.
Rickxxxxxxxx
on
12/11/2017
Those of us using the earlier version can't get on with our phones anymore. when we try to login it comes up and forces us to do an update and tries to put in the 10.X version. won't let us go into the app correctly anymore. please fix this ASAP
Can't use it anymore on IPad
Rick Davenport
on
12/10/2017
For some reason they've 'upgraded' the app to only be used on version 10 or higher of IOS. I have an older device which really can't run it from a performance stand point. The compatible version of this app they say exists doesn't work either.
Makes United's App look GENIUS...
TJ 7997654462566
on
12/9/2017
And I'd give United about 3.5 stars. The bar is so low. AA App won't let you load 2 mobile boarding passes for the same flight (same res). So when traveling with children, I have to print tickets. Hello 1999. Really...how hard is this?
Worst airline ever.
If I could give zero stars I would. My family went to visit in Michigan. My boyfriend passed away and we needed to change our flights to get back home. They refused to do anything. The person was rude and after my mother said my boyfriend passed she had the nerve to say have a good day. MY BOYFRIEND DIED AND YOU WANT ME TO HAVE A GOOD DAY?!?!?!
Awful!
Crash Fresno
on
12/8/2017
Updated app not compatible w/IOS9, & older version of app doesn't work!
IOS compatability
Aaronstotle75
on
12/8/2017
I agree with the review below. In the last 2 months the latest app updates will not allow me to login. When prompted to update, the origin login splash screen returns. My IPad IOS is up to date (9.3.5). I can not login or stream entertainment on my flights. PLEASE FIX THIS. Before this issue the app was worth 4 stars to me.
Paid seats dont update
After you purchase upgraded seats, it wont show on the screen. You have delete your reservations and add back on to get the updated information! This should be a simple fix.
Terrible Airline APP
Continually has trouble connecting with the AA server. Would give it ZERO Stars if possible. American Airlines, get with it and fix this APP's connectivity issues.
App is getting better
App is massively improving from previous versions, hope to see a few more features to be more comparable to other airline apps but still a WIP in my book
Completely broken for me -sign in error
Used to work ok on my iPhone 6plus. Got a new iPhone X and have deleted, reinstalled, rebooted, etc. I enter my acct I'd or username, last name, and password, only to get a login error and told on the 6th attempt I will be locked. Works 100% fine logging in on the computer to the website. Called and told some have had this error "for weeks" now. I've been locked out of my account, used a computer to get in and reset, but the app will go right back to not accepting my credentials again. Worthless. iPhone X, iOS 11.2, latest version of the app (5.4.1).
Convenient!!
Dont have a nam
on
12/7/2017
Use the app consistently and find it incredibly convenient.
Why are you FORCING me to update my iOS to use this app?
This infuriates me when companies do this.
Great airline. Useless app.
James42755739923
on
12/7/2017
My login online works perfectly but won't let me log into the app and eventually just locked me out. Called customer service, they were helpful and unlocked it. Told me to delete and download again. Still the same issue after repeating that cycle a few times. I'll just show up for my flight the old fashion way by remembering when my flight is.... haa The airline and customer support has always been good. Just their app is junk.
Terrible
Mr. Andarson
on
12/6/2017
Very broken and buggy. Keeps telling me that my session expired every 2 minutes when trying to upgrade and kicking me back to seat selection.
Don't like the Update.
I am not liking the update. You can't tell the difference between withdrawn or deposited transactions. And the grey is so depressing. Let's get the blue and the red colors back.
Terrible update
This version won't even let me log into my account so I have to use safari to get my boarding passes.
Recent update killed legacy support
thatengineergirl
on
12/4/2017
Extremely disappointed that the recent updated version for IOS 10+ killed it's support for legacy versions. I travel weekly for work and can no longer use the app, a HUGE disadvantage for me now every week. Used to be so easy. I will not be updating my phone's IOS just to use an app. Bring back the support.
Keep improving
Nothing works today. Can't get boarding passes, can't change seats. Locks out user input and requires app restart. Amazing this is happening in this day and age. If this is normal operation or an artifact of back end systems then the app needs to do a much better job of explaining its failings.
Best Airline App
I think American has the best App of all the major Airlines and I think it's very well designed
Wont' Pull Up Flights and Prompts for Updates
Fixyadangfilters
on
12/3/2017
This version of the app is very unreliable. My current points are off and won't even show the current flights I have. I cannot use it for real-time flight info and boarding passes - what's the point?
Faulty App
Terribly unhappy with the inconsistency of this app. I've received a series of error messages, often I cannot access my digital boarding passes and most recently a major screw up in my seating. It allowed me to choose a seat which wasn't available which resulted in getting sat in the very last seat on the plane. And the staff member who "assisted" me was terribly rude. If I had the choice of flying another airline I would. Sadly not an option at my airport.
It keeps falling further behind
App continues to fall behind. As you can see they don't really care whether the app is actually usable based on the feed so. Otherwise they would have fixed it. Delta has nearly a 5 star ratings. Shows that they are really listening to the people who use it. American not so much.
Boarding pass error when connnecting
KitarasHuman
on
12/3/2017
Running the newest version of iOS on an iPhone 6-the flight information for my second connection is wrong on the boarding pass- it copies all info from the first flight- wrong boarding time, departure time, seat number, etc. Very frustrating
Compatibility fixes needed
AA loyal road warrior
on
12/3/2017
This has been a reasonably reliable app until recent updates killed its compatibility with older versions of iOS - I do not always update my iOS immediately when the latest version is released. Come on American developers... If you want us using your App then please verify compatibility when releasing updates. Other nice to haves would be automatically updating your flight reservation data when opening the app (you have to manually thumb down on screen to update). More functionality from the full website such as viewing available seats and making changes would also be helpful. Or maybe I just should use the full website instead of the newly released weak app...
awful
Terrible app- doesn't even support award bookings and there are tons of bugs. Not at the level of the United app, which is so overflowing with features that they even added a Sudoku of the day, because they ran out of other stuff to add. Delta app is also better and more stable than DL app.
Almost Useless
commodore mark
on
11/30/2017
I can't login using the same credentials that I use to log onto the web site. I use complex passwords. I suspect that my password is too long or contains certain characters that are fine on the web site but don't work on the app.
Reliable app, bad video integration
Seems like most people don't know how to review an app and instead review customer service issues 😄. Here's an actual app review. Been using consistently for over a year now. Used for 70+ check-ins, TSA points, and boarding. App is reliable, updates changes in flight information quickly, sometimes even before the pilot has informed passengers. A recent update broke the "clear expired passes" feature which was useful as I am a frequent flyer that uses iOS's wallet feature a lot. Using the app for in-flight entertainment is quite atrocious. UI loops that bring you back to square one and very infrequent experiences without glitches. Most of the time it just plain doesn't work. Maybe it's the plane's servers, but c'mon...WestJet got it right, why can't American!? The most recent update killed compatibility with iOS 9. Yeah, I should update, I get it. But really, how hard is legacy support?
Getting Better
DJ HENRY HALL
on
11/29/2017
This is a decent app which helps keep track of my flights. And I find it very useful in the airport. Each app update provides better functionality.
The new update doesn't work
I rely heavily on this app when I travel and have never had an issue before. I just went to check my flight information for a work trip I am taking next week and this app will not even open. When I try to open the app, all that comes up is a picture of water crashing against some rocks and it just stays there, never shifting to the actual app, until a few minutes later it disappears completely. Please fix this app immediately, I'm sure there are others like me out there who rely on this app when flying.
Not good
I have to agree with a lot of reviews here. The app is quite bad. And on top of that it's 100 mb in size with another 120 mb in user data. Seriously, why is the app this large? There is no justification for an app that is just for a loyality program to use that amount of resources.
Overall I was pleased
Due to work I needed to start flying to the east coast and back every 3 weeks. I found the app to be very useful in alerting me of gate changes and departures in advance and I found it to be very easy to use. But overall the delta app takes the cake.
Finally...
Same day flight change... can't believe it's taken this long!?!
From bad to worst
Every time American updates this app it gets worse. WHY??????????
Standby lists
The app is very useful but I don't understand why we can't see the upgrade list until four hours before the flight. If your place on it changes then that's fine but it would be nice to see where you are as of the time you get your boarding pass.
Complete garbage
Anon12173636
on
11/27/2017
Moments before boarding my flight the mobile boarding pass through the AA website decides to stop working. So I quickly download this app and attempt to sign in to my AA account and the app completely freezes every time I open it. Complete garbage
Just Does Not Work
I was forced to update this app and now it just does not work. It does not react to anything I do and is just frozen.
Terrible app. Terrible company.
Make us suckers
on
11/27/2017
App has bad UX/UI. Constantly not connecting to data so I'm forced to delete it and redownload it constantly. Not to mention the irony that American Airlines has become one of the worst airlines for Americans. Used to be great but customer service, flights on time, kind employees — but all of that has changed. 🤷🏽‍♀️
Piece of crap!!!
I've had to re-set my password several times because app keeps trying to log me in on its own. Absolutely WORTHLESS!!!!
Need to integrate to work with IPhone Microsoft Outlook
With Corporations now using Outlook and Microsoft Authentication to enforce email security - American need to get on the butts of the developers to work on integrating this app with Outlook Calendar to help mange travel schedules.
Horrible app!
Crashes or freezes constantly. Get it together, American Airlines! It's not a great indicator for a company that is asking customers to trust them with their lives when you can't get a pretty basic app to run properly.
Horrible App
Kellym22207
on
11/26/2017
This is not user friendly at all. I'm just trying to figure out how to check in, and can't find it on the app. Badly in need of a redesign.
This app is worthless
Within seconds of opening the app it freezes every time. It's literally worthless.
Complicated? Not true
Iamsofansy2014
on
11/25/2017
Very modern and sleek design I really like this app it gives me notifications for all my flights
App won't update flight info
App fails to refresh flight info when pulling down from top as it's supposed to. Resulted in me changing my car rental because it didn't show correct flight arrival and departure times. Didn't even show the right flight numbers
No Password Reset
11/24/17- Industry best practice to include password reset in the ios app itself. Still not there.
Crappy app
Montessahall
on
11/23/2017
The app keeps asking me to log on when I tried to make a reservation even though the previous screen says I am already logged on! Hey American Airlines, you are losing customers to your competition with this crappy app!
Apple Watch complication not working
The AA app isn't showing on my phone to add to my watch. What good is it if you can't add it to the watch?
Fact Sheet
Publisher:

American Airlines, Inc.

Category:

Travel

Released:

Jul 26, 2010

Current Version Released:

Nov 28, 2017

Version:

5.4.1

Size:

157.6 MB

Compatibility:

Requires iOS 10.3 or later.

Recommended Age:

4+

Game Center Certified:

No

Supported Devices:

iPhone5-iPhone5, iPadFourthGen-iPadFourthGen, iPadFourthGen4G-iPadFourthGen4G, iPhone5c-iPhone5c, iPhone5s-iPhone5s, iPadAir-iPadAir, iPadAirCellular-iPadAirCellular, iPadMiniRetina-iPadMiniRetina, iPadMiniRetinaCellular-iPadMiniRetinaCellular, iPhone6-iPhone6, iPhone6Plus-iPhone6Plus, iPadAir2-iPadAir2, iPadAir2Cellular-iPadAir2Cellular, iPadMini3-iPadMini3, iPadMini3Cellular-iPadMini3Cellular, iPodTouchSixthGen-iPodTouchSixthGen, iPhone6s-iPhone6s, iPhone6sPlus-iPhone6sPlus, iPadMini4-iPadMini4, iPadMini4Cellular-iPadMini4Cellular, iPadPro-iPadPro, iPadProCellular-iPadProCellular, iPadPro97-iPadPro97, iPadPro97Cellular-iPadPro97Cellular, iPhoneSE-iPhoneSE, iPhone7-iPhone7, iPhone7Plus-iPhone7Plus, iPad611-iPad611, iPad612-iPad612, iPad71-iPad71, iPad72-iPad72, iPad73-iPad73, iPad74-iPad74, iPhone8-iPhone8, iPhone8Plus-iPhone8Plus, iPhoneX-iPhoneX,

Supported Languages:

English;