This version of the app is not recommended
App last updated
Dec 18, 2017
Screenshots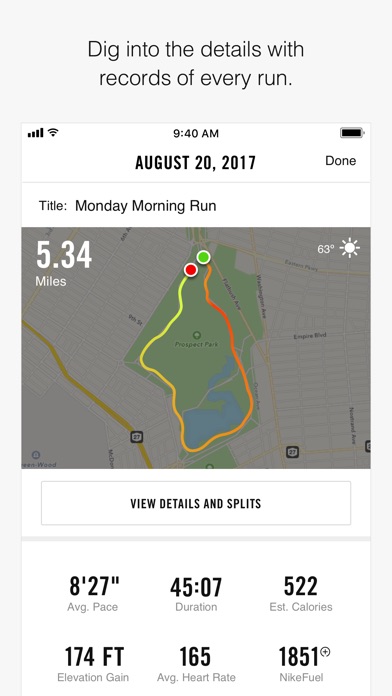 New in version 5.11.2
Here's what's new with this update:
 
PHONE
- Improved Just Do It. Sunday achievements. Complete any type of run for at least 1M, 5K or 10K on Sundays to earn the new badges.
- Additional bug fixes and enhancements
 
PRO-TIP: Check out our new Audio Guided Runs feature and experience a new and exciting way to run with NRC. Train with Nike's coaches and athletes in a series of audio-based running workouts.
 
APPLE WATCH
- General bug fixes and enhancements.
 
PRO-TIPS:
- To see your heart rate during your run, swipe left on your Watch and turn on 'All Metrics'.
- Audio Guided Runs is also available on your Apple Watch. Scroll down below the START button to access them and experience a game-changing way to run.
 
IMPORTANT: You need to authorize NRC to access Motion and Fitness Activity in order to track a run.
 
For the best results on Apple Watch, we recommend using watchOS 4.0.1 or above.
Description
Your Perfect Running Partner – Nike Run Club
Nike Run Club gives you everything you need to run better and more often—including GPS tracking details of your run, audio guided running workouts, customized coaching plans that fit your goals and adapt to your progress, and nonstop motivation from your friends. In short: We'll help you reach your goals and have more fun getting there.

- FULL APPLE WATCH SERIES 3 SUPPORT
- TRACKS AND STORES ALL YOUR RUNS AND RECORDS
- AUDIO GUIDED RUNNING WORKOUTS WITH NIKE COACHES AND ATHLETES
- PERSONALIZED COACHING PLANS FOR YOUR GOALS
- TROPHIES AND BADGES TO CELEBRATE YOUR ACHIEVEMENTS
- COMPETE ON LEADERBOARDS
- IN-RUN CHEERS FROM FRIENDS
- EASILY SHARE YOUR RUNS WITH YOUR FRIENDS

SUPPORTS APPLE WATCH and APPLE WATCH NIKE+
Get your perfect running partner—on your wrist. The Nike Run Club app supports all generations of Apple Watches, with a simple experience designed for the runner in motion.
Scroll down on the main screen to select a goal or start an Audio Guided Run with one of Nike's coaches and athletes. Swipe left to Settings to customize your run and turn on Cheers to receive cheers from friends while you run. And don't forget to check out the detail of your last few runs in Activity History. GPS support is only available on Series 2 and 3 Apple Watches.

TRACKS AND STORES ALL YOUR RUNS AND RECORDS
Get all the detail you need—pace, distance, GPS route, elevation, heart rate, and mile splits. Real-time audio feedback will keep you on track during your run.

AUDIO GUIDED RUNNING WORKOUTS WITH NIKE COACHES AND ATHLETES
Get guidance, motivation and inspiration directly through in-ear audio from Nike's coaches as well as elite athletes like Mo Farah and entertainers such as Kevin Hart. The workouts are designed to help runners improve strength, speed and endurance and have fun doing it. Additionally, intervals are automatically marked along the way so all you need to do is press start and go.  Each Audio Guided Run is paired with a specific playlist, so be sure to connect to Apple Music or Spotify to get the best experience.

PERSONALIZED COACHING PLANS ADAPT TO YOU
Whether you want to get started, get fitter, or get race-ready, Nike Coach has a plan for you. One that starts with your goals and fitness level, and adapts as you progress.

TROPHIES AND BADGES TO CELEBRATE YOUR ACHIEVEMENTS
Get motivated and earn trophies when you smash Personal Records like your fastest 5K or longest run. Challenge yourself to earn monthly milestone badges or see how long you can keep your running streak alive.

LEADERBOARDS LET YOU COMPARE AND COMPETE
Easily compare and compete with friends and fellow runners on the distance leaderboard

IN-RUN CHEERS FROM FRIENDS
A little support can go a long way. You can receive motivating in-run audio cheers from friends during your run to keep you going strong. And if you want to cheer your friends back, that's cool, too.

CUSTOMIZABLE POST-RUN SHARING WITH FRIENDS
Personalize your activity posts by adding photos, stats and stickers, then customize who sees it—your other social networks, or just your Nike friends.


This app includes Nike stickers you can use in the app and on iMessage to share with friends. You can find the iMessage stickers in the iMessage app store by searching for NRC. By downloading the app, you agree that Nike provides these stickers for you to use only for that purpose. Nike may revoke this permission at any time.

Nike Run Club integrates with the Apple Health app to sync your workouts and record heart-rate data.

Please note that continued use of GPS running in the background can dramatically decrease battery life.
Reviews
Best App Ever!
This year is a huge transformation for me and an amazing new life style that I'm enjoying! This app has done wonders for me! Plus Nike shoes is the only shoes I love working out in and running in! Thank you mike for being amazing in all areas! ❤️
Used to be solid
I loved this app when it came out but now it keeps crashing on my long runs. If I go over 10 miles, the pause feature causes the app to crash.
Mejorar Iwatch
No se comunican de forma fácil el teléfono y el iwatch, debería ser más intuitiva.
Disappointed Returning User
I was all set for a run today after taking a long break, due to injury. I pressed start and the NIKE app began to involuntarily pause and resume, causing several inaccuracies and frustration. Like other runners, I too rely on the most accurate readings to manage my progression towards my running goals. This app use to be user friendly and motivating. Now, there are to many buttons/options which are somewhat unnecessary. Love the coach option though... this new addition gets 4 stars. Simple is better! Thanks
Great app!
Coaching is awesome. The guided runs rock and have a wide variety to choose from. All features A++ It would be nice if the app would continue to log your run after the guided run stops. A lot of times I still have a mile or so to go after doing the guided run and the app just shuts down rather than logging the miles.
Pretty good
I like the fundamentals of the Nike app pretty well. I like the way it keeps track of how fast I'm running and keeps a tally of the miles over time. I have an iPhone 6 and it uses the battery awfully fast, so that I have to make sure my phone is really fully charged before I go for short run.
Frustration
Lumpaladamous & Monkeyman
on
1/21/2018
App kept stalling, pausing, stopping. As a result, I don't know what my true mileage was and I had to keep restarting.
Cumulative time?
It doesn't show the cumulative time!!!!!!
App Acts Up
TimAnnaKidwell
on
1/21/2018
It never pulls up on my Apple Watch and just now during my run it shuts off and now I don't know my time! This isn't the first time this has happened! Too many errors! Please fix!
Muito bom
Gosto do app pelo tipo de informações que ele proporciona, como comparação de pace x altitude. Porém o app não é nem um pouco pratico quando se tenta localizar amigos. É praticamente impossível.
Worst ever
It doesn't stop with one trick on it, you gonna have to hold the button. On the top of that it does not show you correct distance. I tried it for a month before I wrote this review.
Awesome
Loving the guided runs! Please keep them coming, they've been a tremendous help in my progress! Thanks, Eric D.
Indoor runs
PR are not accurate on treadmill it shows slower rate than treadmill itself. Any ideas
Can't even change settings, runs start on their own
I downloaded this today and I'm not able to get to settings. Click on button for settings and nothing happens. Then I'm sitting here with phone beside me and NRC just started a run all by itself. Huh? DELETE.
Watch App is Embarrasing
The iPhone app works great, but the watch app is still downright embarrassing. This is supposed to be the most interpreted running app out there with the whole Apple-Nike partnership, and yet runs initiated on the watch take HOURS to transfer and sometimes just get lost between the watch and the phone. That's just unacceptable. The watch app is slow, buggy, and frequently unresponsive. Flop.
Treadmill
Joy's New Laptop
on
1/20/2018
Don't rely on this app if you are using a treadmill and are a serious runner. The stupidity of the programming is shocking. It doesn't account for the reduced arm movement for runners. If you're a jogger and move your arms a lot...it might actually capture distance appropriately. For me, it loses about a mile for every hour at 7 mph and gets worse the faster I run.
laggy af
This app is always lagging so much. It's extremely hard to scroll through the feed, leaderboard, and friends list (also too hard to unadd people or block them). Also, for even novice runners it's normal to run 3 times a week, there shouldn't be "participation awards". It's super annoying to have the "new achievements" notification and then click and see that instead of a PR, it's because you ran 3 days in a week! Well of course I did, it's called not being lazy. At least, there should be a way to toggle those achievements on/off. AND don't get me started on the 43 notifications from friends saying they went on a run. There should be a way to toggle those on the receiver's end too. For the sake of everyone else, I have my runs go "unnotified". Other than that, everything else is okay, the UI is excellent.
Solid, but needs improvement.
I'd like to transfer the runs from My Coach from my phone to my watch, so that I don't have to take my phone for guided runs.
Saving run
Any word on when app issues will be fixed? I like using the app but you guys need to fix issues like saving runs, delays at beginning of runs and recalling history info to name a few😖🤨
Es una aplicación muy buena
la prosperidad
on
1/20/2018
Yo ciento que es una aplicación muy buena que te alienta a ir más allá de tus desafíos y a lograr lo mejor de cada uno
Watch app needs work
I love the iPhone version but it won't read my HR from my Apple Watch and when I try to do a run on my watch it takes a few tries to actually start a guided run. I love the platform but I just wish it worked consistently
No external heart rate monitor support on Apple Watch
Jason Pruitt
on
1/20/2018
No external heart rate monitor support on Apple Watch. Very lame
Amazing app
It is an amazing app. Record your distance, pace, time, and have great workouts to practice and become a better runner.
Nike please fix your laggy app!
Love the design of the app but I've just about given up on it due to the severe lag. I've got the newest Nike branded Apple Watch with the latest OS and the latest version of Nike's own app barely works. Half the time it crashes on opening. If I can actually get it to start a run, it has behaved well for me during the run but then once I've ended the workout and am on the summary screen it takes 20-30 seconds for any button to respond. Come on Nike, just do it and fix your slow, laggy app!
Crashes. Crashes
Never stops crashing!
HR still not working
I am running Nike RC on an Apple Watch 7. I have a schoche rhythm BT HR monitor. My phone and Watch are both connected. I have selected HR as shareable data in privacy settings but it still won't show on the NRC screen.
Challenges
I really wish you would bring back the challenges
Challenges > Hashtags...
My family/friends and I, people I ACTUALLY know used to do challenges together but apparently that's not a thing anymore? Everyone has their settings on sharing but it's sporadic, if it shows up at all, that you get to see someone's run...I'd like to cheer on friends/fam consistently but the app seems super buggy. Personal coach/gps is great but please fix the other issues...
Tired of this app getting worse and worse
I used this app religiously 5-6 years ago and every time I use it I find my experience worse and worse. Thank GOD I have a Fitbit to actually track things. The interface with Spotify is awful and made for a frustrating experience while I was trying to run. Since I was using a treadmill I didn't hold my phone and it kept pausing even though it was set on treadmill. I just wish I could have to original app back...
Great App Except for one issue
So far just about everything about this app is great however, there was an issue I ran into. When you set up a plan to do specific runs to get you on track the right way there are benchmark runs to set the pace. The benchmark is guided so you know when to run warmup then benchmark then recovery. But I couldn't get the benchmark working on my  watch and I don't bring my phone with me on runs so I had to start the run on my phone and as I ran out of range the benchmark run turning into a quick run with a time set for 15 mins. Nike if you can set it up so I can run the coaching section on my watch that would make this app 5 stars.
Coach Bennet is everything
Guided Runs are everything you want and need. I hear #Coachbennet in my head before I hit start. Got my winter run program back on track.
Kevin Hart yells at me and I move
I love how comedic he is and he distracts me from the pain I feel when I want to give up. Please have him do more! I love it thank you!
Needs more work
The app sometimes bugs out, especially when I'm listening to a guided coaches program. Today was running and I was doing the Comeback coached run, a 15 min benchmark run and the speaker stopped talking after 7 min. Was confused but didn't want to stop running. Not sure if my data is getting saved right, since a day before my app also crashed on another guided run. I was using my iPhone X and my Apple Watch 3, and it seems like I need both devices to get the app to track my data.
5.11.2 still crashing!
Still crashing when attempting to complete most runs. App tries to reboot several times and then resumes runs with the elapsed time since crashing added while you're standing still pressing on the watch face, slowing the average pace. When you have to manually edit the runs, you lose mile splits and other run data. Sometimes runs will sync with ~.25 miles added to or subtracted from routes which makes the pace wonky. Please test and fix the bugs for AW2 Nike+ Edition users. Not stable yet. It has been a laggy, buggy, crashing mess since October!
Good Starter App, Would Like Improved Features
Sososupercool
on
1/18/2018
I used this app to get started running, and it works well for my beginner needs (I've gone up to 10k). Issues that bother me with the coaching plans: -It always schedules their training app every week. I don't like that it's a forced thing, I tricked it and use that scheduled "workout" as a rest day, but I wish I could change it. -there's no way to mark the NTC workout as completed. I know it's silly, but it bothers me that it says I never complete a week because of that workout (even when I do the workout, it doesn't check it off). -I would like a plan that is focused on increasing speed. You can increase distance easily but nothing to help with speed increase. -it doesn't give you any stats on your benchmark runs, or whether or not you improved since the last one. For a free app, this works great. I really like the coaching plan feature and it keeps me going for runs, I just wish I could customize them more, or schedule my own plans.
Horrible interface with Garmin Connect
The interface with garmin connect is really bad, it doesn't translate any of the runs
I like it
I like the app. It's perfect for keeping track of runs. I wish it had a different setting to log walks. That way it wouldn't impact your pace. I both run and walk.
Great Coach
I feel great when it pushes me. It is great for beginners or for people like me who want their old self back.
I'd give it 0 stars if I could
trinketTrinCate
on
1/18/2018
This literally is the worst fitness app. I've tried it many times, and it never works. Fun detail though... it DOES wake me up at 2am to loudly announce 'CONTINUING WORKOUT'! - even when I CLOSE THE APP. That's a fun detail. Done with you Nike. Take a lesson from pretty much ANY other fitness app out there... you aren't doing your job. Pitiful.
Keeps crashing
The app worked fine until I got a new iPhone. I am running g iOS 11.2.2 And watch OS 4.2. the app on the watch tells me to set my watch up through the phone app, when I open the phone app it doesn't get past the start screen and just crashes... Needs to be fixed, I don't like apples native exercise app.
I want to give this a five so bad!
I would love to give it a five however I mainly use this app through my watch and it doesn't allow you to do your workout plan only the guided runs. Please make it possible. Thanks
App got terrible. Forces you to register
App got worse over time. Now it forces you to register and give them your email account. I'm done. Deleted. Do not use.
Almost 1K Miles
I've run almost one thousand miles! What a great app to track my miles.
Extremely unstable and buggy on Apple Watch
Two problems have consistently shown up on the NRC app on my series 2 watch after updates since last year: 1st, the app fails to record GPS data during my runs, so in the post run screen and my NRC app on my phone all I have is run data and no route map. 2nd, the app crashes both when opening it and after ending a workout. I'm growing extremely impatient. Fix both of these problems please.
Love, but having a huge problem
I bought and iPhone X and it will no longer setup with my Apple Watch. It just stays in the setup mode even after going through the process numerous times. I've reset my watch did multiple installs of the app and it just doesn't work.
Ugh use this app everyday
I love the Nike Running Club App! It's very helpful and perfect for runners or people trying to be motivated to become runners. Highly recommend.
Awesome app
Been using the app as a tool and it helps with staying the course even when you slack off. You can also see where you slacked. I also like challenging other friends to see who can clock in the most miles by week, months, and years
Best Running App Ever and FREEEEE
I love that this app isn't full of in-app purchase barriers. It feels genuinely concerned for my running improvement. Please don't ever lock workouts to make money. Please just keep caring about me as a runner. I am an accomplished runner and competitor but still love the Coached training runs. Pair this with the Apple Watch activity app and your life will be complete. THANK YOU NIKE.
Fun Run App
This app has really helped me get back into running. It motivates me so much and I love the messages from the coaches at the end of my run.
Fact Sheet
Publisher:

Nike, Inc

Category:

Health & Fitness

Released:

Sep 06, 2010

Current Version Released:

Dec 18, 2017

Version:

5.11.2

Size:

195.7 MB

Compatibility:

Requires iOS 10.0 or later.

Recommended Age:

4+

Game Center Certified:

No

Supported Languages:

Dutch; Flemish; English; French; German; Indonesian; Italian; Japanese; Korean; Portuguese; Russian; Chinese; Spanish; Castilian; Swedish; Thai; Chinese; Turkish;