This version of the app is not recommended
App last updated
Feb 28, 2018
Screenshots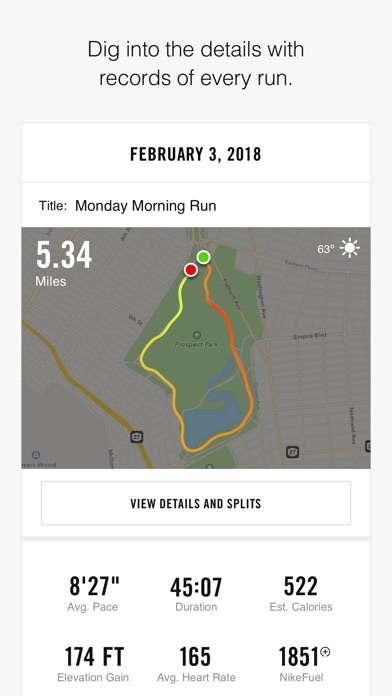 New in version 5.13.1
Here's what's new with this update:
 
PHONE
- Introducing Challenges. Stay motivated and push yourself to run 15K (9 Miles) per week or 50K (31 Miles) per month and see how you stack up against the global community of Nike runners. Exciting new Achievements can be earned with each Challenge. Also keep a look out for occasional special Nike Challenges! Get moving and join one today!
- General bug fixes and enhancements.
 
PRO-TIP: Check out our new Audio Guided Runs feature and experience a new and exciting way to run with NRC. Train with Nike's coaches and athletes in a series of audio-based running workouts.
 
APPLE WATCH
- General bug fixes and enhancements.
 
PRO-TIPS:
- To see your heart rate during your run, swipe left on your Watch and turn on 'All Metrics'.
- Audio Guided Runs is also available on your Apple Watch. Scroll down below the START button to access them and experience a game-changing way to run.
 
IMPORTANT: You need to authorize NRC to access Motion and Fitness Activity in order to track a run.
 
For the best results on Apple Watch, we recommend using watchOS 4.2 or above.
Description
Your Perfect Running Partner - Nike Run Club
Nike Run Club gives you everything you need to run better and more often-including GPS tracking of your run, audio guided running workouts, weekly and monthly distance challenges to keep you motivated, customized coaching plans that fit your goals and adapt to your progress, and nonstop motivation from your friends. In short: We'll help you reach your goals and have more fun getting there.

- FULL APPLE WATCH SERIES 3 SUPPORT
- TRACKS AND STORES ALL YOUR RUNS AND RECORDS
- AUDIO GUIDED RUNNING WORKOUTS WITH NIKE COACHES AND ATHLETES
- JOIN WEEKLY AND MONTHLY DISTANCE CHALLENGES TO KEEP YOU MOTIVATED AND MOVING
- PERSONALIZED COACHING PLANS FOR YOUR GOALS
- TROPHIES AND BADGES TO CELEBRATE YOUR ACHIEVEMENTS
- COMPETE ON LEADERBOARDS
- IN-RUN CHEERS FROM FRIENDS
- EASILY SHARE YOUR RUNS WITH YOUR FRIENDS

SUPPORTS APPLE WATCH and APPLE WATCH NIKE+
Get your perfect running partner-on your wrist. The Nike Run Club app supports all generations of Apple Watches, with a simple experience designed for the runner in motion.
Scroll down on the main screen to select a goal or start an Audio Guided Run with one of Nike's coaches and athletes. Swipe left to Settings to customize your run and turn on Cheers to receive cheers from friends while you run. And don't forget to check out the detail of your last few runs in Activity History. GPS support is only available on Series 2 and 3 Apple Watches.

TRACKS AND STORES ALL YOUR RUNS AND RECORDS
Get all the detail you need-pace, distance, GPS route, elevation, heart rate, and mile splits. Real-time audio feedback will keep you on track during your run.

AUDIO GUIDED RUNNING WORKOUTS WITH NIKE COACHES AND ATHLETES
Get guidance, motivation and inspiration directly through in-ear audio from Nike's coaches as well as elite athletes like Mo Farah and entertainers such as Kevin Hart. The workouts are designed to help runners improve strength, speed and endurance and have fun doing it. Additionally, intervals are automatically marked along the way so all you need to do is press start and go. Each run is paired with a specific playlist, so be sure to connect to Apple Music or Spotify to get the best experience.

CHALLENGES TO KEEP YOU MOTIVATED
Join the Nike global community of runners in weekly and monthly distance challenges made to keep you motivated and moving. Reach goals, earn achievements, and go the distance.

PERSONALIZED COACHING PLANS ADAPT TO YOU
Whether you want to get started, get fitter, or get race-ready, Nike Coach has a plan for you. One that starts with your goals and fitness level, and adapts as you progress.

TROPHIES AND BADGES TO CELEBRATE YOUR ACHIEVEMENTS
Get motivated and earn trophies when you smash Personal Records like your fastest 5K or longest run. Challenge yourself to earn monthly milestone badges or see how long you can keep your running streak alive.

LEADERBOARDS LET YOU COMPARE AND COMPETE
Easily compare and compete with friends on the distance leaderboard

IN-RUN CHEERS FROM FRIENDS
A little support can go a long way. You can receive motivating in-run audio cheers from friends during your run to keep you going strong. And if you want to cheer your friends back, that's cool, too.

CUSTOMIZABLE POST-RUN SHARING WITH FRIENDS
Personalize your activity posts by adding photos, stats and stickers, then customize who sees it-your other social networks, or just your Nike friends.


This app includes Nike stickers you can use in the app and on iMessage to share with friends. You can find the iMessage stickers in the iMessage app store by searching for NRC. By downloading the app, you agree that Nike provides these stickers for you to use only for that purpose. Nike may revoke this permission at any time.

Nike Run Club integrates with the Apple Health app to sync your workouts and record heart-rate data.

Please note that continued use of GPS running in the background can dramatically decrease battery life.
Reviews
App won't open
Updated app and iOS but still app won't open. Kinda crappy app imo. I'm going to UA running app or bare bones Apple health.
Watch app is very buggy...
First, you can't download the "my coach" runs to the watch so you will need to carry your phone with you if you're working through one of Nike's custom programs. That was a BIG disappointment!!! A simple enhancement to the above problem would be to at least allow me to start and stop the program from my watch instead of having to use my phone while it's attached to my arm. That's also a big NO! Lastly, the least you could do is to ensure the watch and phone are synced but that too is a big NO! I finished my 1 mike run and the phone told me I was complete with the program but my watch still showed only .56 miles. It was stuck on .36 forever. It's rather inconvenient to have to look at my phone on my arm while I'm running to see my progress. For a company that has their names stamped on the Apple Watch, I expected more quality control on the tech side. Lot of work to do unfortunately.
Run with Apple Watch
The app do not show the correct distance during the indoor run.
Disappointed
marathonforlife
on
3/23/2018
Have been a user for years; however the new update has removed basic functions that make this app no longer usable as a runner. It tells me how many meters I have run, regardless if I have settings on imperial or metric. It never rolls over into mikes nor km either, once set. This is simply not helpful info as a long-distance runner. I'm not running in short spurts where meters alone is relevant. You also can't set the feedback to let you know when you've reached a half mile or km: again, not helpful nor user friendly. Lastly, none of my mileage was carried over after the update so it appears I am starting fresh. Since I have to anyway, I will do so with a new app. Decided to delete.
Can't share my runs on social media
Impossible to share my runs on social media. App crashes when adding run data to picture or poster.
Pretty cool app!
intrinsikink
on
3/22/2018
basically this app is pretty cool. It's free, it tracks everything, and works great. It'll even bring back your stats after deletion if you create an account with it. the only reason for not giving it five stars is because for some reason the Apple Watch heart rate tracker doesn't get picked up on my runs. I researched and researched and researched for a solution and still can't get it to work properly. My work around was to install the Nike run app on my Apple Watch and start my run off the watch. But other than that the app works great!
Eh, decent but needs some work.
The most recent update now caused my benchmark runs to crash today...twice. Maddening to say the least. My music randomly stops after about 3 minutes. Again, maddening. I cannot for the life of me figure out how to consistently start a run on my phone and have it show on my Apple Watch and track HR. Sometimes it does, sometimes it doesn't but I'm doing the same thing each time. I love the guided runs, and I would love to see a guided run series that helps a runner establish good breathing. I like the training plans in general and how it gives me flexibility, but it would be nice if I could the end date of my training plan without having to end the plan I'm on and start completely over again. Goals change all the time and we need to be able to make the plan adaptable.
Cheers doesn't work
For a while now, I don't hear the cheering when someone likes my Nike Run Facebook post, but people have definitely been liking my posts during my runs. Please fix this!! Also, I miss hearing famous athletes give me an attagirl message at the end. I've heard from Mo Farrah a few times, but usually it's some unknown "coach" - not as fun. 😕
Back to crashing...
...but not every single run, at least. UPDATE: Four mangled runs in a row after showing some stability improvement with the new update. What is going on with this app? 5.13.1 - Upping my rating for now (temporarily 3 stars), seems to be getting better. 5.12.1 - Another messed up route map on the first run. 5.12.0 - So far, not so good! Two runs since updating and completely reinstalling watch app. One generated a map that looked like I transcended time & space, and one crashed when completing & showed up in the history with .4 miles missing. 5.11.2 - Still crashing when attempting to complete most runs. App tries to reboot several times and then resumes runs with the elapsed time since crashing added while you're standing still pressing on the watch face, slowing the average pace. When you have to manually edit the runs, you lose mile splits and other run data. Sometimes runs will sync with ~.25 miles added to or subtracted from routes which makes the pace wonky. Please test and fix the bugs for AW2 Nike+ Edition users. It has been a laggy, buggy, crashing mess since October!
Want to like it
I used to use Map My Run but switched over to Nike+run app bc I use Nike's other app and I like so thought I'd give it a try. 1) volume of music is wonky (either too low or too high) on guided runs; 2) I just run - no race, and I don't really want speed work out but there's not a lot of guided runs (30-45 min) for that type; 3) the training thing - I don't understand why you can't select a start date like you can in Nike's other app? It appears that if you want to start a training plan that you need to do it the day you want to start. I'll give it a little more time but thinking about switching back to MMR
Nike
I wish you guys would make it so we can set a goal for like the month, year etc. that keeps up with it so we can track it daily.
Good
It's great but the developer or Apple could make it so you get the free Nike + faces if you have the app signed in 😄👍
Issue with apple watch
Safsaf sooofa
on
3/22/2018
No need to talk about you everything good Just i hav issue with apple watch the heart beats are delay to showing and sometimes go over 210 bpm or its higher than I measured in the treadmill ((when I'm running with apple workout , its sounds real to me))
Gone down hill
Crashes when I try to use the photo function and can't post/share route. Also doesn't sync w/Pandora. I used to enjoy this app. Now I just tolerate it.
Great coaching!
Folding lover
on
3/22/2018
I really love this app for the fact that it has a training program that molds to your skill/pace however I wish it was more customizable. I wish I could pause the program for a week when I'm say, going on vacation and won't be able to run instead of having to start the whole program over. It would be great if I could also mark that I've done one of the training sessions through the Nike Training app when I did my own separate workout outside of the app.
Doesnt work
Phoneeeeee90
on
3/22/2018
When I'm at the gym, it wont get the running for the treadmill. I run 4 miles and it only gets on the app 0.1 mile
Nike cross marketing
Anonymous player twenty
on
3/21/2018
I've used the Nike run app for years, but now when I create a run plan it incorporates the Nike train app too. As far as I know, you can't opt out of this. I would like to have the option to participate in the Nike train app or not while using this app
Needs some easy customizable updates...
I've been using Nike+ for almost 10 years. I love it and want to love it. I used the coach about three years ago and ran my fastest half. I'm trying to use it now and it's so hard to use. I can move my long run to a different week so it's on Tuesdays and I want it on Saturdays (prior) but can't move it. You should be able to pick which day for long run at set-up. Then I did a strength training workout but it won't let me manually add to coach tracking. I add to NTC app and still won't sync. Finally, I use Apple Watch and for some reason a run over weekend didn't sync. When it did sync, I couldn't apply it to the correct day bc it was the prior week in schedule. Silly things like that should be much easier! Tip. Always always make sure you are on latest version and restart phone if you haven't used app in awhile. I always have glitches my first few runs if I haven't used in awhile. But do love it when everything is going smoothly!
Excelente aplicación
Manuel Alfonzo
on
3/21/2018
Muy contento de verdad más bien falta de mi parte ponerle más ganas al entrenamiento
Nike+
Running isn't fun, unless you have NIKE+
Steaming pile of horse crap
If you think the iPhone app is slow and laggy, then the watch app might seem so slow as to actually move backwards. I liked the running plans, but the apps are impossible to use and only get worse with each update. Just tried to do a benchmark run, and the app would crash and begin a speed workout. Nike owes me my evening back.
La app para el Apple Watch es un desastre
Muy incompleta, no se sincroniza bien con los plantes de entrenamiento, y directamente en el Apple Watch la sección "mi entrenamiento" no existe, imposible de emparejar las carreras q te dice de hacer.. en fin una app hecha por la mitad.
Great app
Kovu12345678910
on
3/21/2018
Gets me moving keep me going and feeing great
Ok, graphs aren't great
No y axis on pace, responds slowly to speed changes, seems to log data points infrequently. At least you can access old runs for free
Good app
The only I want is the ability for the app to tell me all 800m times and be able to pick my split distance readout to me
Guided Runs!
I'm a pretty novice runner and running can get kinda boring for me until I started with the guided runs! I never knew there could be other objectives to a run than just for a long and hard as you can. Speed runs, recovery runs, story telling! I love them. Now I don't wanna run without listening to one! I'm currently running longer and more frequently than I ever have. Thanks Nike, please keep them coming!
Great app and it keeps getting better
I've Been using this app for years. My only complaint is that I would like to turn off the random taking on the guided runs. It's very counterproductive to having a good run.
Great just one minor change
I just wish the notifications when you stop and start running were just a beep and a bop. When I'm picking up litter it's quite annoying
Need coach on Apple Watch!
I love this app but the one thing missing is the ability to access the coach training plans on the watch. When I run, I do not take my phone with me but I would love to follow the customized running plans!
Bugsss
So many bugs! The quantity of times it crashes is ridiculous
Not working properly
App keeps crashing every time I try to upload a picture. Or it takes forever to load. I had to delete it and download it again same thing nothing has changed please fix it
Feedback
Need a way to eliminate the final encouraging final feedback. Just want to hear the facts and not someone telling me way to go it's not how you finish by you did it or something like that
Great running partner
wheresmytiara
on
3/19/2018
Sometimes has a bit of a lag in reactive time between stoos and starts but otherwise great.
Terrible
What happened Nike? This app is terrible. It won't even connect to a server.
Start and stop
This apps used to be great but the app starts and stops while I'm running which makes my workout inaccurate 😡😡😡😡
Good When It Works
Scotttttyyyyy
on
3/19/2018
I love how this app works with my Apple Watch and connects my workouts. But the app itself is super laggy. I don't get how this is happening to everyone when this should be a staple of the watch. Very disappointed.
All the time!
Use it all the time. Like the push from celebs.
trash
whyarenicknameguidlinesstrict
on
3/19/2018
I tried using the app while on an hour run, but the app destroys your battery and my phone died within 15 minutes. Thank you for nothing.
Love This App
Geez, nickname nazis.
on
3/19/2018
Love this app, especially all the little rewards and stuff, but I wish it could be merged with the training app. I hate having to go to more than one app to keep track of fitness stuff, plus the running app wouldn't let me have a training program because I already had a training program going in the NTC app. That's what it said, at least. Also, when I break a personal record I would love it if I could click on my little reward and see what my previous records were for that distance so I could see amount and rate of progress, etc. Thanks Nike, for this and the training app, even though I wish they weren't separate. Assuming your point is to sell Nike stuff, it's working on me, at least. If I need something I now look at Nike stuff first, while greedy apps like underarmor have turned me against their entire product line completely.
buggy & unreliable
i want to like his app so bad, but occasionally after i complete a run it decides to not record it, which is bonkers. sometimes it knows exactly how long i've ran for, but then mysteriously doesn't map the course. it's the most frustrating thing in the world to not have your long hard efforts recorded, and that's why i'm switching back to strava.
Map
Sometimes works. Mostly doesn't
Nike run app
Mac aka john brother
on
3/19/2018
Awesome 5⭐️⭐️⭐️⭐️⭐️ a must have for everybody who likes to run,walk,track steps,etc just give it a try can't go wrong
Fake Challenges
I understand the point of these changes but if Nike keeps allowing manual entry of miles there are users faking their mileage. The world record for miles in one day is 188 some how multiple users smash this record every week. Silliness.
Not the best
Super upset that the app deleted my farthest run ( a marathon) and I cannot even find that run anymore on the app. A part from that, the app has a lag when toggling through its functions.
Can we view shorter splits?
The app is not straight forward. I feel like there are some obvious features every running app has that I can't access. How do you view 1/2, 1/4, etc. mile splits? I can't figure it out. If they're not an option, why?
#PovetkinaRun
I've tried many different sports applications for running, but for me NikeRun is the best and most convenient, with my motivations, promotions and victories
Music controls??
Apple Watch music controls? Don't suppose we could get some? After all I do have a Nike Apple Watch with this app baked in and I have Apple Music. I'd like to get my $ worth on both. Just saying. Please stop turning auto pause on every time I launch the app on my watch. I want it off forever!! Did I mention music controls?!? I want that $h!t
Very good coach for running
Makes me run everyday
An amazing app
Just an almost perfect to as a runner. Currently running in the Nike Epic React Flyknit. Also my first review I've ever written on an iPhone, and my first iPhone was the 4. That's lets you know wassup.
Fact Sheet
Publisher:

Nike, Inc

Category:

Health & Fitness

Released:

Sep 06, 2010

Current Version Released:

Feb 28, 2018

Version:

5.13.1

Size:

208 MB

Compatibility:

Requires iOS 10.0 or later.

Recommended Age:

4+

Game Center Certified:

No

Supported Languages:

Dutch; Flemish; English; French; German; Indonesian; Italian; Japanese; Korean; Portuguese; Russian; Chinese; Spanish; Castilian; Swedish; Thai; Chinese; Turkish;