Screenshots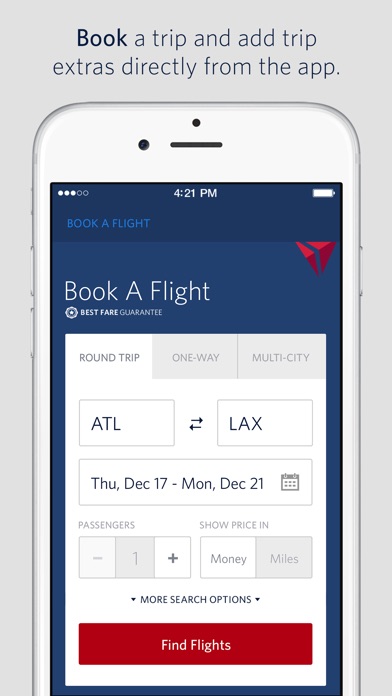 New in version 4.6
What's New in Version 4.6:
• We've eliminated the check-in process. Your boarding pass will automatically appear 24 hours before your flight
• For multiple trips on the same day, you can now toggle between trips in Today
• We've added the ability to enroll in SkyMiles® directly from the app
• Bug fixes
Description
Welcome to Fly Delta, Delta's award winning iPhone app. With a redesigned Today screen which provides quick access to your eBoarding pass and other important day-of-travel information, Fly Delta makes travel easier than ever before.

• Enroll in Delta's SkyMiles® program and earn miles every time you travel
• Find, compare and book Domestic and International flights
• Book SkyMiles award tickets
• Purchase Delta Comfort+™ and Trip Extras, including in-flight Wi-Fi, Priority Boarding and more
• Reserve Preferred Seats like bulkhead and aisle
• Rebook cancelled flights or missed connections
• Manage your trips, profile and customize your travel preferences
• Check your SkyMiles account balance and current Medallion® status
• Check in, view your eBoarding Pass and add it to Apple Wallet
• Pay for checked bags and track their location
• Check the latest flight status and receive flight and gate change notifications
• Save a photo to remember your parking spot
• Check your status on the upgrade or standby list
• View or change your seat
• Locate Delta Sky Club® lounges
• View interactive airport maps, public transportation details and weather information
• Get detailed info about our fleet and partners
• Map flights en route with an interactive flight tracker
• "Today" gathers everything you need for your day of travel into one convenient place
• "Feed" ensures you always have the latest flight updates, gate changes and more
• View countdown to departure and arrival along with gate and baggage carousel information on Apple Watch

The Fly Delta app for iPhone and delta.com are always free to use on Delta's Wi-Fi-enabled flights. Visit delta.com/app for more information.
Reviews
Facile da usare/utile a cliente con buon servizo
Tutto quel che dico ci rimasta in titolo. Facile da compiere ed utile in ogni momento di viaggio su Delta. Maggiore informazione sempre disponibile ai vostri diti ed avviso/allarme quando qualcosa è cambiato. Anche piacevolezza data per utilizzare il codice di bordo.
Excellent app
Valle-Ramos
on
10/16/2017
I like delta app...very nice and easy to use
Best mobile app in the air travel business
Jeffy Doodles
on
10/16/2017
Graceful workflows for complex transactions. Love it!
Good APP
ChrisKing70
on
10/16/2017
Easy to use user interface
Constantly checks me out
It checks me out and I have to recheck in constantly
Buggy
Phillip's Comment
on
10/16/2017
I am unable to check in to my follow on flights. When we were rebooked coming in, I could not get a new boarding pass.
So helpful
Dreamery Films
on
10/16/2017
The ability to track your bags, change seats and not need a paper boarding pass is pretty awesome. I just wish all these features worked internationally on an "operated by" flight as well. I hate flying without it!
Middle Seat
I am 6' with wide shoulders. I would rather sit in a window or aisle seat in economy than sit in a middle seat in Comfort. Please allow me to opt out of automatic upgrade to a middle seat and to select a seat in economy without taking me completely out of the upgrade option if I choose not to sit in a middle comfort seat.
Auto check works half the time / Watch app useless
Auto checked in for my first flight. Second flight wasn't checked in. Had to manually check in to my second flight, add bags, etc. Needs refinement. Changes, delays, notifications are inconsistent. Same day changes do not update the app, so it then becomes completely useless Also, Apple Watch app still completely useless.
Good for boarding passes
Captainluc78
on
10/15/2017
The app is good for boarding passes and has some limitations like getting gate information timely, delays, etc.
Customer Loyalty
You're continually changing your Rewards qualifications has left this Loyal Diamond Medallion Business traveler with no motivation to remain loyal any longer as it will be in mine any many other travelers to work in 2018 Status with another carrier, for 2019.
Lost my flight info :(
Worked well before they (fixed) it up. Now my flights that were booked months ago have disappeared. Beware about "upgrading" if you have pending trips. Major headache. Also, the car rental page does not work.
Love App, except one new change
I adore the Delta app since a long time now, but I do not like that the new update automatically checks you in when the app is opened rather than allowing me to do it on my own. I prefer to check all my details before checking in & sometimes I need to change my flight, which can be problematic at times, if I'm already checked in to another flight. Please remove this automatic check-in feature and let us go back to Checking-in on our own, by pressing the Check-in button as done before.
Seats and baggage
Almost every time I've flown with delta, I've been asked to check my baggage because the flight is full and there isn't enough room. Well, I think you should allow a free bag to every passenger knowing that you'll need to check more bags instead of asking people who packed less to carry on their bag to check their bag when they could've brought a larger bag if they'd known it was going to be checked anyway. In addition, I don't understand why you're not allowing passengers to pre-select their seats. When we check in at the gate, often there aren't even enough seats for the number of passengers on that flight. It would make more sense that you know ahead of time how many seats are available and need to be filled. In my opinion, you're putting making money ahead of customer satisfaction, because I don't enjoy flying delta any longer and fly other airlines if I have the choice.
Huge mistake
The new check in and seat assignment process is ridiculous. What are you doing?
Excellent App!
Nightwing1701
on
10/15/2017
The Delta app has become my go-to and integral traveling app. I fly all over the place due to my work and keeping track of my itineraries, checking-in, receiving alerts, changing flights, and keeping track of my miles is all made easy by this user friendly and very helpful app.
Convenient
Livlightray
on
10/15/2017
This is a necessity for Delta travelers. The interface is user friendly. The only issue is I've requested complimentary upgrades on flights prior to checking in on the app only to find I was removed later. I'm not sure if this is a glitch in the app or if it's the system in general.
Great App To Travel!
Delta's travel app is amazjng!
People make the difference!
RunningGirlCO
on
10/15/2017
Delta staff are amazing!
Great!!!!
Sweet Stuff 101
on
10/15/2017
Always use when traveling for work they are always really good at flight changes and always help me out great customer service!!!
Best App I Use!
Jason & Beth
on
10/15/2017
This app is very handy and reliable. I have not trouble with it. Makes 140 flights a year a breeze.
Good and fluent
Enough information and better thought flow to be followed. Maybe the income flight info could be added? Like registration number, aircraft from where and the status(landed, at gate, etc.)
John Roberts
I find the Delta system of checking in, tracking and related services work very nicely. Customer service seems to be working very well!
Multiple Skymiles Accounts
New update seems to have lost ability to retain multiple accounts... now I have to enter each account number and password on login. Can this be fixed? It sure makes it easier! Otherwise good app, but removing one star for lost utility.
Add permanent resident info - support this use case
Allow for permanent residents of the US to fill and save their information / and don't ask for a return date ... Can't check in using your app - because it's asking for a date leaving the US.
Passport scanner
Camera function to scan passport is messed up. Some kind of mirror reversal or something.
Won't stop asking me to review the app
Just what the title says, every 5 minute the app asks you to rate the app. Either you have to rate it or the request to rate pops 5 minutes later… so here you go, you're rated.
Deleted... since ill never fly with them again
jassycrussin
on
10/14/2017
Horrible air line, decent app, doesn't change the fact they have no customer service and its a garbage airline.
Step in the right direction!
The delta app just used to be a place where you could do minor modifications to your drip or even book a flight. Now the app has so much potential and the stability is light years where it used to be! Keep it going!!
4.6 unacceptable
Downloaded 4.6. You are now automatically checked in if you log in 24 hrs prior to flight. No way to opt out. Unacceptable to me. Also cannot save multiple accounts on log in screen anymore. Not good. Will reload old version.
Great app
Thegodgifted
on
10/13/2017
All possible features in the app ! Awesome
Delayed
Flight was delayed twice.
Use the app
I use the app all the time. It helps me keep up with flight times and gates. I wish it would update the gate information quicker sometimes I have to ask about my gate information so I can be sure to get to my connecting flight gate on time. Can you add Delta app to the the Apple Watch complications so I can have it on my home screen while I'm traveling.
Seat Options
I really enjoy this app! However it beyond annoying that you cannot see all of the open seats (no matter the cabin) when you look at the seat selection. Please open it up so we can see all of the available seats now matter if you are in first, comforts+ or coach. As a medallion member it would be nice to have to option of staying in my selected seat or taking an upgraded middle seat. As much as I love upgrades I do not necessarily want a middle seat.
Easy
Easy to use but for sanity sake put your boarding pass in your Apple Wallet... this way if there is a problem with ur internet you will still have it
Seat room???
Navigator Fred
on
10/13/2017
Still looking for the few extra inches that are advertised. Why not make the airplanes a little bigger, the seats a little wider, rows a little deeper, and especially the heads allot larger? Oh yea, they did the first thing but then added more rows of seats to the larger airplanes. Guess air travel will remain a cattle call that starts at the TSA coral.
Impressive!
Such wonderful new features! Auto check in is amazing!
Wonderful update
So convenient! Impressed with the new update!
Automatically check in
Subject says it all. This is massive in regards to cutting down on travel stress and ensuring your check in is done well before your mentally engaged to travel. Thank you for making this improvement!
Good Job Delta
I love Delta airlines, always there when I need assistance. Staff are very professional and friendly. Thank you Delta!!!
Fantastic app, but...
The latest update includes an automatic checkin feature. There needs to be a way to opt out of the auto-checkin. Please consider making a change soon
Mr. David Kochanowski
I love this app. And I only fly delta.
Keeps Getting Better
This is by far the best airline app out there (from the airline company). Keep it up Delta, quality products, services, and experiences are the reason I ONLY fly Delta!
Pretty slick
Momminallday
on
10/12/2017
Easy to navigate
Watch App needs Complication!
Great App! Needs Watch Complication
Best airline app for the best airline
Weathermomku
on
10/12/2017
Every upgrade you've made has made the app even better. Automatic check in with boarding pass is great!
No auto-check in!!!
I DO NOT want to be checked in automatically. A "on/off" option for the Delta app to do so would be fine, but the automatic 24 hr prior is unacceptable to me.
Today it was worthless
I use it several times a year, usually works well. But today, not good. I could not find my flight at all. It seemed to be stuck on next weeks trip. Finally got around that. Entered name and conf number, but it could not find it. zero stars today :(
PayPal / Apple Pay??
Why does Delta not allow these more secure forms of payment?
turn force updates off!
please turn forced updates off! this is a huge inconvenience and I should be the one to decide when/if I update or not!
Fact Sheet
Publisher:

Delta Air Lines, Inc

Category:

Travel

Released:

Sep 01, 2010

Current Version Released:

Oct 12, 2017

Version:

4.6

Size:

143.4 MB

Compatibility:

Requires iOS 9.0 or later.

Recommended Age:

4+

Game Center Certified:

No

Supported Devices:

iPad2Wifi-iPad2Wifi, iPad23G-iPad23G, iPhone4S-iPhone4S, iPadThirdGen-iPadThirdGen, iPadThirdGen4G-iPadThirdGen4G, iPhone5-iPhone5, iPodTouchFifthGen-iPodTouchFifthGen, iPadFourthGen-iPadFourthGen, iPadFourthGen4G-iPadFourthGen4G, iPadMini-iPadMini, iPadMini4G-iPadMini4G, iPhone5c-iPhone5c, iPhone5s-iPhone5s, iPadAir-iPadAir, iPadAirCellular-iPadAirCellular, iPadMiniRetina-iPadMiniRetina, iPadMiniRetinaCellular-iPadMiniRetinaCellular, iPhone6-iPhone6, iPhone6Plus-iPhone6Plus, iPadAir2-iPadAir2, iPadAir2Cellular-iPadAir2Cellular, iPadMini3-iPadMini3, iPadMini3Cellular-iPadMini3Cellular, iPodTouchSixthGen-iPodTouchSixthGen, iPhone6s-iPhone6s, iPhone6sPlus-iPhone6sPlus, iPadMini4-iPadMini4, iPadMini4Cellular-iPadMini4Cellular, iPadPro-iPadPro, iPadProCellular-iPadProCellular, iPadPro97-iPadPro97, iPadPro97Cellular-iPadPro97Cellular, iPhoneSE-iPhoneSE, iPhone7-iPhone7, iPhone7Plus-iPhone7Plus, iPad611-iPad611, iPad612-iPad612, iPad71-iPad71, iPad72-iPad72, iPad73-iPad73, iPad74-iPad74, iPhone8-iPhone8, iPhone8Plus-iPhone8Plus, iPhoneX-iPhoneX,

Supported Languages:

English;