Screenshots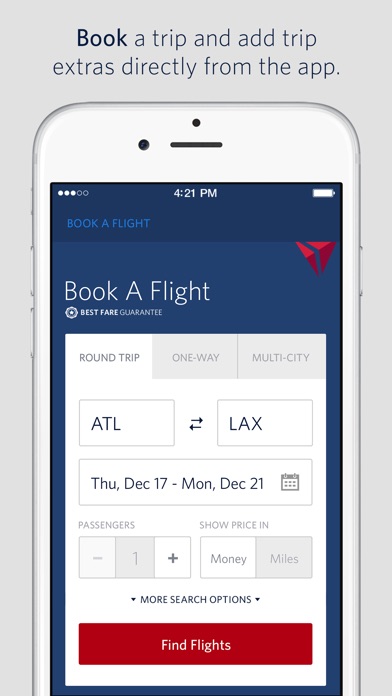 New in version 4.7.1
What's New in Version 4.7.1:
• Need to adjust your flights before checking in? You can now delay auto check-in until the next time you open the app
• Customers can now enroll in the Delta SkyMiles® program from My Trips or the Today arrival screen to automatically earn miles when the trip is complete
• We've made it easier to check-in for flights that are operated by our partner airlines
• The Fly Delta app is now fully optimized for iPhone X
• Bug fixes
Description
Welcome to Fly Delta, Delta's award winning iPhone app. With a redesigned Today screen which provides quick access to your eBoarding pass and other important day-of-travel information, Fly Delta makes travel easier than ever before.

• Enroll in Delta's SkyMiles® program and earn miles every time you travel
• Find, compare and book Domestic and International flights
• Book SkyMiles award tickets
• Purchase Delta Comfort+™ and Trip Extras, including in-flight Wi-Fi, Priority Boarding and more
• Reserve Preferred Seats like bulkhead and aisle
• Rebook cancelled flights or missed connections
• Manage your trips, profile and customize your travel preferences
• Check your SkyMiles account balance and current Medallion® status
• Check in, view your eBoarding Pass and add it to Apple Wallet
• Pay for checked bags and track their location
• Check the latest flight status and receive flight and gate change notifications
• Save a photo to remember your parking spot
• Check your status on the upgrade or standby list
• View or change your seat
• Locate Delta Sky Club® lounges
• View interactive airport maps, public transportation details and weather information
• Get detailed info about our fleet and partners
• Map flights en route with an interactive flight tracker
• "Today" gathers everything you need for your day of travel into one convenient place
• "Feed" ensures you always have the latest flight updates, gate changes and more
• View countdown to departure and arrival along with gate and baggage carousel information on Apple Watch

The Fly Delta app for iPhone and delta.com are always free to use on Delta's Wi-Fi-enabled flights. Visit delta.com/app for more information.
Reviews
Airplane management
Ultra mccoy
on
12/13/2017
I dont like delta because it is always late and cancelled on the runway you should be on time right now delta is not my favorite airline
Time Saver
likestoeditphotos
on
12/13/2017
I'm running through the airport right now and this app is saving me so much time and stress. It has maps of the airport, updates on flight information, everything. Regardless of what you think about Delta, the app itself is great.
Dislike changing planes in ATL
Tampa Flyer
on
12/13/2017
Living in Tampa and having to change planes in ATL is a NOT a good deal for me To many delays Need flights to SLC and NW
Best Airline app
Easy to book and review flight bookings both current and past flights.
It works fantastic for airplanes
OliverHolmes
on
12/12/2017
It's a great app and even deep links. Love the iOS Delta app in general and it's also good on Android but I can't find my drink coupons in either app. Did they expire? 🤔
Customer service
Customer Service AAA
on
12/12/2017
So the best customer service I've had since I use Southwest airlines. Now that Southwest does not fly out of Green Bay I always use Delta. Thank you so much for your fantastic service!
Geographical Glitches
When technology works, it's great. When it doesn't. . . . yeah. Accessing the Delta app in Atlanta is a sometimes thing. Sometimes it works, and sometimes it will glitch, continuously asking you to input your Delta login, and unable to recognize it. And even when it works, the lag time is significant, making gates posted untrustworthy. No wonder I backup print boarding passes when flying through Atlanta. Does Delta not recognize that Atlanta is a major Delta hub, thus vexing a plethora of flight connecting app users?
Satisfied Customer
2015 Computer
on
12/12/2017
Thank you for adding gluten free snacks! Excellent service, on time flights, and helpful staff. I've gotten several friends to give Delta another chance and they too have been pleased with the customer service and flights. Well done, Delta.
Bad service
This app never works, its always showing network disconnected regardless of how I'm connected on my device. I can use other apps to connect just fine, IT operations for ground services at delta are terrible. Would love to give this feedback in the app but even if it had the feature in still unable to use. Using standard IOS on 6s.
Messed up
I have a Delta Gold card registered with the app but when i check in, it is not allowing me a free checked bag. It's telling me to apply for a Delta Gold card if I want to????
More take-aways
Eliminating cabin service to water and coffee on my MEM-ATL is a shameless greed step couched in "safety" BS!
It really works
JasWilliams
on
12/12/2017
I especially like the baggage tracking, which is relatively new. Very helpful!
Global Upgrade
This program sounds good but the process is horrible and your employees are no help! I am within 24 hours of my flight yet your finance team will not release the four (4) first class seats! What good is a gift if you can't use it? Piss poor way of showing those who spend 25K a year consistently with you!
Seating
Implement a new procedure to make u feel lower than basic economy? Yes automatic checkin which you can't even at the 24 hour mark pick your seat . Been flying delta 30 plus years time to change
Limited functionality
#mobilefanatic
on
12/12/2017
Too many second level functions are based on non-responsive web pages. Make the Delta web site responsive and the mobile app experience will be better.
Would give 10 stars if I could
Don't know what Delta could do to make it any better and works fine with latest iOS - even Beta versions
Love Delta But Was Shocked
At $410. For 4 Bags!
Everyone is important except you
LouisnMarie
on
12/11/2017
Everyone is frustrated with work, travel and delays your employees shouldn't be.
Delta App
The Delta App is a well designed App. Nice job!
Love the app
PasadenaWoman
on
12/11/2017
I really love the app and especially the bag tracker.
Awesome App
Provides a one-stop shop for everything Delta. A must have for every Delta customer
Boo!
This app NEVER works!!!! Can never do anything and always loading and gives errors. Boo, delta! Boo!
Great for the frequent traveler
I am in the air a fair amount for work and I use this app anytime I fly Delta. Boarding pass options, terminal maps, flight information...I use it all. Great and simple navigation and user interface. Thanks, Delta.
Alex Matthews
Love you guys!
Turn off Auto Checkin
I loved this app before this change. I need to be able to turn the auto checkin 'feature' off. Today I wanted to look at other flights and seats and when I opened the app it simply checked me in. I had to call an agent to undo this. Took 12 minutes with the on hold time (and I am a Diamond member). How about a 'yes/no' option? Or a way to change the default? Painful.
IPad
Why did the get rid of the iPad app??????
Best airline app out there
I'm a frequent business traveler and use carious carriers and their apps. Delta by far has the best, glitch free, app I use. Top notch!
Makes Life Easier
The app when it is up and running makes boarding easy.
Best Airline App
With a real focus on user experience - how the app would actually be used- Delta's mobile application surpasses all others.
Please change skymiles number storage back
Skymiles Gold Member
on
12/10/2017
Miss not being able to have more than one Delta skymiles number stored in the app. Inconvenient to have to look up each family members number to enter as needed to purchase tickets or check flight information.
Good service
Joe Yamsuan
on
12/10/2017
Although the flight to JFK was full the gate ticket agent found a way so that me and my wife can seat together. Thank you very much!
Terrible customer service should be negative five stars
RichMoneySauce
on
12/10/2017
Delta overbooks flights religiously. Then trains their employees to give legitimate seats away and argue with their paying customers. They work hard to make sure their customers are paying double and triple in order to catch just one round trip flight. As a small business owner. DO NOT USE DELTA ! The airline is a scam and I wish I didn't get locked into amex delta rewards. I'm certainly changing for 2018. Remember that when delta gives your ticket away so they can make more money , you have to purchase a new ticket at surge pricing. In addition every time I call customer service the wait time is over 2 hours. I actually think delta is violating the law on ticket reimbursement
Reliable
I fly Delta because they are reliable, have good fairs, and I know what to expect. App is great too.
Grumpy Flight Attendants/can't choose Own seats
The flight attendants were very grumpy on both flights. The Delta App would not allow us to choose our own seats as it said one of our tickets was on standby even though we paid for both of them. First time flying Delta, but at least we made it to our destination safe.
I Fly Delta every opportunity I get!
Maritza's Iphone
on
12/10/2017
Great service, very nice flight attendants. I love that most of the time my flights are on time!! Thank you Delta!!!
App can't handle changes
Gramscheeres
on
12/10/2017
This app seems to work when everything is functioning normally within the Delta system. Throw in weather delays and the app fails to function. Delta is failing to upgrade its computer systems to match and track real-time unexpected changes.
Upgrading seats and app closes without selection
The app no longer is allowing for me to upgrade my seats and my flights leaves in 12 hours. I was in the middle
Fabulous App
Diamond T.O
on
12/10/2017
Very easy to navigate and full of all the options you'll need not to go Online for.
Boarding Pass doesn't update
This has happened twice in two weeks where my connection boarding pass in the app either does not update correctly or is not accepted at Security (international flight with U.S. domestic connection). The first time my boarding pass QSR would only show my outbound flight during my return trip. So after waiting 45 minutes in the Security line, I had to exit and print a hard copy of my boarding pass and then wait in the Security line again. A week later, I'm sitting delayed on the tarmac for 3 hours. I rebooked my connection (that I am going to miss) but the app isn't updating my mobile boarding pass. I barely have enough time to make my connection, let alone find a way to reprint my boarding pass AND baggage tags. PLEASE FIX THIS, DELTA— YOU ARE MY TRAVELING NIGHTMARE AIRLINE!
Flight crews are always courteous
Delta's customer service continues to stand out from the rest!
iPad App
NealHagglund
on
12/9/2017
Very disappointed that the iPad app has been discontinued. I use a keyboard with my iPad but cannot now as i have to tur n the iPad to use the iphone app. Bring back the iPad app.
Horrible customer service
Been trying to get in touch with customer service since Saturday flight was canceled. Had to book on AA to get to North Carolina Saturday for our anniversary. We are going to the Viking game Sunday but would have gotten to the game in the 3rd quarter when Delta rebooked is to leave on Sunday instead. Couldn't reach anyone after staying on hold for 4 hours. Tried again Saturday morning for another 4 hours and am current on hold now for 45 minutes so far. How do you run a business like this? Hopefully they do the right thing since it cost me a bunch to rebook 2 one way tickets.
Print boarding pass
I can't figure out how to print a boarding pass from my iPhone using the Delta app.
Overall useful
There are bugs. Everything is ok when there are no cancellations etc. but when things go wrong the app is not capable of handling it.
Doesn't support Apple Pay or iOS wallet
Doesn't support Apple Pay or iOS wallet
Best Airline App I've Ever Used
UnlistedNike
on
12/9/2017
3 year Diamond traveler so got a lot of experience using the app. Delta's app has been the best I've used, in the US, in Europe, in Asia and in the Middle East. It isn't perfect but beats the competition on usability. Below are the areas that need the most improvement by Airline Apps as a whole including Delta's App. 1. Integration with their partner airlines, you might book your whole trip with Delta, but if you fly on one of their partner airlines the app quickly becomes less then useless, just go to paper at that point. 2. Booking flights on the app works well for simple bookings, however if you want to use miles or certificates, the only use for the app is looking up the flight info to then call Delta to have them book for you. 3. The app needs to be able to automatically add your boarding pass to your phones wallet. 4. You should only need one boarding pass. This is 2017, we have computers that know which flights your are on. Shouldn't have to make sure you choose the right barcode. 5. Airplane mode can cause issues if you try to open your app without an internet connection, often times it will kick you back to a login screen, needs to work better in airplane mode. Overall great app, but the competition is catching up fast and they need to take things to the next level to stay ahead of the competition!
Bugs
Tiene muchos bugs. A veces los horarios nuevos no se actualizan en el flight status
Quite literally the worst communication imaginable
This is Is my third flight in 24 hours I have purchased due to cancellations and zero communication. After my flight got canceled, and I still cannot get a hold of anyone on delta.com, I have been tweeting for hours at Delta assist with ZERO response, I have a callback scheduled from delta customer service on the phone which has been five hours now, (and it was promised to be a two-hour wait). I cannot get a hold of anyone so I am having to BUY NEW PLANE TICKETS AT INSANE PRICES JUST TO GET MYSELF RE BOOKED. I am having to buy these tickets because I cannot get anyone on the phone, or can I get anyone to speak with me/tweet at me online. I am not going to drive an hour to the airport and stand in long lines there just to talk to Delta. That is not customer service, I think even Delta would agree. I will wait at home until their decide to pick up the phone or respond to tweets.
Delta App
Once your flight info is manually entered into the app, it works great. However, it is not as user-friendly as it could/should be. Before anyone can enjoy the benefits of the mobile app, you have to locate and manually enter your confirmation number or credit card info. It would be way more valuable if a customer's upcoming flights were automatically uploaded once booked and the customer signed in to the app.
Fact Sheet
Publisher:

Delta Air Lines, Inc

Category:

Travel

Released:

Sep 01, 2010

Current Version Released:

Dec 01, 2017

Version:

4.7.1

Size:

149.1 MB

Compatibility:

Requires iOS 9.0 or later.

Recommended Age:

4+

Game Center Certified:

No

Supported Devices:

iPad2Wifi-iPad2Wifi, iPad23G-iPad23G, iPhone4S-iPhone4S, iPadThirdGen-iPadThirdGen, iPadThirdGen4G-iPadThirdGen4G, iPhone5-iPhone5, iPodTouchFifthGen-iPodTouchFifthGen, iPadFourthGen-iPadFourthGen, iPadFourthGen4G-iPadFourthGen4G, iPadMini-iPadMini, iPadMini4G-iPadMini4G, iPhone5c-iPhone5c, iPhone5s-iPhone5s, iPadAir-iPadAir, iPadAirCellular-iPadAirCellular, iPadMiniRetina-iPadMiniRetina, iPadMiniRetinaCellular-iPadMiniRetinaCellular, iPhone6-iPhone6, iPhone6Plus-iPhone6Plus, iPadAir2-iPadAir2, iPadAir2Cellular-iPadAir2Cellular, iPadMini3-iPadMini3, iPadMini3Cellular-iPadMini3Cellular, iPodTouchSixthGen-iPodTouchSixthGen, iPhone6s-iPhone6s, iPhone6sPlus-iPhone6sPlus, iPadMini4-iPadMini4, iPadMini4Cellular-iPadMini4Cellular, iPadPro-iPadPro, iPadProCellular-iPadProCellular, iPadPro97-iPadPro97, iPadPro97Cellular-iPadPro97Cellular, iPhoneSE-iPhoneSE, iPhone7-iPhone7, iPhone7Plus-iPhone7Plus, iPad611-iPad611, iPad612-iPad612, iPad71-iPad71, iPad72-iPad72, iPad73-iPad73, iPad74-iPad74, iPhone8-iPhone8, iPhone8Plus-iPhone8Plus, iPhoneX-iPhoneX,

Supported Languages:

English;