Recommended app!
App last updated
Dec 20, 2017
Screenshots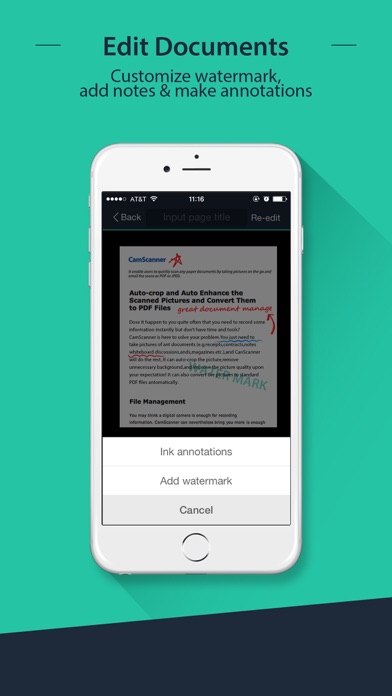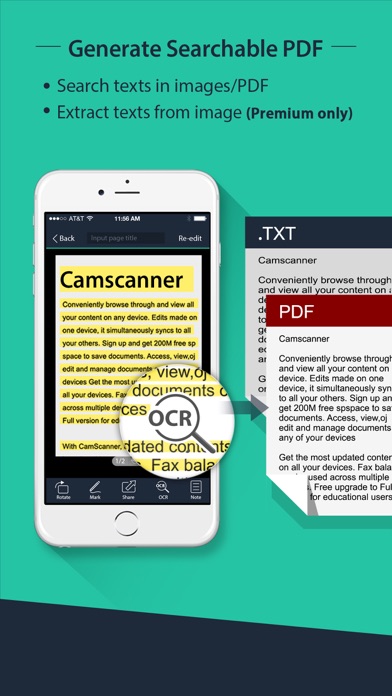 New in version 5.4.0
1. Greeting Card Module - create your first e-greeting card with your handwriting on. Send to your friends and show them a little creativity.
2.Supports Face ID
Description
Scan docs into clear & sharp image/PDF, to email, fax, print or save to cloud.

* Over 50,000 new registrations per day
* App Store Best of 2014
* CamScanner, 50 Best iPhone Apps, 2013 Edition – TIME

Features:

*Mobile Scanner
Use your phone camera to scan receipts, notes, invoices, whiteboard discussions, business cards, certificates, etc.

*Optimize Scan Quality
Smart cropping and auto enhancing make the texts and graphics look clear and sharp.

*Extract Texts from Image
OCR (optical character recognition) feature extracts texts from single page for further editing or sharing. (Paid app only)

*Share PDF/JPEG Files
Easily share documents in PDF or JPEG format with others via social media, email attachment or sending the doc link.

*AirPrint & Fax Documents
Instantly print out docs in CamScanner with nearby printer via AirPrint; directly fax docs to over 30 countries from the app.

*Collaboration
Invite friends or colleagues to view and comment on your scans in a group. (Registrants only)

*Advanced Editing
Making annotations or adding customized watermark on docs are made available for you.

*Secure Important Docs
Set passcode for viewing important docs; meanwhile, when sending doc link, you can set password to protect it.

*Sync across Platforms
Sign up to sync documents on the go. Just sign in to any smartphone, tablet or computer (visit CamScanner website) you own and you can view, edit and share any document.

Premium Subscription Service:
1. Edit OCR results and notes of the entire doc, exporting as .txt file
2. Create Doc Collage for multiple pages
3. Add 10G cloud space
4. Add 40 extra collaborators
5. Send doc link with password protection and expiration date
6. Auto upload docs to Box, Google Drive, Dropbox, Evernote and OneDrive
7. Batch download PDF files in web app
8. Every benefit registrants enjoys
9. Everything paid app offers

Payment models for Premium subscription:
-4.99 USD/month
-49.99 USD/year

Please note the subscription is automatically renewed within 24-hours prior to the end of the period unless you choose to cancel the subscription. Subscriptions may be managed by going to your iTunes Account Settings after purchase.
For Privacy Policy, please visit http://s.intsig.net/r/terms/PP_CamScanner_en-us.html

CamScanner users scan and manage
* Bill, Invoice, Contract, Tax Roll, Business Card…
* Whiteboard, Memo, Script, Letter…
* Blackboard, Note, PPT, Book, Article…
* Credential, Certificate, Identity Documents…

3rd Party Cloud Storage Services Supported:
-Box, Google Drive, Evernote, Dropbox, OneDrive

We'd love to hear your feedback: isupport@intsig.com
Follow us on Twitter: @CamScanner
Like us on Facebook: CamScanner
Follow us on Google+: CamScanner

Check out other INTSIG's products:
CamCard - Business Card Reader
Reviews
Awesome
Jdjdcksjdjxj
on
1/23/2018
I love it
Excelente
Me encanta muy buena app. Me ayuda mucha a resolver situaciones de forma rapida
Excellent app for teachers
txlibrarylady
on
1/23/2018
This app is great when you need to scan a doc and can't get to the copier. I am constantly using this app and sending docs to my high school students, or printing a copy directly from my phone. A lifesaver!
It's a very usefull app.
marian_platonov
on
1/23/2018
Try it and you will see.
So awesome
First time user and it's so easy. And very clear when faxed!
Easy to use scanner on the go
Animal candy game
on
1/23/2018
Best thing in the world for busy people that need to scan things and send them but don't have time to use a scanner printer. Awesome app.
A favorite app
This app does everything you could want and more. Improves scans with magic feature, sends in a variety of ways including converting to pdf or jpg. Couldn't ask for more and it is free.
Like having the office in your hand
Anybody wanna play
on
1/23/2018
Great tool !!
Get it
jillchamplin1
on
1/23/2018
I've had CamScanner now for quite some years and love it absolutely love it.
Great on the Go
Easy on the go scanner!
I want free space
DastardlyDjr
on
1/23/2018
So I'm writing this review. I have yet to actually use the app.
Crystal clear
...and very easy to use right up front
Awesome App!
Simply one of those apps that you never know how you lived without it. Quick easy and always delivers. Now I don't have to run down to Kinko's to get a scan.
The greatest app ever!
Horsesformygirls1992
on
1/23/2018
The app is awesome, I don't know what I would do without it.
Worth having
Great interface, clean scans
Awesome
Have great clarity adjustments. Give you several saving and filing options. It's works better than the iTunes scanner I paid $4.99 for. This one is free with cloud storage preference.
Great for storing needed docs
RideoutChick
on
1/23/2018
I love that I can store my important docs and then download them in my pc later when needed. I don't have to carry a ton of paperwork around with me this way. I just scan what I need and take my phone. So much simpler.
A must have
thelittlebirdie
on
1/23/2018
This app is such a lifesaver. It's so easy and convenient for whenever you need to send a file or a form to anyone. I love this app.
Use it daily!
I use this app daily! I have found it to be a very efficient way to store information out of medical journals that I want to be able to go back to. It is much easier to find things than in my regular phone photo album. The great crop and lighting features mean I can easily snap photos while simply holding the page in my hand, and they still turn out readable. Two thumbs up.
Great app
gator singer
on
1/23/2018
It's great!!
Scanner
Very nice functioning app, that makes sending documents easy!
Love it
Best app ever!!!!
Excellent
I'm using professionally this CamScanner App from last couple of years
Easy
KarinaELinehan
on
1/23/2018
Great app and easy to use. Keeps documents organized and helps to keep track of important paperwork.
Love this app
I truly love this app. I use it for personal and business use each day. I'd recommend.
CS for Teachers!
I teach HS English and CamScanner is literally the app i use more than any other to post book work from books they can't take home and to send things to admin and parents digitally! It's so easy!
Great!
I've used Cam Scanner for years to send documents to company that does my taxes. It's 🤩 easy!!! Thanks
Cam scanner
Juice1234111
on
1/22/2018
Nice app. Works really well. Saves a ton of time with how easy it is to use
Great app
just like a real scanner
Best scanner
This has been the best scanner I have used so far.
Great!!!
jackysheetos
on
1/22/2018
I use this app for my Finance Course. Do homework by hand, scan, and upload!
Good
Ghgfgxxhjxvnjiterf
on
1/22/2018
It's dope
Use daily
I use camscanner daily! It has saved me so much time and effort! Love it!
Awesome!
Rachaelthisnicknameistaken
on
1/22/2018
This app is awesome!
Need it
Love it use it for work every day
Great for personal and professional use!
Ease of convenience and clarity of scan has made this an essential for both personal and professional use!
Gets the job done
Does what it needs to. Been using for several months now.
Decent scanner!
Great app! Gets a little glitchy sometimes with multi-page documents but all in all not bad!
Cool app
Oasis_Sunderland
on
1/22/2018
Easy to use
Great Tool
An excellent addition to the mobile user tool box. Easy to use and flexible.
Great
Swagger doodler
on
1/22/2018
This app is amazing!
Homework Helper
I can now take everything on my phone versus 20 student's journals. This is better on my back.
The way it saves the documents it resizes the document to where half of the content is not there.
Don't like it at all
Recomend
I always had the problem to use my note as a pdf to send it to my friends in university now i can make it all together And save more tree
Awesome app
Mellymelly4532
on
1/22/2018
This allows any document to be converted to a pdf for easy storage, email or sharing. Highly recommend
Fact Sheet
Publisher:

INTSIG Information Co.,Ltd

Category:

Productivity

Released:

Aug 27, 2010

Current Version Released:

Dec 20, 2017

Version:

5.4.0

Size:

144.9 MB

Compatibility:

Requires iOS 9.0 or later.

Recommended Age:

4+

Game Center Certified:

No

Supported Languages:

Arabic; English; French; German; Italian; Japanese; Korean; Polish; Portuguese; Russian; Chinese; Spanish; Castilian; Chinese; Turkish;