Screenshots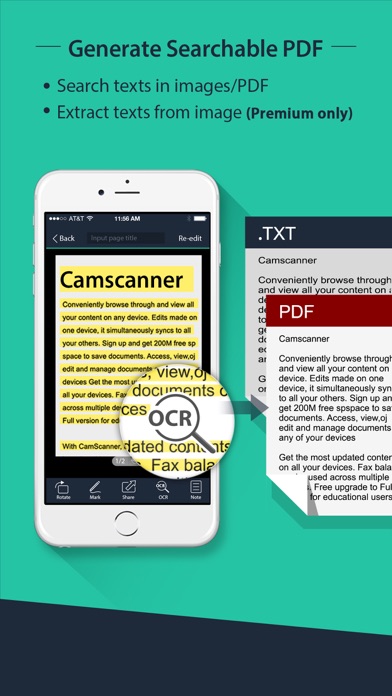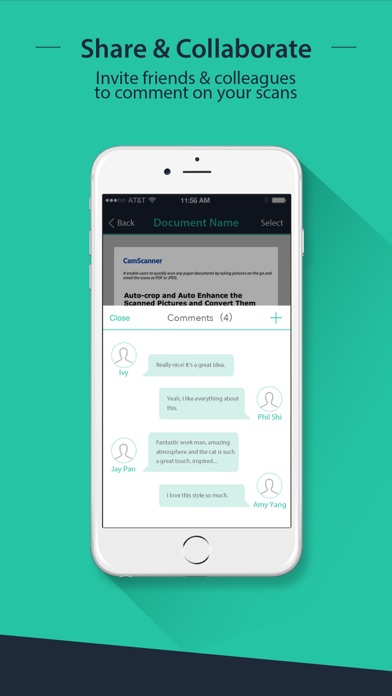 New in version 5.0.1
1. New Business features
2. You can create Group folders, to which group members can upload documents and improve work efficiency
3. Group folder features contains three permissions: Folder Admin, Upload&Download, and Upload Only. Flexible settings and Data Security Assured.
Description
Scan docs into clear & sharp image/PDF, to email, fax, print or save to cloud.

* Over 50,000 new registrations per day
* App Store Best of 2014
* CamScanner, 50 Best iPhone Apps, 2013 Edition – TIME

Features:

*Mobile Scanner
Use your phone camera to scan receipts, notes, invoices, whiteboard discussions, business cards, certificates, etc.

*Optimize Scan Quality
Smart cropping and auto enhancing make the texts and graphics look clear and sharp.

*Extract Texts from Image
OCR (optical character recognition) feature extracts texts from single page for further editing or sharing. (Paid app only)

*Share PDF/JPEG Files
Easily share documents in PDF or JPEG format with others via social media, email attachment or sending the doc link.

*AirPrint & Fax Documents
Instantly print out docs in CamScanner with nearby printer via AirPrint; directly fax docs to over 30 countries from the app.

*Collaboration
Invite friends or colleagues to view and comment on your scans in a group. (Registrants only)

*Advanced Editing
Making annotations or adding customized watermark on docs are made available for you.

*Secure Important Docs
Set passcode for viewing important docs; meanwhile, when sending doc link, you can set password to protect it.

*Sync across Platforms
Sign up to sync documents on the go. Just sign in to any smartphone, tablet or computer (visit CamScanner website) you own and you can view, edit and share any document.

Premium Subscription Service:
1. Edit OCR results and notes of the entire doc, exporting as .txt file
2. Create Doc Collage for multiple pages
3. Add 10G cloud space
4. Add 40 extra collaborators
5. Send doc link with password protection and expiration date
6. Auto upload docs to Box, Google Drive, Dropbox, Evernote and OneDrive
7. Batch download PDF files in web app
8. Every benefit registrants enjoys
9. Everything paid app offers

Payment models for Premium subscription:
-4.99 USD/month
-49.99 USD/year

Please note the subscription is automatically renewed within 24-hours prior to the end of the period unless you choose to cancel the subscription. Subscriptions may be managed by going to your iTunes Account Settings after purchase.
For Privacy Policy, please visit http://s.intsig.net/r/terms/PP_CamScanner_en-us.html

CamScanner users scan and manage
* Bill, Invoice, Contract, Tax Roll, Business Card…
* Whiteboard, Memo, Script, Letter…
* Blackboard, Note, PPT, Book, Article…
* Credential, Certificate, Identity Documents…

3rd Party Cloud Storage Services Supported:
-Box, Google Drive, Evernote, Dropbox, OneDrive

We'd love to hear your feedback: isupport@intsig.com
Follow us on Twitter: @CamScanner
Like us on Facebook: CamScanner
Follow us on Google+: CamScanner

Check out other INTSIG's products:
CamCard - Business Card Reader
Reviews
Easy and Useful
Very useful tool to create scanned documents from photos. Easy to use. You also get some cloud to space to store the documents.
Super easy to use
Firsttborn27
on
9/25/2017
This app has the most consistent quality of all free scanning apps.
CamScanner Review
I've been using CamScanner for as long as I've been using smartphones. It's an indispensable tool and it's getting smarter with each revision. I use it to scan docs to send to clients and scan all my receipts into related folders for record keeping. This is one tool I use everyday and recommend it whenever I see someone who can benefit from this tool.
Works great and it is free!!!
RichardR it is working again
on
9/25/2017
Works great and it is free! It does everything I want a scanner to do and more. I have tried others and found that this is the one to get.
Easy Peasy!
Great app, makes life easier!!
Good app
WreckedScarface
on
9/25/2017
Well made
Awesome scanner and document management app
I've been using Camscanner for a couple of years and it is the best scanner/doc management app that I tried for iphone so far. It automatically finds the border of the documents which works the best in this class of apps. I could remove most of my paper folders.
Cscaner
Best app there is used by our entire transportation company .
Limited
This version is limited to what can be done after the scan. CamScanner HD is more powerful, but is no longer available. Bring back CamScanner HD!
Great App
Little ol MUAH
on
9/25/2017
Been using this app for 2 years and has helped me in a pinch of time. Love love love it.
Great application!
Essential for expense reports, sharing docs in your chosen format! You won't regret it!
Terrible app - ditching CamScanner
Used to be really great. Now adds their logo feces to bottom of all PDFs that get created from their scans. To remove, You have to purchase a silly monthly subscription which will cost the user much more than the prior one-time software payment they used to have. Not for me thanks. See ya!
Best scanner app
This is by far the best scanner app on the market. I love that I can scan, email, and carry PDF documents in my pocket.
Great product!!!
Fast and easy, good for 95% of my scanning needs. Only wish it had a curled page function (if it does, I don't know where it is). Liked it enough to buy the pro version!
Useful
I really liked it. Very useful comes handy. Try it only part I don't like every time when you scan a document says at the bottom scanned by Cam scanner.
CamScanner
The clarity of the docs via re-edit is outstanding. Easy to use - Easy to communicate docs to recipients. A "win-Win" app!
Jasmine
Diohsoubdougduo
on
9/24/2017
Really helpful!
Miracle App!
Silver-money
on
9/24/2017
Friend suggested this app to me. If it wasn't for CamScanner, I would never have been able to get my mortgage paperwork processed on time. Great source to make any document a PDF for printing, emailing, filing, etc. recommend this app to everyone, even if you only need it seldom, because you never know when you're gonna need that document as a PDF!
I love CamScanner
LovingMyLife
on
9/24/2017
I use this app often and I have recommended it to many others.
Life Saver
Staff Sargeant
on
9/24/2017
As a soldier in the Army National Guard, a lot of my dealings with my unit is through email or over the phone between training periods. The CamScanner App has been such a lifesaver when it comes to sending documents to my unit on a moments notice. It's extremely easy to use and makes way more sense than having a document scanner laying around the house.
Excellent Scanner
Have been using it for a few years now, among a couple of other similar apps, and it is very convenient. A great assistant to scanning and organizing your files.
A really cool app
I've been using this app for a few years and find it very useful - among many things, I scanned my entire family tree using this. Their attention to details (like the corner, etc.) has made this one of my favorites. Keep up the good work. Thank you.
The State of Art Scan App.
iPhone 3Gs fan
on
9/24/2017
Known this app when seeing one of a friend scanning his work time sheet. This scan app. is more professional than other scan app I used before.
Buen producto
Funciona bastante bien despues de años de utilizarla
Cam Scanner lover
I love this app because I have all of my important information in one place, awesome!
Very useful and easy to use
This is great for capturing handwritten recipes. It makes a nice clean scan.
Great app for sales
This app is great for turning my paper contracts into pdf to email to my office. I use this app daily and would highly recommend
Owwo
That's wonderful app
Quality o Cam Scanner
JCM Adjuater Extrordinaire
on
9/23/2017
I have personally used this as an integral part of my Public Adjusting Business. It is an valuable tool that has helped increase my productivity. I could not see myself functioning in the files properly without it. I recommend this app to anyone who wants an easy way to capture client documents and guarantee the quality will be there when you need it. Regards, James Murphy
Great organizational tool
Create folders and scan receipts directly to those folders to save for expense reports at a later time. Scans directly into PDF for later retrieval.
Just simple and handy
One of the nicest app scanner I have ever seen
Best app
The best app for scan docs ;-)
Thankful
lil preacher22
on
9/22/2017
I'm thankful to have this app it really comes in handy for storing important documents
Quality
Pictures are sharp. Interface could be better.
It works!
I've been using this app for years. Sometimes it's not as quick as Evernote, but I find it does a better job preserving color, and it has lots of editing features.
Great app , easy to use!
Very good app with a lot of options to share documents. Great text recognition and saves to PDF easily! I love it!
Review
I use this app everyday. It's great!!
Easy to Use, Few Limitations
Sure, if you're a cheapskate like I am, there's a watermark at the bottom of documents. But the actual functionality of the app is otherwise available, unlike many other free versions of apps.
Must have app. Love it.
Winner. Use every time I need to scan. Never lets me down.
camscanner
cheese whiskers
on
9/22/2017
best app ever. makes work life super easy sending documents to corporate👌🏻
Good App
I use this app everyday in the classroom. I have not compared it to other apps tho.
Nice app to have
phantompardax
on
9/22/2017
An app to enjoy
What?
ThatOneJediDude
on
9/22/2017
Am I missing something or is this just a camera?
Awesome app 😍
fantastic in scanning , sharing and more ✌️
Great App
I love the app. It is easy to use and the documents are crisp and clear. It has really helped me get organized.
Fantastic Scanner App
SalesManagerEliteLevel10
on
9/22/2017
Seamless, intuitive, and well thought out. Use it every day!
The Best PDF Suite
Recalled2Life
on
9/22/2017
This app suite does it all with/to PDF's
Fact Sheet
Publisher:

INTSIG Information Co.,Ltd

Category:

Productivity

Released:

Aug 28, 2010

Current Version Released:

Sep 21, 2017

Version:

5.0.1

Size:

112.6 MB

Compatibility:

Requires iOS 8.0 or later.

Recommended Age:

4+

Game Center Certified:

No

Supported Devices:

iPad2Wifi-iPad2Wifi, iPad23G-iPad23G, iPhone4S-iPhone4S, iPadThirdGen-iPadThirdGen, iPadThirdGen4G-iPadThirdGen4G, iPhone5-iPhone5, iPodTouchFifthGen-iPodTouchFifthGen, iPadFourthGen-iPadFourthGen, iPadFourthGen4G-iPadFourthGen4G, iPadMini-iPadMini, iPadMini4G-iPadMini4G, iPhone5c-iPhone5c, iPhone5s-iPhone5s, iPadAir-iPadAir, iPadAirCellular-iPadAirCellular, iPadMiniRetina-iPadMiniRetina, iPadMiniRetinaCellular-iPadMiniRetinaCellular, iPhone6-iPhone6, iPhone6Plus-iPhone6Plus, iPadAir2-iPadAir2, iPadAir2Cellular-iPadAir2Cellular, iPadMini3-iPadMini3, iPadMini3Cellular-iPadMini3Cellular, iPodTouchSixthGen-iPodTouchSixthGen, iPhone6s-iPhone6s, iPhone6sPlus-iPhone6sPlus, iPadMini4-iPadMini4, iPadMini4Cellular-iPadMini4Cellular, iPadPro-iPadPro, iPadProCellular-iPadProCellular, iPadPro97-iPadPro97, iPadPro97Cellular-iPadPro97Cellular, iPhoneSE-iPhoneSE, iPhone7-iPhone7, iPhone7Plus-iPhone7Plus, iPad611-iPad611, iPad612-iPad612, iPad71-iPad71, iPad72-iPad72, iPad73-iPad73, iPad74-iPad74,

Supported Languages:

Arabic; English; French; German; Italian; Japanese; Korean; Polish; Portuguese; Russian; Chinese; Spanish; Castilian; Chinese; Turkish;