Screenshots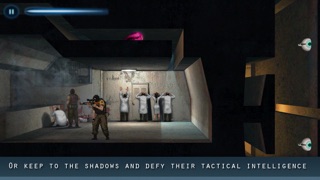 New in version 1.3.2
Support for iOS 9, iPhone 6s, and iPhone 6s Plus
Description
Play as the most advanced creature ever discovered on Earth. You are trapped in a high security submarine base and you must use your superpowers to escape from this hostile environment; dodge lasers and AK-47 bullets, solve puzzles to progress and try to survive the many other dangerous and deadly traps. Play through an original story that uniquely combines the best of action and infiltration games . Use intuitive, multi-touch gameplay; play as up to 3 Cells on the same screen, dash through the air with a swipe gesture or cut off your enemies' heads with a 'draw and dash'! Use your mind to find your way out covertly or, if you prefer, use fast-paced action gameplay to kill every scientist and soldier in your path. You are the Perfect Cell!

See the gameplay video at :
www.mobigame.net

"Perfect Cell is bloody brilliant" - TheAPPERA.com

***** Winner of the IMGA 2011 People's Choice Award *****

4/5 TouchGen.net
5/5 AppSmile.com
4/5 TouchArcade.com
3/4 SlideToPlay.com
4/5 AppSpy.com
8/10 PocketGamer.co.uk (Silver Award)

Game features:

- Hyper realistic environments with dynamic lighting and physics

- Cut your enemies into bloody pieces with a simple gesture

- The best Action/Infiltration/Puzzle game on the iOS!

- 35 levels with dynamic atmosphere across 5 different worlds

- Very intuitive multitouch control

- Game Center : Achievements and Leaderboards provide a high replay value and allow you to share with your friends

- Full HD 3D Graphics, optimized for iPhone, iPad, and iPod Touch. It's really smooth on a 1st gen iPhone/iPod, and it looks just amazing on a Retina display!


Follow Mobigame on twitter.com/mobigame

Play more Mobigames like EDGE, Cross Fingers and Truckers Delight at http://www.mobigame.net
iPad Screenshots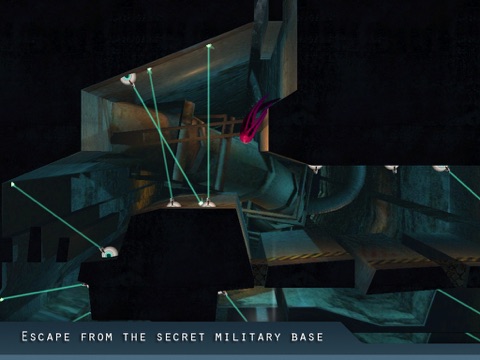 Reviews
Add more levels
Downloaded this game originally back in 2012 and it was lit af back then. Now it's 2017 and you guys still haven't updated it booo! Get on it *edit* it's October and still no update! Come on! This was a hit
2.0
Honestly if you guys put some time into making a second edition of this games, your old following would explode. I love this game. Who cares about truckers or zombies. Make this cell reborn.
Great Puzzle Game
Lovely artwork and animation. Nothing absurdly difficult, but the imprecise movement can make later levels annoyingly finicky. I do wish you could cancel charge moves, but maybe I missed that in the instructions. Either way, not a big deal for a decent game.
Make a 2 one!
WARNING SPOILER ALERT: Great game but I want a second one continuing after you break out of the facilitys
Plz make a new one or more levels
I got this game awhile ago and I love it I've repeated the levels constantly cause they are awesome best GAME EVER!!!
WOW!!!!
This game did not get promoted like it should have. It's beautiful, and gives a fresh look on puzzle gaming. There is none like it. Well worth the price. Aww man, I can't say enuff how awesome this game is.. GET IT NOW AND BECOME THE PERFECT KILLER!!! 10/6/16 Update Why aren't u devs constantly updating this game or adding levels or something. I've played this years ago and now that I have a plus iPhone, I wanted to experience this game again on a bigger screen since it's been awhile since I've played. UPDATE GUYS!! UPDATE!! U can get totally new group of people into this game who have never played it if u just promote and update.
Superb game
Bleeding out 111
on
6/26/2016
As another reviewer said, just a great game. Please add more levels and keep the updates coming.
So addictive
I just got the full version after playing the lite version it's SO FUN👍🏼👍🏼👍🏼👍🏼
It's like the movie aliens! But also something new.
HUNTER X.Y.Z
on
4/21/2016
Except your not a xenomorph like in the movie. You are born upon mankind and your only motivation is... SURVIVAL!!! takes place in a base with scientists and guys with guns. And has you, the lethal alien killing whoever poses a threat. Great graphics, nice controls, the story is explained much through words but the game just shows great detail that you can figure out the story. And the alien is amazing! Never would have thought of an alien like "cell zero". It's abilities and intelligence are awesome. Forget perfect cell from DBZ this cell is lethal and threatening in it's creepy violent primal state. This game is 10 out of 10. I strongly recommend it to anyone who is thinking of this. This is in my top 5 games for iPhone/iPad. But if you don't believe me buy that free demo and if you like it and agree with my word get it and have a awesome time playing!
I beat the game and it was fun.
Joseph Colgan
on
12/20/2015
The only part I didn't like was when you had to separate the cell. The controls when you do that can be frustrating. Glad there wasn't too many sections where you had to do that.
Please come out with more levels!!
BlkDiamondBoy
on
11/2/2015
This is HANDS DOWN the best game I've ever played on iPhone. I don't get why you guys don't come out with more levels and continue to update this. Makes no sense to me.
"Perfect Example"
The "Perfect Example" of how a good story line, simple UI, clean graphics & character controls
This is a Top 10
Giddy Jigga
on
10/18/2015
Perfect Cell is the Perfect mobile game in every way. Ever.
Fantastic game but crashes every time
jordanmoore1027
on
10/10/2015
Crashes I've played all the levels through and I haven't played for a while. When I went back to play it again, every time I tapped a level and it began to load, it crashed. I'm playing on an iPad Mini 2, so I don't think it's a problem with my hardware. I really love this game, so please fix this problem!
Great game, make more!!!
This game was on of my first and favorite games in the App Store. I would love a new one, A sequel perhaps?
This game is awesome!
I really like game like this. The graphics are great and the skin colors make the game more flexible.I have some requests. Could you make more species of the perfect cell but with more abilities after you beat the game? And could you add more levels to the game with more enemies, more things to interact with, etc.
First review ever
This is my first review ever, this game was that amazing. Addicting as hell and challenging, but not to where you just hate the game. They need to make a movie out of this!
One of the best
I was looking for stealth games several years ago, and this one popped up on my radar. I downloaded the Lite version and had so much fun, I had to get the full game. I play it over and over, constantly trying new things and new ways of going through it. My different ways are primarily: Kill anything moving DON'T kill anything moving Time trials: kills don't matter Time trials: kill everything. Time trails Don't kill anything. Scrape all the dead people together and Draw-n-Dash in a circle, making body parts fly in all directions I can amuse myself for hours with this game. I really wish they'd build a Second Perfect Cell.
Slow
Comepletelyrandomguy
on
5/22/2015
This thing is slow as hell to download,I have the memory, I haven't played it yet but it's SLOW AS HELL TO DOWLOAD
Ok make last lev Easyer
Ok the last level doesn't need to be like mission impossible! Like Jesus!
Time for a sequel
This is quietly one of the best iOS games there is. How about more like it? Thanks boys!
ADD MORE!!!!!
Marky marc213
on
1/18/2015
Great game, it really is, but it needs more levels. I have on here just sitting and waiting for an update.
Best game so far !!!
I found this game loads of fun -Five Star fun- for it's superb graphics, attention to detail, and genius of design. Although I gladly give Perfect Cell a 5S, I didn't get how collecting the green stars was useful. I also was very impressed with the split cell aspect but would want more game play levels requiring a split to survive and to kill. How about adding Y axis game play to take advantage of the cool rooms. Lastly, more hidden rooms, tunnels and dudes to smoke. Sounds like another installment is in the offing. Very nice job overall. Well done.
Good, but graphics are NOT HD.
It's a pretty simple game- move your floating cell around to dodge obstacles, avoid (or attack) enemies, and activate switches to progress. Fairly simple puzzles throughout, with plenty of action (or stealth, depending on your playstyle). However, the graphics are very dated, and extremely low resolution. You can quite easily see large, individual pixels throughout much of the game, most noticeably on characters such as the soldiers and scientists. Other than that, it's a fantastic game for both action and stealth gamers.
Game killer
This game is great and all the only thing it needs is a sequel to it I can see it now it takes place above ground and now your still a cell but your fighting the military and such to take over the world other then that great game :-)
Amazing Game
Perfect Cell is a great mix of the puzzle solving / shooter genre. While it starts out easy, each level becomes subsequently harder. The controls and gameplay are very smooth, and the graphics are top notch. There are NO in-app purchases in this game which is a huge plus. If you enjoy action games with some puzzle solving mixed in, give Perfect Cell a try.
I ❤️THIS GAME!!!!!
It's and incredible game.It challenges your mind to solve unique problems and escape your prison you are held in you have to kill guards,dodge lazzers,and hide from security cameras.😘😘😘😘its awesome!!
Awesome
Wish there was a sequel!!
Awesome.
Whatever123456
on
9/14/2014
This is one of the best mobile puzzle games I've ever played. If they make a second one, I'm buying it.
Getting the love
MisterMellow001
on
9/8/2014
The quality in every aspect of this game is what makes it a must-have. Smooth and atmospheric, great music and sound effects, good story and conclusion, challenging yet easily achievable levels, lots of variety, and high replay value make it a keeper. In spite of what some have said about replay value, I have had this game since the day it came out, on my 1st-gen iPhone, and it is the ONLY game I still play. I have absolutely nothing bad to say about this game. 2.5-D graphics, game-play mechanics, no in-app purchases BS, and it's satisfying to be able to slice lab guards into hamburger (starting with Level 3). Awesome post-death animation, too. Watch them gush blood and twitch around. Slice them up some more! Good wholesome family fun! If there was a sequel, I'd pay top dollar for it without hesitation (unless it had in-app purchases – I don't buy games from developers who have been infected by that cancer. Worst thing that ever happened to gaming). I have to crack up at the reviewer who knocked a star off because somewhere in the game is a "nude woman taking a shower." Blood and chopped-up bodies are great, but nudity is bad. I'll take his word for it, but I can't even bring that scene to mind, and I've played this game through literally hundreds of times.
Great game! Needs more levels...
Luv the game, easy 5 but, the game needs some more challenge, and more levels or a Perfect Cell 2, and possibly (I would love this) a level creator where you can make your own, and also browse others uploaded from other people, that would make up for the little levels, also e7 lazer part is enraging to me, but otherwise, good game!
Cool music WHERE IS IT!
Awesome game but I want to hear the music.I went to YouTube but all I got was an anime song. Please tell me how to get the soundtrack!
Perfect Cell is the Perfect Side Scroller!
Perfect Cell is nothing short of mind blowing. When I first downloaded this app two years ago, the complex puzzle style and thematic violence caused me to get disinterested rather quickly, so I stopped playing. But now, two years later I can appreciate this magnificent work of art for what it really is; a ground breaking step in the world of puzzle gaming. PC ( Perfect Cell ) is for people with extremely good eyes, mainly because if you want to survive, you'll need to realize the subtle changes in light and rock to achieve your linear yet fun escape objective. Now here's the part that's fun and annoying ( major spoilers beyond this point ). You play as Cell Zero, a microscopic meteor born life form that lands in the middle of the Pacific Ocean and aggressively grows into a deadly macroscopic monster. You're captured by a civilian massacring under water military base and you have to kill droves of dumb human soldiers and scientists to reunite with your many counterparts. This gets boring sometimes because of the dumb and unnecessary soldiers that have no regard for their life, but it's still baseline fun. PC is vastly superior on the iPad because the sense of scale is more intimidating. Enough said, have fun!
One of the best games.
This game is really cool and enjoyable, i enjoy everything in it. Killing enemies and solving puzzles and more... But after i finished all the levels i started to get a little bored of the game. So mobigame please add more levels or make "perfect cell 2" because i really love this game and i'm looking forward for new content! And thank you mobigame.
Worth every penny
Awesomesocks3000
on
3/23/2014
This game is awesome and it needs more levels. This game is great, and you should get it.
Good
Solid. It's a game great to pass time. I love the design of the Cell, floating around with tentacles.
Make a second one
Great game no please make a second
High quality.
Gave this a shot after loving zombie tsunami from the same devs. Very slick, great controls, beautiful graphics. One price game, no iap scams.
Terrific!!!
Delaney Klitchman
on
1/8/2014
Please come out with a second one!!! This game is awesome and worth the money
BORING
I hate to say this but I was bored with this game in only a few minutes. I'm hoping my 7 year old likes it because I think its' stupid!
Sebastian bacon
Grant heft auto
on
12/14/2013
Please bring more make a new one because if u do I will by that stuff in a heart beat this game is awesome. Ps pleeeeeeeeaaaaassssseeeeeeee bring more to that game
Cool
Vhhjnbddgkk
on
11/13/2013
Great app it's full of action cud play it over and over again 😆😄😎😋😛
Perfect Cell. Perfect Game.
This game really grabbed me from the first level I played. Probably the only game I've played yet on my iPad that kept me playing it without pausing to play something else on different occasions. Really fascinating and approachable. If I had to make one criticism, it would be that the game was too easy. And they definitely need to make another one.
Awesome
Although when I got this I thought it would be terrible but it was beautiful.You could take a stealth approach or a aggressive approach. Truly a great game
One of the BEST games on the market
David Kroger
on
9/27/2013
Seriously everybody, this game is great! It's one of those games that is designed so well for a touchscreen device that it wouldn't be as good on a console system. Mobigame please add more levels!:)
Love it but
Should add more levels an powers
Nice game
Good game i like it
Amazing!
Jdksiwhjscivifkjdjvjdjsjxj
on
7/26/2013
This game is simply amazing! The one bad thing about it is that the movement controls make it hard to see what's in front of you but otherwise perfect!
Best game ever
thumper12345678910
on
7/14/2013
Im at e7
Fact Sheet
Publisher:

Mobigame

Category:

Games

Released:

Oct 30, 2010

Current Version Released:

Oct 15, 2015

Version:

1.3.2

Size:

326.2 MB

Compatibility:

Requires iOS 6.0 or later.

Recommended Age:

12+

Game Center Certified:

No

Supported Devices:

iPhone3GS-iPhone-3GS, iPhone4-iPhone4, iPodTouchFourthGen-iPodTouchFourthGen, iPad2Wifi-iPad2Wifi, iPad23G-iPad23G, iPhone4S-iPhone4S, iPadThirdGen-iPadThirdGen, iPadThirdGen4G-iPadThirdGen4G, iPhone5-iPhone5, iPodTouchFifthGen-iPodTouchFifthGen, iPadFourthGen-iPadFourthGen, iPadFourthGen4G-iPadFourthGen4G, iPadMini-iPadMini, iPadMini4G-iPadMini4G, iPhone5c-iPhone5c, iPhone5s-iPhone5s, iPadAir-iPadAir, iPadAirCellular-iPadAirCellular, iPadMiniRetina-iPadMiniRetina, iPadMiniRetinaCellular-iPadMiniRetinaCellular, iPhone6-iPhone6, iPhone6Plus-iPhone6Plus, iPadAir2-iPadAir2, iPadAir2Cellular-iPadAir2Cellular, iPadMini3-iPadMini3, iPadMini3Cellular-iPadMini3Cellular, iPodTouchSixthGen-iPodTouchSixthGen, iPhone6s-iPhone6s, iPhone6sPlus-iPhone6sPlus, iPadMini4-iPadMini4, iPadMini4Cellular-iPadMini4Cellular, iPadPro-iPadPro, iPadProCellular-iPadProCellular, iPadPro97-iPadPro97, iPadPro97Cellular-iPadPro97Cellular, iPhoneSE-iPhoneSE, iPhone7-iPhone7, iPhone7Plus-iPhone7Plus, iPad611-iPad611, iPad612-iPad612, iPad71-iPad71, iPad72-iPad72, iPad73-iPad73, iPad74-iPad74, iPhone8-iPhone8, iPhone8Plus-iPhone8Plus, iPhoneX-iPhoneX,

Supported Languages:

English; French; German; Italian; Spanish; Castilian;

Parental Advisory:

Fear Themes; Mild Realistic Violence; Suggestive Themes; Intense Cartoon or Fantasy Violence;