Screenshots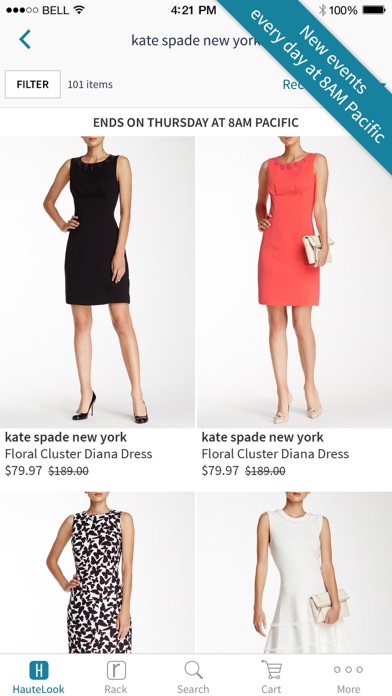 New in version 4.5.2
Bug fixes and performance improvements
Description
The reimagined HauteLook App for iPhone and iPad, now including Nordstrom Rack!

We've redesigned our app to give you even more of what you love: style and savings. Shop HauteLook's exclusive, limited-time sale events at prices up to 75% off, plus Nordstrom Rack's amazing catalog of the hottest brands—all from a single app. It's twice the style and double the fun!

App Features:
* 2 Stores, 1 Cart: Shop the best of HauteLook and Nordstrom Rack using one shared account.
* Easy Checkout: One simple checkout makes it effortless to shop and buy.
* Store Locator: Find your nearest Nordstrom Rack location and see what's in store.

Enjoy free shipping on orders over $100 and easy 90-day returns by mail or to any Nordstrom Rack store. Download the app now!

ABOUT HAUTELOOK:
At HauteLook, every day is a new discovery. We're your destination for limited-time daily sale events featuring the top brands in women's and men's fashion and accessories, beauty, kids' apparel and toys, and home décor. The best part? It's all up to 75% off. New events start every morning at 8AM Pacific. Join for free today and let the savings begin!
iPad Screenshots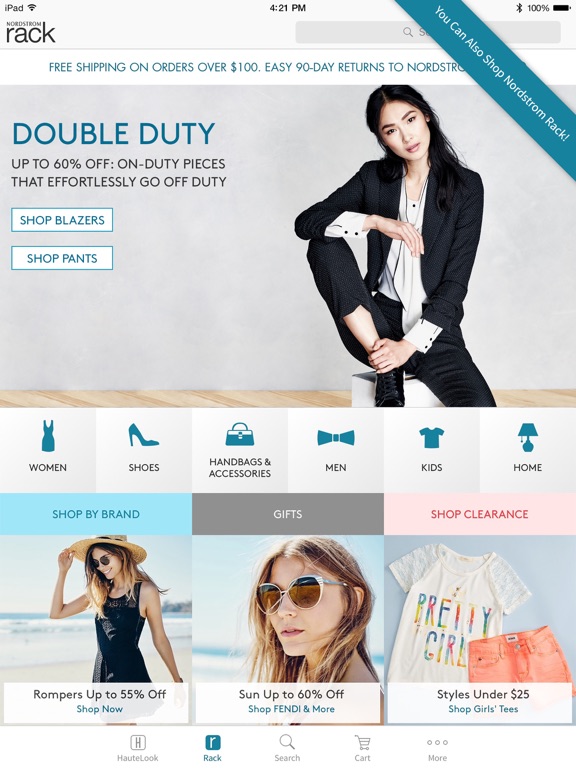 Reviews
App glitches
Shopping cart does NOT save the items. What's the purpose of the time limit then?! More photos, item descriptions and specific size charts for clothes needed. I have had to return many items based on the lack of these items. I can't keep doing this.
Easy search
Could use a few more photos on some items.
Seamless delivery
The app is perfect. Shopping is now easier.
Slow Load
I used to use this App quite a bit even though it takes forever to get your order but lately it's been loading awfully slow. So slow to the point I just give up.
Fabulous
Love this app and it is addictive seeing that l see it and open it weekly!!!
Great shop, great app
Dyndhrxutxtikgxtxmgxjyc
on
9/3/2017
Almost everything I own I got on Hautelook. Best bang for your buck, best selection, and a really easy user experience on the app. I'm a loyal customer.
Everything!
I get absolutely everything l need here, from jeans and tees to shoes and socks. Bras and panties to makeup and shampoo. Tech accessories to watches. Bedding to gorgeous lamps. Pricing is great, and l don't shop anywhere else! Thank you Hautelook!
Stuck shopping cart
I am really not an app person, but I decided to give this a try because I was not able to use a computer and I wanted to take advantage of an event sale. Easy download and very simple to figure out the basic functionality. Regarding the 15 minute time limit that has absolutely nothing to do with the app. If you go to the website you still have only 15 minutes to check out or you potentially lose the items in your shopping cart. My complaint is that after adding approximately six items I went to check out. It kept telling me one or more items is no longer available. I scroll repeatedly through my shopping cart rather frantically as I know my time limit is expiring soon. No where can I see that one of the items is no longer available. I repeatedly tried to check out and I'm told the same thing. One or more of your items is no longer available. I go back to each item click on it and look to see if it's available. It shows everything I have is available so I have no idea which one to delete. I don't want to delete them all and start all over again and risk not being able to get my stuff. I resort to going to the actual website, login, find my shopping cart, go to check out ,and automatically the item which was indeed no longer available is deleted. Boom! Check out complete. This is a major program issue with the app and they need to fix it
Good app...need to increase checkout time
I like the app. Easy to use. Great prices. The only gripe is that once you place an item in the cart, you ONLY have 15 minutes to check out. So you better finish your shopping quickly.
Eh...
MsKeyonaJones
on
8/18/2017
Love the items. But you expect me to shop online in 15mins?...and i cant even save items for later. Should give longer shopping cart time or a option to save for later.
Addicted :)
I love this app and this site! It's my new obsession and I love saving so much on everything! :)
I love hautelook
The best site to buy!
Worst APP EVER! Don't buy off this app!
Yvette Sterling
on
8/9/2017
Drained my gift card several times... they mail you back a gift card when it happens... they billed my Nordstrom debit card... I cancelled the order and they stopped shipment of items... never finished the credit! I hate .com their technology needs get out of the Stone Age.
Good deals but never loads properly
The deals and items for sale are great, fat shipping, and good selection. Only problem is the app does NOT load more times than it loads properly. Sometimes for days at a time. It's frustrating. Good deals, bad app itself.
I love hautelook
I really do. I attend to it every day and I can't stop thinking about it :-)
Horrible!
Jokerswagg617
on
8/4/2017
This new app presents all the available items making it an overwhelming experience.
Why did I have to find this app?
Naughty mommy
on
8/4/2017
I think I'm going broke! But I look hot!
Fantastic Website for Shopping
I've used HauteLook for years now and have never been disappointed. Excellent value on name brand clothes, makeup and household goods. Easy return if you are unhappy with your purchase or need a different size. All the customer care people seem as though they received training from Nordstrom because they are so polite and eager to help. I hope you enjoy this app as much as I do!
Not what it used to be.
The app has changed to be more like a Nordstrom Rack app than daily deals which is extremely frustrating. If I wanted a Nordstrom Rack app I would download that separately. Also, I go to see the daily deal and the products are a mix of men and women's; extremely frustrating. There also personally haven't been any designers recently that I felt was worth the deal, unlike a year or so ago when every day was amazing. Instead of moving the app forward and making great changes it's become worse than when it started somehow.
Love it!
Good quality and good service.
Great prices! Terrible app.
I was very impressed with this app, the design and the discounts are amazing! But after several attempts to pay, the app would not let me use my card or my pay pal account. Just an error message. Now I am afraid to go any further with fear of repeating charges to my card. Kind of useless if you can't pay for anything.
HauteLook
Lindsayluvslevi
on
7/28/2017
Love it ! I can't believe the discounts, I would never be able to afford this stuff without this app.💜
Frustrated
Roxie Bull Dog
on
7/15/2017
Cannot open the app... On my ipad. I have shopped this site for years.... Now it won't allow me to shop or download the new version! Please fix it.
AWESOME SITE...
carmen69ward
on
7/14/2017
If you are like me.... We have been sent hundreds if not thousands of shopping sites. This one is one of the BEST!! Ultimately it is Nordstrom, so you are guaranteed this is not some knock off site made offshore with ultimately a NO return process. Great quality, in style right NOW and AMAZING PRICES. You do need to look quick and BUY!!
So slow!
The new update is so slow I don't know what's happening I can't even shop, I'm sad.
Terrible
If you're about to purchase an item the item should never leave your cart while you're looking for your wallet. This is the only app that removes item during your purchase. Having to remove everything just to add them back is extremely poor service.
Fabulous Darling!
Love this app!
Rating Based on App Functionality
I do love my HauteLook and have been a dedicated "addict" since my days working at Nordstroms, shamelessly introducing my "habit" to many friends and clients alike as it too became their daily addiction....but I digress, I decided to FINALLY leave a review about how frustrating the APP itself has become, running slow is not even the problem although sluggish might be a better word to use when it does actually Load a picture, and usually that's just the first image, commonplace is that the other images don't load and/or they take so long that after a couple times of this, you give up and just click out. And more often than not now, whole pages won't even load. It's just leads to a frustrating user experience, far from the enjoyable one it used to be. just to add context, this is the case regardless if I am on wifi or not....so I hope with all the updates that seem to be pretty consistent with this APP, that your developers will take head in improving this issue.
awesome
Great site where I have found great deals.
Love it!!!
So quick & easy! Wish HauteLook also offered free shipping regardless of amount of purchase though. Other than that...it's easy to shop on and fast shipping 👍🏼
Mandatory update?
But now the app is MUCH slower and I have to wait for images to load. And some things never load. Pretty frustrating. This needs to be fixed or I'll have to shop on other websites.
Luv it!!!
Golden gal40
on
6/30/2017
Great app and clothes...
Love it all!
PINK GAL 😜💋💕
on
6/30/2017
Everything is so nice. I love the styles!
Nice things but...
GIANNA ROCKS PINK
on
6/29/2017
The site has some really nice things, but the app is kinda slow, S&H is pretty high. I haven't purchased anything because I usually come on the app, find one thing I love, but the S&H was way too high for 1 item so I never purchased it. Hopefully it will be lowered or they will have days with free shipping. If I find 5 items that are impossible to resist I will buy.. if this happens I will update on the S&H, how the products arrived, and so on..
Really slow
Takes a while to load a page and I have the latest iphone
Love it, great app
Love it
HauteLook
Love, love, love this site. Wish shipping and handling wasn't so high though!
Love!
Great deals on everything, shoes, jewelry, purse cloths🙌🙌🙌
Scam
MexicoChicaa
on
6/23/2017
The discounts and original prices are way higher than they truly are. I visited the official website of one of the stores and the prices are nowhere near what they claimed to be on the hautelook app. They lie and deceive customers. I am no longer a customer
Needs improvement
crazytown family
on
6/17/2017
I like a lot of the items offered. But the app itself is screwy. It takes forever to get through each shop. What makes it so hard is when you want to take a closer item and you select it when you are through and want to go back to the shop I'm taken all the way out of the shop and have to start looking from the beginning again.
Worst company ever!!
AngelTrendSetta
on
6/15/2017
If I could rate no stars I would!! Worst customer service ever!! Rude representatives that have no knowledge of dealing with refunds. I placed numerous orders with them. One delivery never came. It took over a month of fighting with them over a package I did not receive!!! Buyers beware!!! These so called rave reviews are fake!!
Love Haute Look
I'm an avid Haute Look shopper and love the selection and deals. The shipping system makes me feel like its 2005. Most retail sites ship goods right away but Haute Look is a cool 1-2 weeks even if you order items in stock. If they can ramp this up it would be 5 stars! Pick up the pace!
Fantastic app for bargain shoppers
Great site for great bargains!! Easy returns and fast shipping for the most part. Love this app!!
It takes forever to load!
1 player that works
on
6/7/2017
Part of the reason I don't use this app is because of how long it takes to load. I thought it was my phone or connection that made it take so long but I downloaded it on my iPad and it's the same!
Best quality brands, deals and app ever !!
Patriciagreenc
on
6/6/2017
If you are an online shopper and love quality products with great deals, HauteLook it's your online store. I have been in love with the great brands and their prices . Yes! Shipping is a little bit expensive, specially if you have to return afterwards. But in my personal experience most of every order I have placed, has work out perfectly . Compare to other similar apps I feel that with this site I don't waste or blow away my money. This people have quality items and it worth their great deals. What I love the most ? That I can always return if it doesn't fit or workout for me. And I always look for the items that ships between 1-3 days and it will get it literally next day . I'm not kidding you ! Super fast. I can't believe that I spend so much money in other websites that claimed to have great deals and crapy name brands, you would it have to wait almost a month for the items to get to you and they wouldn't take any returns, so I would it immediately waste my money. With HauteLook it's a totally different level and experience . Way to go!! Nordstrom . I love it. 😊😊👍🏻👍🏻
Great app & products
Love the app & all the products. So easy to use & always fast shipping. Best thing...you can go right to a Nordstrom Rack if you need to return something. Bravo!
Unbelievable....
This is one of the best app I've ever came across.. everything is always on sale. And everything is name brand .. and everything goes fast so u got better act fast if you want something ..
Great deals, quality app.
It's been my realization that the majority of my favorite clothing came from a Hautelook sale. I've been introduced to so many brands via the site. I keep coming back because I know there's always some really good deals on unique items you'd not find elsewhere. I am brand loyal but stray lately knowing I can get real quality pieces here for an average or below average price.. even if the wait is sometimes torturous!!! I have been trying to consciously shop and appreciate that they indicate where the item was made for the most part. Lots of made in USA and Italian brands. Wish they'd specify on some though, I assume "Imported" is from China or somewhere else I'm not comfortable with purchasing any longer. TLDR: Great sales, great quality, lots of made in USA items.
Fact Sheet
Publisher:

HauteLook

Category:

Shopping

Released:

Oct 11, 2010

Current Version Released:

Oct 10, 2017

Version:

4.5.2

Size:

55 MB

Compatibility:

Requires iOS 9.0 or later.

Recommended Age:

4+

Game Center Certified:

No

Supported Devices:

iPad2Wifi-iPad2Wifi, iPad23G-iPad23G, iPhone4S-iPhone4S, iPadThirdGen-iPadThirdGen, iPadThirdGen4G-iPadThirdGen4G, iPhone5-iPhone5, iPodTouchFifthGen-iPodTouchFifthGen, iPadFourthGen-iPadFourthGen, iPadFourthGen4G-iPadFourthGen4G, iPadMini-iPadMini, iPadMini4G-iPadMini4G, iPhone5c-iPhone5c, iPhone5s-iPhone5s, iPadAir-iPadAir, iPadAirCellular-iPadAirCellular, iPadMiniRetina-iPadMiniRetina, iPadMiniRetinaCellular-iPadMiniRetinaCellular, iPhone6-iPhone6, iPhone6Plus-iPhone6Plus, iPadAir2-iPadAir2, iPadAir2Cellular-iPadAir2Cellular, iPadMini3-iPadMini3, iPadMini3Cellular-iPadMini3Cellular, iPodTouchSixthGen-iPodTouchSixthGen, iPhone6s-iPhone6s, iPhone6sPlus-iPhone6sPlus, iPadMini4-iPadMini4, iPadMini4Cellular-iPadMini4Cellular, iPadPro-iPadPro, iPadProCellular-iPadProCellular, iPadPro97-iPadPro97, iPadPro97Cellular-iPadPro97Cellular, iPhoneSE-iPhoneSE, iPhone7-iPhone7, iPhone7Plus-iPhone7Plus, iPad611-iPad611, iPad612-iPad612, iPad71-iPad71, iPad72-iPad72, iPad73-iPad73, iPad74-iPad74, iPhone8-iPhone8, iPhone8Plus-iPhone8Plus, iPhoneX-iPhoneX,

Supported Languages:

English;