TapNova doesn't recommend this app.
New in version 4.3.10
Bug fixes and performance improvements
Description
The reimagined HauteLook App for iPhone and iPad, now including Nordstrom Rack!

We've redesigned our app to give you even more of what you love: style and savings. Shop HauteLook's exclusive, limited-time sale events at prices up to 75% off, plus Nordstrom Rack's amazing catalog of the hottest brands—all from a single app. It's twice the style and double the fun!

App Features:
* 2 Stores, 1 Cart: Shop the best of HauteLook and Nordstrom Rack using one shared account.
* Easy Checkout: One simple checkout makes it effortless to shop and buy.
* Store Locator: Find your nearest Nordstrom Rack location and see what's in store.

Enjoy free shipping on orders over $100 and easy 90-day returns by mail or to any Nordstrom Rack store. Download the app now!

ABOUT HAUTELOOK:
At HauteLook, every day is a new discovery. We're your destination for limited-time daily sale events featuring the top brands in women's and men's fashion and accessories, beauty, kids' apparel and toys, and home décor. The best part? It's all up to 75% off. New events start every morning at 8AM Pacific. Join for free today and let the savings begin!
iPad Screenshots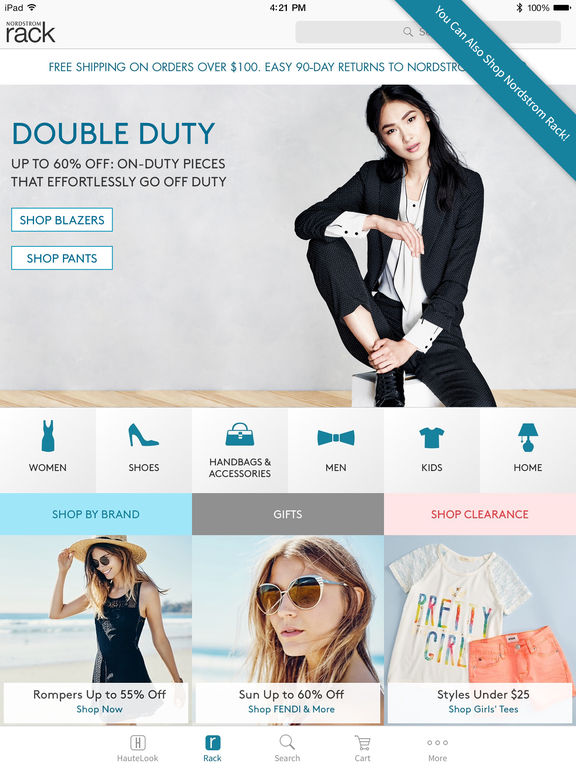 Reviews
HauteLook
Love, love, love this site. Wish shipping and handling wasn't so high though!
Love!
Great deals on everything, shoes, jewelry, purse cloths🙌🙌🙌
Scam
MexicoChicaa
on
6/23/2017
The discounts and original prices are way higher than they truly are. I visited the official website of one of the stores and the prices are nowhere near what they claimed to be on the hautelook app. They lie and deceive customers. I am no longer a customer
Needs improvement
crazytown family
on
6/17/2017
I like a lot of the items offered. But the app itself is screwy. It takes forever to get through each shop. What makes it so hard is when you want to take a closer item and you select it when you are through and want to go back to the shop I'm taken all the way out of the shop and have to start looking from the beginning again.
Worst company ever!!
AngelTrendSetta
on
6/15/2017
If I could rate no stars I would!! Worst customer service ever!! Rude representatives that have no knowledge of dealing with refunds. I placed numerous orders with them. One delivery never came. It took over a month of fighting with them over a package I did not receive!!! Buyers beware!!! These so called rave reviews are fake!!
Love Haute Look
I'm an avid Haute Look shopper and love the selection and deals. The shipping system makes me feel like its 2005. Most retail sites ship goods right away but Haute Look is a cool 1-2 weeks even if you order items in stock. If they can ramp this up it would be 5 stars! Pick up the pace!
Fantastic app for bargain shoppers
Great site for great bargains!! Easy returns and fast shipping for the most part. Love this app!!
It takes forever to load!
1 player that works
on
6/7/2017
Part of the reason I don't use this app is because of how long it takes to load. I thought it was my phone or connection that made it take so long but I downloaded it on my iPad and it's the same!
Best quality brands, deals and app ever !!
Patriciagreenc
on
6/6/2017
If you are an online shopper and love quality products with great deals, HauteLook it's your online store. I have been in love with the great brands and their prices . Yes! Shipping is a little bit expensive, specially if you have to return afterwards. But in my personal experience most of every order I have placed, has work out perfectly . Compare to other similar apps I feel that with this site I don't waste or blow away my money. This people have quality items and it worth their great deals. What I love the most ? That I can always return if it doesn't fit or workout for me. And I always look for the items that ships between 1-3 days and it will get it literally next day . I'm not kidding you ! Super fast. I can't believe that I spend so much money in other websites that claimed to have great deals and crapy name brands, you would it have to wait almost a month for the items to get to you and they wouldn't take any returns, so I would it immediately waste my money. With HauteLook it's a totally different level and experience . Way to go!! Nordstrom . I love it. 😊😊👍🏻👍🏻
Great app & products
Love the app & all the products. So easy to use & always fast shipping. Best thing...you can go right to a Nordstrom Rack if you need to return something. Bravo!
Unbelievable....
This is one of the best app I've ever came across.. everything is always on sale. And everything is name brand .. and everything goes fast so u got better act fast if you want something ..
Great deals, quality app.
It's been my realization that the majority of my favorite clothing came from a Hautelook sale. I've been introduced to so many brands via the site. I keep coming back because I know there's always some really good deals on unique items you'd not find elsewhere. I am brand loyal but stray lately knowing I can get real quality pieces here for an average or below average price.. even if the wait is sometimes torturous!!! I have been trying to consciously shop and appreciate that they indicate where the item was made for the most part. Lots of made in USA and Italian brands. Wish they'd specify on some though, I assume "Imported" is from China or somewhere else I'm not comfortable with purchasing any longer. TLDR: Great sales, great quality, lots of made in USA items.
Love it!
Great app and great clothes! Wish they had free shipping with a certain amount of purchase though, but still love it!
Love the app
Great site, easy to use, unless they run out of something!
Love this app
stacey laury
on
5/26/2017
My favorite app to shop
Love
Easy to use definitely original I'm always excited to see what different choices I have daily
Shopping made simple
A_Little_Monster
on
5/18/2017
This app is simple to use has two great options from Nordstrom's, couldn't ask for an easier shopping experience.
Nordstrom rack app
You are the bomb!!! Instead of driving to the rack,if im not feeling well, i can spend hundreds on your app! Its easy to use, really easy, so im always shopping!! Ive even done returns at the rack and its easy no problem and money right back, so i can start shopping again! Thank you .Absolutely the best app i have. Karen bader
Just love it!!!
Awesome app
Newest version has completely broken the app. No products load
Newest version has completely broken the app. No products load
The items don't load
Chasingsunnierskies
on
5/6/2017
Terrible!
Terrible
I should be reading
on
5/6/2017
Spent too much time shopping & then it wouldn't let me check out
Great brands-Best value
Too $&@? Busy!
on
5/4/2017
My designer clothes at 40%-50% savings! Oh yes! Lafayette, Aquatalia, Stuart Weitzman, Eileen Fisher, and so many more!
Love it
OnlinePersona
on
5/3/2017
Great deals on high end products but it time limited.
Reliable affordable fashion
shopnwarrior
on
4/30/2017
Love this site!!
Always disappoints
Descriptions are often inaccurate. Items take FOREVER to arrive....then the season is over and you've got last year's stuff. My last order took SIX weeks to arrive....and they sent the wrong item! Will not be ordering from here again. Three years of orders and I've only kept one thing. A complete waste of time. Soooooo un-Nordstrom like. :(
Shopping cart automatically clears
Marco stack-simone
on
4/27/2017
Stupid for a shopping app to automatically clear your cart.
Hautelook App is Spot On
Love my app and makes shopping so much easier!
User friendly
Easy to use, you get everything you need .
Good App
This is a great app with lots of shopping opportunities and affordable fashion.
A must!
crazee4fashion
on
4/23/2017
Excellent selection, great prices, and easy to use! HauteLook is an LBD of apps - a staple for every girl's closet!
HauteLook app is the best!!
Love the app it's faster and more convenient than the website! I'm addicted to this app!
Great Deals
I have gotten some Great Deals. Everything is as advertised. I recommend this app to everyone.
Shopping
My only place to shop , always gets good deals and high end designer stuffs
❤
Mitra Bidanjiri
on
4/15/2017
You won't regret it , love to shopping, I've been shopping at HauteLook for 4 years ❤
My favorite place to splurge
Wakethislife
on
4/13/2017
I don't have the income for lots of shopping, but when I have a little extra cash and want to treat myself, I go right to haute look. Amazing fashion and beautiful home goods at absurdly low prices. The best!
Love
I love this app. Always great deals.
Lots of bait and switch
Kind of tired of getting the short end. Very disappointed.
HauteLook
L❤VE! Great quality and prices!
A Dailey Fix
Great stuff at great prices. New sales starting at 8am PST is right up my alley. Returns made easy at Nordstrom Rack. Good stuff.
Favorite
I love to shop, and unfortunately live in a very remote rural area. This one app is my go to for al my clothing, shoes, and accessories! Definitely my most used and loved app on my phone.
❤🎁❤
Best ap and great bargains. I recommend to all my friends, now if I could just get them to give me credit so I would get the referral fee!
Deals
One of the great apps out For deals ❤️😎
Great selection. Shipping delay is a killer!
Love HauteLook product selection but shipping is too high (many prevented me from buying just one item) AND WORSE, it takes ONE MONTH to receive the merchandise!!! Way too long!! There's gotta be a more efficient way to ship!
I'm in love with this site!!!
I shop A LOT!!! I am a personal shopper and I go between Hautelook and Nordstrom rack and Nordstrom way more than anywhere else. I have never had a problem with cancellations as I read in a previous review. If there is any problems at all Hautelook will take care of it and even call you back to make sure you are satisfied. Shop here for great prices and fantastic selection.
Best
Barbfloresusmc
on
3/12/2017
Love this app!
😍😍😍😍
Love Haute Look. Been a customer for several years. Can't live without it.
Fact Sheet
Publisher: HauteLook
Category: Shopping
Released: Oct 11, 2010
Current Version Released: Jun 19, 2017
Version: 4.3.10
Size: 51.9 MB
Compatibility: Requires iOS 8.0 or later.
Recommended Age: 4+
Game Center Certified: No
Supported Devices: iPad2Wifi-iPad2Wifi, iPad23G-iPad23G, iPhone4S-iPhone4S, iPadThirdGen-iPadThirdGen, iPadThirdGen4G-iPadThirdGen4G, iPhone5-iPhone5, iPodTouchFifthGen-iPodTouchFifthGen, iPadFourthGen-iPadFourthGen, iPadFourthGen4G-iPadFourthGen4G, iPadMini-iPadMini, iPadMini4G-iPadMini4G, iPhone5c-iPhone5c, iPhone5s-iPhone5s, iPadAir-iPadAir, iPadAirCellular-iPadAirCellular, iPadMiniRetina-iPadMiniRetina, iPadMiniRetinaCellular-iPadMiniRetinaCellular, iPhone6-iPhone6, iPhone6Plus-iPhone6Plus, iPadAir2-iPadAir2, iPadAir2Cellular-iPadAir2Cellular, iPadMini3-iPadMini3, iPadMini3Cellular-iPadMini3Cellular, iPodTouchSixthGen-iPodTouchSixthGen, iPhone6s-iPhone6s, iPhone6sPlus-iPhone6sPlus, iPadMini4-iPadMini4, iPadMini4Cellular-iPadMini4Cellular, iPadPro-iPadPro, iPadProCellular-iPadProCellular, iPadPro97-iPadPro97, iPadPro97Cellular-iPadPro97Cellular, iPhoneSE-iPhoneSE, iPhone7-iPhone7, iPhone7Plus-iPhone7Plus, iPad611-iPad611, iPad612-iPad612, iPad71-iPad71, iPad72-iPad72, iPad73-iPad73, iPad74-iPad74,
Supported Languages: English;