Photo & Video
Entertainment
Recommended app!
App last updated
Nov 10, 2017
Screenshots
New in version 4.3
• Optimized for the iPhone X
• Bug fixes and other improvements

We'd love to hear what you think! If you have any questions or comments, email us at support@codeorgana.com.
Description
Transform your world into a live cartoon.

Selected by Apple for iTunes Rewind Hot Trends In Apps and as an App Store Essential.

"An amazing piece of technology." - Terry White, www.bestappsite.com

"Best toon app out there, and totally worth the price!" - Robin Rhys, AppAdvice Daily

ToonCamera is an amazing video and photography app that turns your world into a live cartoon. Apply real-time cartoon and art effects to your camera feed, record video, snap photos, and convert existing video and photos from your albums to create instant works of art. Save your creations and share them with friends through email, Facebook, Twitter, Flickr, Tumblr, Instagram, and YouTube, all from within ToonCamera.

Features:

• Choose from multiple cartoon, pencil, stipple, and ink effects
• Customize your effects with unique line art styles
• Take photos and record videos with a real-time preview of the effects
• Convert existing photos and videos from your albums
• Save your creations and share them with friends through email, Facebook, Twitter, Flickr, Tumblr, Instagram, and YouTube
• Create canvas prints, posters, and more

See a video of ToonCamera:
http://youtube.com/watch?v=Mo7OAQGDGsQ

Find out more about ToonCamera and our other apps at www.codeorgana.com and follow us on Twitter @codeorgana.
iPad Screenshots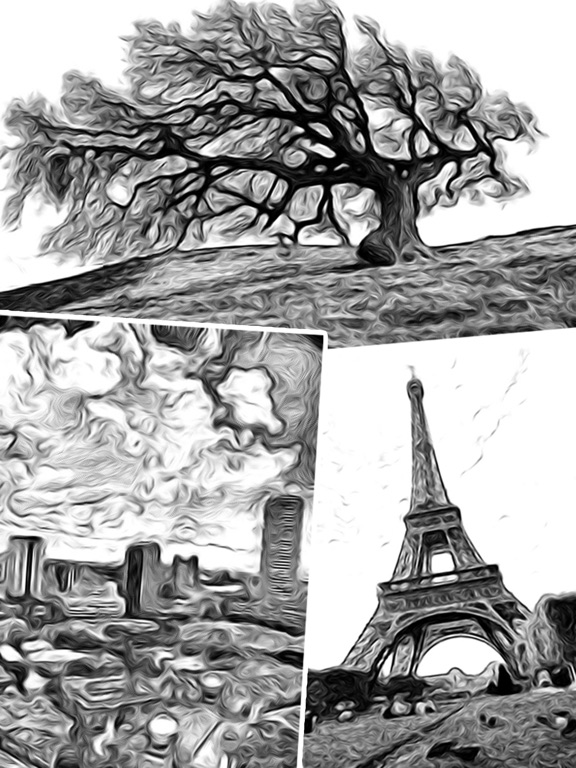 Reviews
Really like this app
mis understood
on
12/28/2017
I've owned 'toon camera' for a few years now, and have used it on every device I've owned. It's great for stills- like flowers in a vase on a table and such. It's one of my small favorites, and I hope to be able to continue to use it in the future. iPhone 6s, iPod touch 5th gen.
Awesome
Daniel Spellman
on
12/6/2017
Best cartoon app I ever used
Cartoon camera
Great app get it now
Great app
Susan J Cooper
on
11/30/2017
Love the cartoon effects, great quality.
Boring
Stevens2202
on
11/23/2017
You can't edit pics in your roll only if you shoot with the app
Too much fun
InspiredPhotog
on
11/22/2017
I love the app! It's a lot of fun. I do wish it would automatically save to your camera roll. Other than that, 5 stars!
Cool
jaq ajeruan
on
11/22/2017
Looks good
Best Cartoon App of all
Consumer00001
on
11/22/2017
works great!
Super Cool!!!!!
mastermason32d1
on
11/22/2017
This app is so addicting. Makes you want to create all your photos like cartoons or sketches. Love this app👍
LOVE LOVE LOVE!!!
UsedCarRicky
on
11/21/2017
Rotoscoping For The Masses! Easiest fastest way to rotoscope video. Easy and versatile. Hands down easiest way to rotoscope any video you have!
Crashed my photos and erased my photo library
I tried to edit a photo in my album then save the resulting file, which crashed my entire library and wiped clean my photo album on my phone. I had to restore everything from iCloud and was lucky I got most of the photos back, but did not get my album organization back at all so that photos I previously sorted into albums were never recovered. I had to pay for this as well since the app costs 99 cents; so at minimum I need my money back from the publisher. Just a warning to everyone that it could crash your software and photos can be erased.
Photo fun!
HT Detox Monitor
on
11/18/2017
Easy to use even on the 1st try! I love and cants stop playing with it...get it, you will not be disappointed.
Fun
I have had fun with this app. It has both photo and video capabilities. Love it.
ToonCamera
Absolutely love this app! I use it all the time. Most often I use it on pictures I've already taken but right from its camera is great too. Most often app I use!!
Love it!
Mikes Joanne
on
10/15/2017
Such a fun App!
Best cartoon app in the App Store
Angel of Deaths
on
10/15/2017
This is hands down the best cartoon app. It is so far above any other program that it's incredible. It does everything well and the ease of use is like a dream come true. I use it to take photos using the pencil and then use those photos on t-shirts.
Editing
Not a whole lot of editing capabilities with existing pictures from camera roll
Perfect for pop art/comic art portraits
Sneakerhead4261
on
9/21/2017
This app is perfect for pop art and comic art portraits
🔥🔥🔥
IG: exo.vader
on
9/15/2017
This app is so worth the money it took my Instagram to the next level. Must have if you are into photography or Instagram. Absolute FIRE.
Not optimized for iPad Pro 12.9 second generation
Please add flash option on the iPad Pro 12.9 (second generation). I will add a full 5 stars after update. I effing love this app!!
Enjoy the new look!
CuttersBarbados
on
8/29/2017
Great to enjoy old photos with a new look :)
Fun App
This is an easy to use app with lots of fun. When I first downloaded it, I thought I might use it about once a year. But now I use it all the time. I love the various cartoon drawing styles it can create from photos. And best of all: it also can convert film clips. Love it!
Great app
Chopper21jbler
on
8/21/2017
Great app
Superstar
All I can say is that this "program" makes me a photographer filter superstar. Thanks
Fun app
It's my go to app of choice. Different effects you can apply or shoot your pic right into for instant effect.
This app is great
This latest update has it all! I've had this app for well over a year now and it still keeps me entertained with it's versatility and intuitive navigation. Still one of my favorites. I apply this experimentally to many of my existing pictures and get delightful results. The new update is great. New cartoon effects are a nice bonus. I've used this at parties and it's always a hit. Solid!
Still my favorite!
Original app user
on
7/6/2017
This app seems to get better with each update- keep it going!
Fun effects!
LindsOmething
on
6/30/2017
This app is great if you're looking to add a cool element to your photos. Easy to use and even allows real time photo editing! Highly recommend.
A Favorite
Bill Martin1
on
6/23/2017
I love this App. The result really define things clearly.
Congratulations
Just great, fun, creative.
Fantastic! Perfect!
I LOVE this app! I cannot draw a cartoon or anything worth while for that matter. Now I can easily create cartoon images exactly like I wish I could draw. Thanks!! ***One thing to note: be sure to look at each screen on the tutorial (accessed by pressing "i" in top right corner). I missed that you can change from taking a photo, video, or importing from album. Developer quickly responded to email when asking for help. Kudos!! 👏🏻😃
Toon Camera
Speakers choice
on
6/4/2017
Excellent app hope it updates soon and remains able to run on updated iOS
Top 10
I have hundreds of photo/art apps; ToonCamera is one of the best!
Ray
I have only had this app for a couple of days and so far have just been playing around with it. Provides tremendous pictures. I think I'm going to love it
No instructions, Not intuitive.
seacoastmusicproductions
on
5/2/2017
I don't understand why there can be no instructions in apps. The icons change things when you tap them without you knowing WHAT they do first! Can't figure out how to TAKE the picture (tapping "Save" isn't working on my iPhone 7). And how can there NOT be a way to switch to the FRONT camera (for selfies)!?!?! Can't be bothered with this app; don't bother.
Love it
Excellent implementation of style transfer. Get it now.
Nice
Wow ! It's really great
Best I've seen!
I'm impressed by the simplicity of this app and each of the effects creates a beautiful result in high resolution. If you've been disappointed by other apps in this genre (like me) then give this a try!! 😃👍🏻
I hope Apple paid you for your tech…
Tim Corrigan
on
4/20/2017
I hope Apple paid you for your tech… They totally used it in their new Clips App.
To much fun SWEEEEET!!!!!
Lots of fun, it launched the adventures of cartoon Keith I love it!!!!
Tooncamera
J Da JewelER
on
3/12/2017
Please update this is the best👍🏿app👌🏿
Great App
Does exactly what I needed. Very easy to learn and use!
Nice effects, easy to use
Just the sort of filters I was looking for, I use this with Halftone to make little comics of my friends.
Great app
Love the toon camera. Great for action shots of kids and printable for coloring.
No camera button
Thailand-Amulets
on
2/14/2017
No exit button to start new project No access to add an image from camera roll Used to have those options From good to worse
An iOS staple
Ibrahimtamerm
on
2/3/2017
Still on the front page of my home page First downloaded the app on my 4S and loved it. Then added it to my iPad. Now it's still on the first screen of my iPhone 6 and it's still a regularly used photo/video app for this heavy user
Really great application 🏆
iam silver moon
on
1/30/2017
Really Very good application 👍 l have this application in my phone since they made it long time every day i work with it really it's helpful .. thanks to all developers in this application to make it succeed ⭐️❤️
Fact Sheet
Publisher:

Code Organa LLC

Category:

Photo & Video

Released:

Sep 28, 2010

Current Version Released:

Nov 10, 2017

Version:

4.3

Size:

25.2 MB

Compatibility:

Requires iOS 8.1 or later.

Recommended Age:

4+

Game Center Certified:

No

Supported Languages:

Dutch; Flemish; English; French; German; Italian; Japanese; Korean; Portuguese; Russian; Chinese; Spanish; Castilian; Swedish;